Calvaria Token Price Prediction 2023 – 2030: Will RIA Explode?
Disclosure
Everything you read on our site is provided by expert writers who have many years of experience in the financial markets and have written for other top financial publications. Every piece of information here is fact-checked. We sometimes use affiliate links in our content, when clicking on those we might receive a commission – at no extra cost to you. By using this website you agree to our terms and conditions and privacy policy.
Calvaria is the ecosystem that hosts the $RIA token. $RIA has had a stellar run in its presale phases, helping the creators of the project raise more than 86% of their target. Calvaria, a card game set in the metaverse is already enjoying quite the buzz. In this Calvaria price prediction, we will explore the Calvaria metaverse and gameplay, the $RIA token, and the possibility of this currently hot project exploding in 2023 through 2030.
Calvaria Price Prediction-  Overview
| | |
| --- | --- |
| Calvaria Price (2023) | $0.3257 – $0.80 |
| Calvaria Price (2024) | $0.652 – $0.95 |
| Calvaria Price (2025) | $0.257 – $0.657 |
| Calvaria Price (2026) | $0.257 – $0.557 |
| Calvaria Price (2027) | $0.257- $0.500 |
| Calvaria Price (2028) | $0.246 – $0.412 |
| Calvaria Price (2029) | $0.09 – $0.1 |
| Calvaria Price (2030) | $0.1 – $0.15 |
Your money is at risk.
Calvaria Price Prediction 2023
The $RIA token has had an impressive presale so far. As of writing, $2,686,162 USDT has been raised from the #3,075, 000 target. But an impressive presale does not always amount to an explosive token listing. Crypto tokens, like other utilities, are governed by market laws, including demand and supply.

What is $RIA?
$RIA is an in-game token.
Players can use $RIA to purchase in-game assets (Non-fungible tokens), invest the token in the staking pool, and power-up cards from a lower level to a higher level.
10% of every purchase in the Calvaria ecosystem will be stored in the staking pool.
Winners of tournaments will be rewarded with $RIA from the prize pool.
Tokens have zero transaction fees.
NFTs in the Calvaria ecosystem can cross-exist. You will be able to sell a Calvaria NFT on exchanges like OpenSea.
Is $RIA Special Enough to Attract Demand over Supply after DEX and CEX Listings?
The $RIA token has followed the path of many crypto utilities – a lot of talk about decentralization and Web 3 without offering a lot of value. Does this make the $RIA illegal? Absolutely not, but investors must be able to predict when to get out.
$RIA will need a lot of influencer marketing to get a great DEX and CEX launch. Since the token isn't exactly useful beyond the in-game purchase, you can expect users to gain or lose interest in the whole project, and the token altogether if adoption isn't strong.
That said, $RIA has great timing. Calvaria will launch the Duels of Eternity (DOE) gameplay in the third quarter of 2023 but launch the token on CEX listing in the first quarter of 2023. Many token ecosystems release their gameplay, or at least a beta version before CEX listing so that investors can get a feel of how the ecosystem will work. For example, Dash 2 Trade will release its beta dashboard and a few critical features before CEX and DEX listing.
The Calvaria Founders Are Smart
$RIA's presale success can be pushed into CEX listing and an early investor may make a lot of money during the first three quarters of 2023, but be careful. If the gameplay isn't as exciting as Calvaria advertises, gamers will lose interest.
Verdict: $RIA price in 2023: $0.3257 – $0.800
Your money is at risk.
Calvaria Price Prediction 2025
The cryptocurrency market is reeling from a blood bath which could influence the Calvaria price prediction for 2025. The 2022 crypto winter may extend beyond 2023, and any gain held by tokens may be wiped out. Momentary gains and sudden losses have become the news for most cryptocurrency assets, and the underlying problem isn't far-fetched. First, institutional investors are constantly worried about the state of regulations. The crypto market still remains relatively unmerged with the financial market. No regulation means that prices can swing and institutional investors can manipulate the market. And if predictions are wrong, these investors are usually the first to cry foul play.
Calvaria is no more special than most other tokens in the presale stage. Of course, we have gone past the fact that Calvaria is legit enough for a review; however, will it explode? Tokens in their presale stages are lures for people looking to make a fortune with as little risk as possible. Case in point: The $RIA token. At the moment, a $RIA token is $0.03257. With $100, an investor could purchase $3,070 tokens. If the $RIA token ever hits $1 per token, that's a profit of over $2,900.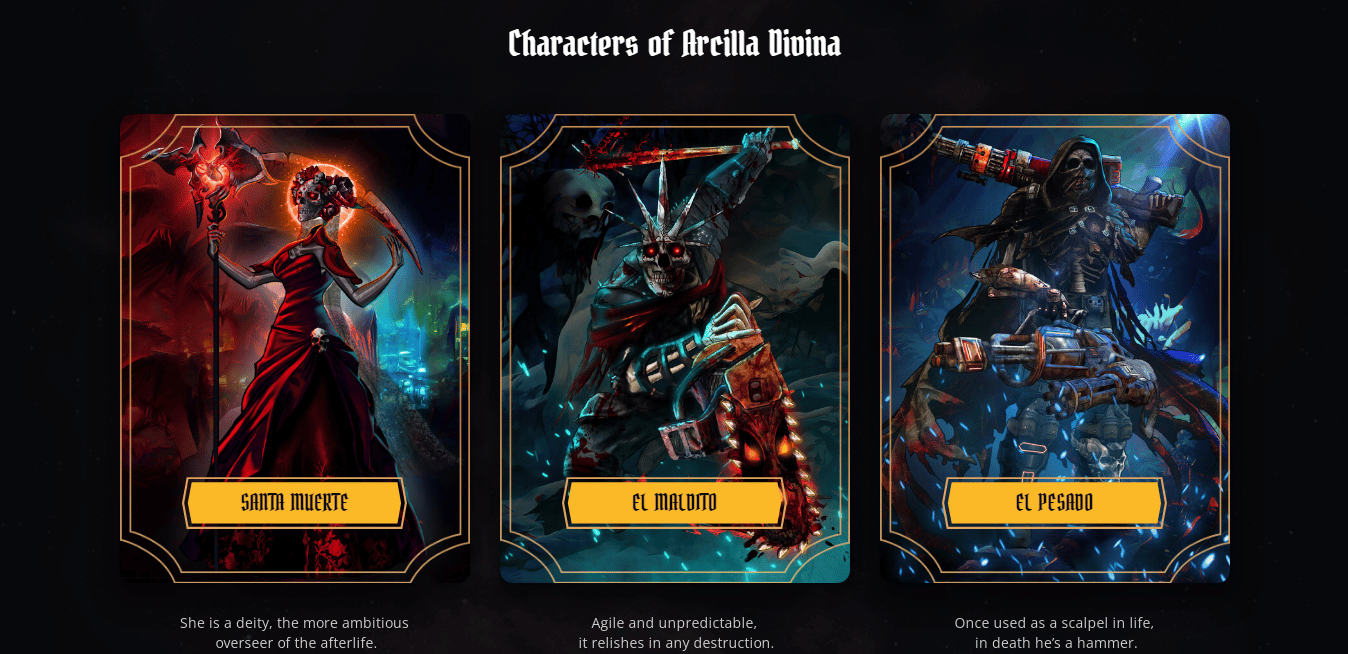 But as we pointed out, Calvaria is no more special than most other tokens in the presale stage, so what's the assurance that it will ever hit $1?
According to the Calvaria price prediction for 2025, the token is on a good track to eventually reach $1. However, we cannot determine exactly when this will be.
Exploring Why Utility Tokens Crash and Explode
Dogecoin in point: During the 2021 crypto mania, Dogecoin's meteoric rise was all over the news. The coin reached an all-time high of $0.61 only to crash just as meteoric as it exploded in 2022. A meme coin certainly has no utility –other than being a cute meme coin. But memes should not be the 8th biggest coin according to Market Capitalization. Dogecoin beat all the odds and became one of the most luxurious investments of 2021. The reason isn't far-fetched. Elon Musk showed immense support for Dogecoin, Tweeting about it and investing in it. The height of Dogecoin's price happened when the Twitter takeover by Musk became a supposed reality and chats between Musk and his brother leaked (in the chat, he talked about instituting Dogecoin into Twitter's payment option). The speculations were wild and everyone wanted a piece of the coin.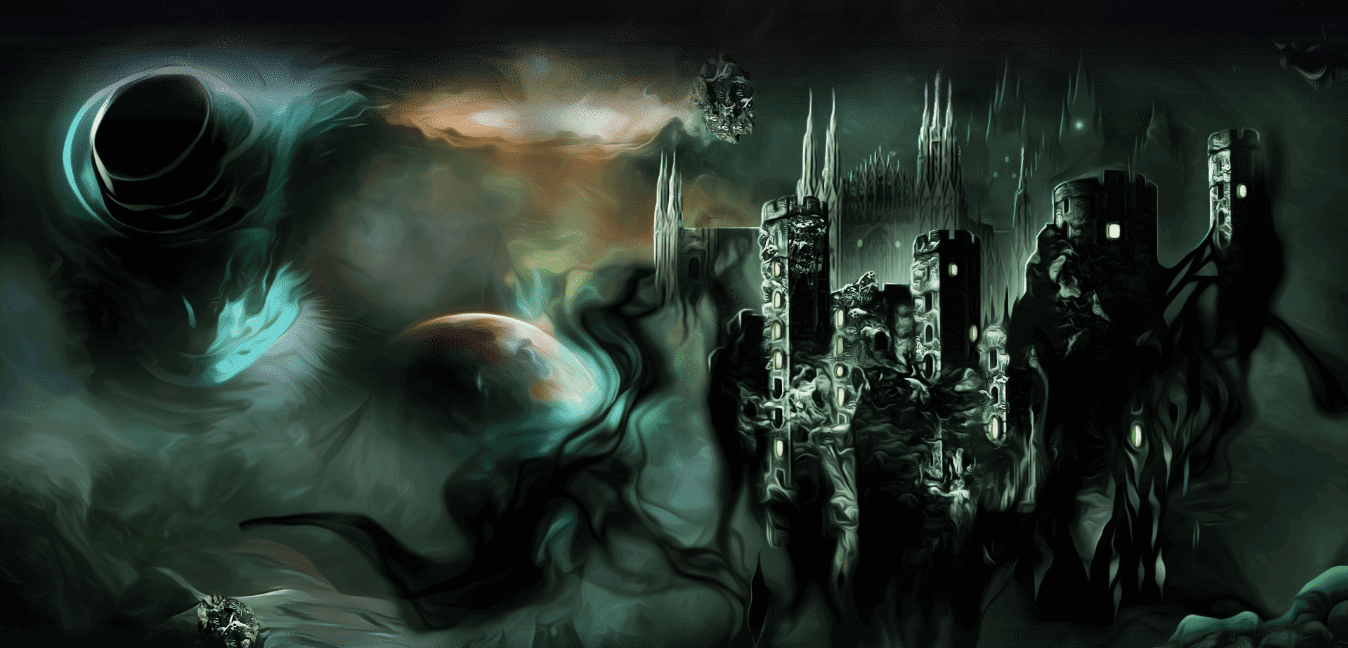 Elon's rubbishing of the coin, calling it a 'Hustle' on Saturday Night Live was one of the reasons the Dogecoin brutally fell off the ladder.
TAMA, the utility token of the Tamadoge, another metaverse that closely followed Dogecoin's history, is down more than 97% of its all-time high. SAND, the utility token of SandBox, a popular virtual land ecosystem, also crashed from an all-time high of $8.44. Analysts believe that SAND will still crash further to $0.45.
The Financial Market
While these crashes can be connected to the financial market, the falling stock market, including S&P 500 and NASDAQ fell 19% and 30% year-to-date. The numbers, while major, still are a far cry from the crypto market that lost over $2 trillion in value in 2022. As of writing a Bitcoin is $16,755.00, a staggering fall from an all-time high of over $68,000. 2021 was a good financial year for the cryptocurrency industry. Institutional investors poured money into Bitcoin, Ethereum, and many tokens, creating immense demand. In 2022, Bitcoin prices fell, and what seemed to be a market correction became an almost-permanent reversal that set the prices of most other cryptocurrencies drastically below their all-time high.
The financial market suffered in 2022. With the war in Eastern Europe and the US attempt to punish Russia for invading Ukraine, and the rise in mortgage rates forcing companies like JP Morgan to lay off employees en masse, the market became bearish.
Reeling off the possible success of 2023, the $RIA token may not find a foothold beyond 2024. A meteoric increase in price in 2025 isn't far-fetched but even if it will happen, it will be because of the cryptocurrency market rally.
If $RIA Won't Be Successful, Why Does It Have an Excellent Presale?
$RIA isn't the only token out there with excellent presales. Fight Out, Robot Era, Battle Infinity, and Dash 2 Trade, also have great presale runs. Axie and Tamadoge also did well in their presale stages, but have yielded monstrously low returns during the recent crypto winter. That said, investors must understand that most times, presales are avenues for crypto whales to buy tokens they think might explode at ridiculously discounted prices.
Investing in a token like $RIA is a highly-speculated and risky move. As a utility token, $RIA might not have a gameplay appeal like Axie. It's not a cute meme coin like Dogecoin or Tamadoge. $RIA certainly isn't a virtual property ecosystem where users can buy virtual land, breed or build in-game assets, and sell these virtual lands in the marketplace. The game doesn't also appeal to social needs like FGHTOUT and C+CHARGE, nor does it offer tools that can help traders make the best trading decisions like Dash 2 Trade. $RIA is simply a card game of sorts, and while investing in tokens is extremely risky, investing $RIA tops the risk table.
Worthy note: The cryptocurrency market is highly moved by influencer marketing. And this is why many utility tokens that do not serve any purpose can have great presales. Also, since tokens are extremely cheap during the presale, many investor gamble on different tokens, knowing that if they launch on DEXs and CEXs, they will make serious returns. It is worth considering this as you read through our Calvaria price prediction.
Verdict: In 2025, $RIA will range between $0.257 to $0.657
Your money is at risk.
Calvaria Price Prediction 2030
2030 is a long time away, and with cryptocurrencies, it's almost impossible to give an objective prediction. But many situations will come to play, and $RIA's price will be determined largely by the market direction. So, what could affect that Calvaria price prediction for 2030?
Regulations
We believe that stringent regulations will be instituted in the next 5 years, and these regulations will crash the market. China launched its digital Yuan on January 4, 2022. In July 2022, Russia's President, Vladimir Putin, signed a bill into law that legalizes digital financial assets, DFA, but prohibits the use of digital assets as payment for goods and services. Basically, people can trade digital assets within the crypto industry, but cannot use the assets to buy and pay for goods and services. The law incapacitates cryptocurrencies and removes digital assets as an alternative to the Rubble.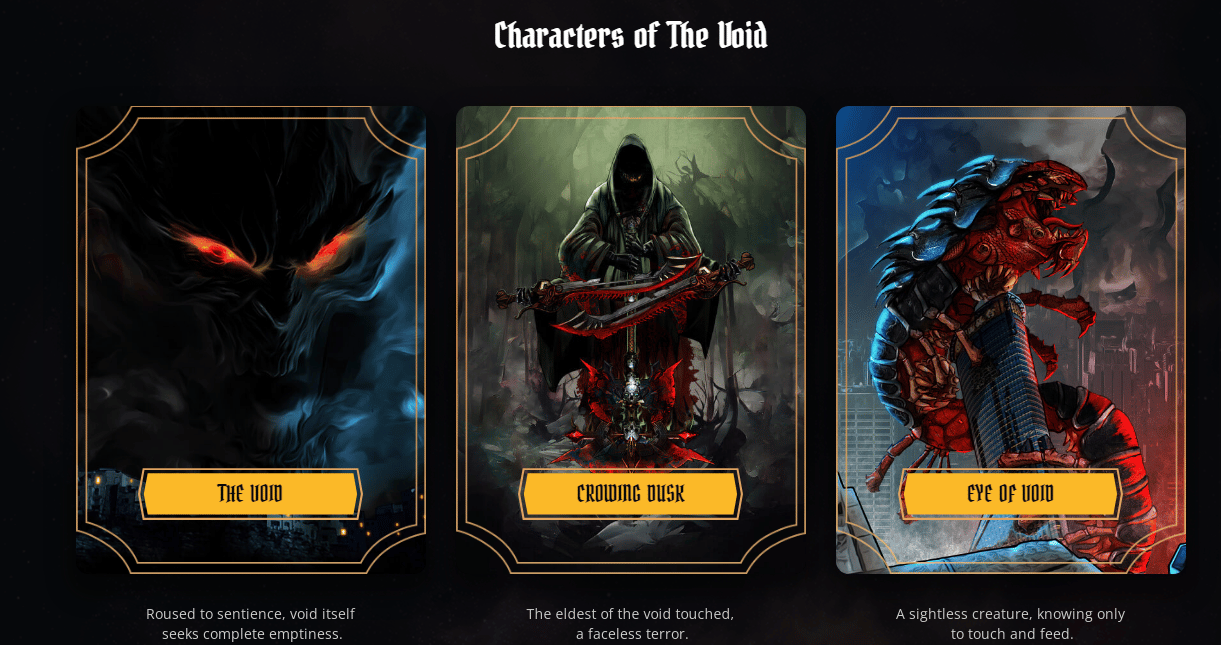 Strict regulations in the crypto industry will protect more users but will allow transparency in transactions. Such regulations, as history has shown, will lead to the drop in the value of cryptocurrency assets, especially Bitcoin. Also, regulations will restrict the operations of some tokens. While it is legal at the moment to create digital assets out of thin air, there might be regulations that will limit how companies create digital assets. People like Elon Musk and Jack Dorsey have expressed worries over blockchain technology and Web 3. While Elon supported Dogecoin and Bitcoin, his actions retracted his initial support when he sold more than 75% of Tesla's Bitcoin holdings and expressed worries over the energy implication of PoW models of cryptos like Bitcoin and Ethereum.
If regulations go in an extreme direction, coins like Dogecoin may become inexistent or may only exist as non-fungible tokens, rather than tradable digital assets.
Bitcoin Prices May Crash
Bitcoin is the alpha dog of the cryptocurrency industry. Bitcoin in the last decade has competed against countries' legal tenders, used as the means of purchase of other cryptocurrencies, and risen in value, hitting around $68,000 in its 2021 prime. But Bitcoin's glory days of irresponsible returns and super-normal ROI seem to be dimmed – at least for now. Investors at Standard Chartered Bank believe that Bitcoin price may crash even further in 2023. And if history is right, Bitcoin's crash may cause the domino effect where other cryptocurrencies and tokens follow suit.
Eric Robertsen, a Standard Chartered financial expert claimed that 'Yield plunge along with technology shares, and while the Bitcoin sell-off decelerates, the damage has been done.' Indeed, the damage has been done. Bitcoin rose to an all-time high of $69,044.70 in 2021 only to fall below $17,000 in the winter of 2022. Bitcoin's sudden rise in 2021 can be traced to the availability of disposable income and the availability of too much time in the hands of investors during the Global Pandemic. As investors welcomed the idea of digital currency, the demand for Bitcoin soared. Due to FOMO (Fear of Losing Out), many other investors ordered more BTC.  The result was an over-inflation of the BTC price.
Experts believe that Bitcoin has just begun trading within responsible figures, and other cryptocurrencies will also crash further in a big unending market correction. Tokens like Calvaria may somehow enjoy increased demand in 2023, but if a wide market correction will happen through the next few years, the $RIA token may crash before it even has the time to lift off.
Verdict:RIA will sit at around $0.1
Your money is at risk.
Calvaria Price Prediction- Summary
The above Calvaria price predication indicates that calvaria seems like a decent crypto investment, but you must watch market news closely. With tokens like Calvaria, you can never be too careful. One minute, you've made 300% gains and the next minute, you've lost your savings. Most importantly, you should never trade from FOMO (Fear of Missing Out) or greed. Know when to exit the market and sell off your $RIA tokens, and you might just make enough profit to invest in ten more speculative tokens.
Your money is at risk.
Best Alternative Presales To Watch in 2023
Fight Out (FGHT)
Fight Out is a brnd new move-to-earn crypto project that aims to solve problems that persist in the fitness space.
Fight Out creators have observed critical deficiencies in the fitness industry. First, traditional gyms often offer inexpensive but lack fitness routines. Personal trainers can help users keep track of their fitness goals, but they are usually horrendously expensive, and only a few people can afford them. On the other hand, Boutique fitness has grown, and while many people utilize their services, routines are usually one-sided and rigorous, increasing the chances of injury. The solution is fitness apps that offer mentorship and ensure accountability, but fitness apps only track nutrition and steps and offer remote classes.
Fight Out intends to solve the problem by offering a reward program that allows users to earn money while they get fit. The idea is simple but might be a game changer. Like every other web three platform, Fight Out's ecosystem exists on blockchain technology. The apps are standalone and exist on the creators' server, but the reward system and utility token all exist on the blockchain.
Fight Out's utility token is the $FGHT. The $FGHT is the currency users earn when participating in fighting competitions in the Fight Out ecosystem. The FGHT token is 0.0333 USDT. Fight Out is also offering a 50% presale bonus, cutting the price to 0.0166 USDT per token. The Fight Out presale ends on March 31st, 2023, and the CEX listing will begin on April 5th, 2023.

Could FightOut Explode in 2023?
The fitness industry is enormous, and Fight Out intends to enter into three essential parts:
Nutrition
Exercise
Mental health
With such a bold move, we could have an all-around app run that bridges Web 3 and wellness. FightOut is a project that will succeed because there is a demand for fitness apps. Even apps with minuscule features often get hundreds of thousands of downloads. The creators of the FightOut project understand the need for simplicity, and that's why they are bridging Web 2 with a Web 3 interface. For example, people can sign into the FightOut app with an email address. However, in-app purchases can only be done with the FGHT token. FightOut intends to measure steps, weight, cardio, meditation, and many other parts of fitness.
And it gets better.
FightOut rewards players that stick to their fitness plan. For example, players have avatars. Each player's avatar represents how the player looks in real life, and avatars can fight each other. Would you want to see your avatar lose out in the first round of a tournament?
Imagine being able to fight a celebrity. Imagine having an avatar that mirrors your physical shape and strength. If you can only jog three miles a week and you meet a fighter that can jog ten miles, what do you think will happen if your avatar fights the other avatar?
The gameplay is simple and follows the template of most web 2 fitness app – and that's where the FightOut creators got it right. When people build Web 3 apps, they often ignore the industry and produce games that are out of taste. FightOut's graphics and gameplay are simple and easy to navigate. We think the FGHT token might just be a big winner in 2023.
2023 Verdict: One FGHT will be worth 0.095 USDT.
Your money is at risk.
Dash 2 Trade (D2T)
Dash2Trade remains one of the most impressive token presale runs in 2022. First, the D2T team decided on nine presale stages but had to cut it to four because of the demand. The second presale stage sold out in three days, and the first and third lasted only around two weeks. The fourth presale stage is sold out, and investors have bought more than the allocated D2T token. In the fourth and final presale, 104.58% of the allocated token has been sold, raising the team more than $14 million. The team will launch the D2T token on CEX on January 11, 2023, just a few days from this writing.
But what's so special about the D2T token?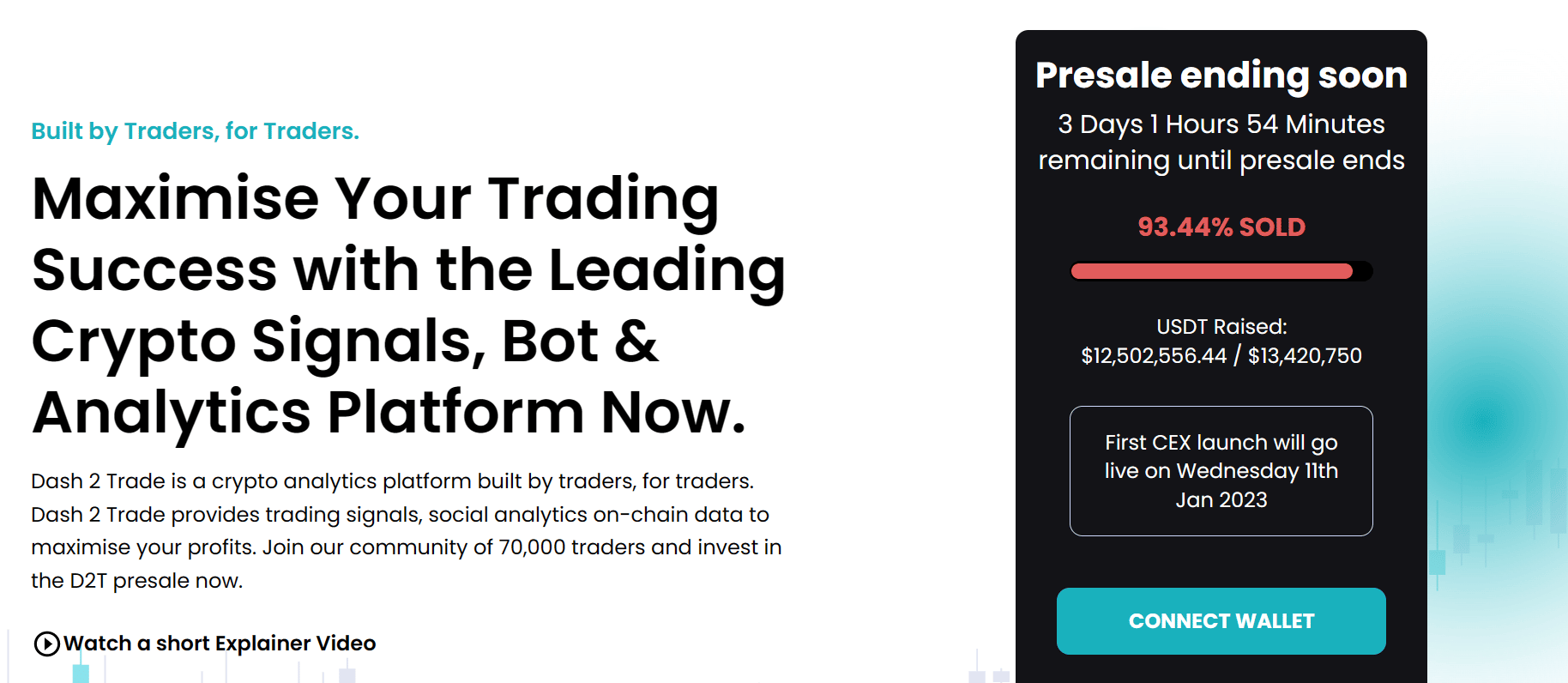 The D2T is the utility token of the Dash2Trade application. Dash2Trade is a web 3 application built by traders for traders. The application, at its completion, will help traders make objective and data-driven trading decisions. The Dash2Trade ecosystem is a robust compilation of features. For example, it will be the first web 3 application to explore social trading. Features like watch list alerts, trading bots and strategy builder, social analytics, and learn-to-earn will be integrated into the mobile and web app.
Social analytics: The Dash2Trade team will help you track the social metrics of tokens and cryptocurrencies. Imagine if you can get alert when there is a buzz around a particular token or if a particular hashtag relevant to a token is trending within a community. Dash2Trade's social analytics will monitor and report chatter in different social media apps, letting you know what people are talking about.
Token Analysis: When you know what people are talking about, you must understand why. The D2T token analysis will help you sieve tokens, understand the intricate details of presales, cut through whitepapers and give you relevant insights so that you can objectively decide what presales are worth investing in and for how long you should keep the token.
Trading bot and strategy builder: On the D2T platform, users can build strategies and use trading bots to execute day trading needs. While you develop your trading strategy, you can use the app's backtester (basically a demo account or paper trading) to test your strategy.
Will the D2T Token Explode in 2023?
From all indications, the D2T token might be the one. The token's presale run is super-impressive, and investors want to get their hands on more tokens. With the amount raised in the fourth and final presale, there is a lot of buzz surrounding the project, which will continue well into the end of 2023.
The project isn't just all noise. Unlike a few tokens we have seen in the past that generated a lot of buzz only to crash, the D2T team is the experienced team behind the successful Learn2Trade brand. Learn2Trade is a foremost institution in the UK that provides resources and courses to learn Forex and cryptocurrency trading. Learn2Trade has over a hundred thousand active subscribers, and the team continues to provide invaluable trading insights and education.
Verdict: In 2023, a D2T token will be $0.5
Your money is at risk.
C+ Charge
C+Charge is a robust blockchain and P2P payment system that rewards users for buying and using the electric vehicle by letting them pay for EV charges through the C+Charge utility token.
C+Charge released a shocking revelation: car manufacturers and charging stations get paid in carbon credits, but car owners (the people who are the foundation of the EV market) do not get a reward. To understand C+Charge, we must explore the electric vehicle world.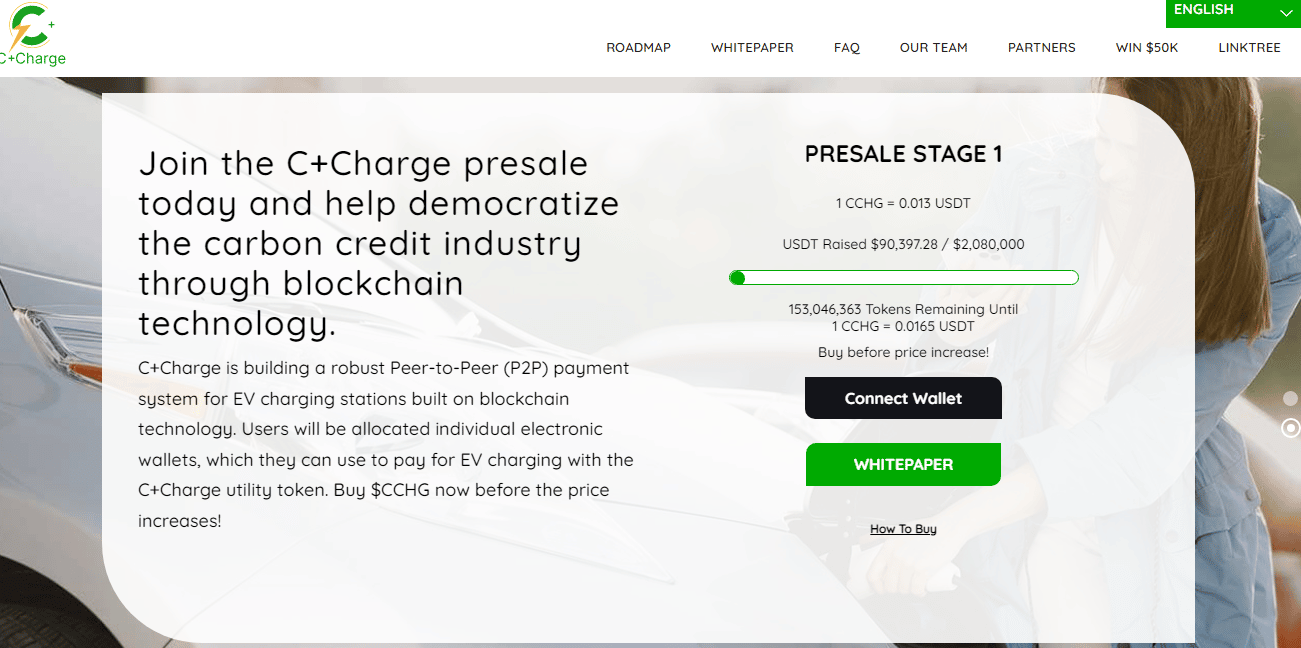 In recent times, electric vehicles have become mainstream. With companies like Tesla building sleek, powerful, and AI self-driving vehicles and dominating the car manufacturing industry, it's evident that there is an increased demand for EVs.
The foundation of EVs and other green energy creations is 'Clean Energy.' With fears of global warming and climate change, some companies work tirelessly to reduce their carbon emission. Individuals also support clean energy by buying products that emit minimal carbon into the atmosphere. And then we have EV charging station owners who provide the infrastructure to charge electric vehicles.
While all the mentioned parties are essential to the clean energy ecosystem, only car manufacturers and EV charging port owners earn carbon credits. With the C+Charge app, users can now pay for their EV charging through the C+Charge tokens.
CCHG Token
CCHG is the utility token of the C+Charge ecosystem. It also facilitates the Peer-to-Peer ecosystem where users can use their CCHG tokens to purchase power for their electric vehicles. The CCHG token is now on its first presale and has raised $90,397.28 from $2,080,000.
Can CCHG Explode in 2023?
The CCHG token will become an integral part of C+Charge if the C+Charge P2P payment method is accepted. First, users must adapt the C+Charge and want enough carbon tokens to download the app. One of the issues C+Charge will face is the value of the CCHG. If users have to wait a long time before gathering substantial CCHG to charge their electric vehicles, they might as well just pay for it.
At the moment, a CCHG token is 0.0165 USDT. Imagine the numbers of CCHG needed to make a dollar. And a dollar worth of charge is not worth the hassle.
We also need to consider the simplicity of the project. C+Charge is a web 3 project, and web 3 project interfaces are often more complicated than web 2 interface. C+Charge may become a niche app used only by web 3 enthusiasts.
That said, we expect that C+Charge drive a hard bargain, simplify its user interface, and appeal to the broad market. If this is the case, the CCHG token can explode in 2023 and beyond 2023. The future of the token largely depends on the internal workability and functionality of the whole project.
Verdict: In 2023, one CCHG token will be 0.05 USDT.
Your money is at risk.
Calvaria Price Prediction: What is Calvaria?
Now that we've taken a look at the RIA price prediction as well as some other promising tokens to consider, let's take a closer look at the Calvaria game.
Calvaria: Duels of Entity- Key Features
The Calvaria universe has three worlds; the Arcilla Vivina, Miaquilia, and the Void. Each world has its characters (cards), and players can combine them through strategy to defeat other players.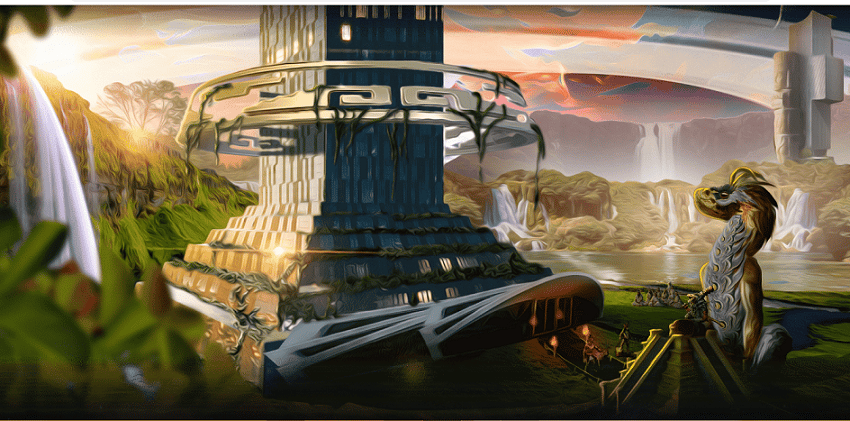 The details of Calvaria's gameplay are still sketchy, but the whitepaper talks about using strategy to own and combine cards and defeat enemies. The $RIA token will also be used when combining cards of the same level to power up to a more robust card. Of course, Calvaria will also have an NFT store for its in-game assets and the creators. Users will be able to sell Calvaria NFTs on platforms like OpenSea.
Your money is at risk.
$RIA Tokenomics
The team intends to invest 25% of the total $RIA token in the staking pool. With the staking pool, investors can lock their tokens and earn interest. On the creators' part, the staking pool is a way to ensure that the $RIA token remains valuable and people cannot sell all their holdings.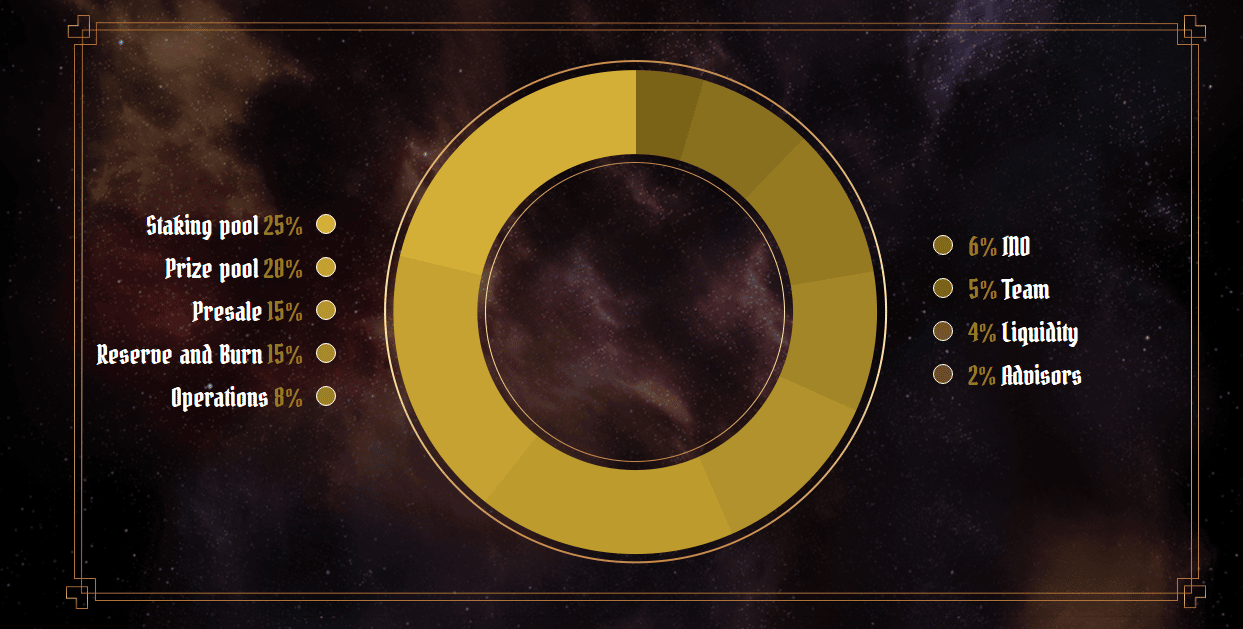 Reserve and Burn (15%): The team will burn 15% of the 1 billion $RIA supply. With burning, there will be less and less $RIA in circulation, reducing supply and increasing price. Other important allocation includes:
8% for the daily operation of the business.
5% as a reward to the team.
4% to ensure the token's liquidity.
2% for advisors who will help the team navigate through the web 3 waters.
$RIA Use Cases
$RIA is the in-game token of the Calvaria universe. With $RIA, users can buy in-game assets, accept payments for their assets, exchange $RIA for other tokens and cryptocurrencies, and win the token in tournaments and battles. $RIA is the bloodline of the Calvaria ecosystem, and other things being equal, it will grow in value as user adoption of the Calvaria universe accelerates.
Calvaria NFTs
Calvaria NFTs are in-game assets that also have value outside the Calvaria universe. In the universe, players will be able to compete against each other, win prizes, explore lands, create their own assets, and list them in the Calvaria marketplace. Players can also list their NFTs on sites like OpenSea. An NFT is a non-fungible token; that is, it has a digital signature. When you own a Calvaria NFT, you truly own it because it is a digital asset. When you buy it from another player, there is a record of the sale and exchange history.
Why Is Calvaria Expected To Perform Well, in 2023?
The team won't release the Calvaria gameplay until the final quarters of 2023, so it's possible that the Calvaria ecosystem will ride on the wave of the success of the presale to launch another successful listing on CEX and DEX.
Who is the team behind Calvaria?
Before making a Calvaria price prediction, it is a good idea to take a look at the team behind the project. The team behind the Calvaria project is made up of experts from the industry who have years of experience. We have Walt, the business development manager with more than four years of experience in the cryptocurrency industry. Maxwell is the head of marketing; Jeremy is the creative director, editor, and community/social media manager; Paul is the lead blockchain developer.
Pros and Cons of Investing in $RIA in 2023
Pros:
Calvaria is in its presale, so buying the token right now might mean buying at a heavy discount. According to this Calvaria price prediction, the value of RIA will rise by the end of the presale stages.
Calvaria's 15% reserve and burn and 4% liquidity in tokenomics show that the team is trying to ensure that the value of the token is reserved.
Staking pool enforces users to lock some of their crypto assets. This measure works against pumps and dumps.
Cons:
Successful presale does not always translate into a successful DEX and CEX listing.
Calvaria may not be successful in the long term. However, this Calvaria price prediction indicates that gains could be made if you invest during the presale.
Your money is at risk.
How Has The Calvaria Presale Performed Compared To Other Presales?
The Calvaria presale has had a very impressive presale run. As of writing, the team has raised $2,689,162 out of $3,075,000 –more than 86% of the presale target. Calvaria is one of the hottest presales out there. While presales like the D2T have raised a lot more money, Calvaria is a superstar in its own right. The token is backed up by many crypto enthusiasts on social media, and many people cannot wait for the gameplay to be ready (or at least the beta mode).
How To Buy $RIA in 2023
Step 1: Purchase ETH fromBitstamp
Visit the Bitstamp website and sign up for an account.
Fund your account: Click on Deposit and input the funds you would like to deposit. Bitstamp has various minimum deposit requirements, depending on the country you are in.
Use the funds to purchase Ethereum by selecting Ethereum and inputting the number of Ethereum you want to purchase.
Step 2: Move ETH to a crypto wallet (Metamask)
Transfer your Ethereum holding to your MetaMask wallet: Under the crypto tab, select Ethereum and input the details, including your Meta wallet address.
Step 3: Connect your crypto wallet to the Calvaria presale
Visit the Calvaria presale page, click on Buy Now, and then connect your wallet. At this point, you should have your MetaMask wallet as a chrome extension.
Step 4: Swap ETH for RIA
Swap your ETH for RIA tokens.
Step 5: Claim tokens at the end of the presale
After the presale ends, you can claim your RIA token.
When Will The Calvaria Presale End?
The Calvaria presale will end when the milestone is reached or on January 31, 2023.
Your money is at risk.
Calvaria Price Prediction 2023-2030: Conclusion
In this article, we have taken a close look at the Calvaria price prediction until 2030. Calvaria will most likely have a great 2023; however, the sustenance of the token through the next five to ten years depends on the gameplay and so many external factors. For example, if regulations become stringent, people may lose interest in investing in cryptocurrency. Regulations can also stop investments in some countries. Intrinsically, Calvaria's gameplay must perform or outperform another web 2 card gameplays for it to have a foothold in the new financial world.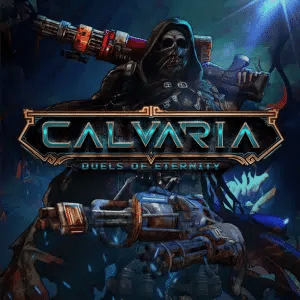 Your money is at risk.
FAQs
Is Calvaria crypto a good investment in 2023?
Where to buy Calvaria tokens?
How much is Calvaria crypto right now?
What tokens can be swapped for RIA?