10 Metaverse Apps That Could Explode in 2023
Metaverse apps submerge us into the world of virtual reality, augmented reality, social interaction, and NFTs – all existing on blockchain networks. From purchasing Lands to creating in-game assets, completing missions, and interacting with friends and family members, the metaverse takes us to a whole new world which has made them a popular choice for investors. Here, we will explore 10 metaverse apps to consider in 2023, their native currencies, and unique features.
10 Metaverse Apps Canada- List
1. Tamadoge– Innovative Doge Ecosystem Game with Play-to-Earn Features
2. Battle Infinity– The Best Sports Game Metaverse App To Invest in 2023
3. The Sandbox- Popular Metaverse Game App with Future Potential
4. Roblox- Metaverse App For Building and Creating NFTs
5. Decentraland- One of The Best Metaverse Apps in 2023
6. Uhive- Best Metaverse App for Social Networking
7. Hyperverse- Metaverse App with Huge Potential Rewards
8. Star Atlas- Metaverse Strategy Game With Space Theme
9. Cryptovoxels- Metaverse World Built on Ethereum
10. Meta Hero- App For Creating 3D Avatars
Your money is at risk
A Closer Look At The Best Metaverse Apps 2023
1. Tamadoge
Tamadoge (TAMA) is the native coin of the Tamaverse, a P2E ecosystem and metaverse app that allows users to breed and care for their Tamadoge pets and battle other pets. The Tamadoge universe launched in 2022 and offers the Dogepool—a staking pool where the users whose Tamadoge pets climb to the top of the leaderboard can claim their coins.
How Tamadoge Works
Tamadoge is a deflationary cryptocurrency; meaning the number of Tamadoge in circulation will reduce over time, preserving and increasing the value of each coin. As of writing, a Tamadoge costs $0.042457 and has a market cap of $42.46 million. Tamadoge allows players to access Tamaverse games, earn rewards, and buy assets in the Tamaverse ecosystem.
Pros
Afordable price
TAMA is a utility token
TAMA is a deflationary token
Zero transaction fees
Brand new token with huge future potential
Cons
Possibility of price volatility
Tamadoge Pros Explained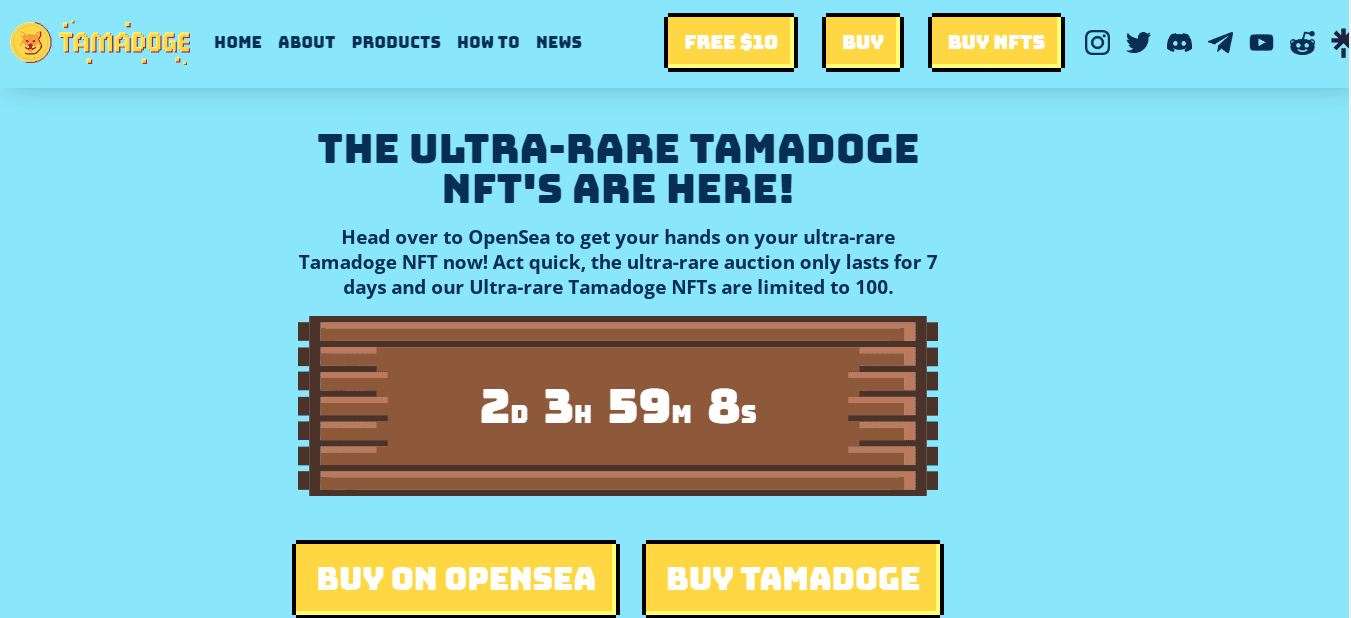 Affordable price: At the beta presale, a TAMA was $0.01 per coin, and investors were asked to buy 1,000 coins for $10. Now, a coin's value has increased to 0.04 per token. TAMA's entry is still very easy because prices are low, and the coin has not been listed on any major DEX or CEX. The crypto winter was also responsible for wiping over two-thirds of TAMA's price; hence, there is a possibility that you would be buying a coin at a discount.
Utility token: TAMA isn't just a meme coin; it's the utility token of the TAMAVERSE; hence, the risks that apply to investing in just a meme coin are not entirely true for Tamadoge.
Deflationary token: Unlike coins like Doge, TAMA is deflationary. The founders consistently put measures in place to reduce the number of coins in the marketplace. Dogecoin added an extra 32 billion coins to its already overpopulated 100 billion. If you do not care for your Tamadoge pets, they will become Tamaghosts—vanish entirely from the ecosystem. TAMA's deflationary principle will ensure that over time, the demand will outweigh supply and perhaps lead to price increases.
Does not charge transaction fees: Tamadoge does not charge its users transaction fees; instead, the running of the ecosystem is dependent on the ecosystem. TAMA's zero-fee policy makes it one of the best Metaverse apps for long-term investment. 
Tamadoge Cons Explained
Possibility of price volatility: Like most meme coins, TAMA may be subject to price volatility and wipe out in the long run. The risk associated with meme coins and most tokens is the fear of long-term devaluation. 
Your money is at risk
Battle Infinity
Battle Infinity is a P2E fantasy sports gaming ecosystem that is set to revolutionize the blockchain gaming industry. IBAT, Battle Infinity's native token, facilitates trading in the ecosystem's marketplace.
Key Features

Battle Arena: In the Battle Arena, players compete with other, form teams, and play exciting games. Successful players earn rewards in IBAT and can convert the currency to any other cryptocurrency within the Battle Swap exchange. Players create an Avatar—which you can upgrade by increasing strength, style, speed, and other characteristics.
Battle Swap: Here, players can convert the IBAT token to any crypto. The Battle Swap is a decentralized exchange integrated throughout the game to ensure seamless and instant transactions.
Battle Market: Here, you can buy NFT tokenized media, from art to music to Avatars, and sell your NFT assets. The Battle Market is the ecosystem's marketplace for all forms of trade.
IBAT Premier League: The IBAT premier league is one of the main features in which players must build a strategic team and battle against others worldwide. The IBAT premier league is a revolutionary blockchain P2E gaming ecosystem where players participate in sports contests.
Battle Stake: Stake your IBAT tokens and earn more tokens. Your earnings are yours to withdraw, but you can also stake some of them in the mining pool and grow your tokens in the long term.
Pros
Staking is available
IBAT is a utility token
IBAT will be listed on major exchanges
Cons
The token has experienced volatility
Pros Explained
Staking: Battle Infinity allows players to stake their IBAT tokens in the pool and earn ROIs on their investments.
IBAT is a utility token: Unlike meme coins, IBAT is the native currency of one of the most promising gaming ecosystems. If Battle Infinity lives to its promises, IBAT might just see an incredible value increase.
IBAT will be listed on major exchanges: One of the main perks of this token is that it will be listed on a number of major exchanges. For early investors, this means that there is huge potential for growth. For others, it means that the token is likely to gain popularity and see success in the future. 
Cons Explained
Every token has promises of greatness, and people often invest with the hope of enjoying immense profits in the long run. Sadly, not every token lives up to its hype. IBAT started strong during its presale event but has since experienced some volatility. 
However, this is normal and is likely to settle down as the roadmap continues.
Your money is at risk
SANDBOX
The SandBox is a popular metaverse with mintable LAND NFTs on which users can create in-game experiences and host events. SandBox and Decentraland are two of the most popular metaverses. The former has grown from a 2D experience game-maker to a 3D immersive experience, allowing users to create NFT-backed avatars and in-game assets.
The SandBox metaverse does not sit on a blockchain; rather, it exists on the creators' private servers. The in-game assets, including the LANDs, however, are represented as blockchain NFTs. If you buy a parcel of LAND on SandBox, the system automatically creates a transaction to the effect on the server's blockchain network.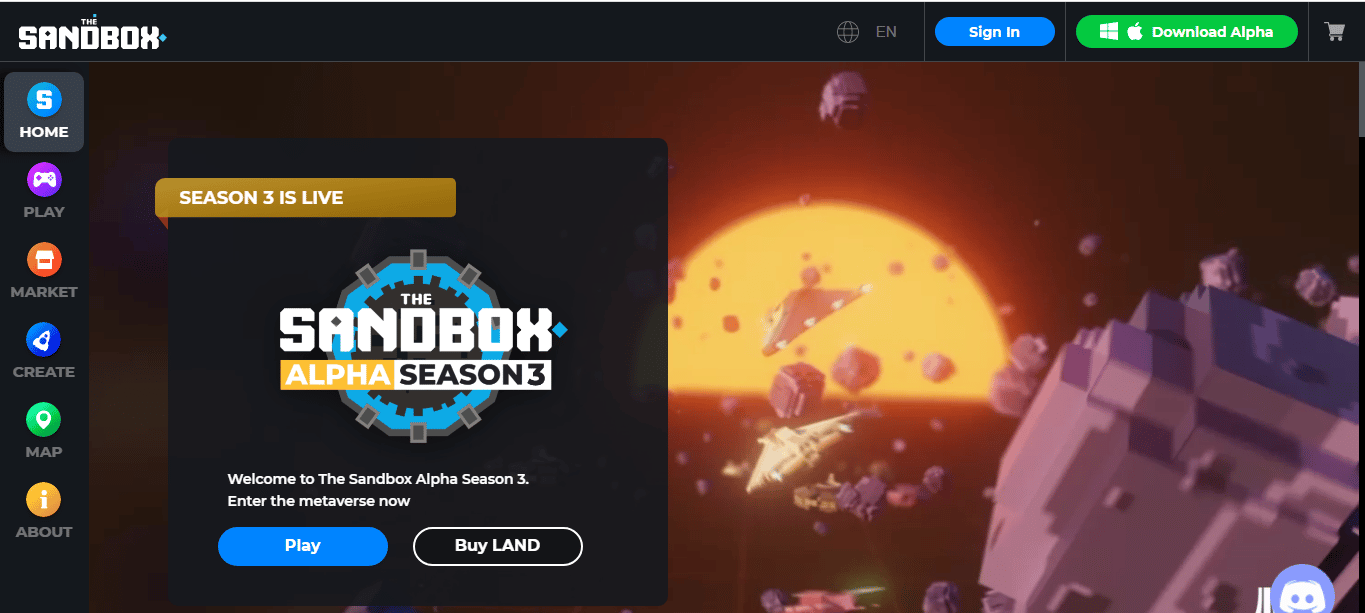 Key Features
The Sandbox is a blockchain-based metaverse that grew from a traditional 2D mobile game into a 3D world where users can own digital real estate in the form of NFTs called LAND.
SAND, SandBoxes' native currency is listed at $0.789872 as of writing, and has a 24-hour trading volume of more than $150 million. Like every other cryptocurrency, SAND is already rallying from the crypto winter and its value increase is quite promising.
Pros
The Sandbox is an already successfu metaverse game
SAND has high trading volume
SAND is available to buy from major exchanges
Cons
The Sandbox is not built on blockchain
You can purchase SAND from eToro- our recommended crypto exchange.
Cryptoassets are highly volatile and unregulated. No consumer protection. Tax on profits may apply.
Roblox
Roblox is one of the most popular online gaming platforms. The ecosystem allows users to create their own games (or experiences) on the platform using the programming language Lua. Roblox is popular with kids and has been praised for improving child-creativity, self-learning, and social skills. Roblox has had its fair share of controversies, from accusations of false advertisement to child labour, and lack of sufficient censorship.

Key Features
Play-to-earn and game development ecosystem
Excellent mobile experience on iOS and Android
Investment in asset development has the ability to yield excellent returns if marketing is persistent
Investors can earn rewards as game makers
Pros
Excellent in-game experience
Available on Google Play, App Store, Xbox One, Amazon App store, and Microsoft
Cons
It may be too late to be an early investor
Decentraland
Gucci, Warner Music Group, Snoop Dogg, Daler Mehndi – these are some of the mega brands and celebrities already investing in Decentraland.
Decentraland is one of the two best metaverse apps. Decentraland hosts parcels of Land, each measuring 16m by 16m, upon which users can create personal experiences, from homes to concert halls, malls, parking spaces, and other NFT-based assets.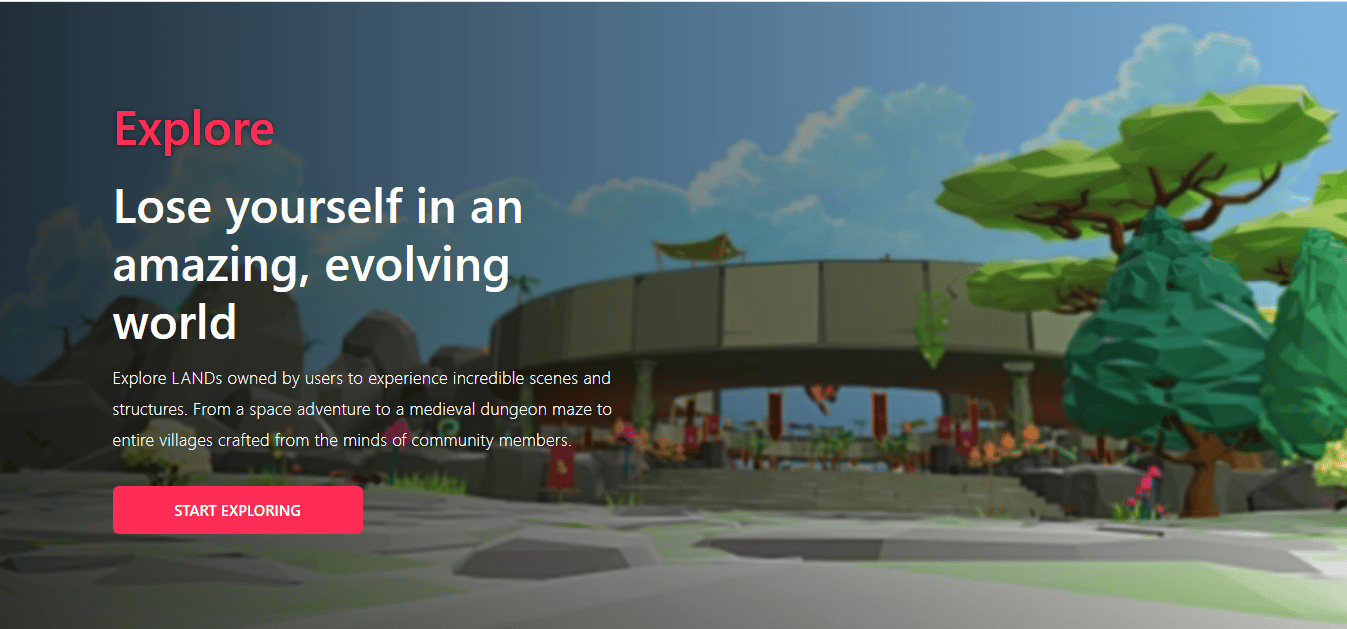 The value of Land in Decentraland varies, depending on the parcel's location. The cheapest available Land currently costs around 3.7 Eth or 4,000 MANA, and can reach up to 1 million dollars.
Land usability is extensive, as people can create whatever they imagine. For example, SnoopVerse, Snoop Dogg's Decentraland Universe, is a show-off of the legendary rapper's life – a digital representation of Snoop Dogg, and an invite can cost as much as $3,000. And it's not just Snoop Dogg: people are paying millions of dollars to own parcels of Land in the metaverse platform.
MANA is Decentraland's native currency, and one token costs around $0.6585 as of writing. Like many other cryptocurrencies, MANA's value was affected by the crypto winter and global economic gloom, with over a third of its value sunk; however, MANA is rallying, and there is an optimistic growth projection for the coming years.
Key Features
MANA is a utility token
In-game assets can be purchased with MANA
To get the utility token, you can connect your Metamask wallet with Decentraland's bridge and convert ETH to MANA.
Pros
As a utility token, MANA's value isn't just existential. It has a use; hence, as long as there is user adoption of Decentraland, MANA will remain valuable.
MANA's price is rallying from the crypto winter
Cons
Recent increase in interest rates affecting the housing market may also affect virtual real estates like Decentraland.
Cryptoassets are highly volatile and unregulated. No consumer protection. Tax on profits may apply.
Uhive
While we may not pay to use social media platforms, we sacrifice a lot more than money. Privacy and data mining are two revenue sources for the big 4 (Facebook, Instagram, Twitter, and TikTok). We communicate with friends, use hashtags, post pictures, and reveal our location, and in turn, these companies use our data to send targeted ads, accumulating billions in revenue. Uhive is a blockchain-based social media platform that gives you everything a social media platform should without breaching, sharing, or using your data against you.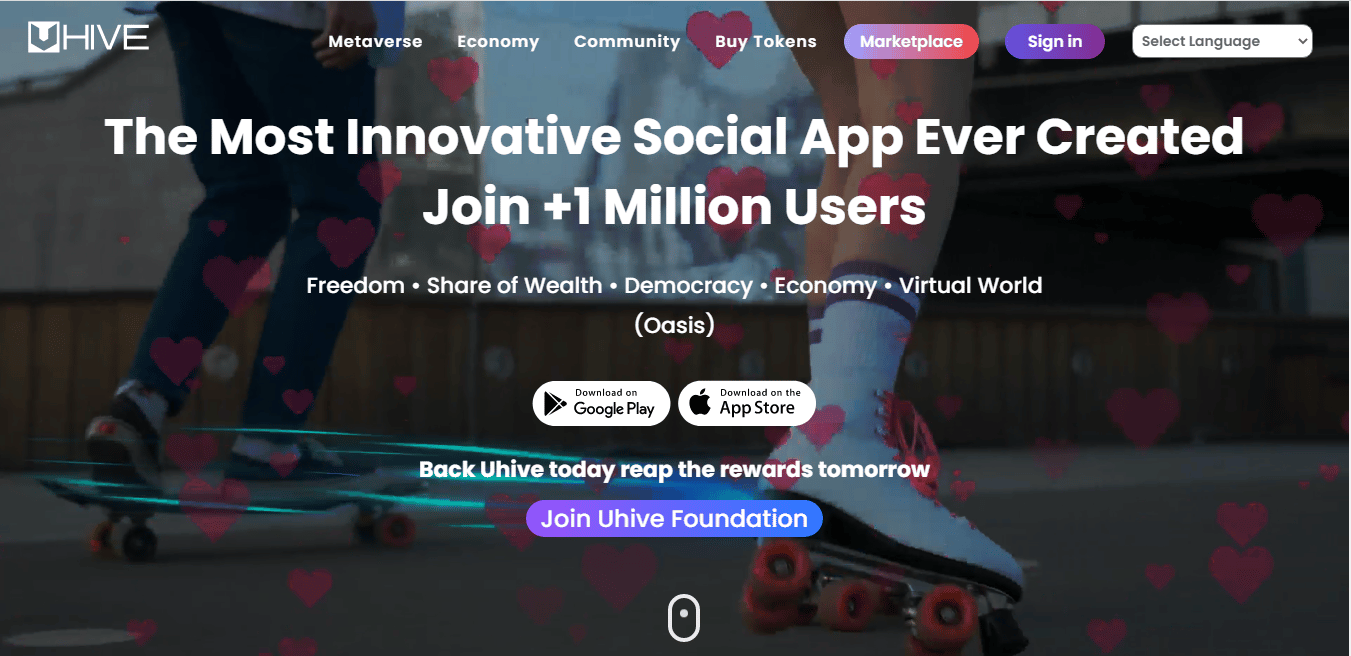 Uhive is the ultimate complete privacy social media app. So how does this metaverse app work?
The Uhive token is the platform's native currency and is built on the Ethereum blockchain. Instead of showing people random content, they show user-generated content; meaning, you are in control of what you see on Uhive. 
Uhive also promotes privacy by allowing people to create Spaces (similar to profiles). A user can post whatever they wish on their space. The result is freedom—freedom to say what you want without anyone knowing who you are. 
Now, the most beautiful thing about Uhive is its decentralized structure. When you do what you supposedly do on a social media platform, Uhive pays you. The profit-sharing mechanism of Uhive is fundamental to the belief that it's the users that push a social media platform; hence they should be rewarded. When you chat, post pictures, like posts, or comment, Uhive rewards you in their native token. 
Key Features of the Uhive Token
The price of the Uhive token is around $0.03 per token. 

Users can earn as much as 50,000 tokens within two weeks.

Uhive tokens are not spendable in the real world, but you can use them for in-game activities like buying or reserving spaces, advertising products, subscribing to spaces, purchasing merchandise, and getting a paid share of your space revenue. 

Uhive already has 1 million active users. 
Pros
Uhive allows users to share in the platform's revenue.
Seamless social media app
Cons
Uhive tokens cannot be spent outside Uhive.
To buy Uhive tokens, you will need to hold ETH, which you can then swap in an exchange.
Cryptoassets are highly volatile and unregulated. No consumer protection. Tax on profits may apply.
Hyperverse
Hyperverse is a brand new metaverse platform in 2023. The founders have promised a whopping 300% ROI within a year, even though the website isn't yet functioning and the whole network is still in Beta.
Hyperverse is a metaverse that hosts millions of other metaverses. According to the founder, users will be able to travel to different worlds, immerse in different experiences, and create NFTs that can be sold. The HVT or Hyperverse is the metaverse's native cryptocurrency and the primary means of exchange for the hyperverse.
Nothing concrete is known about the Hyperverse chain and how they intend to build the metaverse, but many people have since flocked to PancakeSwap to purchase some of the tokens with a hope for mouth-watering ROI.

Key Features
Brand new platform- opportunity to be an early investor
Promises 300% ROI on investments
Pros
A HVT token costs just $0.00001598 at time of writin
Cons
Nothing is yet known about the Hyperverse or if it will launch.
If you would like to invest in this NFT game app, you will first need to buy crypto tokens that you can swap for HVT through an exchange.
Cryptoassets are highly volatile and unregulated. No consumer protection. Tax on profits may apply.
Star Atlas
Star Atlas is a high-end sci-fi, Decentralized Autonomous Organization (DAO) spaceship combat game. The game is hyper-immersive and requires a high strategy to play. In just a few years, the game has grown to over 230 employees and has over two hundred thousand people on its discord channel.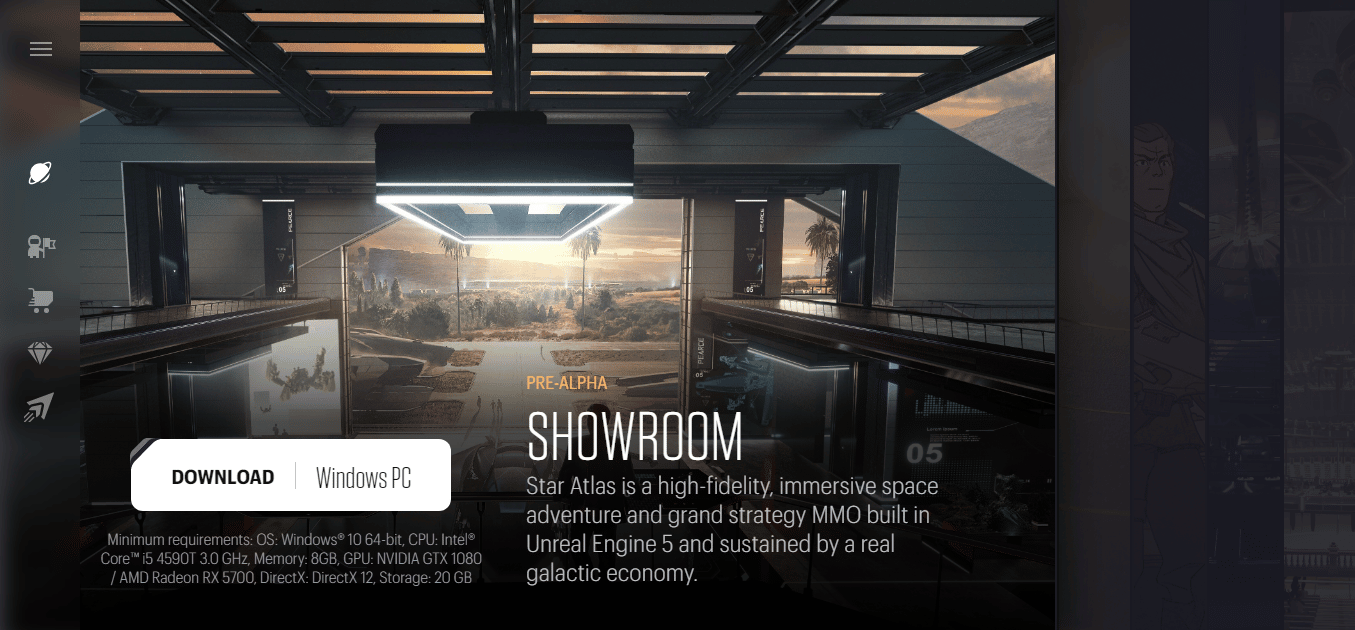 The blockchain gaming platform is decentralized and has a marketplace where gamers can trade digital assets and valuables and exchange cryptocurrencies. Players also own their creations and sell them or loan them out in the marketplace. Star Atlas gameplay is just like Star Citizen: the only difference is the existence of NFTs and the corresponding blockchain technology upon which the ecosystem is built.
Key Features
Adventure inter-star traveling game with many universes
Excellent gameplay and detailed futuristic planning
StarAtlas price: $0.004279
Engine: Unreal Engine 5
Platform: Microsoft Windows
Developers: Sperasoft Studio, LLC, Automata S.A.
Publisher: Automata S.A.
You can purchase the Star Atlas token on a number of platforms, including Kraken, Gate.io, and FTX.
Pros
The Star Atlas token is a penny cryptocurrency and has easy entry.
Cons
Like many other new metaverses, it's hard to know if it will see success. Proceed with caution.
Cryptoassets are highly volatile and unregulated. No consumer protection. Tax on profits may apply.
Cryptovoxels
Cryptovoxels is a virtual world with digital assets like land, buildings, and roads, where players can buy land parcels and develop their own experiences. Created by Nolan Consulting, the metaverse crypto platform is set to compete with already-established Land metaverses like Decentraland and SandBox.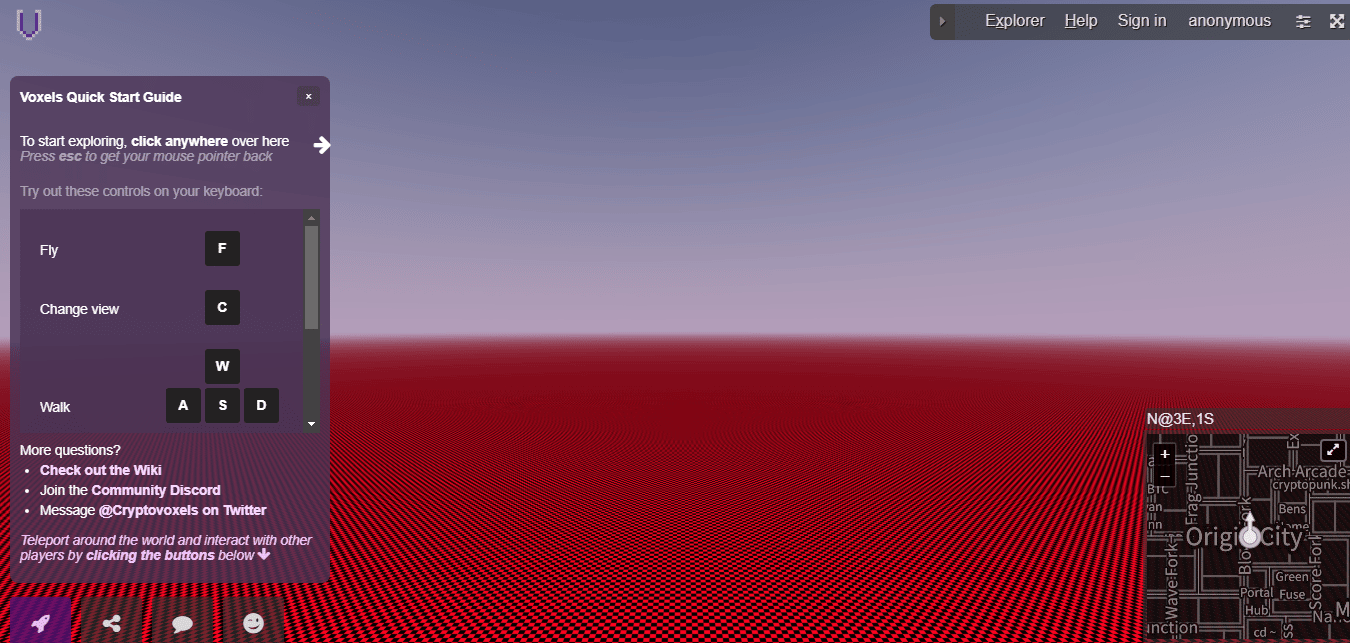 Every Land transaction on CryptoVoxels is recorded on the Ethereum blockchain, the ERC721 chain, and transactions are facilitated by Ethereum crypto. CryptoVoxels used to have its native crypto, COLR, but the token has since been removed and declared non-existent.
Key Features
New-age metaverse:

 Cryptovoxels was launched in 2018, and the first parcel was bought in June of the same year.

You can buy a Land parcel and convert it into a Space, disallowing unrestricted access to your Land parcel; however, you can generate a link to your parcel and share with your friends and family members.

Facilities can be built on the Lands, from concert halls to houses, car parks, and other utilities, and you can charge people to visit or experience your Land.
Pros
Compatible with popular VR headsets like HTC Vive, Oculus Quest, and Oculus Rift.

Cryptovoxels plans on adding Augmented Reality to create a deeper and more immersive experience on the metaverse.
Cons
The platform is still relatively new. Success cannot be determined.
Cryptoassets are highly volatile and unregulated. No consumer protection. Tax on profits may apply.
Meta Hero
Meta Hero is an immersive story game in which users create their own storyline and interact with others. Each player's Avatar is tasked to find the Meta V Particle, a power gem that activates superhero quality. The game allows players to customize their avatars to look like themselves and then endow them with skills to increase their in-game ability.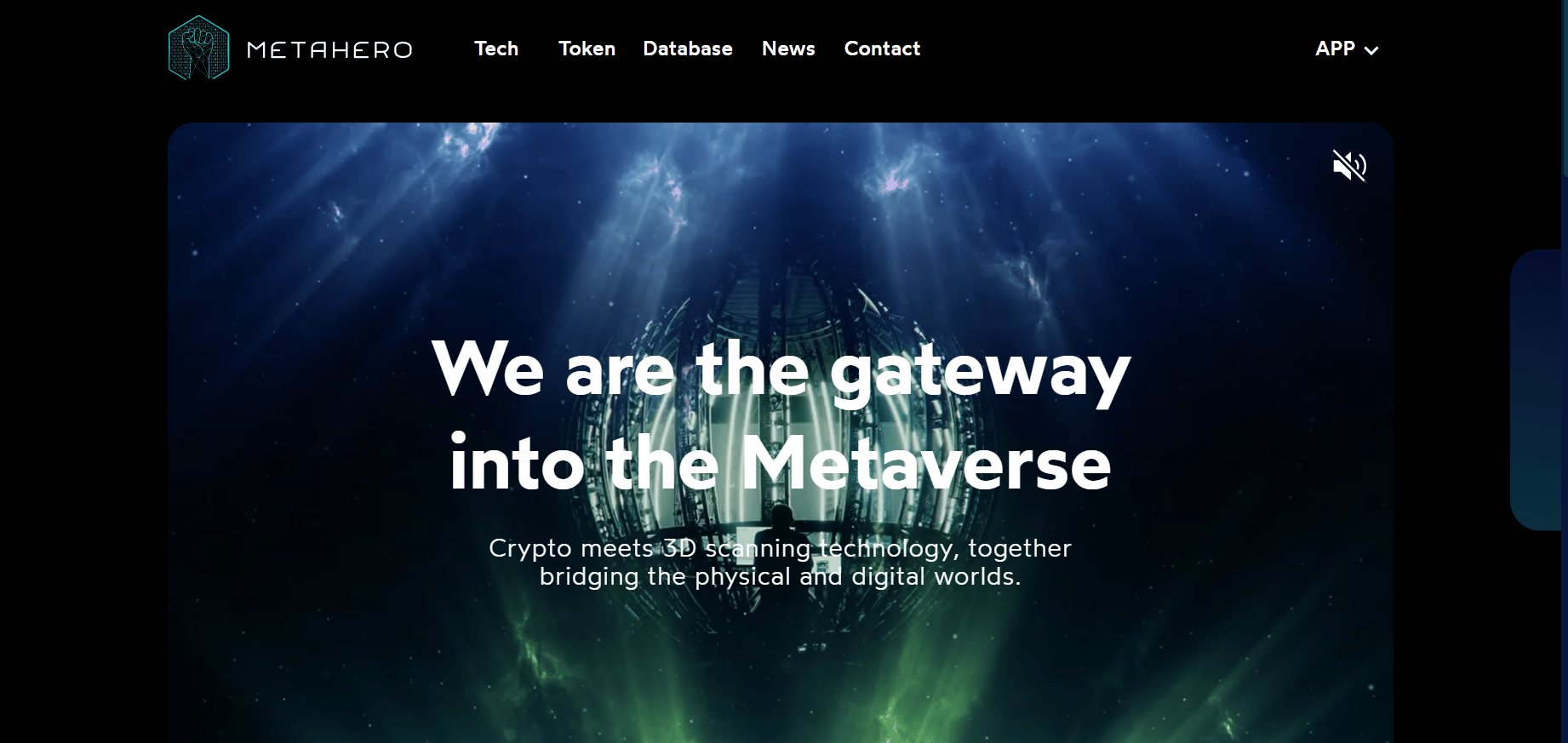 Key Features
Meta Heros are minted on the WAX blockchain. 

Avatars are fully rigged 3D NFTs. 

In-game items like superheroes and fantasy creatures can be fully minted, and players have ownership of their NFT creations.  

Avatars are interoperable; they can exist on other metaverses and games. 
Pros
Meta Hero is unique in its concept and has low competition

Meta Hero allows for multiple universe access
Cons
Players need to put in a lot of time to earn rewards from the game.
Cryptoassets are highly volatile and unregulated. No consumer protection. Tax on profits may apply.
How To Invest In Tamadoge- The Best Metaverse App
Step 1: Visit Tamadoge Website
The first step is to visit the Tamadoge website on which you will find links to exchanges as well as the project road map.
Your money is at risk
Step 2: Open OKX or OKX DEX
On the Tamadoge website, click 'Buy TAMA'. Here, you will be redirected to the OKX exchange. If you cannot access the CEX from your country, you will be able to buy TAMA through the OKX DEX. The token will also be available on other major exchanges in the future.
Step 3: Create an OKX Account
OKX does not require identity verification before you can trade on their platform. If you become a level 1 trader, you will be asked to provide your name, country, and identity verification (a passport or government-issued ID). If you become a level 2 trader, you will be asked to provide a photo verification (Visual verification).
The sign-up process is simple, and no fees are charged for creating an account.
Step 4: Deposit Funds
Log into your OKX account and click on 'Deposit.'
Select the cryptocurrency you wish to deposit and the deposit amount.
Alternatively, you can deposit cryptos by connecting your crypto wallet to the exchange.
Steo 5: Place an Order
Search for TAMA in the list of cryptocurrencies and select how much TAMA you would love to deposit.
Then, set a SL and TP before placing your order.
Your money is at risk
What Are Metaverse Apps?
Metaverse apps combine the power of virtual reality and augmented reality to deliver a surreal user experience. While most metaverse apps have standard features, each delivers unique experiences. For example, Tamadoge is a metaverse P2E ecosystem where players bread and battle other pets, while SandBox and Decantraland primarily sell virtual lands to investors.
A metaverse app should generally have the following features:
Blockchain Technology:
Some metaverses have their own blockchain networks, while others sit on the Ethereum blockchain. A metaverse isn't built on a blockchain; however, transactions executed are recorded on a corresponding blockchain. For example, The Sandbox metaverse, one of the best metaverse apps, exists on SandBox's private server; however, transactions are recorded on a blockchain. If you buy a plot of Sandbox Land, the transaction is recorded on the blockchain; hence, you can easily trace the ownership exchange and ownership line of any Sandbox Land.
A blockchain transaction is recorded within a P2P network of nodes. A node is an individual computer, and a chain contains tons of nodes around the world. Each node (computer) has a copy of the chain and is crucial to the chain's functioning and security system. A blockchain is immutable; hence its impregnable protocol and decentralized.
Decentralization: 
Decentralization and blockchain are the core of the metaverse concept. The decentralization of the metaverse means that the ecosystem does not have a central governing body, and users can control gameplay. Players can also create in-game assets. A player can mint an NFT battle axe for his avatar and sell the axe in the marketplace. A player is in control of his avatar. He can upgrade the avatar's features, giving her speed, strength, wisdom, and stealth, and win conquests.
Resources are also shared: Players can stake some of their winnings in mining pools and earn impressive ROIs.
Native Cryptocurrency:
A metaverse should naturally have a native cryptocurrency (a few do not and use the Ethereum crypto). A native currency is the ecosystem's legal tender. If you want to buy digital assets on a metaverse, you should use the native currency to purchase the asset. The protocol for buying a metaverse's native currency differs. For some, you need to connect your wallet to the ecosystem's Bridge and exchange a currency (BTC, ETH, or Solana) for the native currency. Other metaverses allow direct purchase of their tokens through a credit/debit card.
Immersive Experience:
The best metaverse app gives a user a deep and immersive experience through gameplay and design. People connect with metaverses because they want something similar to the real world yet different from the real world. Battle Infinity, Axie Infinity, and Decentraland are some of the metaverses that have invested in delivering AR experiences in the metaverses.
NFTs:
Metaverse gams often use NFTs to represent in-game assets. These NFTs can then be exchange for value or given as rewards. The chance to earn through NFTs are one of the reasons that metaverse game apps are popular amongst investors.
Property Ownership:
In a metaverse, people own what they buy, breed, or create. Unlike traditional gaming systems where you do not own in-game assets, Metaverses let you keep what you win, and you can trade these in-app assets for other cryptos or fiat currencies.
In Decentraland, you own your Land, and your ownership is sealed in the blockchain. You also own the building blocks, weapons, and items on your Land. These in-game elements are sellable and have real-life values.
Social Interaction:
The metaverse can be likened to a social media platform on a blockchain. Roblox is the third-most downloaded app on Playstore and fosters social interaction amongst kids and teenagers. The metaverse goes beyond just playing 2D or 3D games: it's a community of people willing to meet each other and experience digital creativity regardless of timezone and distance.
Your money is at risk
How To Use A Metaverse App?
Using a metaverse app is quite easy. Of course, you must log in or sign up with the platform and fund your account. Entering a metaverse will typically cost you some money: you will need to exchange fiat currency for the metaverse's native currency to be able to purchase or mint valuables and pay for gas fees.
When entering a metaverse, most times, you will need a crypto wallet like Metamask. With Metamask, you can purchase cryptos or tokens and exchange such cryptos or tokens with the metaverse's native currency.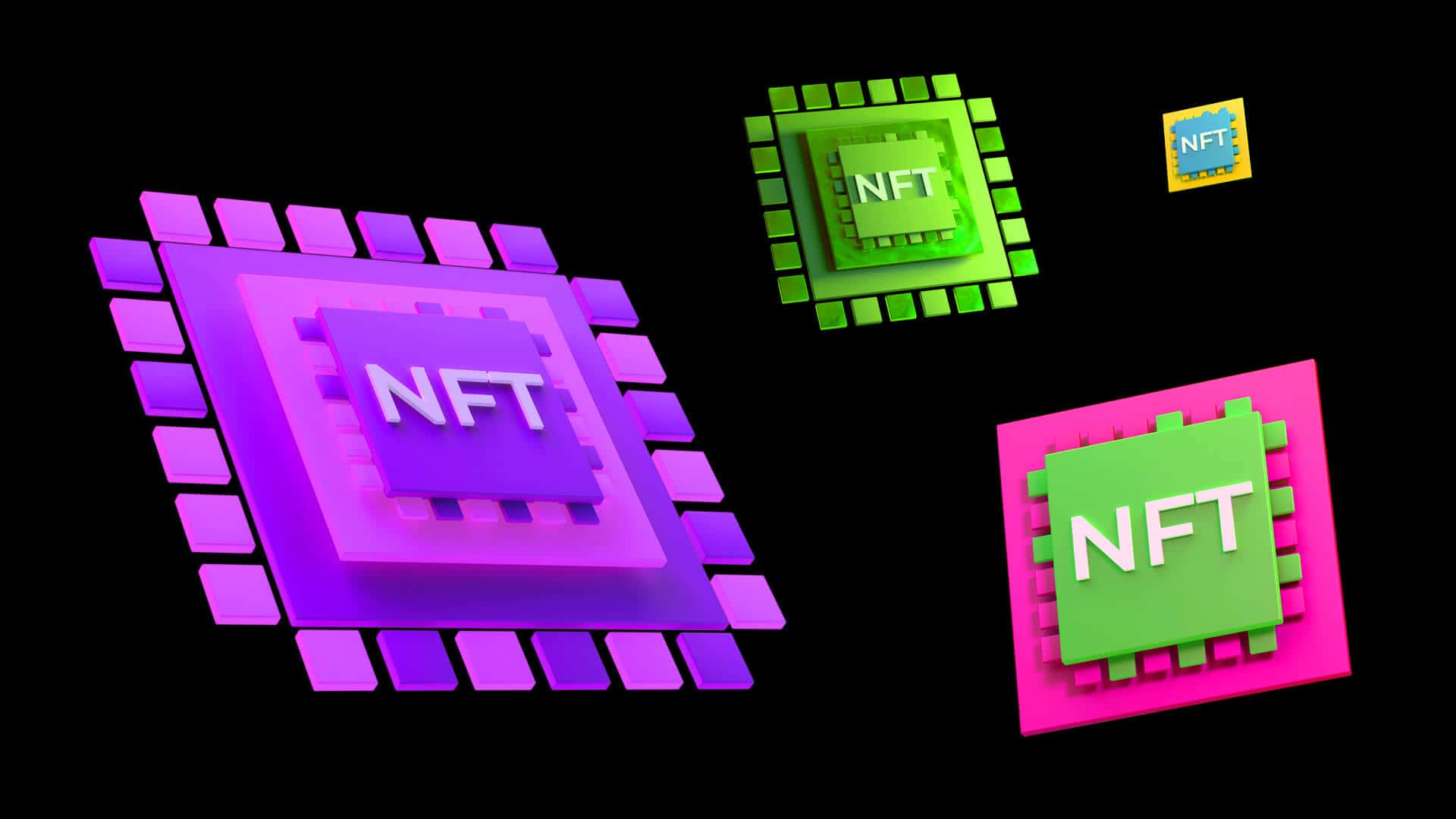 Depending on the metaverse you choose, gameplay could include building digital properties over your Land, executing tasks, participating in conquests, mining for jewels and other valuable stones, and partaking in the metaverse's missions. You can also skip gameplay entirely and purchase a metaverse's token. All metaverse crypto are utility tokens; hence, their values are tied to the value of their respective metaverse. If a metaverse's adoption increases, the value of the token will most likely increase.
How To Buy Virtual Land With A Metaverse App?
Buying virtual Land with a metaverse app is often seamless, depending on the app you choose. Most virtual lands are already listed on decentralized exchanges like OpenSea and can be gotten directly from there. You may also have to dive into the metaverse to search for your preferred virtual Land.
Best Metaverse App Canada- Our Conclusion
Our best metaverse app for Canadians has to be Tamadoge. If Dogecoin's success is anything to go buy, Tamadoge can shoot through the roof in the near future. TAMA, Tamadoge's native currency, isn't just a meme coin; it's a utility token that supports the Tamaverse.
Your money is at risk
FAQs
What are metaverse apps used for?
What are the best metaverse apps right now?
Can I play metaverse on my phone?
Can I earn crypto from a metaverse app?