Best Stock Trading App South Africa 2023
Disclosure
Everything you read on our site is provided by expert writers who have many years of experience in the financial markets and have written for other top financial publications. Every piece of information here is fact-checked. We sometimes use affiliate links in our content, when clicking on those we might receive a commission - at no extra cost to you. By using this website you agree to our terms and conditions and privacy policy.
Are you looking for the best stock-trading app in South Africa? If yes, heaps of providers now allow South Africans to buy and sell stocks at the click of a button. Some will even give you hints as to the best crypto to buy. But, with so many options on the table, how do you know which trading app to go with?
In this guide, we review the best stock trading apps in South Africa 2023. Our top picks all excel when it comes to tradable stock markets, fees and commissions, supported payment types, and regulations.
Key Points about Stock Apps in South Africa
Nowadays, online trading platforms also provide a stock trading app enabling you to gain exposure to stock markets through your smartphone.
Trading securities via a stock app lets you diversify and manage your portfolio anytime and anywhere.
With so many stock apps to choose from, making the right decision can be challenging.
Top Stock Trading Apps South Africa 2023
Below, you will find a quick overview of which top-rated stock trading apps cut! To read our full review of each app, simply scroll down.
Trade Nation – Regulated stock trading app with fixed spreads in South Africa
XTB – Long Standing Broker in South Africa
Pepperstone – Best CFD Stock Trading Platform in South Africa
AvaTrade – Best Stock Trading App for Fans of MT4 and MT5
IG – Best Stock Trading App South Africa for Creating a Diversified Portfolio
Best Stock Trading App Reviewed
As noted above, there are dozens of stock trading apps available to South African investors. There are several key metrics that you need to focus on before choosing a provider, such as low fees, access to lots of stock markets, and a strong regulatory standing.
As per our in-depth research, below you will find the stock trading app for beginners in South Africa right now.
1. Trade Nation – Regulated stock trading app with fixed spreads  in South Africa

This is a UK-based, regulated CFD stock broker. This platform allows traders to trade CFDs, spreads, forex, and spread betting. Globally, over 1000 financial instruments are available to users.
There is no minimum deposit or withdrawal fee at Trade Nation, and it offers low fixed spreads and no fees for withdrawals and deposits. For traders on a budget, it is a good option for starting stock trading.
Trading on CFDs starts at 0.6 pips with fixed spreads. In addition, users can access a free demo account on Trade Nation. Using the demo account, you can practice using the platform without risking any money.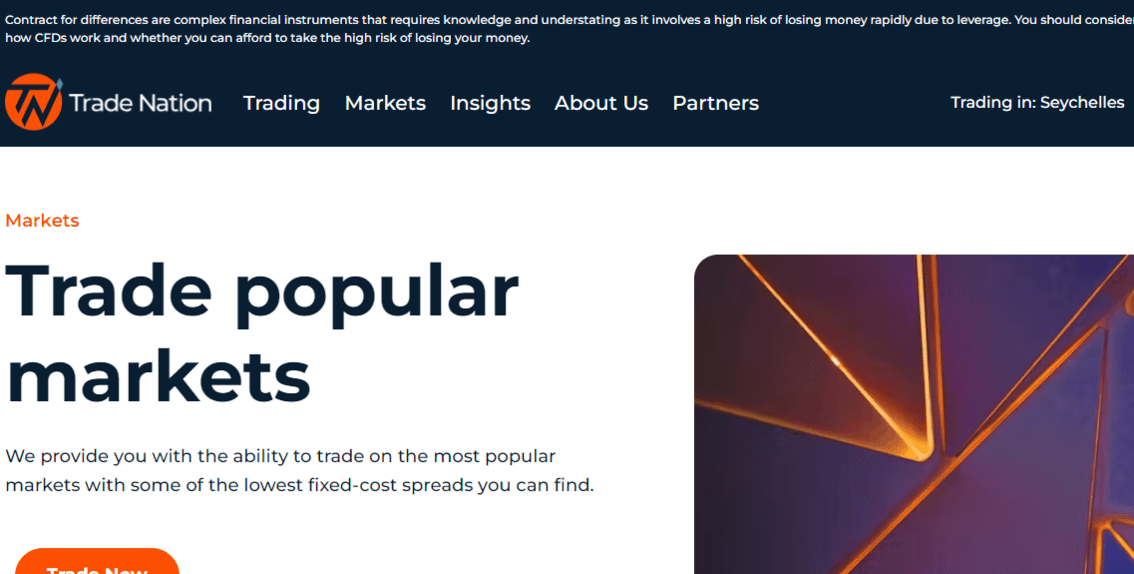 Trade Nation provides MT4 compatibility and its native platform, TN Trader. For analysis, both platforms offer a variety of indicators, like the MACD indicator. Regarding desktop and mobile platforms, MT4 is perhaps the most popular.
Furthermore, Trade Nation offers a range of educational resources and stock trading signals.
Pros
Licensed in Australia, the United Kingdom, the Seychelles, South Africa, and the Bahamas.
Web and mobile platforms that are user-friendly
Smart News curates useful tweets and news.
To control risk, a dollar-per-point staking size is used by default.
The platform offers Acuity-powered trading signals.
Cons
Market research and news are not integrated on the Web.
Blog updates on sporadic market research
Occasionally, podcasts are not strictly related to finance.
86% of retail investor accounts lose money when trading CFDs with this provider.
2. XTB – Long Standing Broker in South Africa
With XTB, South African traders can speculate on various markets, including stocks, forex, commodities, indices, and cryptocurrencies. The brokerage offers 57 forex pairs, 2,000 stocks internationally, 160 ETFs, 48 cryptocurrency pairs, and 28 commodities, allowing traders to build vast portfolios and explore various investment options.
Being one of the best stock portfolio trackers, with its impressive CFD offerings and no commissions, XTB has been a leading CFD broker since 2002. The user-friendly "xStation5" platform is therefore accessible to South African traders at a low cost.
You can access the platform through web browsers, desktop software, and mobile apps. Therefore, trading on the go is optimized for South African traders, as they can choose their preferred device.
Compliance with regulations and protecting customer funds are XTB's top priorities. There are five regulatory bodies responsible for regulating it:  the Cyprus Securities and Exchange Commission (CySEC), the Polish Financial Supervision Authority (KNF),  the Financial Conduct Authority (FCA), the Dubai Financial Services Authority (DFSA), and the Financial Services Commission of Belize (FSC).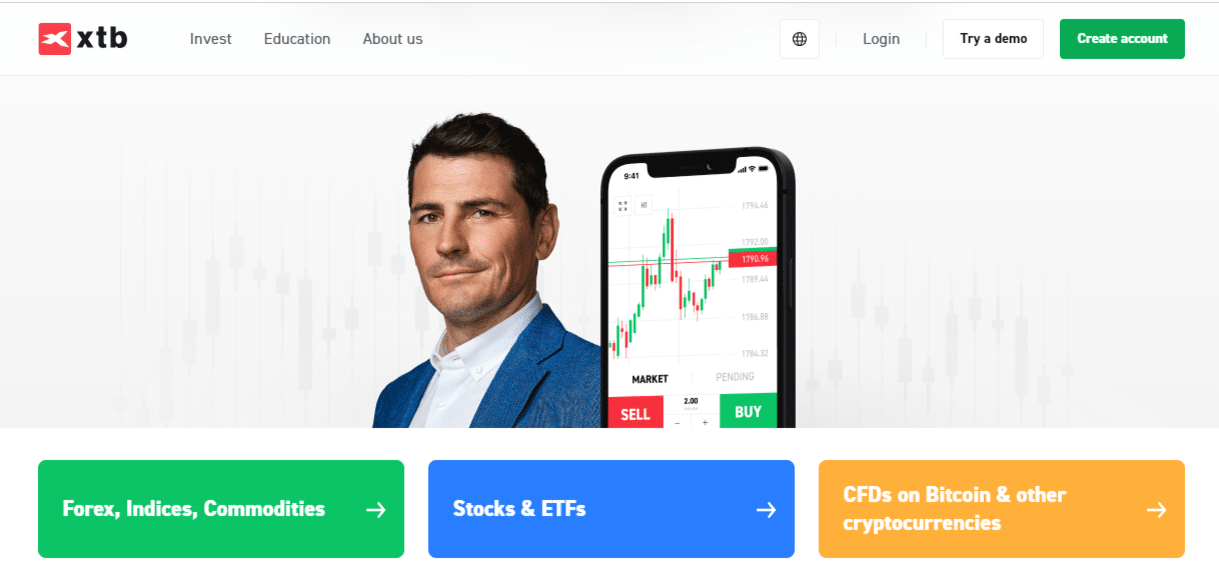 While XTB may not be classified among the top demo trading apps, it closely emulates their features. The platform ensures a seamless trading experience by delivering 24/7 customer support and assistance at any time.
Similar to the best demo trading apps, XTB offers free demo accounts, giving users substantial virtual funds, typically up to $50,000. In the South African market, XTB taps into abundant resources, offering an environment conducive for novice traders to acquire valuable experience.
Pros
The registration process is hassle-free
Deposits and withdrawals are processed quickly
Deposits and withdrawals are free
App for proprietary trading
Cons
Inactivity fees are charged
84% of CFD clients lose money.
3. Pepperstone – Best CFD Stock Trading Platform in South Africa
Since its inception in 2020, Pepperstone, one of the best CFD trading apps, has been making waves in the forex and CFD markets. In addition to its minimal fees, the broker offers various trading features that appeal to South African traders.
Pepperstone places a high priority on convenience. Many South African traders have reported a smooth and user-friendly experience from the beginning of the registration process. Traders can also choose from various platform deposit and withdrawal options and base currencies.
MetaTrader 4 is fully supported on Pepperstone's mobile app and web platform. Trading instruments offered by Pepperstone include forex, commodities, stock indices, ETFs, shares, and even new cryptocurrencies. Traders can diversify their portfolios by exploring different markets through this collection.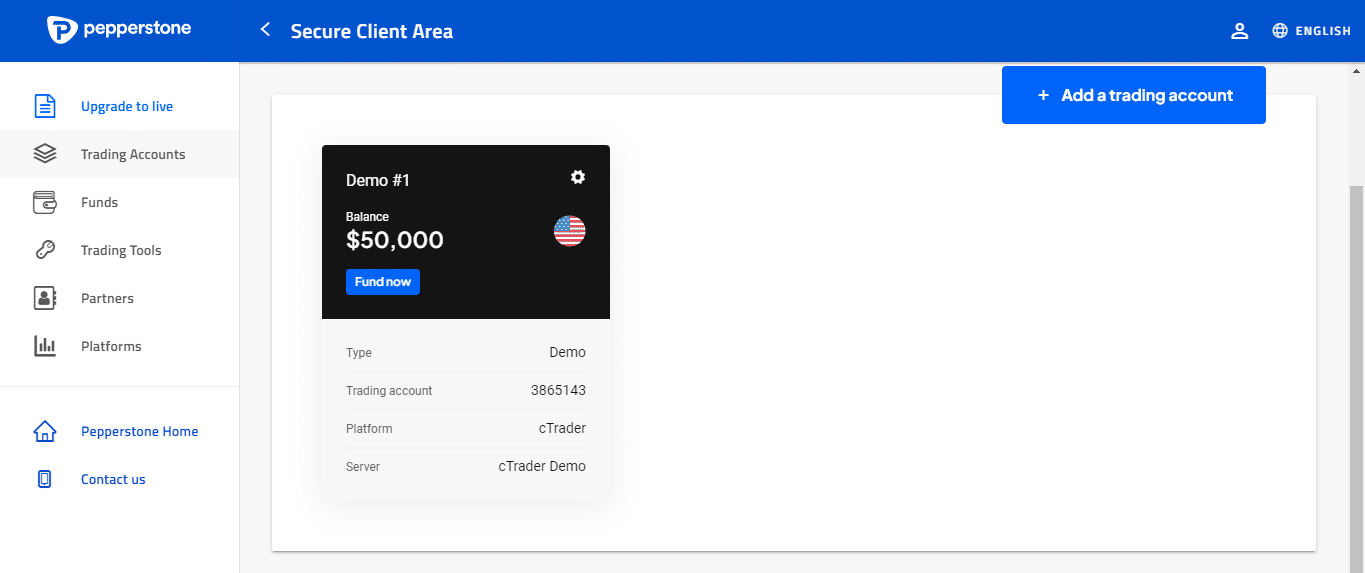 To meet the needs of South African clients, Pepperstone offers a range of customer service channels, including live chat and phone support. Trading hitches are promptly resolved by their dedicated customer care team.
Through webinars and videos, Pepperstone also offers comprehensive demo accounts and educational materials. The broker's clients can use these materials to improve their trading strategies and make better trading decisions.
Pepperstone's policy is to leave no stone regarding security and safety unturned. DFSA, ASIC, and FCA license the broker.
Pros
Apps that operate in multiple languages
Copy-trading options are available.
Participates in partnership programs
Deposits and withdrawals are free
Cons
Charges an inactivity fee
84% of CFD clients lose money.
4. AvaTrade - Best Stock Trading App for Fans of MT4 and MT5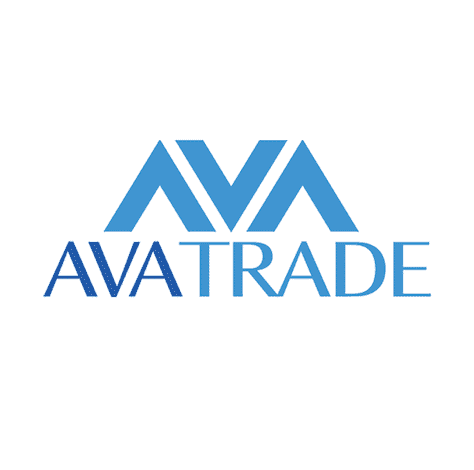 AvaTrade is a hugely popular stock trading app in South Africa. The stock trading app is regulated by the Financial Sector Conduct Authority (FSCA) - alongside many other jurisdictions. There are several reasons why we like AvaTrade. Firstly, the platform is compatible with both MetaTrader series (MT4 and MT5).
As such, this will favor those of you who already have experience trading stocks. After all, these third-party platforms are packed to the rafters with the best investment tools and analysis software, along with charting tools. Additionally, if you are planning to use an automated robot to trade stocks, you can do this at AvaTrade via the MT4/MT5 platform.
When it comes to trading on your phone, you can choose between the AvaTrade, MT4, or MT5 apps. Either way, AvaTrader offers an abundance of financial markets. In particular, this includes a great range of stock CFDs and cryptos that you can trade with ease. You can choose from a buy/sell position on all markets and even apply leverage. Check out our article, "What is leverage in crypto trading?" to learn more.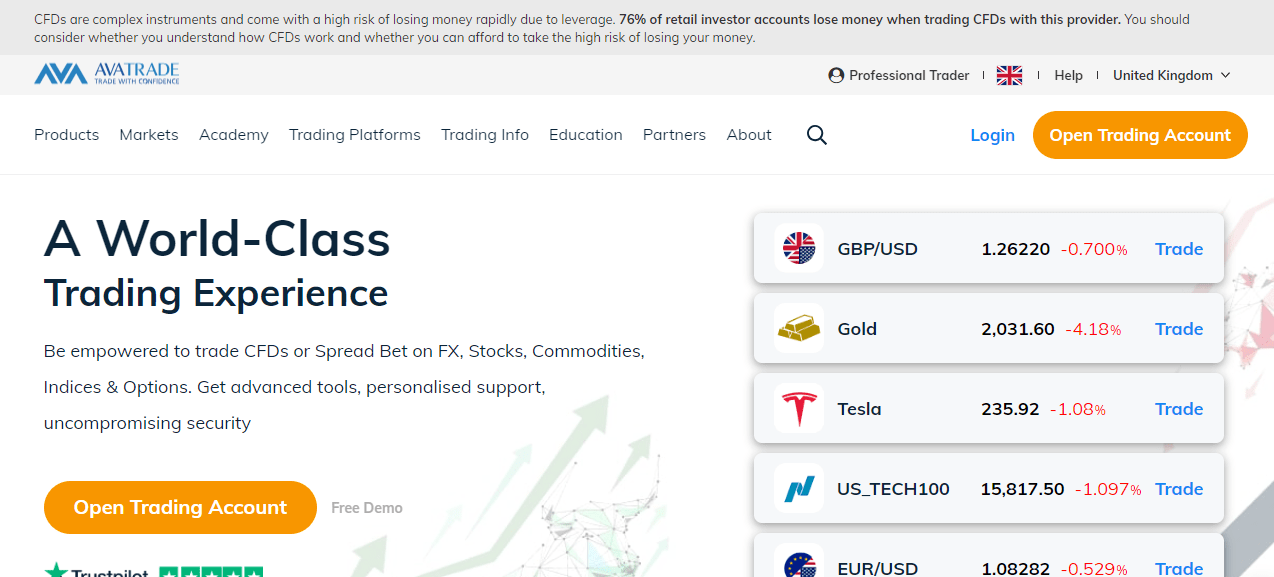 AvaTrade accounts take just a couple of minutes to open, and you can instantly deposit funds with your South African debit card. Bank transfers are also possible, but they take several days to process. Finally, the minimum deposit at AvaTrade is just $100, which is suitable for first-time trading budgets.
Pros
Thousands of financial instruments supported
Super-tight spreads on forex pairs
Several trading platforms, including MetaTrader 4 and 5
Regulated in several jurisdictions
Great for news and market insights
Low account minimums
Cons
Best suited for more experienced traders
There is no guarantee you will make money with this provider.
5. IG – Best South Africa Stock Trading App for Creating a Diversified Portfolio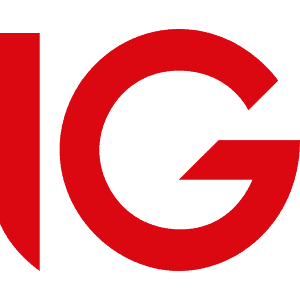 IG is a market leader in the global brokerage scene, with the firm first opening its doors in the mid-1970s. Although it is headquartered in the UK, IG is home to heaps of South African traders. Not only is this because IG is heavily regulated, but it also offers one of the most diverse stock trading libraries in the space.
For example, you can trade thousands of stock CFDs at IG from dozens of international marketplaces. If you're looking to trade home-grown companies, you'll be pleased to learn that this includes the Johannesburg Stock Exchange. Outside of South Africa, you can also trade stocks listed in North America, Asia, Europe, and more.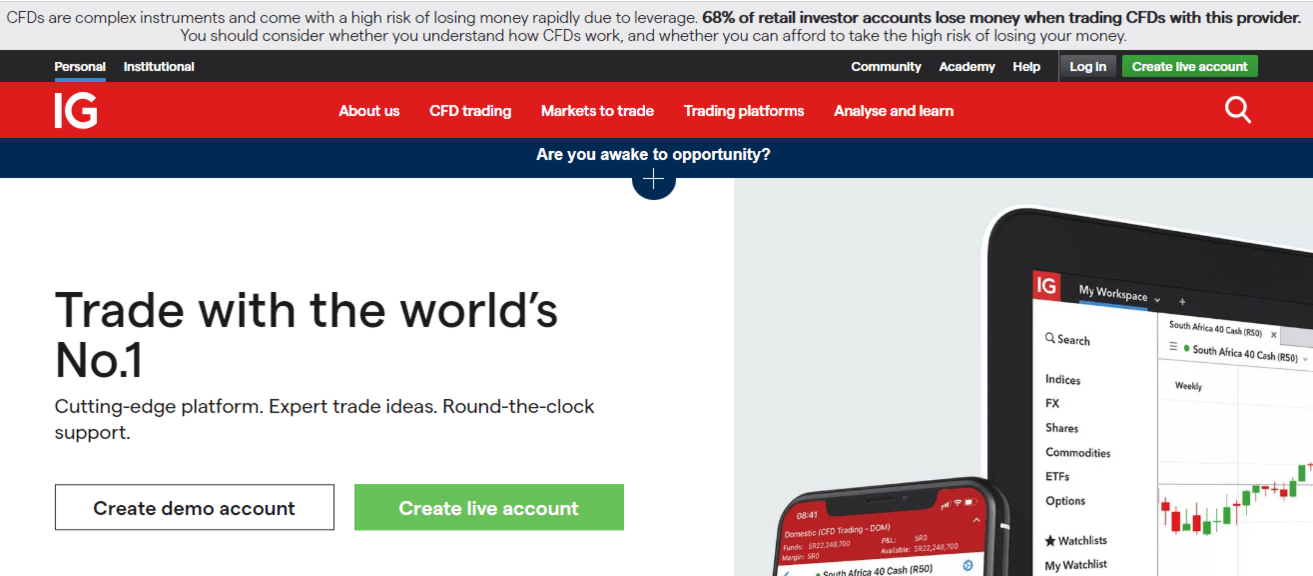 Being one of the best free stock apps out there, IG is also known to offer high levels of leverage. The specific amount will, however, depend on which stock market you wish to access. In terms of the app, it is available on both iOS and Android. If you wish, you can also access your IG account on the move via the MT4 app, as the broker is fully compatible.
When it comes to fees, this top-rated stock trading app charges a variable commission. Once again, this varies depending on the market. If, for example, you want to trade South African stocks, you'll pay a commission of 0.20% per slide at a minimum of ZAR 100. If it's US stocks that take your fancy, the commission is $0.02 per share, at a minimum of $15.
Read our comprehensive IG app review to find out more.
Pros
Trusted investment app with a long-standing reputation
More than 17,000 financial markets
Low stock trading fees
Leverage and short-selling are also available
Spread betting and CFD products
Access to dozens of international markets
Great research department
Cons
A minimum deposit of $250
US stocks have a $15 minimum commission
How to Choose the Best Stock Trading App South Africa for You
| | | | |
| --- | --- | --- | --- |
| -0.0003% | 0.0013 - 0.0022 pips | £3.95 | |
| | | | |
| --- | --- | --- | --- |
| -0.0003% | 0.01% - 1.96% | 0.4 - 0.8 pips | |
| | | | |
| --- | --- | --- | --- |
| Commission, overnight fee | Spreads | Commission, spreads | |
| | | | |
| --- | --- | --- | --- |
| N/A | $10 per month after 3 months | N/A | |
So now that we have discussed the best stock trading apps in South Africa available in the market right now, we need to explain some of the key factors that you need to consider before choosing a provider. After all, no two stock trading apps are the same, so it's important to have a firm grasp of whether the platform is right for you.
Regulation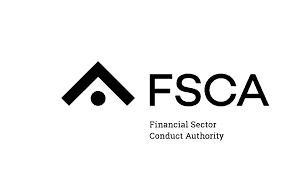 Put simply, you should never consider using a stock trading app if is it not regulated by a reputable body. In some cases, the app might be regulated by the South African FSCA.
However, we should make it clear that if your chosen stock trading app is licensed by another reputable body, such as the FCA (UK), ASIC (Australia), or CySEC (Cyprus), this is also fine.
The aforementioned bodies offer a greater level of protection than the FSCA, so do bear this in mind.
User Experience
Most stock traders in South Africa prefer to trade via a desktop device. This is especially the case when performing advanced technical analysis which involves candlesticks, as a small screen won't quite cut it. However, many investors actually prefer to trade stocks on an app, on the condition that the end-to-end user experience is seamless.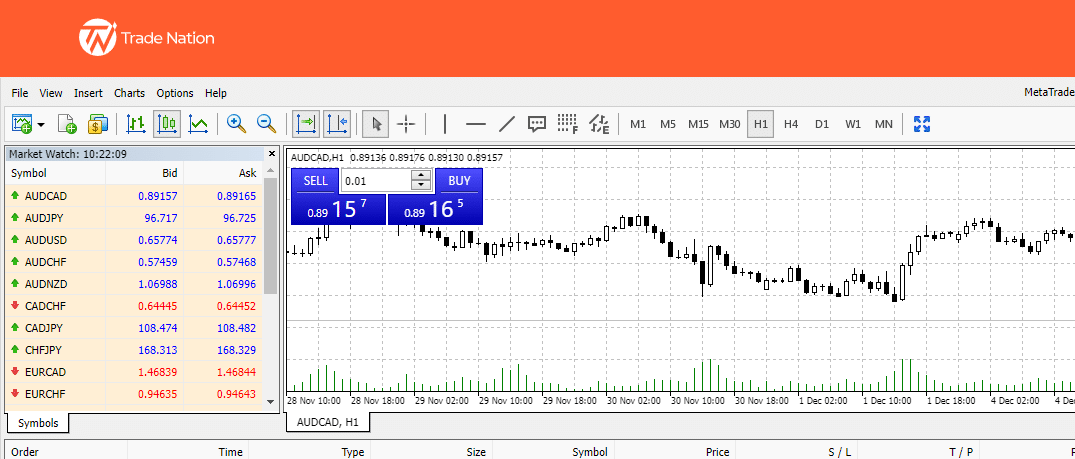 For example, it should be easy to find the respective asset or market that you wish to trade. The stock trading app for beginners facilitates this through a search facility. For example, if you want to trade Apple stocks, you should be able to find the market by entering the name of the company into the search box.
Additionally, the process of setting up buy/sell, market/limit, and stop-loss/take-profit orders should be simple. You shouldn't need to zoom into the screen to make the platform more accessible, as the best stock trading providers will optimize their app for the specific operating system.
Tradable Stocks
Before choosing a provider, you need to ensure that the stock trading app gives you access to your desired market. For example, some platforms only allow you to buy US stocks, while others offer dozens of exchanges.
In the case of Trade Nation, you can trade over 2,400 stocks from 17 international markets, all on a commission-free basis. However, the platform doesn't offer South African stocks. If this is something you are after, you can trade South African share CFDs on the Plus500 app. You can learn more about the app in our Plus500 app review.
You also need to clarify whether you are buying and selling actual stocks or trading CFDs. The former means that you own the shares outright, while the latter means you are simply speculating on the future price of the stock.
Fees
Make sure you check what trading fees apply to your chosen app. Most providers will charge you a variable fee on each trade you place.
For example, IG charges 0.2% to trade South African stock CFDs. However, you need to check whether a minimum commission is in place, too. At IG, that's ZAR 100.
Other fees to keep an eye out for include:
Deposit/withdrawal fees
Inactivity fees
FX conversion fees
Account management fees
You can normally check what fees are payable by heading over to the provider's website. This should, of course, be done before you open an account.
Trading Tools and Features
If you're interested in certain trading tools or features, make sure your chosen stock market app offers them. For example, if you are looking to trade small amounts, you'll want to pick a provider that allows you to access 'fractional shares'. At Trade Nation, you can trade all 2,400+ shares for just $50.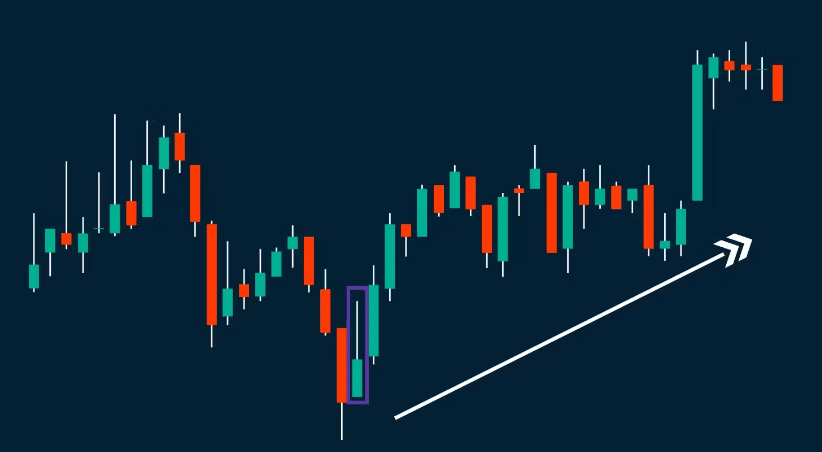 Additionally, look to see if the app offers price alerts and real-time notifications. This will ensure that you stay ahead of the game at all times. We should also note that a lot of traders in South Africa are interested in automated investing.
Education, Research, and Analysis
It's also handy when a provider offers educational resources for beginners. For example, the best stock trading apps in South Africa allow you to read through educational guides and articles and even offer regular webinars.
If you're already a seasoned trader and want access to advanced research facilities, check to see if the provider offers technical indicators like moving averages and RSI. Additionally, it's useful if the stock trading app in question offers financial news directly to your phone. Once again, this is important for keeping abreast of key developments in your chosen stocks.
Device Compatibility
All of the best stock trading apps in South Africa will be compatible with both Android and iOS, so that's pretty much 99% of smartphone users. This is usually the case with Android tablets and iPads. If, however, you have a Windows phone, you're going to be out of luck.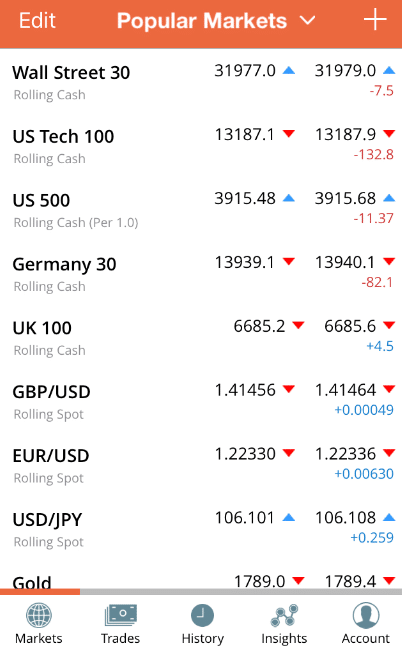 In most cases, you can still use your phone to trade, but this will need to be done via the provider's mobile website. Although some are clunky, we found that Trade Nation still offers a great user experience through its mobile browser.
Payment Methods
The best stock trading apps in South Africa allow you to easily deposit and withdraw funds. You should be able to do this instantly via the app itself. Most traders in South Africa will opt for a debit or credit card, as this is convenient, instant, and usually free. With that said, some stock trading apps also support e-wallets and mobile payments, like Google and Apple Pay.
These are also credited to your account instantly. You should avoid stock trading apps that only support bank wire transfers, as it can take a few days for the funds to arrive.
Customer Service
If you run into an issue with your stock trading account, you'll want the option of speaking with a support agent in real time. For this, the best stock apps offer live chat. You will likely be able to raise a support ticket via the app, but this means that you will need to wait for a reply.
Alternatively, some stock trading app providers run a fully-fledged telephone support team. Either way, it's also worth checking what hours the customer service team operates if you are using an international stock trading app.
How to Download a Stock App & Start Trading
Before going on with this, it is expected that you should be able to answer the question, "How do stocks work?" If you can, then it's safe to say you are ready to start trading shares right now.
The section below will show you how to begin trading right away with our recommended broker, Trade Nation—all without paying any commissions whatsoever!
Conclusion
In summary, South Africans now have access to a plethora of stock-trading apps. This means that you can easily buy and sell shares at the click of a button. You do, however, need to do your own research to find the right stock app for your financial goals. This is because no two trading apps are the same.
With that said, we found that Trade Nation is the best stock trading app in South Africa for several reasons. Not only can you buy and trade over 2,400 stocks from 17 markets, but all positions are commission-free. It takes just a few minutes to open an account, and you can instantly fund it with a South African debit or credit card or e-wallet.
You can get started with Trade Nation right now by clicking on the link below!
Trade Nation - Overall Best Stock Trading App ZA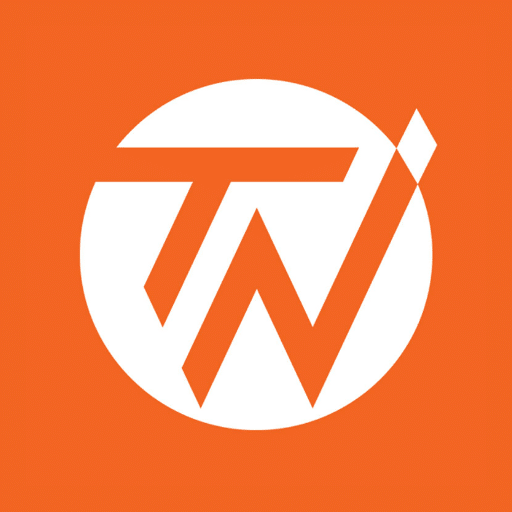 75.26% of retail investor accounts lose money when trading CFDs with this provider.
References
https://www.bbc.co.uk/programmes/m000synf
https://www.bbc.co.uk/news/business-57466918
https://www.finra.org/investors/investing/investing-basics/buying-and-selling
https://www.finra.org/investors/insights/online-trading-myths
https://www.nbcnews.com/business/business-news/gambling-addiction-experts-see-familiar-aspects-robinhood-app-n1256213
FAQs
What is the best stock trading app for beginners South Africa?
Is stock trading legal in South Africa?
Can you trade stocks for free South Africa?
Which stock market apps offer South African shares?
Are stock market apps safe in South Africa?
What is the best stock market app for Android?