Looking for popular stock trading apps in the UK? If so, you've got a lot of research to do. After all, there are dozens of UK online brokers that now allow you to trade via a dedicated trading app.
In order to separate the wheat from the chaff – you'll need to look at everything from fees and commissions to tradable shares and supported payment methods. Don't have countless hours spare to research a provider yourself?
In this guide, we review stock trading app in the UK right now. On top of discussing the many factors that you need to look out for prior to downloading a new stock trading app, we also show you how to get started with an account today!
Key Points about Stock Apps in the UK
Most online brokers offer a stock trading app allowing you to buy and sell stocks via your mobile device.
Buying and selling assets with a stock trading app gives you the ability to gain exposure to the markets, monitor your portfolio, and fund your brokerage account easily and seamlessly.
Finding stock trading apps can be challenging but we found eToro to be amongst the leading stock apps to use in 2023.
With the eToro stock trading app you can buy and sell stocks with 0% commission from your mobile smartphone wherever you are.
5 Providers that match your filters
5 Providers that match your filters
Popular Stock Trading App UK List
Below you will find the popular stock trading apps UK for 2023, ranked by fees, usability and markets.
eToro – Stock App with Access to 1,700+ Stocks with No Dealing Fees.
XTB – Stock Trading App with Zero Commissions up to 100,00 EUR
Avatrade – Great Stock Trading App with Low Spreads
Trade Nation – Regulated stock trading app with fixed spreads
Admiral Markets – Reliable CFDs and Forex App Since 2001
Pepperstone – One of the Most Popular CFDs Platform Worldwide
Plus500 – A Really Good UK Trading App For CFDs
---
Popular Stock Trading Apps UK
Finding the UK stock trading app for you and your financial goals can be challenging. This is why we have done the hard work for you by reviewing five providers currently active in the space. Whether you're looking for popular stock app for Android or the top stock market app for iPhone, we've got you covered.
Here's which trading apps made the cut for the UK list of apps to buy stocks right now.
---
eToro – Stock Trading App UK


Without a doubt, we would argue that eToro is a stock trading app for beginners available to UK investors. Even if you're new to investing, there is every chance that you have come across the eToro brand. It runs several adverts on British television and is even present on Premier League stadium billboards.
Much of the excitement surrounding eToro is that the platform allows you to buy, sell, and trade the stocks on a 100% commission-free basis. While at first glance this might sound too good to be touch – it really isn't. eToro makes most of its money from the 0.5% currency conversion fee it charges on deposits. But, this is actually countered when you consider that eToro waves stamp duty fees – which also equates to 0.5%.
On top of being a popular UK stock trading app in terms of trading fees and commissions, this provider also wins the award for user-friendliness. That is to say, anyone can use the eToro trading app as it was designed with newbies in mind. In fact, opening an account takes just minutes once you have downloaded the app – which is available on iOS and Android devices. You can easily deposit funds, too. This is because eToro accepts UK debit/credit cards, e-wallets, and a bank transfer. Did you know that eToro is also considered one of the day trading apps or automated trading apps across the board?
In terms of what you can trade, this leading UK stock app offers heaps of asset classes. For example, you can buy or trade over 1,700+ stocks from over 17 UK and international markets. You can also trade indices, exchange-traded funds (ETFs), cryptocurrencies, forex, and commodities. Regarding the latter, this covers oil, natural gas, gold, silver, and several agricultural products. What we also like about the eToro app is that you can trade shares from just $50. This is because it supports fraction ownership.
For those unaware, fractional ownership means that you can buy or trade 'part' of shares, as opposed to needing to invest in the full stock. This is great for newbies and those on a tight budget. Additionally, eToro offers a 'Copy Trading' service that allows you to copy the trade of an experienced investor. This allows you to trade stocks and other assets in a completely passive nature. Finally, eToro is heavily regulated. It has a license issued by the FCA and is covered by the FSCS.
Still not convinced on the eToro investment app? Read our comprehensive eToro app review to find out more about what this app offers.
Number of Stocks
800
Fee Structure
Variable Spread
Price to Buy Amazon Shares
Variable spread – around 0.1%
Stock Trading Features

Totally commission-free trading
Innovative CopyTrader feature
76% of retail investor accounts lose money when trading CFDs with this provider. You should consider whether you can afford to take the high risk of losing your money.
---
XTB – Stock Trading App with Zero Commissions

XTB takes second place on our best stock trading app list because it offers zero commissions on stocks and on shares up to 100,000 EUR, is easy to use and is regulated by the Financial Conduct Authority in the UK.
On XTB, you can trade over 3,000 real stocks and over 300 ETFs with zero commissions. Users can also access forex trading, CFDs, indices and commodities through the XTB stock trading app.
As mentioned above, share trades of up to 100,000 EUR are commission-free on XTB. Transactions over this value will be charged a 0.2% trading commission. For stock trading, XTB charges 0% commission with no trading limit. This makes it one of the most affordable trading platforms to use in the UK.
To help traders make informed decisions, XTB provides a range of market insight and analysis features, including market news, price tables, a market calendar and educational resources. Traders can also use the xStation 5 trading platform to conduct technical analysis using indicators.
For traders that want to trade on the go, XTB is compatible with xStation mobile – a leading mobile trading app with a range of tools and features. It is also possible to practice trading with a demo account before putting any money at risk. Traders can switch between demo trading and live trading whenever it suits there needs.
Your money is at risk.
---
AvaTrade – Great Stock Trading App with Low Spreads

Another great option to consider is AvaTrade. AvaTrade was founded back in 2006 and has a fantastic reputation as a safe and low-cost broker. In terms of oversight, AvaTrade is regulated by top-tier entities such as ASIC and the JFSA. This ensures all traders are protected when using the platform.
AvaTrade has a huge selection of CFDs to trade, including stocks, currencies, commodities, and even cryptos. Notably, AvaTrade employs a 0% commission model, which means that users avoid hefty transaction fees. Instead, all fees are incorporated into the spread. These spreads tend to be pretty tight, usually around 0.13 points above the market rate during peak hours.
The minimum deposit at AvaTrade is $100, which can be made via credit/debit card, bank transfer, or certain e-wallets such as Skrill and Webmoney. AvaTrade offer a user-friendly trading app for iOS and Android, which offers all of the functionality of their web platform. In addition, AvaTrade even offer MetaTrader support through their app, which is ideal for FX traders.
Number of Stocks
90
Fee Structure
0% commission + Variable Spread
Price to Buy Amazon Shares
+0.13 points above market
Stock Trading Features

5:1 leverage
Funds held in segregated accounts
There is no guarantee you will make money with this provider.
---
Trade Nation – Regulated stock trading app with fixed spreads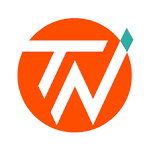 Trade Nation is a regulated CFD stock broker that is based in the UK. The popular platform offers CFD stock trading, spread-betting, forex trading and more. Users can access over 1000 financial instruments from around the globe.
One of the most appealing features of Trade Nation is that it offers low fixed-spreads, a $0 minimum deposit and no fees for deposits or withdrawals. This makes it a good option for traders who want to start trading stocks on a budget.
Spreads start at 0.6 pips and are fixed on all CFD trading. What's more, users can access the Trade Nation demo account for free. The demo account replicates live trading and can be used to practice using the platform without putting any money at risk.
Trade Nation is compatible with MT4 and also provides its own native trading platform, TN Trader. Both platforms provide a range of indicators that can be used for analysis. MT4 is perhaps the most popular platform that is available on both desktop and mobile devices.
Trade Nation also offers signals that can be used to complement stock trading as well as a range of educational resources.
75% of retail investor accounts lose money when trading CFDs with this provider.
---
Admiral Markets – Reliable CFDs and Forex App Since 2001
Admiral Markets is a company that provides online trading services, Forex, and contracts for difference (CFDs). Aside from that, the stock market has many other assets that can be invested in.
In addition to providing the best trading software, the platform and company are driven by a commitment to serving clients well. The best and most transparent financial experience is available to you without reservations and with confidence.
Additionally, Admiral Markets offers an extremely specialized blog section. Users can stay informed about market news on its website. Furthermore, it offers useful information and strategies on various topics essential to properly developing trading.
Aside from training programs, Admiral offers books and brochures with informative content. To make informed and intelligent decisions, traders can enhance their skills and knowledge through these tools.
Admiral Markets is an online broker that offers forex trading and CFD trading. It uses the NDD/ECN methodology to accomplish this.
In retrospect, NDD means No Dealing Desk since it operates without a dealing desk. Conversely, an ECN stands for an Electronic Communication Network.
Your Money is at Risk.
---
Pepperstone – One of the Most Popular CFDs Platform Worldwide
Trading in Forex and CFDs with Pepperstone is safe (low-risk) due to its regulation in two Tier 1 jurisdictions.
Pepperstone offers MetaTrader and cTrader platforms for algorithmic traders and copy traders. Further, Pepperstone offers several premium platform add-ons to enhance the MetaTrader platform.
While Pepperstone ranks higher than the average company in the industry, it is still behind leaders like eToro and XTB. A limited selection of products is available at Pepperstone, and they focus on them closely.
However, Pepperstone's Razor accounts offer competitive prices for active traders, while retail traders will find them in line with industry averages.
Our overnight CFD positions in stocks and commodities will be charged a commission by Pepperstone, including weekends. The product we are trading has a fixed commission of 2.5% plus regional interest rates.
Regarding Forex, Pepperstone's Razor account has a lower spread minimum and average than its Standard account.
Your Money is at Risk.
---
Plus500 – A Really Good UK Trading App For CFDs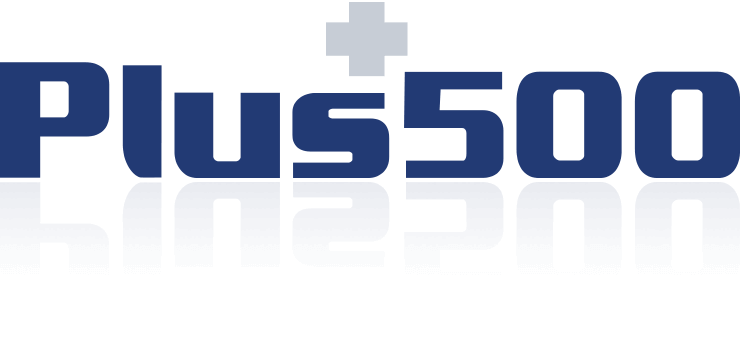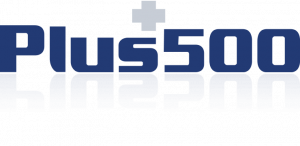 Plus500 is the market leader when it comes to contracts-for-differences (CFDs). These are financial instruments that allow you to trade your favourite asset class without you needing to take ownership. This is because CFDs will track the market price of the asset in real-time, subsequently allowing you to trade it with ease. For example, if the price of BT shares increases by 1.75%, as will your CFD instrument.
If you're wondering why you should use a CFD stock app as opposed to one issued by a traditional broker – let us elaborate. First and foremost, Plus500 is a 100% commission-free trading app. This means that the only trading 'fee' that you need to consider is that of the spread. Next up is that of its long/short offering. Put simply, the Plus500 CFD app allows you to choose from a buy or sell order on all markets.
This allows you to make gains irrespective of which way the asset is moving. Additionally, Plus500 is also a good option if you are looking to obtain leverage. For those unaware, this allows you to trade at an amount greater than you have in your brokerage account. On the Plus500 CFD trading app, you can get as much as 1:30. This means that a £200 balance would permit a buy/sell order worth up to £6,000. When trading stocks, however, this is capped to 1:5.
Outside of stocks, Plus500 also allows you to trade forex, indices, crypto, interest rates, bonds, options trades and more – all vis CFD instruments. The Plus500 app is available on both Android and iOS devices and it can be downloaded free of charge. The app can be used in conjunction with the main Plus500 website, and you will be required to meet a small account minimum deposit of just £100 to get started. The FCA-regulated app accepts various payment methods – including debit/credit cards and PayPal.
Read our in-depth Plus500 app review here.
Number of Stocks
1900
Fee Structure
0% commission + Variable Spread
Price to Buy Amazon Shares
0.75% spread on average
Stock Trading Features

Speedy account opening
16 base currencies supported
Your capital is at risk.
---
Popular UK Stock Apps Comparison Table
As you can see from the list above, there are numerous brokers on the market that allow you to trade quickly and easily using their stock apps. To help compare these options, the table below presents a breakdown of the stocks, fees, and features of each stock app, ensuring you have all the information you need to make the right decision.
Broker
Number of Stocks
Fee Structure
Price to Buy Amazon Shares
Stock Trading Features
eToro

800

Variable Spread

Variable spread – around 0.1%

Eightcap
250+
Commission (raw account), spread (standard account
$3.5 for raw account, 1 pip for standard account

MT4 & MT5
Market analysis

Skilling
+700
0% commission + Variable Spread
0.1% on each side

Super fast execution
Multi-assets stock trading app

Libertex
50
ZERO spread + Variable Commission
Between 0.1% and 0.2%

ZERO spread structure
Free demo account feature

AvaTrade

90

0% commission + Variable Spread

+0.13 points above market

Plus500

1900

0% commission + Variable Spread

0.75% spread on average

Fineco

540

Flat-fee of £2.95 per trade

£2.95

Various order types

User-friendly design

FXCM

48

0% commission + variable spread

500 pips during peak hours

IG

12,000

Over 8 trades per month = £3 per trade

Less than 8 trades per month = £3 per trade

£3 to £8

No minimum deposit

No withdrawal fees

Trading212

3000

Free

Free

Hargreaves Lansdown

8000

£5.95 to £11.95 per trade, depending on your activity

Fee of £5.95 to £11.95
What Is The Best Stock Trading App For Beginners UK?
eToro stands out as an exceptional trading app for beginners in the UK for several reasons. Firstly, its user-friendly interface makes it easy for newcomers to navigate and understand the trading process. The platform provides an intuitive experience, ensuring that even those without prior trading knowledge can quickly grasp the basics. Secondly, eToro offers a unique feature called "CopyTrading," which allows beginners to automatically replicate the trades of experienced traders. This feature empowers newcomers to learn from the strategies of successful investors and gradually develop their own trading skills. Furthermore, eToro provides a wide range of educational resources, including tutorials, webinars, and a social trading community. These resources enable beginners to gain valuable insights, stay updated with market trends, and engage in meaningful discussions with fellow traders. Lastly, eToro is regulated by the Financial Conduct Authority (FCA), ensuring that users' funds are protected and that the platform operates with transparency and integrity. With its user-friendly interface, innovative CopyTrading feature, comprehensive educational resources, and regulatory compliance, eToro emerges as an ideal trading app for beginners in the UK.
How to Choose a Stock Trading App UK for You
As we briefly noted earlier, there are dozens of UK stock apps to choose from at present. While having lots of choices is always a good thing, this does mean that finding a suitable provider can be a time-consuming process. For example, you need to look at everything from regulation, trading fees, ease of use, commissions, tradable stocks, customer support, and more.
To help clear the mist and ensure you only sign up with a stock trading app that meets your needs, below you will find the most important factors that you need to look out for.
Regulation
Even if your chosen UK stock app offers low fees and thousands of tradable shares – if it isn't regulated by the appropriate bodies you should reconsider your interest. At the forefront of this is ensuring the stock app is licensed by the Financial Conduct Authority – which is the body responsible for regulating the UK financial sector.
In addition to an FCA license, you should also ensure that your funds are covered by the Financial Services Compensation Scheme (FSCS). This will cover your money up to the first £85,000 and investments up to £50,000.
User Experience
Attempting to trade stocks on a small mobile screen can at times be challenging. This is especially the case if you want to perform technical analysis while on the move. With this in mind, it is imperative that your chosen UK stock trading app offers an all-round seamless trading experience. Not only should this cover research, but the process of placing buy and sell orders.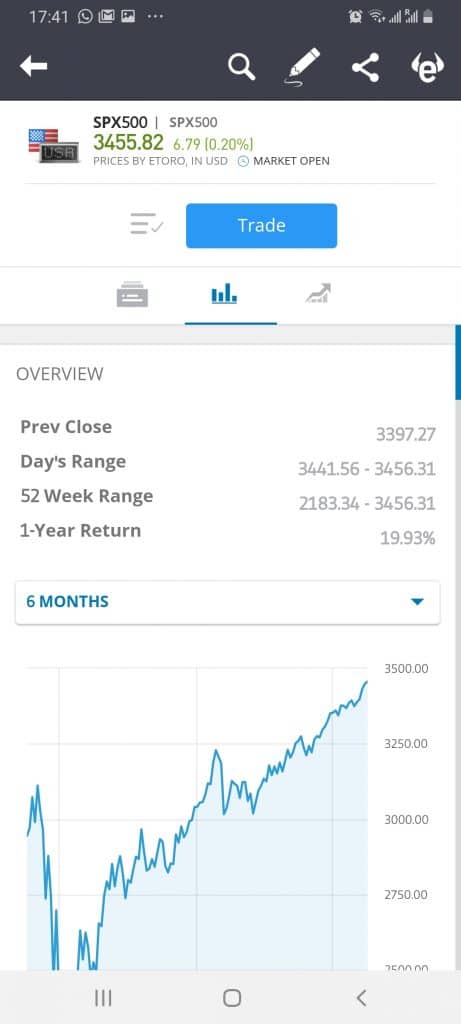 A lot of free stock trading apps don't allow you to access to the main platform without first funding your account. This makes it difficult to know whether or not the app is user-friendly. This is why we suggest opting for eToro, as you have instant access to a demo account facility that comes pre-loaded with $100,000 in paper trading funds, making it one of the most popular stock investing apps out there.
Tradable Stocks
It goes without saying that your chosen stock trading app gives you access to your preferred marketplace. For example, while most UK stock apps will give you access to the London Stock Exchange, what about the AIM? Additionally, you might want to dabble in a few US or Candian stocks, so again, you need to check this out before opening an account.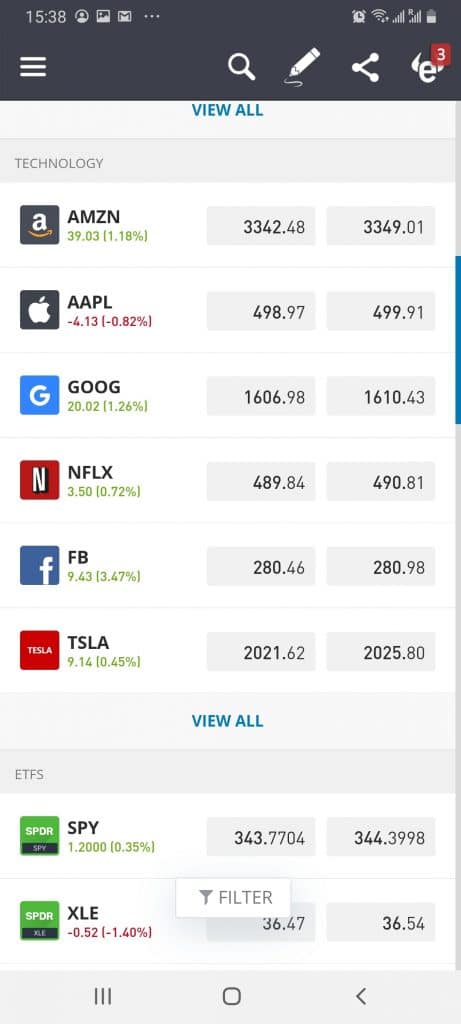 In addition to the specific exchange and marketplace, you also need to check whether you are trading CFDs and investing in shares. For example, while the likes of eToro and Trading 212 give you access to both, Plus500 only cover CFDs. In most cases, you can check this out from the provider's website before signing up.
Trading fees and commissions
In or to buy, sell, and trade stocks via your chosen app – there is likely to be a range of fees that you need to factor in. This starts at the very offset when it comes to depositing funds. More importantly, you need to have a firm grasp of what trading commissions you'll be required to pay. Apart from IG, all of the UK trading app providers listed on this page allow you to trade stocks commission-free.
This means that the only fee applicable is that of the spread (and overnight financing fees for leveraged positions kept open after standard market hours). There is every likelihood that you will need to pay monthly fees, such as an inactivity fee, too. This is a fee charged when your account is marked as dormant – so be sure to check this out too.
UK stock investing apps come in various shapes and sizes. While some offer an abundance of features and tools, others focus on a more basic, 'skin and bones' service.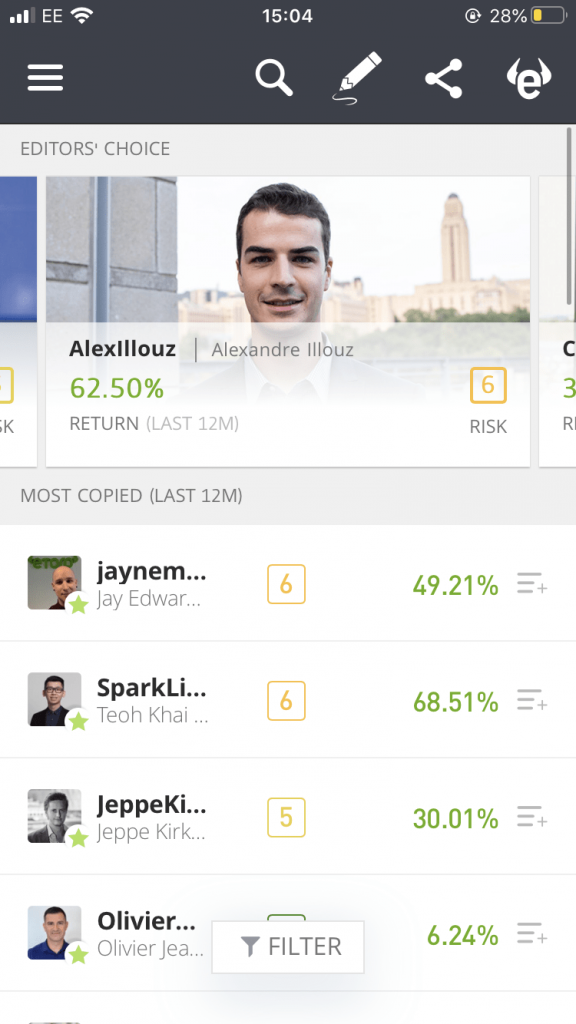 76% of retail investor accounts lose money when trading CFDs with this provider. You should consider whether you can afford to take the high risk of losing your money.
Some of the most notable trading features that we look out for when reviewing UK stock trading apps are:
Copy Trading: This is a feature dominated by eToro. It allows you to browse over 700,000 active traders and copy one that you like the look of. This allows you to invest passively and is especially ideal if you are a trading newbie.
Leverage: All of the UK stock investing apps listed on this page allow you to apply leverage. This falls in line with ESMA limits – meaning CFDs can be traded with leverage of up to 1:30.
Fractional Shares: If you are looking to invest in shares then you'll likely want to ensure that you choose a stock market app that offers fractional ownership. This allows you to buy a 'fraction' of a share – which is great for investing small volumes.
Watch Lists: These can be customised so that you can easily keep track of financial instruments you're interested in.
Economic Calculator: This is great for keeping tabs on the wider financial markets. The UK stock apps will let you know when a company's earnings report is due, alongside other important events.
Trading Calculator: Trading calculators are not only great for estimating how much you might make or loss, but also in terms of working out what fees and commissions you will incur.
Market Orders: In order to stocks via your chosen app, you need to place a buy or sell order. However, we prefer mobile trading apps that go one step further by offering a range of other order types – such as stop-loss, take-profit, and limit orders.
Once again, you check whether or not your chosen UK stock app offers your preferred feature or tool by checking out its website before opening an account.
Education, Research & Analysis
If you will be trading stocks via an app for the first time, it's probably best to stick with a user-friendly provider. In doing so, you will likely have access to a range of educational materials. This might include guides on how to place orders and create a trading strategy, or regular webinars hosted by the app's team of in-house active traders.  Share dealing apps provide a host of educational resources and materials for beginner traders to access and boost their stock trading knowledge.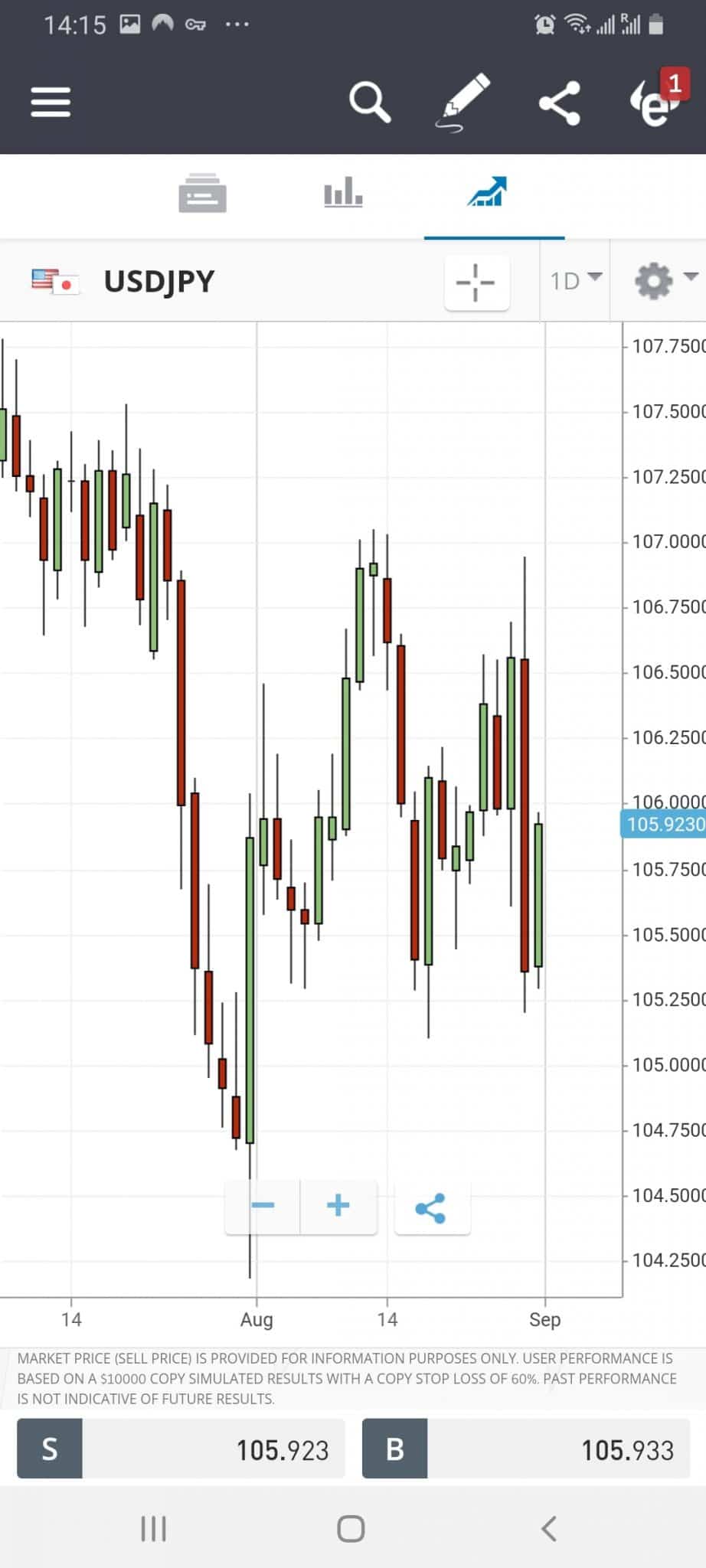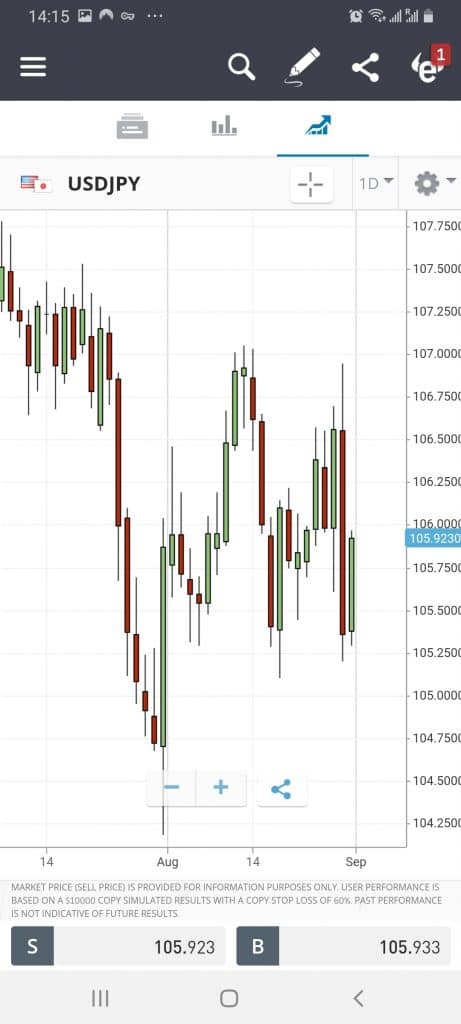 When it comes to research and analyzing the stock markets, you'll want access to several tools that will allow you to do this via the app. While charting and technical indicators are offered by several trading apps, you still need to ensure that this is conducive for smaller screens. Additionally, having access to real-time fundamental news in the form of a mobile notification is of great value.
Device Compatibility
Without intending to state the obvious, you need to check that your chosen stock app is compatible with your device. Not only this, but you need to ensure that the app compatible with your specific operating model is sufficient for your needs.
For example, if you're looking for ta stock market apps for iPhone, you likely won't want to pick IG. This is because the iOS version of its trading app does not support deposits/withdrawals or real-time pricing alerts.
What is the best UK stock trading app for iPhone?
The best stock trading app for iPhone users in the UK is eToro because it has a simple user interface, excellent analysis tools and copy trading features. iPhone users can access all of eToro's key features, including social trading and smart portfolios which can help traders to make more informed trading decisions.
If you are interested in trading cryptocurrencies, eToro also has a mobile wallet app which can be downloaded on iPhone. The eToro Money wallet is a crypto wallet that can be used to send tokens from your eToro account to a decetralized exchange.
Other good stock trading apps for iPhone include XTB, Alvexo and Skilling. Each of these iPhone apps offer a variety of features that can be used on the go to manage stock portfolios.
What is the best UK stock trading app for Android?
There are multiple UK trading apps that are excellent for Android users. Once again, eToro takes the top spot because of its variety of features, easy to use interface and social trading capabilities. eToro is also regulated in the UK. However, other apps such as Skilling, XTB and Alvexo may be better if you are looking to day trade or trade assets that are not supported by eToro.
For example, Skilling is an excellent mobile trading app for CFD trading whereas XTB is a good option for forex trading in the UK. Before deciding which app to use, it is good to consider what type of trading you would like to do from your phone.
Payment Methods
Unless you are searching for a free stock trading app for its demo account offering, you will at some point need to deposit some funds. After all, the essence of trading is to make money. As such, it is important that your chosen UK stock trading app supports your preferred payment option.
If you want to benefit from an instantly credited payment method – you'll want to choose from a debit/credit card or e-wallet. This is because stock investing apps typically take a few days to credit a UK bank transfer -even when it goes through the faster payments network.
Some UK stock apps even allow you to deposit and withdraw funds via Google/Apple Pay.
Customer Service
Whether you're an experience trading pro or a complete newbie – there will likely come a time where you need assistance on your account. If using a stock app, you'll want to be able to contact a support member at the click of a button. This is why we prefer providers that offer live chat via the app.
If this isn't offered, the next best thing is a telephone support number. This is because you will still be able to receive assistance in real-time. Failing that, you'll need to elect for an email or support ticket.
Popular Stocks Investing Apps
There are plenty of offerings within the industry on stocks investing apps. Recently, with Robinhood's hype, more and more traders got engaged in in-depth research on what are apps to buy stocks.
Brokers like Acorns, E*Trade, SoFi, Charles Schwab, Ally Invest, and Fidelity are often praised for their offerings on share dealing apps.
When the Coronavirus pandemic started, people focused on looking for portability and contactless solutions, and it created a domino effect in several areas of the economy: mobile banking, e-shopping, live streaming, among others, which helped to create awareness on the importance to rely on top-notch stocks investing apps that make the trader's life easy in the midst of a changing world.
---
Popular Stock Apps Reddit
A Reddit group called Wallstreetbets has had a big effect on the stock market recently. Traders in the group spotted that hedge funds were mass selling stock of troubled video game retailer Gamestop. The group then initiated a mass buying of Gamestop stock, causing the price to rocket up and costing hedge funds billions of pounds in the process. A similar thing happened to some other stocks the funds were shorting, most notably AMC.
This caused some leading stock apps, such as Robinhood, to start losing money. Robinhood then reacted by stopping retail traders from buying Gamestop stock, a controversial move that prompted lots of traders to look elsewhere and search for the 'best stock apps Reddit'.
While many Redditors have their own opinion on stock apps, lots have pointed to eToro. Others have also mentioned the likes of, which continued to other retail clients Gamestop stock without any limits.
---
How to Download a Stock App & Start Trading
Once you have chosen a UK stock trading app that you like the look of, the next stage is to open an account and make a deposit. if this is something that you have never done previously, we are now going to show you what you need to do. eToro is a popular trading app for beginners in the UK, but the process remains similar across other brokers.

Trading in Bullish and Bearish markets
When places trades through a stock app, it is important to be aware of the market conditions in which you are trading. Market conditions can cause volatility and understanding the possible direction of the market could help you to make informed trading decisions.
There are two main market conditions that you may come across when trading: Bullish and Bearish markets.
A Bullish market is a market condition in which stock prices are predicted to increase. To be classed as bullish, stock prices must increase by at least 20% over time after decline by two periods of 20% each. On the other hand, a bearish market is a condition in which prices are expected to fall continuously. In a bearish market, asset prices fall by at least 20% from a recent high.
Trading in either condition can be risky as both bullish and bearish markets are prone to volatility.
Latest Stock Market News UK
Before buying shares in the UK, it is a good idea to be up-to-date with the latest stock market news. Here are some of the top stories from the week beginning the 22nd May.
Artificial Intelligence stocks have provided a boost for the US stock market. Recent advances in the technology are fueling a sense of optimism around how businesses can operate. The S&P 500s recent rally has largely been fueled by AI stocks.
British finance minister says that the UK must stick to its plan to reduce inflation. This comes as official data has shown easing prices in April. However, the cost of food is still rising fast.
The FTSE 100 has pushed lower as UK inflation fell 8.7% in April. This marks the first time that inflation has fallen since August last year. This caused the pound to rise against the US Dollar and the Euro. The FTSE 100 feel 1.0% at open on Wednesday 24th May.
Our Verdict on Stock Trading Apps
By downloading a stock trading app to your phone – you can buy, sell, and trade shares no matter where you are located. The app also allows you to check the value of your stock positions at the click of a button – as well as ensure that you never miss a trading opportunity again. Crucially, you can typically use your chosen stock app in conjunction with the provider's main desktop website.
Frequently Asked Questions about Stock Trading Apps
Which stock trading app is suitable for beginners UK?
How do Beginners Trade Stocks UK?
Can you trade stocks for free UK?
Are UK stock trading apps safe?
What shares can you trade on a stock app UK?
What is a popular UK stock trading app?
How much money do you need to start trading UK?
How do you trade stocks in the UK?