Best Crypto App Australia – Safest & Cheapest Apps Revealed
Looking for the best crypto app to use in Australia? Crypto trading apps bring the trading power of desktop brokerages and crypto exchanges to your smartphone. With crypto trading apps, you can buy, sell, store and stake crypto on the move. You can get real-time crypto price info and news. With the best crypto apps, you can access powerful CFD (Contract-for-Difference) trading options.
Below we list the top ten best crypto trading apps in Australia: we focus only on apps that allow you to deposit with Australian dollars (AUD).
To give you perspective on the market, we break down what type of crypto apps are out there and provide up-to-date figures on Bitcoin buying and selling fees.
Key points on Crypto Trading Apps Australia
800,000 Australians already own crypto. During 2021, 63% more Australians used crypto for transactions than in 2020.
Australia is well-served for crypto trading apps, with many different types to suit different investors.
You can trade crypto CFDs as well as buying and selling real cryptocurrencies on Australian crypto apps.
Thanks to its powerful trading options, regulation from the Australian Securities and Investments Commission (ASIC) and wide choice of crypto, Etoro claims the title of Best Crypto Trading App Australia.
68% of retail investor accounts lose money when trading CFDs with this provider.
Best Crypto Apps Australia 2022
eToro – Overall best crypto app Australia (ASIC-regulated)
Avatrade – best CFD crypto app with great regulation
Coinbase – established crypto app with 43 million users
Binance – crypto app from the biggest global crypto exchange
Plus500 – CFD crypto app with good fees
Kraken – best US-based crypto app
Coinjar – good crypto app for newbies
Coinspot – good crypto app with multi-coin wallet
Swyftx – easy crypto app with great reviews
---
1. eToro – Overall best crypto app Australia (ASIC-regulated)

With 20m customers in 140 countries as well as a reputation for user-friendliness going back to 2006, global brokers eToro offers an excellent crypto trading app.
eToro's crypto trading app is unusual because it brings together the best of all the different types of crypto apps. Connectable to the free eToro Money crypto wallet, the eToro app allows you to trade up to 110+ crypto coin using any of 3 methods:
You can buy/sell crypto as if they were normal stocks, and eToro will hold the coin for the duration of the trade. You just pick up the profit (or loss!) accrued by the trade.
You can trade using powerful CFD options. Leverage your trades and go short on crypto.
You can buy actual crypto coin and transfer it to you free eToro Money crypto wallet – for storage, transferring on and even, in some countries, crypto staking via eToro's platform. With eToro's wallet you can change crypto in more than 500 pair combinations as well as hold 120+ types of crypto.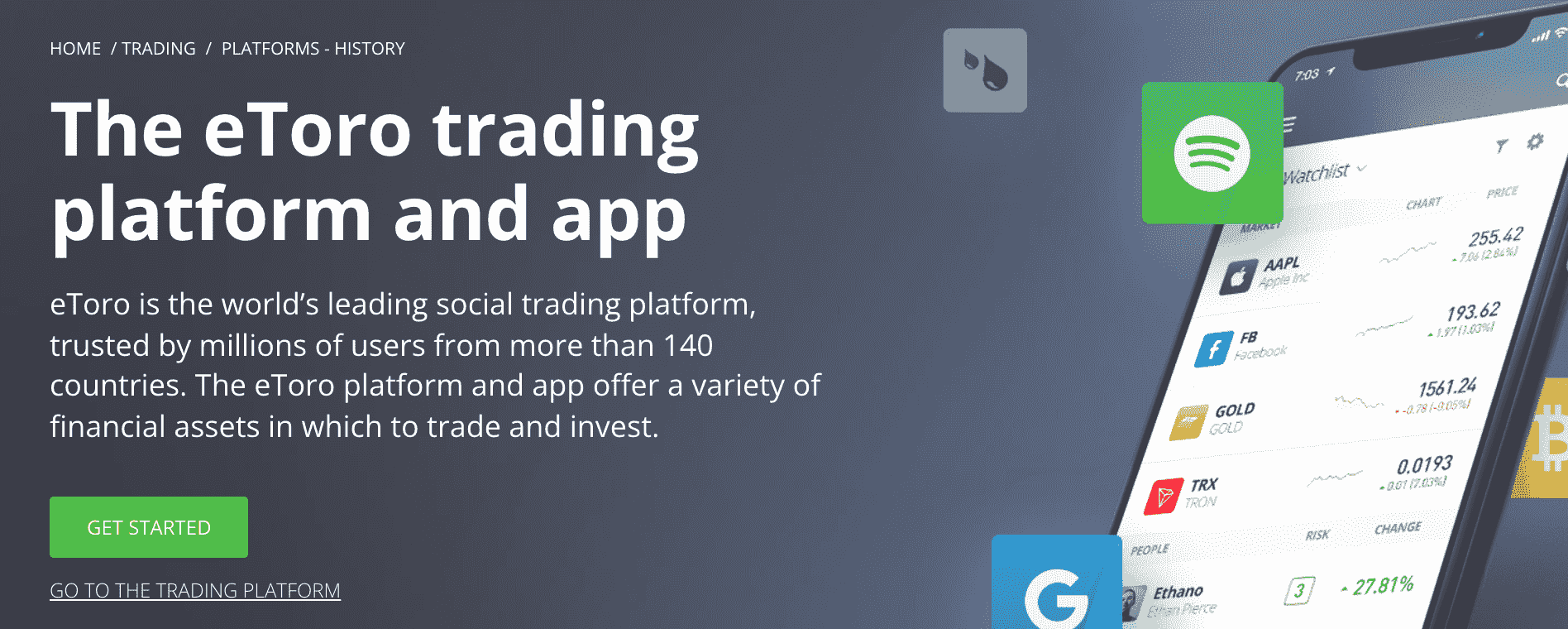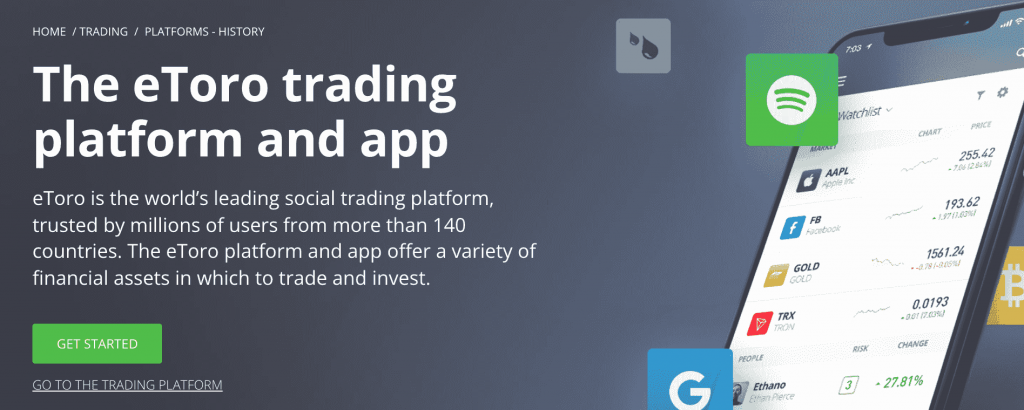 With eToro's app you get real-time market updates, plus you can connect with other users and copy their portfolios. eToro's CopyTrader allows you to copy other traders' portfolios, free of charge, with a simple tap. And the service is free. With Smart Portfolios, you can review all sorts of strategic portfolios designed by investment experts and copy them too for free.
Regulation for eToro is provided by ASIC in Australia, CySEC and the FCA. Top security measures are employed on the app including 2-factor-authentication if you want it. You can deposit AUD via PayPal, credit card or bank transfer. Charting options are simple and powerful.
Fees with eToro are the simplest in the business. There is no commission fee. But – as with all brokers and exchanges – you do pay a spread fee. eToro's typical spread fee is 0.75% for Bitcoin (BTC).
Pros
Offers Bitcoin and 110+ cryptocurrencies
Buy crypto 100% commission-free
20 million users
Minimum investment of $25
Newbie-friendly CopyTrader and Smart Portfolios
Cons
Nominal withdrawal fee of $5
68% of retail investor accounts lose money when trading CFDs with this provider.
2. AvaTrade

AvaTrade is an established CFD broker that boasts regulation in no less than 7 global jurisdictions, including Australia (ASIC). You can trade crypto as CFDs with AvaTrade's smartphone app AvaTradeGO as well as access other financial assets like stocks, indices and forex.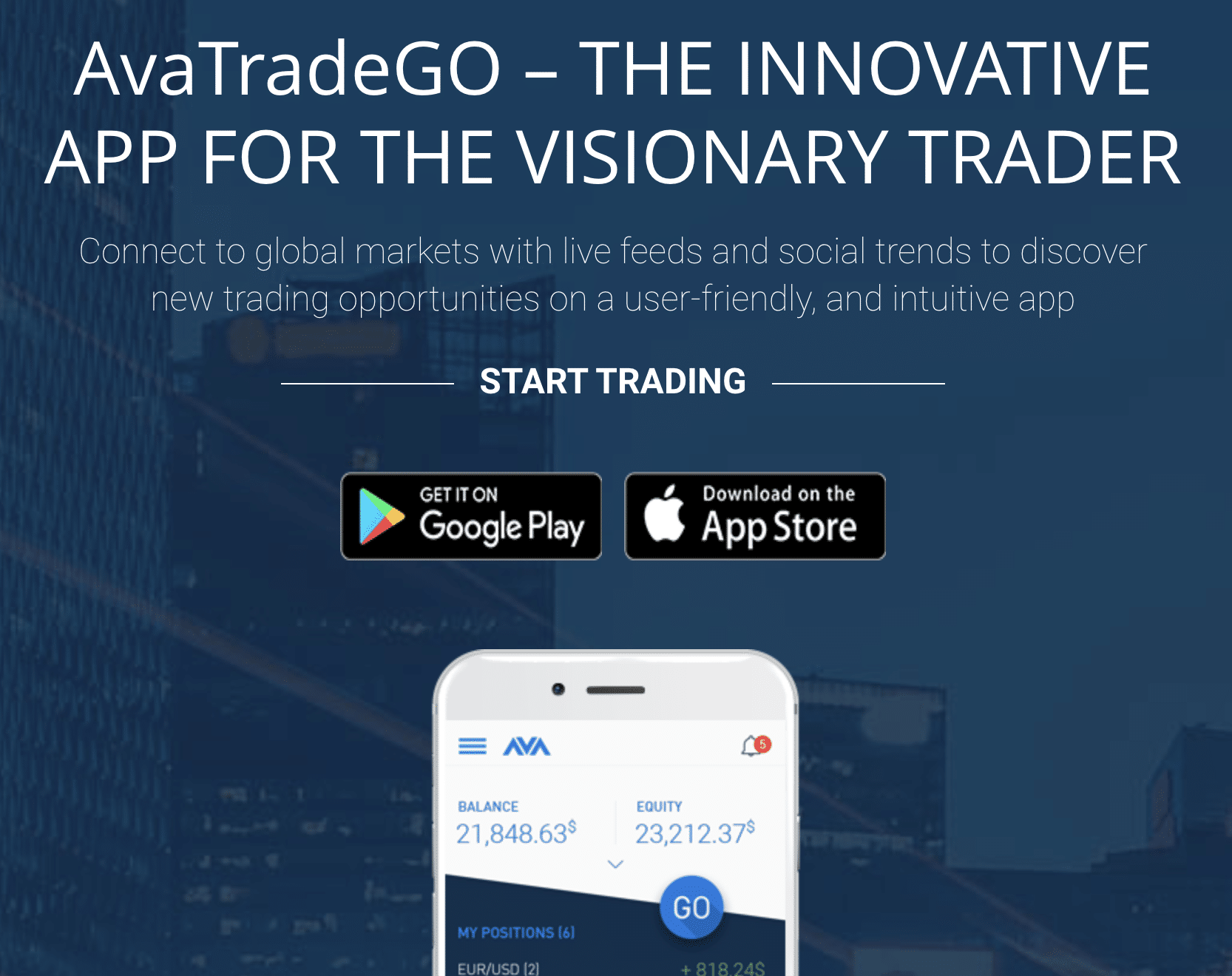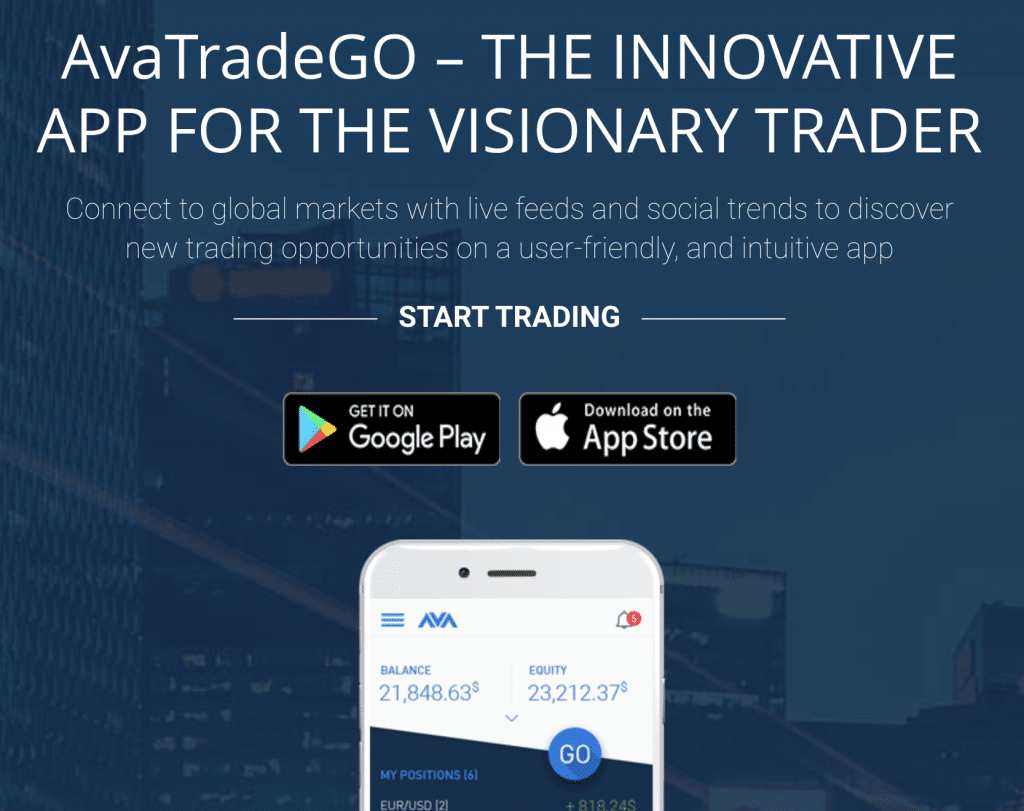 AvaTrade crypto trading comes with leverage built-in. With CFD trading you do not need a wallet to trade. Although offering a modest collection of crypto AvaTrade provides the big ones: Bitcoin (BTC), Ethereum (ETC), Litecoin (LTC), Ripple (XRP) and EOS (EOS).
AvaTrade is famous for its support for other platforms like MT4/MT5 and copy trading giants ZuluTrade and DupliTrade. It takes a little work to get set up how you want – but AvaTrade is definitely the app to use if you want third-party options. Alongside its crypto trading app, AvaTrade provides Avasocial – which is a friendly social trading app suitable for investing beginners – as well as AvaOptions, which is its own specialist app for trading financial options.
With AvaTrade you can deposit AUD via wire transfer (minimum deposit $500 USD) or credit card (minimum deposit $100 USD).
Pros
Regulated by ASIC and 6 other regulatory bodies
Established CFD broker with CFD trading options
Reasonable 0.20% spread on Bitcoin
Access copy trading via DupliTrade and ZuluTrade
Pro-active customer service
Cons
Not a huge selection of crypto
71% of retail investor accounts lose money when trading CFDs with this provider.
4. Coinbase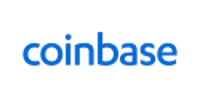 In terms of user-base, Coinbase is the biggest global crypto exchange with over confirmed 73m users across 100+ countries. A range of 50+ crypto is offered, as well as a wallet, and in-house staking options.
Coinbase does not have a great reputation for fees, but it does have a great reputation for safety. Coinbase keeps 98% of client crypto in cold storage – off the internet, in other words – so the chances of it getting stolen are remote. All USD balances are covered by FDIC insurance up to a maximum of $250,000. 2-step authentication is mandatory on all user accounts.
For Australian traders, Coinbase accepts AUD via debit card. With it you can buy crypto immediately, without having to pre-fund your account.
Coinbase fees are fairly complicated. A flat fee applies depending on the size of the transaction. A percentage fee also applies, depending on the means of payment. The exchange has recently announced something of a U-turn regarding fees. In May 2021, Coinbase said it would be not trying to compete with its rivals on fees. That position has changed, with CEO E. Choi seeing a trading fees compression 'at some point.'
Pros
73 million customers
Established crypto exchange with great reputation
Deposit AUD with a debit card
Crypto wallet provided
98% of client crypto kept in cold storage
Cons
3.99% fee with debit card transactions
5. Binance


Binance is the world's biggest crypto exchange by trading volume. It has a reputation for super-low fees on crypto – but also a reputation for being quite daunting for the beginner investor. There are many sophisticated crypto trading options on offer, as well as 500 crypto to choose from. Binance is regulated by the Australian Transactions Reports and Analysis Centre (AUSTRAC).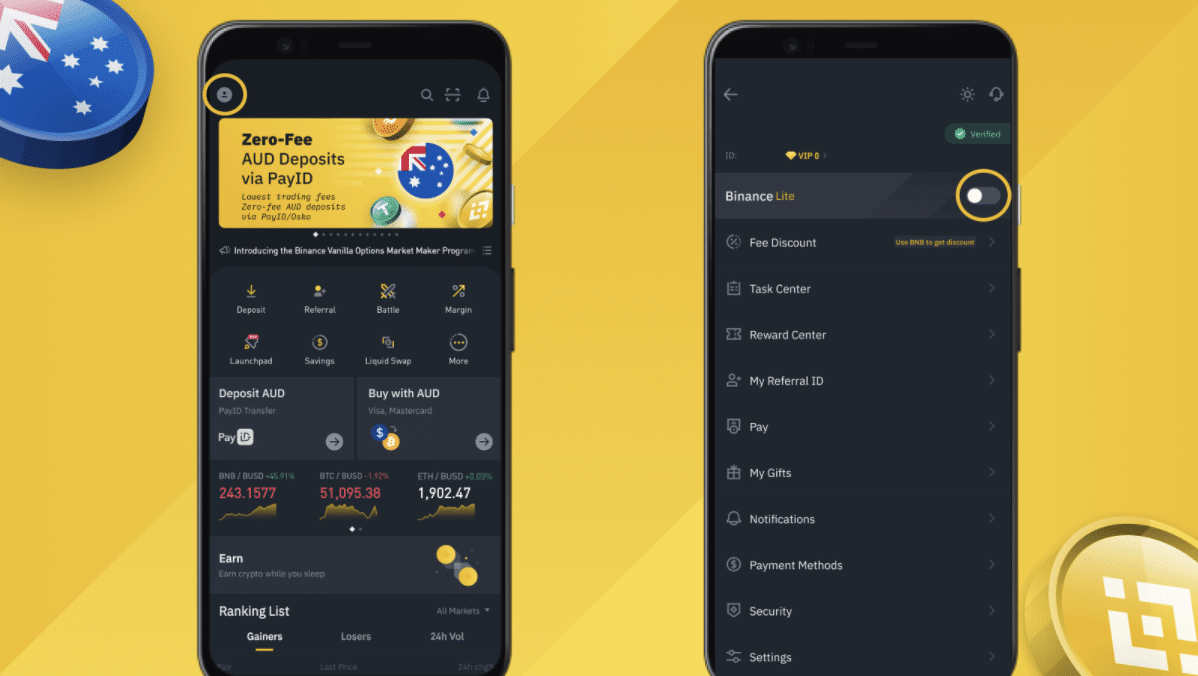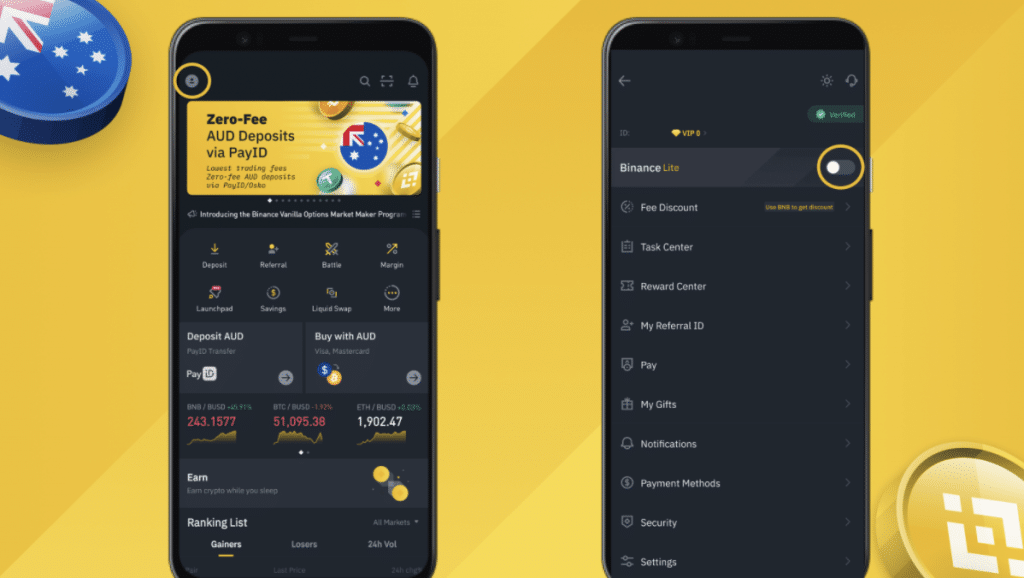 The Binance crypto app features a slimmed-down version of the full Binance desktop functionality. This makes it easy to trade crypto on the go. Binance also provide a number of wallet options. You can deposit AUD via PayID/Osko from over 100 Australian banks with zero fee. Instead of depositing fiat currency into your account, you can buy crypto direct using a debit/credit card; fees begin at 1% per transaction.
Trading crypto on Binance is usefully divided between trading for beginners (One-Click-Buy) and trading for advanced investors (order book trading/P2P trading). Further, you can buy crypto with stablecoins like Binance USD (BUSD), Coinbase USD Coin (USDC) and Tether (USDT). There's plenty of help articles specifically aimed at Australian investors to assist you.
As an exchange, Binance has been involved in regulatory controversy in the past. But this year it introduced full KYC (Know Your Customer) procedures. Best of all with Binance are the fees, which are hard to beat.
Pros
Trading commission of just 0.1%
Low spreads
500+ crypto to choose from
Multiple ways of trading crypto
Dedicated Australian help pages
Cons
Types of Crypto Apps
Crypto apps can be divided into two main groups:
Apps which allow you to trade crypto and other financial assets like stocks, ETFs, commodities and indices.
Apps which allow you to trade crypto only.
Crypto Trading Apps
All the apps in our top ten are crypto trading apps. With them you can trade crypto, whether that means trading crypto as CFDs or trading real coins that you can transfer into your crypto wallet.
Crypto Broker Apps vs. Exchange Apps
Broker apps: apps supplied by brokers like eToro and AvaTrade allow you to trade crypto as well as other key financial asset groups like stocks, commodities, ETFs, and indices.
Exchange apps: apps from crypto exchanges – like Binance and Coinbase - are dedicated crypto apps. With these apps, you can trade crypto only.
Buying & Selling Crypto vs Trading Crypto CFDs
Buying and selling crypto: some apps allow you to buy and sell 'real' crypto coins. These apps offer their own crypto wallet, or can be connected to a crypto wallet. With these apps, you can buy crypto by using either fiat currency (like AUD) or another type of crypto using a crypto pair.
The crypto exchanges Coinbase, Coinspot, Coinjar, Swyftx, Kraken and Binance offer this as their only service; eToro offers the service in conjunction with others.
Trading crypto CFDs: some apps do not allow you to trade 'real' crypto coins, but do allow you to trade off the rise and fall in crypto price. This can be done in two ways: i) exactly as if you are buying or selling company shares or ii) with a Contract-For-Difference (CFD).
As dedicated CFD brokers, Plus500 and Avatrade offer this as your only option; eToro offers the service in conjunction with others.
Understanding crypto CFDs: With a CFD, you do not get to own the underlying crypto. Rather, you enter into an agreement whereby you trade off its price movements. With crypto CFDs you can access powerful trading options like 'going short' on a crypto as well as 'leveraging' your trade.
Going short' means you enter into an agreement whereby you gain if the price falls rather than rises as with 'going long.' 'Leveraging' your trade means borrowing money from the app provider as part of the trade to gear its result; so if you leverage your trade 5x, it means you stand to lose or gain 5x what you spent on the trade. Leveraging is therefore for experienced investors.
eToro - Best Crypto Trading App for Multiple Crypto Trading Methods
One app – eToro – combines the advantages of both types of crypto app. eToro gives you three options in all: you can buy crypto as if it were stock, use a CFD to go short or leverage, or buy real crypto coin. What's more, eToro supplies for free its eToro Money crypto wallet.
Crypto Wallet Apps
All crypto apps that allow you to trade real coins give you the option to have a crypto wallet. These apps are called crypto wallet apps.
Crypto exchanges like Binance will hold your coins for you instead if you prefer – but this is not recommended, because they are then vulnerable to theft if the exchange gets hacked. It is far safer to get your own crypto wallet.
Many exchanges, like Coinbase and Binance, provide an-own brand crypto wallet you can use. eToro is the only broker on our list to provide its own wallet – the eToro Money Crypto Wallet. With its powerful trading options, ease of use, and staking options, eToro is a strong contender for best crypto wallet app.
 Crypto Staking Apps
If you have a crypto wallet, you can use your wallet to 'stake' your crypto. This means lending your crypto out for a fixed period of time and receiving extra coin as a yield in return. Staking does not involve risking your coins. But you will not be able to access staked crypto for the duration of the staking period.
Staking on the open market usually involves finding a staking platform. PancakeSwap is a popular staking platform with 28m users. Here you can use your crypto for straight staking in liquidity pools, or use it for yield farming on PancakeSwap's farms.
Some crypto apps allow you to stake crypto direct from your wallet without having to go searching for a staking platform. In certain countries, Etoro, for example, supports staking with Cardano (ADA), Tron (TRX) and Ethereum (ETH), with a sliding scale of commission on your yield. Coinbase allows you to stake crypto and takes a 25% commission on your yield. Exchange Binance has a range of in-house Binance Earn staking options, all with different rates.
Best Crypto Apps Australia Comparison
| App | Service | Crypto offered | Bitcoin buying fee/Bitcoin selling fee |
| --- | --- | --- | --- |
| eToro | Broker+ pro exchange + wallet | 100+ | No commission fee. 0.75% spread fee applies for BTC return journey of buy and sell. |
| | | | |
| AvaTrade | Broker | 20+ | BTC/USD: 0.20%. Overnight fees apply. |
| Coinbase | Exchange+wallet | 50+ | Flat fee of $0.99-$2.99 for trades less than $78. 1.49% for trades above $78. Plus spread fee. |
| Binance | Exchange+wallet | 500+ | For each trade, a sliding scale depending on frequency of trading from 0.1% to 0.04%. Plus variable spread fee. |
| Plus500 | Broker | 10+ | 0.3% spread fee applies. Plus overnight fees. |
| Kraken | Exchange+wallet | 95+ | 1.5% + 3.75% card processing fee/0.5% online banking fee for each trade. 0-0.26% spread depending on historical trade frequency. |
| Coinjar | Exchange+wallet | 40+ | 1% flat fee plus spread fee (BTC: 0.2%) for each trade. |
| Coinspot | Exchange+ wallet | 320+ | 0.1% fee for each market order or 1% on instant buy plus 0.83% BTC spread. |
| Swyftx | Exchange | 260+ | 0.6% fee for each trade plus BTC of spread 0.45%. |
How to Choose the Right Crypto Trading App for You
 Fees
As you can see from the table above, each broker takes their own unique approach to charging fees.
For example, the world's largest crypto exchange, Binance, has a great reputation for low fees – but also a reputation for a complex fee structure. Exchange KrakenBroker offers a complex fee structure and high fees. Etoro offers no commission and the simplest fee structure.
Security
2FA (2-factor-authentication) as well as back-end encryption are standard security measures that reputable crypto app providers employ to protect crypto onsite. But crypto theft remains a threat.
Just this week, cyber thieves targeted BitMart - a crypto exchange with nine million customers across 180 countries - and made off with $196m. BitMart say they will recompense all customers out of pocket. This follows the theft of $120m from DeFi platform BadgerDAO last week and $55m from DeFi platform bZx.
One way investors can protect themselves against theft is to use a broker rather than an exchange. Crypto thieves tend to target exchanges. Another way to protect your crypto is to ensure that you do not allow an exchange to hold your coin for you, but rather transfer it to your own wallet.
For maximum security, investors can use a 'cold' wallet. Rather than being a virtual arrangement that is permanently connected to the internet, a cold wallet is a wallet that is in hardware form which you can carry around with you like a USB stick.
Regulation
Regulation lessens the chance of theft as well as boosting your chances of getting your money back in the unlikely event of a crypto app business going bust.
Brokers tend to be far better regulated than exchanges, although exchanges are being forced to catch up. Thanks to stringent regulation, brokers like eToro and AvaTrade have had what are known as KYC protocols in place for a lot longer. KYC means 'Know Your Customer'. KYC keeps everybody's assets safe. KYC centres on the investor proving who they are and where they live – and then verifying supplied information and cross-checking it against lists of known fraudsters as well as models of fraudulent behaviour.
eToro is regulated by the FCA, CySEC and ASIC – the Australian Securities and Investment Commission. AvaTrade boasts regulation in 7 global jurisdictions, including ASIC.
 Pricing
Watch out for non-trading fees. These are fees which apply whether you trade or not. In fact, some brokers (including AvaTrade) charge what is known as a non-activity fee which charges the investor for not trading over a certain period of time. eToro does not charge non-activity fees, and nor do exchanges. Other fees worth being aware of include deposit fees, currency conversion fees and withdrawal fees. eToro, for example, does not levy a fee for deposit or currency conversion but does charge a flat token fee of $5 per withdrawal to cover transaction costs.
 Ease of Use
All five top crypto trading apps in our review - eToro, AvaTrade, Coinbase and Binance - offer exemplary user-interfaces. This is what we would expect from providers at the top of the market. Other crypto trading apps with excellent useability include Coinjar and Coinspot.
Supported Coins
Altcoins generally follow the course of the Bitcoin price, but they do not follow the extent of its directional changes. So, if an altcoin offers little real value, its price will dive when Bitcoin's falls gently, and rise minimally when Bitcoin soars. That being said, it is worth looking at as many altcoins as you can in developing a trading portfolio.
All crypto trading apps in our review offer the two big coins - Bitcoin (BTC) and Ethereum (ETH) - as well as varying amounts of altcoins.
Extras
With its CopyTrader and Smart Portfolios, eToro stands out as a provider of trader extras. AvaTrade's offering of 3rd-party platforms, including copy trading platforms DupliTrade and ZuluTrade is a bonus for the adventurous trader.
Apart from that, a key differentiator amongst crypto trading apps is the provision of in-house staking. Coinbase, Binance and eToro all offer in-house staking.
The Safest Crypto Apps in Australia
The safest crypto apps in Australia? Only time will tell. As internet assets, crypto will always be vulnerable to internet crime. Broker apps - provided by eToro and AvaTrade - have a better reputation for safety than exchange apps. And, of exchange apps, Coinbase has an excellent reputation for safety. Coinbase stores 98% of customer funds offline, which makes them virtually impossible to steal. 'Sensitive data', says Coinbase, 'that would normally reside on our services is disconnected entirely from the internet' and data is split into USB drives and paper backups which are then 'distributed geographically in safe deposit boxes and vaults around the world.'
Best Crypto Apps for Buying Altcoins
Altcoins are classified as all crypto coins apart from Bitcoin. Of the best crypto apps Australia, Binance has the biggest selection of altcoins (500) - but also a daunting selection of trading options not suitable for beginners. eToro offers a balance of 110+ crypto coins and 500+ pairs via the eToro Money crypto wallet.
How to Get Started with a Crypto App
Taking Best Crypto Trading App Australia winner eToro as our example, you can get started with a crypto app in seconds:
Download
Head to the App Store or Google Play and download the app onto your phone.


Sign up
If you are already one of eToro's 20m customers, you can skip this step. Otherwise, you will need to supply a few personal details and press the blue 'Create Account' button.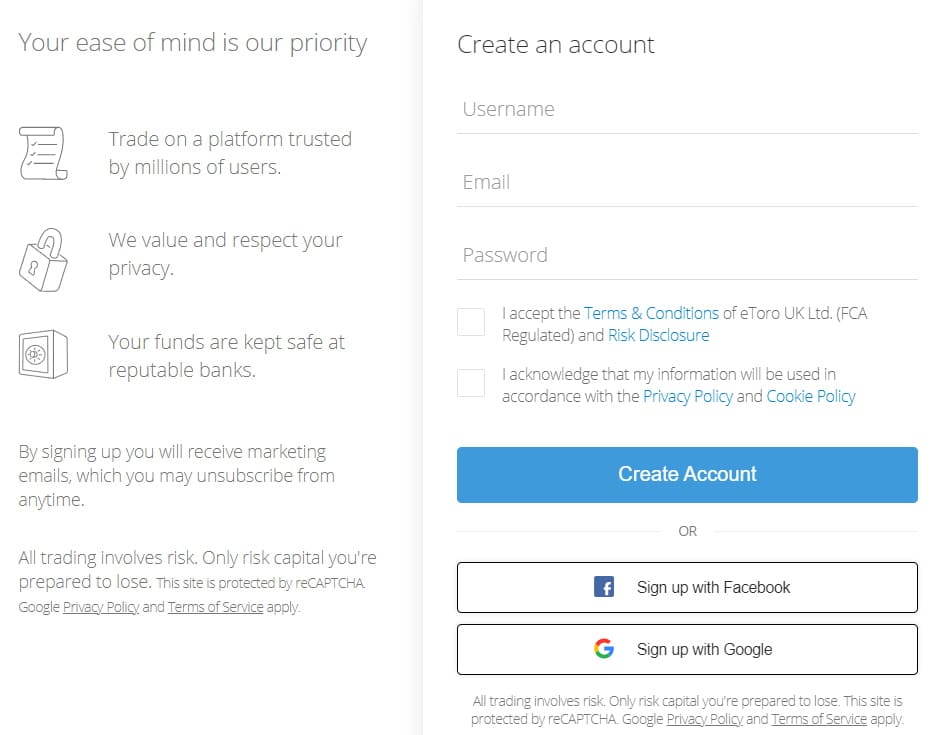 Verify
Verification with eToro involves uploading two scans: one proving your identity and one proving your address. You are spoilt for choice with both options: a range of ID is accepted. Use a valid passport for quickest ID verification. Once you are verified - which can take just a few hours - you will receive a notification email. Then you are set to deposit funds.
Deposit
eToro accepts 15 fiat currencies in all, including AUD. You can deposit AUD with eToro using debit/credit card, PayPal, Skrill, Neteller and bank transfer.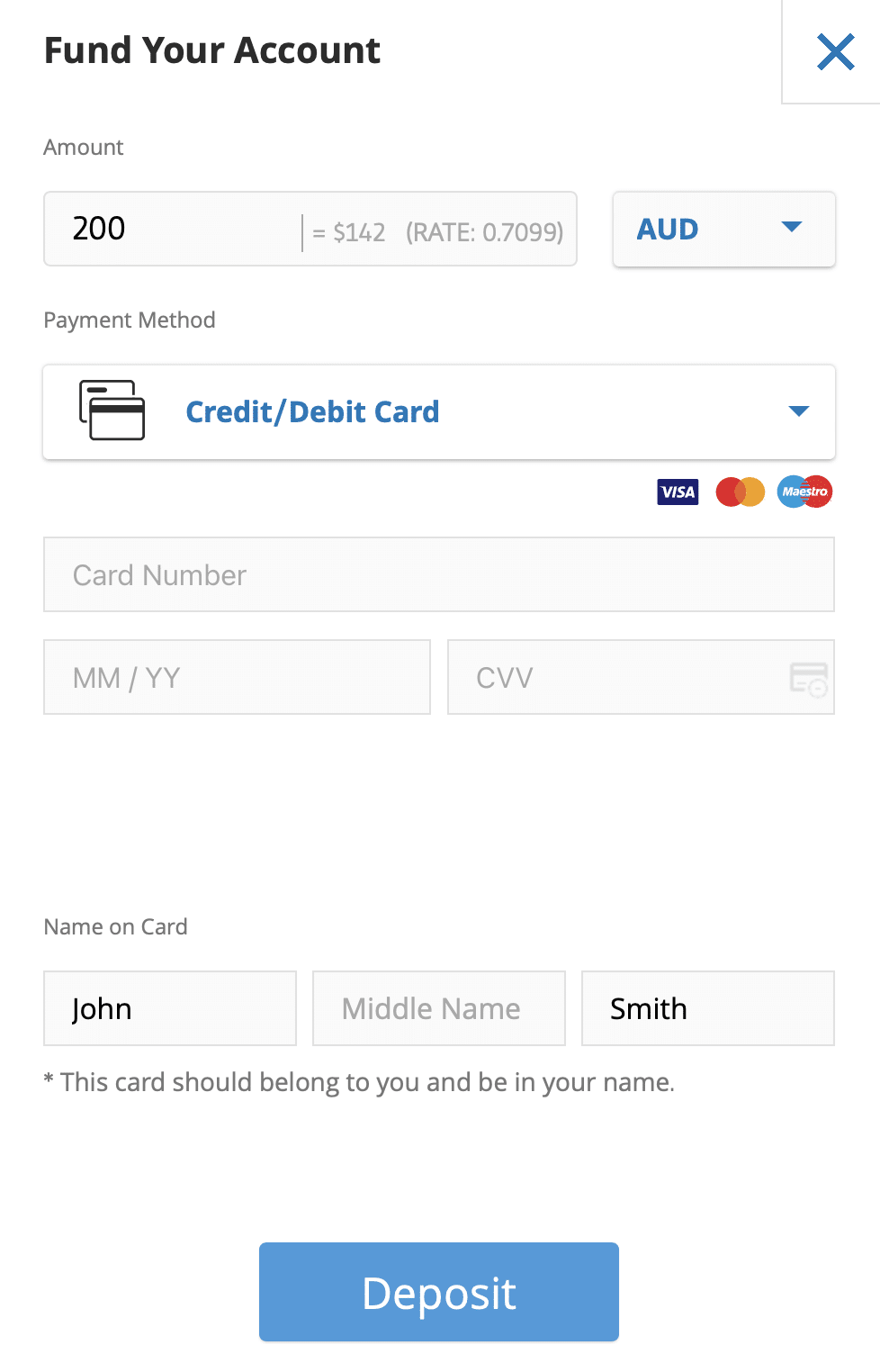 Search
The quickest way on eToro to find crypto is to search by name in the top search bar.


Or you can press the 'Discover' button on the left toolbar and select 'Crypto' from the central menu that comes up. This will display a list of all eToro's 100+ crypto.
Buy
To buy crypto, select a crypto by pressing on its logo. This will take you its homepage. Here you can review stats, access powerful charting options and browse a chatfeed. When you are ready to finalise your trade, press the blue 'Trade' button at the top right of your screen.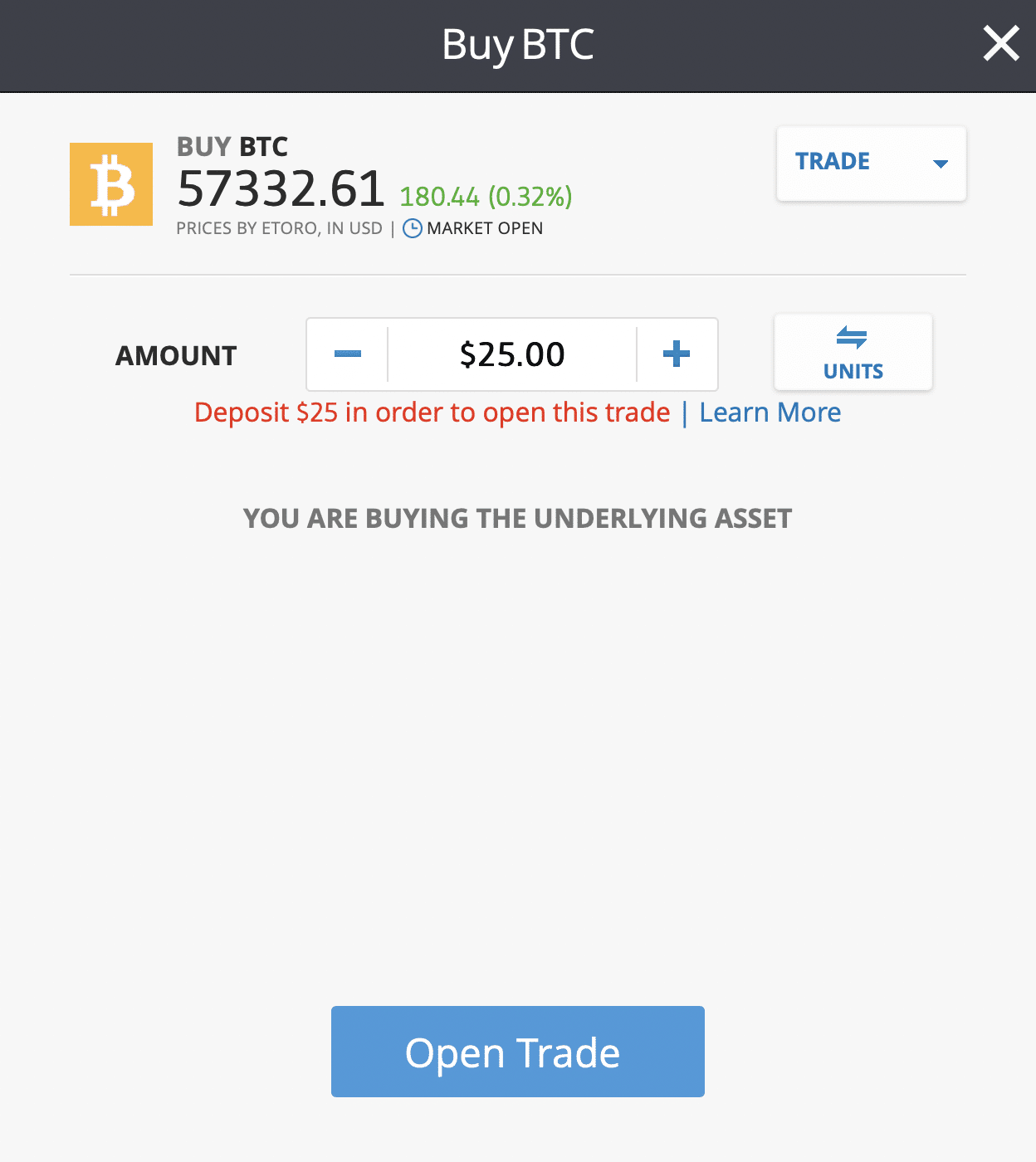 Here you simply specify how much you want to spend (always denominated in USD) and press 'Open Trade'. You will receive, in seconds, an onscreen notification that your trade order has been filled. You can review your purchase in your portfolio.
Conclusion
Of the top crypto apps, eToro stands out as the best crypto trading app Australia because it combines a number of key factors in one easy-to-use package. Zero commission on fees is charged, and what fees exist are clearly explained; no nasty surprises. A good choice of crypto is supplied, which you can trade using a number of methods. A wallet is provided which you can use to transfer crypto out or take advantage of eToro's staking platform. Of course, eToro's regulation by the FCA, CySEC and ASIC is absolutely key to a reassuringly-safe trading experience.
eToro - Best Crypto Trading App Australia with 0% Commission and Copy Trading Tools
68% of retail investor accounts lose money when trading CFDs with this provider.
Frequently Asked Questions about Best Crypto Trading App Australia
Which cryptocurrency app is best?
What is the best crypto wallet app in Australia?
What is the cheapest crypto trading app in Australia?
What is the safest cryptocurrency trading app?
How do I use a crypto app?