Best Ethereum App in Australia 2023
The best Ethereum app should allow you to buy and trade Ethereum, exchange the crypto for other cryptocurrencies, and perform a range of trading strategies short positions, range trading, and scalping. The app should also have excellent technical indicators like the RSI signal, MYC, Moving Averages, and MACD. An Ethereum app should also allow users to store their Ethereum assets in secure cold wallets. Here, we explore the best Ethereum apps on the market to help you decide which one is best for you.
Best Ethereum App Australia
2023
– List
A Closer Look At The Best Ethereum Apps in 2023:
Best Apps For Buying Ethereum (ETH)
To buy Ethereum, you will need an app that allows you to convert fiat currency into Ethereum or exchange Ethereum for another cryptocurrency. Most exchanges or online brokers play the middleman – helping millions of individuals purchase Ethereum and facilitate simple and complex trading strategies.
Crypto.com
Crypto.com is one of the most powerful trading platforms in the industry. With over 50 million users, a powerful and seamless trading environment, AI-powered trading features, and competitive fees, Crypto.com has sealed its brand as the best go-to trading app for beginners, pro-investors, and traders.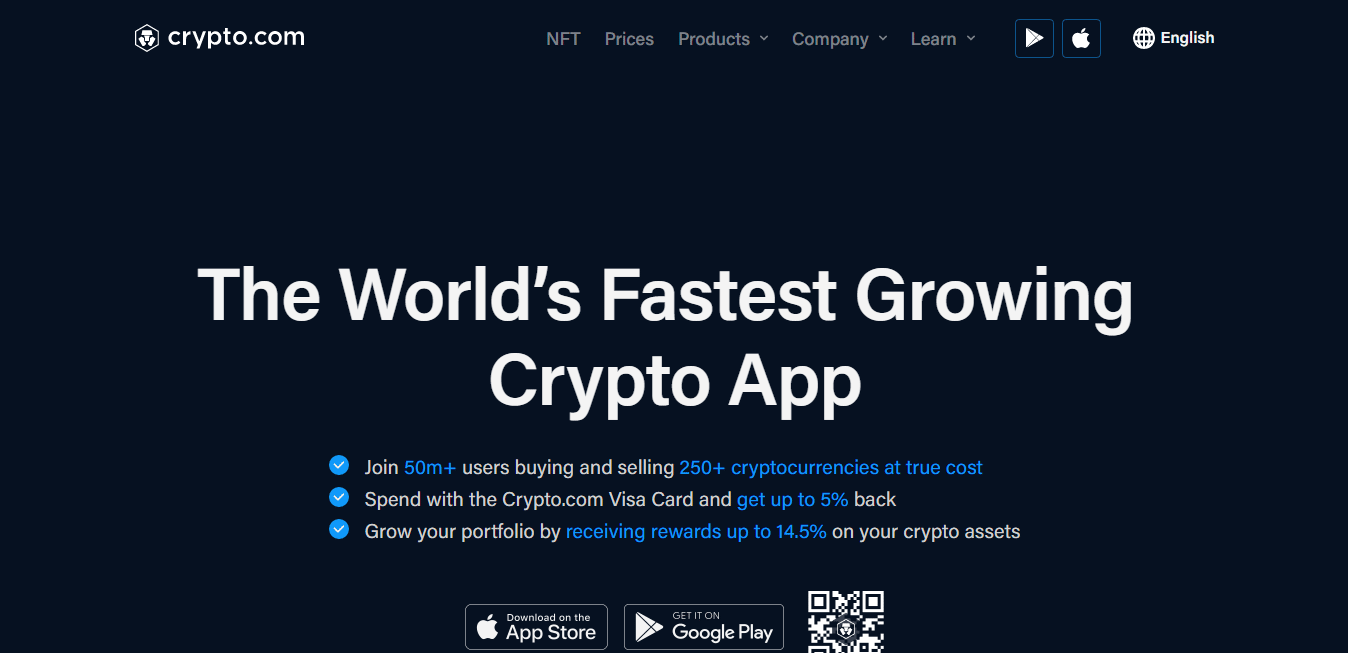 Key Features
Insurance:
In September 2021, Crypto.com announced an expansion to its already-impressive insurance program. The expansion meant that the company insured up to 750 million dollars for its users, making it one of the largest insurance schemes in the crypto industry.
Leverage:
Crypto.com supports leverage up to 10x for more than 50 pairs, including the ETH/USDT pairs. The leverage means that you can stake up to 10 times your Ethereum holding and enjoy ten times the winnings if the market goes in your direction.
Investment and Staking:
Users are allowed to partake in soft staking, ditto the CRO staking, which allows up to 1000 CROs. You can earn an APR of up to 8% and enjoy zero maker fees and fee rebates (your fees are transferred to your holdings, and you can use them to stake or trade) if you stake up to 50,000 CRO.
Security:
Crypto.com is licensed by the Australian Securities and Investments Commission, ASIC, to operate in Australia. It also holds licenses in other major regions like the United States, the UK, most parts of Europe, Asia, and other parts of the world. Crypto.com wallets are also secured with Tier 4 security layers. Crypto.com holds the highest security measure in the industry.
Fees:
Crypto.com offers zero deposit fees. Withdrawal fees also vary, depending on your withdrawal options. You will also incur maker fees that vary depending on the coin you buy/trade and the coin's liquidity within the exchange. Enjoy a minimum deposit of $1. It could be more, depending on your region. Bank transfer deposits have a minimum of $500.
Demo trading:
Crypto.com offers demo trading, also known as paper trading. With its paper trading feature, you can practice in a simulated trading environment without the risk of losing your investment.
Crypto.com also offers a seamless and simple copy trading interface where traders can copy the trading strategies of other traders in the market.
Trading Bots:
Crypto.com allows you to trade Bitcoin, Ethereum, and other cryptocurrencies and instruments using automated bots. The bot feature will greatly enhance crypto day trading pros executing large volumes of small orders.
Pros:
Crypto.com has a powerful user interface and deep liquidity pools that removes excessive spreads from orders.
Supports a decent number of cryptocurrencies and tokens.
Excellent for storing your crypto assets and also trading and investments.
Supports paper trading.
Crypto.com has a beautiful layout and architecture that makes trading a little bit easier.
The platform the highest security-level layers in the industry. Only very few exchanges have Crypto.com's intense security layers.
Trading fees are competitive, albeit fluctuating.
Zero deposit fees.
Cons:
Trading fees fluctuate and can be confusing. Crypto.com has a long list of fees on the Fee Page, which can be excruciating to read, especially for beginner investors. If it's any consolation, their fees are very competitive and one of the best in the market.
Your money is at risk
Best Apps For Storing Ethereum
The best Ethereum apps for storing coins are wallets dedicated to storing ETH and other cryptocurrencies. These apps are not necessarily trading apps but are used by people who buy and keep cryptocurrencies rather than trade frequently. Let's explore the MetaMask wallet.
MetaMask
Metamask is one of the world's most popular Ethereum apps with over 30 million global users. Since its inception, MetaMask has continued to break boundaries and set itself as the best Ethereum wallet mobile app and the go-to portal between users and Web3 or blockchain applications. Let's explore why MetaMask is special.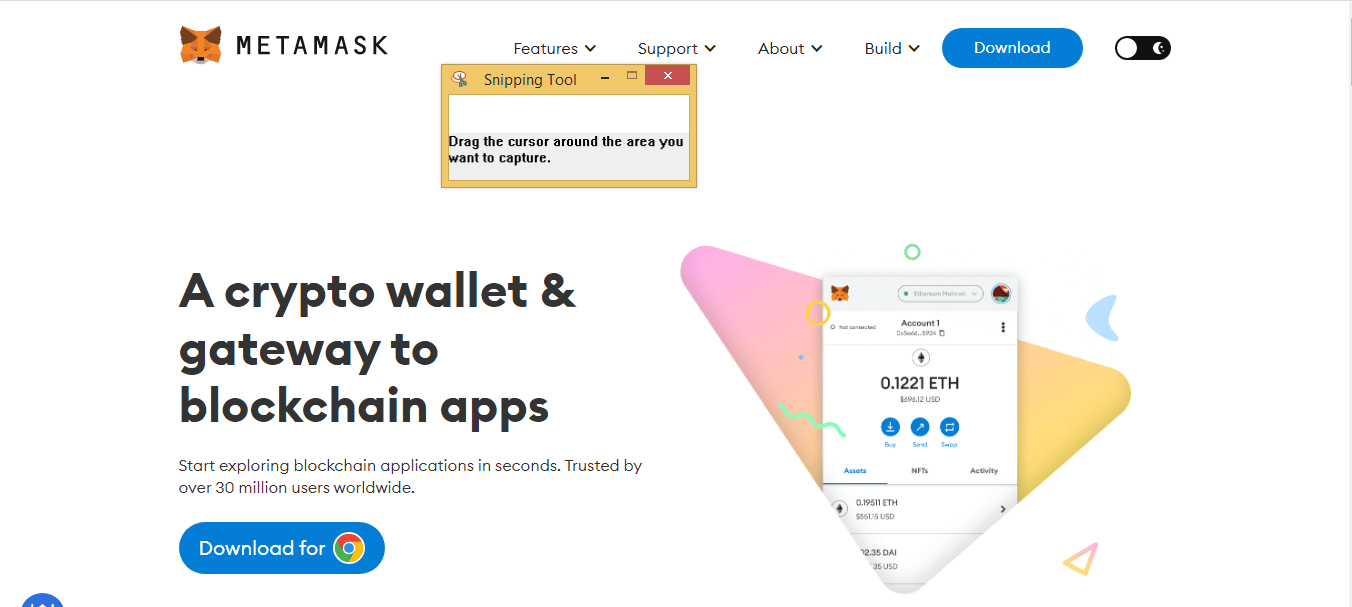 Key Features
MetaMask is incredibly simple to use:
MetaMask allows users to buy, sell, and swap tokens over its mobile application or browser extension. The wallet gives you a secure vault, token exchange capabilities, a token wallet, and safe login. It's an all-in-one app that promotes Web 3 usage in a simple interface. The beginner-friendly interface helps you store and manage your tokens.
Interact with blockchain applications:
MetaMask is ever so important because most Web 3 applications sit on the Ethereum blockchain and its variants. MetaMask bridges metaverse explorers with blockchains by providing a seamless portal to buy and exchange Ethereum – Ethereum blockchain's native token.
MetaMask allows you securely access blockchain apps without giving up more than necessary data. The mobile app also supports NFT and DeFi applications such as opensea, giving you unlimited access to the DeFi world.
MetaMask swap:
MetaMask's new Swap feature allows you to swap tokens at the most competitive prices. For example, MetaMask accesses liquidity information of DEX's liquidity pools and DEX aggregators like UniSwap, AirSwap, Curve, 0XAPI, 1inch, and Paraswap. With such data, you can execute positions with DEXs with the largest liquidity and save money from spreads.
The gas fee on a swap is $0.0875% of the swap volume. For large swap volumes, MetaMask spreads your order over multiple DEXs to avoid slippage. Slippage occurs when you make large orders from a single exchange, and prices swing because the exchange isn't liquid enough to immediately execute the order. Large swaps or positions often lead to slippage, but MetaMask saves you from slippage costs by spreading your order over multiple DEXs.
Security:
MetaMask has intensive security protocols, multi-layer security systems, and 2FA authentication to ensure consumer funds' safety. MetaMask also has an open policy. That is, they disclose security breaches to the users immediately one is suspected. The transparency makes them the best place to buy Ethereum.
MetaMask native ecosystem supports ETH and ETH-based tokens like the ERC-20 and ERC-721.
Pros:
MetaMask is one of the most popular ETH wallets available.
A swap fee of 0.875% is highly competitive, given that MetaMask exposes users to top DEXs with deep liquidity and minimizes spreads.
MetaMask is a safe and secure option for Australian investors and traders to keep their assets.
Supports Ethereum and all Ethereum variant tokens. With partnerships with DEXs, MetaMask also supports the swap or exchange of other tokens. The Swap feature has elevated MetaMask from a simple Ethereum storage to an all round exchange service provider and wallet.
MetaMask has a simple user interface.
MetaMask is the gateway to most Web 3 applications, allowing you to securely purchase and swap Ethereum for the native tokens of these metaverses.
It has a secure data-protection program, disallowing Web 3 applications from accessing more data than they should.
The mobile application is seamless, easy to use, and beginner-friendly.
With MetaMask, you can execute large swaps without worrying about painful gas fees.
Cons:
While spreading your large order over different liquidity providers and DEXs, you may incur unwarranted fees each DEX charges on order execution. Spreads are not fixed and are entirely dependent on the market and the liquidity of the commodity.
MetaMask supports Ethereum and its variants in its native ecosystem, while swaps are executed via a partnership with other companies. It begets the question of trust. Can you trust MetaMask to keep your data safe and not share unnecessary data with its partners? We think you can!
Your money is at risk
Are Crypto Apps Safe To Use?
The cryptocurrency industry has been the target of malicious groups. While they operate on autonomous and decentralized systems powered by blockchain networks, attackers often find loopholes in smart contracts and bridges, seizing unimaginable amounts of money from users' wallets. It's important to consider the security of your crypto apps before choosing an app to use. Ethereum and Bitcoin trading are the two most prominent coins, and we also have tons of tokens in the market. Investing or trading these coins comes with risk. Let's explore the safety of crypto apps: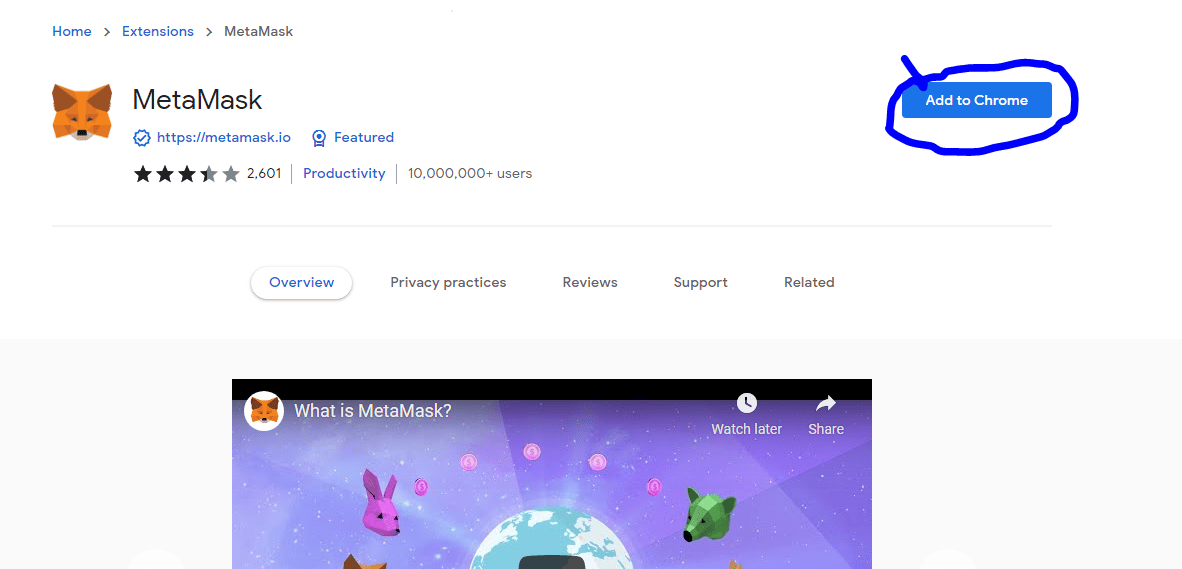 Before you choose a crypto app, ensure that the app has grade-A level security protocols and does not have a long history of breaches: Apps like Crypto.com and MetaMask, are considered extremely safe because of the safety and security measures they explore in keeping user assets.
Cold wallets:
While it is easier to transfer funds in hot wallets, cold wallets offer the best security. A crypto wallet or app should store its assets in a cold wallet – inaccessible online to hackers. When your assets are securely stored in a vault, it means that hackers cannot access your wallet through the portal.
Licenses:
A licensed crypto app beats an unlicensed one. No matter how promising an app is, you are subject to malpractices like pump and dumps, rug pull, and hacks if it is unlicensed. Also, when a crypto app is unlicensed, users are not under any user-protection contract; hence, funds lost are dead and gone.
User reviews:
Before choosing an app, check out their reviews on PlayStore. It's usually rare to see a crypto app with a 5-star review aggregate, but anywhere from 3.9 to 4.5 stars is good enough. Of course, the latter number is preferred.
Australian regulation
The Australian Securities and Investments Commission, ASIC, is the highest regulatory body for financial providers and financial asset collectors. It's important to use an app that is licensed by the ASIC. First, the ASIC puts financial institutions through an extreme vetting process, ensuring they have excellent security protocols and insurance policies protecting users. When you visit an exchange's 'Security' page, you see many industry lingoes. Some of these words and numbers are entirely impossible to decipher. An exchange can boast of a certain security feature, but it takes an expert to know real stuff from the shaft. An ASIC certification proves that an exchange or app is as secure as they claim they are.
Security and privacy
Security and privacy are two very important factors to consider before choosing an app. Let's take a look at the security features and privacy factors you must consider:
2FA: A crypto app should always support two-factor authentication. The more complex the layers of authentication, the better. Some apps won't allow you to log into your account without authenticating your primary device. Other apps send codes to your email address and phone number. If an activity on your account raises suspicion, an app should be able to lock you out and request your private key before logging you back in. Other 2FA protocols include location – if you log in from an unusual location, a crypto app can log you out and request your private key before letting you gain access. Volume: If your withdrawal volume is disproportionate to your usual volume, an app's AI can spot this as a scam and request that you provide your private keys.
Cold storage: Cold storage removes your wallet from online. When your wallet and assets are on the blockchain, it is online and susceptible to attacks from malicious scammers. When your assets are offline, it is impossible for an attacker to steal them through online measures.
Data sharing: Apps like MetaMaks partner with multiple exchanges to find the best liquidity when you want to swap cryptocurrencies. While the process ensures that you get the most competitive prices at any given time, it may mean that MetaMask and the other DEXs have to share information. MetaMask has explicitly stated in its website that it values user privacy and doesn't share more-than-needed data; you may need to check the data privacy of other crypto apps to ensure that they do not share sensitive data with their partners.
How to spot a crypto app scam
Crypto app scams have become a mainstay in the cryptocurrency industry. Scammers often employ different techniques to draw unsuspecting victims and siphon their funds. Let's take a look at activities that scream scam in the crypto industry.
A shabby-looking website: Scam websites often have the same layout because most scammers are impatient and use scripts of other scam websites to lure people into registering their accounts. A scam website will lack a good home page, won't reveal the name of the founders of the project, and will have a poor layout. Websites like MetaMask, Binance, and Coinbase, are professionally built and have a simple layout. Leave the website immediately if the layout doesn't appeal to your sense of safety.
Promise mouth-watering returns: Scam websites often promise their users mouth-watering returns like 33% to 44% APY on staking and investments. Cryptocurrency investment can have great returns, but the market is volatile, and no exchange or broker can boast of constant positive returns on investment. A website that promises to double your investment in a few days is certainly a scam. Even established brokers like Crypto.com promise an 8% APY after about a year of holding.
Does not require identity verification: Scammers want you to quickly get to the payment page, so they skip many important elements a crypto website should have. One of those elements is identity verification and proof of address. It is illegal to allow an entity to trade without verifying the entity's identity. Any exchange or app that allows you to trade unverified is certainly not licensed by any major agency. You will be better off donating your funds to charity.
No licenses: A crypto website that allows users worldwide to trade without proper licenses in trading regions is a scam site. Be careful! Scam sites are usually open to everyone in every country. Some of them are small time, so they do not fall under the radar of law enforcement; however, these websites can steal thousands and hundreds of thousands of dollars from unsuspecting victims.
Spam calls and messages: Any website that claims that an expert will call you during the registration process is most likely a scam. First, a real website with good traffic won't invest that much in telemarketing. The cryptocurrency space is volatile, and authentic sites avoid telemarketing at all costs. If a crypto exchange calls or sends messages advising you to invest more, you may be in a scam ecosystem.
Other tips to consider include the following:
Never open a link or button in an email from unverified sources. Opening unverified or malicious links can make your device vulnerable to security attacks, including cryptojacking (your device will be used to mine cryptocurrencies).
Ensure that you visit the correct URL of popular crypto apps. For example, metamask.io can be cunningly delivered as metamasks.io. The former is the correct MetaMask website URL. The latter, if it exists, is a phony website dressed like the actual MetaMask site.
Top Tips for Using Ethereum Apps Safely
Never share your passphrase
Under no circumstance should you ever share your private key or passphrase. With your passphrase, scammers can lock you out of your wallet and withdraw every penny you have. Passphrase security tips include: 
Do not store your passphrase online. Instead, store it in a physical security box.
Do not share your passphrase with friends or family members.
Use a reliable internet connection
A reliable and secure internet connection allows you to explore cryptocurrency applications without exposing yourself to vulnerabilities. Before logging into your crypto wallet, follow these security steps:
Do not use public online access: When you browse on public wifi, scammers can mirror your online activity and gain access to valuable information like your wallet address and password. If you want to log into your MetaMask, ensure you do so on a public and secured network.
Auto-filling your wallet address might be a bad idea. If a thief steals any of your devices (mobile or laptop), he can gain access to some of your wallets if he logs in through your device. This is because apps like Google and Dashlane lets you autofill passwords and email addresses. Instead of auto-filling, you can set password-saver apps to request for your fingerprint or facial recognition before providing the password.
Read user reviews before signing up
User reviews give you practical data on how a wallet or an exchange works. If an exchange has poor customer service or has frequent glitches, many users will use the review section of PlayStore or Apple Store to express their displeasure. If a wallet generally has negative reviews, you should find another decent one for your Ethereum storing and trading needs.
Store your ETH in a cold wallet after purchasing
When you purchase Ethereum, ensure you store it in a cold wallet like MetaMask. A cold wallet is offline and protects your assets better.
Can You Use Ethereum Apps To Buy Other Cryptos?
Yes, you can use Ethereum apps to buy other cryptocurrencies.
Dash2Trade - Best Upcoming Crypto App in Australia
Dash2Trade is a powerful crypto analytics and social trading platform that provides trading signals that help its users make informed decisions. The D2T ecosystem, through its powerful algorithm, informs traders when to buy and sell. Dash2Trade has a powerful tracking tool that spots the performance of cryptocurrencies, including crypto presale information, social sentiment measurement on coins, and trending commodities, and utilizes the raw data to project informed decisions on coins.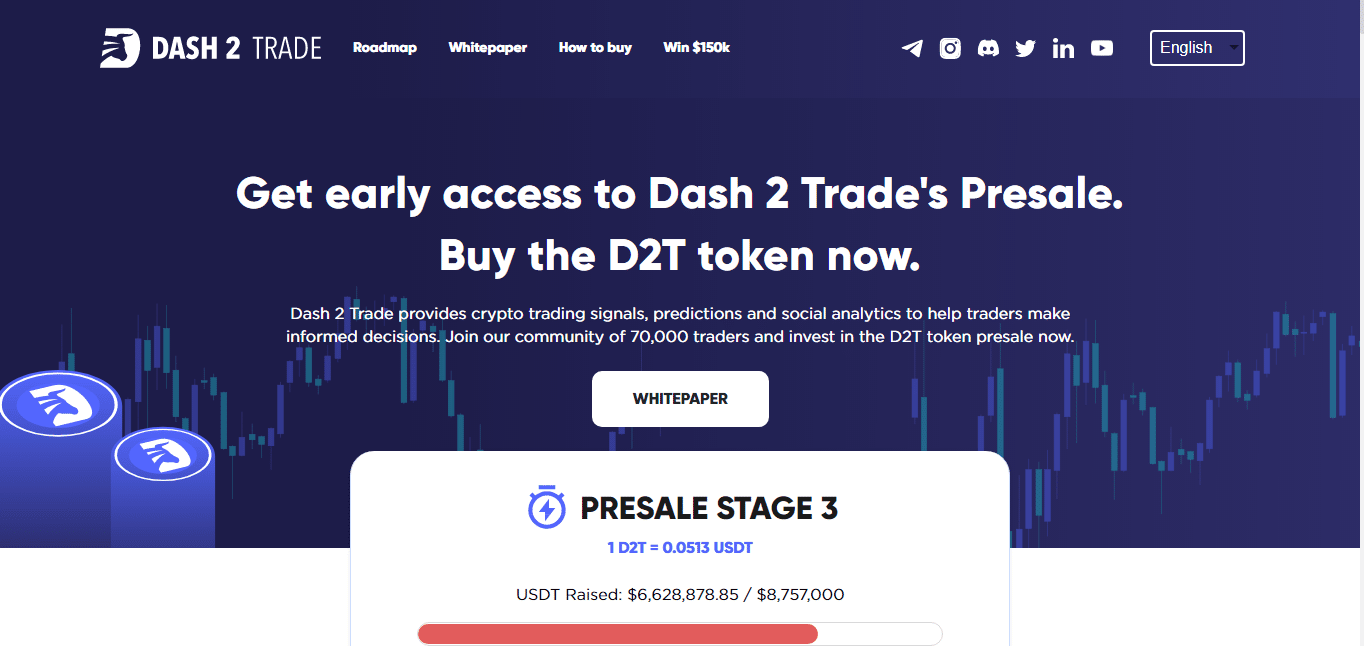 In the middle of the D2T ecosystem, we have D2T, a native token that will support the Dash2Trade ecosystem. D2T is on its third presale phase and has since raised over 6 million from the marked 8 million USD. Dash2Trade's algorithm is explosive, and its value far surpasses trading bots. D2T is all-encompassing – a watchdog that constantly scrutinizes the crypto world and looks for loopholes for entry and exit.
D2T will support all major cryptocurrencies and tokens, especially utility tokens, monitor presales, and exciting Web 3 projects, and interact with every DEX in the industry. D2t set out to raise over $8 million with its third presale but has since raised over $6 million. The figure shows impressive user adoption of the D2T ecosystem as a financial trigger and a wallet.
Your money is at risk
What Are The Advantages Of Using An App To Trade Ethereum?
Manage orders on the go
A cryptocurrency app lets you manage your orders on the go. Wherever you are, you can access the market, check positions, and make trading decisions with your mobile phone. While all crypto exchanges and wallets have web applications and should work on a desktop website, a mobile application is an easy and seamless way to ensure that you can always track your orders wherever you are.
A mobile application should seamlessly integrate with a wallet or an exchange's web application.
Easy-to-use interface
An easy-to-use interface facilitates user understanding of cryptocurrency trading and the trading platform. A crypto wallet that has a complicated user interface is unfriendly for beginners and, sometimes, professional traders. Most cryptocurrency apps have basic features for trading, and other apps have a basic interface and pro interface for beginner and pro users, respectively.
Low costs
Storing Ethereum in a wallet comes at a low cost to users, especially giving the immense advantage of storing your digital asset in a cold wallet. Cold wallets like Crypto.com and MetaMask, allow you to store your Ethereum for free. However, you may incur service charges if you want to swap Ethereum for another currency or trade with your Ethereum.
Social trading 
Social trading is a system where people interact and share trading strategies. Elements of social trading include social interaction and copy trading.
FAQs
Which is the best Ethereum wallet?
eToro is the best Ethereum wallet, if you consider trading; however, for integration with blockchain applications, MetaMask provides better value because it is integrated on the interface of almost all Web 3 apps.
Does Ethereum have an app?
No, Ethereum does not have an app. Ethereum is a Blockchain that hosts many Web 3 ecosystems. Ethereum's native token is the ETH. We also have other variant tokens like the ERC-70
Can you trade Ethereum for free?
No. To trade Ethereum or other coins, you will incur service fees, spreads, withdrawal charges, and other fees. The fees you pay for trading vary from exchange to exchange.
Where to buy Ethereum in Australia?
You can buy Ethereum with your MetaMask wallet. You can also buy Eth and other cryptocurrencies through exchanges like eToro, Crypto.com, Binance, and Coinbase.
Are Ethereum apps regulated?
Yes, Ethereum apps are regulated. The regulatory agencies of an Ethereum app depend on the region the app serves customers.