Want to buy Facebook shares in the UK? This US tech giant is one of the largest companies in the world and has long been flirting with a $1 trillion market cap. Even better, Facebook has aggressive plans for global growth.
To invest in Facebook stock in the UK, all you need is a mobile stock app that offers trading on the US stock market. In this guide, we'll highlight the top UK stock apps to buy Facebook shares and show you how to buy Facebook shares UK. We'll also cover everything you need to know about why Facebook shares are a strong buy today.
In order to buy Facebook shares in the UK, you'll need a UK stock app that offers trading on these shares. Facebook trades on the NASDAQ stock exchange in the US and is one of the largest companies in the world, so it's easy to find a broker that carries this stock.
While a lot of UK brokers offer trading on Facebook shares, though, they're not all the same when it comes to fees, trading tools, and other key elements. To save you hours of research, we'll cover two of the top stock apps you can use to buy Facebook shares in the UK today.
1. eToro – Buy Facebook Shares with 0% Commission
eToro is one of the best UK stock apps you can use to buy Facebook shares. This mobile-friendly stock broker offers trading on nearly 2,000 shares from the UK, US, and around the world. Plus, you can invest in Facebook shares through hundreds of ETFs, including many that cover the US stock market and tech sector.
eToro gives you the option to buy shares outright or to trade Facebook share CFDs (contracts for difference). Either way, all trades on eToro are 100% commission-free. If you decide to trade Facebook CFDs, you can apply leverage up to 5:1 to your position.
This brokerage stands out for the quality and depth of its trading tools. To start, the mobile charting platform is incredibly advanced. You can access over 100 different technical studies and drawing tools, and easily customise your analysis with just a few taps. eToro also provides access to professional stock research, so you can check your own technical analysis against the 12-month price target that Wall Street is predicting for Facebook.
eToro also has a built-in social trading network. You can follow traders from the UK and US to swap trade ideas, share stories of your winning trades, and find new stocks to trade. This network is also very helpful because you can quickly spot shifts in market sentiment around Facebook shares.
If you want to build a portfolio quickly, eToro supports copy portfolios. You can copy a premade portfolio with just a few taps, or mimic a day trader's moves to actively trade around Facebook's share price.
eToro is regulated by the UK Financial Conduct Authority (FCA) and offers 24/5 customer support by phone and email. The eToro mobile app is available for iOS and Android. Read our comprehensive eToro app review to find out more about what this brokerage app offers.
Pros:
Trade 2,000 global shares
100% commission-free stock trading
Powerful mobile charts with 100+ indicators
Share trade ideas over a social network
24/5 customer service
Cons:
Small inactivity fee after one year
67% of retail investors lose money trading CFDs at this site.
2. Capital.com – Best UK Stock App for CFD Trading
Capital.com is a mobile UK CFD brokerage that offers trading on Facebook and more than 3,000 other shares from the UK and US stock exchanges. All CFD trades using the Capital.com web or mobile trading platforms are 100% commission-free, and you can use leverage up to 5:1 to increase your trade sizes. Another plus for long-term investors is that Capital.com doesn't charge any inactivity fees.
This brokerage has a very capable mobile trading platform that caters to beginners as well as experts. Experienced traders will find dozens of highly customisable technical indicators, a market news feed, and a market sentiment gauge for Facebook shares. Capital.com also offers  a range of order types, including guaranteed stops that protect your position against sudden drops in the market.
The Capital.com mobile app is also very beginner-friendly thanks to its included educational resources. This broker has a library of videos that explain the basics of CFD trading and technical analysis. Capital.com even has a dedicated educational app that offers virtual trading courses complete with self-quizzes at the end of each lesson.
The only thing that Capital.com doesn't offer is access to professional analyst research. The market news feed is helpful in this respect, but you won't be able to find out what Wall Street thinks about Facebook's prospects without leaving the Capital.com mobile app.
Capital.com is regulated by the UK FCA and offers 24/7 customer service by phone, live chat, and email. The brokerage's support team is extremely responsive. You can download the Capital.com app from the Apple App Store or Google Play. Read more about Capital.com in our full Capital.com app review.
Pros:
100% commission-free CFD trading
No inactivity fees
Highly customisable charting tools
Supports guaranteed stop orders
24/7 customer support by phone and chat
Cons:
Limited professional stock research
There is no guarantee you will make money with this provider.
Step 2: Is Facebook a Good Investment?
Once you've decided on a UK stock app to buy Facebook shares, it's time to do a deep research dive into this tech company. It's important to know exactly why you're buying Facebook shares and what the future for this company might hold when you invest.
So, let's explore everything you need to know about Facebook shares.
Facebook launched on the NASDAQ stock exchange on May 12, 2012, at a price of just $38 per share. At the time, it was one of the most widely talked-about stock debuts on Wall Street. Facebook shares dropped sharply after the IPO to an all-time low of just $17.73.
If you had bought shares at that price, you would today be sitting on a nearly 1,500% return. From 2013 to 2018, Facebook stock began a relentless climb. The stock hit $100 per share in 2015 and $200 per share in 2018.
At the end of 2018, the Facebook share price dropped back to just $125 per share. The company came under scrutiny for the Cambridge Analytica scandal, in which a UK company was found to have misused information from Facebook for political advertising in the 2016 US presidential election. Around the same time, Facebook came under fire for its role in human rights abuses in India and Myanmar.
Despite the criticism, Facebook shares climbed back to over $220 per share before the COVID-19 pandemic hit. Shares plunged to a low of $137 during the March market crash, but quickly reached a new all-time high in May 2020.
Since then, Facebook shares have hovered between $260 and $300. Shares are currently priced at $283.20 apiece.
Does Facebook Pay Dividends?
Facebook does not pay dividends and never has. Although Facebook is highly profitable, the company has no plans to issue a dividend to investors at this time.
Facebook EPS and P/E Ratios
Facebook reported an earnings per share (EPS) of $10.09 for 2020, up from $6.43 in 2019. The company benefited from the coronavirus pandemic as users spent more time on its social network, even as advertising budgets shrank in response to the global economic crisis.
At the current share price, Facebook has a price to earnings ratio (P/E ratio) of 28.1. This is considered to be on the high side by many value investors, but is relatively low for US tech stocks. Facebook has a market cap of $808 billion.
Facebook stock is one of the most widely watched instruments on Wall Street. This social networking company is used by over 2.8 billion people around the world, including in fast-growing regions like India, Southeast Asia, and Africa. The company has also proven that it's capable of monetizing all of these users and making advertisers happy.
On the other hand, Facebook is facing pushback from regulators in the US, Europe, and Australia. The company has a reputation problem in much of the West, too.
So, should you buy Facebook shares today? Here's why we think Facebook shares are worthy of a strong buy rating.
Growth and Value
Typically, investors need to choose between growth stocks and value stocks. But with Facebook, you can have both.
With an $800 billion market cap, Facebook is hardly a startup that will see its price double every year. But the company is still valued at just one-third of what Apple is valued at, so there's plenty of room for growth. That's especially true when you consider that more people use Facebook – and have access to its social network – than use Apple products.
At the same time, Facebook's stock price doesn't really reflect this growth potential. The shares carry a P/E ratio of just 28, which is incredibly low in the tech sector. Apple stock, by contrast, has a P/E ratio of over 33, and Amazon stock has a P/E ratio of over 74. Based on this, it's easy to make the case that Facebook stock is undervalued right now.
Global Infrastructure
At some point in the last decade, Facebook changed from being just another social network – like Twitter or Medium – into being a key part of global infrastructure. For a majority of the 3 billion people who use this platform, Facebook is their primary source of media and their main connection to the internet. In fact, in many countries in Southeast Asia, Facebook essentially is the internet.
That makes Facebook both indispensable and incredibly valuable. Even users who complain about Facebook's privacy issues or lament the company's size refuse to leave the social network.
At the same time, advertisers absolutely love the data that Facebook provides and the prices for which it can target ads to highly specific audiences. The company grew its advertising revenue by 12% last year, even in the midst of a global pullback in advertising spending. As Facebook rolls out its tighter integration of Instagram and WhatsApp, expect the platform to cut costs and become even more efficient at connecting users and advertisers.
Headwinds Can Be Overcome
Facebook hasn't breached the $1 trillion market cap mark yet in large part because of a few significant headwinds the company is facing.
First, Facebook is facing antitrust lawsuits in the US and Europe. In the US, antitrust investigators seek to break up Facebook, Instagram, and WhatsApp.
While that could be devastating for Facebook, prospective investors may want to see it as a black swan risk. It's an unlikely punishment even if Facebook is found guilty of violating antitrust law, and virtually impossible to enforce given how tightly integrated these 3 platforms are. A fine or regulations are much more likely, and those are more likely to benefit Facebook by hurting smaller competitors.
Another headwind that Facebook faces is a shift in public opinion, at least in the US and Europe. The public largely sees the company as self-serving rather than interested in the greater good, and there's an enormous trust gap between Facebook and its users.
Still, that hasn't hurt Facebook at all up to this point – and the company appears to be finally taking its image problem seriously. Even a few small gestures of goodwill by Facebook can go a long way towards restoring trust in its platform and keeping its cash river flowing for years to come.
Based on everything we've discussed, we think that Facebook shares should be rated a strong buy for UK investors. This company has an incredible stream of cash, a user base of more than 3 billion people, and the ability to crank up advertising revenue even during an economic crisis. All of these factors helped Facebook grow its revenue by 12% last year and pushed the stock to a new all-time high.
There are some existential threats to Facebook, including antitrust action in the US and Europe and deep distrust between the company and its users. However, long-term investors may want to take an optimistic view of these issues.
Facebook has proven very adept at bending tech regulation to its will, and it seems likely that the current efforts at antitrust enforcement will end in the same way. Facebook's trust issues have also failed to seriously hurt the company, and the platform is now doing much more to mend its image than it has in the past.
Overall, we think that there are many reasons to be bullish about Facebook, and comparatively few reasons to be bearish. Combined with a relatively low P/E ratio that signals investors are holding back on this stock, all of this suggests that Facebook shares are undervalued right now and could be poised for significant price appreciation in the years ahead.
Ready to buy Facebook shares in the UK? We'll show you how to invest in Facebook using eToro. The eToro mobile app offers 0% commission stock trading, advanced charting and analysis tools, and a built-in social network. Plus, this broker is regulated by the FCA and provides customer support when you need it.
Open a Brokerage Account and Add Funds
To get started with eToro, head to Google Play or the Apple App Store and search for 'eToro.' Tap on the stock app and then tap 'Install' to add it to your device.
Open the eToro app and then tap 'Join Now' to create a new account. You can sign up using your email address, your Google login, or your Facebook login.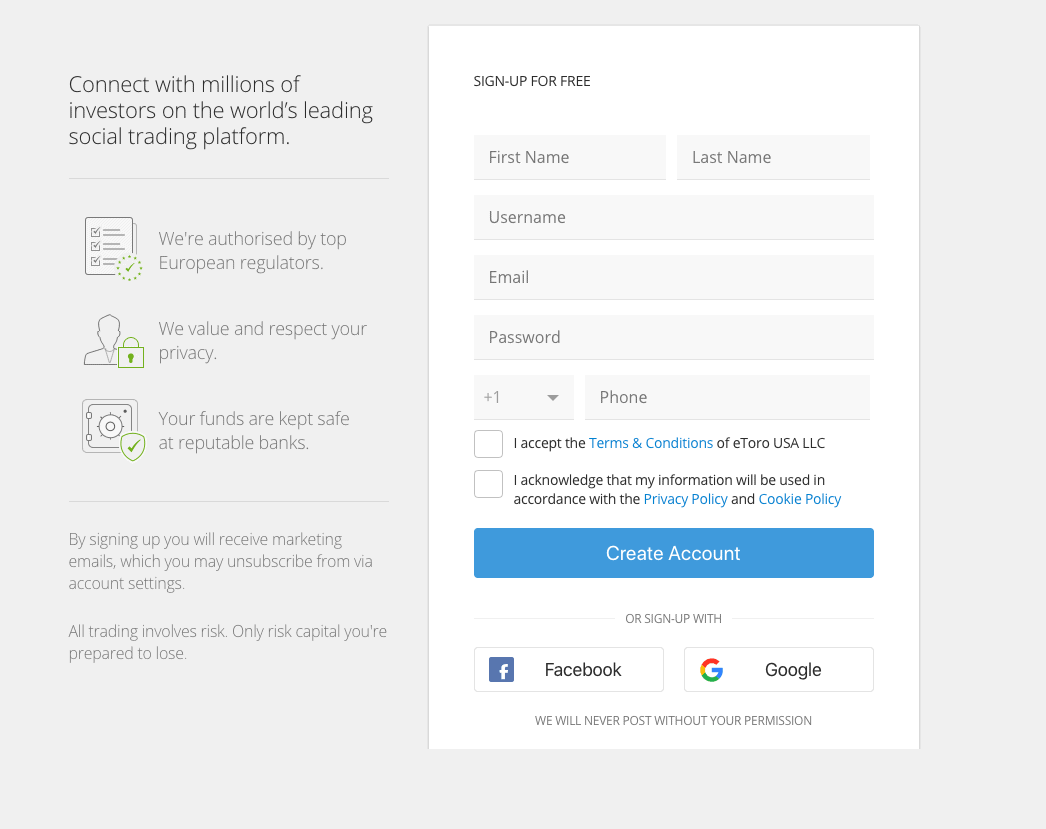 eToro requires you to verify your identity in order to comply with the FCA's Know Your Customer (KYC) regulations. Just snap a photo of your driver's license or passport and a photo of a recent utility bill to complete this verification step.
Next, deposit funds into your account. eToro requires a minimum deposit of £160, which you can pay by debit card, credit card, PayPal, Neteller, Skrill, or bank transfer.
Step 4: Invest in Facebook UK
Now you're ready to buy Facebook shares with eToro. From the mobile app's dashboard, tap on the magnifying glass at the top of the screen and search for 'Facebook.' When it appears, tap on the company, and then tap 'Trade.'
In the order form, enter the amount you want to invest in Facebook shares. You can also select a stop loss or take profit level if it fits with your investing strategy.
When you're ready, tap 'Open Trade' to buy Facebook shares with eToro.
Facebook is one of the biggest tech companies in the world, but this social networking giant still has room to grow. The company managed to increase advertising revenue even in the midst of the coronavirus pandemic, and it has ambitions to scale its user base even further throughout the developing world. Although Facebook faces some regulatory headwinds, these are likely to be resolved in the company's favour.
With all that in mind, we think that Facebook shares are a strong buy today. Ready to buy Facebook shares in the UK? Click the link below to get started with eToro!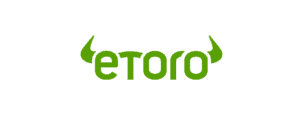 67% of retail investor accounts lose money when trading CFDs with this provider.
FAQs
Who is the CEO of Facebook?
Who is the CEO of Facebook? Mark Zuckerberg, who founded Facebook as a student at Harvard University, is still the CEO of Facebook today. His voting shares give him complete control over the company's direction.
Can I buy Facebook shares with an ISA or SIPP?
Yes, you can invest in Facebook shares through an ISA or SIPP. Your brokerage must offer these account types and enable you to buy shares on US stock exchanges. Keep in mind that ISAs and SIPPs have limits on how much you can deposit each year.
Can Facebook be broken up?
A federal antitrust lawsuit in the US has recommended breaking up Facebook, Instagram, and WhatsApp. It is not clear whether such a breakup is technically possible, and the lawsuit is likely to take several years or longer to be resolved.
Does Facebook operate in China?
Facebook has been completely blocked in China since 2009 after Facebook refused to provide the Chinese government with private information about its users.
Does Facebook pay for news?
Facebook recently got into a standoff with the Australian government over payments to news organisations for news stories shown in Facebook's feed. The company established a partnership that pays some news organisations, but Facebook does not currently pay for news in other countries.