Best App for Day Trading Crypto UK
Disclosure
Everything you read on our site is provided by expert writers who have many years of experience in the financial markets and have written for other top financial publications. Every piece of information here is fact-checked. We sometimes use affiliate links in our content, when clicking on those we might receive a commission - at no extra cost to you. By using this website you agree to our terms and conditions and privacy policy.
Due to its unique nature, the cryptocurrency market offers up various ways for traders to make investments and generate returns. Day trading is one of those ways; however, if this is something you're interested in, you'll need to partner with a reputable and cost-effective broker to do so optimally.
In this guide, we'll review the Best App for Day Trading Crypto – highlighting what options you have to choose from and where you can begin day trading crypto today in a matter of minutes!
Key points on Crypto Day Trading Apps
The best crypto day trading apps UK are applications that you can download to your smartphone that allow you to day trade in the crypto market.
Certain day trading apps will be offered by brokerages, whilst others will be provided by exchanges.
There are various strategies and coins to consider before you begin day trading.
Our recommended crypto day trading app is eToro, as you can trade with low fees and tight market spreads.
Best Apps for Day Trading Crypto UK
Found below is a brief overview of the best crypto day trading apps UK available in the market right now:
eToro – Overall Best App for Day Trading Crypto
Coinbase – Best App for Day Trading Crypto with Free Wallet
ByBit – Crypto Day Trading App with Huge Asset Selection
Gemini – Best App for Day Trading Crypto to Earn Interest
Best Apps for Day Trading Crypto UK Reviewed
Choosing a suitable platform to partner with can make all the difference in your crypto trading journey. Found below are our reviews of the best day trading apps for cryptocurrency on the market right now, covering all of the essential facets that you need to know.
1. eToro – Overall Best App for Day Trading Crypto

Our number one pick when it comes to the best crypto day trading apps UK is eToro. As you may know already, eToro has an exceptional reputation in the trading space and is regulated in the UK by the FCA – the leading regulatory body for trading platforms. Aside from FCA regulation, eToro is also supervised by ASIC and CySEC and is even covered by the FSCS, which protects users up to £85,000.
eToro offers 42 different cryptocurrencies to trade, featuring a selection of well-known coins such as Bitcoin and Ethereum, along with some smaller altcoins like Dogecoin and Litecoin. In terms of fees, eToro doesn't charge a commission when you place a trade and instead charges a spread on each coin. The exact spread will vary depending on the asset, although it tends to be 0.75% for BTC trading.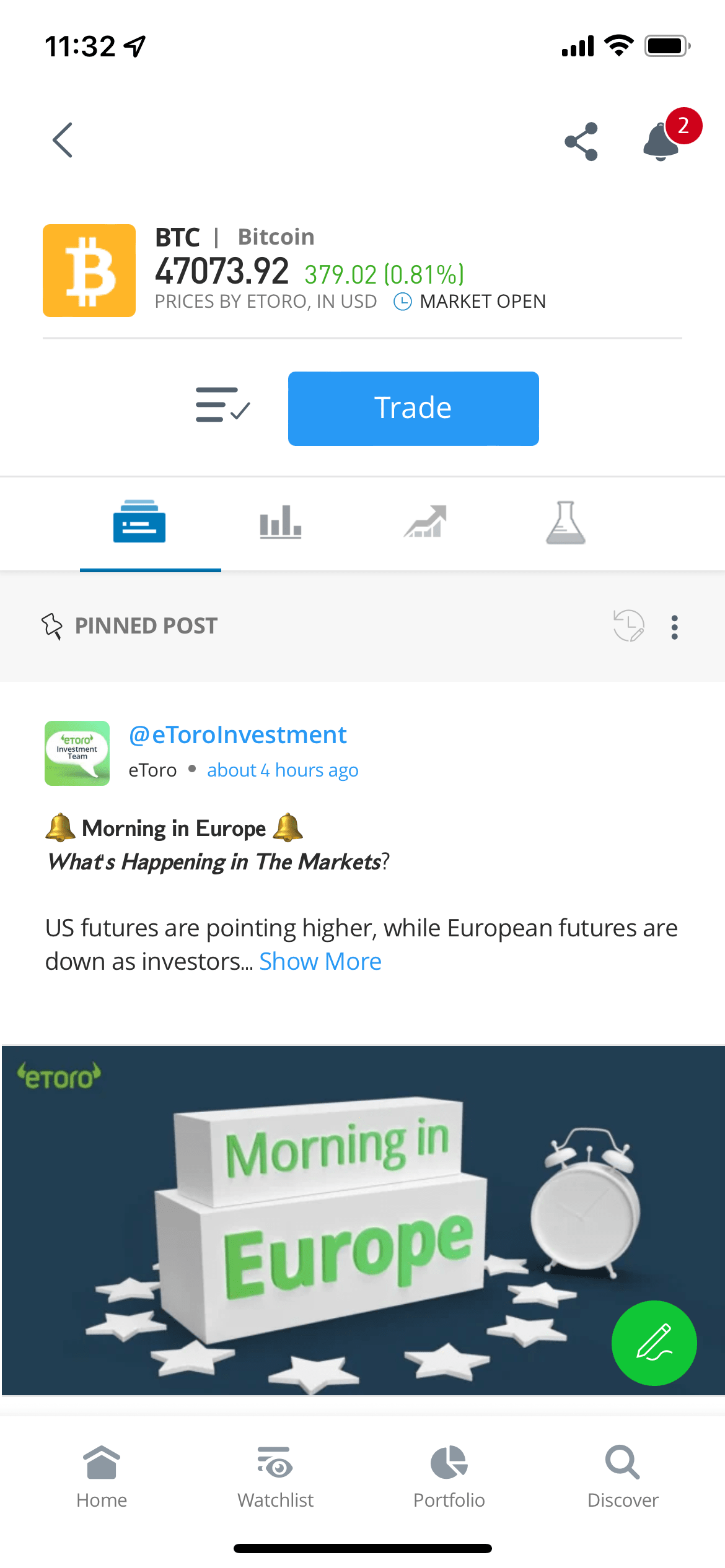 Aside from the spread, eToro doesn't charge any deposit fees or monthly account fees. Users can fund their accounts from as little as $50 (£37), which can be made via credit/debit card, bank transfer, or various e-wallets (including PayPal). In terms of eToro's app, the UI is extremely user-friendly and offers two-step authentication to boost security. You can set up watchlists, review price charts, and even set price alerts, which are ideal features if you're a day trader looking for regular market opportunities.
Finally, eToro also offers one of the best Bitcoin wallets apps called 'eToro Money'. This app is free to download on iOS or Android and features a crypto wallet that will keep your holdings safe. The wallet has extensive security features (such as DDoS protection and an unlosable key) and even allows you to exchange coins directly within the app!
Cryptoassets are highly volatile and unregulated in the UK. No consumer protection. Tax on profits may apply.
2. Coinbase – Best App for Day Trading Crypto with Free Wallet
If you're looking for the best app for day trading crypto, then Coinbase is also worth considering. According to CoinMarketCap, Coinbase is the second-largest cryptocurrency exchange globally and handled over $5.4bn in trading volume during the last 24hrs. The great thing about Coinbase is that users can trade over 8000 total assets, including cryptocurrencies, ERC-20 tokens, and crypto/crypto trading pairs.
In terms of fees, Coinbase charges a spread plus a commission on each trade. The spread will range around 0.5% for buy and sell orders, whilst the commission can vary wildly depending on your trade volume and payment method. For example, debit card purchases will have an additional 3.99% fee attached. However, these fees are mitigated somewhat by the fact that Coinbase is regulated in the UK by the FCA – significantly boosting the platform's safety.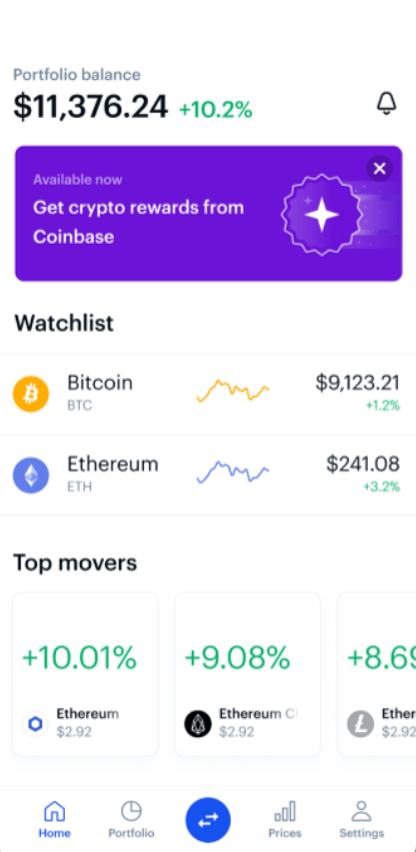 In terms of the trading experience, users can download Coinbase's standard app or the Coinbase Pro app. The former is tailored more towards casual traders, with a sleek interface that is easy to use and allows trading in just a few taps. The latter has more advanced features for day traders, such as depth of market data and extensive order types. Finally, Coinbase even offers a free self-custody crypto wallet app. This app has industry-leading security and supports 4000 different crypto assets – including NFTs!
Your Money is at Risk.
3. ByBit – Crypto Day Trading App with Huge Asset Selection

Another of the best crypto day trading apps UK is ByBit. ByBit has sprung onto the scene in the last few years and become one of the best altcoin apps thanks to its extensive asset selection and attractive fee structure. This cryptocurrency exchange offers various markets to trade on, such as the spot market and multiple derivatives markets. In terms of tradeable assets, ByBit has 60 different cryptos to trade, with various market caps.
ByBit charges 0% for market makers and 0.1% for market takers, putting them in line with other low-cost exchanges such as Binance. Trading on different markets (such as futures contracts) will have slightly lower fees – and being a market maker in these markers will actually mean you get a small rebate! In terms of deposits, ByBit allows free crypto deposits. If you wish to deposit FIAT currencies (such as USD or EURO), you'll have to pay a fee charged by the relevant service provider.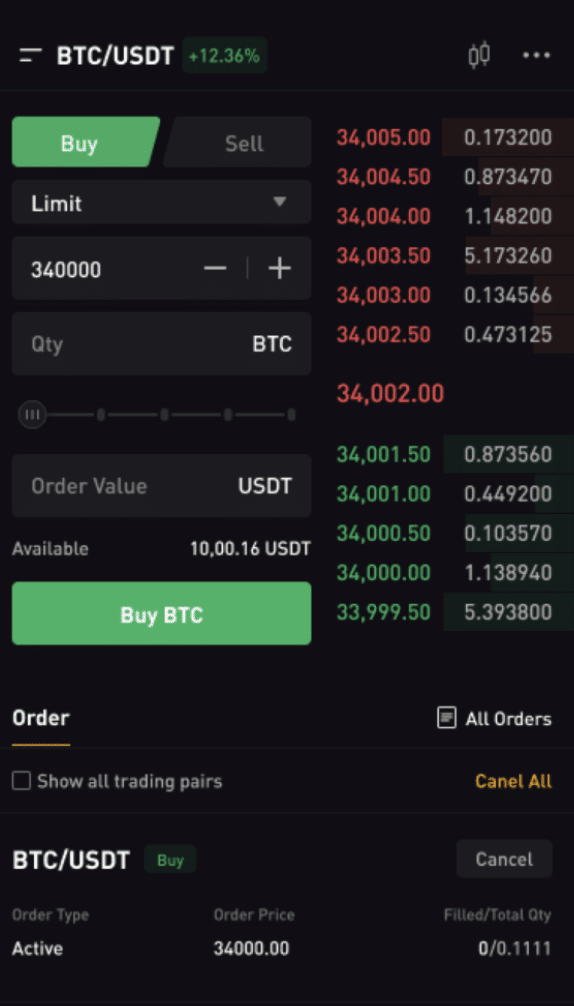 In terms of the app itself, ByBit offers one of the best crypto day trading apps UK as it functions in much the same way as the web-based platform. Users can view advanced charting options and even set push notifications when certain price levels are hit. Finally, ByBit specifies that their service has no server overloads or downtime – which is excellent news for day traders!
Cryptoassets are highly volatile unregulated investment products. No EU investor protection.
4. Gemini – Best App for Day Trading Crypto to Earn Interest
Gemini should also be considered if you're looking for the best app for day trading crypto. Founded in 2014, Gemini is now used in over 50 countries worldwide and is regulated in the UK by the FCA. The platform offers over 60 cryptos to trade and provides facilities for casual investors and advanced traders.
Gemini charges a transaction fee based on the trade size, which equates to $0.99 for anything less than $10 and increases as your position size gets larger. In addition to this fee, Gemini also charges a 'convenience fee', which is similar to a spread. This fee is 0.5% of the coin's market price on both sides of the trade. Notably, crypto deposits are entirely free to make, although debit card deposits will cost 3.49%.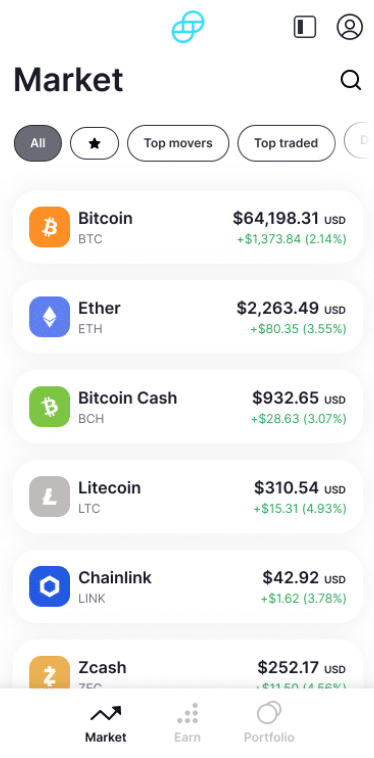 Gemini's app features a simple interface with basic charting options and clear portfolio insights. You can earn interest on your crypto on the app using 'Gemini Earn', allowing you to make up to 8.05% APY on specific cryptos. Finally, day traders will be glad to hear that Gemini offers extensive price alerts, meaning that market opportunities can be capitalised immediately.
What is Crypto Day Trading?
As defined by Business Insider, crypto day trading is a short-term trading strategy based on buying and selling crypto assets on the same day. This is at the other end of the spectrum to 'buy and hold' techniques, which involve taking a position in an asset and holding for days, weeks, or months. Day trading the crypto market is possible because the market is inherently volatile – meaning there are regular opportunities to make a return each day.

The price chart will be your best friend when investing with the best crypto day trading apps UK. Most crypto day traders employ extensive technical analysis to find areas of support and resistance, which can then inform trade ideas. Day traders tend to look for small price movements, getting in and then out within the space of hours or even minutes. Although this strategy is riskier than longer-term strategies, it can offer up scope for greater returns on a more consistent basis.
What are the Best Cryptocurrencies for Day Trading?
Are you looking for the best crypto for day trading? Below are five of the top day trading cryptos and why they suit this strategy.
1. Bitcoin (BTC)
BTC is our pick for the best crypto to day trade, as this coin has the greatest liquidity levels of all the cryptocurrencies. Furthermore, due to Bitcoin's popularity, it is often the cheapest to trade – for example, eToro's spread on BTC trading is only 0.75%. Finally, Bitcoin has clear price action, making it easier to conduct technical analysis.
2. Ethereum (ETH)
Ethereum is a blockchain platform designed to host decentralised applications. Much like when trading Bitcoin, Ethereum trading is often relatively low-cost and provides higher returns than BTC for each upwards or downwards move. Furthermore, due to ETH's rise in popularity, the coin is easily accessible on pretty much all brokerages and crypto exchanges.
3. Tether (USDT)
Tether is anchored to the USD price – meaning that it should stay at (or as close to) $1 as possible. However, due to many factors, USDT can sometimes stray from the $1 mark, which provides ample opportunity to day trade it. For example, if USDT rose to $1.01, you can short it and generate a return of 1% once it returns to its base level!
4. Ripple (XRP)
Although XRP is a little more volatile than some other options on this list, it's ideal for risk-seeking day traders. This cryptocurrency regularly moves 3-5% in a matter of hours, meaning you stand to make great returns if you can time the market. Furthermore, XRP tends to have clear support and resistance levels, which help improve trading effectiveness.
5. Binance Coin (BNB)
Finally, Binance Coin is also an excellent option for day traders, as the coin is backed by the reputable nature of its native platform – Binance. Much like XRP, BNB's chart displays clear support and resistance levels, and if you drop down to the 15min chart, you can see that BNB has many small price movements throughout the day that can be capitalised on. Finally, due to its liquidity, there doesn't tend to be any huge spikes in price, which could trigger your stop loss.
Crypto Day Trading Strategies
Researching your crypto day trading strategy can make all the difference in the markets. Let's discuss three of the best strategies to employ and how they can improve your trading effectiveness.
1. Scalping
This strategy involves small trade windows, often lasting minutes or even seconds! Scalpers take advantage of small price movements and aim to make small returns on each trade. Although returns are small, scalpers tend to make numerous trades per day, equating to solid gains across the entire week.
2. Trade Breakouts
Breakouts occur when price 'breaks out' of the range it has been trading in. This range will be the area between solid support and resistance levels, where the price tends to trade sideways. By keeping an eye on any break of these levels (along with indicators such as the RSI), you can place orders above or below the breaking point and generate quick returns.
3. eToro Copy Trading
Finally, you could even use eToro's innovative 'CopyTrader' feature, which allows you to trade crypto automatically by copying the trades placed by other eToro users – with no additional fees! This passive investment process will enable you to generate returns automatically, with no need for research or analysis. Right now, some of the top traders to copy include BenjaminMackie and lashers, who have made 1,183.98% and 890.71% over the last 12 months, respectively!

What to Consider Before Day Trading Crypto
Before you take the plunge and begin day trading crypto, there are certain things you must keep in mind. Found below is a quick overview of the main areas to consider:
Risk Tolerance: As day trading is considered riskier than other strategies, it probably isn't the best tactic for risk-averse traders. It's wise to assess your risk tolerance level before deciding whether to day trade.
Investment Goals: Day trading can be ideal if you're looking to generate market-beating returns – although these returns can only be achieved if you are skilful. Review your investment goals and decide whether day trading is the correct strategy to help you meet them.
Market News: Due to day trading's short-term nature, news events can cause volatility which may affect your position. Ensure you're aware of these events and trading appropriately.
Safety: Opting for a day trading platform with high security is essential. Look for platforms such as eToro, which are regulated in the UK by the FCA.
Available Time to Research: Day trading requires research and analysis, which may be tricky if you don't have the time during the day. Consider how much time you can spare – or you could utilise crypto day trading signals (more on this in the next section).
Crypto Day Trading Signals
Crypto day trading signals are trade ideas researched by experienced and knowledgeable traders, which are then passed on to other traders. These signals usually come in the form of a buy or sell trade idea, featuring the appropriate entry point, along with stop loss and take profit levels. Although crypto day trading signals tend to require a subscription to a third-party provider, they are ideal for beginners or traders who do not have the necessary time to research the market for trade opportunities.
The best day trading signals providers will send the signals directly to your phone via email, text, or Telegram message – ensuring you can act on them immediately. In terms of providers, our top two recommendations would be Learn2Trade and CryptoSignals.org:
Learn2Trade – Free telegram group with three signals per week and an 82% success rate; VIP telegram group with 3-5 signals every day and an 82% success rate.
CryptoSignals.org – Free telegram group with over 24,000 members and three signals per week; VIP telegram group with 2-3 signals every day and an 82% success rate.
How to Get Started with a Crypto Day Trading App UK
If you're looking to start day trading right now, then look no further! By following the four quick steps below, you'll be all set to begin trading with eToro – the best app for day trading crypto.
Step 1 – Download the eToro App
Head to the App Store or Google Play and search for 'eToro'. Once the app appears, tap 'Download' and move on to the next step.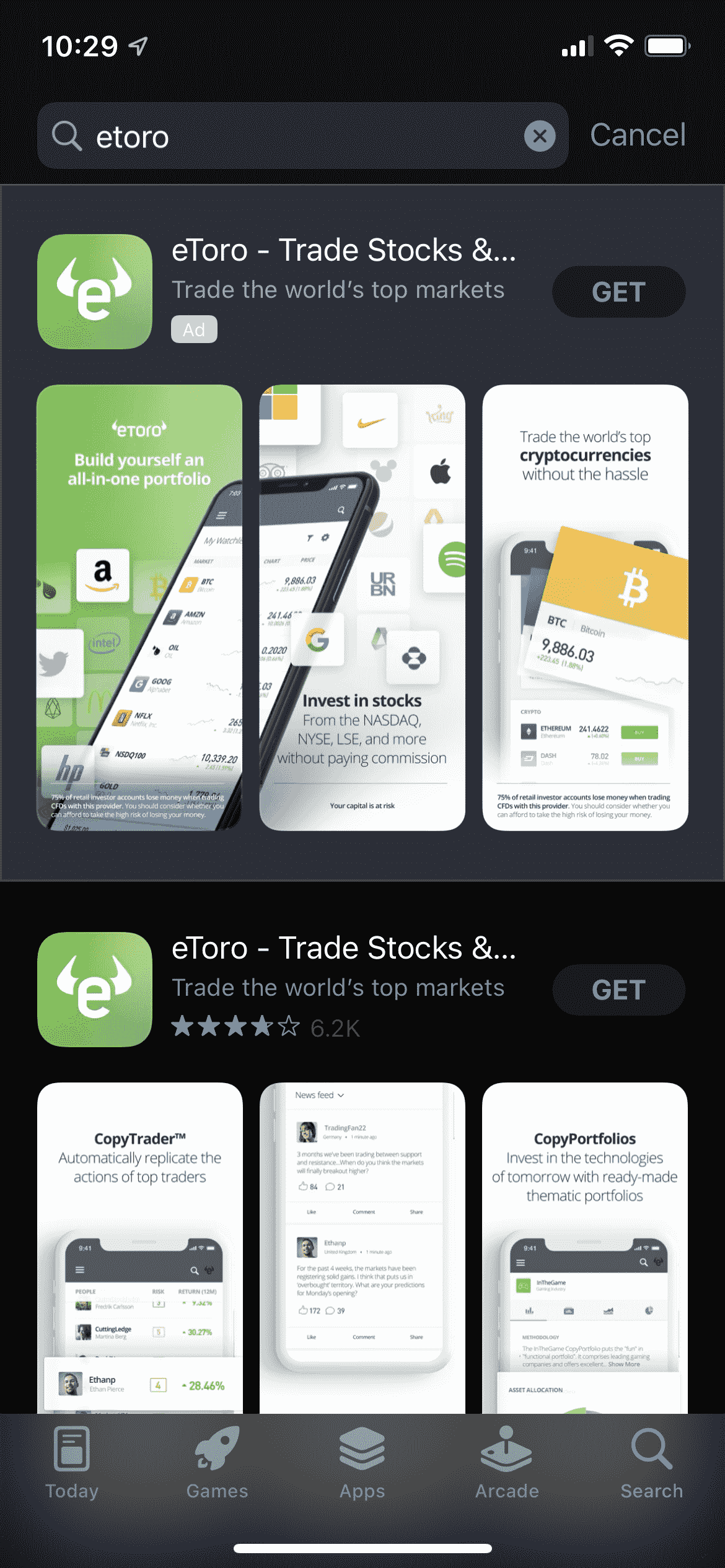 Step 2 – Sign Up for a Trading Account
Open the app and opt to create a new account. You'll have to provide a valid email address and choose a username and a password. Following this, you'll have to verify your identity, which involves entering some personal details for the KYC checks and then uploading proof of ID (passport or driver's license) and proof of address (bank statement or utility bill).
Step 3 – Make a Deposit
New eToro users must deposit at least $50 before they can begin trading. Non-USD deposits will attract a conversion fee of 0.5%, and users can fund their accounts using credit/debit cards, bank transfers, or various e-wallets such as PayPal and Skrill.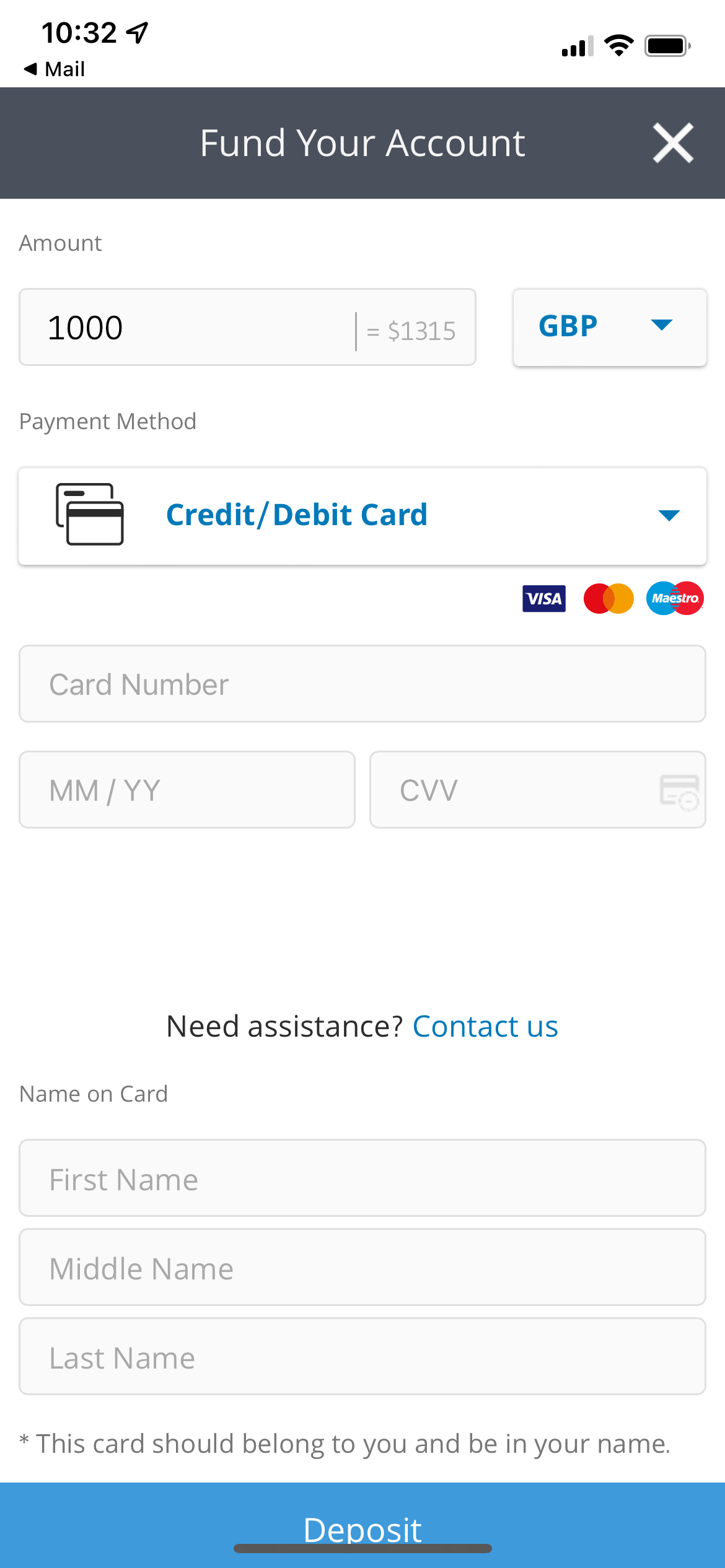 Step 4 – Day Trade Crypto
Search for your chosen crypto using the search bar or the list of cryptos on the trading dashboard and tap 'Trade'. In the order box that appears, enter your desired position size (minimum of $50) and choose a stop loss and take profit level. Once everything is correct, tap 'Open Trade'.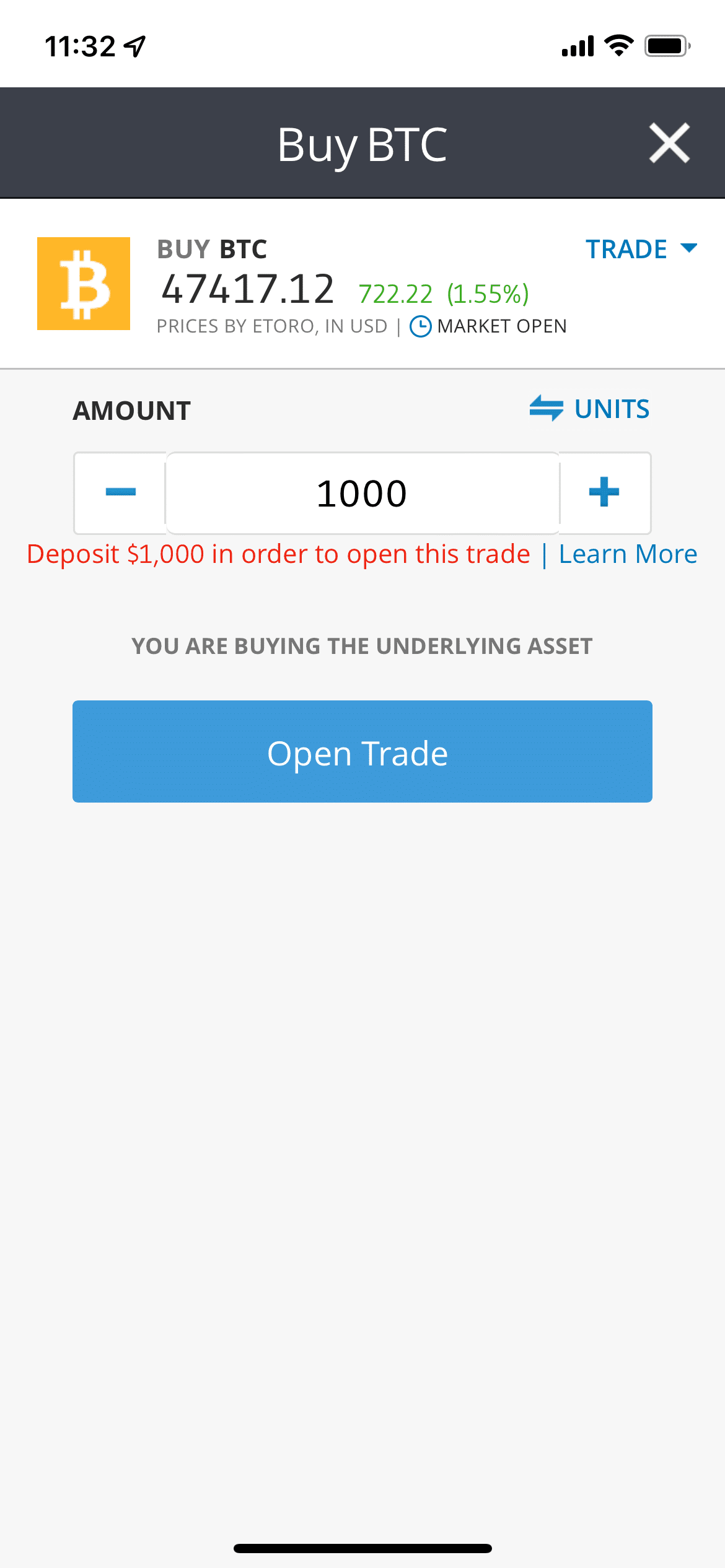 Day Trading Crypto Tips
Finally, now that you understand what the best crypto day trading apps UK are, found below are five top tips to keep in mind when crypto day trading:
Try a Crypto Day Trading Course – Numerous educational content providers offer day trading courses designed to improve the success of beginner traders. By utilising these courses, you can significantly speed up your trading learning journey.
Join a Day Trading Crypto Reddit Group – Reddit groups are a great way to get trade ideas and learn about the markets for free. However, be sure to do your own research on top of what you learn in the group.
Use the Best App for Day Trading Crypto – By using one of the best crypto day trading apps UK, such as eToro, you'll be able to trade cost-effectively and benefit from helpful features such as price alerts and in-depth charting options.
Conduct Extensive Technical Analysis – Use technical analysis to find support and resistance areas that can provide trade opportunities. You may also wish to employ things such as EMAs and Bollinger Bands.
Optimise your Risk/Reward Ratio – Ideally, you'll want to look for a risk/reward ratio of at least 1:2. However, never trade more than you can afford to lose and always stick to your plan!
Best App for Day Trading Crypto UK – Conclusion
To summarise, this guide has covered everything you need to know about the best crypto day trading apps UK, touching on their features and highlighting how to choose between them. By reviewing the list we presented earlier, you'll have all the information you need to start day trading optimally today.
Cryptoassets are highly volatile and unregulated in the UK. No consumer protection. Tax on profits may apply.
Frequently Asked Questions on Crypto Day Trading Apps
What is day trading crypto?
Is crypto day trading worth it?
How do I day trade crypto?
What apps can I use for crypto day trading?
Which is the best app for day trading crypto?