Best Automated Trading App UK 2023 – Safest Auto Trading Apps
Disclosure
Everything you read on our site is provided by expert writers who have many years of experience in the financial markets and have written for other top financial publications. Every piece of information here is fact-checked. We sometimes use affiliate links in our content, when clicking on those we might receive a commission - at no extra cost to you. By using this website you agree to our terms and conditions and privacy policy.
Heading into 2023, there are more and more retail investors looking for ways to build wealth. As many soon find out, trading takes up a long time, and so it leads many down a path of searching for an auto trading app that suits their needs.
This article will look to review the six best automated trading apps UK. eToro, as we will see, is popular for its time benefits and accessibility for beginner traders. However, different apps can suit different traders, so it's important to take all factors into consideration.
Key Points on Auto Trading Apps
Automated trading can be a time sink at first, with it taking a long time to fine-tune the right method, but it can be passive once fully established.
Auto trading apps let you gain exposure to the markets anytime, anywhere.
Takes less time in the long run, make faster decisions and trades, profit whilst at work or during sleep.
You can use copy trading tools to passively mimic the trades of other traders with the eToro auto trading app.
Best Automated Trading Apps in UK
yPredict– The Best AI Trading Platform For Reliable Auto Trading
eToro – Auto Trading App with Copy Trading Features
Dash 2 Trade– The Best Automated Trading App with Accurate Trading Signals
Learn2Trade – https://learn2.trade/ – Auto Trading App with Accurate Signals
MT5 via Libertex – Popular Automated Trading App with Competitive Fees
Zulutrade via Avatrade –  Best Auto Trading App for Beginners
Ninja Trader – Trusted Auto Trading App for Forex Trading
Best Automated Trading Apps UK Reviewed
There are many auto trading apps on the market and it's important to choose the right one. Different auto trading apps will offer certain advantages over each other, so it's important to keep in mind your trading strategy and the markets you're interested in when reading the auto trading app reviews.
1. yPredict- The Best AI Trading Platform For Reliable Auto Trading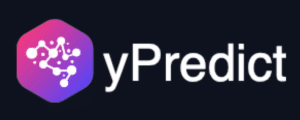 yPredict is an AI trading tool marketplace that makes it easy to access the very best automated trading tools, AI signal software, market analysis models and more in one place. The platform allows developers to monetize their models by listing them for subscription on the marketplace, users can then choose which models to subscribe to based on their unique trading needs. This will enable users to make the most of AI trading technology and improve their trading decisions.
yPredict is unlike any other automated trading tool. Users an vote for which models are listed and delisted from the platform. This means that unsuccessful models can get taken down to ensure that only the best models are available. Furthermore, all AI trading tools are fully tried and tested before being made available to subscribers.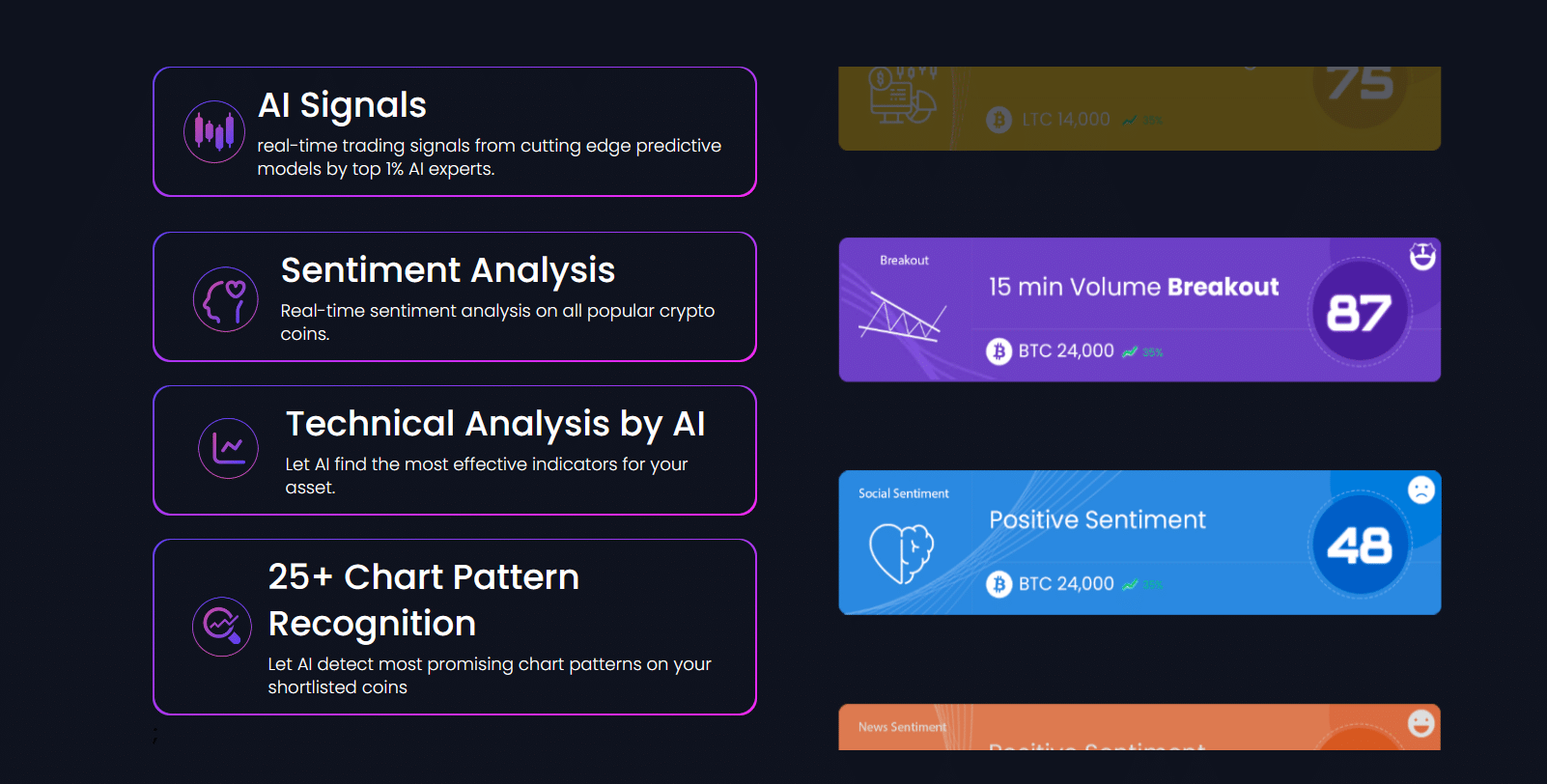 The entire platform is supported by YPRED- an polygon-matic token with strong utility. YPRED will be used to pay for platform subscription, reward developers, vote in the DAO and tale part in staking. YPRED tokens will also be given to users who spend time in the platform through a learn-to-earn mechanism.
Developers who list their models will be given 70% of the monthly subscription fee. This is a great way for AI experts to earn passive income through their talents. However, only the top AI expert will be able to list on the platform.
To access yPredict for a low price, you can take part in the ongoing presale event. Here, tokens are available at a discount. After the presale, YPRED will be launched on exchanges and the price will go up. This will make subscriptions more expensive.
68% of retail investor accounts lose money when trading CFDs with this provider. Sponsored ad.
2. eToro – Auto Trading App with Copy Trading Features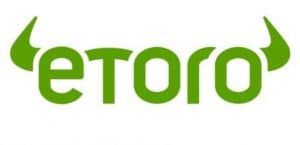 eToro is an Israeli trading platform that was founded in 2006 and is a popular auto trading app UK. Despite being almost 16 years old, it's only in the past few years that the platform has really grown to great heights. The reason for this is in part because of what it offers to automated traders.
eToro is a hyper-social trading platform; you can follow other traders, see their posts, engage with them, and discover what more experienced traders have in their portfolio. This makes it popular for a beginner to get trading ideas, but it's the Copy Trading feature that really takes this to a new level.
Copy Trading in eToro is where one trader can copy the trades of another trader. Instead of just following them to see their posts, you can mirror all of their transactions, so that the second they buy or sell a stock, so do you.
The automaticity of this feature makes it extremely convenient to trade. Of course, traders need to be careful who they copy, and their own research should always be considered. However, there are no other trading platforms that allow this level of accessibility for beginners, where they can instantaneously be making the trades of a professional.
Beyond just copying trades, the Smart Portfolios feature allows users to copy multiple markets based on an investment strategy that was drawn up. This is an even more holistic, long-term approach, yet remains fully automated.
As for all of eToro's other benefits, there are plenty. The trading platform itself is intuitive and easy to use, whilst the commission is set at 0% for stocks, so no fee is incurred when buying or selling equities, and only a moderate spread is taken. Plus, eToro has instantly available fundamental data and easy-to-use charting, making it a good all-rounder for fast intermediate research.
| | |
| --- | --- |
| Supported Stock Markets  | 17 |
| Fee Structure | 0% commission + Variable Spread |
| Deposit Fee | None |
| Account fees | None |
68% of retail investor accounts lose money when trading CFDs with this provider. Sponsored ad.
3. Dash 2 Trade- The Best Automated Trading Platform To use in 2023
If you're looking for a crypto trading platform that offers EVERYTHING, Dash 2 Trade is the best app to consider in 2023. The platform is a brand new offering that was launched earlier this year and promises to become the go-to for all cryptocurrency traders.
Dash 2 Trade is an innovative platform built on blockchain technology. The application aims to provide users with everything that they need to maximize their profits and make smart trading decisions. That includes: educational resources, trading signals, expert insight, token listing alerts, token rankings, daily news, social trading features and exclusive trading competitions. The overall goal is to ensure that users have everything that they need to start making money from trading.
Unlike some other platforms that are available, Dash 2 Trade is focused solely on crypto trading. That means that platform is optimized for trading crypto assets which puts users in a strong position to make profits. The platform is backed by a team of industry experts who have been transparent throughout the entire development- their core belief is that the platform should provide as much value as possible to subscribers.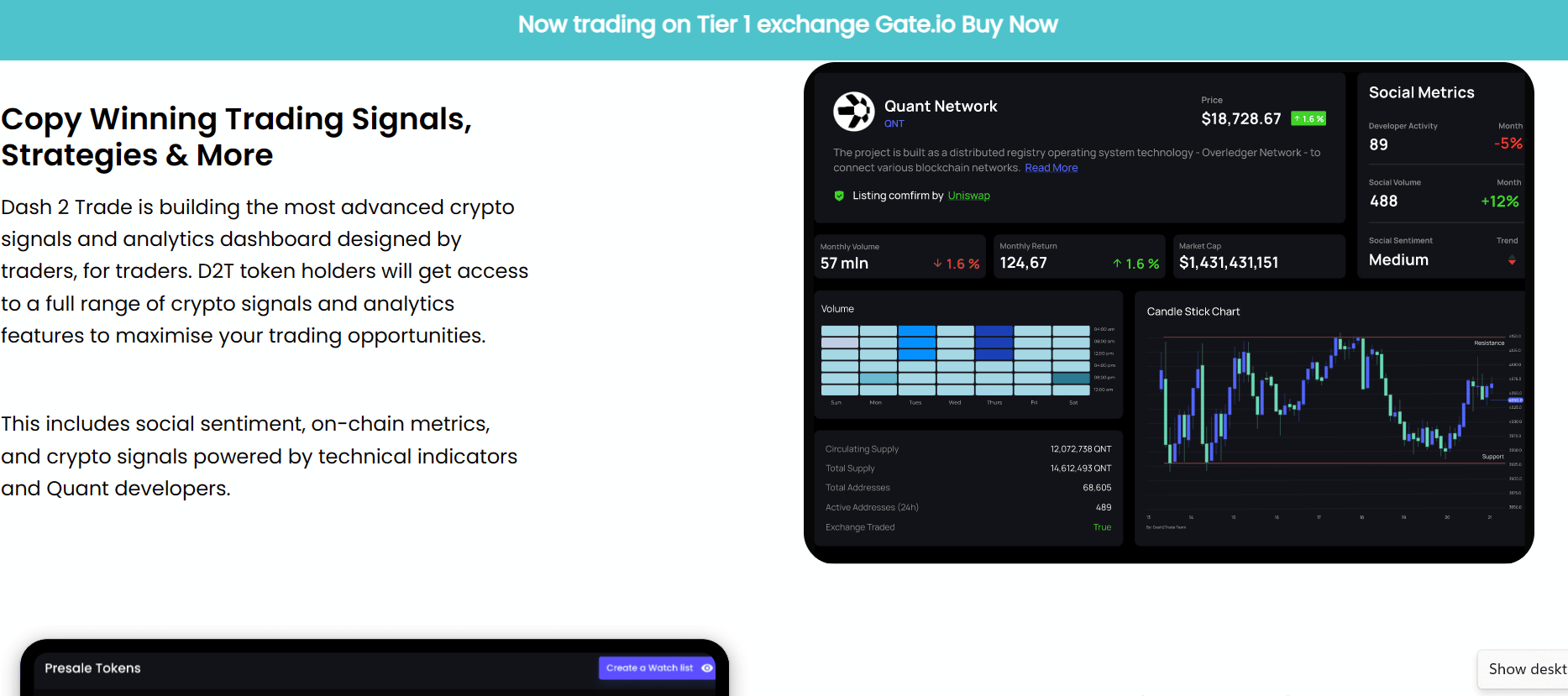 Dash 2 Trade allows users to automated their trading with accurate trading signals. These are algorithmic alerts that notify traders when to place trades. The team has worked hard to ensure that the signals are accurate and promise a strong success rate to users.
The Dash 2 Trade platform is supported by the native D2T token. This token will be used to pay for platform subscriptions and will also be rewarded to traders who spend time on the platform. D2T will also be given to traders who use their skills to win trading competitions. Subscribers will need to hold D2T tokens to unlock advanced platform features and improve their trading experience. As a result, the token will have strong demand.
D2T is a utility ERC20 token with a deflationary supply. As demand for the token increases, upwards price pressure will be placed on the asset. The presale for D2T ended in January however, it is still possible to invest while the price is low. The asset is yet to see gains but will soon go up as the development of the project continues to progress.
Your money is at risk.
4. Learn2Trade – Auto Trading App with Accurate Signals


Learn2Trade is a lesser-known trading platform that was founded in 2019. However, the British trading platform is regulated by FCA, so their age shouldn't be too much of a hindrance.
Learn2Trade is predominantly a forex and cryptocurrency trading platform. It has a vast amount of useful educational resources on how to trade and is very much a 24/7 service given that forex markets never sleep.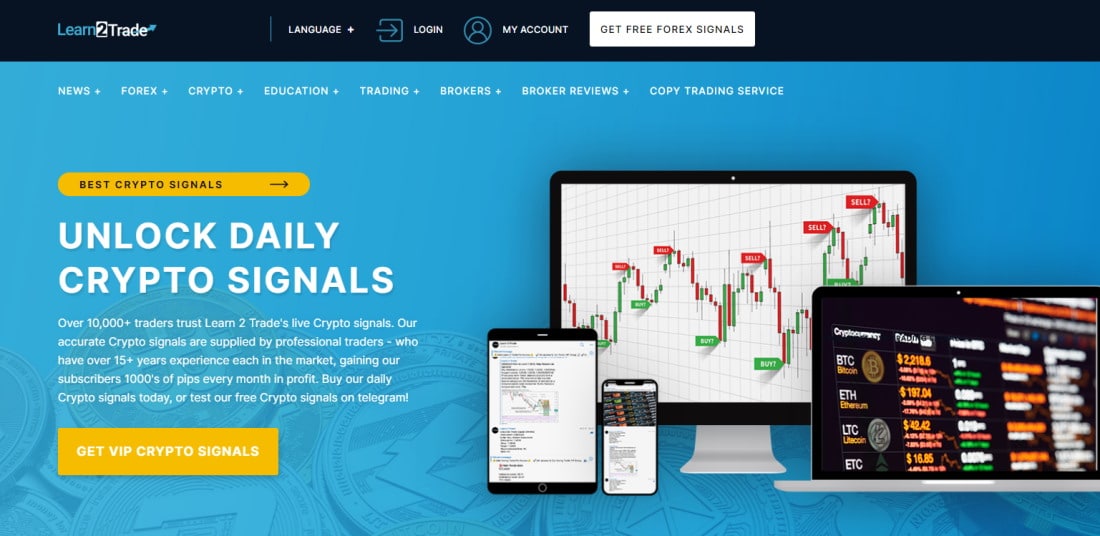 However, Learn2trade is very different from the other platforms. They don't allow Copy Trading, and they're not used to building bespoke trading robots. Instead, they provide automated trading signals, which are signals they have created from a variety of analyses, and can help you automate your trades through these signals, notifying you upon receiving such signals.
These can be powerful signals that are hard to recreate as a retail investor. However, they focus mostly on forex and crypto but do offer some free signals upon opening an account. Plus, this process isn't fully automated from head-to-toe like some other platforms here.
Your capital is at risk. Sponsored ad.
5. MT5 via Libertex – Popular Automated Trading App with Competitive Fees
Libertex is a veteran trading platform, having been founded in 1997. The platform is currently based in Cyprus and is regulated by CySEC. Libertex is predominantly a CFD and forex trading platform. Whilst there is commission, spreads are very low and competitive on Libertex. Furthermore, Islamic accounts are also offered, along with demo accounts.
Libertex is a popular option for automated trading because it has integration with the auto trading app Meta Trader 5. Whilst MT4 is the preferred choice of many due to being more established within the community, MT4 has its advantages too – it's more suited to non-forex trading and allows further backtesting than MT4.
Libertex can also be used with CTrader Automate, which has a C# API and an IDE to turn trading ideas into a reality. Of course, the MT5 software uses MQL5 instead, and is generally the popular option, with a wide array of advanced signals and bot-creating features.
One of the biggest benefits of using Libertex is that it allows scalping, so very active, higher frequency trading techniques work well here – as well as having competitive spreads.
Ultimately, Libertex highly global auto trading app, with many language translations, and has been around long enough to know the importance of good phone, email, and live chat support. It's one of the popular automated stock trading platforms, but only if you're interested in CFDs and using Meta Trader.
| | |
| --- | --- |
| Supported Stock Markets  | 50 individual stock CFDs |
| Fee Structure | Commission |
| Deposit Fee | None |
| Account fees | Inactivity fee after 90 days |
75.3% of retail investor accounts lose money when trading CFDs with this provider. Sponsored ad.
6. Zulutrade via AvaTrade – Best Auto Trading App for Beginners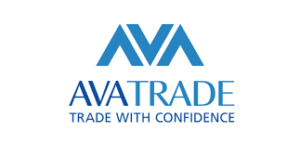 Founded in 2006, AvaTrade is a widely regulated CFD broker. AvaTrade is a unique trading platform in that it doesn't have built-in social trading like eToro, but it does offer something similar through third parties such as Zulutrade.
In fact, Zulutrade is a very versatile program, offering both algorithmic-building capabilities as well as Copy Trading. The auto trading app has two main sections: signal providers and followers. The signal providers are the traders who are letting their portfolio and trading activity to be seen publicly and copied, whilst the followers are the ones doing the copying.
The ZuluScript allows users to create scripts, such as parameters for your trading bots, whilst the Automator is a notification that's sent via email on any new activity you have done. However, there is a monthly subscription fee of $21 for using Zulutrade, plus a spread, and a $500 minimum deposit.
Also, it's extremely important to remember that some of the signal providers are using demo accounts yet have many followers; followers that are copying the trades with real money yet the trader being copied is using fake, demo money. This could cause issues with risk.
AvaTrade itself offers very good research functionality for technical traders and offers great CFD fees.
| | |
| --- | --- |
| Supported Stock Markets  | 600 individual stock CFDs |
| Fee Structure | Overnight fees + variable spread |
| Deposit Fee | None |
| Account fees | Inactivity fee after 3 months |
71% of retail investor accounts lose money when trading CFDs with this provider. Sponsored ad.
7. Ninja Trader – Trusted Auto Trading App for Forex Trading

NinjaTrader is a US-based auto trading app that was founded in 2003. The platform charges an account fee for the premium features, but the features on offer can be great for investors looking to automate their trades. The platform also has a brilliant education section, with many videos, webinars, and platform guides.
NinjaTrader is only used for options and futures, as it doesn't offer stocks, ETFs, forex, or even CFDs. This is bad news for most traders, but for traders focusing on options and futures, this may not be an issue. 7 futures markets and 4 options markets are available.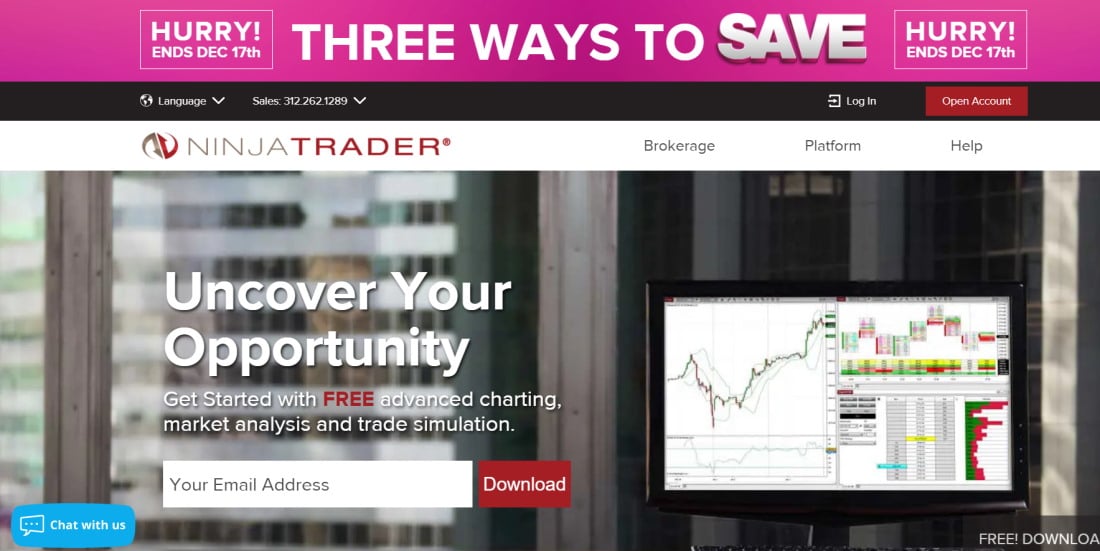 One of the best things about NinjaTrader is that you can build automated trading strategies inside the platform with no third parties. Backtesting can be conducted, automatic ordering and stop losses, ATM strategies, and many other functions to further automate your trading. This is more accessible than some other platforms that rely on the integration of third parties, plus, Ninja Trader has a very intuitive UI and a deep pool of learning resources to make it easy.
| | |
| --- | --- |
| Supported Markets  | 7 futures markets and 4 options markets |
| Fee Structure | Commission |
| Deposit Fee | None |
| Account fees | Inactivity fee |
Your capital is at risk. Sponsored ad.
Types of Automated Apps
As we can see from the platform reviews above, there is a wide range of ways that a platform can facilitate automated trading. Automated trading apps come in different forms, so in case there was still any confusion, here is a quick summary of the three main types of automated trading apps. Alternatively, if you're looking for the best crypto day trading apps, you can read our full guide here.
Copy Trading Apps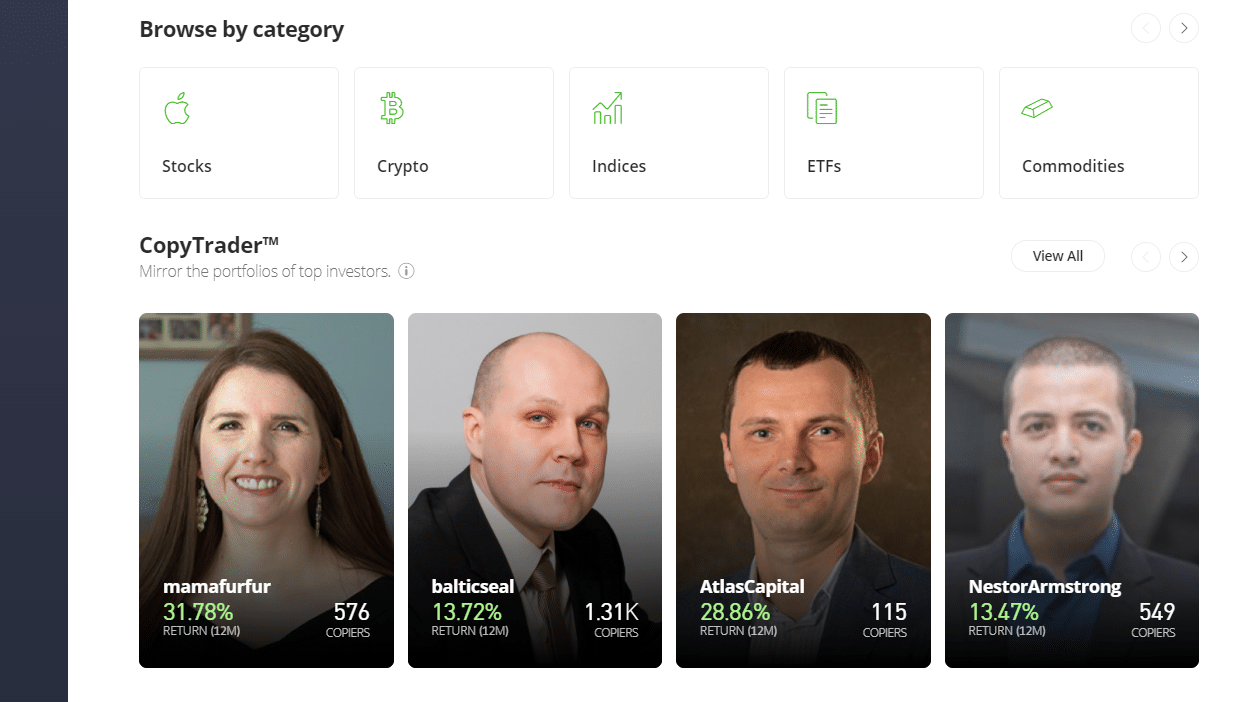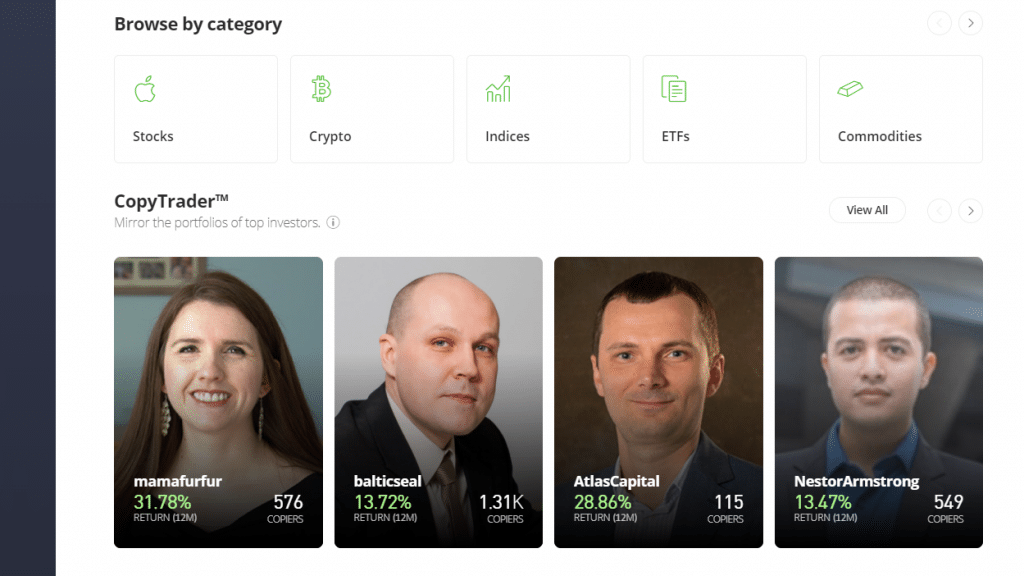 An automated trading app is up to the individual themselves, as all of our trading needs are different. However, Copy Trading apps are arguably more suited for beginners. The most popular and accessible copy trading app is eToro.
Copy Trading is where users assign their trades to an investors trades, and thus their account mirrors theirs. If the experienced investor buys more Tesla, your account automatically purchases Tesla right after. Furthermore, eToro goes a step further with Smart Portfolios, which "copy multiple markets based on a predetermined investment strategy".
Of course, the limitation here is that traders may not learn more about trading from doing this alone. However, it can save traders from losing money through amateur mistakes and be a fast-track way into automated trading.
Automated Trading Robots
Automated trading robot is a term used to refer to algorithmic trading that's predicated on market signals. Whilst trading bots can of course be created for stocks, CFDs, and so on, we can break automated trading robots into two main categories: Forex and Crypto.
Forex Trading Robot
Forex trading robots are widely popular because of the liquid, 24/7 market of currency. They're designed to mitigate the human errors we make from psychological and irrational urges, and instead run our strategy in a pure, logical way that is uninterrupted.
The best auto trading apps for forex trading robots are MT4 and MT5. Although the former is more widely preferred, MT5 is more suited to forex trading, with many indicators that can be incorporated into the trading robot. Orders are executed quickly and without hesitation, whilst entire strategies can be backtested against historical data.
Crypto Trading Robot
With the rise of cryptocurrency, it's inevitable that many traders want to automate their trading in this space too. Plus, the market is arguably less overrun by big bank trading robots, and retail investors have more of an influence. This could make it easier to perform well with your own amateur trading bot, instead of being beaten by banks that use high frequency, state-of-the-art infrastructure.
Platforms like the Bitiq app have their own AI-driven programs that can make up to 100 trades per minute, with high accuracy. BitIQ uses Natural Language Processing to read breaking news and other human language to determine very quickly if Bitcoin should be bought or sold. Of course, Bitcoin volatility is high and it's difficult for even AI programs to turn a reliable profit.
Automated Trading Signals Apps
Automated trading signals is a way to buy/sell assets automatically, but is derived from advice. This advice is a platform such a learn2trade or cryptosignals.org, which provide such signals for trades. When the trade is complete the provider notifies the investor that the trade is complete – which is slightly different to ordinary trading bots.
Political, economic, natural disasters and many other indicators are often used. Platforms such as learn2trade provide unique and powerful signals that would be difficult to acquire or even think of on your own, making it slightly more accessible than say, building a trading algorithm in C# from scratch.
Best Automated Stock Trading Apps
The auto trading app depends on the trader and their strategy, personality, and preferences. However, with all things considered, eToro is the best auto trading app (UK) for beginners. The reason for this is because Copy Trading can be a great stepping stone into the world of automated trading and it involves no third party software. Furthermore, the Smart Portfolios feature offers an automated approach to a more holistic long-term approach, putting the portfolio first, and copying markets based on such as strategy.
This makes the platform incredibly easy to use with a very small learning curve. Furthermore, it's free unlike Zulutrade, and commission is 0%. Many platforms allow algorithms to be built from scratch, which eToro does not, making MT5 via Libertex a good alternative for this use case.
Another reason for eToro being a popular auto trading app (UK) is because of the selection of markets. Whilst most platforms focus purely on CFDs, or forex, eToro offers products within forex, CFDs, stocks, ETFs, and crypto. This means that there are more opportunities for automated trades, which makes the scope for potential profit greater.
Plus, the traders that you're copying on eToro can be bundled together, which creates Smart Portfolios. This allows traders to focus on themes and holistic strategies, instead of copying trades with no long-term view of your portfolio.
Best Automated Crypto Trading Apps
eToro, for all of the reasons stated above, remains a popular automated bitcoin trading platform. In regards to cryptocurrency specifically, the platform has 40+ different cryptocurrencies. This may not sound like a lot, but it's common for crypto traders to stick with the high-cap cryptos due to being more stable, established, and have more historical data.
The higher volatility of crypto can lead to more potential for intraday profit (and losses), and can still be facilitated through eToro's Copy Trading feature.
However, for those looking for a platform with a bigger focus on crypto, and a wider selection, Bitiq is a reliable option. Bitiq is a program backed up by sophisticated AI-driven algorithms that can analyse markets on your behalf – as well as carry out the trades for you. It's likely that the analysis from Bitiq is more sophisticated than most retail traders' self-made algorithms, although this isn't to say it's guaranteed to turn a profit.
Best Automated Forex Trading Apps
The besrt automated trading apps for forex will depend on whether or not you want to build your own trading robot or not. If you're not ye confident on programming an entire trading robot yourself, then eToro remains the number one choice. Competitive spreads, 45 currency pairs to choose from, and the Copy Trading function, eToro is a great choice to automate your forex trading.
The charting is fantastic if you want to intervene with some manual trades, and there are many traders to copy that focus solely on forex – these will trade throughout the night whilst you're asleep.
However, for those wanting more control and customization over their automated forex trading, using MT5 via Libertex is a great option. MT5 is fantastic for assessing forex indicators, turning the trading strategy hypothesis into a working model, and backtesting your strategy. These two combine as the best automated trading platforms for more advanced traders looking to create a unique edge.
Verifying Auto Trading App Results
When automating your trades based on other traders activity or the indicators provided by certain platforms, it's important to seek out their results. On eToro, this is easy, because the traders' portfolios are public and the data is easily visualised. However, for other platforms, you may need to do some digging to avoid automating a poorly constructed strategy.
Companies that act like a Robo Advisor or an automated fund should declare their results, although it may be in the small print. This can usually be found with a simple Google search of "X platform historical performance". For companies that offer automated trading signals and such, this can be a little more challenging.
However, some people go to the effort of using their own money and putting the platform to the test, so it's possible to find reviews of individual investors' performances using the platform. It may not be wise to take a single person as concrete evidence, but weighing up various results from different places on the internet can give a clearer idea.
How to Get Started with an Automated App
If you're looking to get started with automated investing, here is a step-by-step guide.
Step 1: Finding the top investors
After signing up to a trading platform, find the menu button in the top left of the screen. From here, you click on discover.
The discover page will present to you the global markets, top investors, and the Smart Portfolios feature. Click on "View all" under the CopyTrader section to see all of the traders you can copy.
Step 2: Refining your search
Next up, instead of just browsing the most copied traders, you should refine your search. If you're looking to invest in equities or currency, or traders only from Spain, then you can fill in this information at the top. Press go after selecting your criteria.
You will be presented with the results in a long list form. You can see a few basic points of information, such as their portfolio return, risk score, how many copiers they have, and weekly DD.
Step 3: Assessing Investor's Portfolio
If you select an investor, their page will come up to view more data. From here, you can view their historical performance and holdings in a lot more detail, such as how they performed on a month-to-month basis.
Step 4: Copying the trades
Finally, if you're happy with the performance and holdings of that trader, then press the blue "Copy" button in the top right. You will be presented an amount you want to copy them by, select this here, and then press copy to finalise your automated trading.
Is Automated Trading A Good Idea?
Automated trading can be both a good and a bad idea for UK traders, depending on various factors. On the positive side, automated trading systems offer several advantages. Firstly, they can execute trades swiftly and efficiently, eliminating human errors and emotions that may affect trading decisions. This can lead to improved accuracy and consistency in executing trades. Additionally, automated trading systems can monitor multiple markets simultaneously, allowing traders to take advantage of various opportunities that may arise. Moreover, these systems can operate 24/7, enabling traders to seize trading opportunities even when they are not actively monitoring the markets.
However, there are drawbacks to automated trading as well. One major concern is the reliance on pre-programmed algorithms, which may not account for sudden market changes or unexpected events. Additionally, automated systems can be complex and require technical expertise to set up and maintain properly. Furthermore, there is always a risk of technical failures or glitches, which can lead to substantial financial losses. It is crucial for UK traders to thoroughly understand the nuances of automated trading, use reliable and well-tested systems, and continuously monitor their performance to mitigate potential risks.
What Is The Success Rate Of Automated Trading?
The success rate of automated trading tools varies depending on several factors. Firstly, the choice of the tool itself plays a significant role. Different automated trading tools employ various algorithms and strategies, leading to different outcomes. Some tools may have a higher success rate due to their advanced algorithms and real-time data analysis capabilities.
Secondly, the current market conditions can greatly impact the performance of automated trading. Markets can be volatile and unpredictable, which may affect the accuracy of trading decisions made by the tool. A tool that performs well in one market condition may struggle in another.
Thirdly, the amount of research conducted alongside the auto trader is crucial. While automated tools can analyze vast amounts of data quickly, it is important for traders to understand the underlying market dynamics, trends, and indicators to make informed decisions. Conducting thorough research can enhance the effectiveness of automated trading tools. It is essential to remember that automated trading tools are not infallible and cannot guarantee consistent profits.
Therefore, it is wise for traders to evaluate the tool's performance, adapt strategies as needed, and regularly monitor and update their trading approach to align with changing market conditions. Ultimately, the success rate of automated trading tools is influenced by the tool's capabilities, market conditions, and the trader's research and adaptability.
Conclusion
Automated trading is not only used to save time and trade during opportunities where we are busy, but it's also there to mitigate our psychological errors and human errors. Whilst these are simply transferred to the source investor in Copy Trading on sites like eToro, it's possible that the source investor is far more experienced and accustomed to managing these human errors.
Overall, it is recommended that traders perform their own research regardless of what auto trading app they pick, and keep a very close eye on the activity and performance of their automated trades.
Frequently Asked Questions on Auto Trading Apps
Which automated trading apps are there?
Are auto trading apps foolproof?
What is the best auto trading app UK?