Best Crypto Wallet App UK 2023 List
Disclosure
Everything you read on our site is provided by expert writers who have many years of experience in the financial markets and have written for other top financial publications. Every piece of information here is fact-checked. We sometimes use affiliate links in our content, when clicking on those we might receive a commission - at no extra cost to you. By using this website you agree to our terms and conditions and privacy policy.
A cryptowallet facilitates the storage, transfer, and exchange of crypto assets. The best crypto wallets use DDoS protection and multi-layer standardization protocols to maintain a secure environment. This piece will explore some of the best crypto wallets, their security protocols, and user experience.
Best Crypto Wallet App UK – List
1. eToro: Our Top Recommended Wallet Regulated by The Financial Conduct Authority
2. Coinbase Wallet: Popular Crypto Wallet Linked To A Well-Known Exchange
3. MetaMask: The Best Decentralized Crypto Wallet App
4. Trust Wallet: Excellent Crypto Wallet For Mobile Users
5. Coinbase Wallet: Popular Crypto Wallet Linked To A Well-Known Exchange
6. Binance Wallet: Crypto Wallet With Access To Hundreds of Different Assets
7. Bitstamp Wallet: The Best Crypto Wallet For Bitcoin Traders
78% of retail investor accounts lose money when trading CFDs with this provider. You should consider whether you can afford to take the high risk of losing your money.
A Closer Look At The Best Crypto Wallets in 2023:
eToro
The eToro Money Wallet app securely stores crypto assets on the blockchain and employs several standardization protocols and DDoS protection to protect users' assets from malicious attackers.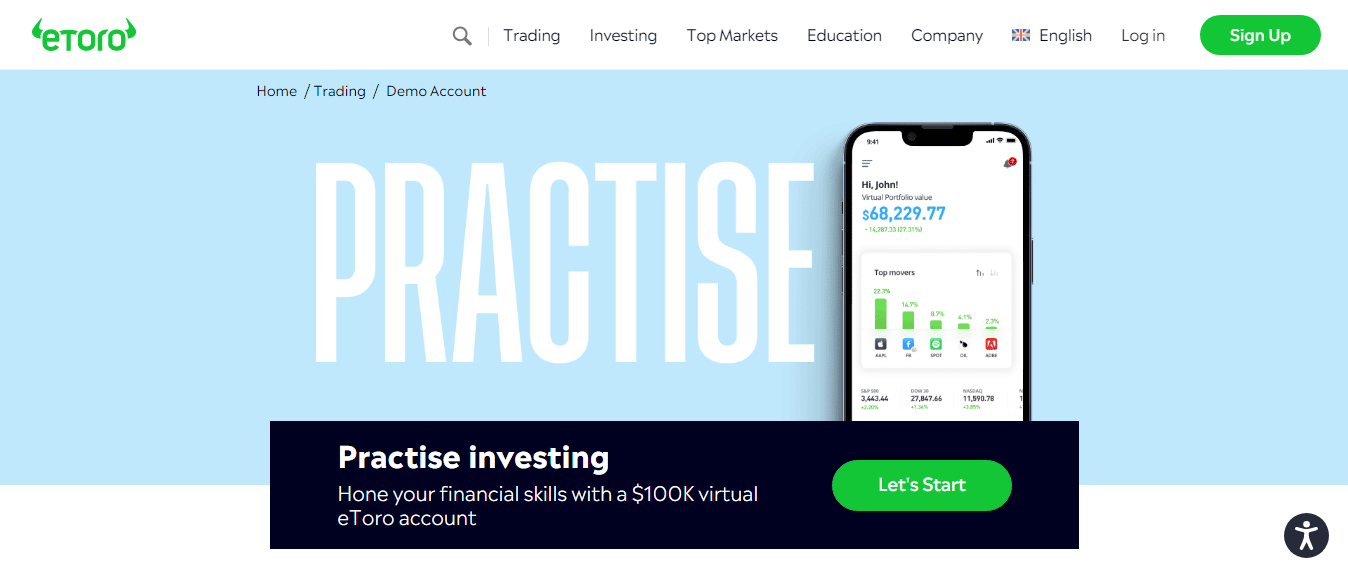 Key Features
Private Key: eToro provides an unlosable private key (if you lose your key, you might lose access to your account). The private key gives you access to your wallet whenever necessary or if you forget your password. For example, if you log in on a device eToro is used to, it may not ask for 2FA; however, if you log in from an alien device, eToro will ask you to provide your private key.
On-chain address: eToro securely stores your assets on the blockchain, offering you a private, personal, and unique address on the chain.
DDoS Protection and Standardization Protocol: Enjoy time-tested protection and standardization protocols by one of the best crypto wallet app UK. With eToro Wallet Money App, your assets are secure.
Pros:
eToro is trusted by over 28 million users as a major online exchange and wallet.
The eToro wallet institutes all security features, making it almost impossible for attackers to access user data.
eToro has a reputation for excellent customer support and honest business practices and has raving reviews on mobile app store review pages.
eToro wallet is a free crypto wallet
eToro insures users' funds up to $250,000 in its FDIC Sweep program.
Cons:
Cryptoassets on the eToro money app are stored online on the blockchain. While the app uses timely security protocols, cold storage of crypto assets is usually a safer alternative.
eToro is a centralized platform which means that it does not have access to all crypto tokens on the market.
78% of retail investor accounts lose money when trading CFDs with this provider. You should consider whether you can afford to take the high risk of losing your money.
Coinbase wallet
Coinbase Wallet is a non-custodial cryptocurrency wallet that uses hot storage (that is, user funds are on the blockchain; hence can be accessed online). It is renowned for its strong security standards, and can be used freely by anyone, whether or not you are a Coinbase customer.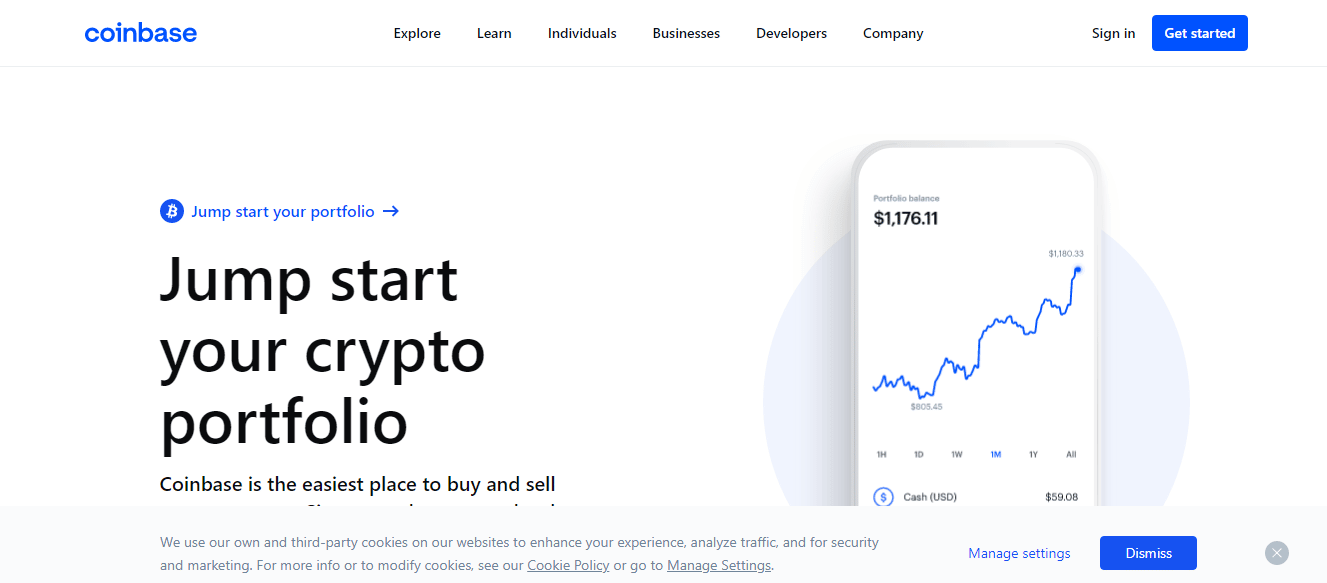 Key Features
User-friendly design: Anyone may easily store bitcoin safely using Coinbase Wallet. The user-friendly design of this hot wallet is similar to that of the Coinbase exchange. Setting up your wallet and beginning the transfer of your cryptocurrency holdings takes only a few minutes.
Free crypto wallet: Whether you use Coinbase or not, you can download and use this bitcoin wallet for free. Digital asset storage is free of charge. Be aware that sending and receiving bitcoin entails transaction costs. The blockchain of the cryptocurrency levies these fees to cover the costs of transaction validators.
Coinbase account integration: In your wallet's settings, you may connect your Coinbase account to Coinbase Wallet. If you do, it will be easy for you to move your cryptocurrency assets from Coinbase to your Coinbase Wallet. For users of the exchange, this makes Coinbase Wallet the most practical wallet choice.
Wide variety of assets supported: It's convenient to have everything in one location for individuals who have a varied cryptocurrency portfolio. The vast majority of cryptocurrencies are supported by Coinbase Wallet, including all ERC-20 tokens and tokens on EVM-compatible blockchains.
NFT compatibility: Non-fungible tokens are supported by Coinbase Wallet in addition to bitcoins (NFTs). You may purchase NFTs from NFT markets and keep them in your Coinbase Wallet if you're interested in establishing your collection.
DApp browser: There is a built-in browser for decentralized apps in Coinbase Wallet (dApps). It lets you investigate various dApps, such as decentralized cryptocurrency exchanges, lending systems for cryptocurrencies, games, and digital collectibles.
Hardware wallet support: Ledger hardware wallets are supported by the Coinbase Wallet browser plugin. Since you need a physical wallet to approve transactions, this optional feature adds extra protection.
Pros:
Access to hundreds of cryptocurrencies
Low minimum deposit for account funding
Withdrawals of crypto are fast and easy
Cons:
Higher fees compared to alternative cryptocurrency exchanges
You can lose all your money
Metamask
MetaMask is a cryptocurrency wallet that can be used on third-party browser apps like Chrome, Firefox, and Brave browsers. It is a browser add-on. As a result, it serves as a link between standard browsers and the Ethereum blockchain. It is one of the best crypto wallets on the market. The Ethereum blockchain is a platform on which users may create their digital assets (dApps) and applications. Ethereum also enables users to create smart contracts, which are rules for transactions. Only Ethereum crypto token keys can be kept in MetaMask.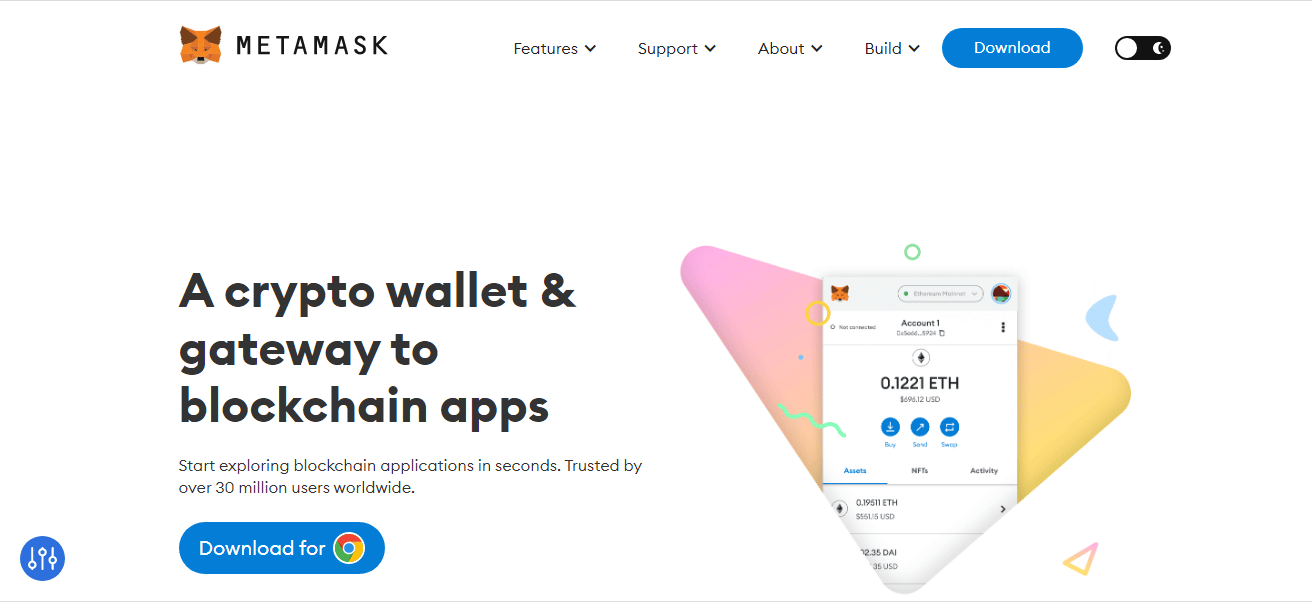 Key Features
Tokens can be swapped anywhere at any time: Users who have MetaMask accounts may immediately exchange any token from their desktop or mobile wallet. To ensure that every user receives the best price at the lowest network or gas expenses, this swap function incorporates data from DEX aggregators, DEXs, and Market Makers.
Adjustable Gas fee: Unlike other wallets, MetaMask users may customize their transaction fees according to their required level. Additionally, the wallet lets you finely control gas prices.
EIP-1559: With the launch of EIP-1559, the first-price auction was replaced with a fixed-price sale, changing the way Ethereum's market functions. More importantly, because the basic charge is already included in the next block, users submitting transactions won't need to figure out how much gas is needed.
Multi-chain access: MetaMask allows users to interact with multiple different blockchain networks by creating different wallets for each chain. This means that you could use one MetaMask wallet to access the Ethereum and Binance chains.
Metamask gives ownership of data: On the user's device, the MetaMask crypto wallet creates keys and passwords, ensuring that only they have access to their data and accounts.
With one of the simplest but safest methods available, MetaMask provides users complete control over their interactions on the emerging decentralized web. The wallet's integration with BSC (Binance Smart Chain) has recently been improved in MetaMask, enabling users to freely switch between their Ethereum and Binance cryptocurrency wallets, access any dApp from both platforms, and trade on decentralized exchanges from both networks.
Pros:
It is open-source software that may be accessed via several browser networks.
The wallet offers an interface and design that is simple to use and intuitive.
Users have complete control over private keys stored on a browser.
It is possible to integrate the Ledger hardware wallet with MetaMask for extra security.
Automatic backup of the account to ensure that funds aren't lost.
Cons:
Hot wallets are vulnerable to security breaches.
Users have reported issues with the mobile app.
Your money is at risk.
Trust wallet
Trust Wallet is a cryptocurrency wallet that enables organizations to store, purchase, exchange, and collect NFTs and cryptocurrencies. With Trust Wallet, professionals can access decentralized apps as needed using the DApp browser. Trust Wallet offers mobile applications for Android and iOS devices and assists traders track transaction history, securely store private keys, and send, receive, or buy and sell NFTs. The platform is free to use, and help is provided online through forums, a knowledge base, and other tools.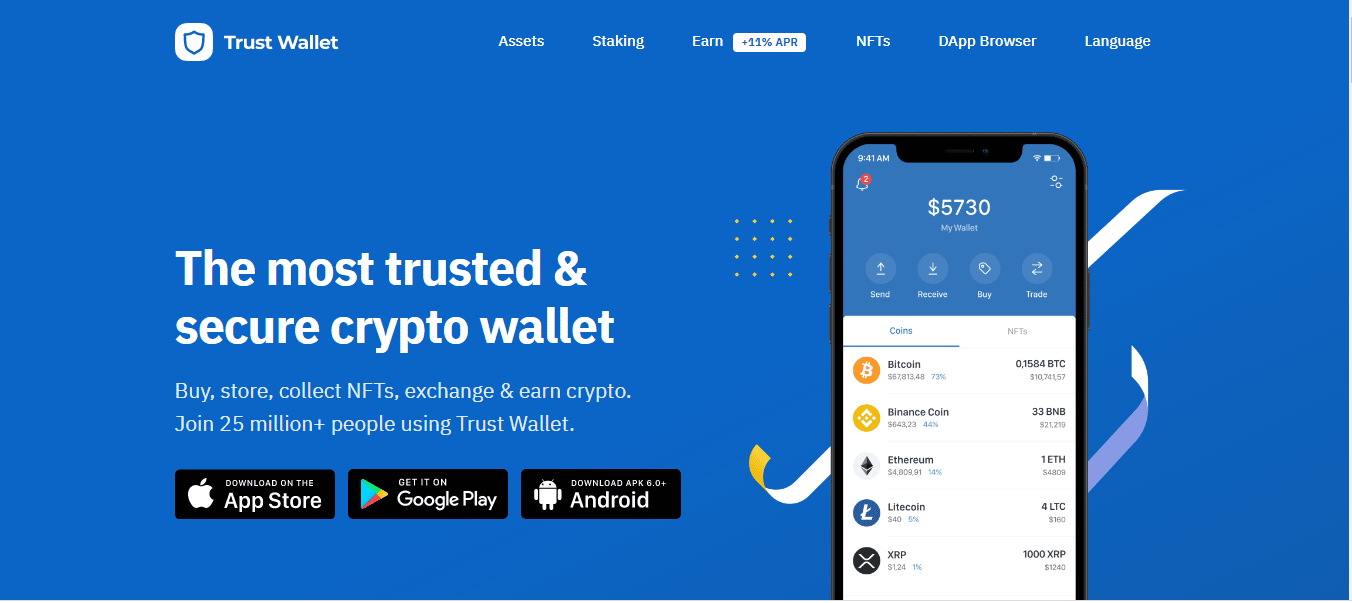 Key Features
Secured access: The vendor gives you a private access key to ensure that only you have access to your confidential financial assets.
Multi-coin support: Today, there are a great variety of cryptocurrencies accessible, and Trust Wallet supports most of them. It offers comprehensive cryptocurrency management functions and enables you to buy, sell, and trade various currencies, blockchains, and other digital assets.
Opportunity to earn interest: By using a variable interest rate to stake your assets, the application makes your coins work for you. The software gives you a proof-of-stake (PoS) certification that has been verified, enabling you to start earning interest on your digital assets, meaning they will continue to generate income on their own.
Decentralized apps: You can locate companies and suppliers who accept cryptocurrencies as payments for their products and services using the handy DApps browser with Trust Wallet.Using the DApp browser in Trust Wallet, you may also access well-known NFT marketplaces like OpenSea or Rarible and start collecting NFTs there.
Multi-chain compatibility: Trust Wallet enables you to store your tokens across a number of different blockchain networks.
Pros:
Trust Wallet has an easy-to-use interface that is great for all types of users.
Trust wallet offers secure local key storage.
The platform is open sourced.
Transaction speeds are fast, compared to other wallets, making it ideal for executing trades quickly.
Cons:
There is no desktop support available.
Some have said that the interface is outdated.
There is no documentation to support the Trust Wallet platform.
Your money is at risk.
Binance wallet
Binance Wallet is one of the best crypto wallet apps in the world. Binance is a well-known exchange for seasoned cryptocurrency investors. Although its trading possibilities are more constrained in the United States, it provides comparatively low trading costs and a large range of cryptocurrencies for trade abroad. The exchange is popular around the world and is trusted by millions of users.
The Binance Wallet is an extension of the exchange that allows users to store their tokens in one, easy-to-access place. The idea is that Binance users can store their coins with a provider that they trust, rather than transferring funds between different platforms.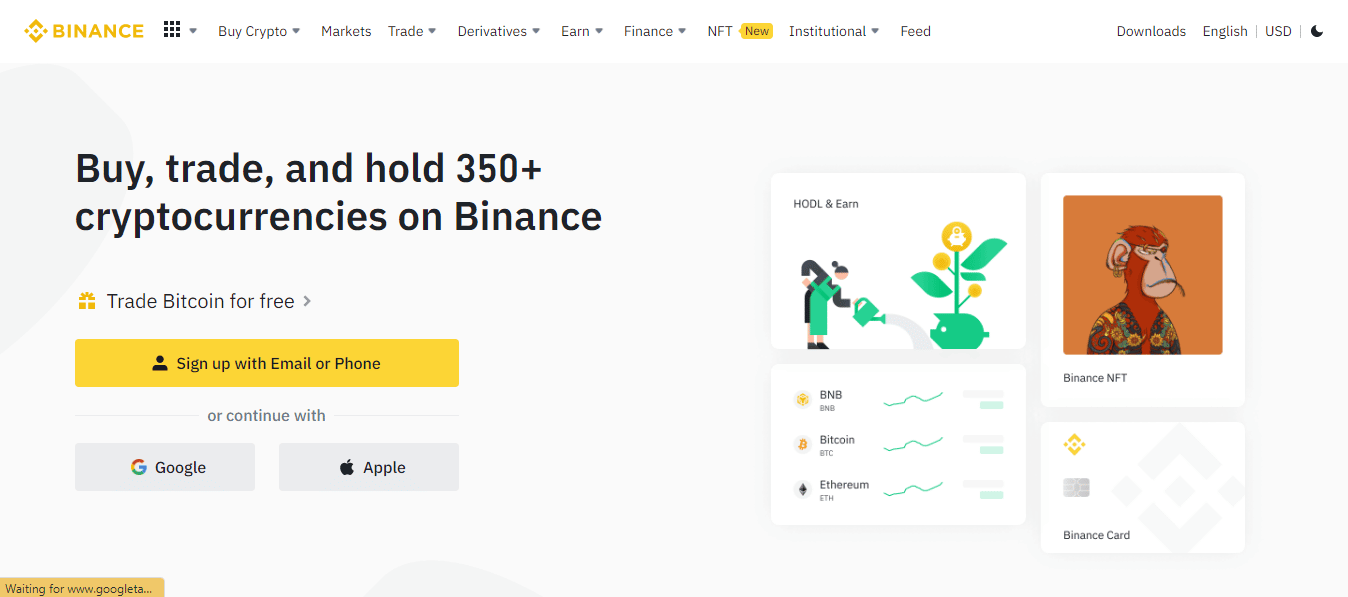 Key Features
Desktop and mobile version available: Users can access the Binance Wallet from both a desktop and mobile device. This makes it ideal for those who want to manage their funds on the go.
Excellent security: Binance has an excellent security architecture, which includes requiring a password or fingerprint for each transaction that is made. A password, fingerprint, and pin are also available for mobile wallets
Real-time balance: The wallet makes it easy to keep track of funds by displaying your balance in real-time using fiat money.
DApp browser: The Binance Wallet includes a built-in decentralized app browser (DApps). It enables you to research different DApps, such as decentralized bitcoin exchanges.
Low transaction fees: On the Binance crypto wallet, gas prices are around 20 times less expensive than on Ethereum. For DeFi customers, the increase in Ethereum transaction fees has resulted in significant friction and expenses. BNB costs significantly lower the overhead, allowing a larger variety of investors from various economic and social backgrounds to participate.
Fast performance: A consensus algorithm used by Binance Smart Chain is comparable to Ethereum 2.0's proof-of-stake schemes. Transactions are processed more quickly than on other chains since it doesn't rely on mining.
Pros:
US customers can access 65 cryptos, while non-US customers can access 350+
The wallet offers a variety of order types to suit different trading needs.
Due to the platform's minimal costs, traders may keep a larger portion of their profits than they would on other platforms.
Cons:
The US version is more limited in terms of asset availability.
The platform is intricate and might be perplexing for new users.
Binance has encountered regulatory issues in several nations.
Your money is at risk.
Bitstamp wallet
Bitstamp is a cryptocurrency wallet where you can buy, sell, and trade different kinds of crypto coins. The wallet enables users to make deposits and withdrawals with a variety of methods, such as international wire transfers, debit card and credit card payments, and ACH transfers from a bank account. A bank transfer is the most affordable payment option given that ACH deposits and withdrawals are free.
Bitstamp crypto wallet is available as a web extension and an app for Apple and Android smartphones.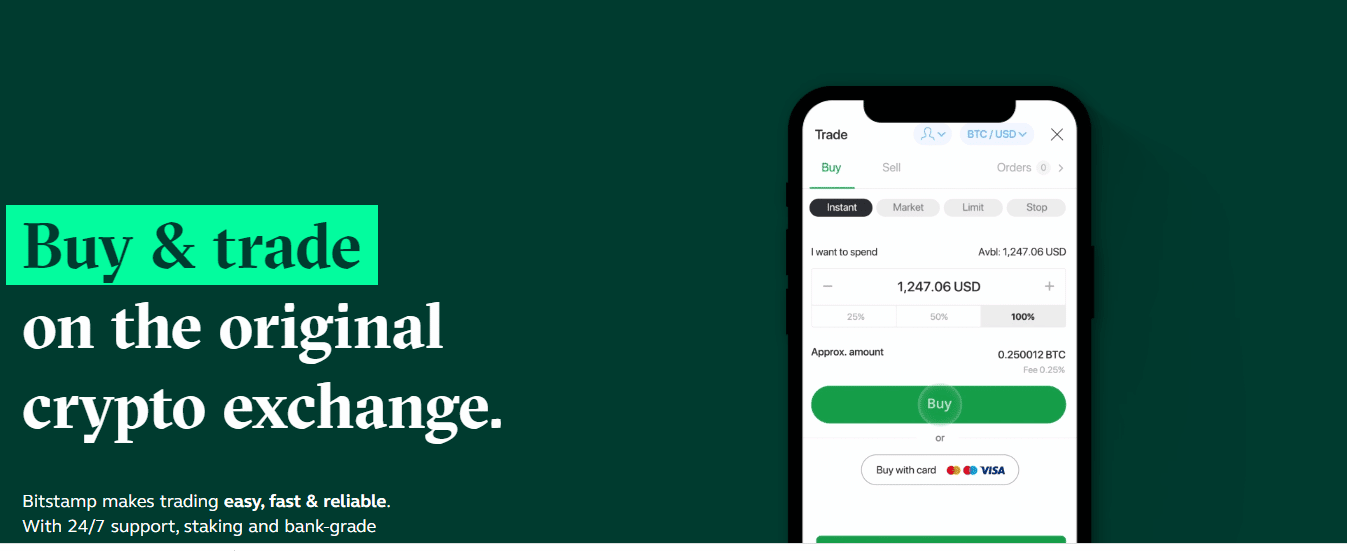 Features
Affordable trading costs: Regarding trading costs, Bitstamp is among the finest bitcoin exchanges. Your trading fees are determined by your 30-day trading volume under its simple fee structure.
Easy-to-use design: The learning curve for trading cryptocurrencies on Bitstamp is not too steep. You can rapidly learn how to purchase and sell cryptocurrencies on its simple interface.
Advanced platform option: Tradeview, a platform for live trading, is also available through Bitstamp. This offers trading forms and more sophisticated charting features. The fact that Bitstamp's trading costs remain the same whether you use its standard platform or Tradeview is one of its nicer features.
Good number of cryptocurrencies available: You can trade more than 60 different cryptocurrencies with Bitstamp. Although other exchanges provide more, Bitstamp's roster should be more than sufficient to meet the needs of the majority of investors.
Strong reputation: There isn't a cryptocurrency exchange with a longer history than Bitstamp. It was one of the first cryptocurrency exchanges to go live in 2011, and since then, it has outlasted the competition to take the title of longest-running exchange.
Pros:
24/7 support is available to all users.
More than 60 cryptocurrencies are available to trade.
Numerous trading pairings: platform supports fiat to cryptocurrency transfers.
The platform is good for both experienced and beginner traders.
Cons:
Only Ethereum and Algorand may earn rewards from staking; US traders cannot presently engage in staking.
Limited access to education for beginners.
No services like margin trading or loans secured by cryptocurrencies.
Your money is at risk
What Makes a Good Crypto Wallet?
Security
The security of your wallet is essential because cryptocurrency wallets and exchanges are often targets of malicious attacks from hackers. You can lose your assets when you use a wallet that isn't thoroughly safeguarded. And even worse, if a crypto exchange is compromised and your assets are not fully insured, you may not be compensated.
Crypto wallet security measures include 2FA for cryptocurrency exchanges, cold wallet storage, seed phrases, and a strong password. Let's explore these security features:
Passwords: All crypto wallets should be password-protected. When choosing a password, use one that is hard to guess. A good combination of upper and lower case letters, numbers, and symbols makes a secure password.
2FA: 2FA (2 Factor Authentication) is a security measure that requires you to verify your identity when logging into an account. The process typically uses your mobile number of email address to send a code or phrase that must then be typed into the platform before you are able to access your account. The idea behind 2FA is that hackers would not have your personal phone or email to hand so wouldn't be able to complete the verification.
Seed Words: Seed words are a list of twelve words that make a 'seed phrase'. These words are randomly generated by the platform, which makes them incredibly difficult to guess. A crypto wallet should have a provision for seed phrase generation. You cannot access your wallet without the seed phrase, so it's essential to keep it in a safe place.
Cold wallet storage: Cold wallets are a type of crypto wallet that do not connect to the internet. Often known as hardware wallets, these wallets typically take the form of USB sticks on which crypto can be stored safely.
Another popular security feature of a secure cryptowallet  is 'Insurance' or coin 'Guarantee.' A guarantee ensures that crypto users' assets are safe in the case of a hack. For example, Coinbase treats customers that hold crypto assets in their wallets as general unsecured creditors. In simple terms, if Coinbase goes out of business, you may not get your assets back. Investment apps like eToro offer insurance on assets up to $250,000.
Decentralized Vs. Centralized Wallets
Cryptocurrencies sit on blockchain networks and, by nature, are decentralized. This means a person or group doesn't govern a cryptocurrency. By default, decentralized wallets cannot be influenced by anyone, and price changes are often caused by demand and supply factors. The absence of a central governance means that users have complete control over assets that are stored in decentralized wallets.
On the other hand, a centralized wallet maintains an order book and has vaults of reserves. Wallets like Coinbase and Binance are centralized wallets or ecosystems. Wallets such as these are influence by third party governance, who can access your account if needed. Centralized wallets are sometimes appealing to users who worry about losing their funds or private keys. This is because centralized wallets sometimes offer insurance and are able to access your account if you lose your password or private key.
78% of retail investor accounts lose money when trading CFDs with this provider. You should consider whether you can afford to take the high risk of losing your money.
Customer Support
Cryptowallets hold customer funds; hence, they should have an easily reachable customer support team that will help you resolve issues that may arise from using their platforms. Some exchanges have very poor and unprofessional customer support, while other exchanges have quick resolution time and excellent resolution rates. Here are some of the things to look out for in customer support:
Live chat: Live chat features can help you resolve basic app issues. AI-powered bots can also help you escalate more complicated issues to the right customer support team.
Friendly Customer Support: Some exchanges have rude and unprofessional customer support. When you are new to an exchange, you might have issues with one or more features: Responsive, friendly, and responsible customer support will help you navigate the exchange's ecosystem.
Multiple Means to Contact Customer Support: An exchange should have many customer contact modes. Live chat, email, social media (Twitter mostly), phone, and live support (human). The more, the better!
Other features of customer support include:
In-depth Market Analysis if a customer decides to trade: The best crypto wallet apps provide market analysis on tradable assets. With in-depth market analysis, you can conduct intensive fundamental analysis on an asset and trade objectively.
Investment and Trading Resources: A crypto wallet must provide a sufficient knowledge database for its traders. Trading exchanges like eToro offer inexhaustible data and trading metrics, helping beginner traders understand the market. Some bitcoin trading app have excellent trading resources and offer wallets as either a standalone feature or alongside the exchange.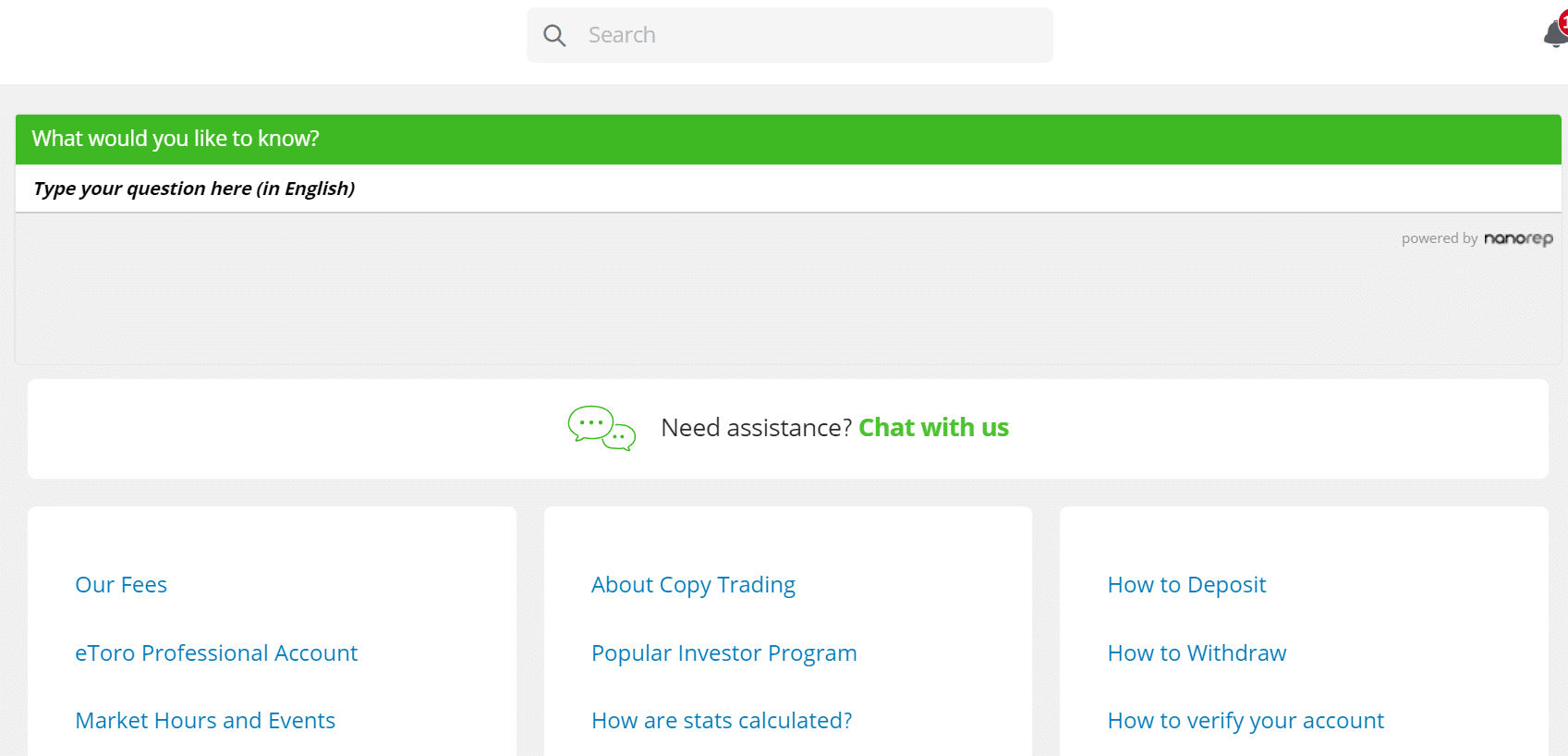 Asset Compatibility
Cryptocurrency wallets should support various crypto coins and tokens. You may have to factor in the crypto classes supported by a wallet before using it. For example, some wallets only support major cryptocurrencies like Bitcoin, Ethereum, Solana, Tether, and BNB. Other wallets support both major and penny cryptocurrencies. Before migrating, you should look at the list of cryptocurrencies backed by your wallet of choice.
Access to Crypto Markets
A crypto wallet and corresponding exchange must have easy access to the crypto market. In simple terms, you should be able to quickly convert crypto assets in a wallet to fiat and other cryptocurrencies. You should also be able to easily purchase any listed coin on the exchange.
An exchange with easy access to the crypto market is liquid, and tradable assets should always be liquid. A low-liquidity asset points to a volatile market with massive demand over supply or vice versa. A stable market means the demand/supply ratio is decent, and you can buy or sell whenever you want.
Let's say you want to buy Decentraland's $MANA at a specific price from a Decentralized Exchange: for the exchange to execute your 'Market Order,' you need a seller willing to sell at the price you set or at the best available price. If there aren't people ready to sell $MANA on the exchange at that moment, the supply is low, and the demand is high, which can drive asset prices up. This situation is called a spread. When you have to pay extra money to obtain an asset, the spread is high and will eat your profit.
In a liquid market, there is high trading activity; hence, a large market order will not put the exchange market under pressure.
When choosing an exchange, you must ensure that the exchange's market's liquidity provider has excellent market depth, offers fast trade executions, and offers accurate historical data and protocol.
78% of retail investor accounts lose money when trading CFDs with this provider. You should consider whether you can afford to take the high risk of losing your money.
Device Compatibility
The best crypto wallet app UK should have seamless compatibility across all platforms they operate. Users should be able to access their wallets on their mobile phones and personal computers. This will make it easier to access your portfolio on the go.
User Interface
A wallet should have an easy and beginner-friendly UI, enabling investors to navigate their websites and mobile applications easily. Some wallets are incorporated into exchanges have more advanced features and, as such, may not be suitable for beginner investors and traders. Some exchanges offer basic and pro interfaces. With the pro option, you can access more complicated technical analyses of different cryptocurrencies, and the basic feature lets you access simple trading features and analysis.
If you need a wallet just to store your assets, there are simple wallet options like MetaMask, which have everything that you need to store your tokens safely without over-complicating the process.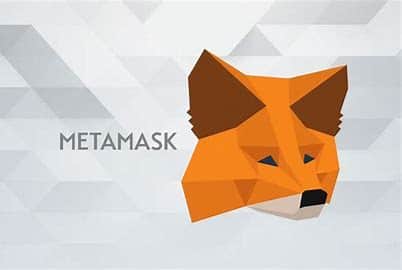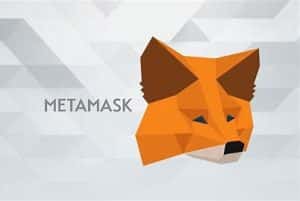 78% of retail investor accounts lose money when trading CFDs with this provider. You should consider whether you can afford to take the high risk of losing your money.
How to Tell If A Crypto Wallet Is Unsafe
Chain Analysis reported that a staggering 1.9 billion dollars were stolen from cryptocurrency wallets in 2022 alone. The figure is 60% more than the amount stolen in 2021. So far, more than $2 billion have been stolen from crypto bridges. Cryptocurrency exchanges and wallets are targets of extreme and dedicated hacking practices. The Lazarus Group, a North Korean-backed hacking organization has violated tens of crypto ecosystems, carting away as much as $200 million in a single swoop. Lazarus Group alone accounts for over 50% of the stolen crypto assets.
The figures point to the fact that both large and small crypto exchanges and NFT apps are targets of malicious attacks and your assets are safe when you know that your exchange follows safety protocols. Let's take a look at how you can tell if a wallet is unsafe:
Doesn't have a 2FA protocol: 2FA is the basic security protocol for safe cryptocurrency wallets. Do not use a wallet that does not have 2-factor authentication, like text message and email authentication or an authenticator app.
No Information on Founder or Company Heads: A crypto wallet without a detailed revelation of the founders and those who run the company is a red flag. Most rug pulls (A rug pull occurs when the owners of an exchange or a wallet go MIA with all customer funds) have occurred in exchanges that didn't have a convincing 'About Us page.
Poorly Designed User-Interface: Most phony wallets look the same: You will see a poorly designed home page, a pop-up that tells you to deposit €200, and little to no information about the wallet or the founder. Run away from exchanges that want your money before offering any real value.
Dodgy URL: Unsafe wallets can often be spotted by looking at the URL. A safe URL address will have the same name as the company, will have a neat, simply structure and will be protected by an SSL certificate. Dodgy URLs are easy to spot they will be long and unclear to read, they may not include the name of the company and they often aren't protected by an SSL certificate. A dodgy URL is a good sign of a scam and you should avoid giving any money to websites involved.
Other red flags in a crypto wallet include:
Wallets that put you through unsolicited calls and messages advising you to invest more than you intend.
Wallets that promise too-good-to-be-true investment returns or guaranteed returns.
Wallets that send unsolicited messages asking you to recharge your wallet or top up your capital.
Wallets that spam you consistently.
Top tips for choosing a secure and safe wallet:
Choose a well-known wallet with a social media presence/reputation, and ensure that the executives are also well-respected people in the crypto/blockchain world.
Choose a popular wallet with a reputation for security and decent customer service.
Choose a wallet that is licensed by the appropriate agencies. For example, an exchange operating in the UK, US, and Australia should be licensed by the FCA, SEC, and ASIC.
Top Tips for Using a Crypto Wallet App
Read User Reviews
Who gives honest reviews about any service? The customers. It's important to check through reviews before you decide on a cryptocurrency wallet. Reviews let you know what other customers think about the wallet, the wallet's strength and core issues. Check out reviews of the app on PlayStore or Apple Store. You can also check Trust Pilot reviews.
Use a Reliable Internet Connection
When logging into your crypto wallet or trading on an exchange, ensure that you only do so on a secure connection. Do not open your wallet on public WiFi. Public WiFi might be free, but hackers can, through the insecure connection, mirror your activities and get access to private and crucial information like passwords and email addresses of your crypto wallets and other accounts.
Do not visit or use unsafe websites
Do not use websites without HTTPS verification. Also, scammers know that people often trust websites with HTTPS prefixes, which can be bought with a few bucks. The better advice is to not open a website you do not know the source. To ensure this, you must download and install a powerful antivirus alerting you to malicious websites.
Keep Your Private Keys Safe and Secure
This is the most important step to take. Always back up your wallet with the mnemonic 12 to 24-word seed phrase. Write down your seed phrase and keep it somewhere safe. Other backup options like Trust Wallet include saving a file and using it to regain access to your wallet.
Tips for storing your private keys:
Never store your phrase online: Malicious attackers can access it when you save it online.
Never store your recovery phrase in your photo library: Some apps can access your photo library, and in the case of a hack, attackers can access vital information through your photo library.
Do not store your recovery phrase in a note app or an online journal, as those can be compromised.
Do not reveal your secret phrase to anyone. No crypto wallet will request your secret phrase. Under no circumstance should you divulge such information.
Write Down Your Wallet Address
Your wallet address is a string of randomly generated characters that are connected to the blockchain network. You can use your wallet address to receive cryptocurrency from others. Every wallet allows you to generate an address seamlessly.
Always write down your wallet address because if a sender transfers funds to the wrong wallet address, the funds can never be retrieved. For example, an Ethereum wallet address (CRYPTO:ETH) is different from your Bitcoin wallet address (CRYPTO:BTC). The cryptocurrency is lost forever if you send an Ethereum address for a Bitcoin transaction.
Never ever disclose your wallet address to anyone. Always remember: No wallet will ask you for your wallet information if you receive an email that requests your information, block and report the sender immediately.
78% of retail investor accounts lose money when trading CFDs with this provider. You should consider whether you can afford to take the high risk of losing your money.
How to Get A Crypto Wallet In the UK
Looking to use a cryptocurrency wallet? The first step is to find wallets that are licensed by the Financial Conduct Authority, FCA. The FCA is a renowned UK licensing organization that ensures the safety and security of UK residents that use financial services and products. Wallets like eToro, Trust Wallet, and Coinbase are licensed by the FCA, and they provide excellent crypto services to users. If you intend to trade or invest, you can also use a company that offers trading services alongside their wallets. For example, eToro is the biggest social trading app in the world, has a seamless exchange interface,
How To Use eToro and MetaMask to Buy Dash2Trade (D2T)
Step 1: Download the Metamask browser extension or app
To download Metamask, visit their website, metamask.io
On the Metamask homepage, click the 'Download Now' button.
On the next page, you will be asked to select Chrome, iOS, or Android. In this case, we will choose Chrome.
On the next page, click 'Install Metamask for Chrome'.
You will be directed to Chrome's Webstore, and you can install the Metamask browser extension by clicking 'Add to Chrome'.
Once Metamask's installation is complete, click on the Puzzle icon and click Metamask
A Welcome to MetaMask page will open, and you can choose to 'Import Wallet' if you have a wallet or 'Create a Wallet' if you do not have a Metamask wallet.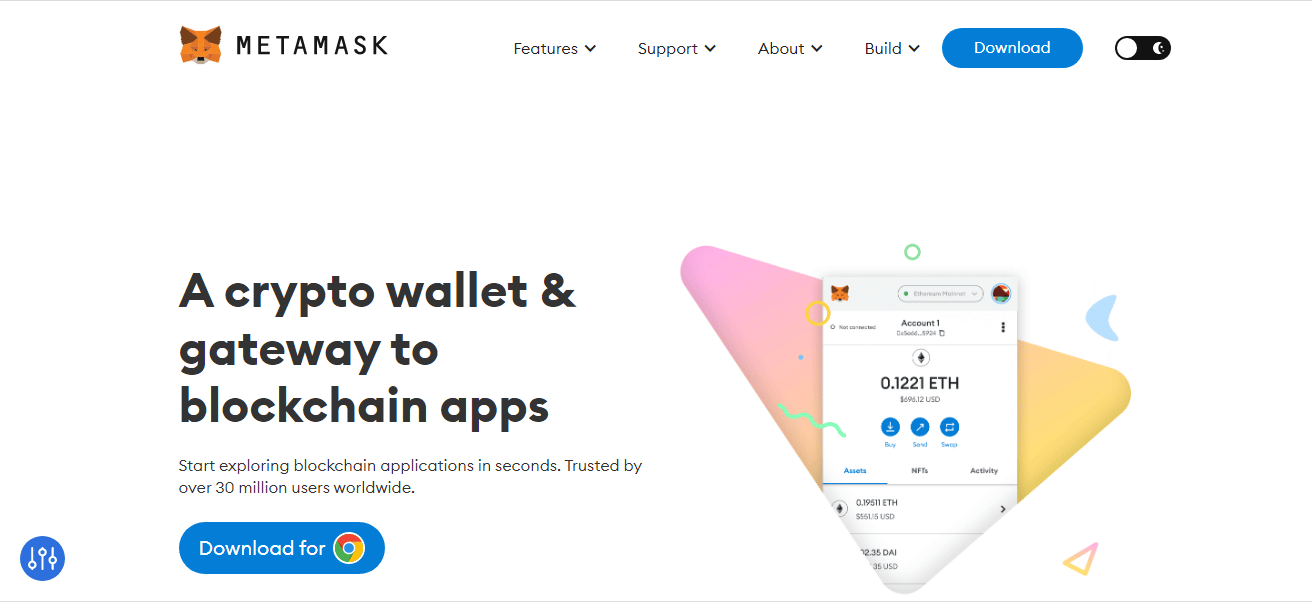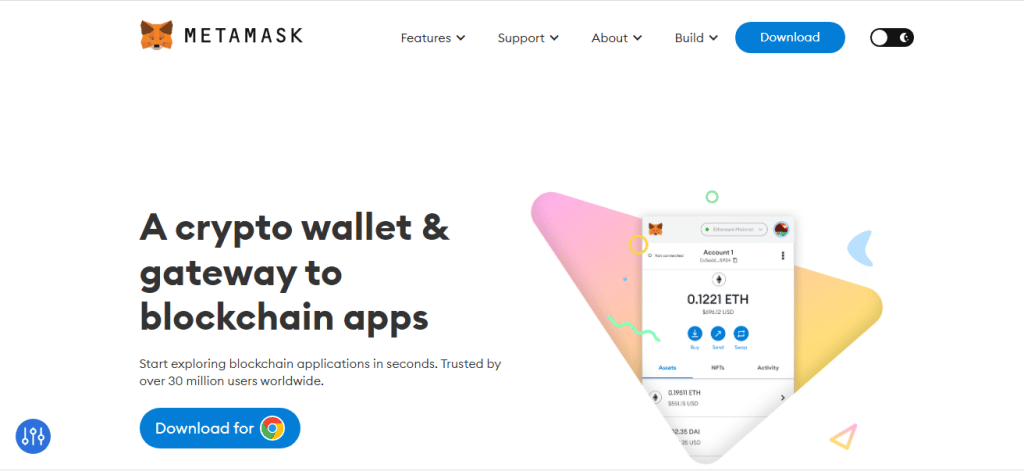 Step 2: Create MetaMask Wallet
If you click on 'Create a Wallet', you will be requested to create your Metamask password and agree to the Terms of Use. The next stage is the seed phrase stage: Metamask will provide a seed phrase of 12 random words. Write down your seed phrase and keep it safe. Losing your seed phrase can lead to you losing your wallet forever. Once your seed phrase is saved, a new wallet is automatically created, and you can access your metamask wallet. You should see the puzzle icon on the top-right side of the Chrome browser. The extension will lead you to the Metamask wallet.
Step 3: Deposit USDT or ETH from eToro wallet to MetaMask Wallet
To deposit USDT or ETH from your eToro Money App to MetaMask Wallet, follow these steps:
Sign up for an eToro account if you do not already have one: Sign-up is easy. Provide your username, email address, and password. Next, complete your profile and verify your identity with a government-issued ID Card. Next, upload your proof of address.
After signing up to the platform, you will be able to deposit funds and purchase crypto tokens. The minimum deposit is $20.
Open your eToro Money app and sign in. Next, transfer your crypto into the eToro wallet.
Once your tokens are in the wallet, select the coin you wish to send. Select the amount that you would like to send and enter your MetaMask address. Tap send.
You will receive a 2FA (SMS verification) from eToro. Input the code and tap Verify. A window confirming your transaction completion will pop up.
Step 4: Connect MetaMask Wallet To Dash2Trade Presale
You will now need to connect your Metmask wallet to the Dash2Trade presale event. To do this, simply click 'connect wallet' and log in to your MetaMask account.
Step 5: Swap Crypto for D2T
Once you have connected your wallet to the D2T website, you can swap crypto for the D2T token. Simply choose the token that you would like to swap and enter the amount of D2T that you would like to purchase. You can claim the tokens once the presale event has ended.
78% of retail investor accounts lose money when trading CFDs with this provider. You should consider whether you can afford to take the high risk of losing your money.
Are Crypto Wallet Apps Safe?
Yes, crypto wallets are safe, as they provide a secure way for you to store your crypto assets. A crypto wallet that provides cold storage is even better because your assets will be stored offline and are out of reach of malicious attackers.
It is important that you always choose an app that offers great security and has a strong reputation. Also, never share your private keys or passwords.
What Is The Best Crypto Wallet App?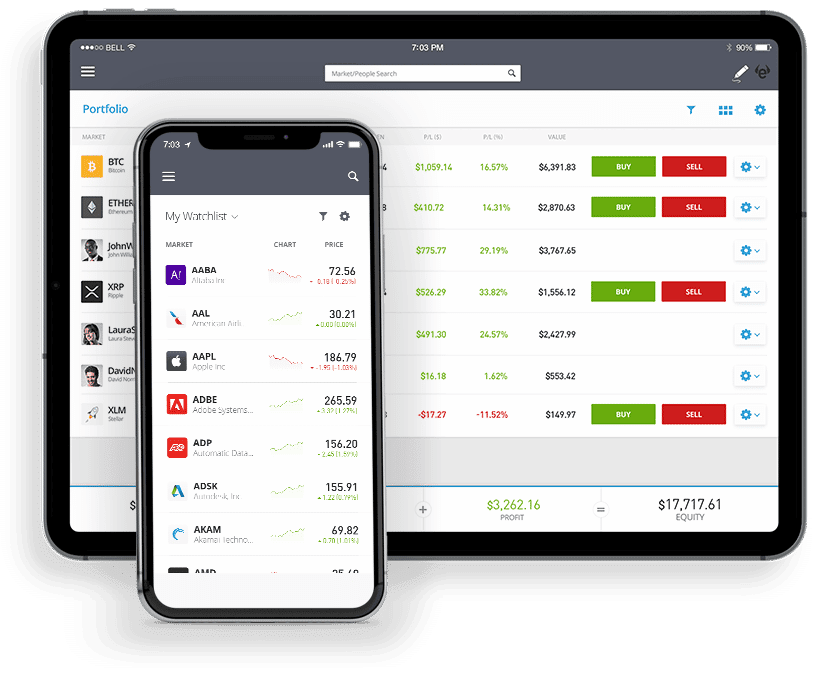 eToro is one of the best crypto wallet apps and also houses the best social trading app feature in the world. It has excellent security features and protocols and supports multiple cryptocurrencies. Furthermore, the app is regulated by a number of regulatory bodies including the Financial Conduct Authority in the UK. This means that eToro must adhere to strict guidelines which have been developed to ensure the security of your assets.
78% of retail investor accounts lose money when trading CFDs with this provider. You should consider whether you can afford to take the high risk of losing your money.
What Are The Advantages Of Using A Crypto Wallet App in 2023?
The main advantage of crypto wallet apps is that they provide a safe place to store your tokens that you can access on the go. Crypto wallets are designed to protect your funds from scammers and offer an extra layer of protection than exchanges do. To invest safely, we always recommend storing your assets in a wallet, rather than leaving them in an exchange account.
78% of retail investor accounts lose money when trading CFDs with this provider. You should consider whether you can afford to take the high risk of losing your money.
Best Crypto Wallet App UK 2023– Conclusion
Our pick for the best crypto wallet app UK is eToro. eToro has a reputation for security, safety, and excellent business practices. eToro has the best customer support service, with its diverse support agents, live chat mode, and responsiveness. What's better? eToro employs in-depth security protocols to secure the funds of users, and in the case of a hack, the exchange offers insurance for up to $250,000 of funds.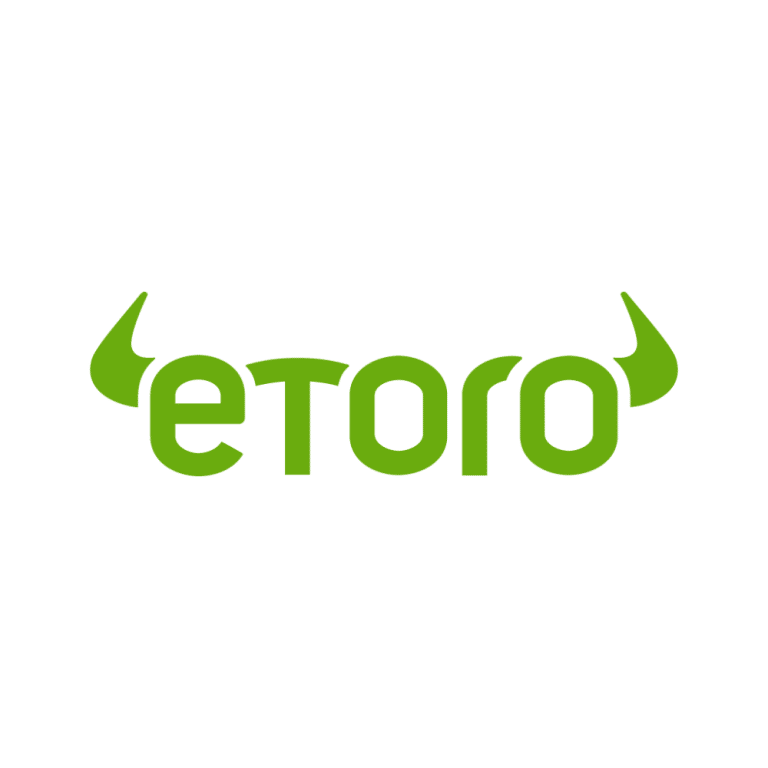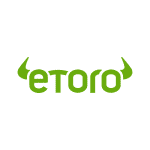 78% of retail investor accounts lose money when trading CFDs with this provider. You should consider whether you can afford to take the high risk of losing your money.
FAQs
How to create a cryptocurrency wallet in the UK?
How to keep your Crypto safe?
Are crypto wallets regulated in the UK?
What are the best crypto wallet apps right now?
What is the best wallet for storing bitcoin?