What is the Best NFT App UK to Invest in 2023
Disclosure
Everything you read on our site is provided by expert writers who have many years of experience in the financial markets and have written for other top financial publications. Every piece of information here is fact-checked. We sometimes use affiliate links in our content, when clicking on those we might receive a commission - at no extra cost to you. By using this website you agree to our terms and conditions and privacy policy.
There are many NFT apps available in the UK, and each application has different functionalities and features. We have metaverses where you can buy virtual lands (SandBox) and play to earn metaverses like Axie Infinity, Tamadoge, and Battle Infinity. Choosing a metaverse for your NFT purchase depends on what you want, the price of each native token, and the potential for adoption of the metaverse and growth of the tokens. In this article, we review the best NFT app to watch in 2023.
Best NFT App UK- Overview
NFTs are non-fungible tokens; that is, each NFT is unique and cannot be replicated. You can exchange a bitcoin for another bitcoin; however, an NFT is a cryptographic asset with its own metadata and identification code.
Most NFTs sit on the Ethereum blockchain.
There are top NFT apps and metaverses that allow the creation of NFTs as tradable assets.
The best crypto NFT app UK like Battle Infinity, Tamadoge, and SandBox give players voting rights and are decentralized.
While an NFT crypto app is decentralized, some have a centralized governing body—at least for the moment. There are others that have a roadmap towards decentralization.
The 2023 crypto market greatly affected the prices of cryptos like bitcoin and ethereum and dwindled the market value of NFT metaverses native tokens like SandBox and Axie.
Contrary to some people's opinion, NFTs have intrinsic value beyond just being art. SandBox, Axie, and Battle Infinity are poised to overtake the 3D gaming industry. Some of these NFT platform already has millions of users.
A bridge is a special blockchain algorithm where users can exchange the metaverses' native currency with other cryptocurrencies.
Cryptoassets are highly volatile and unregulated in the UK. No consumer protection. Tax on profits may apply.
Best NFT App UK- List
Launchpad XYZ – Revolutionary Blockchain-based Startup
Binance NFT Marketplace – Well-established NFT platform
OpenSea – The most popular NFT marketplace
Rarible – Marketplace with innovaty NFT art
Crypto.com NFT – NFT marketplace powered by a famous exchange
Tamadoge– Play-to-earn NFT game in the doge ecosystem.
The Sandbox– Innovative NFT app with unique in-game offerings.
Axie Infinity– One of the most popular NFT games on the market. 
CryptoKitties– Play-to-earn NFT game app for long-term NFT investors.
Best NFT Apps- A Closer Look
Launchpad XYZ
The Launchpad XYZ is a blockchain-based startup that aims to revolutionize the Web 3.0 investment niche. Play-to-earn (P2E) games, ICOs, utility tokens, and non-fungible tokens are all part of Web 3.0 investment products. Beginners can navigate the Web 3.0 era easily with the Launchpad ecosystem.
This website aims to provide all the necessary training to become a successful trader and empower Web 3.0 users of all levels to maximize their profit margins. It will include the following features:
Trading of NFTs and tokens on a decentralized exchange (DEX).
The ability to access fractionally or tokenized high-value assets like real estate and supercars.
The hottest cryptogames and token launches are available in beta mode with play-to-earn insights.
In the beta phase, you can participate in private ICOs and presales.
Crypto investors should be able to make informed decisions with the help of Launchpad XYZ. In addition to helping beginners get started, it also delve into specific topics of interest to experienced traders.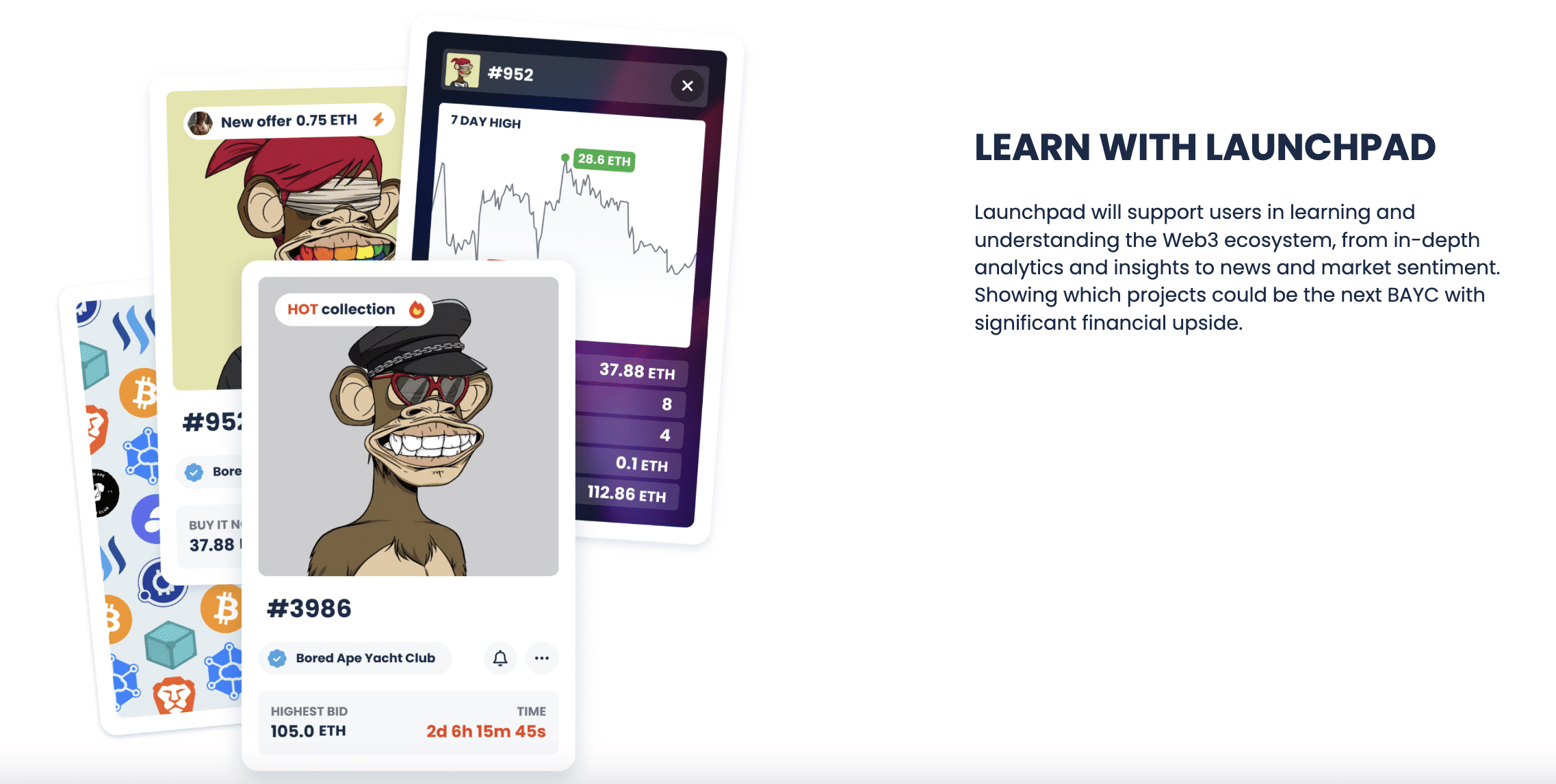 In addition, LPX Token is the native token of the ecosystem. Besides serving as a utility, it also serves as an investment. Therefore, the LPX Token can be used for various purposes, such as ICO alerts, NFT minting, and staking (after 90 days) to earn passive income.
As an investment, LPX tokens can be staked, increasing demand. In addition, it can be used to invest in fractionalized and tokenized assets. LPX holders will also receive a discount on the fees and commissions of Launchpad DEX.
The presale is open to anyone wanting to invest or use Launchpad XYZ. Launched just a few days ago, it will include 10 unique phases, with the price increasing with each phase. Following the completion of this stage, LPX will be listed on Launchpad.
Pros:
The project includes real-world use cases
Tokens issued by LPX are deflationary
Industry experts handle project development
Crypto staking has the potential to generate passive income
Launchpad has a low pre-sale price
Cons:
Cryptocurrency investments carry a certain level of risk
There is a high level of competition in the Web3 market
Your investment may go down as well as up in value. Cryptocurrency is not regulated in the UK.
Binance NFT Marketplace
To stay on top of the NFT world, Binance created a platform where artists can upload their works and collectors can purchase them. NFT Marketplace is the name of the platform.
Artists worldwide can sell their digital works on Binance NFT Marketplace. Artists can display their works and earn income by selling their creations through this method of decentralizing art. To achieve financial freedom and exposure for small artists, Binance Marketplace provides them with a platform.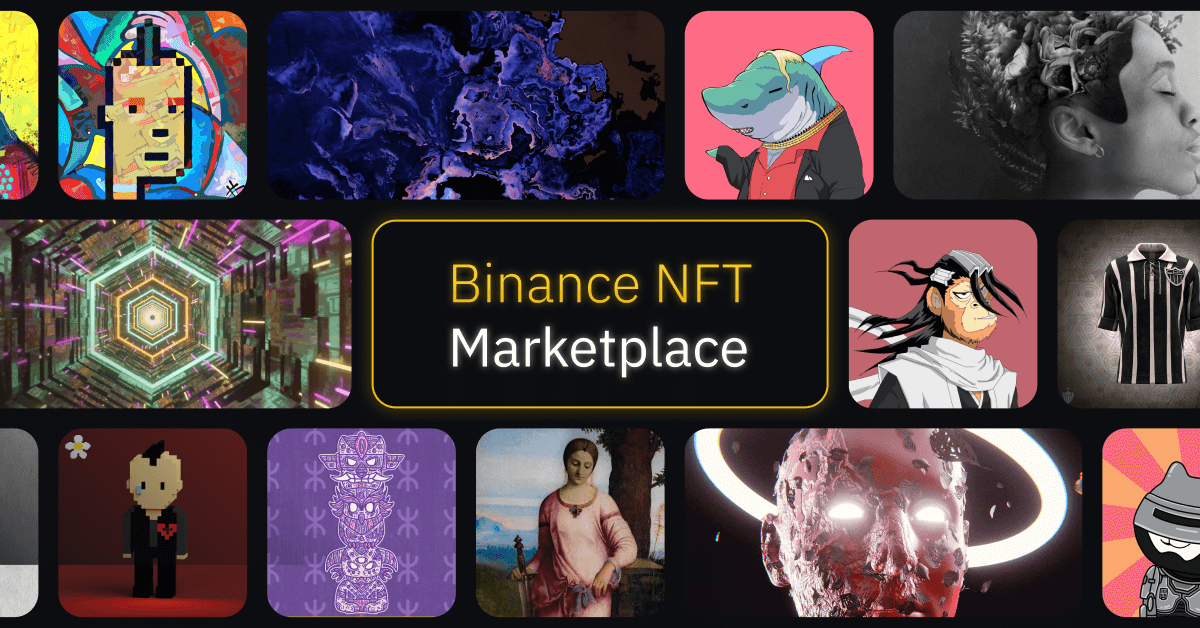 Among the NFT markets, Binance's has one of the lowest fees. Creators receive 90% of profits from "premium events" collections.
Binance charges a 1% fee for users who upload NFTs to its marketplace, and creators get a 1% fee for future sales.
Pros:
Binance accounts can be created and verified for free
It is easy to navigate the marketplace and execute processes.
NFT minting fees are among the lowest in the market.
Binance ecosystem integration
Cons:
Compared to other platforms, mining permissions are a bit more restrictive.
In comparison to other competitors, the market is young
The Binance NFT only allows creators to collect 1% in royalties.
Your investment may go down as well as up in value. Cryptocurrency is not regulated in the UK.
OpenSea
The OpenSea marketplace specializes in trading digital assets, such as NFTs. In late 2017, Devin Finzer and Alex Atallah founded the guild to become a kind of Amazon for the community.
From this point forward, OpenSea has experienced continuous growth, raising its first round of funding just half a year after its founding. The round was worth 1.7 million dollars, a modest sum but one that provided the company with a solid foundation. This accelerated growth positioned the platform as a market leader. By 2021, they had raised 100 million dollars in a funding round, making it the home of some of the most significant NFT purchases. The most expensive NFT artwork to date is Beeple's "Everydays: The First 5,000 Days," which sold for 61.1 million dollars.
Currently, over 20 million collectible assets are hosted on the platform, which aims to be valued at 10 billion dollars by the end of the year. In addition, it has over 2 million active users who can filter their NFTs by around 200 categories.
OpenSea transactions require a digital wallet before they can be completed. It is possible to find a wide variety of wallets online. However, the platform recommends using Metamask, one of the most well-known and widely used wallets in the cryptocurrency ecosystem. Your OpenSea account will be evaluated once you link such a wallet to it. In this case, the wallet serves as the "identity confirmation" of the person, similar to data validation or biometric identification that you can find on different platforms.
By completing this process, users will have access to all NFTs available for purchase on the marketplace and the option to upload their own and sell them.
Pros:
Gas fees are not charged on most transactions
Traders have access to a large selection of NFTs
With OpenSea Collection Manager, minting is easy
Four different blockchains are supported by cross-blockchain integration
More than ten NFT wallets are supported
Cons:
There is a 10% cap on royalties
Plagiarized and fake content
Scams
Your investment may go down as well as up in value. Cryptocurrency is not regulated in the UK.
Rarible
Using Rareible, artists and digital creators can create and sell customized cryptoassets to represent ownership rights to their digital works.
This is an asset marketplace powered by Ethereum that enables direct trade of these assets without the need for intermediaries.
Rareible demonstrates that NFTs have expanded beyond virtual cats. Many types of NFTs are available on the Rarible marketplace, including digital artwork, memes, and even virtual land parcels.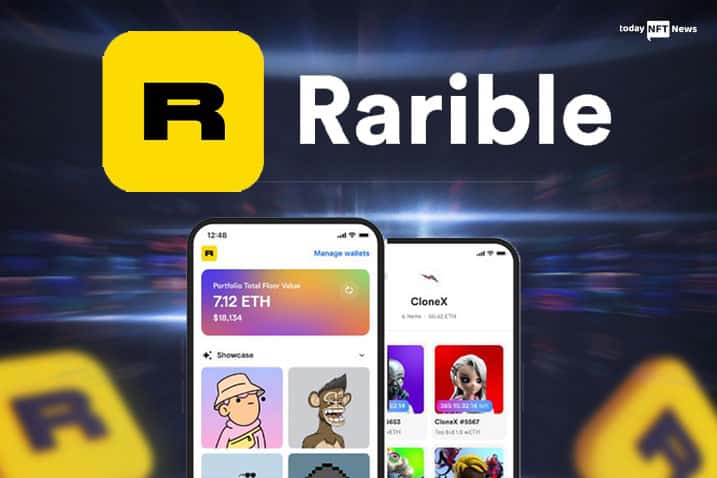 RARI, Rarible's cryptocurrency, is the central element of the platform. RARI token holders can vote on proposals that affect the platform, moderate creators, and protect featured artworks.
Pros:
Non-custodial and open-source marketplace
Governance of DAOs by the community
Strong investor support
Token for RARI governance
A user-friendly interface
A cross-chain compatibility feature
Rarible royalties
Cons:
Customer service is limited
There is no API or IPFS storage available
There is no mobile app available
Gas fees are high
Your investment may go down as well as up in value. Cryptocurrency is not regulated in the UK.
Crypto.com NFT
There are over 10 million users across Crypto.com's ecosystem, and a new NFT marketplace launched in 2021. Despite being so new, it's a solid marketplace. Despite scams and fraudulent digital assets prevalent in the crypto and NFT space, Crypto.com accepts only safelisted collections, so buyers have a lower risk when browsing collections. To be clear, the risk is never completely eliminated, but it is considerably minimized.
There is no charge for minting. There are no marketplace fees or gas surcharges to worry about besides a $3 submission fee. If you don't mind waiting three days, this could be a good trade-off.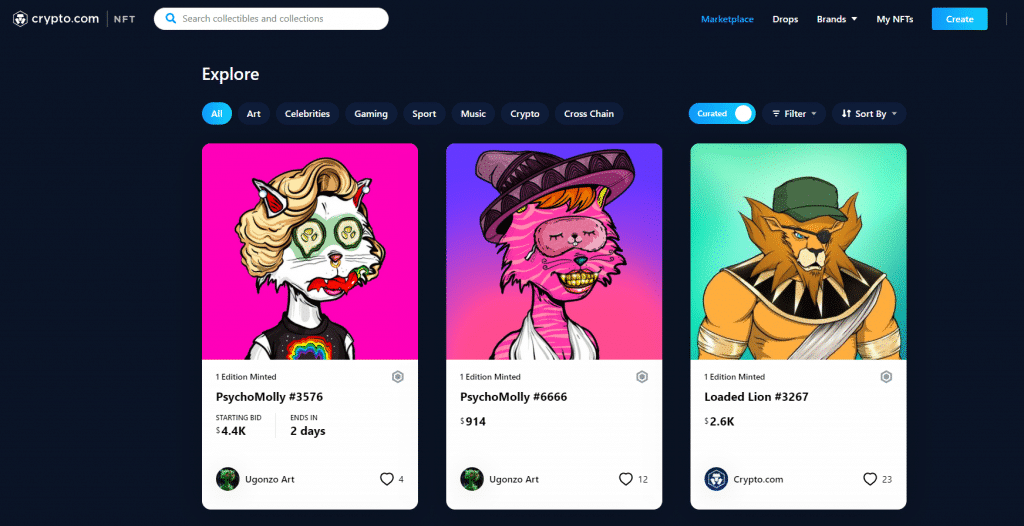 Although creators may encounter frustrations with this platform, buyers will have access to multiple payment methods and wallets. Additionally, you can purchase NFT with a debit or credit card. Unlike other major NFT marketplaces, OpenSea accepts crypto payments only - it's very convenient.
If you're a newbie looking to collect NFTs, Crypto.com NFT is a good place to start, but if you're a more experienced creator, try Solana or Ethereum instead.
Pros:
Supports four blockchains for NFTs
A variety of payment methods are supported
With the app, there are no gas fees
Payments can be made by debit and credit card
Cons:
To be a creator, you must apply
The minting process must be reviewed within 72 hours
There are only five file formats supported
In 2022, Exchange was hacked for $30 million
Your investment may go down as well as up in value. Cryptocurrency is not regulated in the UK.
Tamadoge
Tamadoge is a meme-inspired play to earn metaverse in which players create, breed, and develop their doge pets. Once your doge pet is grown, you can set them to fight against other doge pets and win rewards if your pets win. Of course, you should also care for your doge pets Tamadoge is a marketplace where people can trade doge pets and other NFT assets. Given the success of its precedent, the dogecoin, people expect Tamadoge to also record massive success after an ICO. At the moment, TAMA, the native currency of Tamadoge, is having a wonderful presale season. While the ICO is still a few phases away, investing in the native currency might be an excellent option.
At the moment, 36.36 TAMA is equivalent to 1 USDT. You can pre-order your TAMA directly with your credit/debit card or Metamask wallet.
Tamadoge is a meme-inspired metaverse and a P2E game.
TAMA is still in presale season, opening floors for investors to buy into the vision.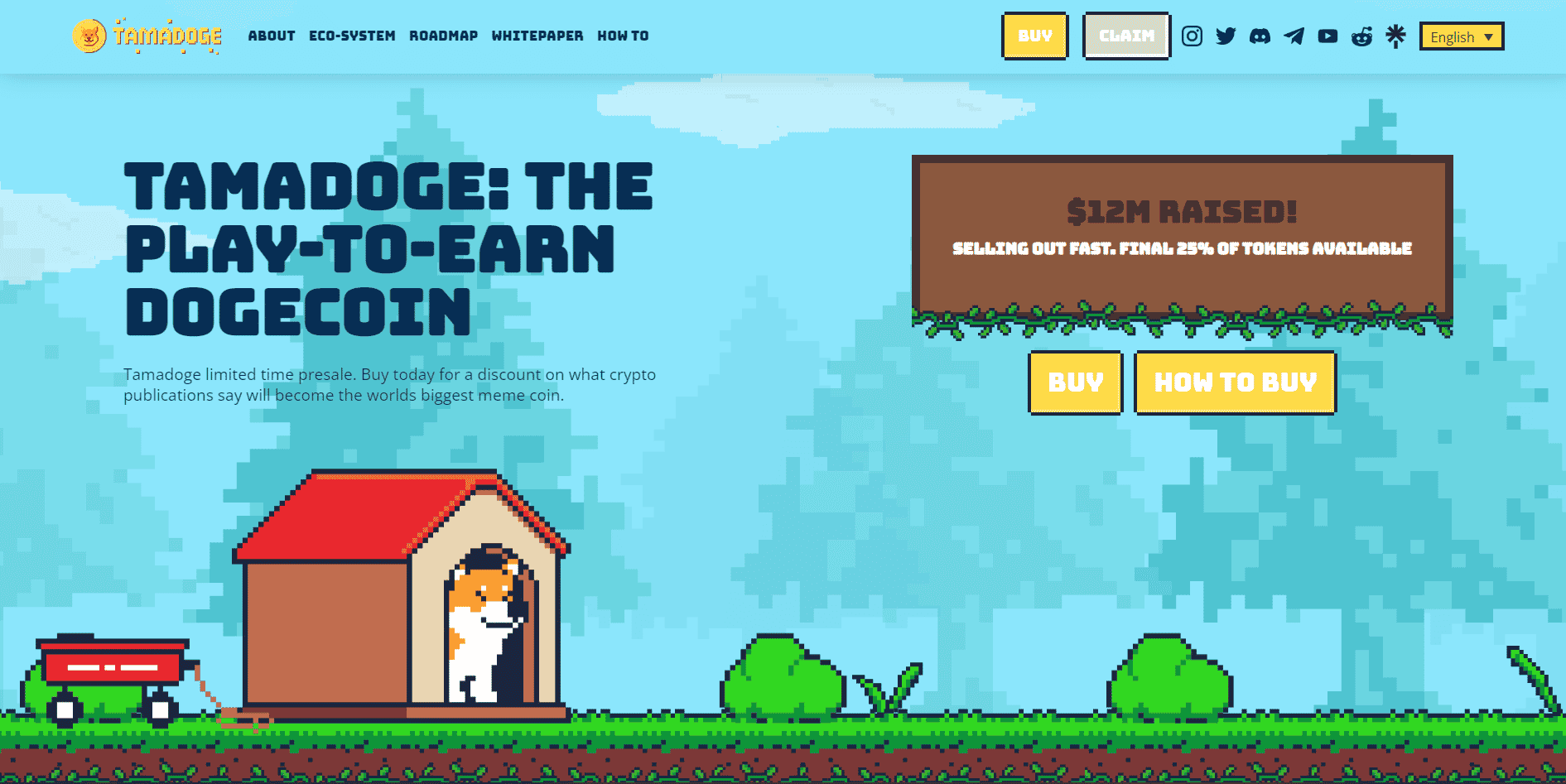 Pros:
Tamadoge is affordable and there is a possibility of immense growth.
Unlike other metaverses, TAMA's ICO will happen out of the crypto winter. Most major cryptos are already rallying from the bearish winter market.
The Tamadoge team are all fully verified by Coinspire. Anti-rug and anti-money laundering policies are fully in place.
Fully integrated web crypto app and beautiful gameplay.
Cons:
TAMA's future price is still quite speculative
Tamadoge is now available to buy on the OKX exchange.
The value of cryptocurrencies may go down as well as up. Your money is at risk.
SandBox
Imagine having a $4 million investment in real estate. Well this may be possible by investing in virtual real-estate. SandBox is the poster child for virtual estate and metaverse economics, with absolutely stunning figures, competition from Decentraland and Meta, and a promise of a new world where players have voting rights on the project's direction. SandBox land parcel sells, and Republic Realm, an investment firm, coughed up more than $5 million to purchase Land in the metaverse.
SandBox, like every other virtual estate, suffered in the bearish winter markets. SAND, its native currency, dropped from an all-time high of $7.91 per token to 0.836004, losing more than 70% of its value. But the metrics are great news—when highly adopted commodities fall to more than 30% of their average price—and even further, they can only go up.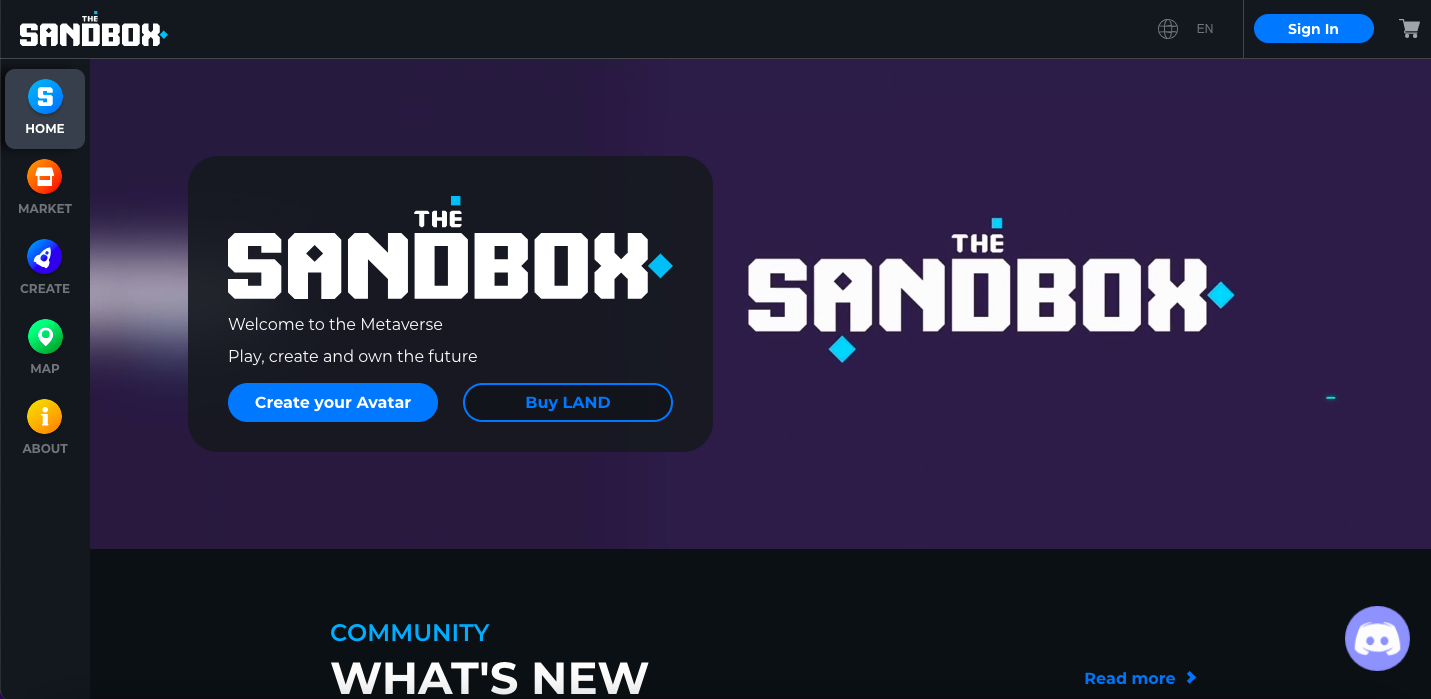 SandBox is an opportunity for NFT lovers and gamers to take control of their investments. Before metaverses like SandBox, gamers held zero voting rights and could not make money from in-game assets. Today, transactions occur in impressive volumes in most metaverses, SandBox inclusive. SAND is already rallying and has grown to a dollar per token.
If Zuckerberg is right, then the metaverse is a world that may see over a billion people adopting and experiencing. Of course, Zuckerberg and Facebook might have serious allegations of privacy infringement, but are they ever wrong with speculations?
Pros:
Anyone investing in SAND right now is most likely buying at a great discount. SAND fell from $7.91 in July 2021 to $0.836 in June 2023 due to the crypto winter. With the token rallying again, it is only a matter of time before it jumps to its previous glory.
You can create your NFT assets and sell in the marketplace.
SAND is highly liquid and can be exchanged for any cryptocurrency in the marketplace.
Cons:
High transaction fees and conversion fees.
Mining fee attached to creating NFTs may be steep.
SandBox bridge may be susceptible to hacking and attacks.
Cryptoassets are highly volatile and unregulated in the UK. No consumer protection. Tax on profits may apply.
Axie Infinity
The Axie Infinity universe is an exciting metaverse and play to earn game that sits on the ERC-20 blockchain. To date, more than $3.6 billion has been traded in the Axie universe, and more that 2.8 million people daily visit the metaverse. Axie Infinity's metaverse includes the ability to create Axies (special metaverse characters) that can battle each other in the arena. With Axies, players can create their formidable team within their properties and build their own fortresses. Axie's Land is still in production and we expect it to be launched soon.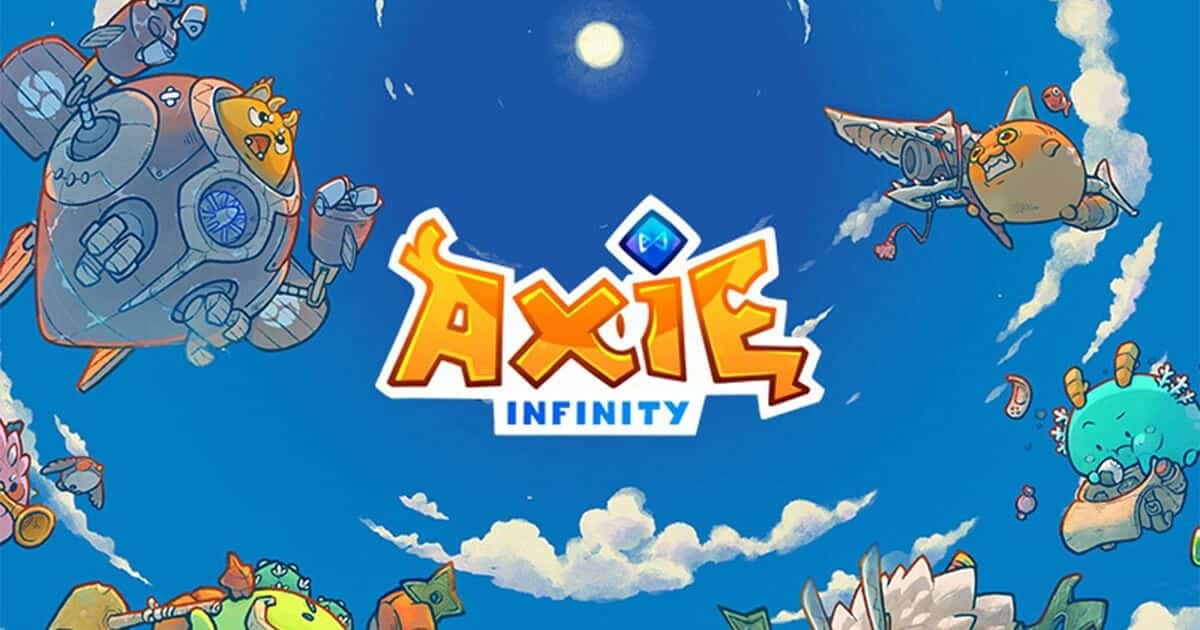 The Axie Infinity Shard, AXS, is the ERC-20 native and governance token of the Axie universe. Users can earn rewards in the Axie universe if they stake their AXS, play various games within the universe, or take part in governance voting. In the Axie Infinity Universe, players are allowed to create, keep, and trade NFT—virtual assets. An AXS token presently sells for $14.47.
Pros:
Investors would be buying AXS at a discount. Just a year ago before the crypto winter, a token was $160.36.
Axie has parameters in place to ensure that the value of the AXS remains intact. Such parameters include disallowing dumps.
You can make money from staking your AXS holding in a staking pool and earn dividends every month.
AXS and the Axie Infinity metaverse creates and recreates virtual assets on the ERC-20 blockchain; hence, the game's security is incredibly solid.
Cons:
Price increase may be speculative for the short run.
Like other cryptos, AXS is subject to daily swings, making it easy for day traders to lose their investments.
Cryptoassets are highly volatile and unregulated in the UK. No consumer protection. Tax on profits may apply.
CryptoKitties
CryptoKitties is an NFT marketplace and a blockchain-based 3D game where users can create collectibles and earn amazing rewards, including the in-game currency. Released in 2017, CryptoKitties have become quite popular, thanks to the cute overload of the NFT characters.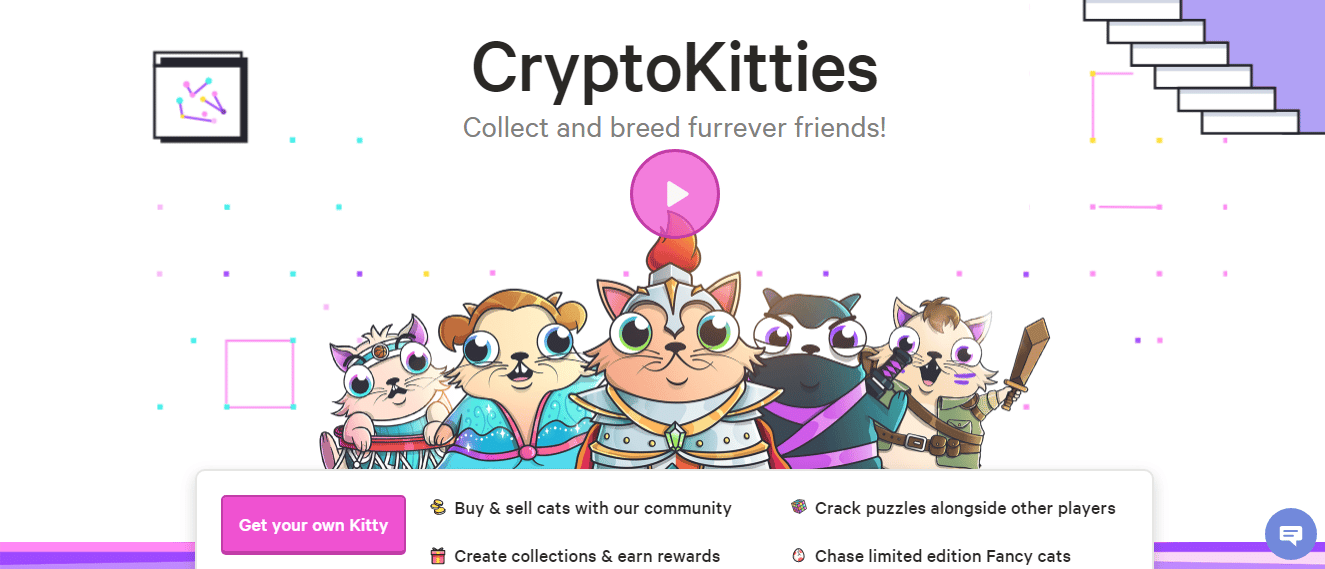 The founders of the game developed the metaverse to house different cats, from the normal edition, to fancy, special and exclusive editions. CryptoKitties users can own kitties, breed them and sell them in the marketplace. Till date, Dragon, a CryptoKittie breed is the most expensive CryptoKittie ever sold in the crypto nft app marketplace. Dragon sold for 172,000 dollars.
CryptoKitties accept PayPal and Credit/Debit card for payment for the Kitties, and the metaverses uses ethereum as a means of payment.
Pros:
Viable and tight-knitted community of cat lovers.
Since launching in 2017, CryptoKitties has enjoyed unprecedented success, including adoption by tons of players.
Over 34 tools and games available in the CryptoKitties metaverse.
CryptoKitties are simply beautiful collectibles and excellent digital arts.
Cons:
Digital assets like CryptoKitties tend to suffer the most during crypto winters due to a perceived lack of intrinsic value.
Cryptoassets are highly volatile and unregulated in the UK. No consumer protection. Tax on profits may apply.
How To Invest In Launchpad XYZ – The Best NFT Project To Watch
1. Create a crypto wallet
To Invest in Launchpad XYZ, you first need a wallet. In this case, we will use the Metamask wallet. Metamask is a browser extension and supports Chrome, Firefox, Microsoft Edge, and Brave. You can also download the wallet on Google Playstore and the Apple app store for mobile.
To set up,
Visit the metamask.io website and install the extension for Chrome (let's use chrome for this tutorial. Once you click on 'Install for Chrome,' a window should pop up asking if you want to add Metamask. Click 'Add Extension.'
On the new tab that appears, click Get Started > Create a New Wallet.
Agree on the usage data permission to continue the signup process.
Create a password.
Watch the 2-minute video on how to secure your wallet with a secret recovery phrase. A secret recovery phrase is a group of 12 randomly chosen words. Without this phrase, you cannot access your metamask account.
Once done with the video, proceed to generate your recovery phrase.
Confirm your secret phrase.
Do not ever share your secret phrase with anyone, and keep the phrase in a place you cannot lose it. Once you confirm the phrase, you will receive a welcome message. Once you are in, you can now use your wallet to purchase BNB.
2. Buy BNB from eToro
Head over to the eToro trading platform and sign up. If you already have an account with eToro, log into your account and buy the BNB equivalent of the LPX currency you need. You should also consider trading fees.
Don't invest in crypto assets unless you're prepared to lose all the money you invest.
3. Deposit BNB into crypto wallet
To deposit BNB into your metamask from your eToro wallet, under BNB, hit send. Then, copy your metamask wallet's address, fill it into the eToro address request box, and send. At this point, you would have successfully sent your eToro BNB to your Metamask wallet.
4. Connect crypto wallet to PancakeSwap
Go to the Launchpad XYZ website and click on Buy LPX. Next, you will be sent to the PancakeSwap website where you can buy LPX. On PancakeSwap, hit Connect Wallet and select Metamask, if you use a PC. Select Trust Wallet if you are on mobile.
5. Swap BNB or ETH for LPX
Input your BNB, and the system will automatically provide the LPX equivalent. Click Buy LPX and confirm the transaction on your Metamask wallet.
What Is An NFT App?
An NFT app is an app in which users can interact with NFTs- this could be through purchasing them, using them to play games or supporting the development of NFT projects. The phrase, NFT app, is encompassing. An NFT app can be an NFT marketplace like OpenSea. It can also be an ecosystem or metaverse where people can create their NFTs, trade them in marketplaces, and earn rewards for tasks performed by their NFT characters. For example, Doge Pets are NFTs that can be created and bred in the Tamadoge world. These pets exist within the Tamadoge ecosystem and cannot exist outside the ecosystem.
Today, there are about half a dozen incredible NFT app UK, from SandBox to Decentraland, Axie Infinity, Tamadoge, and Battle Infinity. Each NFT app has its strengths and uniqueness. Some have characterized 3D architecture, and others thrive as 2D ecosystems. As a result, we have digital arts like the Tamadoge and the Cryptokitties that are immensely cute—yes, cute sells, and then SandBox houses some of the world's most expensive parcels of land.
What Are The Benefits Of Investing In NFT Crypto?
Investing in NFTs can be very beneficial financially. First, the market is booming, and the potential for growth is limitless. For example, investing in the gameplay of metaverses like Axie Infinity and Battle Infinity is a lot of fun—and you get to make money from it. Staking your native currency in metaverse pools will also earn you a solid profit.
Metaverse NFTs give intrinsic value—you earn, and you own digital properties that are yours (until you sell them). It's like owning properties like lands. Virtual estates are also an excellent investment. For people with deep pockets, buying NFT lands in strategic places like social hubs or lands surrounding SandBox's major partners can yield exponential future profits. Just like in real life, it's all about traffic, and buying a parcel of Land close to a virtual concert hall would mean there would be a lot of traffic around your property, and you can make money on rent or outright sale.
Understanding the value of NFTs is paramount to making a profit. Of course, not every NFT will result in a mega sale; however, strategically buying NFTs with futuristic value can lead to more than 200 times price increase in a couple of years.
Beyond buying from metaverses, you can also invest in creating your own NFT collectibles and listing them on NFT marketplaces and NFT apps or metaverse apps. To do this, you can either create your NFT collectible in a metaverse like Tamadoge. Taking this route, you can create your doge pet to be beautiful, strong, and powerful, conquer many other pets and list it for sale in the marketplace. The idea is to create value around what you have. Another route would be to create a digital asset and list it as an NFT in a neutral marketplace.
Before diving into NFT app UK, take your time to understand how NFTs work and how you can invest wisely and solidify your portfolio.
Cryptoassets are highly volatile and unregulated in the UK. No consumer protection. Tax on profits may apply.
What Are NFT Apps Used For?
NFT apps house the technology needed to create, store, and transfer NFTs. Contrary to many people's opinions, Metaverses do not exist on blockchain technology; instead, metaverses exist in the private servers of companies. When you buy an NFT, a transaction is recorded on the corresponding blockchain. The transaction is your proof of purchase and the seller's proof of sale. The transaction is open for all to see, and everyone can track the ownership line of the NFT.
NFT apps are ecosystems within which NFTs thrive. For example, in the SandBox, when you buy a parcel of land, you get more than that parcel. You get the resources needed to plow the parcel. You can plow for rare gems in metaverses like Axie Infinity. You can also build on your property. You can buy adjoining parcels of land and form an estate. The creation possibilities in metaverses are endless, and all of these possibilities are stored in NFT application server centers.
What Is The Best Platform To Invest In NFT Apps?
To be honest, every platform on our list is incredible. Before choosing the best NFT app UK, you must determine what you want and what works for you. If you are a gamer looking to explore the experience of metaverse gaming, Tamadoge, CryptoKitties, Axie Infinity, and Battle Infinity works well. If you love the idea of real-life games turned into digital art and the idea of playing basketball within the metaverse, go for Battle Infinity. When it comes to gaming and the surreal experience of what it's like to communicate and compete endlessly in a new world, Battle Infinity is the brightest promise.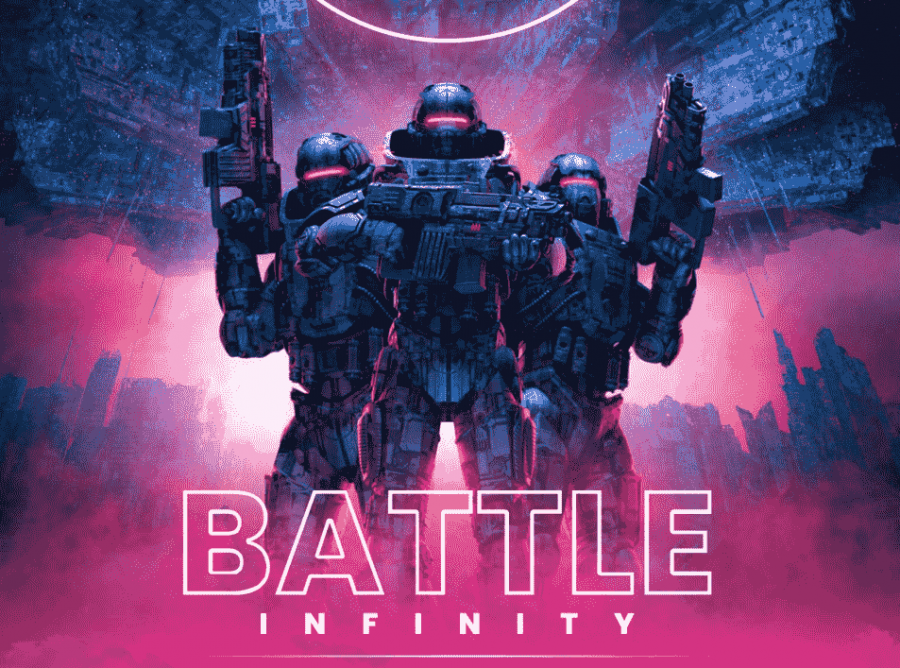 If you want to invest in a parcel of land, build on your virtual estates and have a portfolio of lands in viable locations, invest in SandBox. You can also invest in their native tokens. Battle Infinity just concluded its presale season, and it's going into an Initial Coin Offering—it's a perfect time to buy the coin at a cheaper price. You never know what will happen after an ICO. Axie Infinity and SandBox saw the worst of the winter market but are rallying, so it's a perfect time to invest in them. It may take a year or more for these coins to rally back to their highest market value, but a year to five years is only a small price for a coin that can increase more than 2000 times its market value.
Again, with cryptocurrencies and NFTs, you never know, so it is important never to invest more than you are willing to lose.
Best NFT App UK- Our Conclusion
Our overall best NFT app UK is Launchpad XYZ. Launchpad XYZ is set to revolutionize the fantasy game ecosystem. Its revolutionary NFT marketplace will change the way we see the NFTs and investors and creator alike will enjoy its excellent platforms. We expect immense user adoption and upward growth of the LPX token.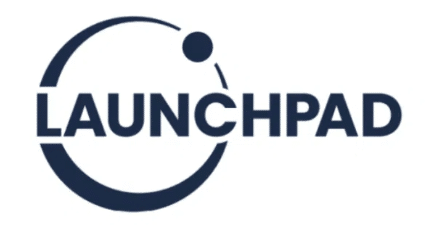 Your investment may go down as well as up in value. Cryptocurrency is not regulated in the UK.
FAQs
What is the best nft app to invest in?