eToro App Review 2023 – Fees, Features, Pros & Cons Revealed
Disclosure
Everything you read on our site is provided by expert writers who have many years of experience in the financial markets and have written for other top financial publications. Every piece of information here is fact-checked. We sometimes use affiliate links in our content, when clicking on those we might receive a commission – at no extra cost to you. By using this website you agree to our terms and conditions and privacy policy.
**Below content does not apply to US users  
If you're looking for a leading stock app that allows you to buy stocks in a simple and cost-effective manner, you might want to consider eToro. In doing so, you will be joining 12 million global users.
Crucially, not only is the eToro stock app home to over 1,700+ stocks across 17 international markets, but you can invest without paying a single cent in commission.
In this review, we cover everything there is to know about the eToro app. This covers key metrics concerning fees, commissions, tradable stocks, regulation, customer support, and more.
Tradable assets

Stocks, CFDs, forex, cryptocurrency, ETFs, indices, commodities. 

Pricing 

0% commission on stocks and ETFs, tight spreads on CFDs and cryptos.

Non-trading fees

No deposit or account fees.

Security

Regulated by FCA, CySEC, ASIC, FINRA. 

Additional benefits

Copy trading (CopyTrader & CopyPortfolios), eToro Money Crypto Wallet, Fully fledged mobile trading app, Fractional share trading, 

Buy cryptos, stocks, ETFs from as little as $10. 

Minimum  deposit

$10 for UK and US traders.
eToro is a multi-asset investment platform. The value of your investments may go up or down. Your capital is at risk. Your capital is at risk. Other fees apply. For more information, visit etoro.com/trading/fees. 
What is eToro?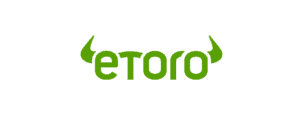 Launched in 2007, eToro is an online brokerage firm. The platform is now home to over 12 million users – an incredible feat is less than 13 years of trading. On top of its online platform, eToro also offers a fully-fledged mobile app. This is available across iOS and Android devices, and is available to download free of charge from your respective app store.
If you don't have one of the aforementioned operating systems, you can still use eToro on your phone. But, you'll need to do it through your standard mobile web browser. In terms of what you can trade at eToro, the broker has two main offerings. Firstly, you can buy stocks, ETFs, and cryptocurrencies in the traditional sense.
This means that you retain full ownership of the asset until you exit the position. Secondly, eToro is also home to CFDs. This includes indices, hard metals, energies, and more. As such, you also have the option of applying leverage and short-selling. One of the key attractions of eToro is that it allows you to buy stocks without paying a single cent in commission.
There are no monthly or annual fees to contend with either. This makes eToro one of the most cost-effective stocks apps available. Additionally, eToro is popular for the ease in which you can get started. There is no requirement to have prior stock market knowledge, as the application is super user-friendly. eToro is heavily regulated, including licenses with the FCA, CySEC, and ASIC.
What Stocks Can You Trade on the eToro App?
Our eToro review found that this stock app is home to an extensive library of assets. In total, you will have access to over 1,700 stocks across 17 international markets.
Each stock exchange hosted by the app is listed below.
Amsterdam
Brusells
Copenhagen
Frankfurt
Helsinki
Hong Kong
Lisbon
Madrid
Milan
NASDAQ (US)
NYSE (US)
Oslo
Paris
Saudi Arabia
Stockholm
Zurich
The vast majority of stocks available at eToro are hosted across three key exchanges. This covers the NASDAQ and NYSE in the US, and the London Stock Exchange in the UK. As such, whether it's Alphabet, Apple, Amazon, Facebook, IBM, Disney, Netflix, HSBC, British American Tobacco, Robinhood, or BP – eToro has you covered.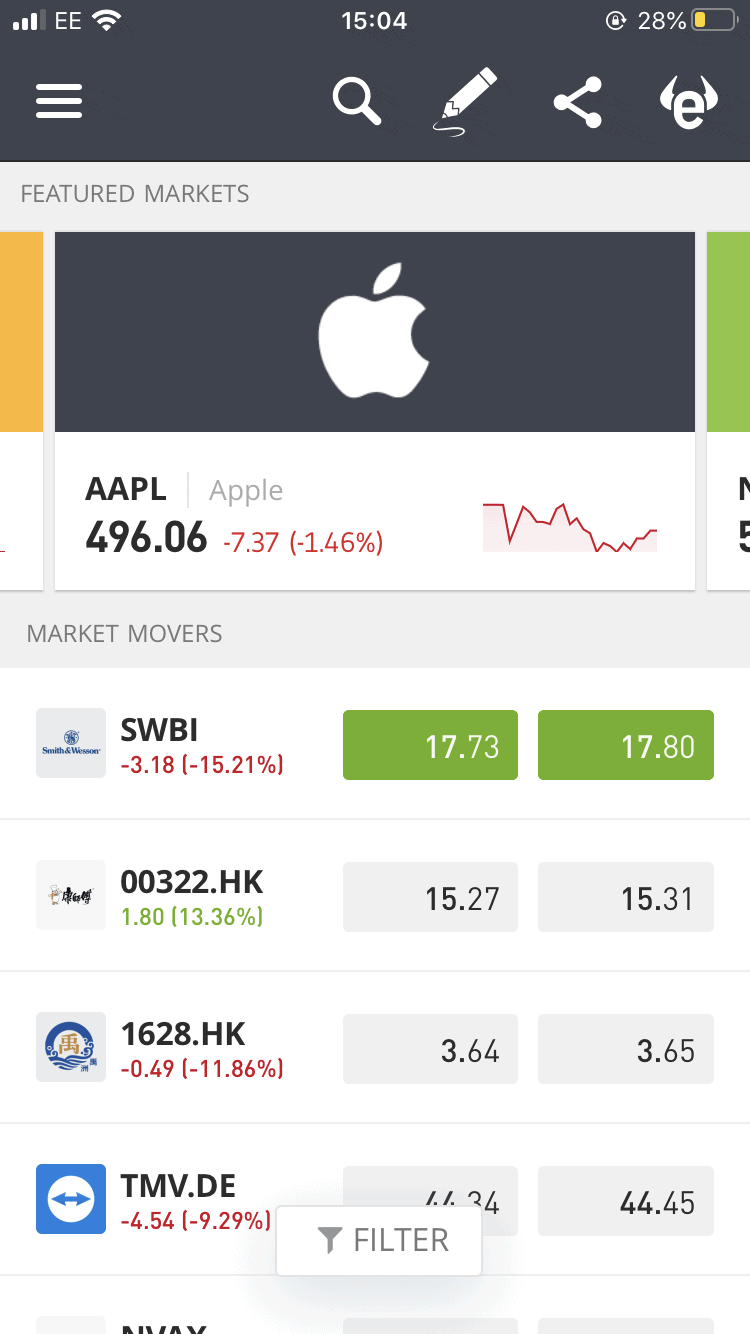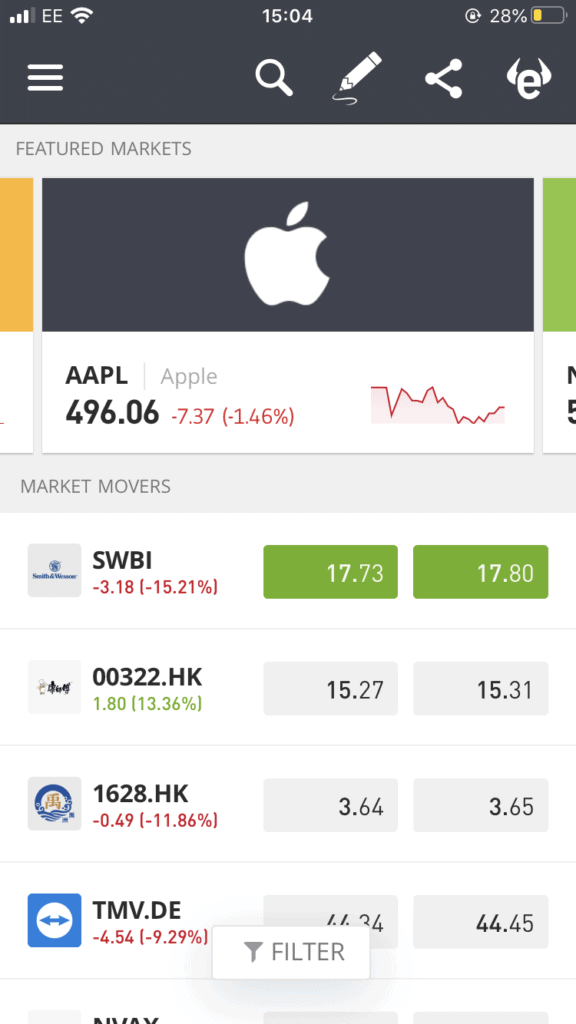 When it comes to finding your preferred stock, you can either search for it or browse the main library. You can filter down by the exchange or sector/industry that the company operates in. Once an investment is made, dividends will be paid directly into your eToro account, if applicable.
It is important to note that the stock library at eToro can be accessed via traditional stocks or CFDs.
If you place a buy order and do not apply leverage, you will be investing in the underlying stock
If you short-sell the stock, you are trading CFDs
Irrespective of whether you are long or short – applying leverage will mean that you are trading CFDs
Everything is facilitated via the same trading platform – meaning that you don't need to navigate between a share dealing and CFD trading account.
ETFs
ETFs are hugely popular with stock investors of all shapes and sizes. This is especially the case if you are just starting out in the world of stocks. After all, the ETF provider will choose which stocks to buy and sell, and when. ETF baskets often contain dozens of stocks from multiple sectors, so they are also useful for diversifying at the click of a button.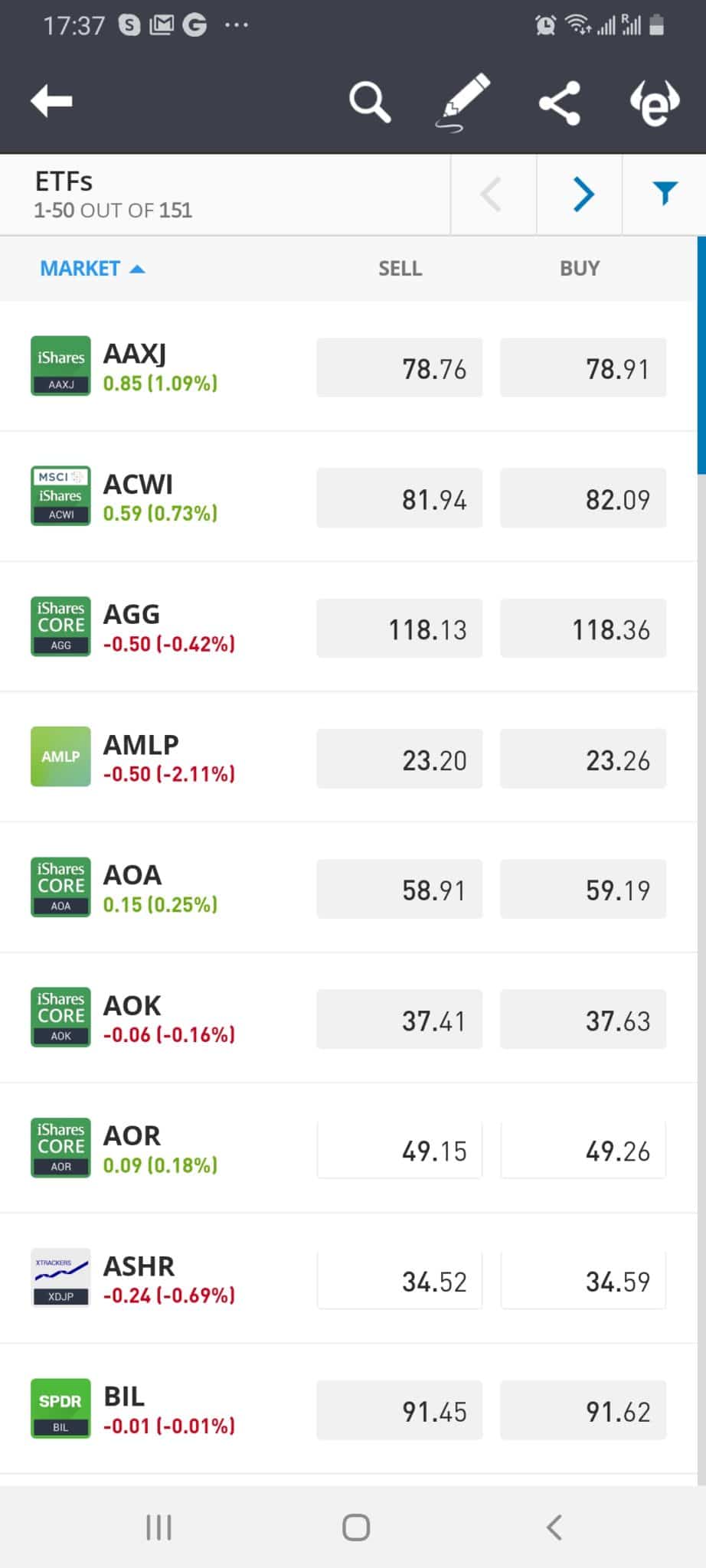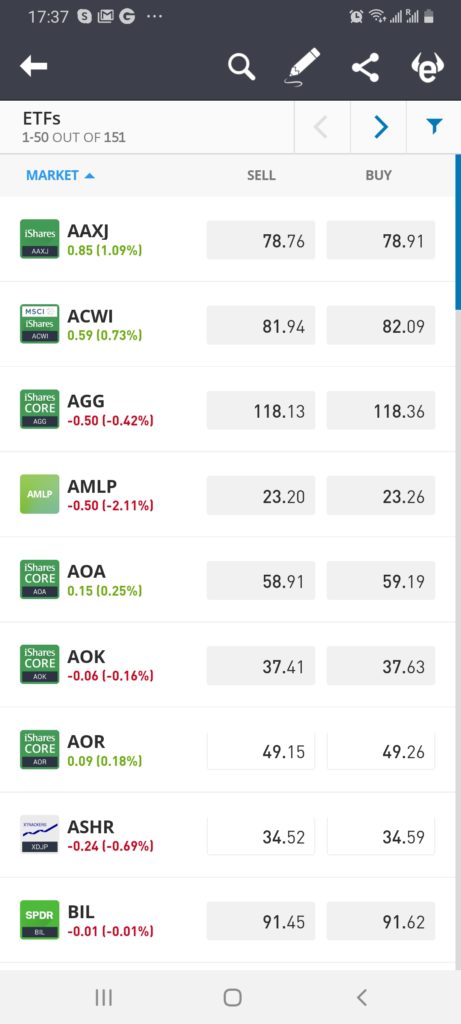 With this in mind, eToro gives you access.to over 150 ETFs. This includes heaps of sectors, objectives, and asset classes. For example, if you want to invest in all 500 companies that make up the S&P 500 Index, you can do this via a SPY ETF.
Much like traditional stocks, you will be entitled to dividends as and when they are paid.
Other Asset Classes
Although most investors at eToro prefer to stick with stocks and ETFs, there might come a time where you wish to access other asset classes.
Below we briefly outline what else the stock app has to offer:
Cryptocurrencies: Other than stocks and ETFs, cryptocurrencies are the only other asset class than can be purchased in the traditional sense. This means that you can buy coins like Bitcoin, Ethereum, and Ripple and retain full ownership. Additionally, you can also trade cryptocurrency CFDs. This covers both fiat-to-crypto and crypto-to-crypto pairs.
Indices: eToro allows you to speculate on the future value of 16 indices. This includes the Dow Jones, NASDAQ 100, FTSE 100, and France 40, eToro also had a wide range of investment funds.
Commodities: You will have access to 19 commodity CFDs at eToro. This covers hard metals like gold and silver, as well as oil and natural gas. Several agricultural commodities are supported, including sugar, wheat, and cocoa.
Forex: If you fancy dabbling in the currency trading scene via the eToro app, the platform supports dozens of pairs. This includes a good selection of majors and minors, and several exotics.
As we discuss in more detail later on, each and every asset class at eToro can be traded with leverage.
eToro Account Types
Unless you are a professional trader, you will be given a retail client account by default. This allows you to buy, sell, and trade assets at the click of a button.
The only key difference with the professional account is that you will be offered higher leverage limits. eToro will ask you to submit a number of documents if this is something you are looking at.
eToro Fees & Commissions
As we briefly noted earlier, eToro is one of the most cost-effective stock apps in the space. Ultimately, this is because the broker allows you to buy and sell stocks and ETFs without paying a single cent in commission. There are no monthly or annual fees, either.
This means that you can hold on to your investments for as long as you wish – and not get hammered with fees. This is in stark contrast to other brokers active in the space – who often charge a flat commission for each trade that is placed. Some will even charge a periodic maintenance fee that you need to pay irrespective of whether or not you trade.
eToro Spreads
Much like all stock apps in the market, eToro also charges an indirect fee known the the 'spread'. Put simply, this is the difference between the buy and sell price of a stock.
This can vary quite considerably – as it usually depends on what stock exchange you are targetting and whether or not you are trading during standard market hours.
With that being said, we find that in most cases – the spreads at eToro are very competitive.
CFD Trading
If you plan to trade CFDs at eToro, then you will also benefit from commission-free trades. However, you will need to factor in overnight financing fees. For those unaware, overnight financing is always charged when you trade CFDs. It operates like interest, and is charged for each day that you keep the position open. In this respect, eToro is no different.
The fee that you pay will ultimately depend on:
Whether or not you applied leverage
What asset you are trading
The size of your position
The good news is that eToro clearly displays how much you will be charged when you set up the order. The fee is displayed in dollars and remains constant for each day that the position remains open. You sometimes need to pay a premium for keeping the position open over the weekend, too. This is why CFDs are more conducive for short-term trading.
To give you an idea of the kind of fees you will need to pay to trade stock CFDs, check out the example screenshot below.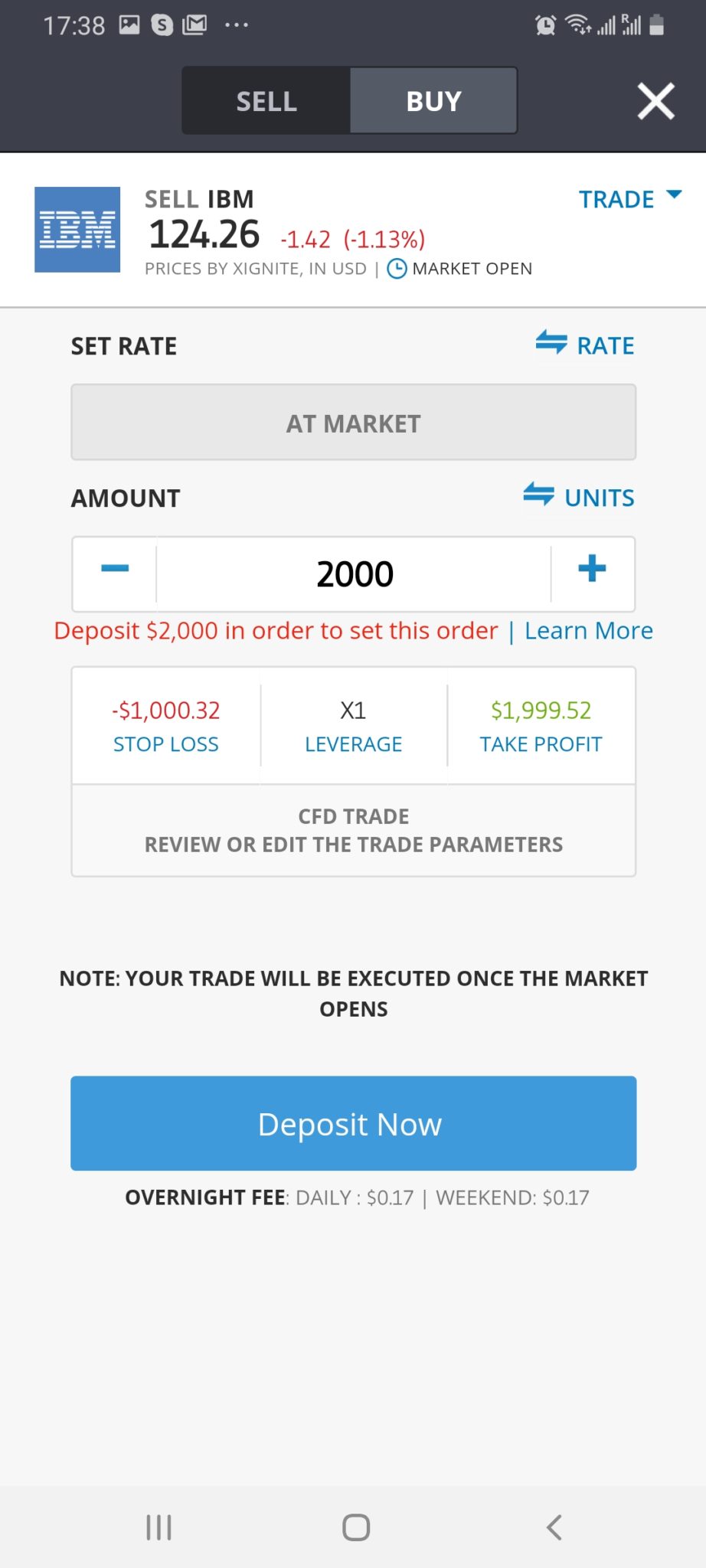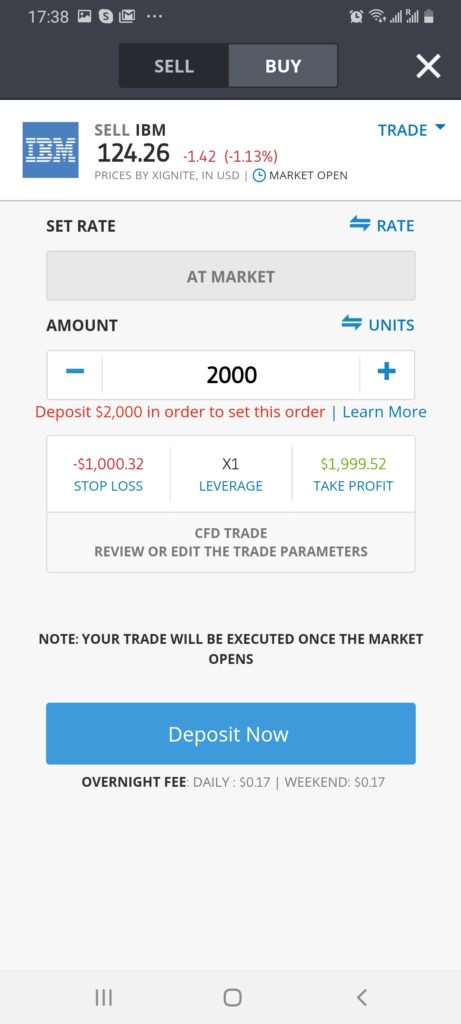 As you can see, we are looking to short-sell IBM stocks.
We are staking $2,000 in total without any leverage.
eToro informs us that by placing the order, we will pay a daily fee of $0.17.
This is also the fee over the weekend, meaning that there is no surcharge.
The $0.17 fee will be deducted from our margin account until we exit the position.
Once again, you simply need to open up an order form and enter your trading parameters to see what fees will be applicable.
Non-Trading Fees
On top of the core trading fees listed above, our eToro app review found that there are other charges that we need to bring to your attention. These include:
Currency Conversion Fee: If you intend on depositing funds in a currency other than USD, then you will need to pay a small conversion fee. This stands at 0.5%. For example, depositing £1,000 would result in a £5 fee. Similarly, a €500 deposit would attract a fee of €2.50.
Inactivity Fee: If your eToro account remains inactive for a period of 12 months, a $10 fee will apply. This is charged every month until you place a trade or the account balance goes down to zero. Take note, if you have a long-term position on stocks, ETFs, cryptocurrencies – or any asset class for that matter, your account will not be classed as dormant.
Other than the above, there are no offers fees at eToro that you need to be made aware of.
eToro App User Experience
Newbie investors are sometimes put off by stock apps because they think the trading experience will be cumbersome. After all, you will be making financial decisions on a much smaller screen. An incorrect click could, therefore, be disastrous. However, this is something that you do not need to worry about when using the eToro stock app.
This is because the application is simple, clean, and extremely concise. Most importantly, whether you are using Android or iOS – the app has been designed specifically for your operating system. This means that you will enjoy a super user-friendly trading experience.
As you can see from the below, you can scroll through the stock library with ease.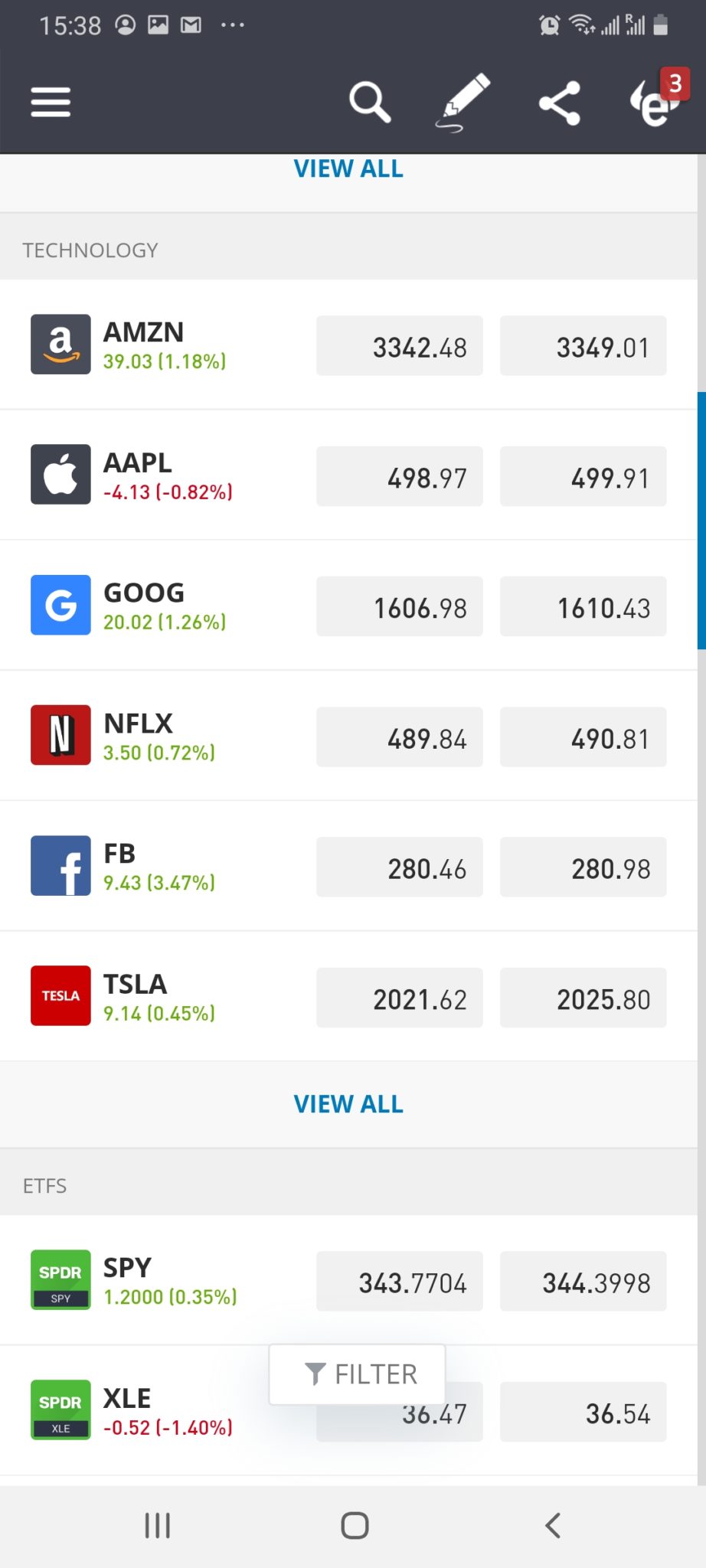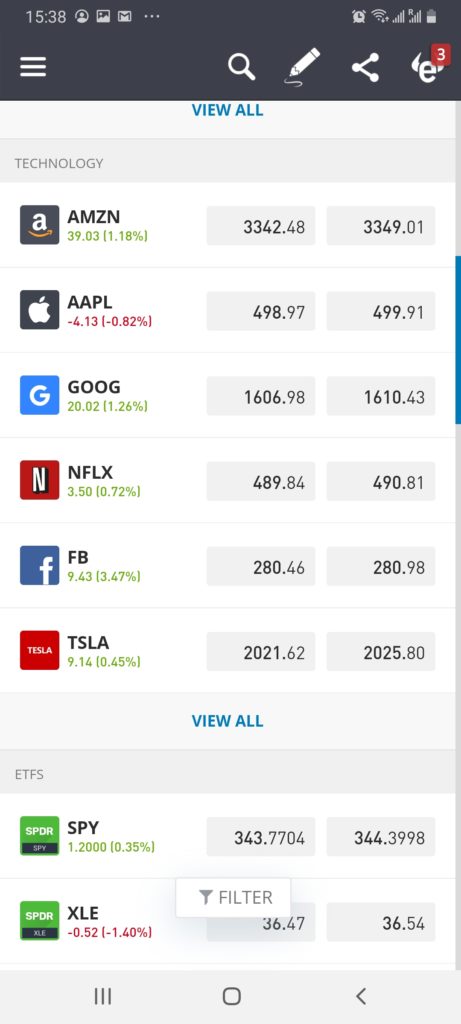 Our eToro review found that you can even perform chart analysis through the app. As per the below, everything has been fully-optimized to ensure a smooth and simple trading experience.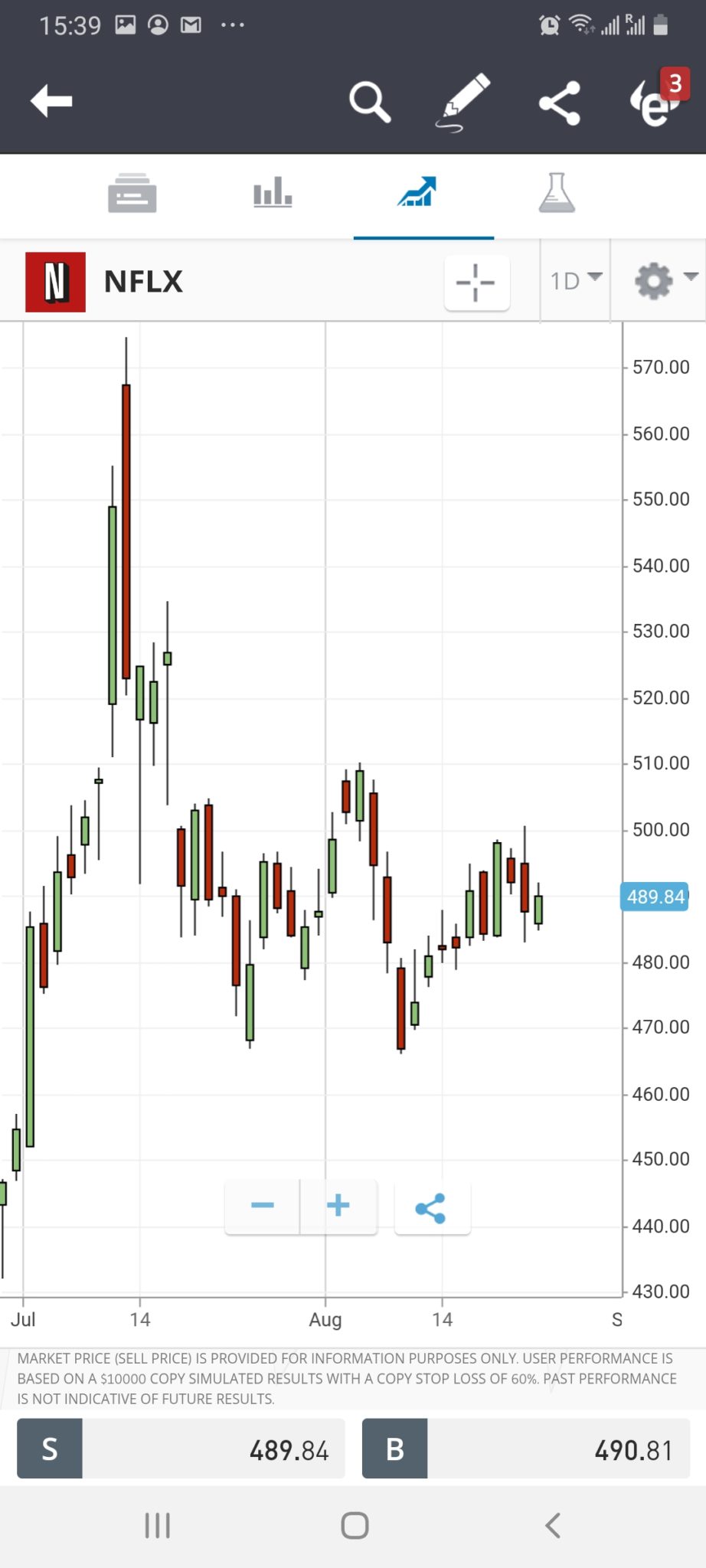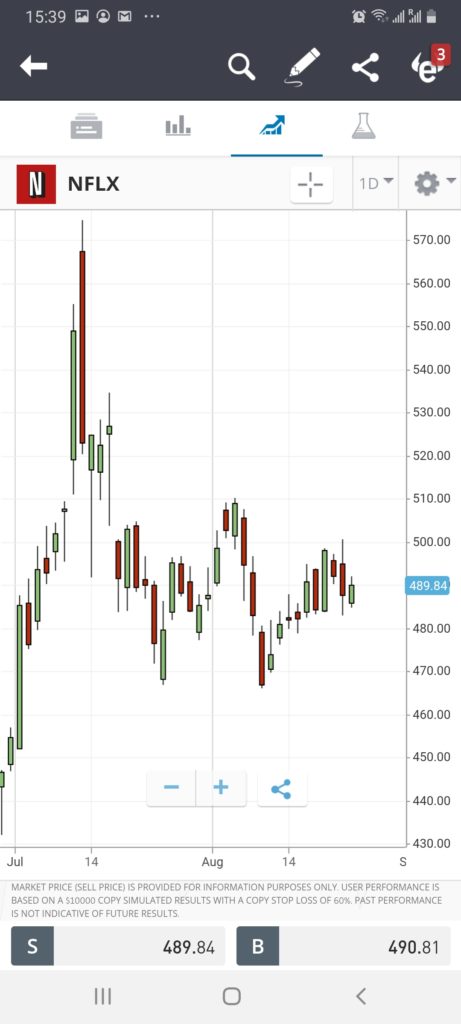 All in all, having a small screen will not hinder your ability to trade and invest when using the eToro app.
eToro Trading Tools and Features
So now that we have explained the eToro stock app with respect to tradable assets, fees, and user-friendliness, we now need to look at what tools and features you will be accustomed to.
Copy Trading
For us, the stand-out feature available on the eToro app is its Copy Trading option. Put simply, this allows you to trade in a passive manner by selecting an investor that you like the look of, and then copy their trades like-for-like.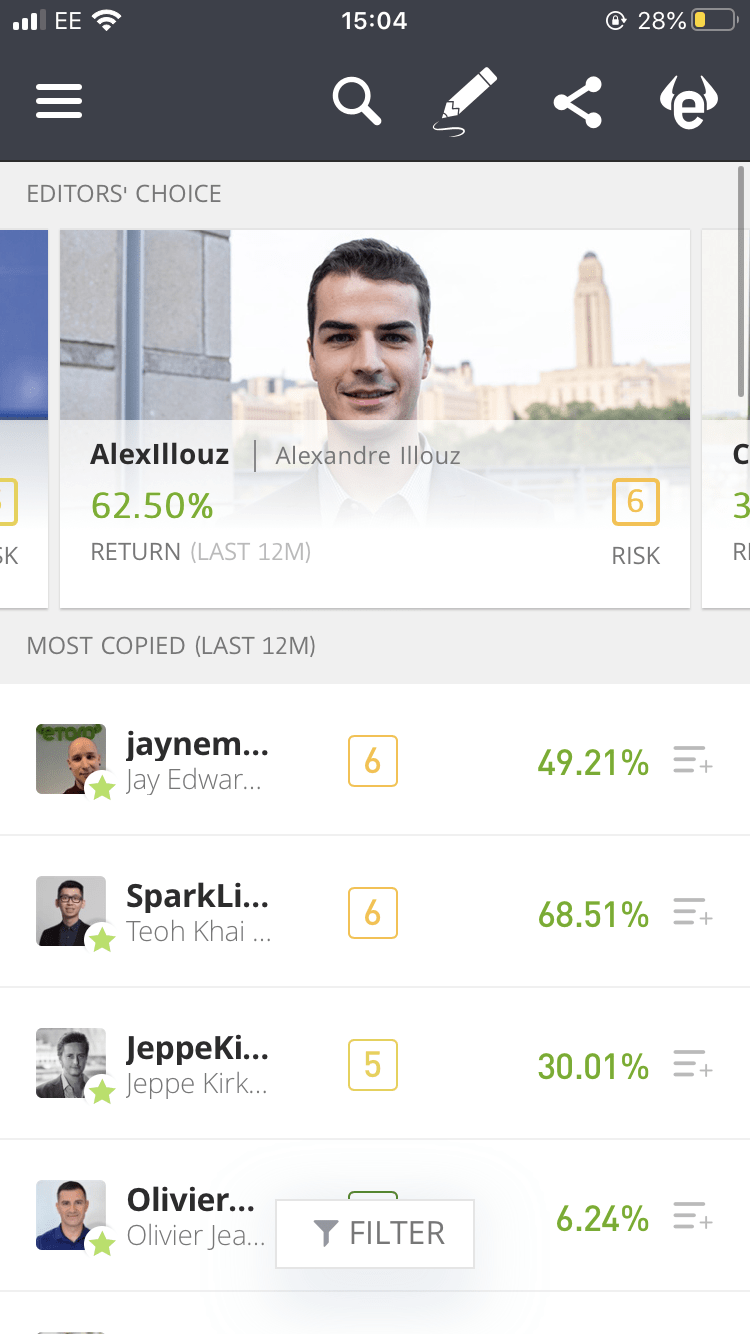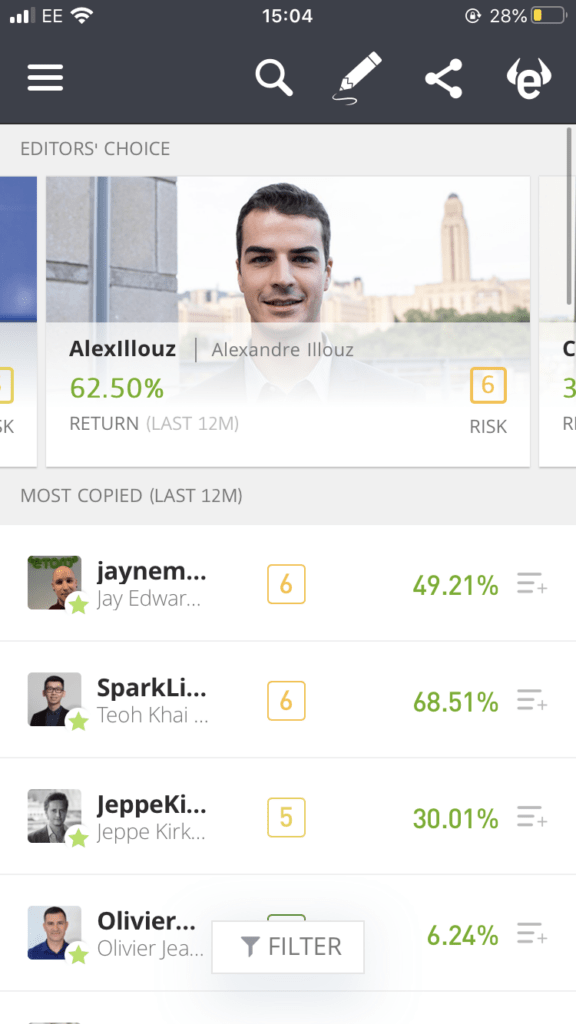 There are thousands of verified copy traders to choose from, so you should have no issues finding an investor that best meets your long-term investing goals.
Some of the metrics that will help you find an expert stock investor includes:
Historical monthly return on investment (in percentage terms)
Preferred asset class (such as stocks)
Risk rating
The average length of time a position is kept open for
Whether or not the trader likes to apply leverage
The trader's maximum drawdown
Such a diverse set of metrics ensures that you only pick a copy trader that mirrors your trading objectives.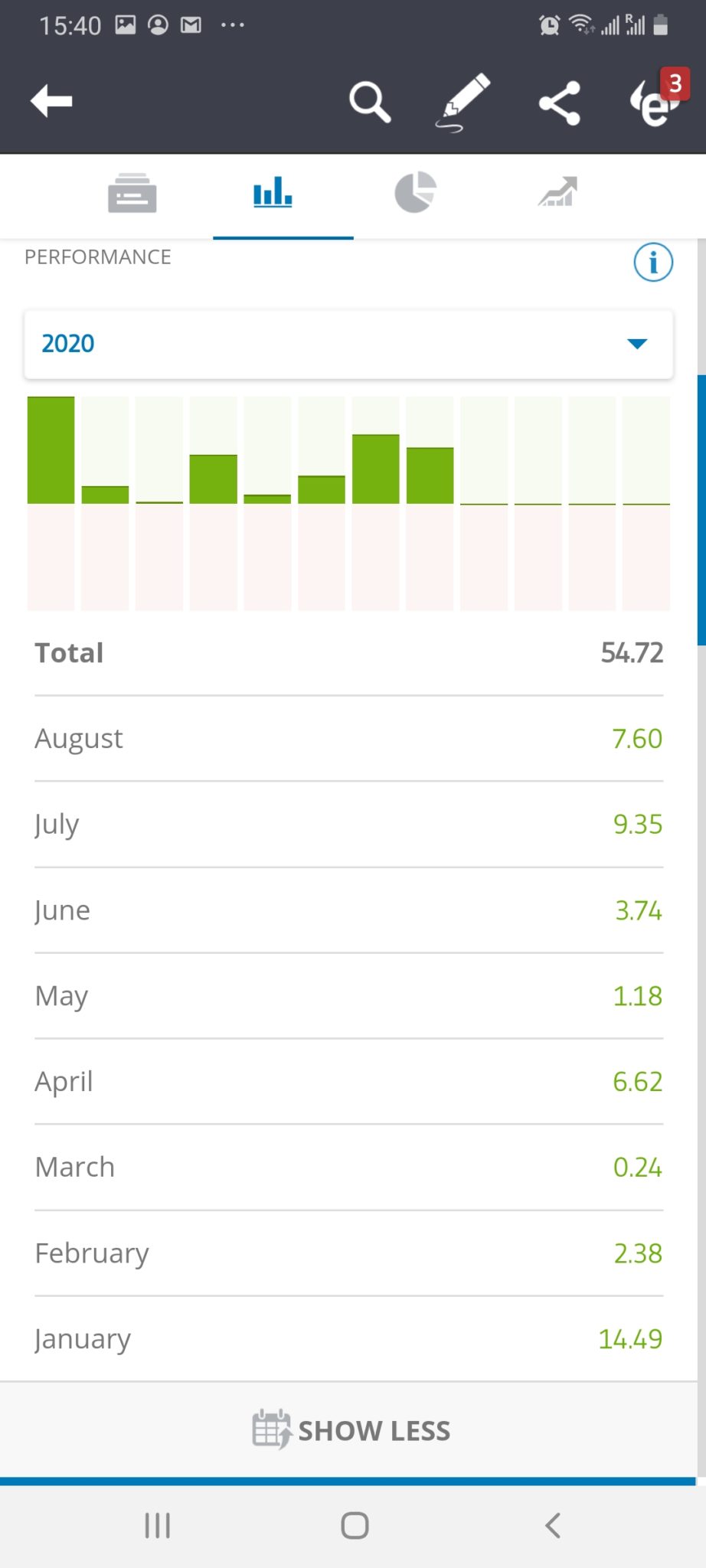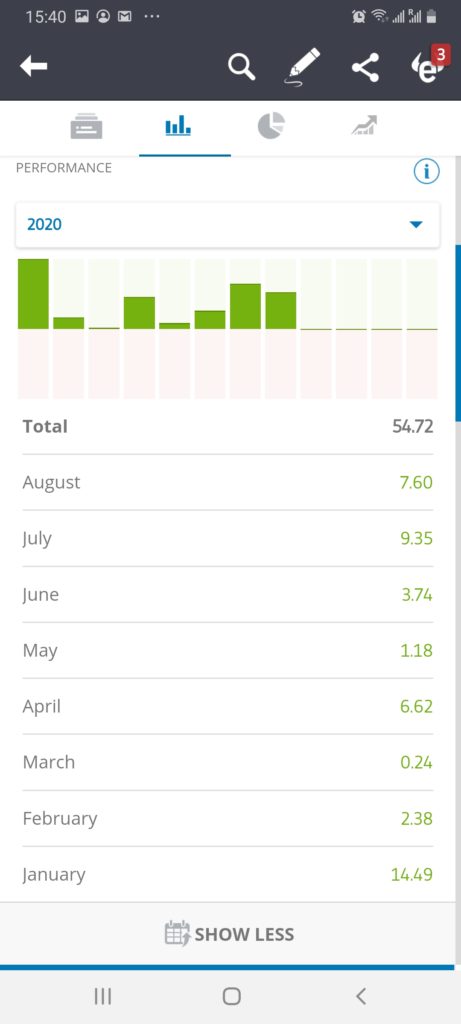 Past performance is not an indication of future results. 
Once you have found a trader that you like the look of, the eToro stock app allows you to make an investment from $10. Baring in mind that the trader is likely to have a much larger amount of trading capital, your portfolio will be weighted in a proportionate manner.
For example:
Let's suppose that the trader has £20,000 worth of stocks in Apple, £10,000 in Disney, and £10,000 in IBM
This means that of their £40,000 portfolio, 50% is in Apple, 25% is in Disney, and 25% in IBM
You decide to invest £1,000 into the CopyTrader
As such, £500 will be placed into Apple stocks (50%), £250 in Disney (25%), and £250 in IBM (25%)
As you can see from the above, it doesn't matter how much capital the copy trader has at their disposal – your portfolio will be weighted to mirror the amount you invest.
Once the portfolio has been mirrored, you can then elect to copy the trader moving forward. For example, if the trader sells their stcks in Apple and then invests in Nike, your portfolio will reflect this like-for-like.
Short-Selling
Short-selling is a hugely popular tool these days, as it allows you to speculate on a company going down in value. In other words, no matter how the wider economy is performing, you stand the chance of making gains. When using the eToro stock app, you can short-sell each and every share that is hosted by the broker.
In fact, you can short-sell all financial instruments on the app. Whether that's stocks, indices, gold, oil, or cryptocurrencies – you can speculate on the asset going down in value at the click of a button. Don't forget, when engaging in short-selling at eToro, you are trading CFDs. This means that you might incur overnight financing fees.
Top Tip: When shorting the wider stock markets – such as the NYSE or NASDAQ – it is much more cost-effective to do this via an ETF as opposed to a conventional index. This is because the associated overnight financing fees are much lower.
Leverage
As the eToro stock app is home to thousands of CFD instruments, you will have access to leverage facilities. This means that you can trade with more money than you have in your account.
Our eToro app review found that the amount of leverage that you have available to you will depend on:
The asset you are trading
Your country of residence
Whether you are a retail or professional trader
The gist of it is as follows – if you are based in the UK or Europe, you will be restricted by the limits imposed by ESMA. This means that you will get 1:5 on stocks, 1:20 on major indices, and 1:30 on major currency pairs. Cryptocurrencies come with the lowest leverage limits at just 1:2.
If you are based outside of the UK/Europe or you are deemed to be a professional trader, you will get much higher limits – especially in the case of the latter.
eToro App Education, Research and Analysis
On top of copy trading, short-selling and leverage facilities, eToro is home to various other tools. This includes a top-notch education department.
Education
The education department at eToro is highly rated. The overarching objective is to turn you into a better stock trader and thus – allow you to have the capacity to research and invest on a DIY basis. In what it calls the 'Learning Lab', this includes super-useful videos, guides, blogs, and more.
The team of in-house traders at eToro also run regular webinars. This will allow you to improve your stock trading knowledge and get to grips with current economic conditions.
Research and Analysis
If there is one department that eToro falls short on, its with regards to research and analysis. In the case of fundamental news, you won't find much at the platform. For this, you are best advised to sign up to a third-party website like Yahoo Finance. By entering the stocks that you have in your portfolio, you will receive real-time notifications when a relevant news story breaks.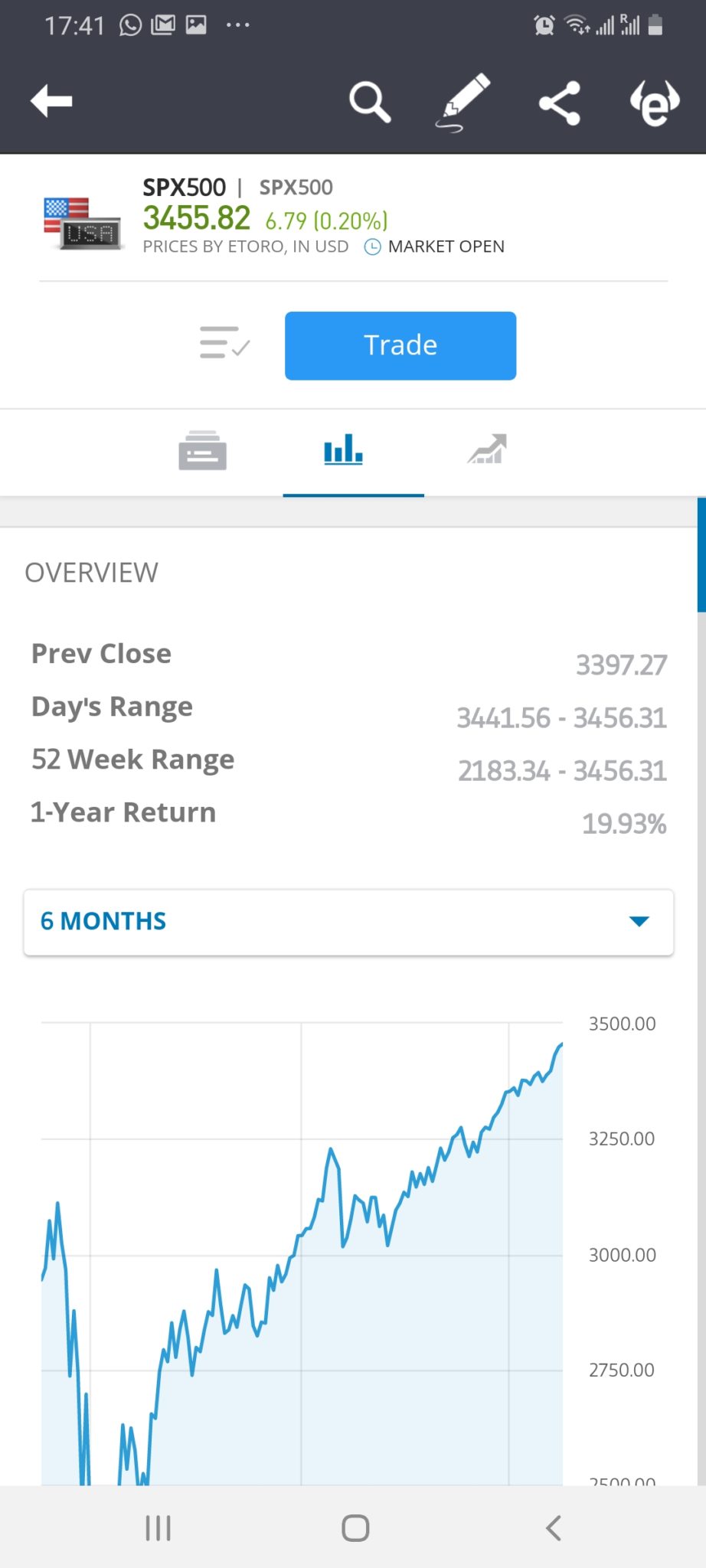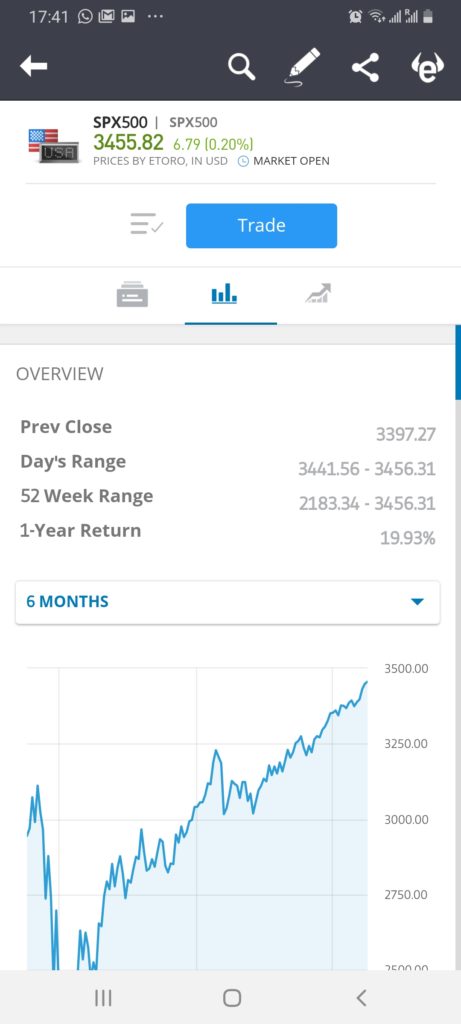 In terms of technical analysis, eToro does provide a number of trading tools and chart reading indicators. However, this is super basic in comparison to what is available elsewhere. You will, however, have access to market sentiment figures. This lets you know whether the wider markets are long or short on a particular stock, which can be useful.
eToro App Bonus
Our eToro review found that this trading app does not offer a sign-up bonus or welcome package of any sort. You aren't really missing out here anyway, as most registration bonuses in the investment space require you to meet huge wagering requirements before a withdrawal is permitted.
You will be able to earn a bonus when you invite friends and family over to the eToro platform, though. This can be online or via the stock app. For each person that you invite, both you are the registrant will receive a $50 bonus. The new user must trade at least $100, and you can invite a maximum of 10 people.
eToro Demo Account
If you are just starting out in the world mobile stock investments, we would urge you to consider the eToro demo facility. eToro is one of the best paper trading apps, because in a nutshell, this allows you to access real-world trading conditions without risking a cent. Instead, you will be given a 'paper money' balance of $100,000. You can then buy, sell, and trade stocks through the stock app in a 100% risk-free environment.
This is beneficial for a number of reasons, such as:
Understanding how stock investments work
Learning how to place buy and sell orders
Testing out new stock trading strategies
Exploring leverage and short-selling
Getting to grips with the eToro stock app trading screen
The best thing about the eToro demo account is that all trading conditions mirror that of the real-money platform. You can access your demo account via the stock app or the main desktop website.
Payments on the eToro Stock App
The payments department on the eToro stock app is a further area that makes the broker stand out from the crowd. This is because you can easily deposit funds with a range of methods.
This includes:
Debit cards
Credit cards
PayPal
Skrill
Neteller
Bank Wire
All of the above payments are processed instantly (apart from a bank transfer), meaning that you can invest in your chosen stock straight away. Although Google Pay and Apple Pay are not supported, using a debit/credit card or e-wallet works in exactly the same way. This is because once the respective payment method has been added to your account, the eToro stock app will save it.
eToro Minimum Deposit
As noted earlier, minimum deposits at eToro start at $10. All non-USD deposits are charged a currency conversion fee of 0.5%.
eToro Contact and Customer Service
If you need to speak with a member of the eToro customer service team, the easiest way to do this is through the live chat feature. You can access this via the eToro stock app, which is great. Alternatively, you can also raise a ticket through the app, albeit, you will need to wait for a support agent to reply. Unfortunately, there is no telephone contact number at eToro.
Is eToro Safe?
Irrespective of which stock app you are thinking about joining, safety should always be your main concern. At the forefront of this is the respective broker's regulatory standing.
In this case of the eToro app, the provider is licensed on three fronts. This includes the UK's Financial Conduct Authority (FCA), the Australian Securities and Investments Commission (ASIC), and the Cyprus Securities and Exchange Commission (CySEC).
This comes with several safeguards that will ensure your money remains secure at all times. For example, eToro is required to keep client funds in separate bank accounts from its own. This means that were the worst to happen and eToro went bust, your money should be safe. Additionally, everyone that uses the eToro stock app must upload identification documents.
How to Use the eToro App
Like the sound of the eToro stock app and wish to getting started with an account right now? If so, we are going to walk you through the process step-by-step.
How to Sell on eToro App
Once you have purchased some stocks, you can offload them at any given time. This does, however, need to be during standard market hours. All you need to do is open your portfolio through the eToro stock app and then select the stocks that you wish to sell.
You can sell some or all of the stocks that you have in your account. This will be executed instantly when opting for a market order, and the funds returned to your cash balance within seconds.
eToro Stock App Pros & Cons
Below you will find an overview of our eToro stock app findings.
Pros
Pay 0% commission when buying stocks and ETFs
Thousands of CFD instruments supported
No monthly or annual maintenance fees
Heavily regulated
More than 1,700+ stocks across 17 international markets
Super user-friendly
Copy trading feature is great for passive trading
Cons
0.5% currency conversion fee when you deposit
Limited research and analysis department
The Verdict
In summary, the founders behind eToro have done an excellent job in creating a stock trading app that ticks most boxes. You will have access to over 1,700 stocks across 17 international markets – all on a commission-free basis. Spreads are competitive and there are no ongoing maintenance fees.
You can also short-sell stocks via CFDs, and even apply leverage. Best of all, the eToro Copy Trading feature allows you to invest in a passive massive. This is perfect if you have no experience in buying stocks. Whether you're looking for the eToro Android app or the eToro iPhone app, you can download it free of charge from your app store or the eToro website.
Overall, there's no doubt eToro offers one of the very best stock apps of 2022. You can get started with eToro right now by clicking on the link below!
eToro – Buy Stocks with 0% Commission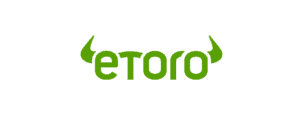 81% of retail investor accounts lose money when trading CFDs with this provider. You should consider whether you can afford to take the high risk of losing your money. 
eToro is a multi-asset platform which offers both investing in stocks and cryptoassets, as well as trading CFDs.
Please note that CFDs are complex instruments and come with a high risk of losing money rapidly due to leverage. 81% of retail investor accounts lose money when trading CFDs with this provider. You should consider whether you understand how CFDs work, and whether you can afford to take the high risk of losing your money.
Past performance is not an indication of future results. Trading history presented is less than 5 complete years and may not suffice as basis for investment decision.
Copy Trading does not amount to investment advice. The value of your investments may go up or down. Your capital is at risk.
Cryptoasset investing is highly volatile and unregulated in some EU countries. No consumer protection. Tax on profits may apply.
eToro USA LLC does not offer CFDs and makes no representation and assumes no liability as to the accuracy or completeness of the content of this publication, which has been prepared by our partner utilizing publicly available non-entity specific information about eToro.
Frequently Asked Questions on eToro
Is eToro available in the US?
What stocks does eToro offer?
Can you short-sell stocks on the eToro app?
Is eToro available on iOS?