Best NFT Apps for 2023 – Buy NFTs on Your Mobile
Disclosure
Everything you read on our site is provided by expert writers who have many years of experience in the financial markets and have written for other top financial publications. Every piece of information here is fact-checked. We sometimes use affiliate links in our content, when clicking on those we might receive a commission – at no extra cost to you. By using this website you agree to our terms and conditions and privacy policy.
Non-fungible tokens (NFTs) are all the rage now. It almost seems like there's someone making money off one NFT or the other. So, it's understandable if you're looking to get in as well. To do so, you should know the best NFT apps that can help you out.
This guide explains how you can access NFTs using some of the best NFT apps available right now.
The Top 10 Best NFT Apps Ranked
Let's begin with some of the best NFT apps available. These NFT marketplace apps make it easy for you to buy and sell NFTs, and they're available to everyone:
Crypto.com NFT: The Overall Best Place to Buy An NFT
Binance NFT: An NFT Marketplace With Cross-Blockchain Functionality
OpenSea: The NFT industry's Premier Marketplace
Rarible: Sprawling Collection of Collectibles
Axie Marketplace: Gaming NFTs At Their Peak
NBA Top Shot Marketplace: Home to Basketball-Loving NFT Fans
Mintable: Great Entry Point for Beginners
SuperRare: Access Single and Multiple-Edition NFTs With a Few Clicks
Nifty Gateway: The Home of Limited Drops
Foundation: A Hotbed for Exclusive Digital Art
The Top NFT Apps Reviewed
Now, let's look into the best NFT apps and what makes them so special.
1. Crypto.com NFT: The Overall Best Place to Buy An NFT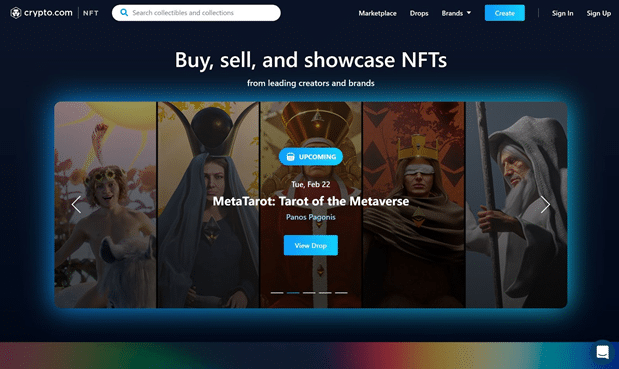 Crypto.com NFT is Crypto.com's way of tapping into the NFT craze, with the exchange hoping to become the world's one-stop shop for anything crypto-related.
Launched in 2021, Crypto.com NFT is based on Crypto.com's blockchain. The marketplace is great for different reasons. For one, you get to enjoy access to different types of NFTs – from art to collectables and more.
Also, Crypto.com NFT stands as our best NFT app because of its healthy selection of creators. Aston Martin Formula 1 team, rapper Snoop Dogg, artist Bosslogic, and many more are just some of the top creators who have launched their NFTs on the platform. Of course, rest assured that you can select through NFT categories if you have something in mind.
In addition, Crypto.com NFT allows you to check the available tokens and collections based on what's hottest right now. So, you can check the bestsellers, adjust the collections based on sales volumes or number of likes and views, etc.
The Crypto.com NFT app charges 15% as seller fees. Secondary reseller fees also stand at 5%. Crypto.com NFT accepts payments using credit cards and cryptocurrencies. These payment options are pretty competitive with the offering available on most of the other best NFT apps.
Pros
Competitive commissions on sales
Easy-to-use platform
Credit card purchases available
Cons
No PayPal purchase option
Cryptocurrency markets are highly volatile and your investments are at risk.
2. Binance NFT: An NFT Marketplace With Cross-Blockchain Functionality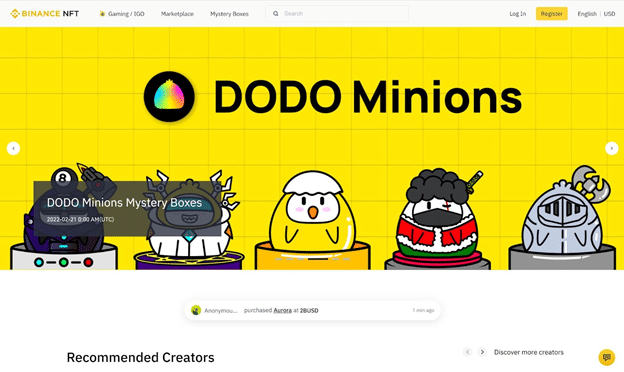 Like Crypto.com, Binance has also shown significant interest in NFTs. The world's largest crypto exchange eventually launched Binance NFT in June 2021, allowing buyers and sellers to connect and conduct business easily.
Like Binance, the Binance NFT platform doesn't have any regulatory licenses. But, that doesn't stop it from operating in over 100 countries. It's a top option for the best NFT app.
Binance NFT is especially great because it offers cross-platform functionality. It connects to both the Binance Smart Chain and the Ethereum blockchain, allowing it to access a broader range of NFT lovers.
The Binance NFT platform features three primary product lines – Marketplace, Events, and Mystery Box.
The "Events" feature brings digital collectables from some of the most popular creators. Artists and fans can transact in these exclusive events to trade premium NFTs.
As for the "Marketplace" feature, you get a more public view of the NFT marketplace. Artists can mint their NFTs and put them up for sale or auction.
The "Mystery Box" is a random collection of rare digital art. A secret NFT is kept inside the box, and you'll need to open the box to find what's in there.
As for fees, Binance NFT charges a 1% trading fee for NFT purchases. Royalty fees have also been pegged to 1%, and there are no listing fees involved. Payments on Binance NFT can be made using any channel available on the Binance exchange, except for PayPal.
Pros
Mystery Box feature
Allows for exclusive events
Cross-chain functionality
Cons
Cryptocurrency markets are highly volatile and your investments are at risk.
3. OpenSea: The NFT Industry's Premier Marketplace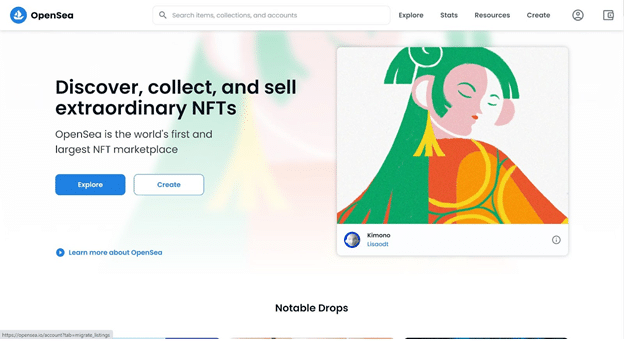 When it comes to NFT marketplaces, OpenSea claims to be the undisputed market leader — and its trading volumes back that up.
Built on Ethereum, OpenSea offers a very broad range of NFTs. You can find virtual worlds, art, and even domain names here. The platform allows you to buy NFTs with all Ethereum-related assets, including ERC-1155 and ERC-721 tokens. So, you can find digital assets from platforms like Decentraland, Axie Infinity, and more.
With OpenSea, you get access to over 700 NFT projects. It has a minting tool that allows creators to mint and sell their NFTs directly. Even better, the minting tool works without the need to learn a single line of code.
As expected, you can find NFTs at fixed prices or auctions on OpenSea. As long as you've got the money to make the purchase, OpenSea is ready for you.
Pros
A broad collection of NFTs
In-app NFT minting tool
ENS names available for sale
Cons
Transaction fees can be a bit high
4. Rarible: Sprawling Collection of Collectibles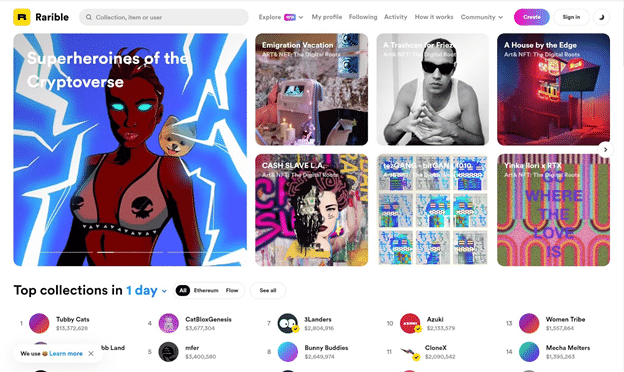 Rarible probably comes second to OpenSea among NFT marketplaces in terms of popularity. It is an open-source marketplace that allows anyone to buy, create, and sell NFTs. The marketplace is also built on the Ethereum blockchain, meaning that you'll need to use the Ethereum token to make NFT purchases.
Like OpenSea, Rarible supports all types of NFTs. However, it focuses primarily on art NFTs and collectables. Looking to reduce the entry barriers for NFT creators, Rarible also offers a minting tool that lets you create your tokens from scratch without coding.
Many people especially love Rarible for its user-friendly interface. You can easily engage with the platform and find your favourite NFTs. Also, you can filter the NFTs based on bestsellers, and there's a nifty search tool that lets you go directly to the artist or collection you'd like.
Rarible also functions as a community-owned marketplace. Its token RARI allows holders to participate in content curation and vote on ecosystem upgrade proposals. Users who buy and sell NFTs on Rarible can also get RARI as rewards.
Pros
OpenSea integration allows you to sell your NFTs on OpenSea
Card and Google Payment options available
RARI token available as a reward for users
Cons
2.5% fee charged to both buyers and sellers
5. Axie Marketplace: Gaming NFTs At Their Peak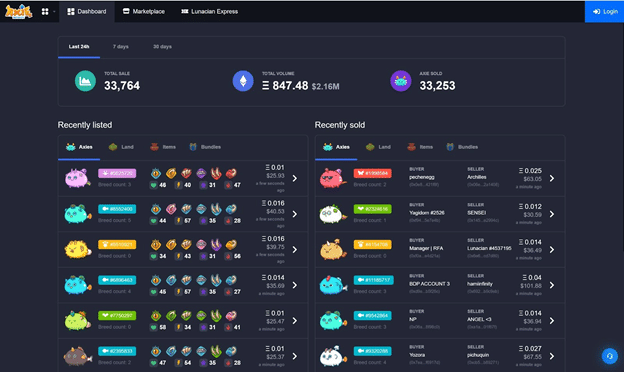 The Axie Marketplace is the in-house NFT marketplace for Axie Infinity, one of the most popular play-to-earn games out there. Axie Infinity has ballooned in popularity over the past year, and so has the activity on its marketplace.
The Axie Infinity ecosystem revolves around Axies – digital pets that you can create and groom. You use these Axies to battle against other players, and you get rewards as you win battles and level up.
The primary draw for Axie Infinity is the Axies themselves. They are NFTs built on the Ethereum blockchain, and you can increase the value of your Azie as you win more battles and train your Axie. But, besides Axies, you can also purchase land and other digital assets in the Axie Infinity universe.
Axies are sold and available on the Axie Marketplace. You should note that the marketplace allows you to buy Axies alone – not any other form of digital art.
Pros
Competitive service charges
Separate gas fee tiers
A great way to earn money
Cons
Only Axies available here
6. NBA Top Shot Marketplace: Home to Basketball-Loving NFT Fans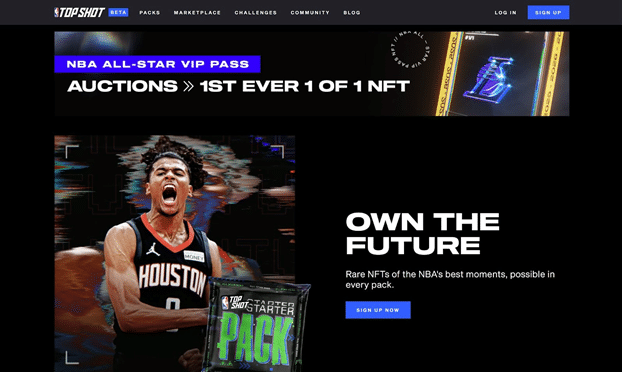 Looking for where to find the best memorabilia from players like LeBron James and Stephen Curry? Then, the NBA Top Shot Marketplace is where you need to be!
NBA Top Shot is the brainchild of the National Basketball Association (NBA). The platform offers collectables from both the mens' and womens' basketball leagues. You can sell video clips, player highlights, and even trading cards with players' autographs.
Built on the Dapper Labs Flow blockchain, NBA Top Shot is a closed marketplace. This means that you can only buy and sell on the platform. You can't mint your NFTs.
Payments on NBA Top Shot are available in cryptocurrencies and fiat. You can pay using your cards and cryptocurrencies alone; no payment processors are allowed.
Pros
Fewer risks of scams
Trusted, a licensed marketplace for the NBA
NBA Top Shot moments don't perish. You can hold them forever
Cons
No minting feature available
7. Mintable: Great Entry Point for Beginners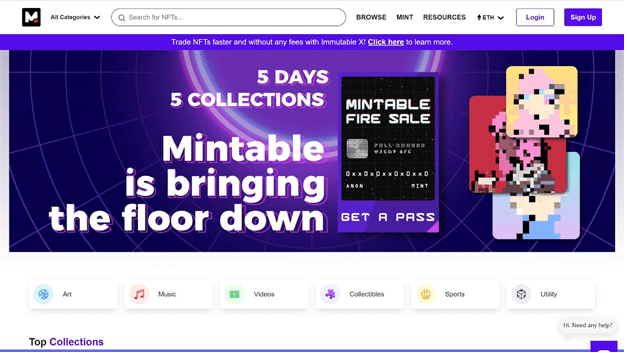 Mintable is an Ethereum-based NFT marketplace that allows you to create, distribute, and trade NFTs. The platform stands out for being especially user-friendly, offering all the NFT features you need with a few clicks.
Founded in 2018, Mintable offers access to different types of NFTs. You can find digital art, collectables, and even Ethereum domains available here. There are even videos available, with some clips featuring notable celebrities like Angelina Jolie and Bruce Lee.
Mintable charges a competitive listing fee, and it offers up to 50 free listings on your first go. If you're looking to get your foray into the NFT space started, this is one platform we can recommend.
Pros
Free, easy-to-use platform
Free listings available
Low store charges
Cons
Only accepts MetaMask wallet
8. SuperRare: Access Single and Multiple-Edition NFTs With a Few Clicks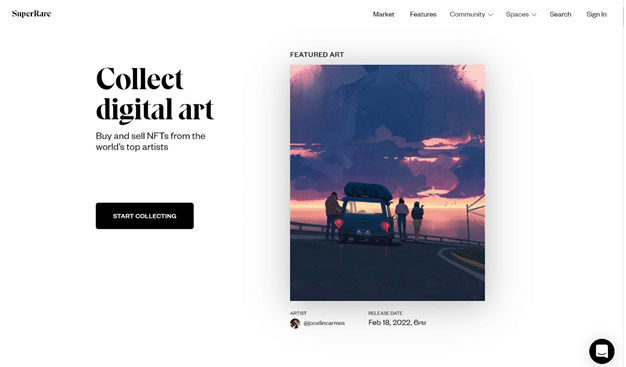 Next on our list of the best NFT apps is SuperRare, a platform that dubs itself as "Instagram meets Christie's."
Launched in 2018, SuperRare allows users to buy and sell single-edition art. The platform appears to focus on the rarest NFTs and collections, although it still offers access to some of the most popular names.
All NFTs available on SuperRare are ERC-721 tokens. The platform gives you a healthy mix of tokens, both from popular creators and lesser-known ones. And, with cross-platform functionality, SuperRare allows you to mint and sell your NFT across other marketplaces – as long as they're built on Ethereum.
Another huge benefit of SuperRare is that it runs both a primary and a secondary market. The primary market allows you to buy freshly-minted NFTs, while the secondary market offers access to resales.
Pros
Offers a primary and secondary market
Access to single and multiple-edition NFTs
One-click features for minting NFTs
Cons
Lengthy verification period for NFT creators
9. Nifty Gateway: The Home of Limited Drops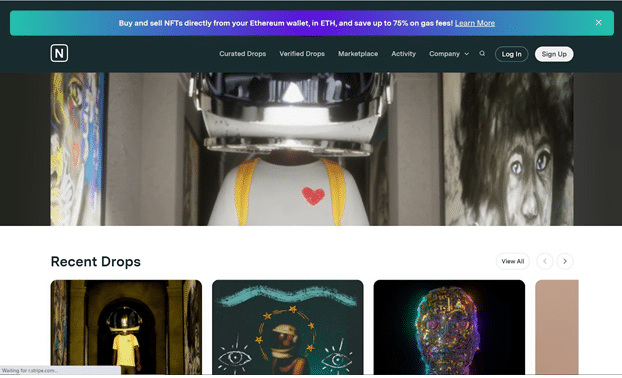 Nifty Gateway is another NFT marketplace that has gotten some traction in the past few months. The marketplace is owned and run by the Gemini Foundation, a cryptocurrency holding company established by the Winklevoss Twins.
Nifty Gateway works with artists and companies to create "Nifties," NFTs on its platform. It operates as an exclusive marketplace for artwork and music, and it has already partnered with several top names in both fields, including Ozuna and Lil' Yachty.
There are also a lot of exclusive NFT drops on Nifty Gateway. The platform has partnered with artists like Trevor Jones and Beeple to launch exclusive artwork. With their ability to drive the Fear Of Missing Out (FOMO), these partnerships and exclusive drops have been a major hit for Nifty Gateway.
Nifty Gateway structures its sales around "drops," which are limited NFT offerings. Typically available for a short period, these tokens create hype that raises their prices. After a drop ends, the Nifties can be resold through Nifty Gateway's peer-to-peer marketplace.
Pros
A trustworthy platform owned by Gemini
An impressive set of exclusive NFTs
Artists can pick their commissions
Cons
15% service charge is high
10. Foundation: A Hotbed for Exclusive Digital Art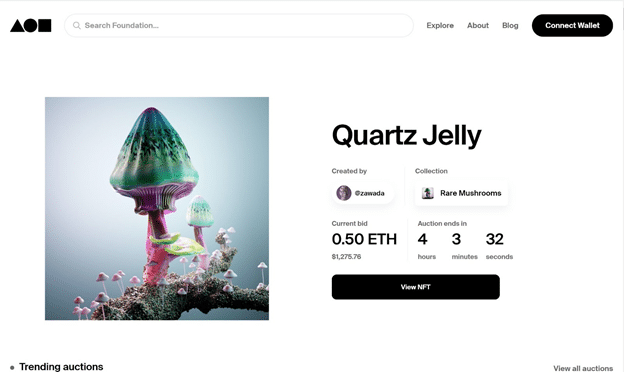 Moving on, we have Foundation as another impressive NFT marketplace. Built-in 2020, the platform prides itself on its ability to curate exclusive digital art.
Foundation is a peer-to-peer marketplace for digital art creators. Here, artists create their profiles and submit them to the Foundation community. Once you're in, artists allow you to see their work and you can even rate them.
As expected, Foundation makes money through commissions on primary sales. Artists will have to pay a 15% fee to the platform when they make sales. However, artists will also get 10% royalties on all resales of their art.
Foundation's seamless interface makes it easy for you to find the best NFT tokens.
As an Ethereum-based marketplace, Foundation requires that you make your payments using ETH. Connect an Ethereum-based Web3 wallet to the platform, and you'll be able to make your payments.
Pros
Fixed royalties for all creators
A market for exclusive art
Easy-to-use interface
Cons
Only ETH payments available
Best NFT Apps Comparison
| | | | |
| --- | --- | --- | --- |
| Marketplace | NFT Type  | Supported Coins  | Approx. No of NFTs |
| Crypto.com NFT | Various | ETH  | Over 1,000 |
| Binance NFT | Various | ETH, BNB  | Over 2.5 million |
| OpenSea | Various | ETH | Over 1 million |
| Rarible  | Various  | ETH, RARI  | Over 100,000 |
| Axie Marketplace | Axies  | ETH | Over 10,000 |
| NBA Top Shot Marketplace | NBA highlights and clips  | ETH  | Over 100,000 |
| Mintable  | Various  | ETH | Over 10,000 |
| SuperRare | Digital art  | ETH | Over 10,000 |
| Nifty Gateway | Various  | ETH | Over 10,000 |
| Foundation  | Digital art  | ETH | Over 1,000 |
If you're looking for the best NFT app, chances are you'll also be on the hunt for the best crypto app. You can read our in-depth guide for everything you need to know about trading digital assets via the best crypto apps in 2022.
How Do NFT Apps Work?
NFT marketplace apps serve as a conduit for NFT-based transactions. Most of the best NFT apps take a small cut for their services, which is usually charged to the NFTs' buyers. However, some options – such as our best NFT app, Crypto.com NFT – allow you to buy the NFTs without paying any fees.
Many NFT marketplaces also allow NFT creators to set up the terms of their deals. So, You can choose to sell your token once or you'd like to make a commission off every secondary sale. If you choose the latter, the commission will be automatically charged when your buyer sells your NFT, and the funds immediately sent to your wallet.
It's also worth noting that most NFT marketplaces are built on specific blockchains. So if you'd like to purchase an NFT from these marketplaces, you'll need to make your payments using the blockchain token.
For instance, OpenSea is built on the Ethereum token. So, payments for NFTs on OpenSea can only be made using Ether (ETH).
NFT Creator Apps
If you're an NFT enthusiast and would like to make your tokens, we recommend using NFT creator apps.
Essentially, an NFT creator app is a tool that allows you to mint NFTs. These apps mostly work by editing your images and turning them to NFTs entirely. Some NFT apps specialise in a particular type of editing. It could be animations or 8-bit imagery (to make your NFT look like a CryptoPunk).
Two of the top NFT creator app options include
1. Sketchar


Sketchar allows you to create your NFTs. But, it does more than that. Here, you have an ecosystem of web and mobile products that you can use to make money. You can use the Sketchar app to create your NFTs with your design skills, and you can use its in-house marketplace to sell the NFTs you minted directly.
You should note that Sketchar takes 5% off your first NFT sale and 1% from all secondary sales. This might be a bit steep, but it seems like a solid trade-off when you consider that it allows you to mint and sell NFTs with minimal input.
2. NFT Creator
This NFT creator app allows you to create high-quality art NFTs, even if you don't have much experience in art or graphic design. The tool is highly customisable, offering you options for pretty much everything — from the type of NFT you'd like to create to the template you'd like to follow.
With NFT Creator, you can make anything, including custom trading cards. Whether it's an award card or a custom Pokémon card, NFT creator is there for you.
At the same time, you have a dedicated marketplace where you can sell, buy, and even win some NFTs.
Where to Buy Cryptocurrencies to Use on NFT Apps
If you'd like to make NFT purchases, you need to have some coins available. The best altcoin apps let you buy a range of popular cryptocurrencies with low fees.
Most NFT marketplaces run on Ethereum. So you'll need some ETH, although several other marketplaces run on other blockchains. Are you wondering where the best place to store your crypto holdings after you've bought them? With the best Bitcoin wallet apps, you can store your crypto assets securely and conveniently directly via your mobile device.
Once you find the blockchain that the marketplace runs on, the next step will be to purchase the blockchain's token. This is what allows you to buy the NFT in question easily. While many brokers allow you to buy coins easily, we recommend using eToro. For a thorough breakdown of all the key metrics we also have a full eToro app review for you to check out.
eToro is a regulated broker that offers access to several top cryptocurrencies. It offers benefits like commission-free trading, an easy-to-use interface, and a low minimum balance.
To buy coins on eToro, follow these easy steps:
1. Sign Up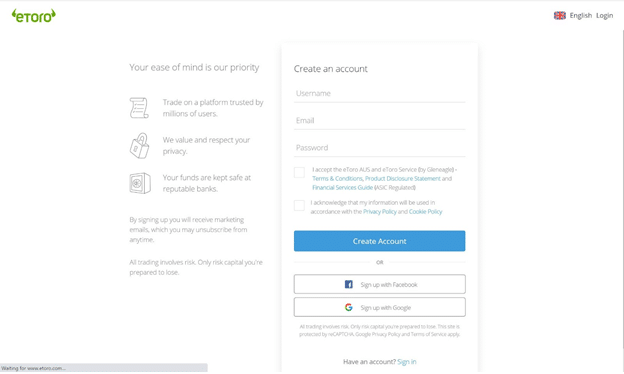 Go to the eToro homepage and click on "Join Now." Enter your password and username, and confirm your account by clicking a link sent in an email to you.
2. Verify Your Identity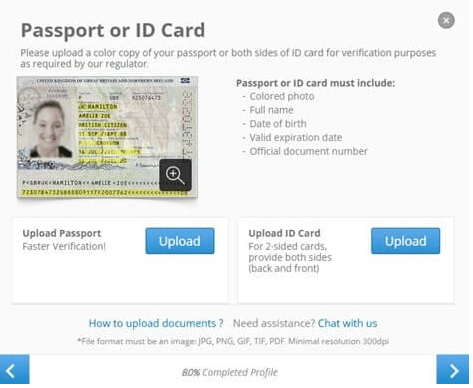 As a regulated exchange, eToro requires that you verify your identity before accessing its full suite of features. Visit your profile and click on the verification prompt.
You'll need to submit a government-issued ID and proof of residence to complete this step.
3. Deposit Funds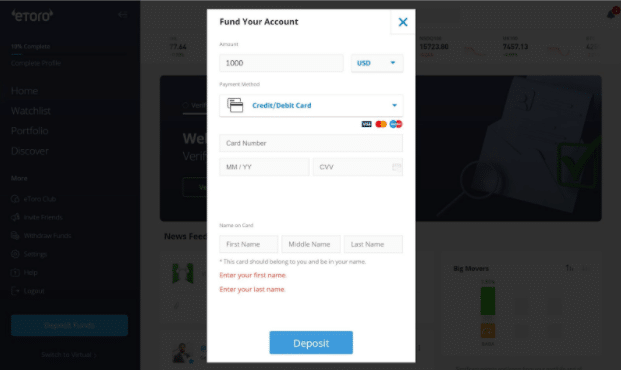 There's a "Deposit" button at the end of your profile page. Click on it and deposit funds.
eToro allows you to make deposits using different channels, including bank transfers, cards, and payment processors.
4. Buy Your Coin
Type in the name of your desired coin in the search bar. Click on "Open Trade," enter the trade amount, and click "Trade."
Cryptocurrency markets are highly volatile and your investments are at risk.
How to Buy NFTs on an NFT App
To make an NFT purchase on our best NFT app, Crypto.com NFT, you can follow these steps: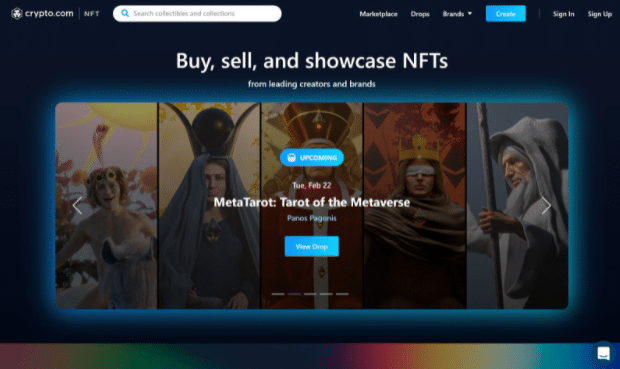 Search for your desired NFT. Crypto.com allows you to browse collections, artists, and brands.
Find your desired NFT and click on it.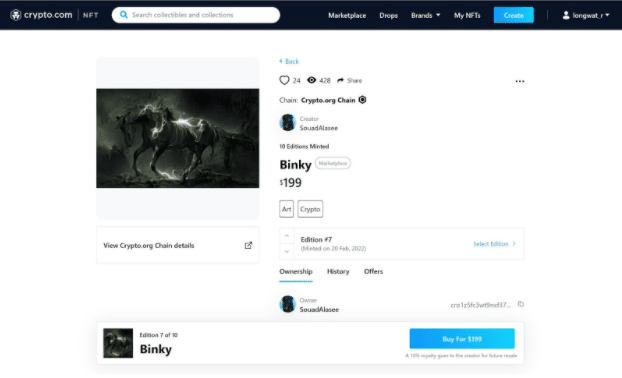 You'll be able to see if your NFT is available for a quick sale or an auction.
If it's for a direct sale, click on "Buy."
You will be required to choose a payment option. You can either pay with your credit card or with cryptocurrencies.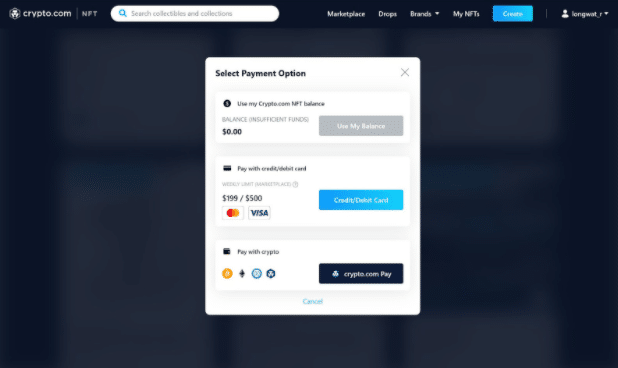 If you choose crypto, you'll be required to enter your wallet address. You can use your Crypto.com wallet, MetaMask, or any other crypto wallet available. Or you could pay with your card by simply entering your details.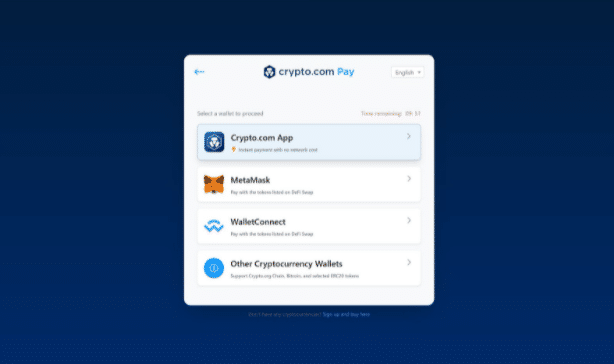 Cryptocurrency markets are highly volatile and your investments are at risk.
Conclusion
NFTs offer an opportunity for you to make money through your art or just purchase something you think is cool.
There are different ways to purchase NFTs right now. But crypto payments are usually smoother and quicker, so this is the recommended option. If you'd like to buy assets to purchase your NFT, we recommend using eToro. With its easy-to-use interface and tight spread trading, eToro offers the best option for anyone looking to buy any digital asset today.
Cryptocurrency markets are highly volatile and your investments are at risk.
Frequently Asked Questions on Best NFT Apps for 2023
What is the Best App for Buying NFTs?
Can I Buy NFTs on My Mobile?
How Do I Buy NFTs on the OpenSea App?
What Apps Can I Use to Make NFTs?