Best Metaverse App 2023 – Top Apps Reviewed
Disclosure
Everything you read on our site is provided by expert writers who have many years of experience in the financial markets and have written for other top financial publications. Every piece of information here is fact-checked. We sometimes use affiliate links in our content, when clicking on those we might receive a commission – at no extra cost to you. By using this website you agree to our terms and conditions and privacy policy.
Following the news of a ''digital land'' sold for $2.4 million, the metaverse has been a hot topic! Today, everyone wants to be a part of the unique digital land in some way or another. Besides, if you've missed your chance with the bullish run for crypto or failed to buy that million-dollar NFT, now would be your chance! Continue reading as we explore some of the best metaverse apps for 2023. 
In This Guide
What Are Metaverse Apps?

How To Invest In Metaverse apps?

Best Metaverse App 2023 (list)

Best Metaverse App 2023– Reviewed

Where To Invest In Metaverse Apps

What Is Play-to-Earn Gaming?

Best Metaverse App To Invest In 2023– Conclusion

FAQs
What Are Metaverse Apps?
Whether a tech geek or not, the word 'Metaverse' has grabbed everybody's attention in 2021! A unique concept of 'virtual reality,' metaverse is where things go to the next level. The term 'meta' combines the possibilities of Blockchain, NFTs, cryptos, and more, to create a simulated digital environment. 
To break it down in simpler words, 'metaverse' would define a digital reality where users can live their everyday lives via digital avatars that can also connect with others socially. Similarly, metaverse apps would be a platform (or a gateway) to the metaverse.  
How To Invest In Metaverse Apps?
The metaverse has turned heads worldwide because of its unique concept. While many see it as the ultimate form of entertainment, a small percentage of investors know the metaverse's unique nature as a trend to invest in.
However, because the sector is still in its infancy, many people remain hesitant to invest in the metaverse. Surprisingly, the best way to invest in this concept is to purchase tokens from various metaverse apps or stocks.
However, that's not all! Therefore, to help you better, we've listed different ways to invest in the top metaverse platforms and apps. Let's check it out! 
Metaverse Games
One way to invest in the metaverse is to purchase metaverse game tokens or shares. Today, the presence of high-profile initiatives like Battle Infinity and Tamadoge have fueled the exponential rise of meta games over the past year. 
Metaverse NFTs
Another excellent method to invest in the metaverse is by buying NFTs. Due to their unique qualities, several of the top NFTs from the previous year have been used in projects centered in the metaverse. Besides, the ability to offer "real" ownership of in-game assets is one of the critical aspects of NFTs that appeal to metaverse enthusiasts. Within the metaverse, NFTs represent ownership of goods and can be used to build virtual lifestyles. 
Metaverse Crypto
Investing in metaverse cryptocurrency is another great way to invest in this industry. These tokens refer to the native coins of the different projects developed in the metaverse. Interestingly, these tokens can be further utilized for various purposes, including in-game transactions, governance, and staking.
Metaverse Real Estate
The meta 'real estate' is another unique opportunity that has come up over the past few years. This new investment opportunity adds a distinctive perspective on ownership and tenancy of 'digital land.' 
Metaverse Stocks
Last on our list are the meta stocks, a great way to invest in the metaverse. Investors who choose to trade on the equities market rather than the cryptocurrency market will be attracted by the variety of metaverse stocks available. This way, it becomes simple to diversify your portfolio and avoid becoming "overexposed" to one project.
You'll find multiple metaverse apps and stocks to invest in when you enter into the different categories. Therefore, to help you better, we've curated a list of the top metaverse apps you could get started with.
Best Metaverse App 2023 – List
Below are the top metaverse platforms to consider in 2023 
Battle Infinity – A budding best metaverse app

to get started. 

Tamadoge – Newly launched platform topping the metaverse apps

chart.

Axie Infinity – Budding metaverse game

with huge potential.  

Roblox – Leading game that has introduced a revolution.
Decentraland – One of the best metaverse games

to invest in digital land. 

Enjin – Smart metaverse apps

for creating a possible multiverse. 
Now that you have an idea of the best metaverse platforms let's deeper look at each app. 
Best Metaverse App 2023 – Reviewed
Battle Infinity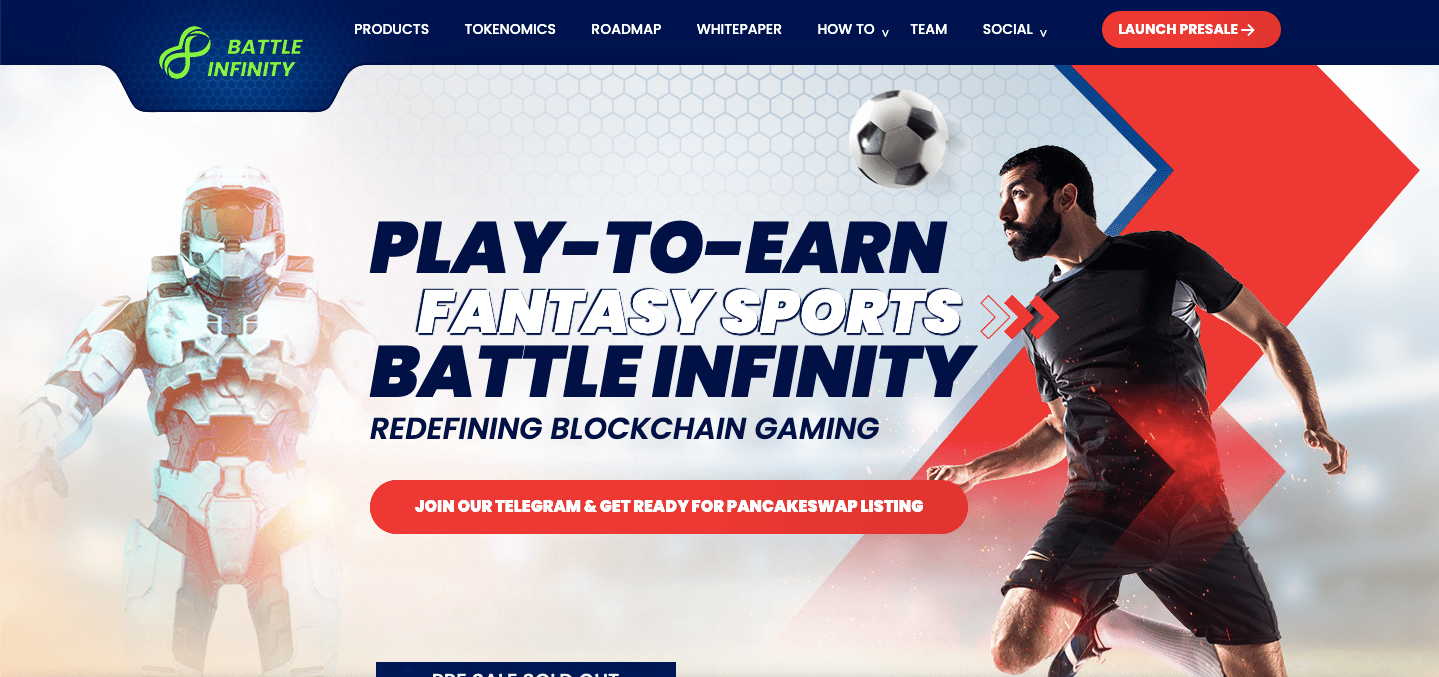 Topping our list of the best metaverse apps is the Battle Infinity gaming platform. One of the latest additions to the gaming verse, this specific platform claims to be the first decentralized metaverse gaming system. Battle Infinity is a comprehensive gaming platform featuring many P2E games and the 'The Battle Arena' metaverse environment. 
The theme of this game revolves around fantasy sports, one of the latest additions to the top metaverse platforms that consumers can engage in. Users signing up for the Battle Infinity environment can build virtual teams for sports, such as Football, Hockey, Cricket, and Tennis. 
All you need to do is select your favorite online players and create teams that compete against others to win prizes based on the performance data of individual players. Interestingly, besides playing different metaverse games, gamers can also enjoy their digital surroundings and interact with other users and elements inside the virtual world of Battle Arena in real-time.
Powering the Battle Infinity ecosystem is the IBAT token, a key that unlocks all the platform's major features. Besides, the reliable functionality of the IBAT token has made it a great investment tool too! IBAT has gathered over 1.2 million USD since its pre-sale. 
Given the response the token has experienced (21.3 percent in 15 days), it is a valuable addition to many portfolios. IBAT is currently available to purchase on the PancakeSwap exchange and LBANK.
Your capital is at risk
Tamadoge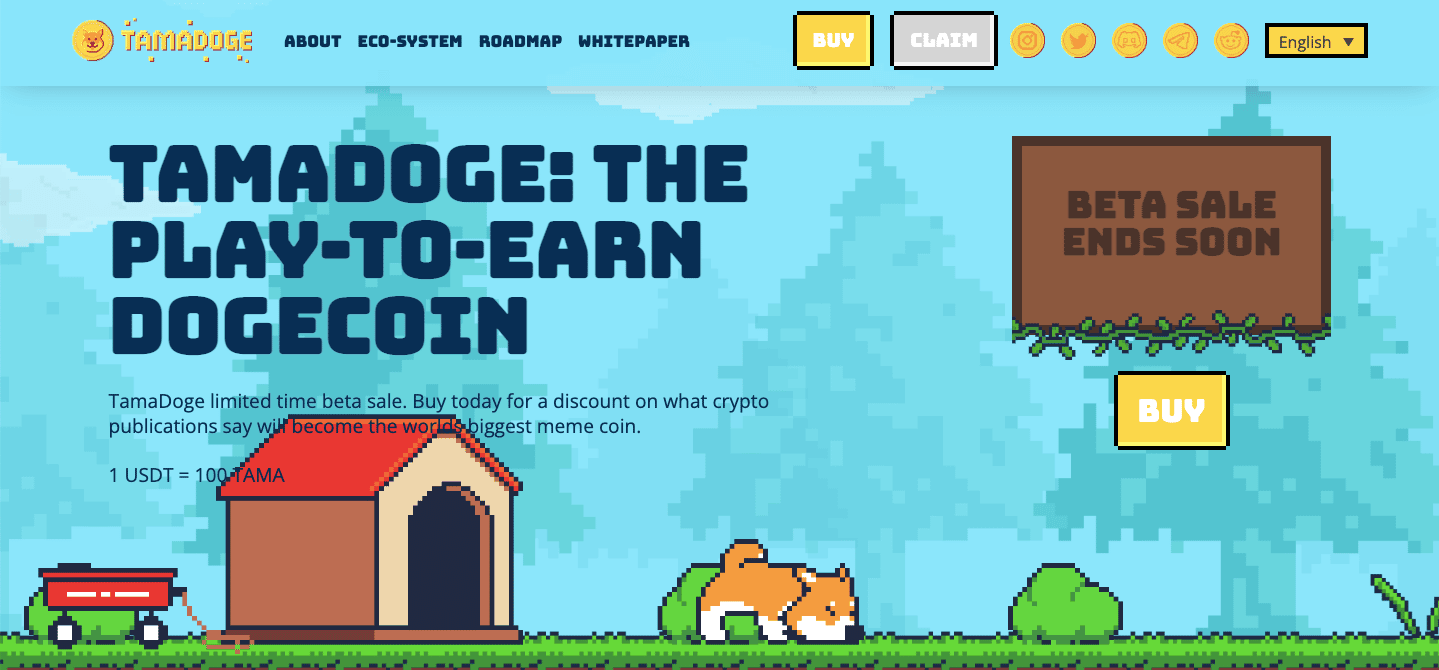 Tamadoge is easily one of the best metaverse games that has gained considerable market attention! Currently, in its earliest stages, the game is still completing the project milestones as it continues to blend the possibilities of NFTs, Play-to-earn (P2E) gaming, and the Metaverse. 
The project aims to introduce users to a unique, interconnected gameverse that has already received the attention of gamers across the globe. The theme of this metaverse game is similar to the concept of pet breeding, but with a difference! The game is developed around a Play-to-Earn formula that rewards the most active players with extra tokens. 
At its core, is a hand-held 90s game called Tamagochi, and like its original version, the Tamadoge also adapts to a pet breeding concept, but in the Metaverse.  Trainers need to train, feed, and care for their digital NFT pets while also having the option to buy toys and other cosmetic upgrades for them. This way, they can boost their pet's status and level them up, gaining Dogepoints and making their way up the Tama leaderboards. 
However, when left unattended for too long, the Tamadoge pet can pass away, turning into a Tamaghost.
Sitting at the core of the Tama-verse is the TAMA token, a P2E meme coin that can be used for all the transactions within the Tamaverse and be given out as rewards. Talking of its fundamentals, the scarcity model (burns 10% of all tokens spent in the Tamadoge store) makes the TAMA coin a considerable addition to your portfolio. 
In terms of its supply, TAMADOGE currently has a limited supply of 2 billion tokens, half of which are available in its pre-sale event. Therefore, to buy TAMA, you must purchase some Ethereum and exchange it with the token via a regulated exchange and MetaMask. 
You can buy TAMA from the OKX exchange.
Your capital is at risk
Axie Infinity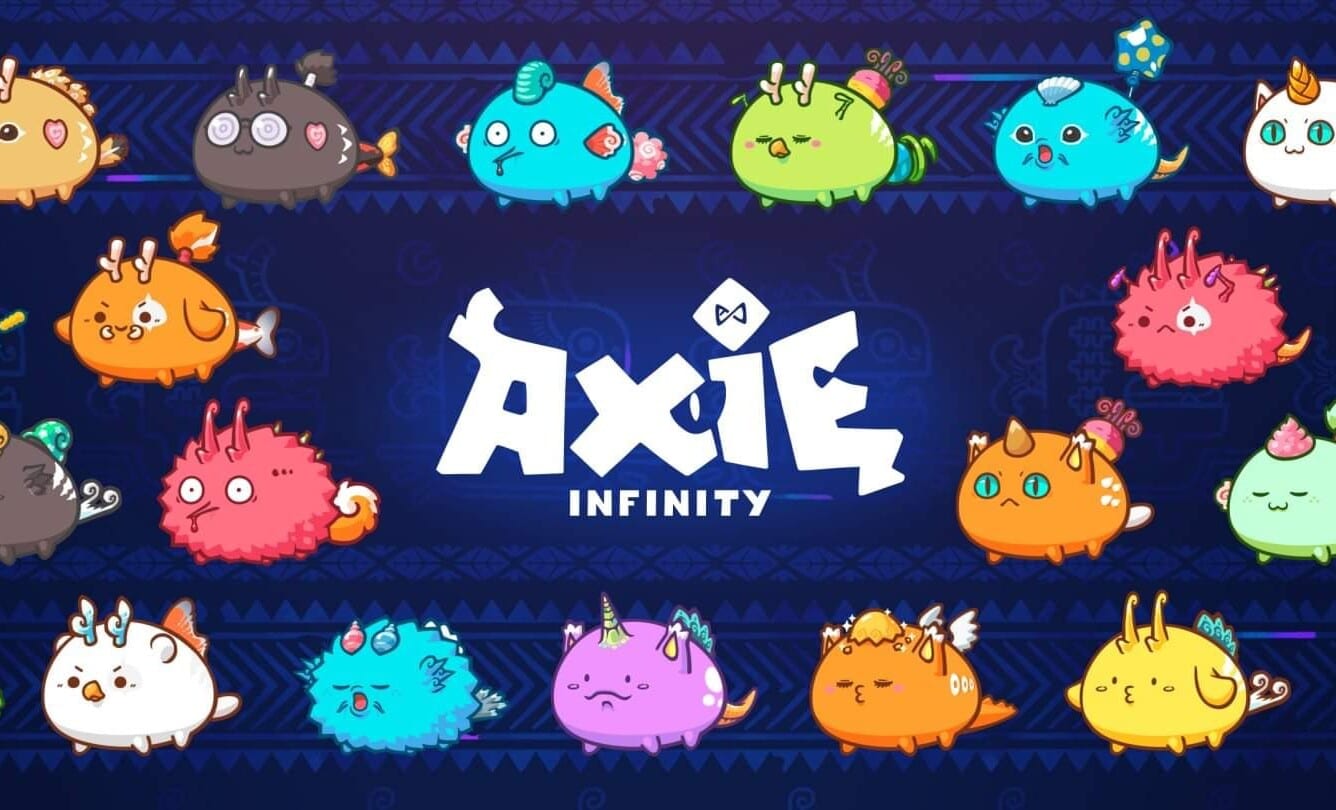 Third on our list of the best metaverse apps is the unique Axie Infinity game. If you've been an avid follower of the metaverse, you already know about this  Pokémon-esque game. Currently the chart-topper of all metaverse games, the Axie Infinity combines the concept of monster-battling and its possibilities over the Blockchain. 
The idea behind Axie Infinity is simple; gamers connect over a platform to collect, battle, raise, and build kingdoms for their NFT-based Axie pets. Developed with a core focus on the play-to-earn gaming model, the platform incentivizes players by rewarding them upon completion of daily tasks and after every battle. 
What's more? Besides all the possibilities of collecting, battling, and raising NFT-based pets, users also have the chance to breed Axies. This way, gamers can build potentially more powerful off-springs from their pets and yield additional NFTs to sell later in the Axie Marketplace, which boasts digital assets trade value of over $3.6 billion since its launch.
Sitting at the heart of the Axie ecosystem is AXS (Axie Infinity Shards), an ERC-20 token that counts as a reliable investment in the current market. Currently revolving around a price tag of $18, the token has a unique potential as it recently hit an all-time high of $160 (in July 2021). The token also has a high future potential in the long run. 
Besides, investing in the token of this metaverse game is simple. All you need to do is register with an exchange that supports the token and either purchase it or swap it for another accepted token. Interestingly, investing in AXS elevates you to the position of a decision maker. This way, every investor gets a voting right to future developments and operational changes in the Axie universe. Lastly, remember that the latest updates largely influence the market movement of the AXS token.
Roblox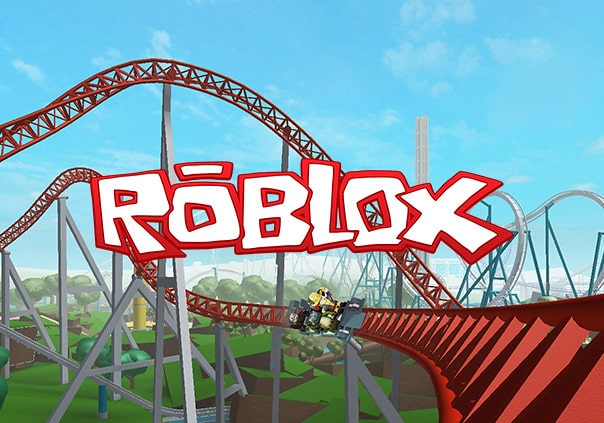 Roblox is preferably one of the most unique metaverse games present on our list. This platform revolutionizes gameplay by becoming the gateway to hundreds of different games developed by other developers. Per its whitepaper, Roblox is an 'Imagination Platform' that allows its users to develop 3D online games. 
Launched in 2007, the platform has come a long way from a site created by gamers for gamers to evolving into an ecosystem of connected gaming experiences. Users signing up for the Roblox experience can link their accounts via Xbox One, tablets, PC, or Amazon devices to continue their games.
At its core, Roblox is a game development engine where developers can socialize, chat, imagine, create, interact, and relate with individual players in multiple ways. Overall, it's a gateway for different developers to develop their gameverse and explore the digital realm, making it one of the top metaverse platforms in the market.  
Sounds interesting, right? Sadly, for an active gaming platform since 2007, Roblox doesn't have any listed token and is yet to be a part of the metaverse. But the platform does have Robux tokens that can be used to initiate transactions inside the gaming ecosystem. They're like in-app purchases that are exchanged with real-life money. 
However, if you're keen on investing in the Roblox platform, you could invest in its recently listed 'RBLX' stock. The stock has performed well, giving qualitative returns to early investors. Besides, similar to the AXS token, the share price of Roblox also depends on the game's popularity and the platform's latest engagements. Lastly, as per Roblox's latest collaboration with NFL, it'll soon be launching its metaverse.
Decentraland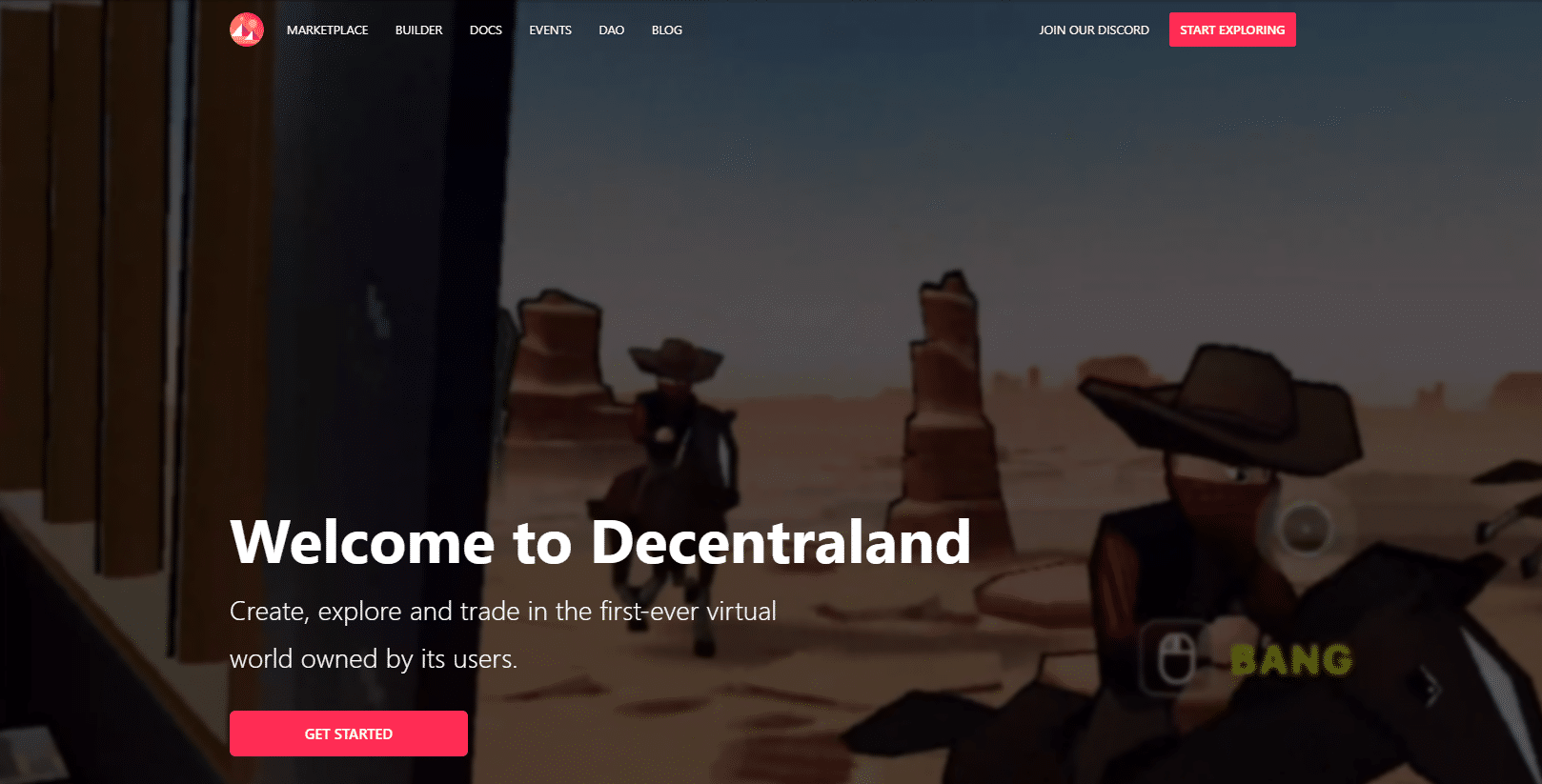 Next on our list of the top metaverse platforms is Decentraland, a platform that has often been termed as the pioneer of meta technology. Developed around the core idea of the metaverse, it is an online space where you can create, trade, monetize, and explore a virtual world with other gamers in real-time. 
In a nutshell, Decentraland is a platform for a small virtual world! Here, the users can explore their creative sides by engaging in scenes, artworks, challenges, and other related virtual experiences. Interestingly, these experiences' ownership aspect makes the platform unique. It is a gateway for users to explore the different aspects of the metaverse on virtual lands. 
As one of the leading metaverse games, Decentraland also offers a unique chance to learn and enjoy the virtual experiences for its users. Users can trade virtual lands alongside other digital assets like names and avatars over the Decentraland Marketplace. On top of it, Decentraland is also renowned for hosting global events that are known to attract some globally acclaimed artists and investors. 
The MANA token is an ERC-20 coin sitting at the heart of the Decentraland platform. From an investor's point of view, MANA is a hype that has been doing well since its inception. In addition, its scarcity model helps inflate the token's price by burning some part of the supply every time a user registers a new LAND entry. At the same time, the purchased LAND is used as NFT to prove ownership of the purchased virtual asset.
Lastly, while the token has performed great, it should be noted that Decentraland revolves around the DAO governance and is a community-centric platform. Therefore, once you've invested, you'll have voting rights for the modifications or development suggested for Decentraland.
Enjin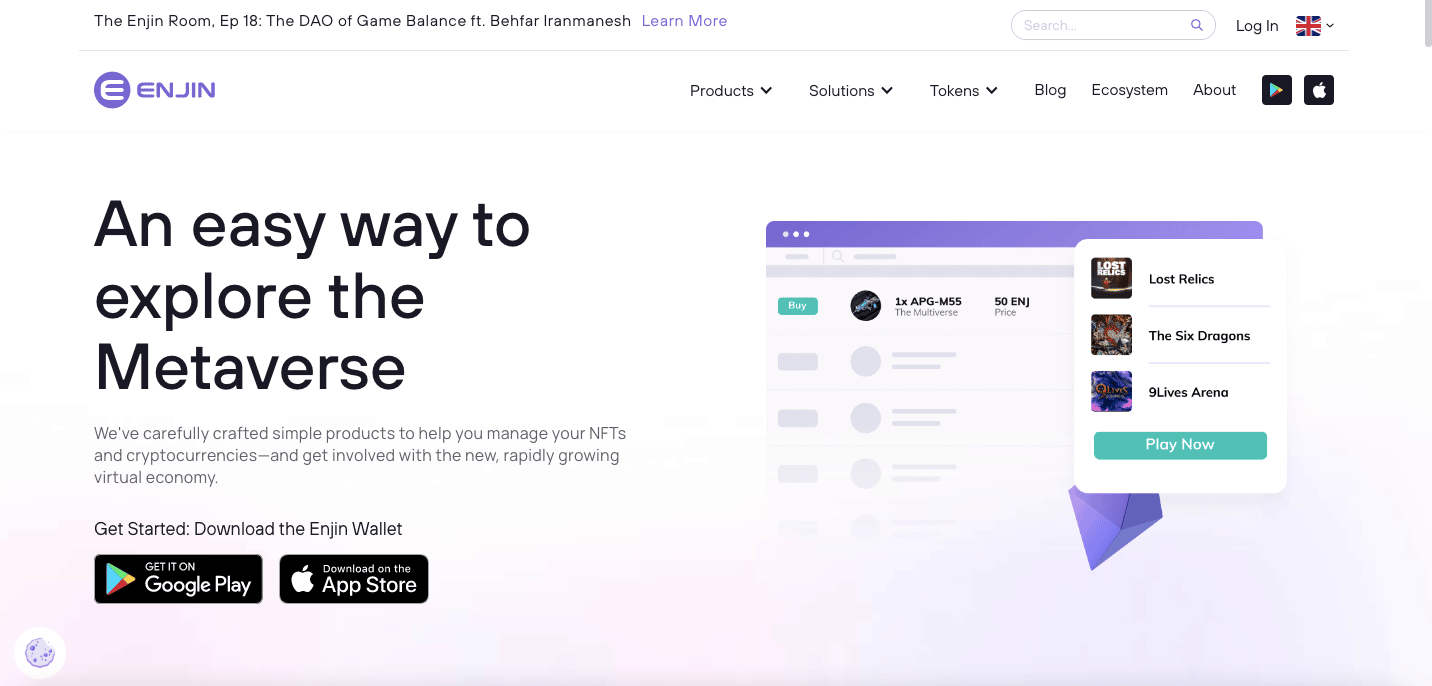 Last on our list of the best metaverse games is Enjin, a gaming platform that revolves around the idea of a 'multiverse.' Similar to Roblox in many aspects, Enjin is an online portal that hosts multiple games for users to play. However, the unique concept in the game is its meta ecosystem.  
The platform develops an entire ecosystem comprising different products businesses, and individuals can choose to trade, develop, market, or monetize their NFTs across the other platforms listed. Gamers earn these ENJ-backed items as in-game rewards. 
The rewards earned by the gamers in the form of NFTs are infused with the ENJ token, allowing the players to either trade their items or melt them to convert them into tokens in real-time. Besides, many of these games include an Enjin wallet integration, allowing the players to manage their Blockchain inventory. 
The ENJ token is the gold standard for all the transactions in the Enjin ecosystem. This coin is developed on the ERC-20 footprints and enables seamless transactions across the entire Enjin multiverse. Moreover, from an investment point of view, the ENJ token is among the hottest investments that are soon expected to reach its hard cap. 
Besides, the token has soared up to 320% over the last year, making it one of the most reliable investments in your portfolio. You could easily invest in this metaverse app's ENJ token via crypto exchanges with the tokens listed. 
Where To Invest In Metaverse Apps?
You may be perplexed when looking for a trustworthy medium to invest in these metaverse game tokens. Almost every other exchange guarantees the best features and services. However, you won't know the platform's usefulness until you sign up. To save you from hassle, we've compiled a list of the top exchanges where you can easily invest in any of the above-mentioned tokens.
Here are our top picks for the best metaverse exchange platforms to start your investments:
Bitstamp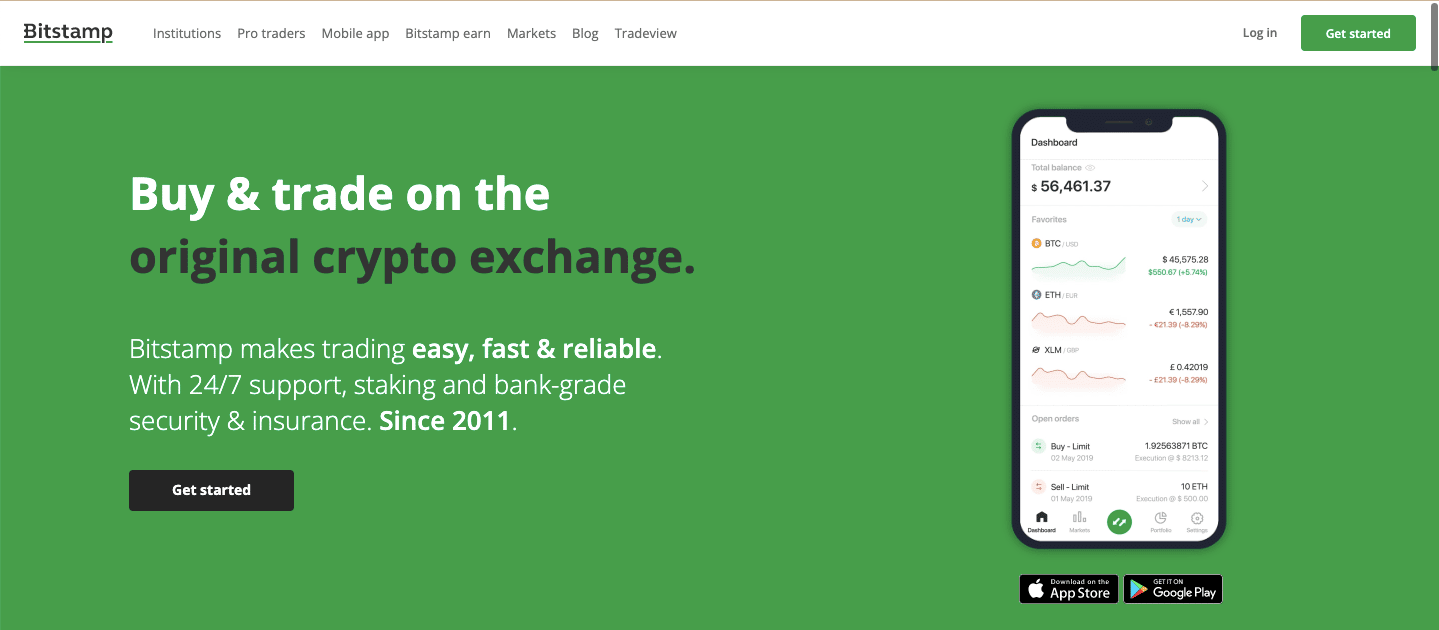 First on our list of the top metaverse platforms investing exchange is Bitstamp, an exchange renowned for being one of the first places to trade BTC. Today, the platform allows users to trade in over 54+ crypto tokens, with the possibility of investing in new ones as soon as they're listed. 
The clean UI and fee structure make the platform an affordable option for both beginner and advanced traders & investors. Besides, once signed up, you can easily leverage its core features to make the most of your investments. 
Besides, Bitstamp also stands out with its security aspects! The platform stores over 98% of its funds over cold storage, providing complete safety to its users. Lastly, its availability in over 100 countries makes it a reliable option to start your crypto journey. 
Pros
Reliable smartphone application
Competitive trading commissions
Stringent security measures 
Accepts debit, credit cards, and ACH for transfers
Cons
The exchange misses on several crypto tokens 
The fees are relatively high 
Fee
Amount

Crypto Trading Fee

0.25%

Inactivity Fee

Free

Withdrawal Fee

0.90 Euros (SEPA transfer) 

0.09 % of the transaction amount (Wire Transfer)
68% of retail investors lose money trading CFDs at this site.
What Is Play-to-Earn Gaming?
As the name suggests, P2E or Play-to-earn gaming models are where users are rewarded with real-world value as they complete daily tasks, battle other players, and level up through the game. These rewards generally come from in-game assets like skins, weapons, crypto tokens, virtual land, or even NFTs. 
Best Metaverse App To Invest In 2023 - Our Conclusion
Since the rising popularity of 'digital lands' and 'P2E' games, the metaverse games have received great attention! However, while all the apps on our list are an excellent means of entertainment, you might want to be double sure about investments. 
Lastly, considering all the aspects of the platform, its popularity, and the price movements of its token, we conclude that Battle Infinity is a great option to get started. However, cryptos are known to be volatile, so ensure that you look into the fundamentals of the best metaverse platform before investing in the tokens. 
FAQs
How many metaverse platforms are there?
What is the most popular metaverse app?
How to play metaverse games?
What is the best metaverse app for play-to-earn gaming?