10 Best DeFi Apps 2023 Revealed!
Disclosure
Everything you read on our site is provided by expert writers who have many years of experience in the financial markets and have written for other top financial publications. Every piece of information here is fact-checked. We sometimes use affiliate links in our content, when clicking on those we might receive a commission – at no extra cost to you. By using this website you agree to our terms and conditions and privacy policy.
Transactions without intermediaries supported by smart and transparent contracts, passive earning possibilities, and a wide range of financial inclusion possibilities are some of the many functionalities offered by DeFi apps. In this article, we will review the 10 best DeFi apps to consider in 2023, and why you should consider them within your investment portfolio.
10 Best DeFi Apps 2023 – List
Your capital is at risk.
Best DeFi Apps 2022- A Closer Look
There are several DeFi platforms to choose from. Each one has different lending and investment facilities. Read through each review below before deciding which option to invest in 2023.
1. Dash2Trade- Revolutionary Crypto Trading and Analytics Platform With Tax-Free Token
There are a number of crypto trading apps out there but none quite like Dash2Trade. Dash2Trade is an exciting project that was launched in 2022. The project is a crypto trading and analytics platform that aims to provide users with everything that they need to make informed trading decisions.
Dash2Trade offers everything under one roof including trading signals, social trading, analytics, coin listings and educational resources. The platform will also offer exclusive trading competitions through which users can win rewards and earn income from the platform.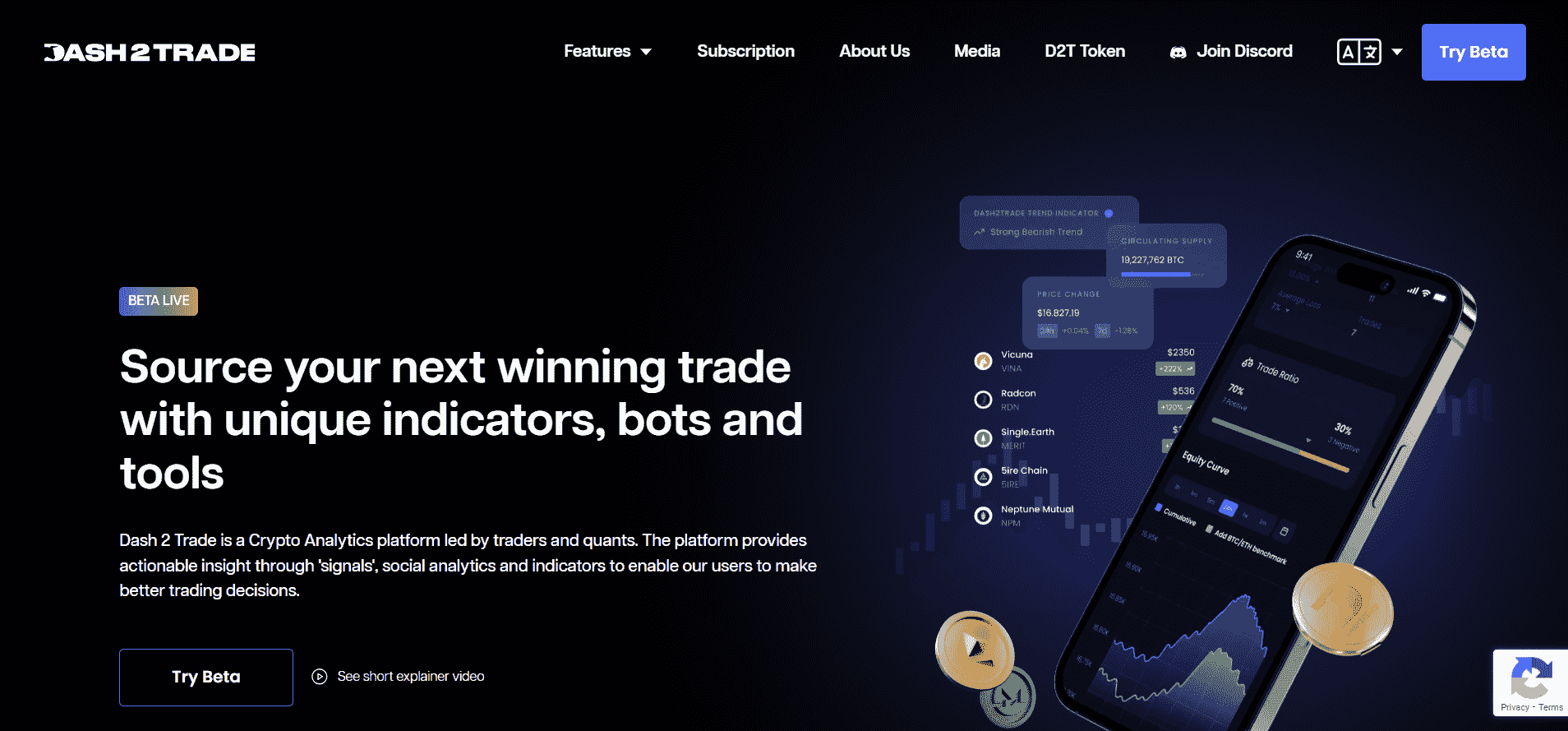 The main aim of the Dash2Trade project is to provide real value to users by helping the navigate the ever-changing market and invest with confidence. The platform is supported by the native D2T token, which will provide liquidity to the project and offer users a reward that holds real world value.
D2T has a limited supply of 1 billion and is currently available to purchase on major exchanges such as Gate.io, BitMart, LBank, and Changelly. D2T is used by users to pay for platform subscriptions, unlock advanced trading features and participate in competitions.
Those who receive rewards in D2T will be able to exchange the tokens for other cryptos or hold them as a long-term investment. The token is completely tax-free as the team behind the project believe that value should come from the project and not from users trading the token.
Pros:
Access to trading bots, signals, and indicators

Backed by an impressive team with a track record of success

Utility token benefits

Backtesting and strategy optimization

D2T has had an impressive presale run
Cons:
The regulation details are not specified
Your capital is at risk.
2. Impt.io- Best Carbon-Neutral DeFi Project To Invest in 2023
Impt.io is a brand new DeFi project that will launched in 2023. The project aims to resolve problems that exist in the current carbon credit industry by using blockchain technology to execute carbon credit transactions. Blockchain technology is immutable which will reduce cases of carbon credit fraud and double spending.
As well as acting as an exchange for carbon credits, Impt.io is also a platform through which users can objectively track their sustainable choices and impact on the environment. The platform will reward users who make environmentally friendly choices with IMPT tokens and exclusive NFTs.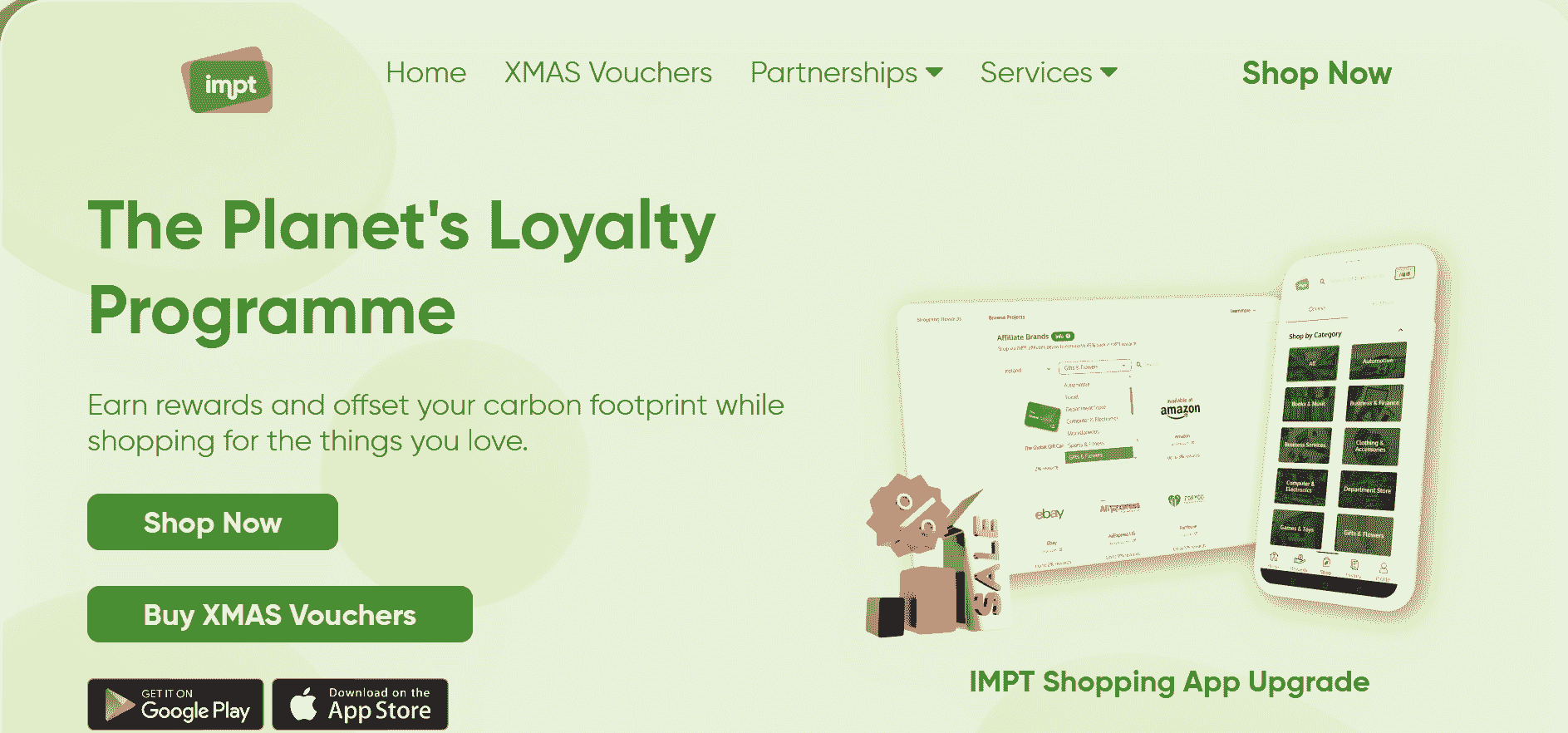 In fact, NFTs will place a large role in this platform. Each carbon credit will be a fully mintable NFT that can be sold on the exchange. Every time a user chooses to offset their carbon credits they are burned, and sellers are given a rare NFT designed by artists in return.
The IMPT token will support the entire ecosystem and will act as currency on the platform. The token can be used to purchase NFTs, unlock platform features and participate in the DAO.
Impt.io is set to revolutionize the carbon credit industry, making it one of the best investment apps for eco-conscious investors. The best way to invest in this exciting project is to purchase the token through a DEX or CEX trading app such as Uniswap and LBank.
Pros:
The project is relatively new and has room for growth

The project has a large community backing

Partnerships with leading brands

IMPT.io is led by a team of reputable industry experts
Cons:
New project which is prone to volatility
Your capital is at risk.
3. DeFi Swap – Overall Best DeFi App For 2023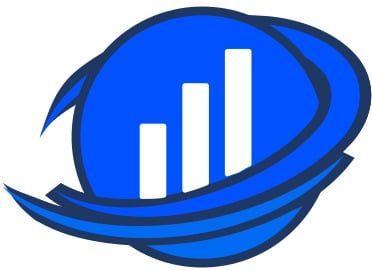 The DeFi Swap platform is a decentralized exchange that provides its users with an array of crypto-based services. One of the most important aspects of the platform is the ability to swap one token for another without going through a centralized exchange.
In fact, you simply need to connect your favorite wallet to DeFi Swap, choose the tokens you would like to convert, and that's it – DeFi Swap will do all the work on your behalf and instantly complete the conversion.
As it is backed by an immutable smart contract built on the Binance Smart Chain, the exchange will be able to do this autonomously. It is important to remember that DeFi Swap is not only a platform that allows you to exchange BSC tokens anonymously, but it also provides several ways for you to earn interest on your digital assets through yield farming.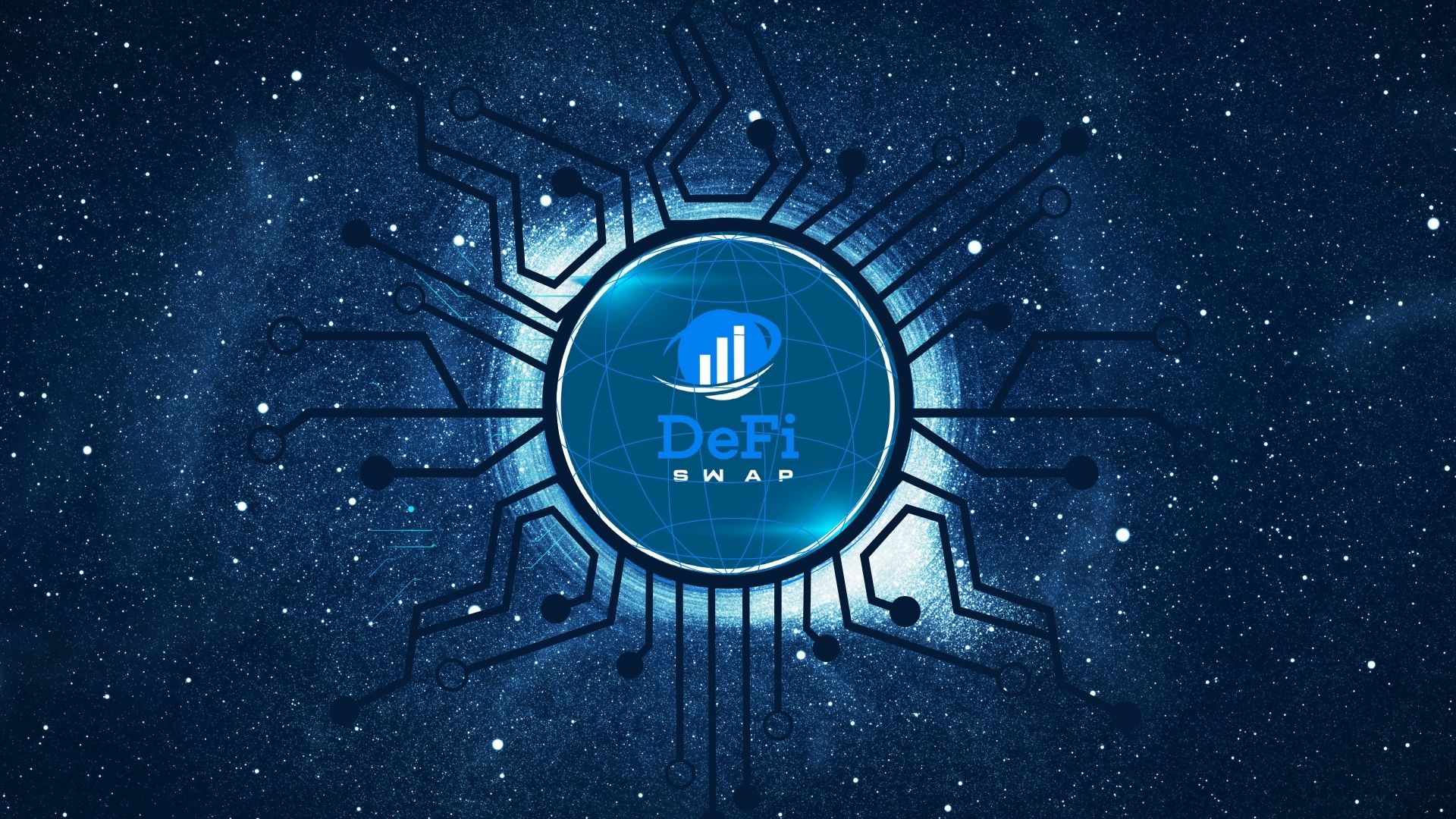 For instance, with the help of the exchange's liquidity pools, it is possible to generate returns on your investment. You will be able to earn a fixed rate of interest on your digital currency holdings by investing in these liquidity pools, which are made functional by smart contracts. Usually, the best DeFi interest rates on offer tend to be much higher than you would receive with a traditional bank account so that you can reap the benefits of this 'yield farming' strategy over the long term.
The innovative taxation process of DEFC, DeFi Swap's native token, also allows token holders to generate passive income streams. For example, when people buy or sell DEFC, a 10% fee is charged, half of which is distributed as a dividend to other holders.
You can access DeFi Swap's online portal via your web browser, making it quick and easy to take advantage of this platform's features. In addition, there are over 50 tokens supported by DeFi Swap, including DAI, USDC, USDT, and ANKR.
Pros:
Decentralized swapping available

Yield farming opportunities

Passive income through DEFC token

Over 50 supported tokens

Innovative taxation process
Cons:
Risks and volatility

Lack of customer support
Your capital is at risk.
4. Lucky Block – Innovative DeFi Crypto Lottery App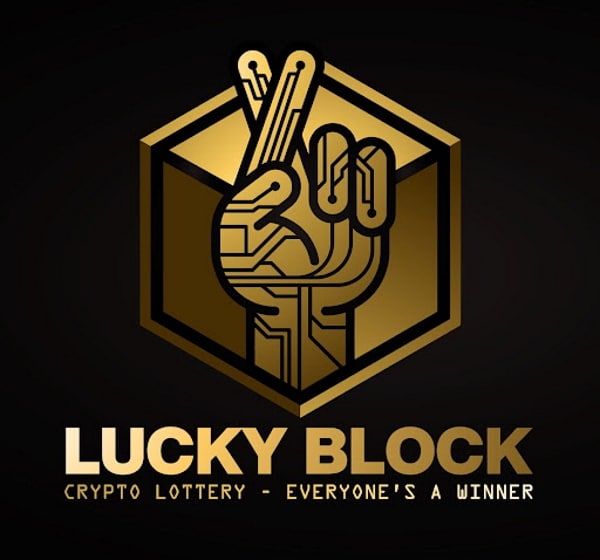 The Lucky Block platform has stood out from other DeFi apps on the market to become one of the best crypto games apps. The Lucky Block project isn't only a Binance Smart Contract (BSC)-based protocol but also developing and innovative.
Lucky Block was launched in response to the need for users to take part in lotteries without having to leave their homes in many cases. The traditional lottery offices can be very far away or only open at unsuitable hours.
As a gaming platform on a mission to revolutionize the decentralized industry, Lucky Block's goal is to create a more transparent and fair framework that will provide users with more opportunities to earn money through their online gaming activities.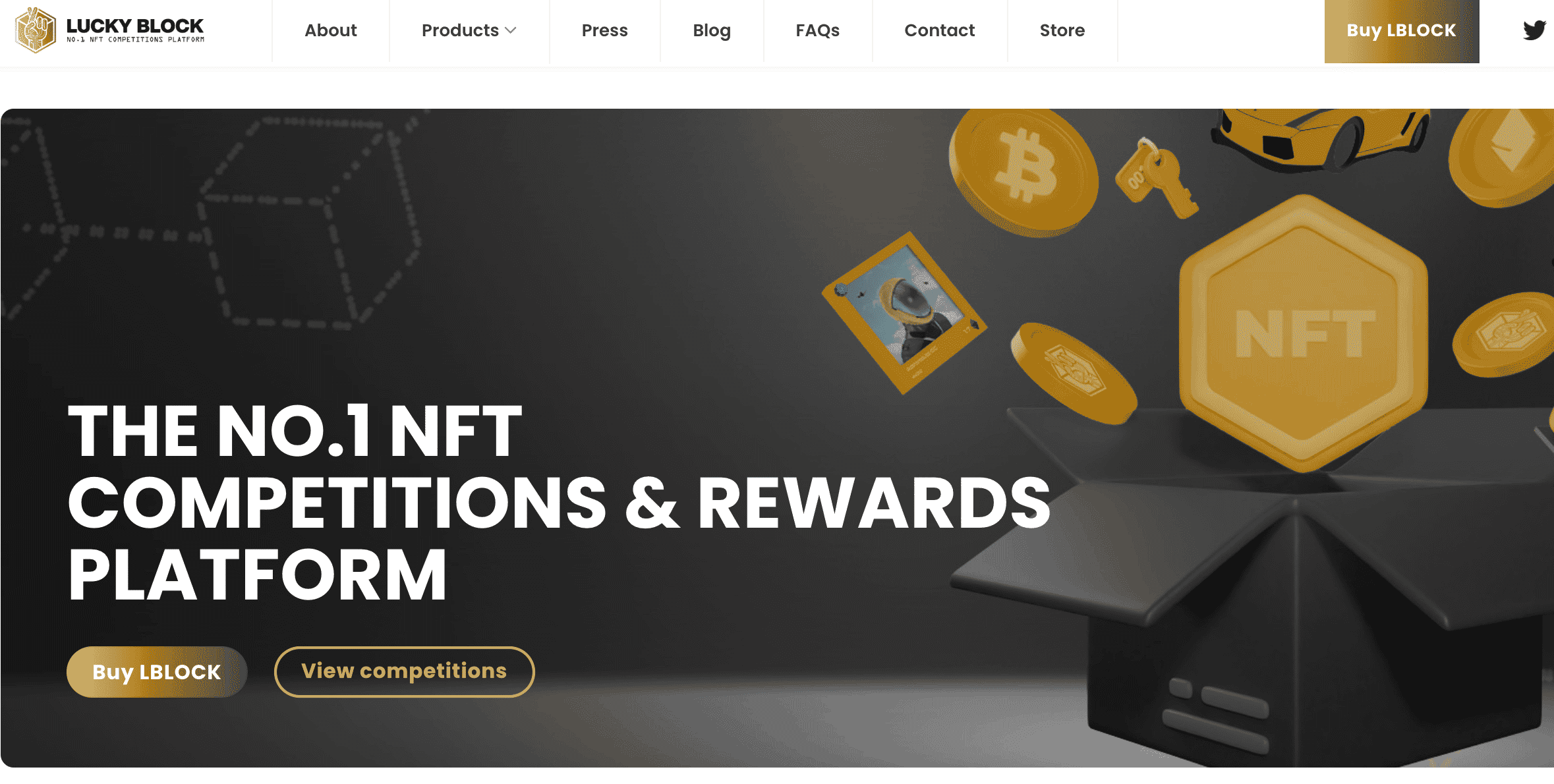 Users buy Lucky Block's LBLOCK token and use it to participate in the game draws and power the protocol's operations. Using the blockchain, the platform enables all users to easily monitor the draws and payouts without worrying about integrity.
Lucky Block allows users to participate in more draws, unlike the traditional system. As a way of giving back to its users, the platform offers free daily jackpot prize draws, which allow users to vote on which charities they would like to support financially and receive a stake in the prize regardless of whether they win the jackpot that day.
Pros:
Wide range of supported cryptocurrencies including BTC

Yield farming opportunities

Easy payments and withdrawals




Free daily jackpot prize draws
Cons:
No proper verification process

Functions more as a gaming platform than DeFi app
Your capital is at risk.
5. MetaMask – Leading DeFi Wallet With 30 Million Active Users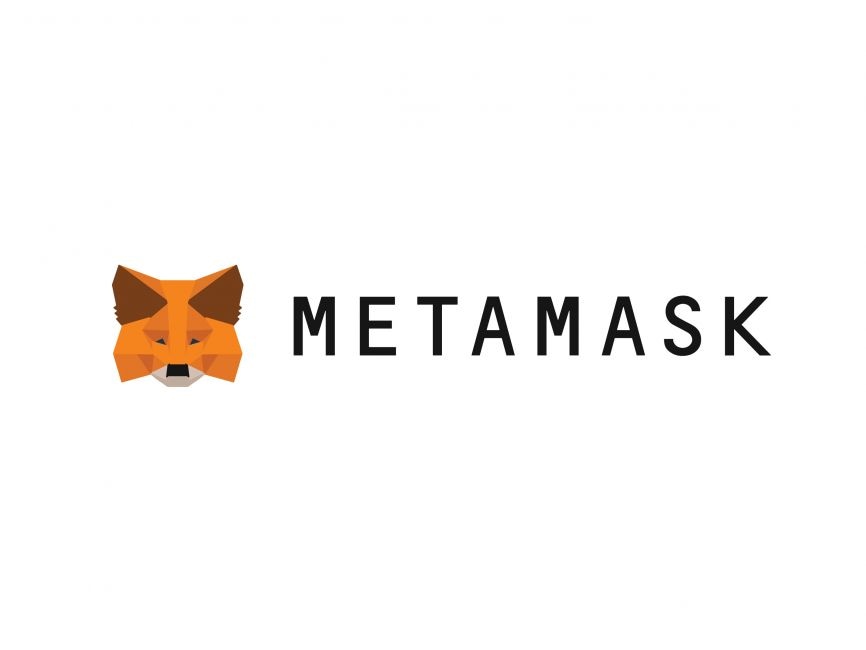 MetaMask is a great DeFi wallet for iOS and Android that you should consider trying. Investors who buy cryptocurrency regularly are likely already aware of MetaMask. According to its website, it has over 30 million monthly active users. This wallet has full support for the Ethereum blockchain and was developed to be used with either a mobile app or as a browser extension that you can download.
One of the best features of MetaMask is aggregating data from different sources, which ensures that when you make a token exchange, you are getting the best price and are not paying any network fees.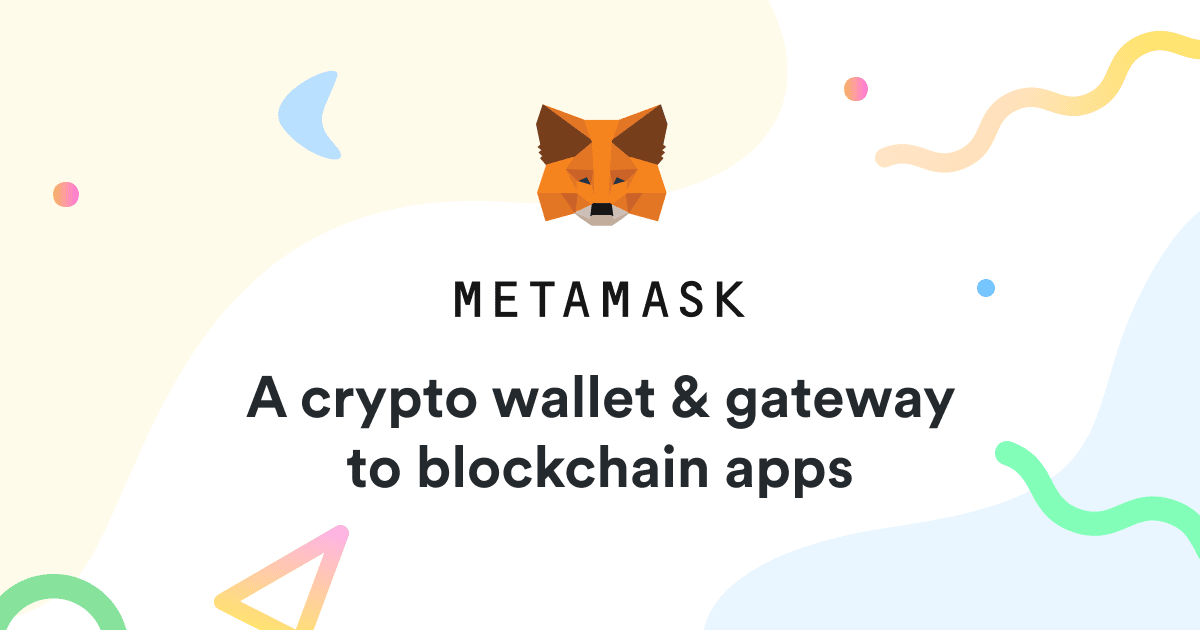 MetaMask also spreads your orders across multiple exchanges, protecting you from slippage while placing your orders. As a result of partnerships with leading networks such as Uniswap, Curve, 1inch, and many others, the wallet can accomplish this task.
It is also possible to buy cryptocurrencies instantly from the wallet's interface, with added support for the best altcoin apps blockchain like Ethereum, Polygon, BSC, Avalanche, Fantom, and Celo tokens. In addition, there are various options for funding your purchase, including credit cards, debit cards, bank transfers, and Apple Pay and Google Pay.
Furthermore, by not storing your payment information and relinquishing control over your crypto assets, MetaMask ensures that you remain anonymous throughout the process.
Pros:
Support for multiple networks and tokens

Integration with hardware wallets

Direct access to the DeFi ecosystem

Customizable privacy settings and anonymity
Cons:
Limited built-in blockchains

Complexity for beginners
Your capital is at risk.
6. Crypto.com Wallet – DeFi Wallet With A Wide Tokens Support & High-Security Levels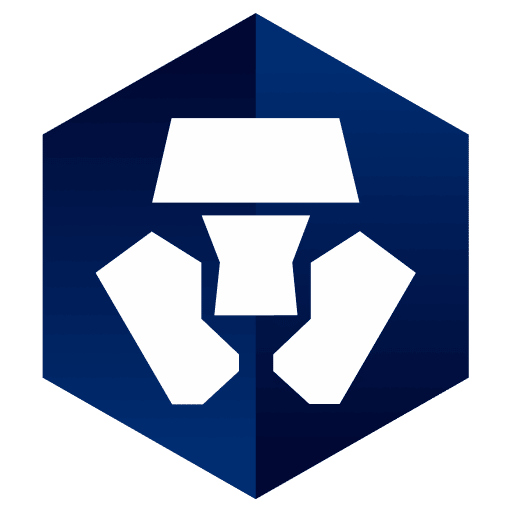 Using Crypto.com DeFi Wallet, you can fully control and access your private cryptocurrency keys. In contrast to a centralized custodian, the Crypto.com wallet allows you to keep sole ownership of your cryptocurrency assets. In addition, compared to the hot wallets of other crypto exchanges, this wallet offers much higher security and privacy levels.
There are over 300 crypto assets supported by the Crypto.com DeFi wallet, including Bitcoin, Ethereum, BNB, Cosmos Atom, Polygon Matic, Doge, USDT, USDC, and many others.
There is also a dedicated NFTs screen in the DeFi Wallet where you can manage your precious pieces of artwork that are stored on the blockchain and send, receive and send them. You can organize all your NFTs on the NFT screen, which works like a gallery. When you visit the NFT section, you can view up to 20 of these NFTs as a slideshow.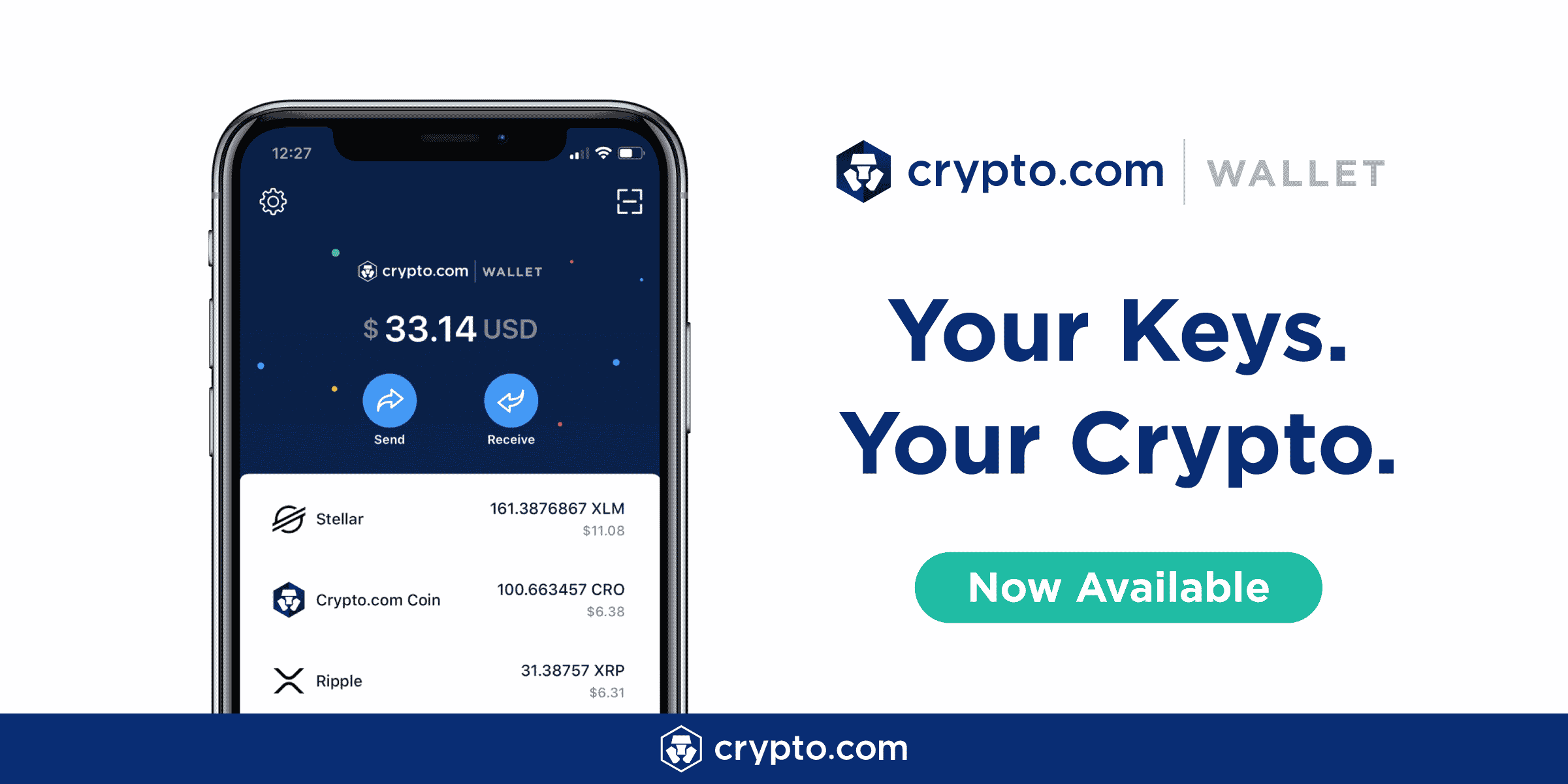 There is also a staking option available in the Crypto.com app if you're also looking to earn some passive income. The great thing about Crypto.com is that you are not required to lock your tokens away when you stake digital tokens, which gives you plenty of flexibility. Moreover, you will also find that Crypto.com offers excellent APYs on the majority of the tokens it supports.
Changing funds within the Crypto.com ecosystem is free of charge, but you need to be aware that all transactions take place on-chain. The cost of a single transaction may range from $5 to $50 if Ethereum, for example, is congested.
There might be a difference in transaction fees from one blockchain to another, so you might not know how much the transaction will cost until you make the transaction. However, you can track how much Ethereum fees are at any given time with the Crypto.com DeFi wallet. It is possible to choose times when the network is less congested to make transactions at a lower cost.
Pros:
Full control and ownership of crypto 

Secure access to a suite of DeFi services 

Integration with DeFi offerings, including DeFi Earn

Wallet Extension for seamless access from different devices

Wide availability across different platforms
Cons:
Spotty token detection for Layer 2 networks
Your capital is at risk.
7. UniSwap – One Of The Largest DEX Platforms In The DeFi Space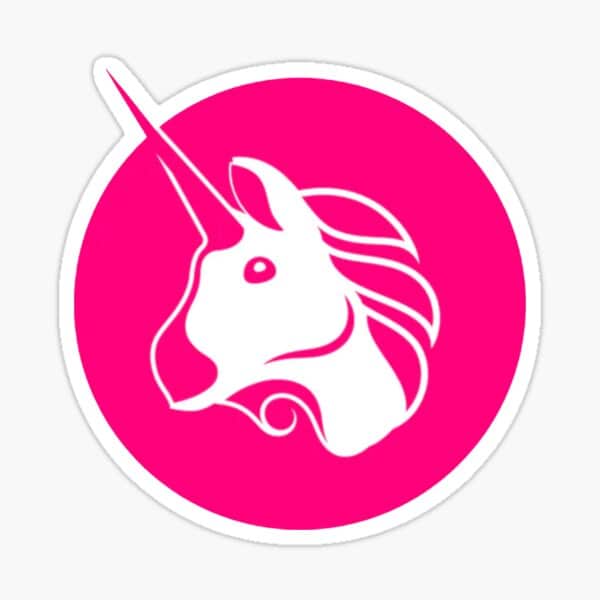 As one of the most well-known DEX platforms, UniSwap primarily operates on the Ethereum network. The founding of UniSwap in late 2019 marked the beginning of the boom of the decentralized exchange market, as the exchange allowed users to trade tokens without having to reveal any of their personal information.
In order to provide a seamless and low-cost experience for its users, UniSwap has launched three versions of its DEX trading platform to streamline its user experience in a way that makes it one of the best DeFi apps available nowadays.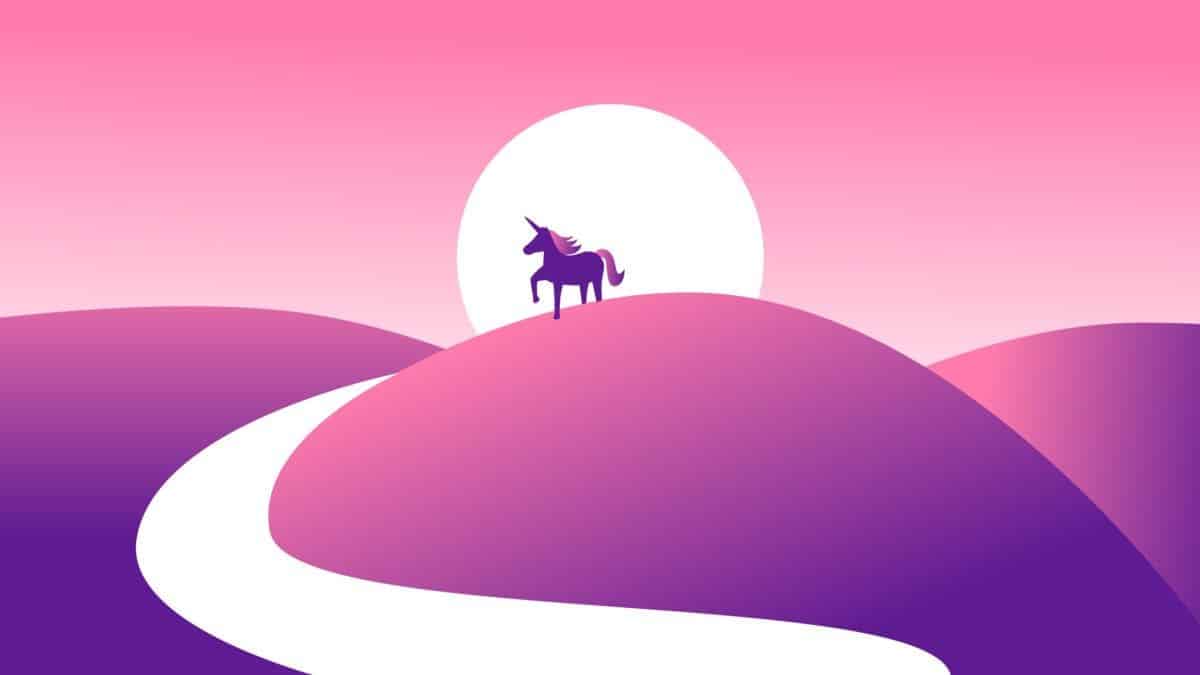 In terms of functionality, UniSwap can swap, exchange, and trade ERC-20 tokens on its platform, but it also offers liquidity on the pools that users choose. For example, when users want to withdraw their earnings, the underlying asset's tokens are exchanged on a 1:1 ratio as a reward for liquidity providers.
Over $2 billion worth of daily trades are conducted on UniSwap's V3 platform daily, putting the company in the lead in the DEX market. In addition, substantial gains have also been recorded on the Ethereum-based protocol.
Pros:
Multiple blockchain networks supported

Decentralized governance

Low-Cost trades

Liquidity pools for passive income

Convenient for swapping cryptocurrencies
Cons:
High gas fees

No support for direct purchases with fiat
Your capital is at risk.
8. Aave – Exceptional D'App With A Flash Loans Feature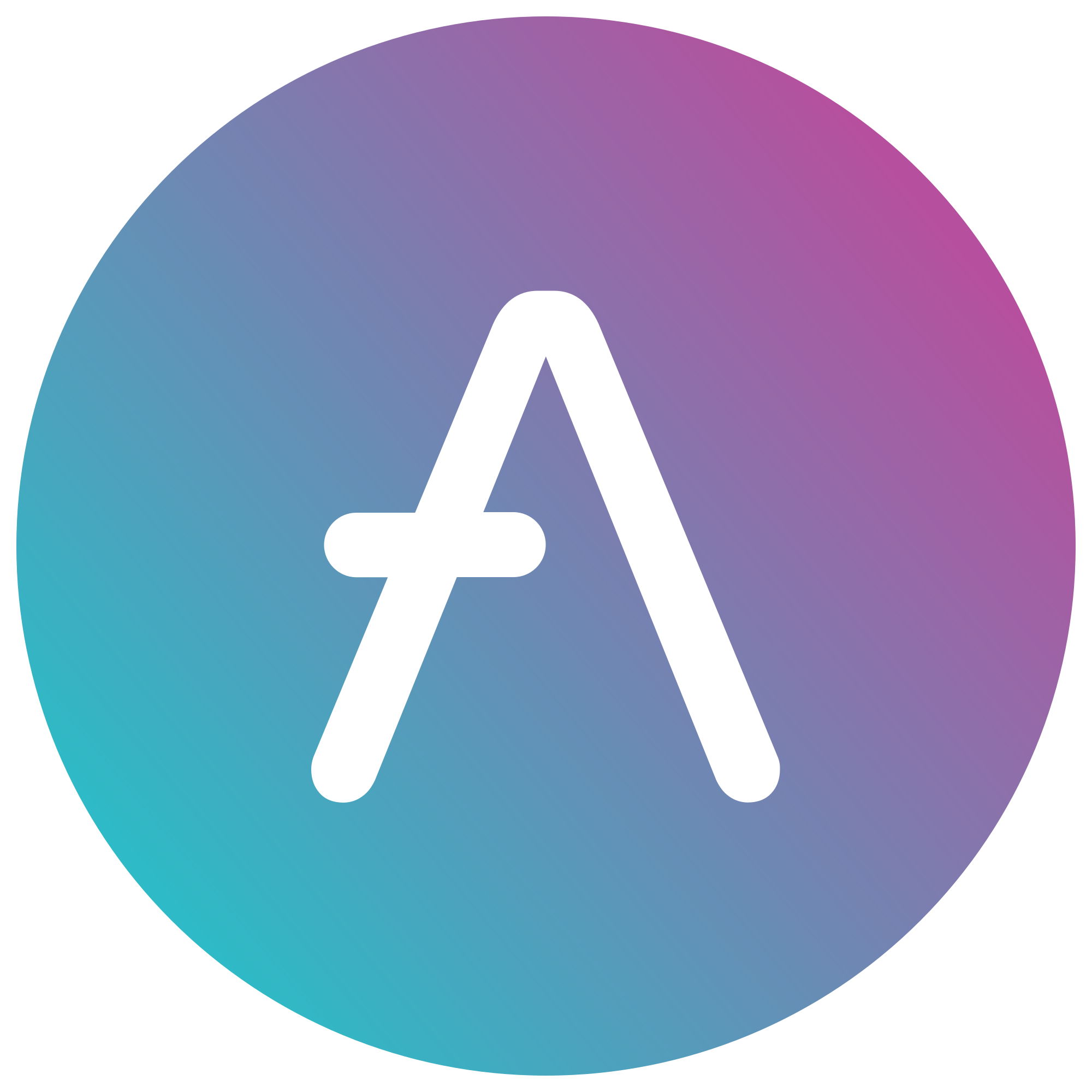 As one of the top lending and borrowing protocols on the Ethereum network, Aave has established itself as a leading DeFi app. It allows users to interact with financial products by lending or borrowing cryptocurrencies, as ERC-20 token standards are used for all interactions.
In 2020, Ave was introduced as a non-custodial liquidity protocol that revolutionized the notion of decentralized finance and took the blockchain industry by storm. The Aave platform allows users to borrow or lend currencies compatible with the ERC-20 protocol through a lending pool.
The users deposit their assets into liquidity pools and receive interest every year on their deposits by way of the liquidity pools. The protocol then lends out tokens from the pool while the pool pays interest on the tokens. This means that the participants in the ecosystem will not have to interact with any other third parties as they don't need to. Furthermore, through Ethereum smart contracts, Aave creates a peer-to-peer system that enforces peer-to-peer transactions.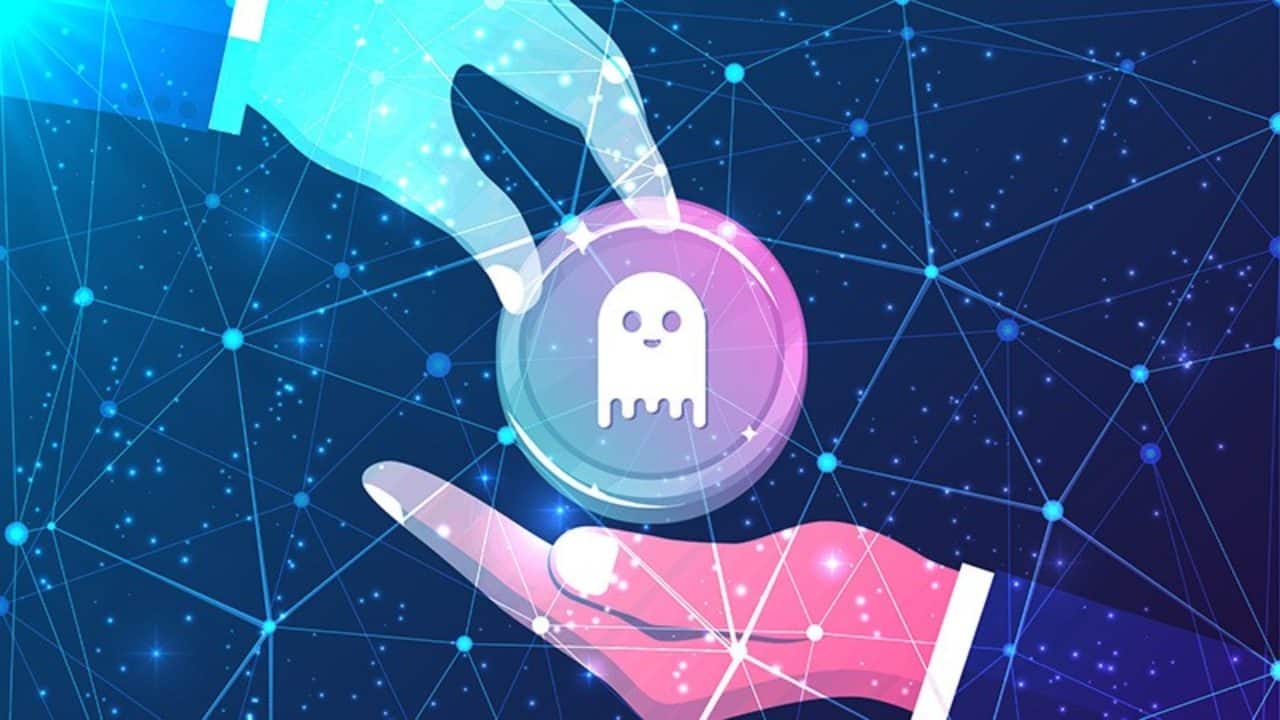 Among the main features of Aave is its flash loans feature, which does not require users to provide liquidity or collateral. In addition, there is no need to return the liquidity in a separate block for the protocol's function to work. Essentially, this is a DeFi-related type of arbitrage trading where users can trade instantly within the block frame while profiting from price fluctuations.
Pros:
Decentralized finance (DeFi) lending system 

Wide range of supported crypto assets for lending and borrowing 

Non-custodial liquidity protocol

Flash loans feature for instant trading and arbitrage opportunities

Peer-to-peer transactions facilitated through Ethereum smart contracts
Cons:
Collateral liquidation risk

Limited token choices on some networks
Your capital is at risk.
9. SushiSwap – Comprehensive DeFi App Featuring A Popular Token
SushiSwap lets users buy and sell digital currency without involving a third-parties. However, SushiSwap also offers a wide range of services that align with the principles of decentralization and the goals of financial technology. Since SushiSwap has surged to success, the company currently has a market capitalization of $280 million due to its popularity.
You can earn a return on your cryptocurrency holdings by investing tokens in liquidity pools, staking, and even making loan agreements to generate a yield.
Additionally, SushiSwap expanded its business model by creating an NFT marketplace, combining the Metaverse as part of its business model. In addition to immersing buyers and sellers in one of the best NFT app trading experience, the SushiSwap network will also enable them to transact in a decentralized fashion through its marketplace, providing a chance for buyers and sellers to transact in a decentralized way.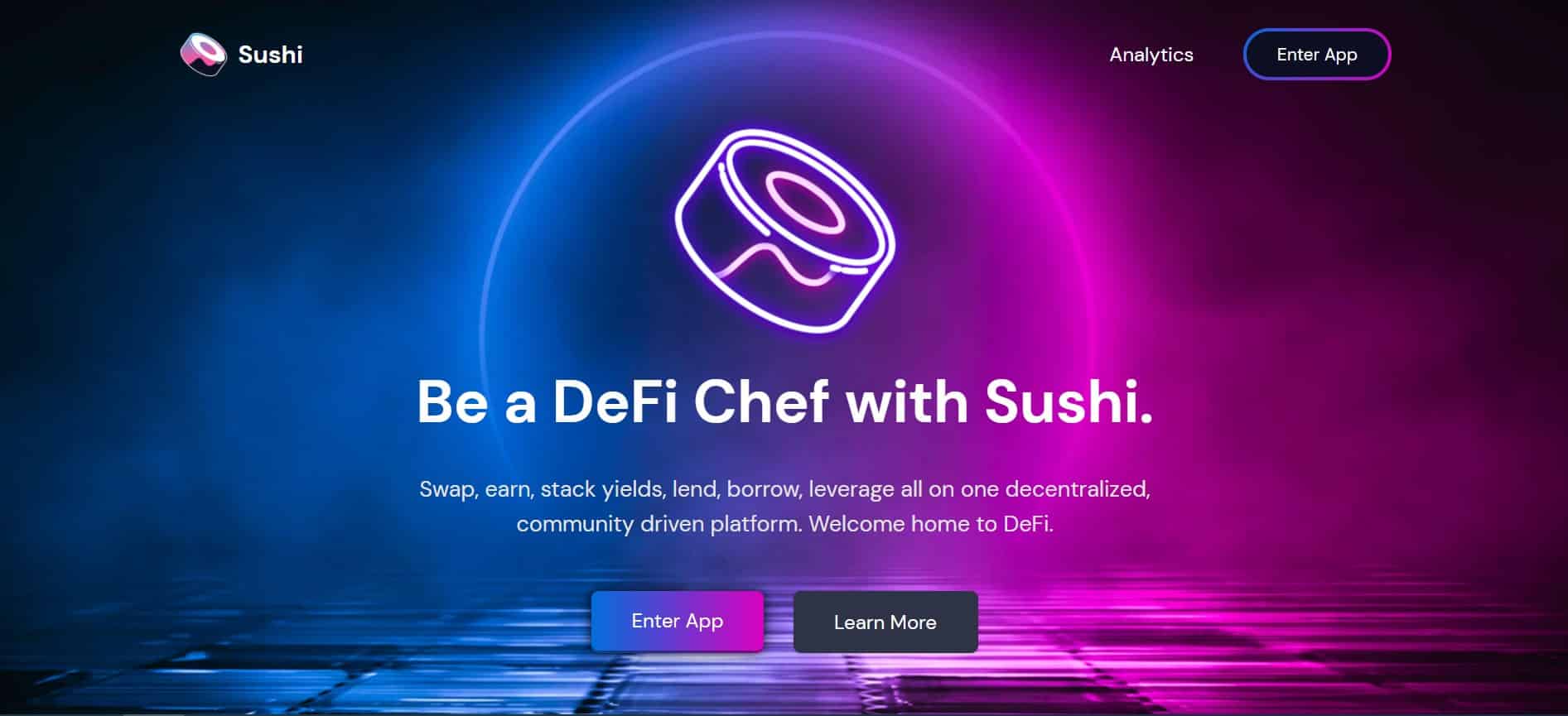 Compared to UniSwap, the platform is aimed to be a more economical DEX. Due to this, SushiSwap rewards the SUSHI token holders with governance rights of 0.05% on all swaps they participate in. Moreover, as a multi-chain AMM protocol, it runs on 14 chains.
Pros:
Operates on multiple blockchain networks

The platforms offers Lending & Leverage, Staking, and Token Vault

NFT marketplace integration

Rewards for SUSHI token holders
Cons:
Limited to Ethereum-based tokens
Your capital is at risk.
10. Nexo – Growing Defi Project With Interesting Lending Approaches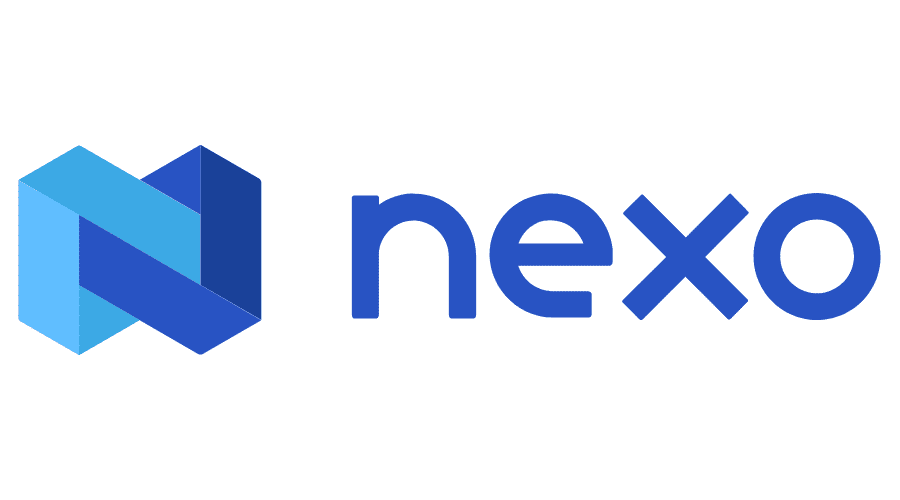 The Nexo platform is the fastest-growing cryptocurrency bank app that simplifies cryptocurrencies' lending and borrowing process. In the interest-bearing accounts offered by the platform, investors can earn up to 13.9% interest on the coins and fiat currencies they hold. As well as providing crypto-backed loans, Nexo allows investors to continue to own their cryptocurrency holdings by employing crypto-backed loans.
Aside from being one of the best DeFi projects, the platform is known for its simplicity when it comes to its processes. Neither Nexo charges origination fees nor requires monthly payments for its credit lines. Loans from this provider are automatically approved.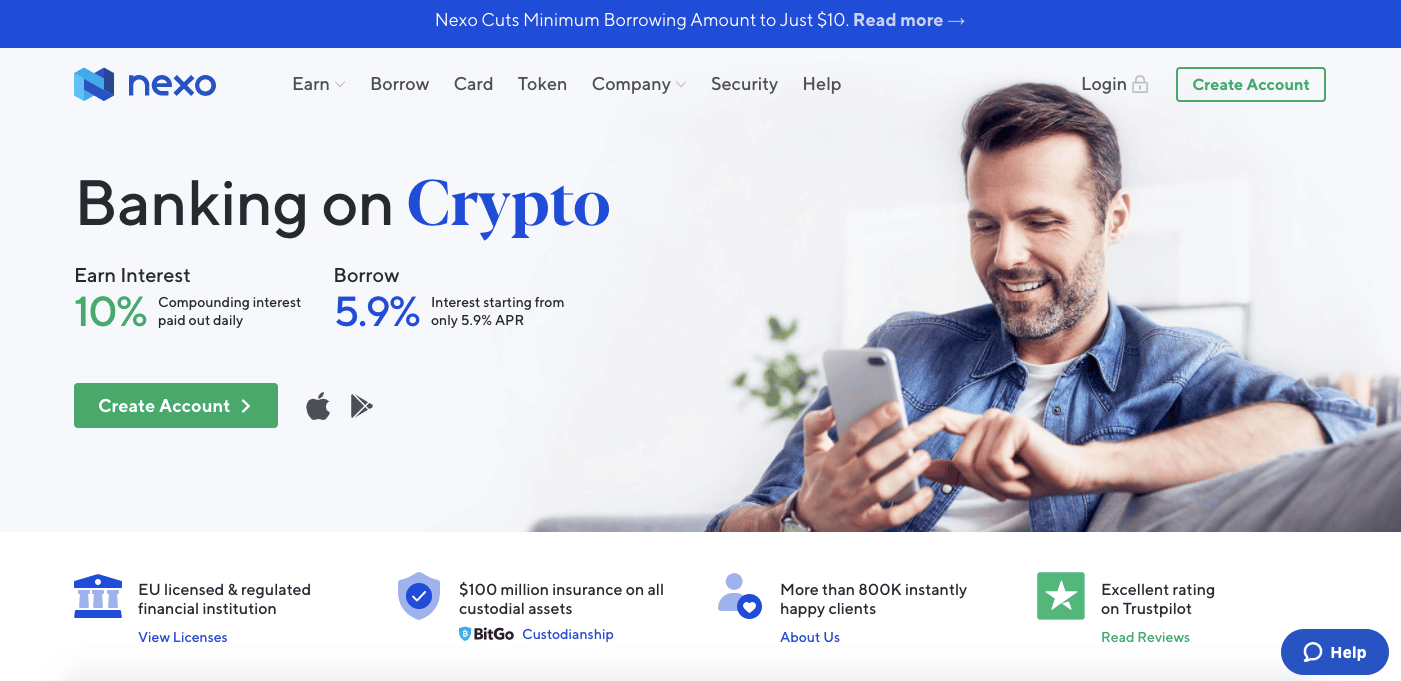 In terms of loan percentages, Nexo offers a variety of terms and has a base interest rate of 6.9% as a starting point. In addition, over 40 different currencies are available for borrowing, so you will surely find something that suits your needs. Nexo's minimum loan amount is $50, and its maximum loan amount is $2 million.
All interest will be paid in NEXO tokens and not the cryptocurrency borrowed, which is one of the key features of Nexo. You will have to pay exchange fees if you switch from NEXO to another cryptocurrency later. Unlike other lending platforms, the platform offers several levels of insurance to protect its customers' funds.
Pros:
Simplified crypto lending and borrowing process 

Interest-bearing accounts 

Crypto-backed loans that allow investors to retain ownership

No origination fees or monthly payments for credit lines

Wide range of borrowing options with over 40 currencies 

Multiple levels of insurance to protect customer funds
Cons:
High NEXO token buy-in requirements
Your capital is at risk.
11. Trust Wallet – Excellent DeFi Wallet Choice For Diversified Portfolios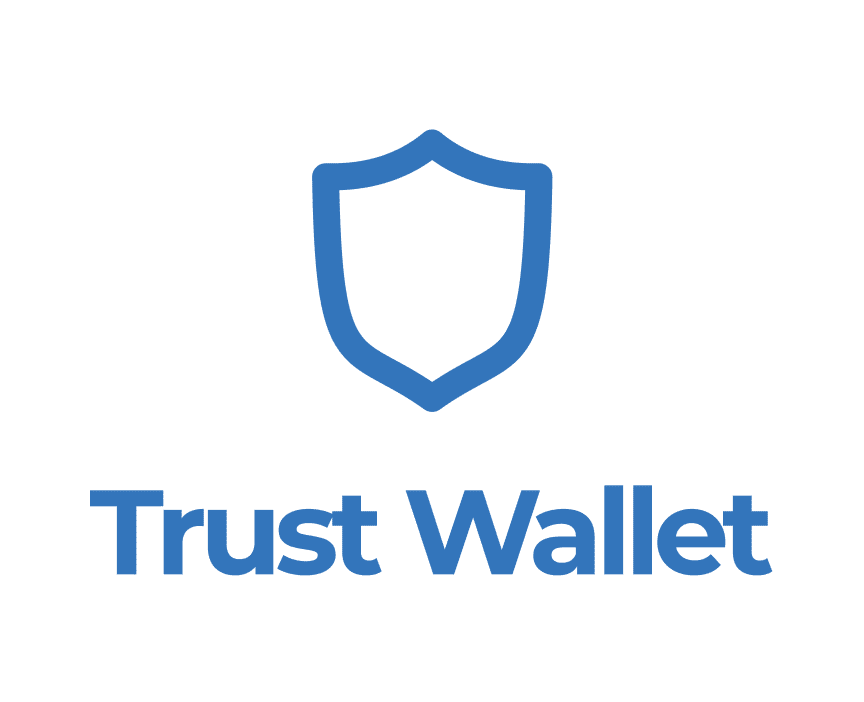 Trust Wallet has a simple-to-use crypto wallet available for iOS and Android devices and is completely free to use. More than one million different assets are supported by it, including 53 different blockchains as well as NFTs. There isn't a cryptocurrency that users cannot add to the Trust Wallet, and you'll have a hard time finding one that they can't.
Even though Trust Wallet's design is quite simple, it is a pioneer in decentralized finance technology, despite its apparent simplicity. More than a dozen coins can be staked through this wallet, and you can earn interest rates up to 11% APY on various coins.
Furthermore, the wallet has an integrated Web3 browser and a marketplace for decentralized applications (dApps), making it one of the best Bitcoin wallet apps in the industry. So you will be able to access your favorite crypto lending platform or decentralized exchange with ease.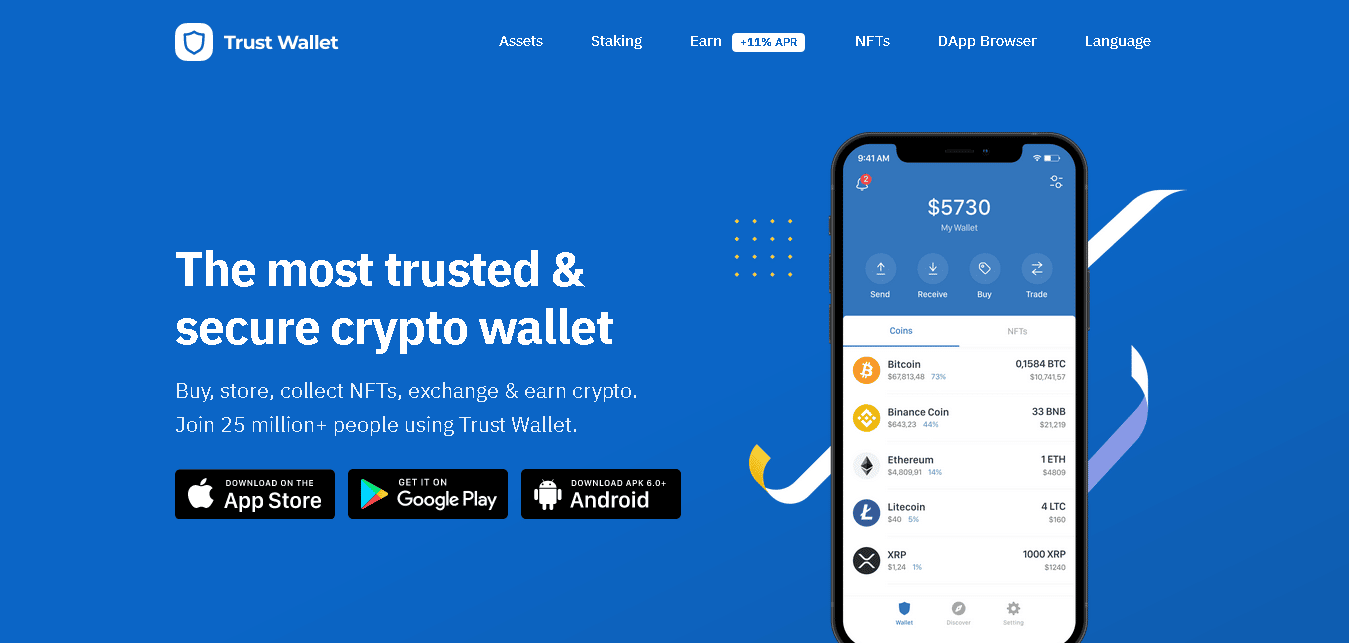 It is possible to utilize protocols such as PancakeSwap, 1inch, OpenSea, and many others with this browser, as it supports Ethereum and Binance Smart Chain (BSC) dApps. Additionally, Trust Wallet not only allows users to browse dApps, but it is also able to seamlessly swap tokens – even allowing for crypto purchases with credit or debit cards.
Pros:
A wide range of cryptocurrencies and assets, including NFTs

Integrated Web3 browser for accessing dApps

Built-in staking feature with the potential to earn interest

Available for both iOS and Android devices

Trust Wallet has gained a large user base and positive reviews
Cons:
No simple conversion to offline storage

No cold storage feature
Your capital is at risk.
12. YouHodler – Top DeFi Wallet On The BSC Network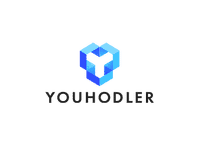 Lastly, we find to YouHodler a platform where users can obtain loans at quite low-interest rates. Moreover, it allows you to apply for a loan without selling the cryptocurrencies you have saved or giving them up as collateral.
As a result of its methodological approach, the user can save satisfactorily because they can keep their cryptocurrencies when there is a dip in the market and sell them when there is an increase.
In terms of interest rates on lending, Bitcoin and Ethereum lending rates amount to an APY of 4.8% and 5.5%. However, although the rates available elsewhere may be slightly higher, it is important to note that YouHodler accounts come without lock-up periods, allowing you to make the most of your money without worrying about it. Furthermore, this platform does not require you to stake any tokens to use it. YouHodler also offers an APY of 7% on Uniswap and 6.2% on Chainlink, as well as a 4.5% rate on Yearn.finance, among other noteworthy interest rates.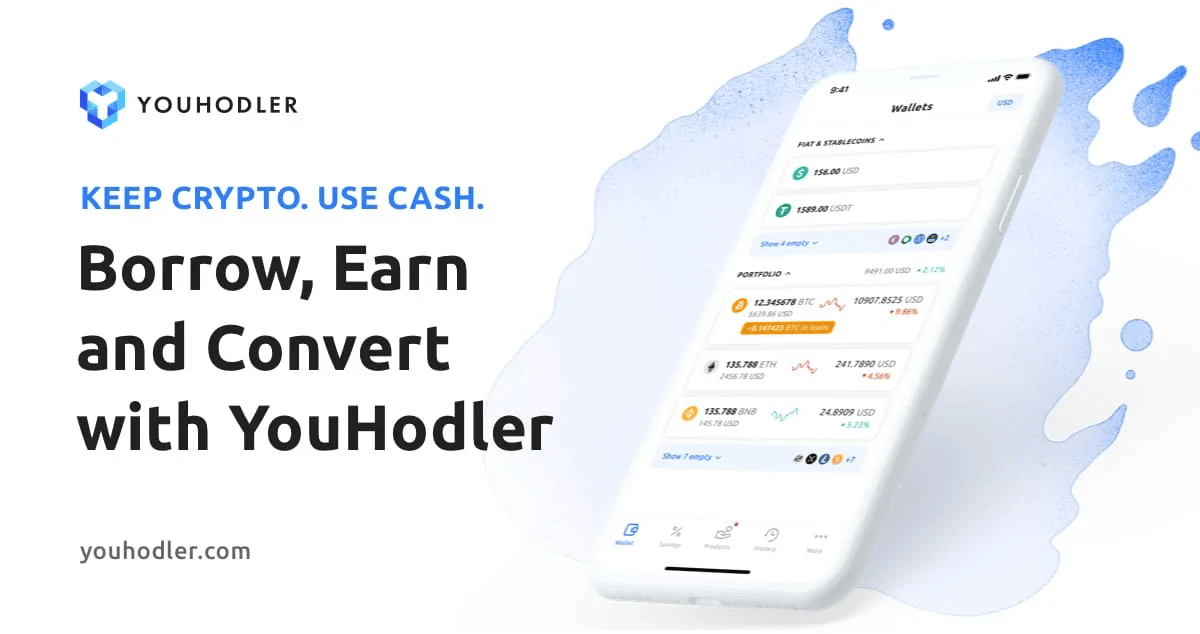 As well as working as a lending platform, YouHodler offers an investment system supporting over 50 currencies. This top-notch exchange platform allows you to trade various cryptocurrencies and stablecoins of all sizes, so you can easily make your way through the market.
Pros:
High loan-to-value ratios (LTVs) for collateralized loans

No credit check required for loan approval

Supports a wide range of cryptocurrencies and assets

Competitive yield rates on savings

Provides a variety of tools and innovative investment options
Cons:
Minimum investment requirements

High APRs on loans
Your capital is at risk.
Decentralized Finance vs Centralized Finance
DeFi (Decentralized Finance) and CeFi (Centralized Finance) are two distinct approaches to financial systems in the cryptocurrency space. While both aim to promote the use of cryptocurrency, they differ in their underlying principles, structures, and features. Here is a comparison table highlighting key differences between DeFi and CeFi:
| | | |
| --- | --- | --- |
| Aspect | DeFi | CeFi |
| Governance | Decentralized, governed by smart contracts and community votes | Centralized, governed by a private central authority |
| Intermediaries | Minimal reliance on intermediaries | Reliance on intermediaries such as banks and financial institutions |
| Accessibility | Open to anyone with an internet connection | Subject to regulatory restrictions and KYC/AML requirements |
| Transparency | Transparent, transactions and protocols are publicly verifiable | Less transparent, transactions and protocols may not be publicly verifiable |
| Flexibility | Flexible, allows for innovation and experimentation | Less flexible, subject to regulatory compliance and restrictions |
| Security | Vulnerable to smart contract bugs and hacking | Central authorities can take additional steps to secure operations |
| Asset Selection | Wide range of assets and tokens available | Limited to assets supported by the centralized platform |
| Financial Control | Users have full control over their funds and transactions | Users rely on the central authority for fund custody and transactions |
| Fiat Integration | Limited availability of fiat on-ramps and conversions | More flexible fiat on-ramps and conversions |
| Innovation | Rapid rate of innovation and development | Slower rate of innovation due to regulatory considerations |
How To Use DeFi Swap – Our Top D'App
Connect crypto wallet to DeFi Swap
Getting started with DeFi Swap is as easy as clicking on Connect to a Wallet on the platform. However, if you use another wallet apart from MetaMask, you will need to click on 'Wallet Connect' and scan the QR code. This will enable you to connect your chosen wallet to DeFi Swap.
With DeFi Swap, you can use a wide variety of crypto wallets such as Tokenary, Infinity Wallet, Wallet 3, SecuX, Ambire, Keyring Pro, Ledger, and KryptoGO, among others.

Search for tokens to swap
Upon connecting your wallet to the platform, you can exchange any cryptocurrency you own for DeFi Coin – the native token of the platform.  It is as simple as entering the coin and amount you would like to swap, then clicking Swap.
DeFi Swap 'staking'
The next step is to navigate the Farm page on DeFi Swap's platform once you have purchased your DeFi Coin. Choose the amount of DeFi Coin you want to stake and the lock-in period that you would like.
It will be possible for you to choose from four different lock-up terms – 30, 90, 180, and 365 days.
The longer the lock-up period, the more interest you will earn. When the particular term you have chosen has come to a close, you can withdraw your initial investment into your wallet. Additionally, this is also true when it comes to the interest payments that you have generated.
As soon as you are ready, click on the 'Stake' button to stake your DeFi Coin.
DeFi swap 'pool'
Using a top-rated DeFi app such as DeFi Swap, which provides liquidity for traders on the platform, you can also make money by participating in liquidity pools and making money through those. As a result, you will be able to lend tokens.
As soon as you connect your wallet to the DeFI Swap website, you will be able to begin your yield farming journey instantly. Then, it is possible for you to access a wide range of yield farming pools thanks to its protocol residing on top of the Binance Smart Chain.
Consequently, you will obtain a share of any trading fees collected on the respective pair after selecting a pool and transferring your preferred number of tokens. This way, you can earn passive income, as you do not need to do anything after depositing your tokens.
Invest In DeFi Coin
The DeFi Swap decentralized exchange is powered by the underlying crypto token, DeFi Coin, which we discussed earlier in this guide. There are many benefits to using a DEX, such as instant decentralized token swaps and passive incoming possibilities.
If you are looking to buy DeFi Coin, one of the best crypto tokens to watch out for in 2023, then the best place to do so is via the DeFi Swap exchange by the first steps above.
Your capital is at risk.
What Are D'Apps?
DeFi apps enable you to access a whole range of decentralized finance services directly from the convenience of your smartphone or desktop. This benefit is that you can achieve all of your DeFi requirements wherever you may be. You can use the service if you have an internet connection.
Those apps are very diverse regarding their services, varying from one to another. For instance, you may be able to earn interest on the investments you make in a cryptocurrency as a result of investing in it.
Moreover, the top DeFi apps in the market provide exchange services. In other words, you don't need a centralized platform to swap digital tokens.
What Are DeFi Apps Used For?
Instant and decentralized swaps: Several top DeFi apps provide swapping tools. Simply put, one token can be swapped for another. So, you can swap tokens instantly without leaving your wallet interface.
Staking: In most cases, when staking, your tokens need to be locked away for a specified period to earn interest. Interest rates rise as the term lengthens.
Liquidity Pools: Liquidity pools can make money when you use a top-rated DeFi app. The idea is to lend tokens to a decentralized exchange that provides liquidity to traders. Upon collecting trading fees, you will receive a commission. Liquidity pools are usually not subject to lock-up requirements.
Wallet Storage: This feature will store your digital token investments securely. With DeFi apps, you don't need a third party to hold your private keys; they are non-custodial. On the other hand, using a centralized exchange will protect your tokens since the platform will handle that for you.
Interest Accounts: DeFi apps with the best features will also offer interest accounts. Unlike other accounts in the industry, these have no lock-up terms or caps.
Are D'Apps A Good Investment In 2023 ?
If you prefer not to deal with traditional financial institutions, a DeFi platform can provide several benefits.
Firstly, direct transactions are enabled by DeFi between any two parties. Since there is no intermediary, transaction fees are greatly reduced, and interest rates can be negotiated directly between the parties. As a result, traditional financial institutions typically charge much lower interest rates than DeFi networks.
Anyone can review smart contracts and completed transactions published on a blockchain. Immutability is the key characteristic of blockchains. Featuring the transparency and security of blockchain technology, DeFi's platform users can execute smart contracts while maintaining their privacy. The publicly available transaction data do not reveal your real-life identity.
Moreover, the best DeFi apps are accessible to anyone with an internet connection, allowing them to open bank accounts or receive loans. DeFi transactions can occur without regard to geography due to its high level of accessibility.
What Is The Best DeFi Crypto?
The DeFi Coin (DEFC) is the underlying token that powers the DeFi Swap exchange– which we are convinced has the best DeFi app in this industry and has proven to be the most outstanding platform. The fact that DeFi Coin becomes a part of your portfolio means that you will indirectly be investing in the future success of DeFi Swap.
DeFi Coin, however, is not only designed to allow you to earn above-average capital gains but also to allow you to earn interest passively while you target above-average capital gains.
The fact that the project rewards long-term investors is among the many reasons why DEFC is the most suitable DeFi coin and the best crypto to buy. This is because there is a 10% tax on every order for either a purchase or a sale. Therefore, as long as you remain a DeFi Coin holder, you will be entitled to receive a share of the tax. In addition, as you accumulate more DEFC tokens, you will receive a greater share of the proceeds.
DeFi Coin (DEFC) Price Prediction
| Year | Minimum Price | Average Price | Maximum Price |
| --- | --- | --- | --- |
| 2024 | $0.0019 | $0.0020 | $0.0022 |
| 2025 | $0.0029 | $0.0030 | $0.0034 |
| 2030 | $0.0199 | $0.0205 | $0.0239 |
Best DeFi Apps 2023 – Conclusion
In summary, the most competitive DeFi apps allow you to generate interest on idle tokens and even borrow funds with the help of instant loans available to you. Moreover, you can also exchange crypto assets in a decentralized manner and provide liquidity to earn a good return on investment.
So consider DeFi Swap if you're looking for the best DeFi app for 2023, and get started immediately. This platform offers many attractive high interests and instant swap options.
Your capital is at risk.
References
FAQs
What are the best defi apps 2023?
Are D'apps a good investment?
Where can I trade defi crypto?