MooMoo Trading App Review 2023
Disclosure
Everything you read on our site is provided by expert writers who have many years of experience in the financial markets and have written for other top financial publications. Every piece of information here is fact-checked. We sometimes use affiliate links in our content, when clicking on those we might receive a commission – at no extra cost to you. By using this website you agree to our terms and conditions and privacy policy.
MooMoo is an online broker offering zero-commission trading of stocks, exchange-traded funds (ETFs), and options. The company offers services to traders in over 20 countries, including the United States, Singapore, Hong Kong, and Taiwan.  
With a robust stock trading platform and fully digital brokerage services, MooMoo is a considerable online trading platform for stock traders. But is MooMoo investing as great as it seems? We review all there is to know in this MooMoo review 2023 guide.  
MooMoo Trading Platform Overview
Below, we take a quick glance at MooMoo investing for potential investors to understand its specifics and features.  
Platform Name

 

MooMoo Financial Inc

 

Headquarters

 

California, USA

 

Year of Launch

 

2021

 

Minimum deposit

 

$0

 

Trading platform type

 

Online Brokerage 

 

Assets available

 

Stocks, EFTs, and Options

 

Trading Fee Class

 

Low

 

Regulated by

 

SEC, FINRA

 

Key features

 

Mobile App, MooMoo Stock Screener, Customer Support, Professional Charting Tools, Sign Up Bonus, Commission-Free Trading, etc. 

 

Demo account available?

 

Yes

 

Payment and withdrawal methods

 

Bank Transfer, Wired funds

 
Your money is at risk.
MooMoo Trading Platform Full Review 2023
Here, we go into full detail about MooMoo investing and why the online trading platform could be the best trading platform in 2023. At the end of this guide, investors will be able to determine if MooMoo trading is right for them. Keep reading.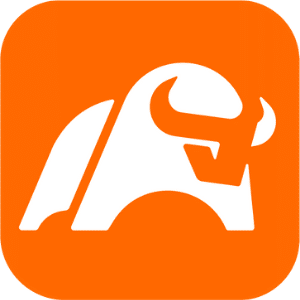 What is MooMoo?
MooMoo is a one-stop shop for brokerage products and stock-related services. MooMoo Technologies Inc powers the MooMoo trading platform, and it offers free online trading via a robust trading app for Android and iOS devices. On this platform, users can trade stocks, options, and ETFs in the US and over 20 other countries. 
However, UK investors and their counterparts in the EU region cannot use MooMoo at the time of writing.  
 Your capital is at risk. 
MooMoo Trading Platform Key Features
Despite being a relatively new stock trading platform, MooMoo is packed with numerous features that make it stand tall amongst its competitors. We highlight some of the features that give MooMoo a shout as the best trading platform.  
MooMoo Mobile App
Despite offering its services on Windows and Mac devices, MooMoo goes the extra mile to cater to mobile-first users with its intuitive mobile app. The MooMoo mobile app is available on Android and iOS devices and offers users the same features as the website.  
The mobile app has a simple user interface that makes it easy to navigate and execute trades. It also comes with a variety of orders available on the primary desktop application.  
However, an important feature missing on the mobile app is the Screener, which may result in users tilting more toward the website.  
Also, during our MooMoo app review, we discovered that the mobile application lags from the point of logging in, and it's also somewhat slow with trade execution. This can be frustrating for users who want to open and close trades instantly to mitigate the price volatility risk.  
However, the MooMoo investing app's 4-star rating out of a possible 5 on the Google Play Store and 4.7-star rating on the Apple App Store show that the app has a high interaction rate among users. Users rate the MooMoo investing app highly because of its simple design and clean layout. Users also fancy its extensive research tools and the constant addition of new features to continue improving the platform.  
 Your capital is at risk. 
MooMoo Platform Sign-Up Bonus 
Another standout feature of MooMoo investing is the trading platform's welcome bonus. 
MooMoo offers new customers a sign-up bonus of up to 20 free stocks. The sign-up bonus offered by MooMoo is one of the best on the market. For instance, competitors like Robinhood offer between $5 and $200, while Alpaca Trading offers a maximum welcome bonus of $100.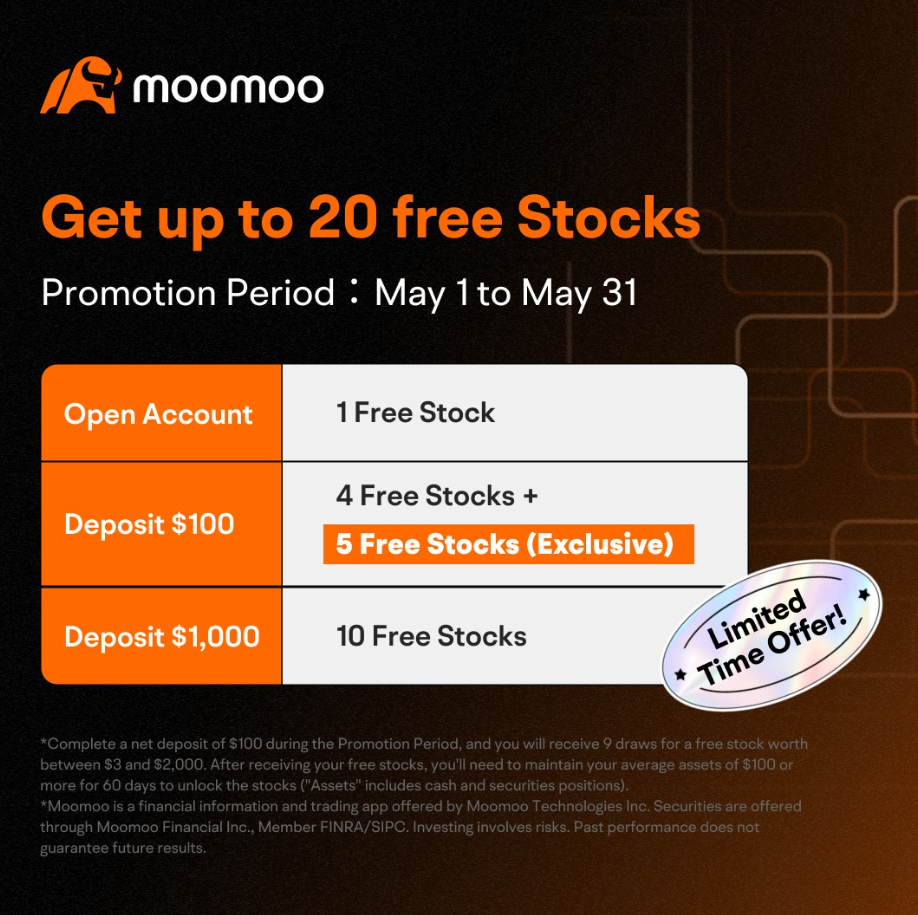 However, it's important to note that MooMoo has deposit limitations for the 20 stocks, offered as a welcome bonus. We break down the limits and rewards below.  
Net Deposit

 

Total Stocks to Receive

 

$0

 

1 free stock

 

$100

 

10 free stocks in total

 

$1,000

 

20 free stocks in total

 
Upon registration, MooMoo customers also enjoy free level 2 data, and US residents trading in the country enjoy commission-free trading on the MooMoo investing platform. However, the online trading platform states that users must maintain an average asset requirement of $1,000 or more for 60 days to unlock the bonus stocks received. Only customers who fund their accounts using wire or ACH transfer will receive the deposit bonus. Users can refer to the MooMoo promotions page for more information.  
 Your capital is at risk. 
Charting and Analysis Tools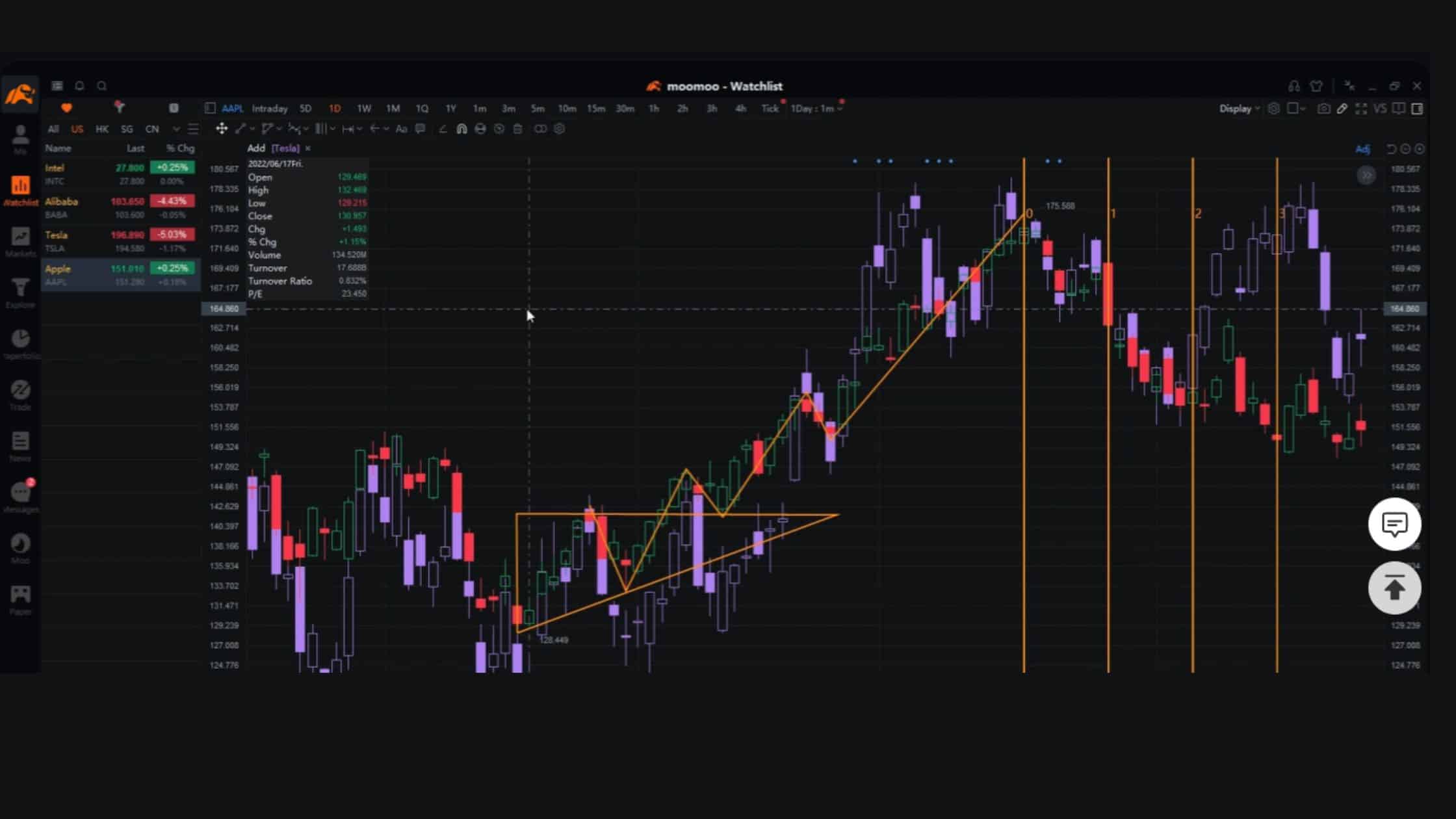 Another perk of MooMoo investing is the access to charting and analysis tools that the platform offers to traders. Trading stocks and other digital assets requires various strategies and analyses to improve profitability and mitigate risks.  
On the MooMoo investing app, traders will find various charts to discover the best trading opportunities and get insights about the market's biggest movers. The charting tools on MooMoo include; 
✔️Earning Calendar and Earning Report 
Earnings season is easily the busiest time of the year for those who watch the markets. Company report on a semi-annual around 21th April to 7th May. The moomoo earning calendar is a smart, clear, and customizable earnings calendar, lays out the release dates of companies. Besides, clients can check interpretation for hot stocks and see the 19M reaction towards these companies' earnings release. 
✔️ AI Market Monitor 
MooMoo AI Market Monitor that traders can use to simultaneously monitor multiple stocks at multiple timeframes. The monitor also employ different screeners and real-time data that refresh every 0.03 seconds for more accuracy.  
✔️Technical Indicators 
Investors can execute better technical analysis for their trades using technical indicators provided by MooMoo. The platform provides 63+ indicators that users can combine with their strategies to analyze the market for better trading decisions.  
✔️Drawing Tools 
MooMoo offers its users 38 drawing tools they can use to access trade signals quicker, even when using complex trading charts. In other words, traders can easily spot market trends/patterns using the available drawing tools and leverage the signals in their strategies.  
✔️Custom Indicators 
Apart from having access to automated technical indicators, traders on the MooMoo investing app can build their own technical indicators. Interestingly, the platform provides over 190 pre-set functions to simplify and speed up customization. The MooMoo trading app also allows users to synchronize their built indicators across their various devices.  
In terms of stock analysis, MooMoo offers four different tools to help traders make the most of bearish and bullish markets. These tools also help traders create an overview of the existing market moves to find valuable insights using the candlestick. The 4 stock analysis tools for MooMoo trading are; 
Daily Short Sale Analysis

for daily short volume information from the New York Stock Exchange (NYSE) and the National Association of Securities Dealers Automated Quotations (NASDAQ). This analysis can also be used to spot signals for short trades and get data on daily short sale rankings, daily short volume, and short interest for more potential opportunities in short sale activities. 

 
Institutional Holdings

to easily visualize, aggregate, and analyze ownership activities from institutions. This can help mirror the trading activities of institutional investors for more potential opportunities. 

 

Company Valuation

to better understand the value of a stock like a professional using price-to-book (PB), price-to-earning (P/E) ratio, and price-to-sales (PS) models. This analysis can also be used to instantly compare stock prices using industry-wide historical data, visualized charts, and market statistics. 

 

Financial Report

for a detailed comparison and visualization of multiple key indicators to understand the net performance of a stock. Some of these indicators include past business growth rate, revenue, and return on equity (ROE). This can also be used to generate insights from independent analysts' estimates.

 
 Your capital is at risk. 
✔️ MooMoo Stock Screener 
Investors who want to save time when searching for stock trading opportunities can do so on MooMoo using the platform's stock screeners. With these tools, investors and traders can streamline their search by filtering through thousands of commodities and companies to find the securities that meet their requirements.  
In other words, the MooMoo stock screener helps investors easily find stocks that suit their methodologies and strategies. For example, investors looking for undervalued stocks can find them using a price-to-earning (P/E) ratio below a certain level using the MooMoo stock screener.  
Interestingly, on MooMoo Stock Screener, users can easily filter through US, Hong Kong, and China stocks using indicators, financial analysis, and technical analysis. For instance, investors who are less concerned about a stock's valuation and more concerned with its growth can look for stocks with a high level of year-over-year earnings growth using the financial analysis toggle on the MooMoo Stock Screener page. There is also a chart and watchlist with the stocks to watch from time to time. These stocks are usually the biggest market movers at specific times.  
 Your capital is at risk. 
MooMoo Order Types
To cater to both beginners and experienced investors, the MooMoo investing platform provides users with basic and advanced order types. As the name implies, the basic order type is best suited for new stock traders with little knowledge about the stock markets. On the other hand, seasoned investors will fancy the advanced order types.  
Basic stock order types
The basic stock order types on the MooMoo trading platform come in two variants; the limit order and the market order.  
The limit order

is used to buy or sell a stock at a specific predetermined price. So, once a trader selects a stock to trade, they can select the limit order type, then enter the price and quantity they want to buy. The MooMoo app will only purchase or sell the stock once the preset price condition has been met in the stock market. 

 

 

The market order

is used to buy or sell a stock at the current market price. In other words, traders using this basic order type can select a stock, choose the market order type, and complete the order using the stock price at the time of purchase or sale. However, unlike the limit order that waits for a specific price, the market order price may change due to volatility. 

 
Advanced stock order types
The advanced stock order types on the MooMoo investing platform are divided into six to make trading easier for pro traders. The advanced order types on MooMoo are; 
Stop Order;

An instruction for MooMoo to initiate a buy or sell market order if or when the value of the stock selected reaches the trader's specified stop trigger price. This is usually used to mitigate the risk of losing money and maximizing profit. 

 
Stop Limit Order;

An instruction for the app to initiate a buy or sell limit order when the stock value reaches the trader's specified stop trigger price. This order type has two major components: the limit price and the stop trigger price. When a trade happens at the stop trigger price set by the trader, the order is executed and converted to a limit order for MooMoo to buy or sell at a specified price. 

 

Limit if Touched Order (LIT);

An instruction to buy or sell a stock at a specified price below or above the market value. With this order type, a trader can hold their buy or sell order in the MooMoo investing system, and the app will only execute an order once the trigger price is reached. 

 

Market if Touched Order (MIT);

An instruction to buy or sell a stock below or above the market. However, instead of setting a trigger price manually, this order type provides the trader with a trigger price to set to take advantage of sudden or unexpected price changes. 

 

Trailing Stop Order (TS);

An instruction to sell an asset at a stop price fixed to a particular amount below the market price. However, this order type has a trailing amount or trailing ratio attached to it to allow a trader to specify a limit on the maximum possible loss they can take without a limit on the maximum possible gain. 

 

Trailing Stop Limit Order (TSL);

An instruction to help investors benefit from price gains by limiting the maximum possible loss and putting no cap on the maximum possible gain. However, unlike the TS order, TSL allows both stop and limit prices to rise as the market price rises. But if the stock price falls, the stop price remains unchanged. 

 
 Your capital is at risk. 
MooMoo Security and Regulation

In terms of security, MooMoo Financial Inc strives to protect its customers with various security measures. For instance, brokerage accounts with Moomoo are protected by the Securities Investor Protection Corporation (SIPC). By being a member of the SIPC, the best trading platform protects customers' funds with up to $500,000, which includes a $250,000 limit for cash.  
MooMoo Customer Support Services
Stock investing can be challenging on some days. At the same time, traders can get stuck using the MooMoo trading platform or have deposit or withdrawal issues. Whatever the case may be, MooMoo provides support to its customers through various means.  
First, the company has tons of educational resources in the MooMoo Lessons and Library sections to provide beginners with all the information they may need about stock trading. Users also get access to various FAQs with answers to common questions and self-service guides for troubleshooting when challenges arise.  
In addition, customers who are unable to solve their problems by themselves or who require the help of an agent for pressing issues can reach the MooMoo trading customer service team on the phone, via live chat, or by email. MooMoo states that its customer support team is available service during business day, which is commendable.  
Online customer reviews also indicate that the MooMoo support team is doing a decent job. At the time of writing, the platform has a 3.5-star rating out of a possible 5 on TrustPilot. Customers particularly love the seamless trading experience and excellent customer service. However, there are a few negative comments about the difficulties around funding the MooMoo trading account.  
Overall, it's safe to say MooMoo excels in its customer support services.  
Moomoo Trading Platform Pros and Cons
Despite its numerous features and promising outlook, Moomoo has some pitfalls investors should be aware of when considering the online trading platform. We highlight some of them below.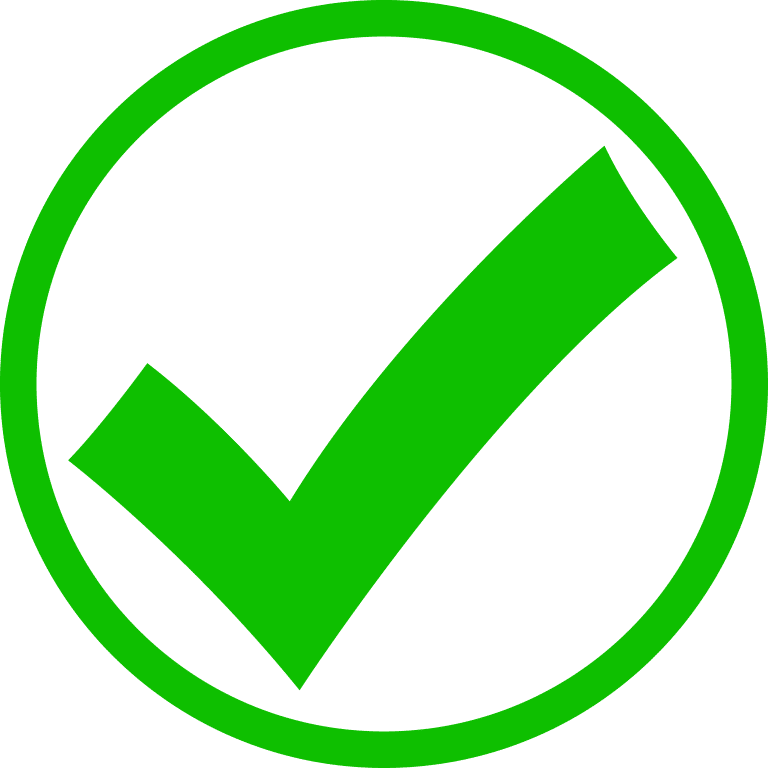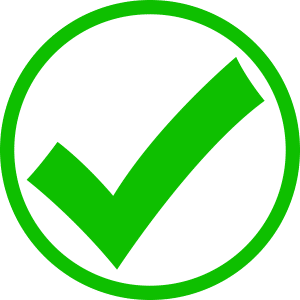 Pros: 
Easy to use platform 
Quality learning/educational resources 
Excellent customer service 
Access to international stock markets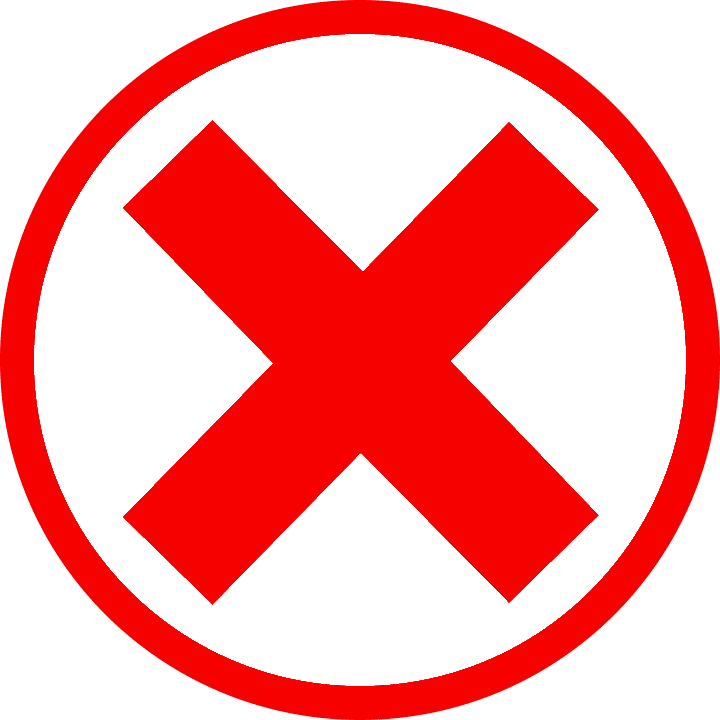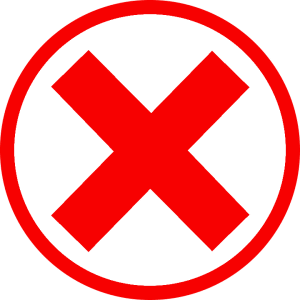 Cons: 
Not available in the UK/EU 
Limited asset support  
 Your capital is at risk. 
Does Moomoo Offer A Demo Trading Account? 
Moomoo offers new customers a free demo trading account when they sign-up on the online trading platform. Beginner investors who want to foray into stock trading and experienced traders who want to test the waters on the MooMoo investing platform can do so using MooMoo paper trading. 
Paper trading feature allows users to simulate various trading strategies to see whether they'll turn out profitable or otherwise. In other words, traders and investors new to stocks or the MooMoo trading platform can safely build their confidence without risking their capital.  
The good part is that MooMoo offers paper traders access to a wide range of stocks, options, and futures they can trade or invest in. The platform also provides $1 million in virtual money for stocks and options. At the same time, no deposit is required to use the MooMoo paper trading service. There are also no fees or commissions.  
 Your capital is at risk. 
Can You Use Moomoo For Free?
Moomoo charges no fees or commission for all the trades for stocks, options, and ETFs placed on the website or mobile app. The trading platform also charges no platform, inactivity, or deposit fees. Interestingly, Moomoo has no minimum deposit requirements, so investors can trade with as little as $1 or by fractional stocks.  
Moomoo Platform Fees Explained

At its core, Moomoo is majorly free with no deposit fee or commission on trades. However, the platform charges some fees that investors should be aware of. The fees vary by the available stock markets, and we highlight them below.  
US Market
For the US stock market, Moomoo charges no commission, platform fees, or LV2 real-time market data fee for stocks and ETFs. US options are also devoid of commission and platform fees, but there is a $0.65 per contract fee.  
Hong Kong Market 
Unlike in the US market, trading HK stocks, ETFs, and warrants has a 0.03% commission on trades (minimum of HK$3 per order). Moomoo also charges a flat fee of HK$15 as the platform fee, but Basic Market Prices (BMP) market data is free.  
China A-Shares Market 
Trading Northbound Stock and ETF Connect in the A-Share Market also comes with a 0.03% commission (Minimum¥3 per order). In addition, there's a flat platform fee of ¥15, but real-time market data is free.  
Margin Rates
For margin trading, Moomoo has a 6.80% interest rate for both the US and HK stock markets. The margin rate is higher than the industry average and is a potential dealbreaker for investors.  
Overall, Moomoo is a relatively expensive trading platform compared to other trading platforms in the industry. For instance, competitors like Robinhood charge no per-contract fees on option buys and a $0.002 fee per contract on options sells. This is a far distance from Moomoo's $0.65 per contract fee and TradeStation's $1.50 fee per contract.  
 Your capital is at risk. 
What Assets Can You Trade With Moomoo?
As stated earlier, Moomoo is limited in asset support. 
The online trading platform supports only stocks, options, and ETFs. The limited number of assets available on the Moomoo trading platform is a significant downside to traders who may want to access the crypto or forex markets.For instance, a competitor like Robinhood supports the trading of seven major cryptocurrencies.  
The platform also offers options trading and access to 650 global stocks via American Depositary Receipts (ADRs). TradeStation also offers a wide range of assets, including stocks, ETFs, commodity and financial futures, futures options, equity & index options, and cryptocurrencies.  
In other words, investors keen on adding crypto assets to their portfolio will potentially have issues with Moomoo's limitations in terms of asset support. However, beginners and traders with little appetite for risk have just enough assets to trade on Moomoo.  
 Your capital is at risk. 
Moomoo Review 2023– Conclusion
Moomoo is a good trading platform to consider offering stock trading services in the US and beyond. In this Moomoo review 2023, we've highlighted why the online brokerage may be the best trading platform. Moomoo's fees are decent for US customers who want to trade stocks, options, and ETFs with zero commission.  
The platform is also seamless for analyzing and executing trades on desktop or mobile. However, a major drawback to Moomoo is its limited asset library, which can prompt potential customers to opt for alternatives. But with its paper trading feature, you can test the platform to see if it's right for you.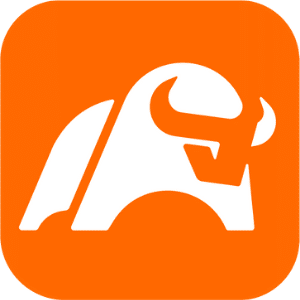 Your capital is at risk. 
FAQs
Is Moomoo trustworthy?
Moomoo is a reputable platform with regulations in the US and Singapore. The company is also part of the global Futu Holdings listed on NASDAQ. 
Can you use Moomoo in the US?
Moomoo is available in the US for investors looking to trade stocks, ETFs, and options. Interestingly, Moomoo offers zero-commission trading in the US. 
Is Moomoo the best trading platform to use in 2023?
Going by our Moomoo review 2023, Moomoo is the best trading platform for stock-related trading and investing in 2023. The brokerage offers zero-commission trading and a simple user interface for a seamless trading experience. 
Is Moomoo free?
The majority of Moomoo's services are free in the US. The brokerage has zero fees and no deposit minimums. However, Moomoo charges a $0.65 per contract fee in the US and a 6.80% annual margin rate.