Meme Kombat Price Prediction 2023 – 2030
Disclosure
Everything you read on our site is provided by expert writers who have many years of experience in the financial markets and have written for other top financial publications. Every piece of information here is fact-checked. We sometimes use affiliate links in our content, when clicking on those we might receive a commission – at no extra cost to you. By using this website you agree to our terms and conditions and privacy policy.
In the cryptocurrency arena, where innovation meets amusement, a new contender is vying for attention: Meme Kombat ($MK). Buckle up because we're about to take you on an exhilarating journey through the world of Meme Kombat, including a look at Meme Kombat price prediction, a Play-to-Earn (P2E) meme coin like no other.
$MK isn't just your run-of-the-mill cryptocurrency; it's a digital asset that's harnessed the power of memes and blockchain technology to create something truly unique. But what exactly sets it apart? This article is your all-access pass to the whimsical universe of Meme Kombat.
Whether you're a seasoned crypto enthusiast seeking the next big thing or a newcomer intrigued by the allure of meme coins, Meme Kombat promises excitement, entertainment, and perhaps even a few surprises along the way.
 Your capital is at risk.
How To Buy Meme Kombat – Step by Step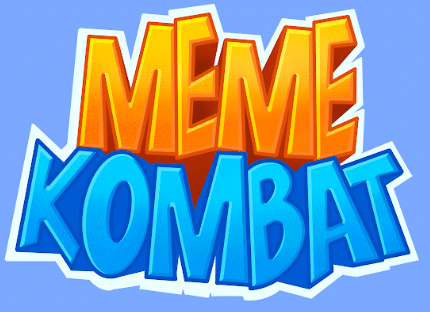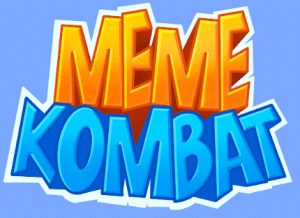 Are you ready to embark on the journey into the whimsical world of Meme Kombat by acquiring some $MK tokens? Buckle up because we've got your back with this step-by-step guide on how to buy meme kombat smoothly and hassle-free.
STEP 1: Navigate to the Website
The gateway to your Meme Kombat adventure begins at the official website. As soon as you land on the page, you'll notice a beacon at the top—the official presale buy form. It's crucial to note that this is the ONLY place where you can acquire $MK presale tokens. So, don't get sidetracked; head straight to the buy form.
STEP 2: Select Your Payment Type
Meme Kombat offers flexibility when it comes to payment. You have the choice of buying $MK presale tokens using Ethereum (Eth) or USDT. Alternatively, you can opt for the Binance Smart Chain (BSC) and use BNB or USDT for your purchase. Once you've decided on your preferred blockchain and payment method, it's time to move on to the next step.
STEP 3: Connect Your Wallet
Now, let's make sure you securely connect to a wallet. If you don't already have a wallet connected, the platform will prompt you to do so. Most wallets will typically default to Ethereum Mainnet, so if you're buying with ETH, it should automatically align. However, if you've chosen to transact on the BSC, you might be asked to approve switching networks. This step is vital for the transaction's success.
STEP 4: Select How Much You Wish to Buy
It's time to decide how much of the action-packed $MK tokens you want to add to your arsenal. Enter the quantity of $MK tokens you wish to purchase. Keep in mind that there's a minimum threshold you must meet. For Ethereum, you should have at least 0.015 ETH beyond your intended purchase. While on the Binance Smart Chain, the threshold may be lower, but a minimum requirement still exists. Additionally, the smallest amount of $MK you can acquire is 5 tokens.
STEP 5: Complete Your Purchase
Once you've determined the quantity of $MK tokens you desire, the platform will prompt you to approve the transaction. Clicking the approve button will execute your purchase on the blockchain. The duration of this process can vary, ranging from a swift 5 seconds to a few minutes, depending on network congestion and contract traffic. Crucially, do not navigate away from this screen until your purchase is confirmed.
STEP 6: To Stake or Not To Stake
Shortly after the launch of the $MK presale, you'll have an enticing opportunity. You can immediately stake your freshly acquired $MK tokens and start earning passive rewards even before the presale officially concludes. This serves as an incentive for early adopters to stake their tokens, ensuring they earn the highest Annual Percentage Yield (APY) possible.
However, if you choose not to stake your tokens during the presale, don't worry. You can still claim your tokens directly from the website when the network launch occurs. Please note that the specific date for this launch is yet to be determined and will depend on the successful completion of the presale.
 Your capital is at risk.
Meme Kombat Price Prediction Overview
In this section, we'll delve into the price predictions for Meme Kombat, offering insights into what the future might hold.
Meme Kombat Price Prediction 2023
One of the immediate factors affecting Meme Kombat's price in 2023 is its presale phase. Historically, cryptocurrencies often experience significant price increases after their initial presale events. This is due to the initial buzz, limited availability, and the anticipation of exchange listings. Meme Kombat is expected to follow this trend, with the potential for a substantial price uptick.
Once Meme Kombat is listed on major cryptocurrency exchanges, demand is likely to surge. This increase in accessibility often leads to more trading activity and higher prices. It's reasonable to anticipate that as Meme Kombat finds its place on various exchanges, its price will reflect this growing demand.
While it's challenging to pinpoint precise figures, some projections suggest that Meme Kombat could reach a price range of $4 to $5 before the conclusion of 2023. This estimation is subject to market dynamics, adoption rates, and investor sentiment, so monitoring these factors is crucial.
Meme Kombat Price Prediction 2025
2025 is anticipated to coincide with the peak of the next major cryptocurrency bull run. These bull runs are characterized by surges in the prices of various cryptocurrencies, driven by increased investor interest and institutional adoption. Meme Kombat, being a cryptocurrency with unique features and appeal, is likely to benefit from this broader market trend.
The global online gambling market is on an upward trajectory, with projections indicating substantial growth. According to BusinessWire, this industry is expected to reach a value of $213.58 billion by 2028, up from $105 billion in 2022, growing at a CAGR of 12.56%. Meme Kombat's use cases in the gaming and entertainment sectors could play a significant role in its price potential.
In 2025, with the crypto bull run and expanding use cases in mind, Meme Kombat's price could potentially reach a range of $7 to $10. However, it's important to remember that cryptocurrency markets are highly speculative and subject to rapid fluctuations.
Meme Kombat Price Prediction 2030
The P2E games market has witnessed remarkable growth, and this trend is projected to continue. According to Yahoo Finance, the P2E games market could be valued at $8.89 billion by 2028. Meme Kombat, with its P2E integration, could benefit from this burgeoning market and experience increased demand.
Predicting prices over such an extended period is inherently challenging due to the multitude of variables at play. However, it's reasonable to envision that Meme Kombat's price might climb to a range of $12 to $15 by 2030. This projection takes into account the potential for sustained adoption, continued market growth, and the coin's unique appeal.
 Your capital is at risk.
What Is Meme Kombat?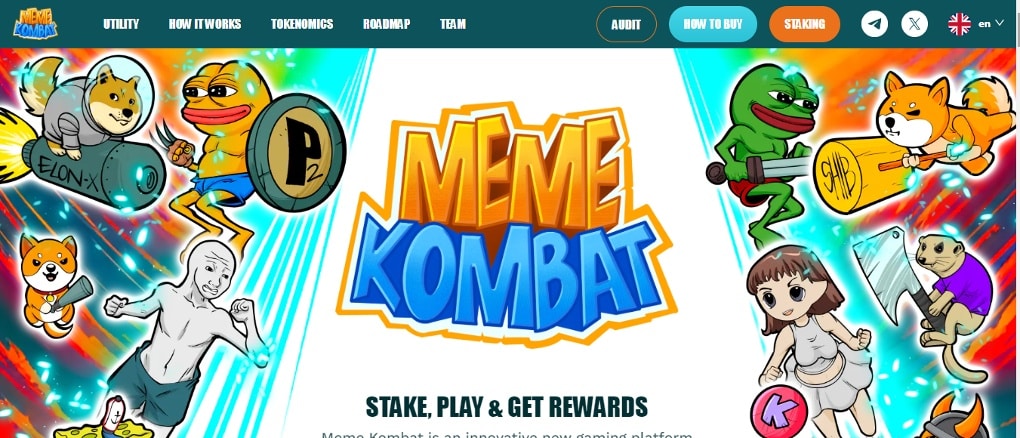 At its core, Meme Kombat is a web3-based Play-to-Earn (P2E) game. It merges the excitement of gaming with the profit potential, utilizing the decentralized strength of the Ethereum network's proof-of-stake mechanism, which is a key feature of blockchain sustainability efforts, offering players a unique and immersive experience. Unlike traditional games where the rewards often stay within the game's ecosystem, Meme Kombat introduces a new dimension where players can turn their gaming prowess into tangible earnings.
In Meme Kombat, players engage in battles using meme characters that have achieved internet fame. These characters, including the likes of Pepe the Frog and Wojak, bring a nostalgic and humorous element to the gameplay. Players can pit their chosen meme characters against each other in intense duels, and the outcome of these battles determines the rewards.
What sets Meme Kombat apart is the variety of battles available. You can engage in player-vs-player battles, where your strategic skills are pitted against another player. Alternatively, if you prefer solo gaming, there are player vs. computer battles that offer equally enticing rewards. This diversity in gameplay ensures that Meme Kombat caters to a wide range of player preferences.
Meme Kombat is designed to evolve and keep players engaged. In Season 1, the game introduces 11 meme characters for players to choose from, each with its unique abilities and quirks. These characters add depth and strategy to the battles, making each encounter a thrilling experience.
But the excitement doesn't end there. Meme Kombat has ambitious plans for the future, with the promise of launching more seasons featuring additional characters. This continuous expansion ensures that the game remains dynamic and captivating, offering players new challenges and opportunities with each season.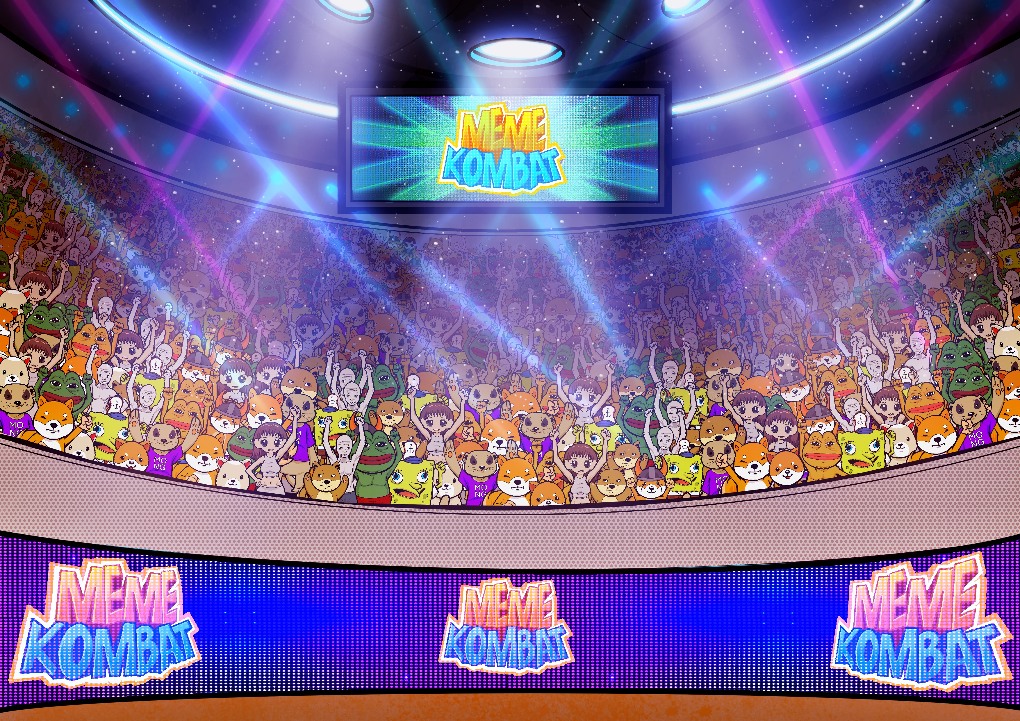 Meme Kombat isn't just about battles; it's also about the potential to stake and wager tokens, creating additional avenues for earnings. Players have the opportunity to stake their $MK tokens within the Meme Kombat ecosystem, providing 112% APY. By doing so, they contribute to the platform's liquidity and security while earning rewards in return.
One of the exciting aspects of Meme Kombat is the option to wager tokens on battle outcomes. This introduces an element of risk and reward, where players can bet on the outcome of battles. Successful wagers result in additional token rewards, offering players the chance to win big based on their predictions and strategic insights.
$MK Tokenomics


Understanding the tokenomics of Meme Kombat is crucial to comprehending its ecosystem and the role of its native token, $MK.
The $MK presale receives a significant portion of the total token supply, comprising 50%. This allocation reflects the project's commitment to inclusivity, ensuring that those who participate in the presale have the opportunity to engage fully with Meme Kombat from the outset.
30% Staking & Battle Rewards

To foster a thriving ecosystem and maintain balance within the platform, 30% of the overall token supply is earmarked for staking and battle rewards. This allocation is pivotal in incentivizing participation and rewarding active players and token holders.
10% DEX (Decentralized Exchange)
In the spirit of decentralization, 10% of the token supply is set aside for pairing with a liquidity pool on a decentralized exchange. This allocation enhances the liquidity of $MK and contributes to its broader adoption and utility.
Community engagement is at the heart of Meme Kombat, and to encourage and reward active participation, 10% of the token supply is allocated for community rewards. These rewards are a testament to the project's commitment to building a strong and vibrant Meme Kombat community.
Meme Kombat vs. Pepe Coin
One cannot discuss Meme Kombat without acknowledging the success of Pepe Coin, another meme-based cryptocurrency. Pepe Coin achieved a remarkable 7000% increase in value within the first month of its launch, setting a high bar for meme coins. However, Meme Kombat has distinctive qualities that position it favorably in the crypto arena.
One key factor is the difference in total token supply. Pepe Coin boasts a total supply of 420 trillion tokens and a market cap of $272.61 million, while Meme Kombat has a significantly lower supply of just 12 million tokens. This lower supply can work to Meme Kombat's advantage as it may create scarcity and drive demand, potentially leading to more substantial price growth. Additionally, Meme Kombat's multifaceted ecosystem, including P2E gaming and staking, offers diversified opportunities for token utility and value appreciation.
Why is Meme Kombat a Good Investment Right Now?


Meme Kombat stands out as a unique and potentially rewarding investment option for several compelling reasons. Here's why Meme Kombat may be a good investment right now:
Fusion of Memes and Blockchain Technology
Meme Kombat brings together the best of two worlds: the widespread appeal of internet memes and the innovation of blockchain technology. This fusion creates a captivating ecosystem where players can engage in battles using iconic meme characters. The inherent humor and nostalgia associated with memes make Meme Kombat an intriguing and entertaining project.
Play-to-Earn (P2E) Potential
The Play-to-Earn (P2E) concept has gained significant traction in the crypto world. Meme Kombat leverages P2E to allow players to not only enjoy the game but also earn rewards while doing so. By participating in battles, staking tokens, and making strategic wagers, players have the opportunity to generate income, making Meme Kombat a financially engaging experience.
Unique Gaming Experience
Meme Kombat's gameplay is distinct, offering both player-vs-player and player-vs-computer battles. With a range of meme characters, each with its abilities and quirks, the game provides diversity and strategy. This uniqueness contributes to the game's appeal, ensuring that it remains engaging and entertaining for players.
Continuous Development and Expansion
Meme Kombat's commitment to growth is evident through its plan to launch multiple seasons, each introducing new meme characters and challenges. This continuous development ensures that the game remains fresh and exciting, attracting new players and sustaining the interest of existing ones.
Staking and Wagering Opportunities
Investors and players can stake $MK tokens within the Meme Kombat ecosystem. Staking not only supports the platform but also offers rewards, providing an additional source of potential income. Furthermore, the option to wager tokens on battle outcomes adds a layer of excitement and profit potential for those who enjoy strategic betting.
Favorable Tokenomics
Meme Kombat's tokenomics aim to support the project's growth and community engagement. With a significant portion of tokens allocated to staking and battle rewards, liquidity pools on decentralized exchanges, and community incentives, the project is designed to encourage participation and long-term involvement.
Low Total Token Supply
Compared to some meme coins with extraordinarily high token supplies, Meme Kombat boasts a relatively low total token supply of just 12 million tokens. This scarcity factor can work in favor of investors, potentially driving demand and price appreciation.
Opportunity in Meme Coin Success Stories
Meme coins have, in the past, demonstrated remarkable price surges and returns on investment. Notably, coins like Dogecoin, Shiba Inu, and recently Pepe coin gained immense popularity and value. While past performance is not indicative of future results, the success of meme coins in the crypto space highlights the potential for substantial gains.
Community-Driven Growth
Meme Kombat places a strong emphasis on community engagement and participation. The project's dedication to fostering an active and enthusiastic community can contribute to its success. A vibrant community often attracts more users, further driving adoption and demand for $MK tokens.
Potential for Price Appreciation
While cryptocurrency investments inherently carry risk, Meme Kombat's unique features, promising gameplay, and growing community could position it for price appreciation. As the project continues to develop, launch new seasons, and expand its ecosystem, $MK tokens may see increased demand and value.
 Your capital is at risk.
Pros and Cons of Investing in Meme Kombat

Investing in Meme Kombat, like any cryptocurrency or investment opportunity, comes with its set of advantages and disadvantages. Understanding these pros and cons is essential for making informed investment decisions. Here's a comprehensive overview:
✅ Pros
Play-to-Earn (P2E) Potential
Entertainment value
Continuous Development
Staking and wagering
Favorable Tokenomics
Low Total Token Supply
Community-Driven Growth
Potential for price Appreciation
❌ Cons
Cryptocurrency Market Volatility
Regulatory Uncertainty
Competitive Market
Uncertain Future
 Your capital is at risk.
Meme Kombat Roadmap
Meme kombat's roadmap is a dynamic journey that promises exciting developments, engaging gameplay, and continuous improvements
Season 1 – Immediate Post-Launch
Season 1 kicked off immediately after the platform launched. This inaugural season serves as the foundation of Meme Kombat's gameplay, attracting early adopters and fostering community engagement. It's a showcase of what's to come, setting the stage for an ongoing adventure.
Season 2 – Q4 2023
Building upon the success of the first season, Season 2 is set to commence in December 2023. Players can look forward to new battle types, enhanced rewards, and exciting opportunities to further immerse themselves in the meme warfare.
Season 2 solidifies Meme Kombat's presence in the blockchain gaming space. With each season, the project demonstrates its commitment to innovation and continuous improvement, ensuring players have fresh and engaging experiences.
Future Development
Continuous evolution is a commitment of Meme Kombat. Future updates will enhance the platform, refine gameplay mechanics, and introduce new features to keep the experience exciting and dynamic.
The project's development remains closely intertwined with community feedback and preferences. Ongoing interaction with players will shape future seasons and features, aligning them with player desires and industry trends.
Looking beyond 2023, Meme Kombat has ambitious expansion plans. These may include the introduction of new game modes, strategic partnerships, and other developments that will further enrich the Meme Kombat ecosystem.
Meme Kombat Presale
The presale is a pivotal phase, with 50% of the $MK tokens allocated for this event. The success of the presale is instrumental in providing the necessary funds and garnering community support to propel the platform's development.
A successful presale ensures that Meme Kombat has the resources and backing required to bring its vision to life. It's the foundational step that sets the wheels in motion for the platform's launch.
Meme Kombat DEX Listings
Depending on the completion and success of the presale, the platform launch is tentatively planned for September or October 2023. This launch marks the initiation of Meme Kombat's operations, granting users access to battles, staking, and other platform features.
The platform launch is a momentous occasion, marking the culmination of extensive development efforts. It opens the doors for users to immerse themselves in the Meme Kombat experience, exploring battles, staking opportunities, and much more.
Meme Kombat Price Prediction 2023 – Conclusion
This article has provided a comprehensive exploration of Meme Kombat, from its gameplay and tokenomics to its potential as an investment and its exciting roadmap. As Meme Kombat embarks on its roadmap, with multiple seasons, upgrades, and expansions on the horizon, it remains an exciting journey to follow. The project's ability to adapt to player preferences, innovate, and sustain a vibrant community will play a pivotal role in its long-term success. The project's commitment to evolution and community involvement holds the promise of a dynamic and vibrant memeverse that's both entertaining and potentially rewarding.
 Your capital is at risk.
FAQs
Will Meme Kombat reach $1?
Will Meme Kombat reach $5?
Where to buy Meme Kombat?
How much is 1 Meme Kombat worth?