Qumas AI Review 2023– Main Features, Pros and Cons Revealed
Disclosure
Everything you read on our site is provided by expert writers who have many years of experience in the financial markets and have written for other top financial publications. Every piece of information here is fact-checked. We sometimes use affiliate links in our content, when clicking on those we might receive a commission – at no extra cost to you. By using this website you agree to our terms and conditions and privacy policy.
Qumas AI is a promising ai trading platform, from its robust algorithm to the technical indicators, market analysis, and demo trading, but watch out: Qumas AI isn't regulated in the US and has a heavy entry price of €250. Check out our Qumas ai review to find out more about this new platform. 
Qumas AI Review 2023 Overview
Qumas trading platform is a collaborative tool that alerts you on profit-taking trades.

You can also set Qumas trading on auto-pilot and let the tool conduct trading for you.

Qumas ai trading platform has an excellent trading terminal, technical indicators, and market analysis.

Qumas ai also offers its masterclass for beginner traders.

There is a powerful bot-led demo account for you to paper trade before investing.

Verification of a Qumas account is done by phone call verification.

Qumas ai isn't regulated by the FCA, ASIC, or SEC but offers its services to people from the US, UK, Australia, and many other countries.

Nothing is known about the founders of Qumas or the team behind the AI.
Qumas AI review score
| | |
| --- | --- |
| Trading bot: | 9/10 |
| Security and regulation | 4/10 |
| Insrtument availability | 9/10 |
| Demo trading | 8/10 |
| Trading fees | 9/10 |
| Mobile application | 0/10 |
| Total score | 7/10 |
Cryptocurrencies are unregulated. Trading with unregulated brokers will not qualify for investor protection.
Qumas AI Pros and Cons
Pros
Qumas AI trading platform supports bitcoin trading and many other cryptocurrencies

The interface is user-friendly and can be easily accessed and optimized by beginners

Demo trading platform allows you to trade without exposure to risk

Qumas does not have hidden fees. What you see is what you get.

Qumas supports many countries, including the US, Canada, Australia, and most countries from Africa and Asia.

Market data analysis is simplified, aided by diagrams, and promotes easy understanding.
Cons
Poor customer support

Nothing is known about the founders of the trading system.

No mobile application

A deposit fee of €250 is required before you can access the demo trader.
What Is Qumas AI?
Since its inception, Qumas ai has helped over 35,000 traders take their steps towards financial freedom by using powerful AI and machine learning tools to process technical indicators and execute trades on behalf of the trader.
Qumas AI trading tool processes RSI indexes, true range indicators, support, and resistance indicators, moving averages, and convergence and divergence indicators, amongst a host of other indicators, to execute trades, open and close positions, and protect investors from losses.
Qumas trading identifies the risks of trading instruments; hence, while it executes trades to maximize profit, the bot also limits your exposure to risks by closing positions after set stop-losses, predetermining when an instrument will most likely dip, and removing your assets before a full loss occurs.  
With Qumas, investors can set automated trades, allocates funds to positive trades (rallies and value increases), and remove funds from instruments perceived to run into dips.
The power of Qumas ai trading platform goes beyond its ability to automate and execute trades. Qumas ai trading platform allows you to control the tool. You can set it on auto-pilot, trade alongside the platform, or even co-pilot with the trading software.
How Does Qumas AI Work?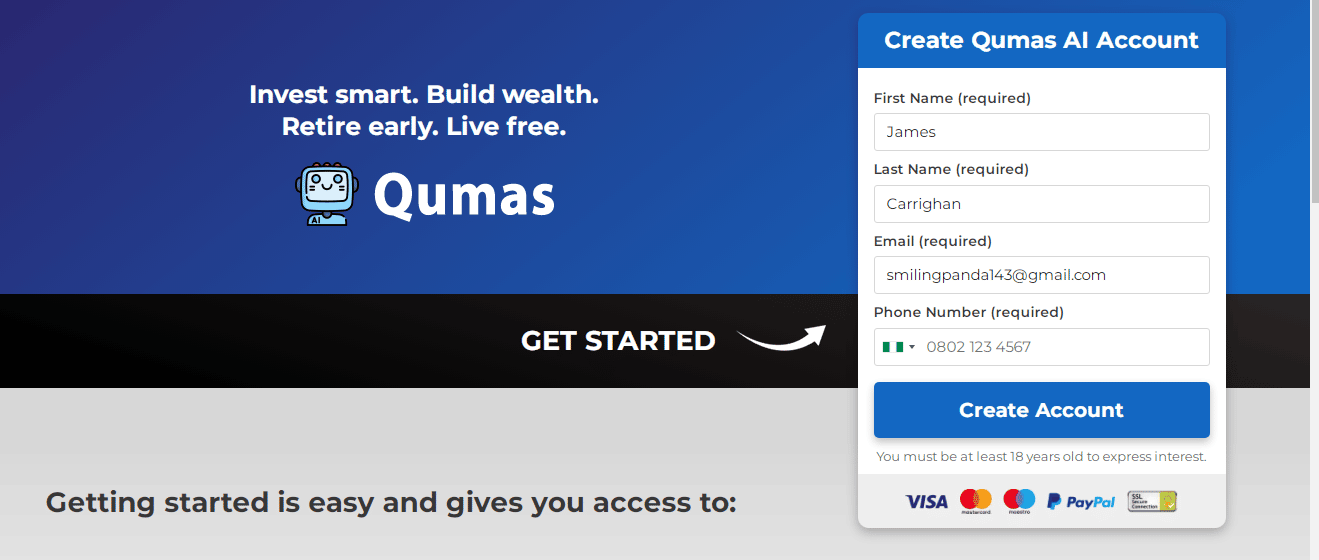 Qumas uses an algorithm to monitor the cryptocurrency and forex markets and find good trading conditions for its users. The website consistently analyzes technical indicators, from MACD to ATR and Relative Strength Index, and identifies potential turns in market directions.
When Qumas identifies a good condition, it sends out an instant signal to its users, and depending on the customized setup; it can automatically place trades. Qumas also executes all orders, from stop loss to stop trailing loss, and limit orders to take-profit targets. Unlike many other trading robots in the industry, Qumas ai bot gives users ultimate control to set up orders they want and control the outcome of the trade.
Who is The Team Behind Qumas AI?
Qumas AI is created by trading experts, according to the website. Beyond the information above, almost nothing is known about the founders of the trading app. On their Contact Page, their address is listed as 1 Cleve, Monahan Road, Cork, Cork, Ireland, and emails are listed for contact.
Qumas AI App Review 2023– Key Features
Learning tools
Qumas ai has powerful learning tools to aid all sorts of trading, especially bitcoin trading and other crypto trading. Qumas also supports Forex trading. Qumas tools include, orders, technical indicators, market analysis, updates, and consistent alerts.
Customer service
Qumas ai claims to have 24/7 customer support; however, their customer service is relatively slow. Even when you want to open an account, the customer still takes up to three hours before they can reach out to you and set up your account.
Advanced trading terminal
Qumas ai serves as a gateway between you and the market, allowing you to transact mainly cryptocurrencies and forex, track market movements, get instant news updates, track your losses and profits, and familiarize yourself with market conditions. With Qumas, you can access technical indicators, get simplified data on market conditions, and direct trade. Qumas isn't just your everyday trading platform: it's more like a trading assistant, helping you make the right decisions, mitigating losses, and maximizing profits.
Once you buy Bitcoin, Quimas ai releases data on:
 

Bitcoin's last traded price (LTP): The LTP gives you an idea of how much BTC is being traded.

 

Percentage change: The percentage change of bitcoin trading shows how much BTC was traded compared to the last set period. For example, you can get a PC—Percentage Change of bitcoin within the previous 24 hours, last day, week, month, or year. The PC will reveal if people are still trading BTC as much as they were weeks, months, or even years ago.

 

Previous day close: What price was BTC trading as at the last day's close?

 

Volume: How much BTC is being traded in the market? You can get an asset's trading volume by multiplying the price of an asset by the number of assets on the market.

 

OHLC: Open, High, Low, and Close are four crucial trading points that give you an idea of the trade range of stock in a day.
Each asset you decide to trade or buy should reveal this vital information. Remember that trading is all about identifying patterns to predict price direction—and by patterns, also identifying the fundamentals of an asset.
Accessing the different orders on the Qumas trading terminal
The Qumas trading terminal offers three different order types that you can choose from depending on your trading strategy.
Limit Order
Market Order
Stop Loss Order
Let us understand what these options mean.
A limit order is one you set when you are particular about the 'Buy Price' of an asset. For example, you can set a limit order for bitcoin to $23,698. With this order, if the price of BTC does not drop to your limit order, Qumas ai won't execute a buy. Deciding on a limit order is essential to buy at the lowest possible price; however, you have to be reasonable with the 'Buy Price' because if the asset's price does not move below such price, the algorithm won't execute a buy. You may lose out on a profitable trade.
A market order allows you to buy at different prices instead of a fixed price. With a Limit Order, you cannot buy unless the asset's price falls at or below the order; however, Qumas ai will execute a market order when the price range hovers around your market order price. Let's say you want to buy an imaginary EXF token and set the market order at $234.50; Qumas will execute the order if sellers are willing to sell at $235, 235.50. The' Buy Order' will go through as long as the price range isn't far from your market order price.
A stop-loss order, on the other hand, protects you from dips or adverse market conditions. You can set a stop-loss-order before you open your position. If the price of the asset drops to that price, Qumas ai will instantly sell your holding.
In the long run, stop-loss orders work when buyers are willing to buy at your proposed price. People often ask, 'Why does a stop-loss-order not execute even when the price reaches the point I stipulated?' The crypto, forex, or stock markets work within a demand and supply pull and push; however, sometimes people would be unwilling to buy your asset at a market price. Such conditions include:
 

The media initiates a doomsday campaign around an asset. No one wants what no one wants.

 

The price of an asset is likely to dip even further and become public information.
87% of Qumas ai orders go through – the percentage is incredible and encouraging and shows just how accurate the Qumas algorithm can get.
Qumas AI Order and Trade Book
Order and trade books are held within the Qumas trading terminal. Each trader can access these books, keep track of their trades, or check their order history. Your order book shows all the trades you have made using Qumas ai, while your trade book shows all the orders you make in a day.
With your order book, you can:
 

Check your order details: Check for the asset, asset price, quantity, and order type.

 

Modify your order: On your order book, you can modify an order that has not yet been executed. For example, you can modify your buy order of EFX from $345 to $347, or whatever price you deem fit.

 

Check the status of your order: There are three different order statuses: An open order is not completed yet; a completed order has been fully completed; a rejected order has been denied.
You can find all your rejected and open (pending) orders in the order book. You will find a completed (fully executed order) in your trade book.
Ask and Bid Price
The Qumas trading terminal also displays the ask and bid price of all the instruments and assets it trades. If you want to buy a coin, say, Solana, you need a seller. Sellers post coins they want to sell at the prices they would love to offload them. As a buyer, you choose or decide a price that is fair to you. The price a seller posts is called the ask price, whereas the price you are willing to buy is the bid price.
The Qumas ai trading terminal does not do all the heavy lifting for you. Unlike many other bots out there, Qumas takes its time to educate you on all technical indicators, orders, and market conditions. This way, you get to learn how Qumas algorithm makes its decision.
Qumas AI Demo Trading
Qumas ai demo trading platform allows users to experiment with live trading market conditions without exposure to the risks of trading. Unlike many trading platforms out there, Qumas trading values the power of intense education. Even if you use a trading tool to automate all your trades and make a profit, you won't be able to replicate the executions of the trading bots because you don't understand the 'Why.' Qumas ai extends its position to teach all investors thorough trading techniques by offering a demo account with sufficient virtual funds to execute trades.
Qumas AI masterclass
Qumas masterclass is organized by the platform to ensure that users get up-to-date information on how to use the platform and understand forex trading, crypto, and investment in other instruments. Qumas is centered on crypto and supports a host of cryptocurrencies. Their teachings on technical indicators, fundamental analysis, and trading principles will go a long way in improving the decision-making process of beginner traders.
User Interface 
Qumas ai trading platform user interface is quite rudimentary and might be preferred by beginners. Trading indicators and live market updates are well-placed, and you can easily navigate through the web application. Unfortunately, Qumas doesn't yet have a mobile application.
Security and regulation
Qumas has a poor security layout. First, the platform has no 'About' page, so it's impossible to identify anyone behind the project. Other than general information about the trading bot created by trade specialists, data analysts, and professional traders, Qumas does not reveal any other information about the team behind the project.
Qumas isn't regulated by any agency—at least none known to the public. The trading tool isn't regulated by FCA, Australian Securities and Investments Commission, ASIC, or the SEC, and yet, it seems to offer its services to a host of countries, including Australia, UK, China, and the United States. If you invest with Qumas ai, your funds are not protected by any of these agencies.
Qumas also does not have any information on its fund storage option and the security of its wallet. While 2-Factor Authorization is instituted in the platform's security, it still does not cover for a lack of information on the bot's cold or hot wallet options and other security features.
Tread carefully!
Cryptocurrencies are unregulated. Trading with unregulated brokers will not qualify for investor protection.
Is Qumas AI a Good Platform for Beginners to Use?
Beginner traders should tread carefully when choosing a platform. It's important to conduct research on the regulations and security of Qumas. Most times, automated trading platforms are not completely regulated or are in the process of getting regulated. It's important to research the regulatory bodies of your country and find out if Qumas is allowed to conduct trade with people within the said country.
You can also reach out to Qumas ai trading platform to get reliable information on their regulation. While their customer service may be slow to respond, they will get back to you within 24 to 72 hours. Beyond regulation, Qumas seems to be a decent trading platform.
You can use the bot trading option to automate trades and make tens to hundreds of trade decisions in a day.

Qumas has an extensive list of orders that can be executed, helping you maximize profit and mitigate losses.

The trading platform supports cryptocurrency trading, especially bitcoin trading and has many technical indicators that will help you make objective decisions.

Qumas masterclass is an excellent opportunity to learn the rudiments of trading and advanced trading tools and use them in wealth creation.

Qumas has competitive trading fees and instant payout and withdrawal options.
But of course, like every other new trading bot platform, there are risks. Measure your risk-reward ratio, and trade carefully.
Qumas AI Trading Platform Fees
In the next section of our Qumas AI review, we will take a look at the fees that are charged by the automated trading platform.
According to the official Qumas AI website, the platform does not charge any trading fees, deposit fees, withdrawal fees or inactivity fees. This means that the trading tool is effectively free to use. However, to access the platform, users must deposit $250.
We cannot say for certain whether the $250 can be withdrawn once it is deposited. It is likely that the platforms make money from spreads that are added to each trade. While Qumas AI may seem cheap to use, spreads can quickly add up, especially if the trading bot places a high volume of trades each day. Users should be aware of spreads and should also only deposit the $250 if they can afford to lose it.
How To Use Qumas AI Trading App
Follow our step by step guide to start using Qumas AI today.
Step 1: Register for an account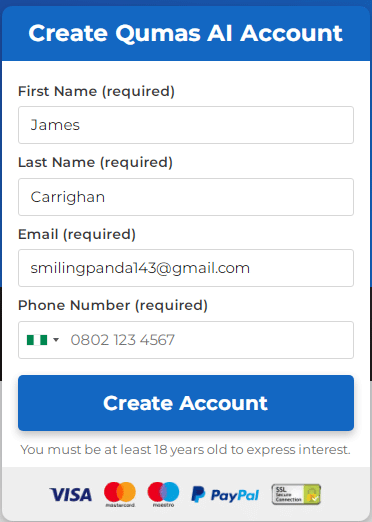 On the Qumas AI page, fill in your information. Provide your name, email address, password, and phone number.

Wait for a call from Qumas AI: Qumas AI will contact you within three hours and ask questions to verify your account. Monitor your phone for the call. Once you receive the call, Qumas will help set up your account, and you can start trading or automating trades.
Step 2: Make the minimum deposit 
Deposit a minimum of €250, and then gain access to Qumas live trading platform. Qumas AI accepts a payments via credit card, debit card or bank transfer. 
Step 3: Use demo account
The next step is to access Qumas ai demo trader and start paper trading to practice with the platform. This is a good way to test the platform's legitimacy before putting any real funds at risk. 
Step 5: Start live trading
Once you feel confident enough to leave demo trading, start live trading. It is important to take your time and only use live trading when you are confident.
Is Qumas AI a Scam?
Qumas AI does not seem like a scam. The trading process looks legit and its live market terminals are also excellently created. Qumas AI also has over 35,000 people registered to its ai service; however, there are a few reservations we have on the trading platform:
There isn't information on who owns Qumas AI trading platform. The website does not even have an About Us page, and their customer service experience isn't great.

The platform isn't regulated by any of the regulatory bodies in the US, Canada, UK, or Australia. While we know the company is headquartered in Ireland, there isn't so much else information.

Qumas AI doesn't have an easy entry. Neither the trading platform nor the demo trader can be accessed until a 240 Euros deposit fee is fulfilled.
Does Qumas AI Actually Work?
Qumas AI does work as an automated trading platform. However, we cannot verify that the platform is always successful. Qumas AI allows traders to automated their trading, reduce the influence of human error and minimize time spent on market research and analysis. However, for the platform to work, we recommend conducting some research of your own alongside the trading tool. This will increase your chances of success.
Is Qumas AI Regulated in The US?
Qumas does not seem to be regulated in the US or any country at the moment. Information on its regulation isn't available on the website, so it's safe to assume that trading on this platform is risky.
Cryptocurrencies are unregulated. Trading with unregulated brokers will not qualify for investor protection.
Qumas AI- Our Conclusion
Qumas AI is one of the new trading platforms on the block, and it separates itself from other trading bots by allowing users greater control over the algorithm. With Qumas AI , you can decide to let the bot make all the decisions; you can also have greater control over the bot, allowing it to give alerts and advise you on the best objective move to make.
Qumas AI does not have an app, so user. The lack of an app does not allow for flexible trading. Lastly, Qumas's 250 Euros deposit fee is on the high side, given that the system is largely unregulated.
Cryptocurrencies are unregulated. Trading with unregulated brokers will not qualify for investor protection.
FAQs 
Is Qumas AI available on mobile?
Does Qumas AI use automated trading?
Is Qumas AI beginner friendly?