Bitcoin trading can earn excellent returns, especially if you are advanced trader that understands the crypto market. If you are still fairly new to the market, automated trading apps can help you to place trades and take advantage of cryptocurrency investing. This BitVestment review explores BitVestment's automatic trading app. While there are tons of automated trading apps, you must be careful because the ai trading app industry is still largely unregulated and there is a real chance of losing all your money.
BitVestment Review 2022 Summary
BitVestment is an automated bitcoin trading platform that helps users make better trading decisions and exploit swings in day trading.
BitVestment trading tool can open and close many positions in a day—a task that will be impossible to achieve manually.
BitVestment ai exploits the volatility of bitcoin and other cryptos, determines the most possible price swings, and opens positions that may result in profit.
While the BitVestment trading platform is great for day-trading and beginner traders, there is the possibility of losing your investment.
BitVestment operates across multiple platforms, including desktop and mobile, and users can monitor, execute, or set up the AI to execute a series of trades within certain parameters.
With BitVestment, traders can institute complex strategies like sell-stop order, buy-stop order, stop limit, HODL, and arbitrage, automating the process and helping beginner and advanced traders earn more ROI on trades.
The crypto trading bot industry isn't yet regulated, so there is a real chance of losing your investment.
The BitVestment website does not have information on the founders of the trading platform—and this is a red flag.
Your money is at risk.
What Is BitVestment?
BitVestment is an automated bitcoin trading app that helps users maximize profit by executing multiple trades in a day. Initially created as an AI-powered bot trader for Bitcoin, BitVestment now supports other cryptocurrencies like Cardano, Ethereum, Litecoin, and Ripple.
Bitcoin is volatile and reeling from the recent winter market that saw its price fall below one-third of its all-time high. BitVestment exploits the swings of Bitcoin and other cryptocurrencies and executes opens and closes that yield reasonable aggregate profit.
While BitVestment offers very little information on its Bitcoin trading process on its website, once a trader signs up and makes the first deposit, he can access the full feature of the trading tool, including in-depth market analysis, cross-platform discrepancy in bitcoin price, executing HODL; that is, buying crypto at a lower price and selling when the price climbs.
Your money is at risk.
How Does Bitvestment Work?
BitVestment is a copy trading software powered by artificial intelligence that makes bitcoin trading and trading of other major cryptocurrencies seamless and easy. With BitVestment, a trader can execute a high number of trades that are impossible for a human trader to execute. Let's have a look at how it works:
BitVestment ai executes many trades within a day, making a small profit on each trade: Bitcoin and other cryptos are volatile and BitVestment exploits the swing patterns of these cryptocurrencies to execute trades that will make you profit over time.
HODL: If the BitVestment AI feels like the price of bitcoin is lower than the previous price patterns (for example, it can track price movement of bitcoin for 5 hours and determine when bitcoin's price may be lower than usual), it can open a buy position and sell immediately the price of bitcoin climbs—even if the price difference and profit you will make is just 50 cents. While 50 cents may look like a small number, BitVestment can make 100s of such trades in hours, opening and closing positions for profit. The accumulative profit on an investment as small as $250 can yield amazing results. 
Arbitrage: BitVestment can help monitor your bitcoin holdings on different exchanges and make a profit on price changes between platforms. Due to liquidity issues, bitcoin's price may be higher on some exchanges than on others. Let's say your bitcoin holding on 

eToro trading platform

is $22,123 and another trading platform asks for $22,001; BitVestment can sell your bitcoin holding on the other platform and buy on eToro, making you a nice profit of $122 on the position. Remember that BitVestment can only make a profit on your deposit volume. The more you invest, the more you are likely to profit from the BitVestment bot trader. 

Sell-stop order: With a sell-stop order, you can automate BitVestment to prevent excessive loss on a position. This brings the question: 'Can I LOSE money with BitVestment?' Yes, BitVestment and every other bitcoin 

day trading bot for beginners

can also lose. While these bots remove emotions from trading, they are not infallible and can sometimes lose—however, you can automate the process to avoid heavy losses. Sell-stop order means telling BitVestment trading to sell whenever the price of bitcoin drops to a specific limit. Let's say you hold ten bitcoins at $23,000 per coin; you can set a sell-stop order to $22,930. That way, you cannot lose below $30 on a coin. 

Buy-stop order: Buy-stop order automate BitVestment to sell once the bitcoin market price increases to a certain point. 
Your money is at risk.
Bitvestment Key Features
Automated Trading
BitVestment automated trading enhances the trading process, helping you make small profits over many day trades. While the BitVestment application can open and close positions for you, it can also alert you on the position of your assets; for example, you can set to receive alerts when BitVestment notices a pattern in the price drop of Ethereum in six hours.
Automated trading is an excellent way for people to make a profit on crypto trading, in the short-term, without needing to undergo extensive research and analysis, and BitVestment offers that on a platter.
Bitcoin trading and automation has become very popular in recent years. Albeit unregulated, the best-automated trading apps can deliver over 100% ROI, regardless of your investment volume. As a result, you can invest as low as $20 and make $40 at the end of the day from many small wins.
BitVestment does not reveal the metrics or parameters for its automated trading; however, it's clear that they use third-party trading strategy and machine learning to copy trade and make bot-dependent trading decisions.
Security and Regulation
Automatic trading platforms are still largely unregulated. Applications like BitVestment do not need regulations from FCA, ASIC, or SEC to operate. On this note, it is important that platforms create conditions that will protect investors. So let's have a look at some of BitVestment's security features:
BitVestment requires a minimum deposit of €250 before trading; however, the platform does not offer any guarantee or warranties for traders that lose their investment. On their website, the creators admit that the website and app offer their services 'with all faults.' In essence, if you trade with BitVestment, profits are not guaranteed, and you can lose your investment.
BitVestment does not reveal information on its insurance policy, but it is safe to assume that there aren't any solid insurance policies. Most trading bots do not have any reasonable insurance policies that protect users from bugs or hacks, so trade cautiously.
Third-party access to personal information: BitVestment allows third-party websites to facilitate your trading experience, and you may receive updates and marketing emails from these third-party websites. bitVestment also contains third-party links that can lead you to websites outside BitVestment's domain.
Your money is at risk.
Asset Variety
BitVestment supports bitcoin trading and other cryptocurrencies like Ethereum, Cardano, Ripple, Binance Coin, EOS, Litecoin, and other major cryptocurrencies.
MetaTrader 4
BitVestment integrates MT4 software for more powerful trading functionality, advanced charting functions. BitVestment's MT4 is also integrated with the website's native applications that helps the automated trader hedge positions that will drive positive ROI.
BitVestment Mobile App
BitVestment is fully integrated to work on desktop and on mobile. While a mobile application is still in the works, users can still access the fully integrated web trader on their mobile phones and trade on the go.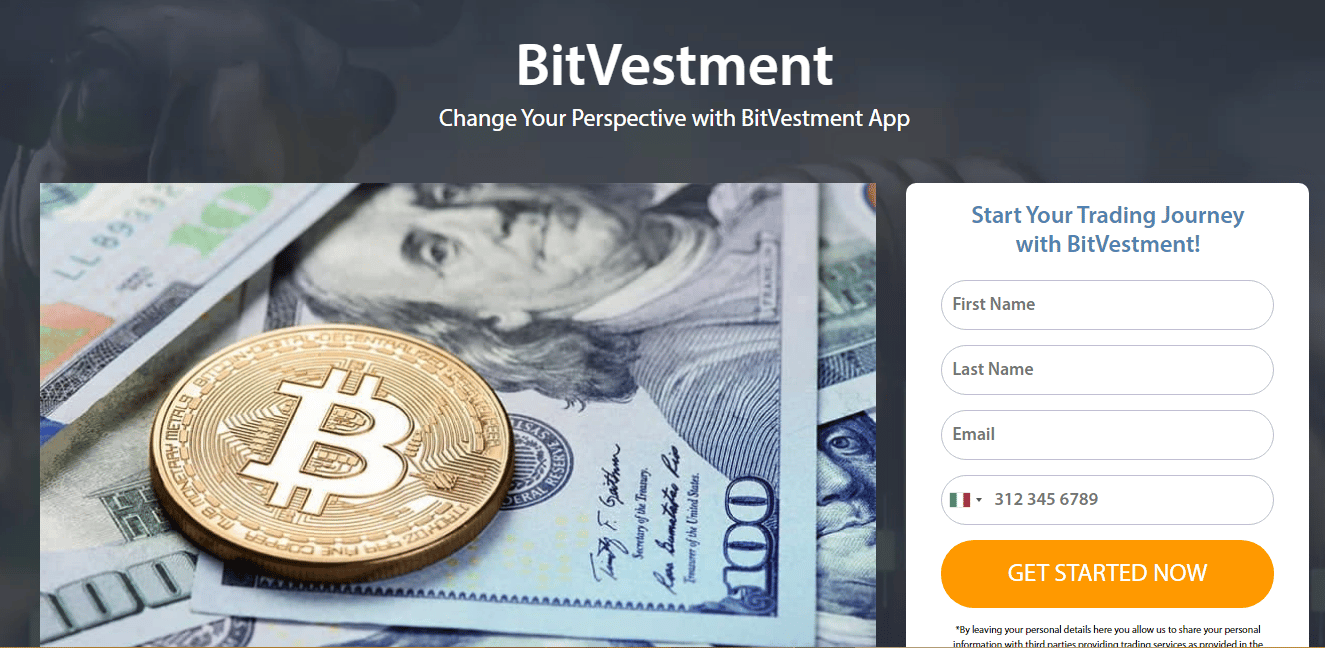 Registration
Registering for a Bitvestment bitcoin trading application is seamless and easy. Provide your email address, name, and phone number. Once you register, you can deposit funds (a minimum of €250) and allow the system to trade for you. You can also start with a demo account. BitVestment demo accounts are not free to use—a bulk of the demo features are only available to people who have made a deposit. Not to worry, you can deposit any amount to access the platform's demo trader. Before you can start trading with BitVestment, one of their brokers will call you for verification and trading direction purposes.
Is Bitvestment Legit?
BitVestment has many features that may be disturbing. First, no one knows the team behind the BitVestment trading platform. There isn't information on the founders, and no one knows whosoever runs the backend system.
Trading bots have been used to swindle investors, and while many automated trading platform websites do not reveal the identity of the founders, BitVestment can do better.
So far, there have not been any complaints of people losing their investment in the BitVestment app. Would such news become common in the future? It's hard to tell. For now, BitVestment's algorithms have proven that they can make profitable and smart trades on behalf of their clients. BitVestment also takes security seriously. The platform has strict anti-money laundering policies against people who intend to use the platform to move funds illegally.
They also have a strict KYC process to prevent restricted people from accessing the platform. Lastly, before you can use Bitvestment, you must be at least 18 years old and possess the required proof of address and proof of identity documents.
Your money is at risk.
What Are The Pros and Cons of BitVestment?
Pros
BitVestment connects you with brokers and traders within your region, improving your chances of trading success.
Trading bot improves beginner's chances of making money
Allows demo account and copy trading
No minimum deposit required to access the platform
Supports many payment options, including bank wire, e-wallet, online banking, credit/debit card
Supports a handful of prominent cryptocurrencies
Cons
Steep minimum deposit fee before a user can trade.
Demo account not free to use
Poor customer service
No insurance or platform liability for assets lost due to hacks and system crash.
Works with third-party brokers and can share your personal information with those sites.
Is BitVestment a Good Platform For Beginners?
Before a beginner trader chooses an investment, you must determine your goals for trading. For example, if you want to learn, in-depth, how cryptocurrency works and are willing to give the time, effort, and losses, then BitVestment might not be the best platform for your needs. If, however, you want a trading platform where the platform carries 90% of the decision, choose BitVestment.
BitVestment trading bot can deliver professional strategies: Want to trade like a pro, even if you are a beginner? BitVestment automated trading platform allows you to do that. At registration, one of the brokers will call you and help streamline your needs and connect you to the best broker and trading bot provider within your jurisdiction.
Note: Trading robots are not infallible—they can also make mistakes. It's important never to invest more than you are willing to lose. While you may trust a bot to automate and execute profitable trades, 70% of crypto investors lose their investment. Trade carefully and learn the ropes before hedging significant capital.
Having second thoughts about investing sing BitVestment, check out eToro Trading App – The best social trading app for beginners.
Is BitVestment Profitable?
Yes, using BitInvestment can be profitable. A large percentage of institutional investors use automated trading platformss to execute large numbers of trades every day. For bitcoin trading, profiting from swings cannot be executed manually. Therefore, it's important to use trading tools and set complex parameters to ensure that your positions either result in good profit or losses are effectively curbed or minimized.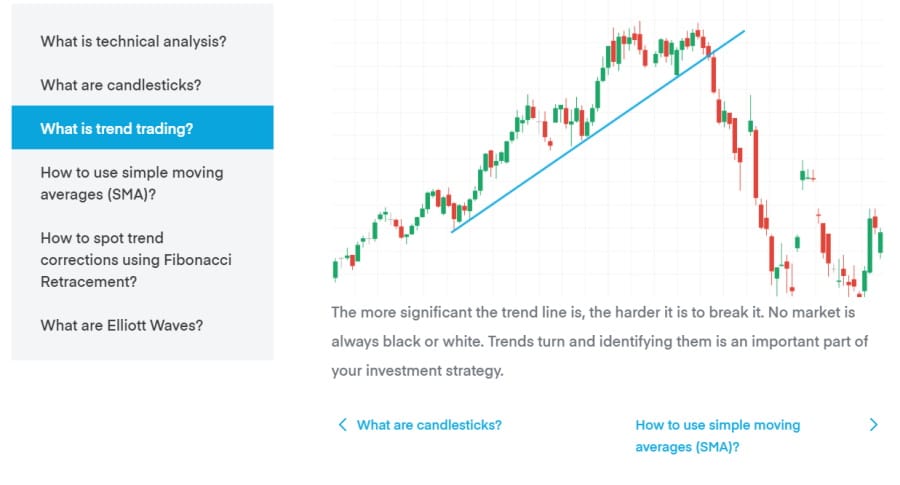 Now, if you intend to invest for the long-term, a trading platform like BitVestment might not be profitable. This is because automated trading bots perform better when day trading. For investors using cryptocurrencies for retirement savings or long-term plans, you can use any of the beginner trading apps or social trading app like eToro.
How To Use Bitvestment
Register for an Account
Registering a BitVestment account is simple. Provide your name, email, and phone number; if you are within the region they operate, they will instantly provide you with a broker within your jurisdiction. After registration, a BitVestment broker will call you for about thirty minutes, depending on your questions, and get to know your short-term and long-term trading purpose.
Do note that your registration is incomplete if you do not provide a valid phone number. Even if you are not ready to receive a call immediately, you can always schedule a call with the BitVestment broker. Altogether, rejecting a call can result in an account ban.
Once the registration is complete, BitVestment takes you to a resource page where they detail crypto and bitcoin trading and trading strategies. BitVestment seem invested in ensuring that traders that join their platform gain insight and experience even though most of their trades would be performed by automated trading bots and algorithm.
If you are not satisfied with the broker, BitVestment connects with you; contact their support via email and request a change of broker.
Make Minimum Deposit
Before you start trading with BitVestment, you must make a minimum deposit of €250. With the funds, you can begin your auto trading experience. BitVestment accepts credit/debit cards, wire transfer, e-wallets, and PayPal for deposits. They do not charge a deposit fee. Also, if you use one of their third-party applications, the transfer method they accept may be more or less. BitVestment also accepts US dollars or euros for deposits.
Use Demo Account
The BitVestment demo account allows you to trade within live conditions and markets without the risks of losing your money. The platform provides you with virtual currencies and set live charts, technical indicators, market analysis, and pro-trading tips that will help you improve your skills.
You can keep using the demo account even when you go live. Once you set up a demo account, you can replicate other people's trades (in a move called copy trading) and practice trade strategies until you become more advanced.
BitVestment does not let you use the full functionality of the demo account until you verify your KYC. The KYC requirements include proof of address and proof of identity. You can submit the acceptable identity cards (driver's license and passport) for proof of identity.
Start Live trading
Once you have fulfilled your KYC and minimum deposit requirements, you can start live trading.
BitVestment Review- Our Conclusion
BitVestment comes from a long line of automated trading platforms. Retail and institutional traders use automated  ai trading platforms to make gains over the swings of bitcoin and another cryptocurrency. BitVestment is an excellent option for Bitcoin trading if you are willing to accept some risk. The platform has shared little information about the trading process or platform development. Furthermore, BitVestment isn;t regulated in the UK.
Your money is at risk.
FAQs
What are the advantages of automated trading?
Is now a good time to trade Bitcoin?