How To Buy Wall Street Memes Token 2023
Disclosure
Everything you read on our site is provided by expert writers who have many years of experience in the financial markets and have written for other top financial publications. Every piece of information here is fact-checked. We sometimes use affiliate links in our content, when clicking on those we might receive a commission – at no extra cost to you. By using this website you agree to our terms and conditions and privacy policy.
Meme coins have made waves in the crypto space this year, with some tokens generating huge gains for early investors. The newest meme token to hit the market is Wall Street Memes ($WSM), which aims to replicate the success of previous gainers.
There's no time like the present to take advantage of Wall Street Memes if you missed out on $COPIUM, Pepe Coin, or Doge. Get ready to buy Wall Street Memes with this complete guide.
How To Buy Wall Street Memes ($WSM) Token – Step by Step
You will need a good bitcoin wallet to purchase Wall Street Memes tokens while they are undervalued. Following these steps will allow you to purchase the best crypto via presale in minutes.
Step 1: Purchase cryptos from eToro
The first step in investing in WSM is to purchase Ethereum (ETH) through eToro, today's most popular online trading platform. There are several benefits to using this platform, including the ability to quickly and safely acquire digital assets like Ethereum.
To purchase ETH on eToro, you must create an account using your Google or email account. In addition, a proof of identity and address will be required as part of the registration process.
If you are already an eToro customer, you can skip registration and proceed directly to the second step.
Your wallet must contain funds before you can purchase ETH.
With eToro, you can buy Ethereum by searching for it and clicking on it, or you can use your wallet and enter the amount you want to spend. You will be able to see the equivalent value in USD. You can pay using an eWallet, a debit/credit card, or a bank transfer.
Your wallet will be credited the amount of ETH as soon as the order is confirmed.
Cryptoassets are highly volatile and unregulated in the US and UK. No consumer protection. Tax on profits may apply.
Step 2: Move cryptos to DeFi wallet
After purchasing ETH, you can transfer it to a private wallet, such as MetaMask. The ownership and control of your cryptocurrency must always remain in your hands.
Using MetaMask to transfer Ethereum is as simple as following these steps:
Using MetaMask, open your wallet address, which generally begins with "0x".
Locate your Ethereum holdings at eToro.
Click either "Send" or "Withdraw" according to the platform.
In the designated recipient field, enter your MetaMask wallet address.
It is important to verify the wallet address twice to make sure it is correct.
Initiate the transfer after confirmation of the transaction.
Once the process is complete, it should only take a few minutes to move your ETH from eToro to MetaMask. Following the transfer, you can access your MetaMask wallet as usual.
Step 3: Connect wallet to presale
You must connect your crypto wallet to the Wall Street Memes presale website as soon as you have funded it with Ethereum.
Here is the official website.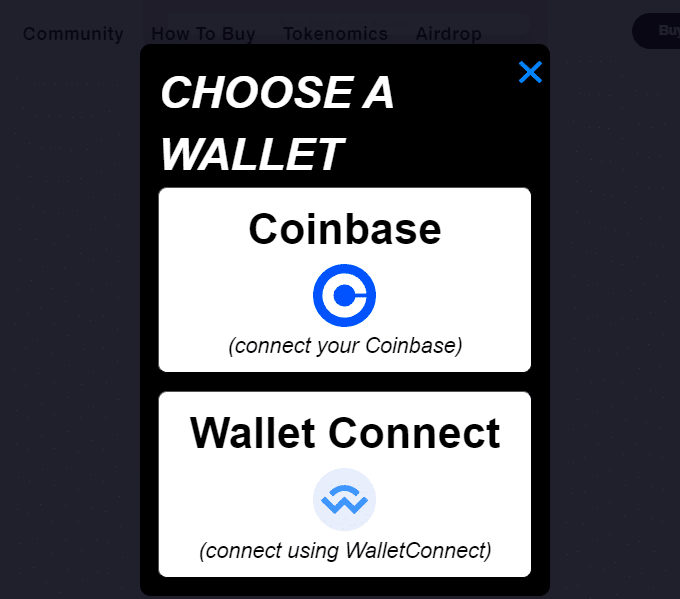 You can connect your wallet to the presale by clicking 'Connect wallet.' If you have ETH tokens in your wallet, swap them for $WSM.
Step 4: Swap cryptos for $WSM
ETH can now be exchanged for $WSM tokens. You may, however, have to verify the transaction depending on your wallet provider.
Ensure you have enough ETH in your wallet to cover network fees. The transaction should be completed within a few minutes.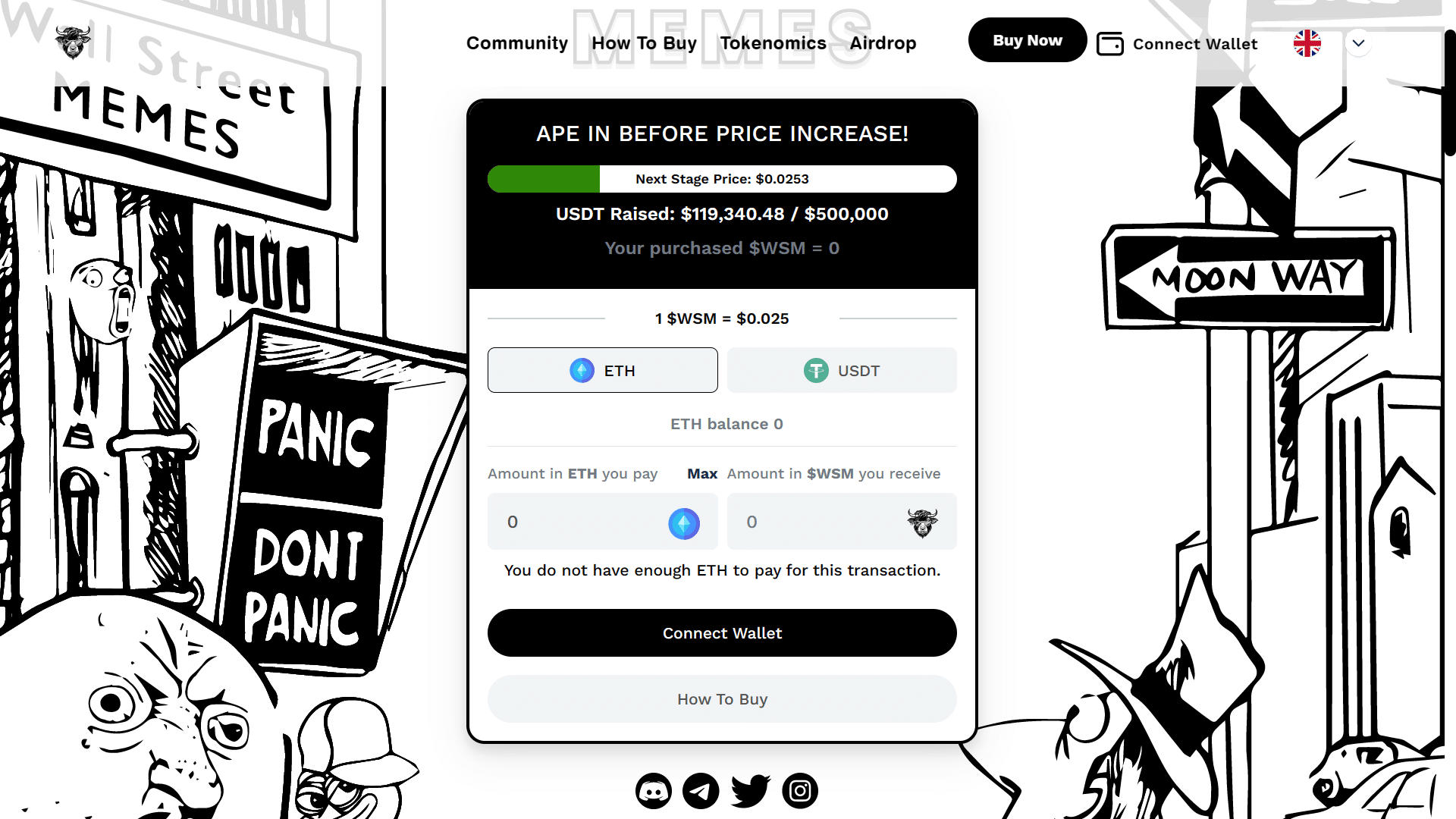 Step 5: Claim tokens after the presale
After the presale is over, a Token Generation Event (TGE) will take place. You can claim your tokens when this happens by visiting the platform's website. In MetaMask or any other wallet, the token's smart contract address can be imported once the tokens have been claimed.
Your Money is at Risk.
What Is Wall Street Memes ($WSM)?
More than 400,000 followers follow Wall Street Memes across Instagram and Twitter as the home of web2 internet culture. In recent years, memes have become increasingly popular, making $WSM a good meme coin.
This project encourages followers to utilize 'useless' meme tokens that have proven highly profitable. Wall Street Memes also offers followers the chance to invest in new meme tokens and participate in cryptocurrencies presales.
There's a big community following for Wall Street Memes right now, and they're planning on expanding. Besides memes, WSM members have the chance to discover humor, share memes, and connect with others.
The price of $WSM will be determined by the power of the community. Additionally, the team will hold regular airdrops to grow the community. As a part of an airdrop, you can receive free crypto if you connect to the Wall Street Memes social channels.
Through Wall Street Memes, early investors can capitalize on meme culture to gain generous returns. The team will use social media, humor and FOMO to create a genuine meme project. Tokens are distributed to the WSM community, ensuring 100% community involvement.
| | |
| --- | --- |
| Presale Started | 26 May 2023 |
| Purchase Methods | ETH, USDT |
| Chain | Ethereum |
| Hard Cap | $30,577,000 |
| Min Investment | 100 $WSM |
| Max Investment | None |
Your Money is at Risk.
Wall St Bulls NFTs

Wall Street Memes offers investors meme tokens and its own NFT collection, Wall St Bulls. Founded in 2021, the NFT collection consists of 10k NFTs built on the Ethereum blockchain platform. OpenSea is one of the best NFT apps where you can find Wall St Bulls.
Symbolizing the sought-after 'bull market,' the NFTs depict cartoon bulls. In conjunction with Wall Street Memes, NFTs will be marketed to raise awareness about the exclusive collection.
Additionally, Wall Street Memes offers community members the opportunity to purchase merch and NFTs. The project aims to strengthen its community and raise awareness by selling merch. Merch items include T-shirts, mugs, caps, and sweatshirts based on popular Wall Street memes.
Wall Street Memes social media
After establishing a massive community on social media, Wall Street Memes only recently released its native token. More than 200k people follow the project on Twitter alone. Telegram and Instagram accounts for the channel were only opened recently. Moreover, it is already gaining more followers on Discord.
Undoubtedly, this project had already gained a dedicated following before the presale began. This could fuel the value of WSM tokens. In addition, the fact that Elon Musk has interacted with this page several times is another factor that can push WSM's value.
A smiley-faced emoji may not seem like much, but in the crypto community, it is still valuable.
Your Money is at Risk.
$WSM Project Key Features
Wall Street Memes has a number of key features that set it apart from other projects.
NFT Project Already Successful
The Wall Street Memes DeFi coin is not the first to explore the cryptocurrency space. In the NFT space, the team has also gained traction. For example, there is an NFT called Wall Street Bulls. On the Ethereum blockchain, it is a collection of 10,000 unique NFTs with various attributes.
Taking inspiration from Wall Street Degen culture, this NFT offers members an options market membership. After the project's launch in 2021, the first collection sold out within 32 minutes.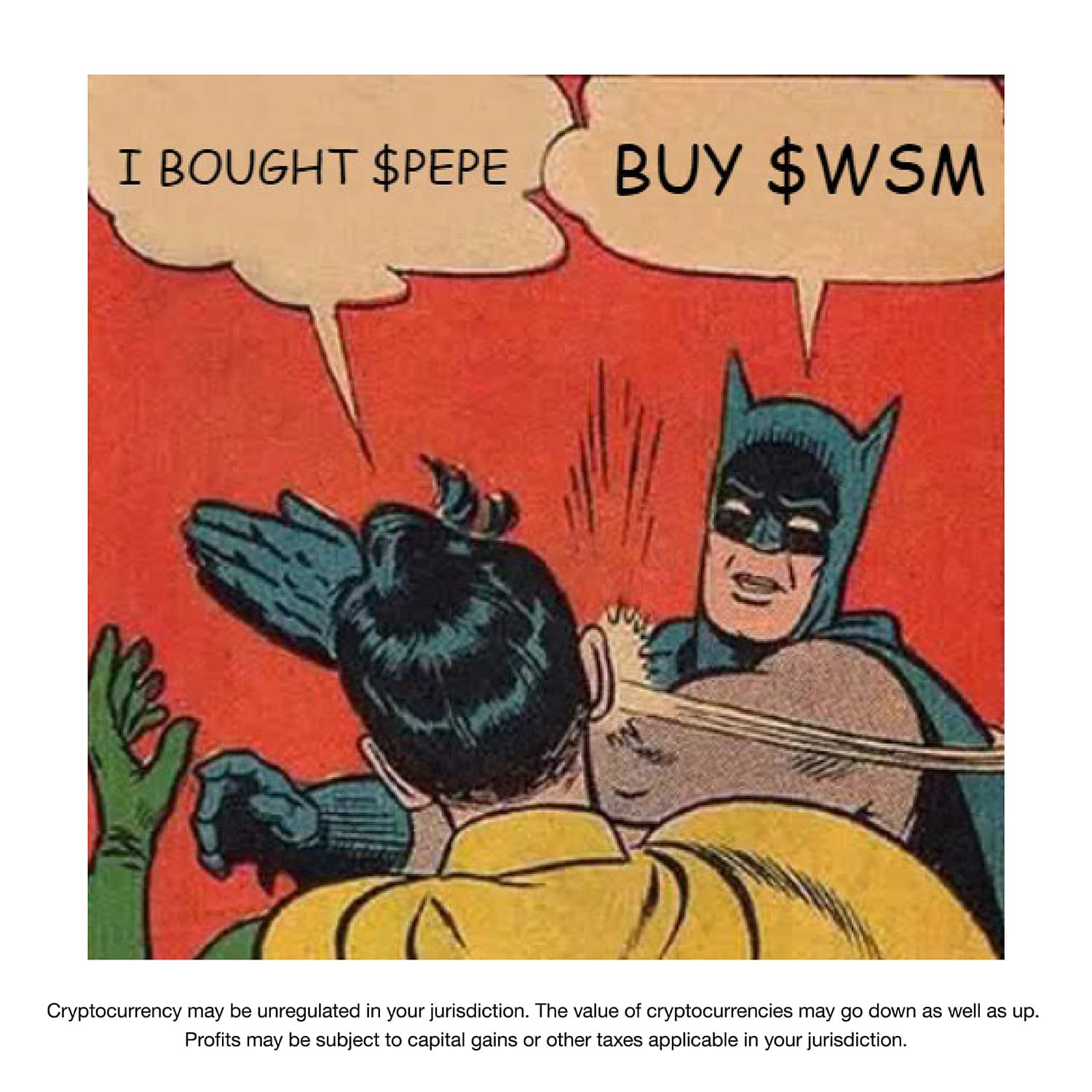 Binance Listing Potential
As many emerging memecoin developers await Elon Musk's comments, even begging him for a few words that can boost their token's value, Wall Street Memes has already encountered Elon's engagement.  As a result of this massive backing, the WSM price may likely surpass $1 billion market capitalization once it appears on Binance's listing charts.
As soon as PEPE reached the $1 billion market capitalization, Binance listed it as quickly as possible, turning this "may" into a definite possibility. As a result, if the value of a token that has a strong community backing increases, the world's largest cryptocurrency exchange will be aware of it. WSM's listing on Binance may then result in a listing pump.
The recent memecoin trends show that people are still enthusiastic about investing in memecoins, even though the current year doesn't show the same level of bullishness. As a result, it is possible for Wall Street Memes to see the token's value skyrocket once the token hits the exchanges if the community continues to engage with it during the presale.
Airdrop with $WSM
The project will offer an exclusive airdrop to token holder. Wall Street Memes members will have the opportunity to participate in the upcoming airdrop of $WSM. Investors can increase their chances of receiving free crypto by joining Wall Street Memes' official Discord channel to read the platform's rules.
Wall Street Memes could be the next king of memes
As mentioned, Wall Street Memes does not pigeonhole itself into a single meme type. Instead, there is a single platform that encompasses all memes and encapsulates all quirkiness. Thus, it is capable of becoming the king of memes.
These aren't hyperboles because memes aren't restricted to cryptocurrency. The non-crypto space was more excited than the crypto space when GameStop short-squeezed. These traditional investors may adopt crypto assets due to this project, making WSM their first cryptocurrency investment.
Wall Street Memes has an engaged audience
With relatable memes, Wall Street Memes do not disappoint. Its Twitter content is largely focused on regulatory mishaps affecting the current traditional economy. In addition to the latest technologies, the memes focus on stocks outperforming the overall economy, such as AI stocks.
The community is constantly engaging with each other, and these tweets are getting a lot of traction. In addition, more memes are likely to keep the token relevant when it launches, potentially increasing its value.
2023 is the year for meme coins
There is a positive sentiment surrounding memecoins at the moment. The performance of PEPE, Turbo, COPIUM, and SPONGE in the current volatile market indicates that people are more likely to give low-cap, cheap cryptocurrencies a chance.
Major crypto influencers across Twitter have echoed the sentiment. As a result, Wall Street Memes can be an appealing investment opportunity to potential investors.
Your Money is at Risk.
$WSM Tokenomics
In terms of tokenomics, $WSM has taken a simplistic approach. The total number of tokens is two billion, of which 50% – one billion – will be used for the presale. A hard cap of $30,577,000 has been set for this token.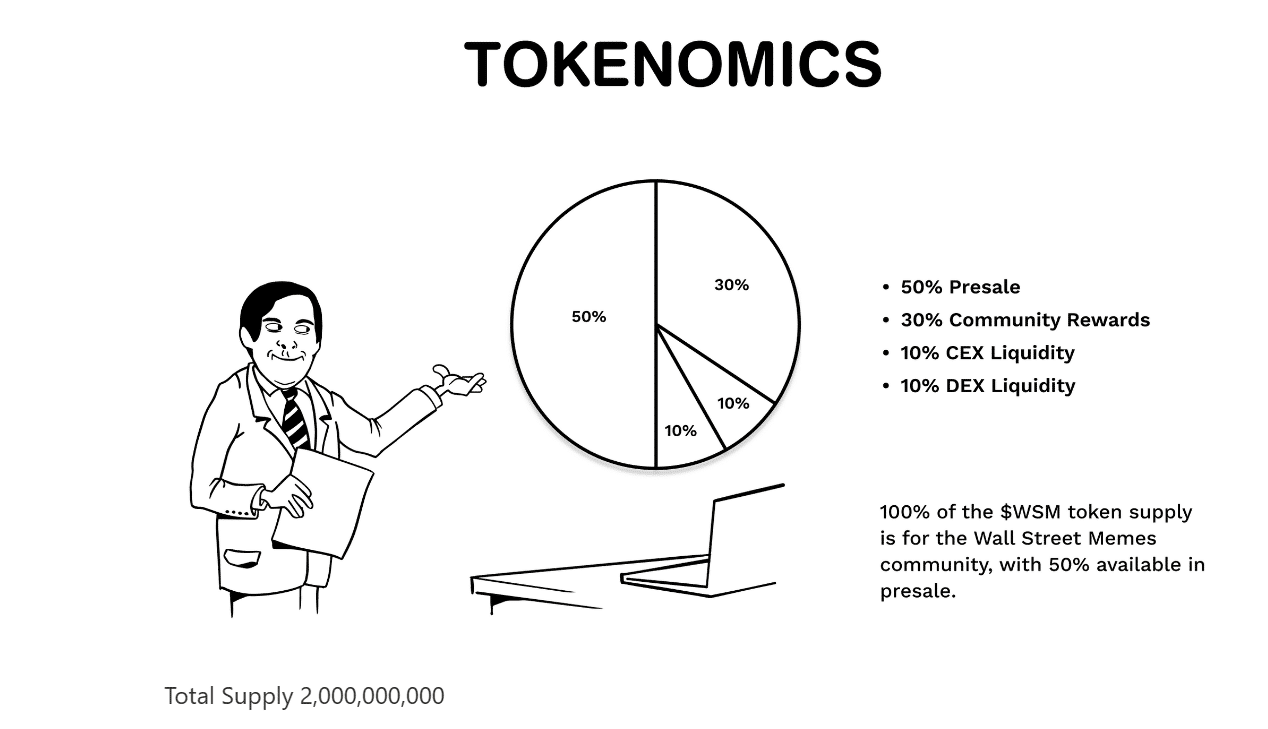 Listed below is the breakdown of the remaining supply.
30% to community rewards –30% of WSM's supply is dedicated to rewarding its community.
10% CEX Liquidity – WSM looks forward to going live on tier-1 exchanges. As a result, 10% of the total liquidity is reserved for that purpose.
10% DEX liquidity –The first decentralized exchange where investors can buy WSM tokens will probably be Unswap.
The tokenomics show that none of the tokens are reserved for the team. Compared to projects that merely claim to be community-centered, Wall Street Memes is more transparent.
| | | | | | | |
| --- | --- | --- | --- | --- | --- | --- |
| Phase | Token Price | Percentage | Amount of Tokens | USD Value | Price Step | Raised Totals |
| Stage 1 Price | $ 0.02500000 | 2.0% | 20,000,000 | $ 500,000 | | $ 500,000 |
| Stage 2 Price | $ 0.02530000 | 2.0% | 20,000,000 | $ 506,000 | $ 0.00030000 | $ 1,006,000 |
| Stage 3 Price | $ 0.02560000 | 2.0% | 20,000,000 | $ 512,000 | $ 0.00030000 | $ 1,518,000 |
| Stage 4 Price | $ 0.02590000 | 2.0% | 20,000,000 | $ 518,000 | $ 0.00030000 | $ 2,036,000 |
| Stage 5 Price | $ 0.02620000 | 2.0% | 20,000,000 | $ 524,000 | $ 0.00030000 | $ 2,560,000 |
| Stage 6 Price | $ 0.02650000 | 2.0% | 20,000,000 | $ 530,000 | $ 0.00030000 | $ 3,090,000 |
| Stage 7 Price | $ 0.02680000 | 2.0% | 20,000,000 | $ 536,000 | $ 0.00030000 | $ 3,626,000 |
| Stage 8 Price | $ 0.02710000 | 2.0% | 20,000,000 | $ 542,000 | $ 0.00030000 | $ 4,168,000 |
| Stage 9 Price | $ 0.02740000 | 2.0% | 20,000,000 | $ 548,000 | $ 0.00030000 | $ 4,716,000 |
| Stage 10 Price | $ 0.02770000 | 2.0% | 20,000,000 | $ 554,000 | $ 0.00030000 | $ 5,270,000 |
| Stage 11 Price | $ 0.02800000 | 2.0% | 20,000,000 | $ 560,000 | $ 0.00030000 | $ 5,830,000 |
| Stage 12 Price | $ 0.02830000 | 2.0% | 20,000,000 | $ 566,000 | $ 0.00030000 | $ 6,396,000 |
| Stage 13 Price | $ 0.02860000 | 2.0% | 20,000,000 | $ 572,000 | $ 0.00030000 | $ 6,968,000 |
| Stage 14 Price | $ 0.02890000 | 2.0% | 20,000,000 | $ 578,000 | $ 0.00030000 | $ 7,546,000 |
| Stage 15 Price | $ 0.02920000 | 2.0% | 20,000,000 | $ 584,000 | $ 0.00030000 | $ 8,130,000 |
| Stage 16 Price | $ 0.02950000 | 3.0% | 30,000,000 | $ 885,000 | $ 0.00030000 | $ 9,015,000 |
| Stage 17 Price | $ 0.02980000 | 3.0% | 30,000,000 | $ 894,000 | $ 0.00030000 | $ 9,909,000 |
| Stage 18 Price | $ 0.03010000 | 3.0% | 30,000,000 | $ 903,000 | $ 0.00030000 | $ 10,812,000 |
| Stage 19 Price | $ 0.03040000 | 3.0% | 30,000,000 | $ 912,000 | $ 0.00030000 | $ 11,724,000 |
| Stage 20 Price | $ 0.03070000 | 3.0% | 30,000,000 | $ 921,000 | $ 0.00030000 | $ 12,645,000 |
| Stage 21 Price | $ 0.03100000 | 4.0% | 40,000,000 | $ 1,240,000 | $ 0.00030000 | $ 13,885,000 |
| Stage 22 Price | $ 0.03130000 | 4.0% | 40,000,000 | $ 1,252,000 | $ 0.00030000 | $ 15,137,000 |
| Stage 23 Price | $ 0.03160000 | 4.0% | 40,000,000 | $ 1,264,000 | $ 0.00030000 | $ 16,401,000 |
| Stage 24 Price | $ 0.03190000 | 4.0% | 40,000,000 | $ 1,276,000 | $ 0.00030000 | $ 17,677,000 |
| Stage 25 Price | $ 0.03220000 | 4.0% | 40,000,000 | $ 1,288,000 | $ 0.00030000 | $ 18,965,000 |
| Stage 26 Price | $ 0.03250000 | 6.0% | 60,000,000 | $ 1,950,000 | $ 0.00030000 | $ 20,915,000 |
| Stage 27 Price | $ 0.03280000 | 6.0% | 60,000,000 | $ 1,968,000 | $ 0.00030000 | $ 22,883,000 |
| Stage 28 Price | $ 0.03310000 | 6.0% | 60,000,000 | $ 1,986,000 | $ 0.00030000 | $ 24,869,000 |
| Stage 29 Price | $ 0.03340000 | 7.0% | 70,000,000 | $ 2,338,000 | $ 0.00030000 | $ 27,207,000 |
| Stage 30 Price | $ 0.03370000 | 10.0% | 100,000,000 | $ 3,370,000 | $ 0.00030000 | $ 30,577,000 |
Wall Street Memes Project roadmap
In terms of Wall Street Memes' crypto project, there will be a fairly straightforward roadmap available. Pre-sale of tokens is the first stage, which is currently taking place. The presale consists of 30 stages, with the price of $WSM increasing at each stage – offering rewards to early investors. In the presale, 50% of $WSM tokens will be available for purchase.  Presale ends when all are sold out. It is possible that in 2023 there will be great profits from a crypto presale such as the Wall Street Memes.
A special airdrop will only be available to existing Wall Street Memes holders during the presale. The WSM discord channel is the best place to get more information about participating in the airdrop.
After the presale event, $WSM will be listed on exchanges. The community's immense power will likely lead to the project being listed on major exchanges like Binance. The project has a great chance of pumping up its price and raising its visibility.
Over time, $WSM will grow in value and community as the Wall Street Memes team continues to develop and expand. The company will hold regular airdrops to encourage investment, and additional exchange listings will be added over time.
Pros and Cons of Investing in Wall Street Memes Token 2023
It is well known that Wall Street Memes is a meme project aiming to generate profit for its early investors. But is $WSM a wise investment in 2023? To help you make a decision, we will look at a few of the project's main pros and cons.
Pros
There are currently 400k followers supporting $WSM.
The $WSM tokens will be distributed 100% to the community.
Elon Musk has participated in Wall Street Memes on social media, showing his support.
Investing in crypto can be very rewarding when you take advantage of regular airdrops.
$WSM will likely be listed on major exchanges after the presale.
Increased pre-sale prices will guarantee returns.
Cons
The volatility of meme coins is well known.
It is difficult to predict market sentiment for Wall Street Memes because it is a new crypto project.
Your Money is at Risk.
Wall Street Memes Price Prediction 2023
Wall Street Memes, or $WSM, is a cryptocurrency that is part of the growing meme coin community. According to its official website, the project represents the anti-capitalist essence of Web3. But, according to $WSM's figures, it can potentially surprise us significantly. During its first day of operation, Wall Street Memes received $100,000 in investments.
It is expected that significant developments will take place in the coming days and weeks. There are 400,000 followers on social media for Wall Street Memes, in addition to the influential Reddit community Wall Street Bets. Twitter, Discord, Telegram, Instagram, and Linktree are some channels where Wall Street Memes can be found. Pre-sale work is greatly influenced by this enormous community, which plays an important role in the entire sale process.
Pre-sale expectations for $WSM are very high. Wall Street Memes are a concept that demonstrated the triumph of the Internet over capitalism. There is a pre-sale taking place at the moment, and tokens will be sold at a price of $0.025 per token. The expected number of tokens is approximately 2 billion, with 50% going to presale, 30% going to community rewards, and 20% going to the CEX/DEX.
There is a bright future for Wall Street Memes, as the company is founded on solid, reliable foundations. The Wall Street Bulls NFT collection was launched by the same team that created $WSM. It was an instant success and sold out within a matter of hours after its launch. The buzz surrounding Wall Street Memes has attracted investors. There are 48 holders of $WSM, of which 38 are major holders, holding over 9.9 billion dollars.
Alternative Meme Coins To Consider in 2023
This year, $WSM could be a great investment. However, it is also possible for other memecoins to make it big this year.
Ai Doge ($Ai)
According to its website, AiDoge is the future of memes. AiDoge allows users to generate the hottest memes using AI technology, and there are many meme coins on the crypto market right now.
A core component of the app is that users can create memes of their choosing that are relevant to events in the crypto world and on social media. It is thus possible for them to experience an enchanting AI-generation experience unlike any other.
AIDoge's meme generator creates contextually relevant memes using advanced AI algorithms. A large number of meme datasets are used to train these algorithms. Crypto news will also be featured in the memes, making them relevant to other crypto enthusiasts. Investing in memes that are high-quality and up-to-date will make investors more successful.
Using their individual text prompts, users can create relevant memes. Users convert text-based prompts into memes that they can then sell to other users as non-fungible tokens (NFTs).
On third-party platforms like OpenSea and the Binance NFT Marketplace, users can sell their NFT memes for real currency, or they can sell them on their sites.
To diversify your investment portfolio, invest in AiDoge, one of the fastest-growing meme coins that attract crypto investors.
With AIDoge, the use of memes and AI is set to be revolutionized. With $Ai, users can benefit from an evolving world that combines AI and blockchain technology.
Your Money is at Risk.
Copium Club ($COPIUM)
On May 18, Copium Club was launched to appeal to investors who missed the previously-launched and highly successful $PEPE, $SHIBA, $DOGE, and others. As a result of combining the terms "coping" and "opium," the project acquired its name.
In this token, you'll find a spirit of camaraderie, humor, and shared experiences embodied by social media's unpredictable world. Through its community, shared humor, and a way to turn past hurts into profits, the website aims to help investors who have had mishaps with crypto cope.
Hence, one of the presales criteria was being a Telegram or Twitter community member. By laughing their way to success, the project provides investors a safe space to cope with missed opportunities and FOMO.
In addition to offering an exclusive airdrop feature, Copium Club also offers non-fungible tokens (NFT). With this multi-level reward system, investors are rewarded for their loyalty and are encouraged to buy and hold more tokens. Top 200 token holders were offered the NFT airdrop two hours after launch. Every participant received a token tank that filled up to 20 tiers – in 5% increments. As they accumulated $COPIUM, the tank would become fuller.
In addition, other NFT holders will get a chance to receive the NFT airdrop after two weeks. Therefore, token purchases will be motivated by these incentives.
Your Money is at Risk.
How To Buy Wall Street Memes Presale 2023– Conclusion
People are investing in cheap crypto assets due to the memecoin mania, which is more or less in line with the current market's volatility. So one of the goals of Wall Street Memes is to capitalize on that aspect.
Thus, we have discussed in this guide how to buy Wall Street Memes tokens via the presale, which will be beneficial in two ways. One benefit is that users will be able to make gains before the token is listed on exchanges. As well, by capitalizing on the volatility of the market, it may be able to grow parabolically.
Many experts are bullish about Wall Street Memes because they already have an established community, and that community is attuned to the latest financial and technology trends.
You will not receive messages from admins on platforms such as Discord, Telegram, Instagram, or Twitter – its official addresses are on its Linktree.
Ensure your crypto wallet backup phrase is secure, and do not share any passwords or two-factor authentication codes. Your $WSM tokens may not be able to be claimed if you lose access to your wallet or are compromised by phishing links.
Always use official links – wallstmemes.com is the only place to buy Wall Street Memes tokens before they are listed on DEX and CEX.
Your Money is at Risk.
FAQs
Is Wall Street Memes a good investment?
Will $WSM explode after presale?
Is Elon Musk linked to Wall Street Memes crypto?
Is Wall Street Memes better than DOGE?