Biticodes Review- Is It A Scam or Legit?
Disclosure
Everything you read on our site is provided by expert writers who have many years of experience in the financial markets and have written for other top financial publications. Every piece of information here is fact-checked. We sometimes use affiliate links in our content, when clicking on those we might receive a commission – at no extra cost to you. By using this website you agree to our terms and conditions and privacy policy.
Automated trading platforms such as BitiCodes have emerged as an alternative traditional platforms. These platforms allow users to trade in a passive way which can save time and reduce risk. However, not all automated trading platforms are what they claim and it is important to conduct thorough research before putting any funds on the line.
Our Biticodes review looks at everything you need to know when using an automated platform.
What is Biticodes?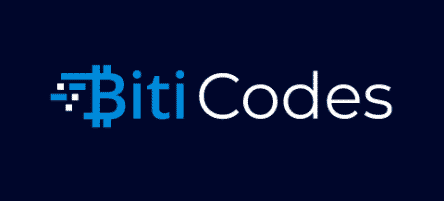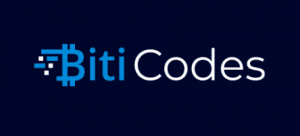 Biticodes is a completely independent platform that trades cryptocurrencies on behalf of any user who uses it. One of its biggest differences compared to other automated trading platforms is that Biticodes can trade Bitcoin cash, Litecoin, and Ethereum, to name a few of the available coins that provide the ability to generate a high capitalization and uses algorithms to make huge profits.
The platform has an easy-to-use interface that allows users to configure it according to their trading strategy. This makes the platform great for both beginners and experienced traders.
Moreover, according to the website, platform members only need 20 minutes daily to monitor trades.
On the Biticodes platform, it is also possible to perform trades with a leverage of 5000:1 through brokers. However, due to its risk, we strongly recommend only investing a minimum amount in this type of trading.
According to the website, Biticodes crypto trading brings built-in software that enables you to be 0.01 seconds more agile than the rest of the cryptocurrency market exchange, which means that users will be better positioned for any opportunity in the market.
Additionally, the website claims that the software has a success rate close to 96.2%. To create an account on this platform, it is necessary to make an initial deposit of $250. Remember that it is possible to withdraw your funds at any time. The Biticodes platform is free. There are no commissions for maintenance of the platform or for making any operation.
Your capital is at risk.
What Assets Can You Trade on Biticodes?
The assets available in Bitcodes crypto trading include the most important cryptocurrencies in the market, which allow you to have a great capitalization. It is important to mention that leverage can be used to obtain great profits. The level of leverage varies according to the customized configuration of the platform.
Biticodes Trading Platform Key Features
Next, we will go over the most important aspects that you should consider when choosing a platform like Biticodes. 
Fees
One of the key features you should always keep in mind is whether the chosen platform has any commission. Once you have defined this, you will know the amount of your profit at the end of the transaction and what percentage the platform may charge you, if any. That is why we have taken the time to show you all the Biticodes fees below:
Withdrawing money from your account does not incur any fees. Biticodes also does not charge annual or inactivity fees, as shown in the table.
| | |
| --- | --- |
| Account opening fee | None |
| Deposit/withdrawal fees | None |
| Commission | 0.01% |
Unlike many other platforms with non-transparent commissions and fees, BitiCodes is said to be a free trading platform.
Automation
Sometimes experience is not enough, and even big mistakes are made when trading cryptocurrencies that result in losing money. It is also possible for emotions to play a key role, and as a result, you end up either buying cryptocurrencies too fast or selling cryptocurrencies too late. Although BitiCodes uses very precise technical analysis to create trades, it relies heavily on a trade creation process grounded in logic.
Recent times have seen a significant expansion in platforms that AI powers. As a result, it is becoming increasingly common for BitiCodes-style platforms to employ these tools to generate higher profits that, in one way or another, allow them to take control of the market. Thus, users can have better market analysis and discover new investment possibilities. Moreover, BitiCodes' self-sufficiency capability enables them to place orders without needing help from anyone, which is an additional advantage.
According to BitiCodes, the key to making money is a scalping on higher time frames rather than swing trading. As BitiCodes executes a trade, it instantly sets a stop loss order and a take profit order based on price fluctuations.
Minimum deposit
Although the BitiCodes platform is completely free, traders interested in being part of the platform should know that there is a minimum requirement to be met to access the demo account and perform live trading. That requirement is a minimum deposit of 250 US dollars, so we recommend you convert to the local currency, and you will know exactly the amount needed.
Once you have made the minimum deposit, you can start to let the platform perform the trades for you. First, you must click on "Auto-Trade," choose the pair you want to trade, and click on "Get Started."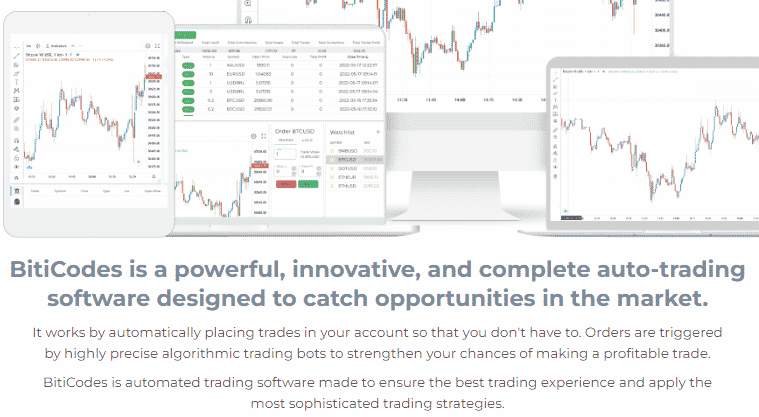 Your capital is at risk.
Different payment methods can be used when you make your first deposit. These methods are crypto-wallets, bank transfers, and debit and credit cards. For example, cryptocurrency deposits are processed in the shortest possible time, if not instantaneous. Therefore, in case of network congestion, deposits can take as little as a few minutes to process.
Suppose you are a beginner in the cryptocurrency market. In that case, you should know that it is important to always start with minimum investments and raise them as you become more secure and successful with your investment strategies.
Security
Security is a crucial issue for this type of platform. In the case of BitiCodes, certain aspects have been improved to guarantee the security of all users' accounts. In addition, the platform also ensures that it has signed up to different certifications to provide an excellent and secure service, thus considerably reducing all cases of hacks on the platform.
That is why the platform applies different verification processes to reduce the chances of unauthorized users stealing all the information stored in the accounts.
With BitiCodes, transactions are secured through blockchain technology. The data stored in the platform's database systems is fully encrypted, making it impossible for hackers to access. The BitiCodes website also uses SSL certificates to secure customer data and payments. Therefore, money and data would have to be protected for merchants.
User interface
Whether you are a beginner or an expert, the advantage is that the BitCode platform is very easy to use as it features a simple-to-use interface. It is not a complicated platform to use, nor do you need to have advanced knowledge in cryptocurrencies to use it. Although it offers everything, an expert needs to use an automated platform.
Moreover, you can access BitCode's automated trading platform using any device, including a laptop or cell phone, if you have an active and reliable internet connection. Users can trade from anywhere in the world.
Customer support
This feature may be the most relevant, especially if you are new to the platform. Regarding the platform's customer support, we can say that they are very attentive to any user's questions and are available 24/7. Even user testimonials endorse the platform's excellent service in resolving complaints or questions.
The customer service representative you contact will be able to help you in no time.
You can use different ways to contact the customer service team. As a user, you can do so using your registered email address, a phone call, or, if you prefer, through a live chat on the platform's website.
Registration
The Biticodes online registration process is not complicated. On the contrary, the process is very easy and fast. Creating an account on this platform is completely free, and it is not a time-consuming procedure to get the account up and running.
Once you are on the platform's website, you must enter the basic information requested, including your full name, country of residence, and email address.
After you have placed all the necessary data in the form, an email is sent with the confirmation of the account activation.
If you have difficulty registering, Biticodes online customer service is ready to assist you.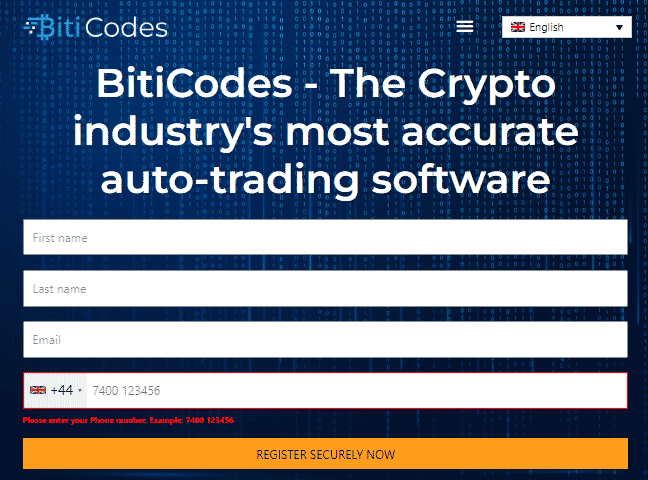 Your capital is at risk.
Withdrawal methods
In the Biticodes platform, it is possible to make withdrawals using different methods, among which we can find bank transfers and crypto-wallets. Furthermore, withdrawals can be made at anytime and anywhere in the world.
Withdrawing funds from Biticodes only takes a few minutes. However, it usually takes 24 hours for the money to reach you after submitting your withdrawal request.
The system also prevents all kinds of data breaches and fraud, providing high security and protection. In addition, withdrawing funds from personal accounts is transparent, without hidden fees or charges.
Demo account
Bitcodes crypto trading has a demo account for users who want to test strategies before entering the real market. With the demo account, you can understand how the automated platform works. This is an excellent option for beginner users.
We suggest using a demo account to test new strategies and techniques before putting any of your real capital at risk.
BitiCodes provides a $1500 credit for traders who wish to test the system. Then, before investing money, the trader can practice trading strategies in demo mode.
Demo trading does not result in any profit or loss. The purpose of this is for demonstration only and not for live trading.
Asset variety
This platform is distinguished from others on the market today by its proprietary algorithms and extensive knowledge of cryptocurrencies such as Ethereum, Bitcoin Cash, Litecoin, and other high-value cryptocurrencies. Furthermore, various cryptocurrency pairs make it easy for the user to find the configuration that suits their needs among the available configurations.
The trading platform also offers fast-paced trading opportunities, as it specializes in Bitcoin, a volatile cryptocurrency.
Is Biticodes Legit or a Scam?
According to the platform's website, Biticodes claims a success rate of 96.2%. This is thanks to implementing an artificially intelligent algorithm with learning technology.
As we mentioned in our BitiCodes review, the platform can be used for free and offer a demo account. Therefore, you should test it carefully before investing your real money if you are unsure about the platform. However, despite the volatility and significant risks of the cryptocurrency market, it is still an attractive investment.
At the moment of our review of the BitiCodes trading platform, we found several positive comments about the platform. Some comments emphasized how the platform made things easy for them and helped them generate great income in cryptocurrency. However, it would be careful to exercise caution when dealing with these reviews since they cannot be proven correct.
How To Use Biticodes
Are you interested in trying the Bitcodes platform? Then, you can register and start using the platform by following the steps below.
Sign up for platform
Getting started with Biticodes requires visiting its official website. The registration form will need to be filled out when you arrive. Please complete the form and provide your name, email address, and phone number for your login information.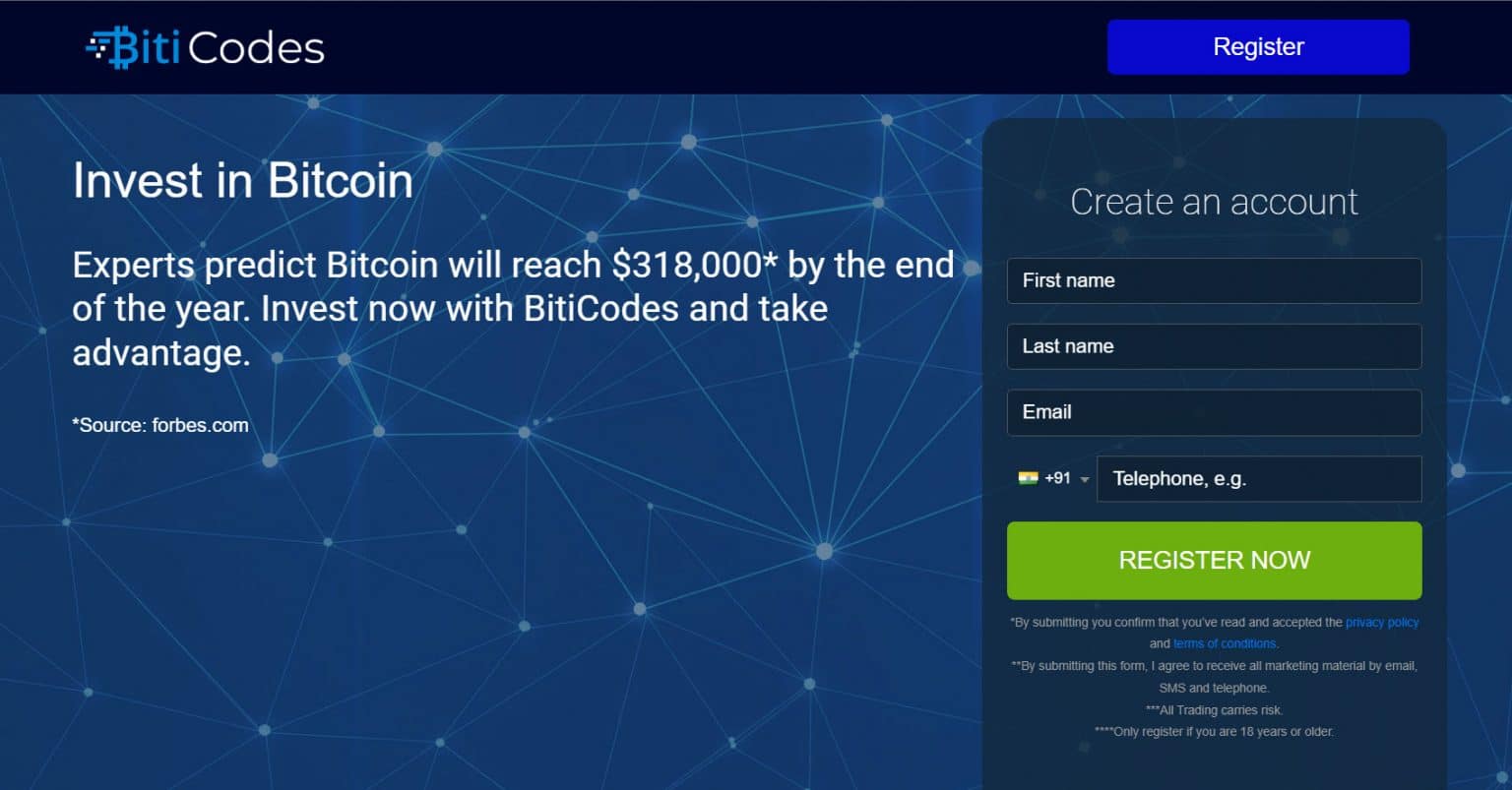 Your capital is at risk.
Verify ID
KYC requirements dictate that you upload a clear image of both sides of your ID to verify your account. Proof of residency is also required. In addition, to verify your address, you must upload a most recent bank statement or invoice.
You can expect to receive your confirmation within 24 hours of submitting these documents.
Deposit funds
Biticodes require a $250 minimum deposit. Using their platform, you can make payments using credit or debit cards, bank transfers, electronic wallets, and bank transfers.
Start live trading
It is important to configure the account to meet the investor's requirements after the account has been set up and the funding process has been completed.
You can activate the algorithm in your account dashboard as soon as you access the trading platform, which will immediately start trading cryptocurrency on your behalf once enabled. In addition, the Biticodes system is claimed to be capable of scanning the market 24/7 with little or no human involvement.
Biticodes Review- Our Conclusion
In general, if you decide to use the Biticodes platform, you should know that it gives you the option to access the market and operate with the most recognized cryptocurrencies, which gives you the possibility to achieve a high market capitalization. Furthermore, it is important to remember that it is a commission-free platform, and you only have to worry about making the minimum deposit of $250.
We conclude that, in the end, Biticodes is a worthwhile investment if you want to give it a try. You can trade cryptocurrencies today by opening a free account with Biticodes!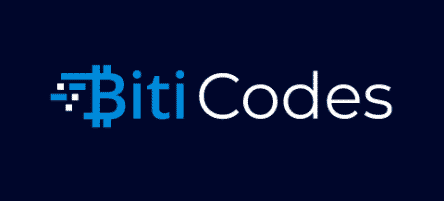 Your capital is at risk.
FAQs
What is Biticodes trading?
Is BitiCodes good for beginners?
Can you make money with Biticodes?