Best Dogecoin App 2023 – Top Apps Revealed
Disclosure
Everything you read on our site is provided by expert writers who have many years of experience in the financial markets and have written for other top financial publications. Every piece of information here is fact-checked. We sometimes use affiliate links in our content, when clicking on those we might receive a commission – at no extra cost to you. By using this website you agree to our terms and conditions and privacy policy.
The best dogecoin app for storing and trading tokens include MetaMask, eToro, eToro wallet, and BitStamp. This article will review each app to reveal the let features, pros and cons and how to use them for your DOGE. Keep reading to find out about the best Dogecoin apps in 2023.
A Closer Look At The Best Dogecoin Apps in 2023:
Best Apps For Buying Dogecoin
The best Dogecoin app should offer deep liquidity (OTC trading), a mobile interface with powerful and intuitive API, licenses in the EU and US, military-grade security, and cold wallet storage for most of its assets. Fortunately, the apps we will review have all or most of these features.
BitStamp
BitStamp isn't new to the cryptocurrency industry. With over 11 years of global servicing retail and institutional traders, BitStamp has solidified itself as a foremost crypto trading platform. A powerful and intuitive mobile application, dedicated services for institutional traders, crypto staking features, and tradingview with over 106 technical indicators – It's no wonder the crypto application has over 40 million active users and is one of the largest cryptocurrency exchanges in the world.

Key Features
Security:
BitStamp employs military-grade security protocols to protect the assets of users from malicious attackers. First, 90% of all cryptocurrencies on BitStamp are stored offline in a secured cold wallet. The platform also offers security features like prevention of unauthorized access and whitelisting of withdrawal address (with this feature, if you withdraw from an address that isn't whitelisted, BitStamp will notify you and request for a 2FA confirmation before approving the withdrawal.
Crypto Earning:
BitStamp allows users to earn cryptocurrencies or ROIs on their crypto assets when they stake. Staking is a simple process where you lock up some of your assets with the platform and earn APYs. At the moment, BitStamp does not support dogecoin staking but supports Ether and Algorand with 3.42% and 1.6% APY, respectively.
Customer Support:
BitStamp offers 24/7 customer support through email and social media. You can also easily access your account manager and get expert tech support.
OTC Trading:
BitStamp OTC (Over the Counter) RFQ service allows institutional investors to access ultra-competitive prices on crypto assets from multiple liquidity providers, resulting in the execution of large orders in a single transaction. With OTC access, investors need not worry about slippage and can anonymously choose the best price from an OTC vendor. Enterprise-level liquidity and real-time data streams of crypto assets, including API documentation for custom trading, make BitStamp one of the most formidable exchanges for large order execution.
Regulation:
BitStamp is regulated in the United States and European Union and is licensed to fully operate and offer its services to citizens within these regions. BitStam also operates in other regions like Asia, Australia, and Africa, amassing over 40 million users.
Mobile Application & Tradeview:
BitStamp executes trading over its mobile application and Tradingview for the web. BitStamp mobile application is phenomenal and mimics the features of its tradingview product. On mobile, you can perform simple beginner-friendly trading. You can also access pro tools, technical indicators, and drawing tools on charts. The tradeview also has over 106 technical indicators, all beautifully and seamlessly displayed over the trading chart.
Pros
BitStamp has a sophisticated mobile application.
Licensed to operate in the United States and all of Europe
Offers deep liquidity to institutional investors
Offers 24/7 customer support
You can stake certain cryptocurrencies and earn impressive APIs on them.
Tradeview and mobile app are beginner-friendly.
Cons
Doesn't support dogecoin staking.
Your money is at risk.
eToro
eToro is the one of best mobile apps to trade dogecoin and other cryptocurrencies. The exchange holds the assets of over 25 million people in a cold storage system that prevents hackers from accessing them. eToro isn't just a broker; it's a mainstream social trading platform that facilitates social interaction amongst users and allows users to copy the trade strategies of pro traders.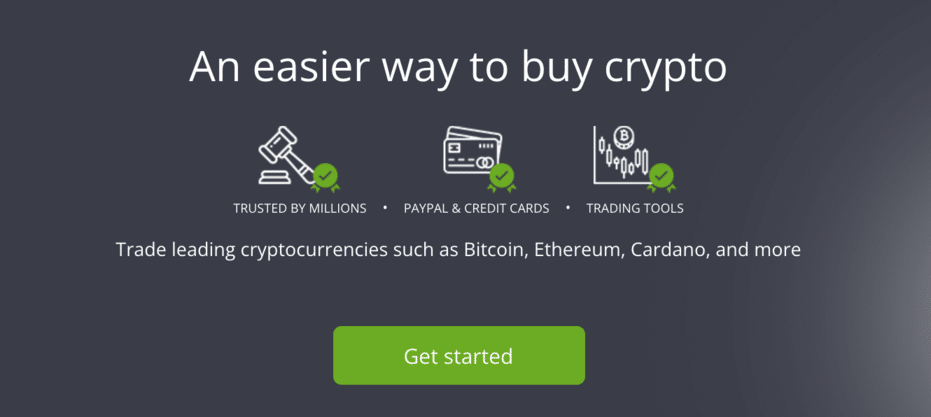 Key Features
Social trading:
eToro has a sophisticated social trading system that allows millions of users to interact and share trading formulas. The platform's social trading platform includes copy trading and Popular Investor Program. In the Popular Investor Program, pro-investors can earn up to 2% of the ROI of investors that copy their trades. Copying a trade and executing the order takes less than a minute. To do so, you just have to head on to the platform's pro-traders list and find a pro-investor you would like to copy.
eToro reveals the success rate, trade, and amount earned by pro-investors. Once you see an investor that has a history of successful trades in the asset you intend to trade or in similar assets, you can choose the investor, click on any of the investor's trade strategies, and copy.
Regulation:
eToro is regulated by the Australian Securities and Investments Commission –  the highest regulatory body for financial institutions in Australia. With eToro's ASIC license, users in Australia are eligible for investor protection.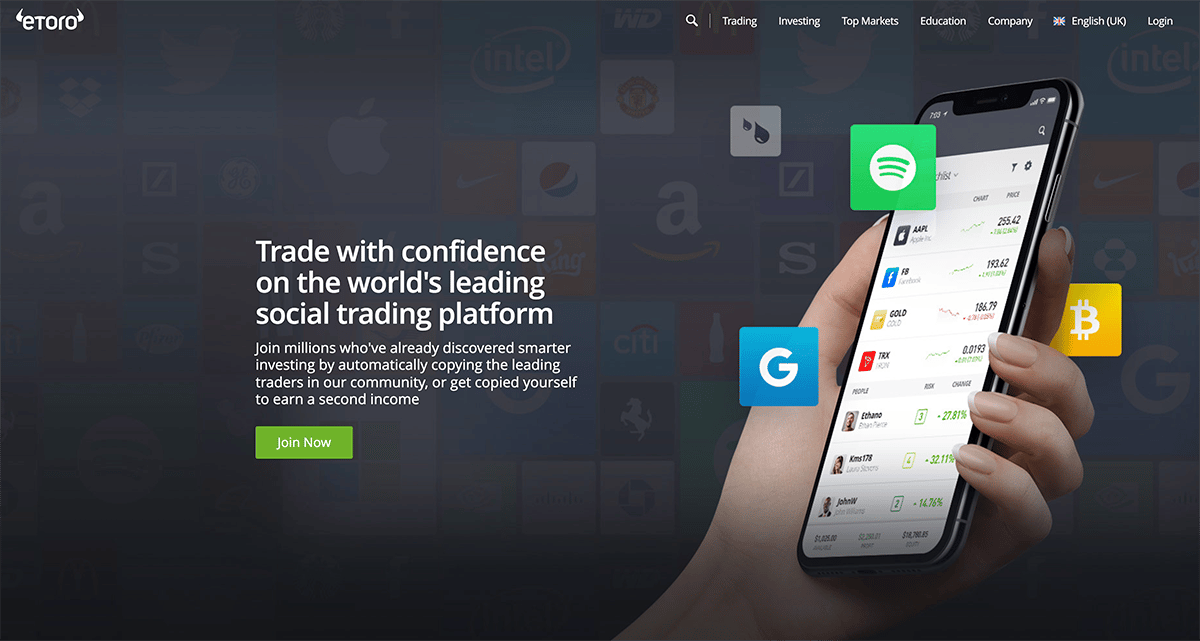 Asset insurance:
eToro's insurance policy covers up to a million euros or Australian Dollars should the company become insolvent. The policy covers all cash, CFD positions, and securities but does not cover leveraged positions. Everyone with an account with the eToro trading platform is automatically covered. All positions (within the insurance policy and terms) are covered if there ever is a cyber attack or the company becomes insolvent.
Demo trading:
The eToro demo trader allows users to practice trading strategies within live market conditions. The platform provides virtual funds of up to $100,000 for people to trade and understand the platform. The copy trading software is just as powerful as eToro's web trader and trading app, but like every other copy trader, it does not factor in spreads. In a copy trading app, you can request an order to BUY dogecoin of up to $100,000 at a convenient price, and the order will go through. In the real world, however, you cannot always get the volume of an asset you want at the price you want. When using eToro copy trader, you need to manually factor in spreads and liquidity.
Fees:
eToro charges a flat fee of $5 per withdrawal and a $1 flat fee on every transaction.
Minimum Deposit:
Minimum deposits on the eToro platform vary from country to country. While Australians can deposit a minimum of $50, US and UK citizens can start trading with as low as $10. People from countries like Israel must cough up a $10,000 deposit fee before using the eToro platform. People from other countries must deposit up to $500 before they can use the eToro platform.
Leverage:
eToro offers leverage up to 30x of your original asset value. That is, if you have dogecoin worth $100, eToro lets you trade $3,000. You can make much more profit with leverage if a trade goes your way.
Security:
Firstly, eToro ensures that it is regulated and licensed to operate in any region it offers its services. The platform stores more than 90% of its assets in a cold wallet and employs military-grade security protocols to keep assets safe. Other security measures include whitelisting withdrawal addresses.
Pros
Supports social trading and copy trading
Convenient leverage of x30
Competitive trading fees and commissions
Supports a large number of cryptocurrencies, including Dogecoin
Licensed in the US, UK, Australia, and many other countries
Empathetic customer support
eToro has deep liquidity, and can execute large orders for enterprise clients without unnecessary slippage.
Cold storage of crypto assets.
eToro is an excellent app if you want to store and trade some of your crypto assets. The app has over 65 technical indicators.
Cons
eToro does not support bot trading and may not be good for traders looking to utilize trading bots for fast daily trade executions.
Cryptoassets are highly volatile and unregulated in the US and UK. No consumer protection. Tax on profits may apply.
Best Apps For Storing Dogecoin
eToro wallet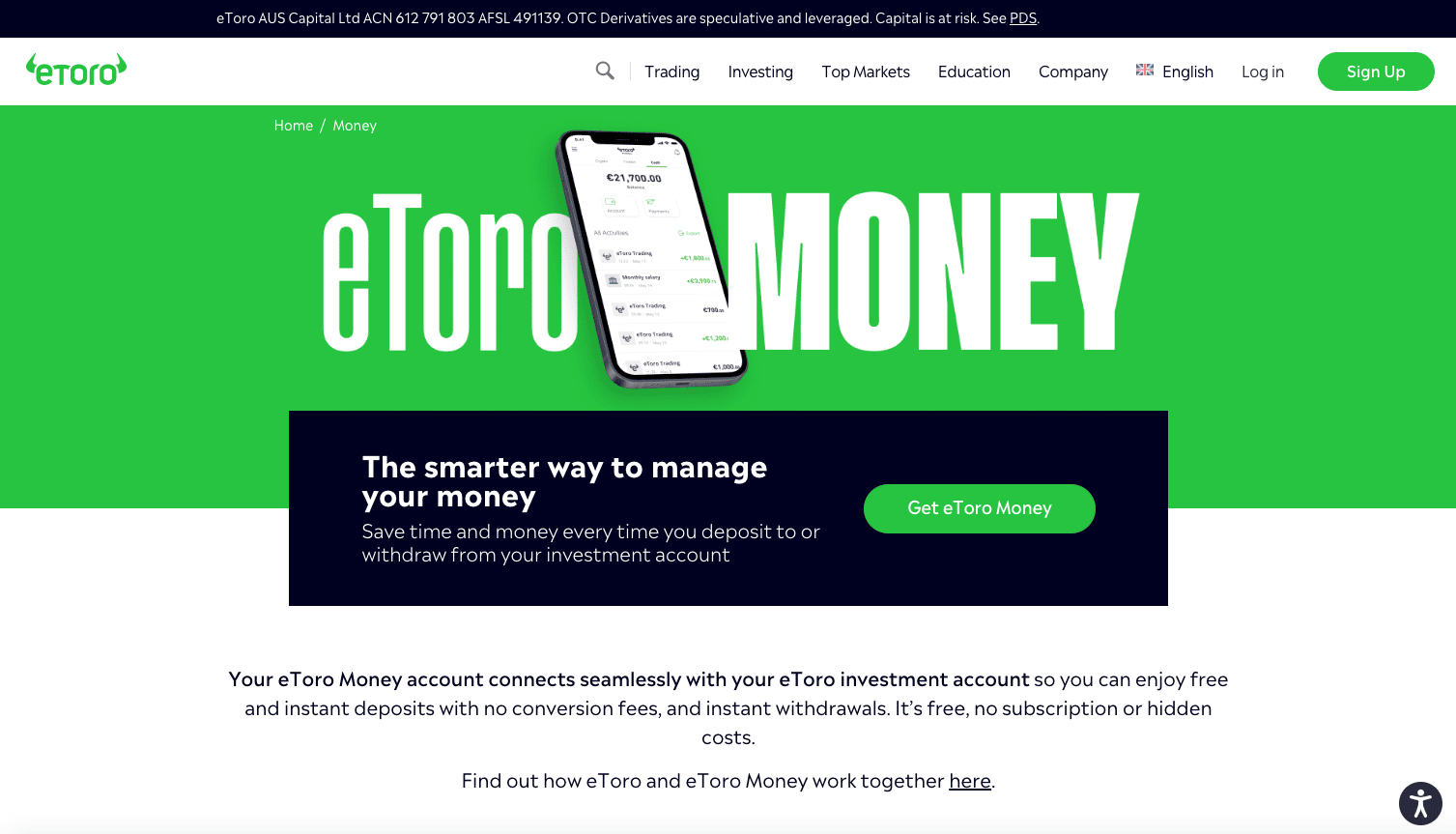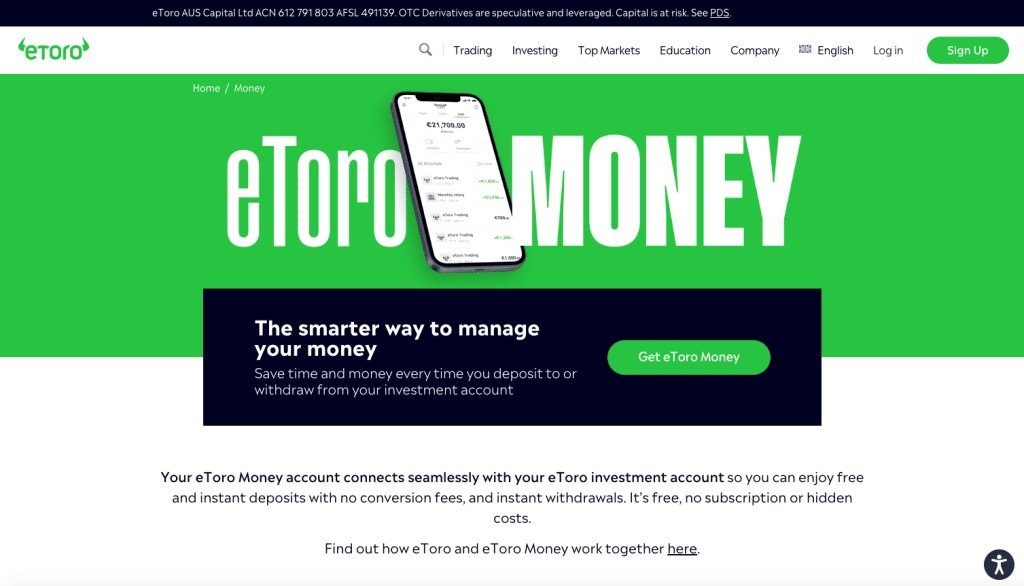 eToro money wallet allows users to store their cryptocurrency assets on the blockchain and recall the assets back to the eToro trading platform whenever they like. When your assets are stored in the trading platform's native wallet, they are stored in a cold wallet; however, with the eToro wallet, you can recall assets immediately and use the wallet's credit card to make online purchases.
This makes the wallet stand out from others because it streamlines the trading and storage process.
Key Features
Asset variety:
eToro Money wallet supports many cryptocurrencies, including Dogecoin.
Private Keys:
eToro Money Wallet provides you with a private key (a set of mnemonic seed phrases) that is automatically generated and destroyed but only known by you. eToro does not have info on any user's private key; hence, hackers cannot access them even if they somehow gain entry into the eToro ecosystem.
On-chain cryptocurrency storage:
eToro trading platform stores its assets in offline cold storage or wallet; however, when you store your asset in the money wallet, it is actually on the blockchain – that means your assets are online.
Security:
Since assets are stored on the blockchain, eToro ensures military-grade protocol, including DDoS and standardization protocols. 2FA protocols are also entrenched to automatically occur whenever you do certain tasks like withdraw, deposit, or trade from a different location.
Seamless fund transfers:
With the eToro Money Wallet, you can transfer funds from your wallet to other wallets like MetaMask. You can also receive funds in your wallet from other wallets. The wallet can be operated on mobile, and your fund transfer can be done through the QR codes of the wallets or by inputting the external wallet address in the eToro wallet transfer page.
Regulation:
eToro Money Wallet is regulated in the United States and Europe by many regulatory bodies. From the Australian Securities and Investments Commission to the FCA, SEC, and other bodies, your funds are covered by Investor Protection, and governments of each country and region can help you push for the retrieval of funds in the case of a resolution.
Fees:
The eToro fee structure is flexible, depending on the trading asset and volume.
Pros
eToro wallet allows token swap over a seamless network.
You can store your token until you are ready to trade.
The application interface is simple and has great aesthetics.
The token swap fee is very competitive.
eToro money wallet is online, so it has deep layers of military-grade security protocols.
Supports large swaps by institutional investors.
You can transfer long positions from your trading platform to the eToro wallet.
You can connect the eToro wallet to other wallets like MetaMask and transfer tokens to and fro the wallets.
Cons
Assets cannot be transferred from the eToro wallet to the trading app.
Tokens are stored online on the blockchain.
Cryptoassets are highly volatile and unregulated in the US and UK. No consumer protection. Tax on profits may apply.
MetaMask
MetaMask is the gateway to Web 3 applications, allowing users to purchase tokens of P2E and blockchain applications and exchange tokens over a secure channel. MetaMask houses ETH, the native token of the Ethereum blockchain, and also hosts other ETH variants. With MetaMask, you can swap or buy tokens, regardless of the token volume and still be assured of getting the most competitive price on the market.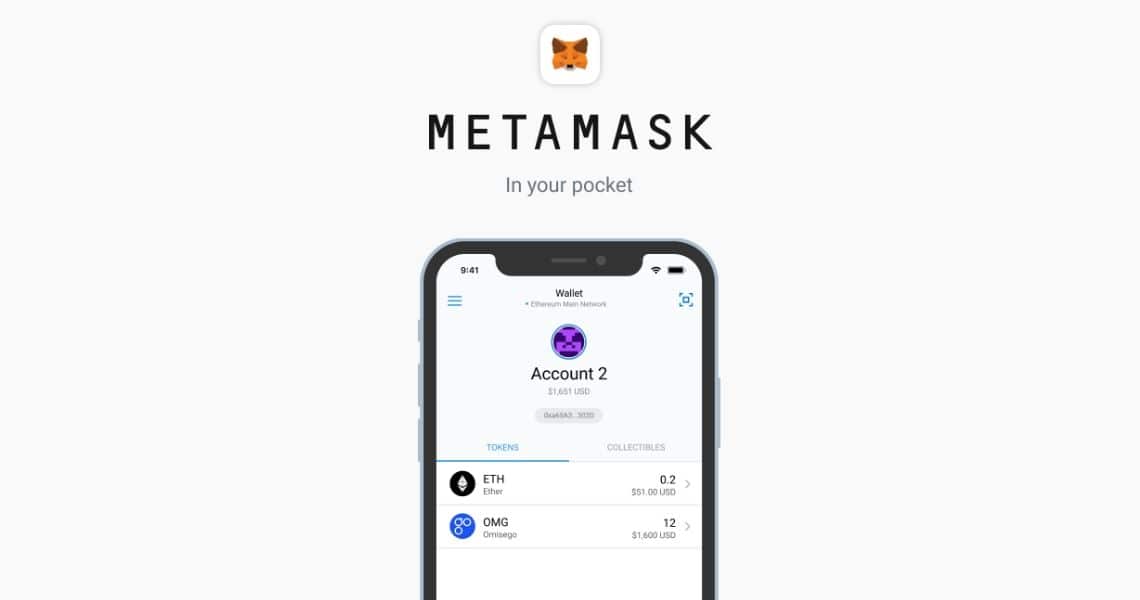 Key Features
Beginner friendly user-interface:
MetaMask allows users to buy, sell, and, recently, swap cryptocurrencies over its mobile application or browser extension. Creating an account is easy and can be done in less than a minute. MetaMask gives you a secure vault where you can store your tokens and exchange tokens over a safe and secure medium.
MetaMask swap:
With the swap feature, you can swap tokens at competitive prices. MetaMask accesses liquidity providers on your behalf and finds the best market rate for your BUY orders, regardless of the token. For example, if you needed $3,000,000 worth of Dogecoin, it might be impossible to find an exchange that will be able to provide such volume immediately, within the market price. Such demand can lead to a hike in the price of dogecoin within the exchange. With MetaMask swap, you can buy such volume because the app links your order to liquidity providers like UniSwap, AirSwap, Curve, and 1inch, which render services to institutional investors. With institutional inMetaMask's new Swap feature lets you swap tokens at the most competitive prices. For example, MetaMask accesses liquidity information of DEX's liquidity pools and DEX aggregators like UniSwap, AirSwap, Curve, 0XAPI, 1inch, and Paraswap. With such data, you can execute positions with DEXs with the largest liquidity and save money from spreads.
Gateway to blockchain apps:
MetaMask is the gateway to most blockchain applications, including NFT-powered metaverses, play-to-earn games, and decentralized applications. This is because most decentralized applications are created on the Ethereum blockchain and need Ethereum either as a sub-native currency or as a means of exchange for the app's native currency.
Privately interact with Web 3 applications:
MetaMask helps users interact with Web 3 applications, allowing people to buy and sell NFTs and lands and exchange digital assets. MetaMask connects with the bridges of Web 3 applications and provides Ethereum as a means of exchange for other tokens. Reversely, you can convert these tokens back to Ethereum and withdraw them as fiat currency. MetaMask's interaction with blockchain apps is conducted over private channels; that is, MetaMask does not exchange user data with third parties.
Pros
MetaMask allows you to interact with Web 3 applications, swap tokens, and purchase native currencies of blockchain apps.
Has established itself as the foremost Ethereum store in the industry and employs military-grade security to protect users' assets.
Swap tokens over a seamless interface. As long as MetaMask supports the token, you can always swap it.
Buy and sell tokens at will without worrying about slippage. MetaMask interacts with top liquidity providers to provide the most competitive prices of tokens.
Interact with other blockchain apps without revealing important data. MetaMask stands as a gateway and executes your orders privately.
Store Ethereum and other tokens in a secure offline vault.
Cons
Swap fees are not defined and can be influenced by factors like volume and asset type.
You should seek advice from an independent and suitably licensed financial advisor and ensure that you have the risk appetite, relevant experience and knowledge before you decide to trade.
What Is The Best Dogecoin App To use in 2022?
eToro trading app is the best app for trading and storing Dogecoin. For storing, eToro offers a deep-secure wallet offline (cold wallet), allowing users to store their crypto assets away from the claws of hackers. eToro offers many 2FA protocols and is licensed in the United States and EU to offer its services to people within these regions. eToro operates in many countries and has over 28.5 million users. As a trading app, the eToro app offers users charts with more than 65 technical analyses, offers social trading and copy trading, and its app and web traders are supported by powerful technology and deep liquidity.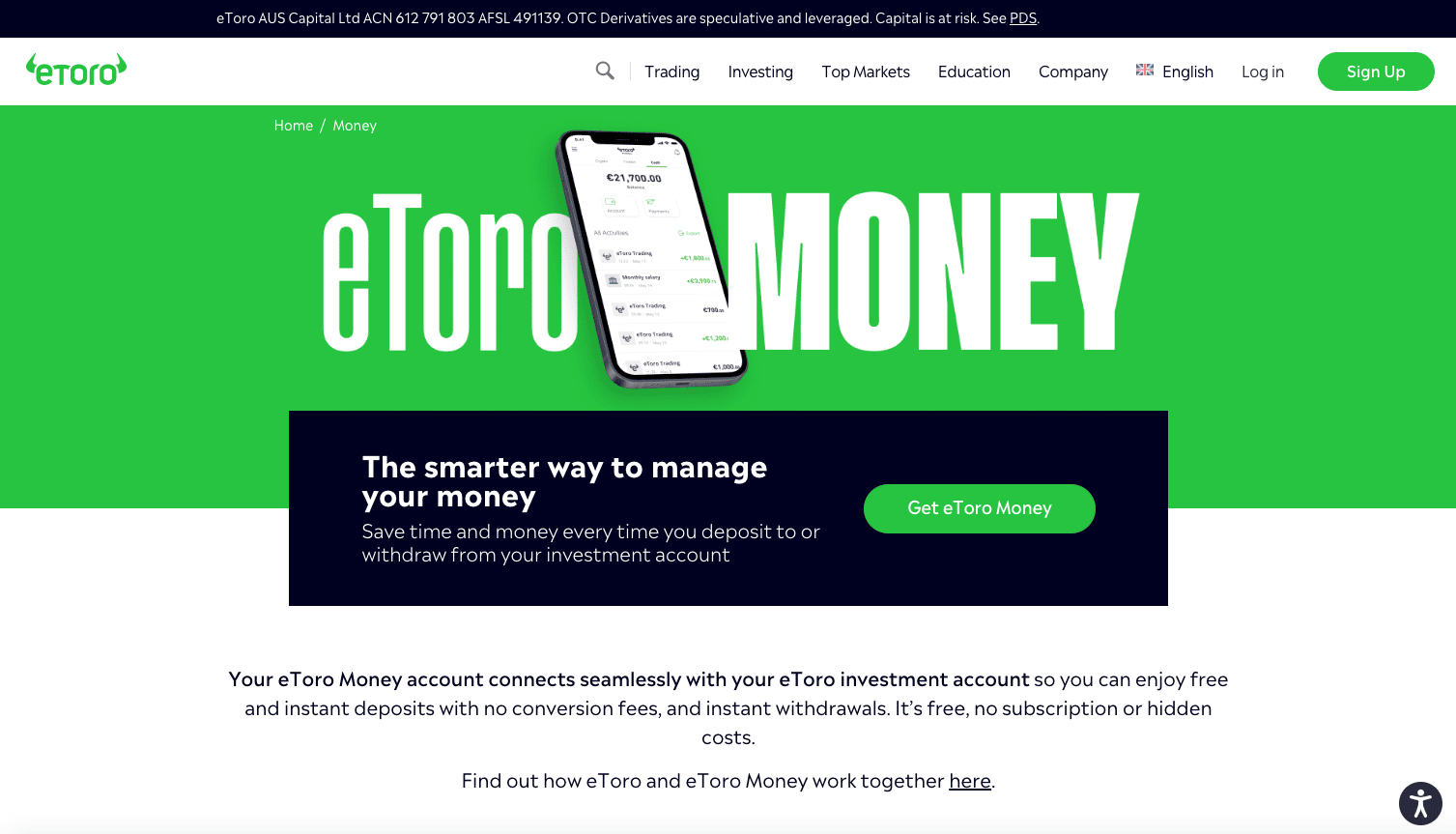 Cryptoassets are highly volatile and unregulated in the US and UK. No consumer protection. Tax on profits may apply.
Are Crypto Apps Safe To Use?
Before the invention cryptocurrency apps or online exchanges, people had to use physical brokers for trading assets. With digital technology, you can now buy crypto, stocks, and currencies with a few taps.
In general, reputable crypto apps are safe to use. However, it's important to trade or store your cryptocurrency in a safe environment and follow the necessary protocols to keep your assets safe.
Here are some things to consider before using crypto apps in 2023.
Cryptocurrency regulation
Regulatory agencies ensure that exchanges follow industry-standard practices and protect their clients at all times. Every region has its regulatory body, and each of them has a thorough review process for crypto apps before allowing them to legally offer certain services to people within the region. Australia, for example, has the Australian Securities and Investments Commission, a body that oversees the safety and security protocols of financial institutions, including crypto exchanges, forex, stock, and trading platforms of every other instrument. The United States has the SEC – Securities Exchange Commission. The UK, FCA. China, the EU, and other regions also have their regulatory bodies. Before signing up to a crypto app, ensure that the app is regulated by the proper agency and is licensed to operate in your country.
Storing your crypto assets or trading crypto assets over an unregulated exchange devoids consumer protection. International and national agencies often pursue consumer protection, ensuring that customers get a fair share of their investments in the case of an exchange's liquidation. The legal process will not cover you if you use an unregulated app.
Cryptoassets are highly volatile and unregulated in the US and UK. No consumer protection. Tax on profits may apply.
Security and privacy
The security of an app is one of the most crucial factors you must consider before using one. A secure app should store your assets offline. Offline storage has become popular today because crypto exchanges and defi apps or blockchain apps are often targets of malicious hackers. A good example is the Lazarus Group, a group of North Korean-based hackers that are responsible for hundreds of millions of dollars of missing funds. With a cold wallet, your assets are offline and inaccessible to such hackers.
Security protocols: Industry standard crypto security should be military-grade. While the security page of most crypto apps is filled with technical jargon, you can assess the security protocol of an app by reading up its history. The best dogecoin wallet apps should have few instances of security breaches and a transparent and empathetic process that they follow in the case of a breach.
Data sharing: The best dogecoin apps should offer deep liquidity, especially to enterprise clients that buy assets in large volumes. To make this work, exchanges often collaborate with the best liquidity providers in the market to help you find the most competitive prices for your OTC orders. You must read up on the app's privacy process to ensure that your trades are executed anonymously. With anonymous execution, you can create orders and your platform will interact with OTC vendors on your behalf without revealing even the tiniest detail about the customer.
Insurance: Insurance covers customers and ensures that they get fiat value for their cryptocurrency assets if the exchange liquidates. The FTX situation is commonplace today, with many customers wondering if they will ever get their funding back. FTX recently filed for bankruptcy, and amidst stories of gross negligence and oversight from the government, malpractices and shady business dealings of the top executives, and outright theft, many investors have come to understand that they must store their holdings in exchanges and companies with airtight insurance and consumer assurance. Cryptocurrency apps with excellent security measures include the eToro app .
Cryptoassets are highly volatile and unregulated in the US and UK. No consumer protection. Tax on profits may apply.
Crypto app scams
Crypto app scams are commonplace, and scammers use many strategies to infiltrate an organization's network. Crypto scams can be organizational and individual. Let's have a look at some of the common scams and how you can better protect yourself.
Organizational scams
An organizational scam targets a company. Such scams can be inside (scams that are orchestrated by the owners of the exchange) or done by external actors. In 2022 alone, more than $1.4 billion has been lost on cross-chain bridges (a cross-chain bridge is like a portal where blockchain apps can interact and exchange assets). Crypto exchange, Wormhole, lost $320 million to cyber attackers this year, and the figure is expected to rise over 2023. Rug pulls are also common in the cryptocurrency industry. In the Thordex Scam, the founder of the Thordex exchange disappeared into thin air with more than $2.6 billion of investor money. Consumers also lost their investment to OneCoin, a once popular cryptocurrency exchange, after the founders stole between $4 billion and $15 billion of customer money. The Squid Game scam, a scam orchestrated by the founders of the Squid Game (SQUID) token, is another notable rug pull.
The bitter truth is that, like all financial institutions, even the seemingly secure can be hit with internal or external cyber-attacks. However, the private nature of blockchain apps and cryptocurrencies makes it easier for founders to pull out investor funds and disappear. To protect yourself from organizational scams like rug pulls and mass cyber attacks, follow these safety tips:
Only use an exchange that is regulated by the appropriate bodies.
Never use the same login credentials for two of your crypto exchanges. If you do so, in the case of a data breach, scammers can access other platforms with the credentials they have from the hacked forum.
Do not invest more than you are willing to lose.
Always set up 2FA for your exchange or crypto storage account.
Always read user reviews before signing up to a website.
Individual Scams
These are scams that target retail investors. Let's explore some:
Phishing scam: Some cryptocurrency scammers use romance strategies to lure their unsuspecting victims into revealing sensitive data like their exchange logins. To avoid this scam, you should never divulge sensitive information to an online lover. While love often blinds us to seeing the real motive of our partners' actions, principles like 'Never give a partner your login credentials will save you from an embarrassing tale.
Malicious links and buttons: Crypto scammers sometimes insert malware in links and buttons. Once these malware gain control of your device, they can mirror your activities and give scammers access to exchange websites and websites or apps of other financial institutions you use. Malicious links can be embedded in emails, download links of torrent websites, links to get discounts on gadgets, and SMS. Malicious buttons are embedded in emails. To prevent hackers from gaining access to sensitive exchange data, follow these safety protocols:
Never open a link from an unverified sender.
Check emails properly. Scammers cleverly twitch trusted websites like Amazon into Amazon and use the URL to create fake emails that can be used to spread malicious content.
Nothing comes free: Spin a wheel, win a brand new iPhone 14, and other seemingly free offers are trojan horses.
Use a strong antivirus.
Stay away from pirate websites. While it's free to download the Black Panther 2 Movie online, why not go to the cinema and save yourself from a cryptojacker?
If you notice that someone has gained access to your account, change your credentials immediately, set deeper 2FA protocols, and inform customer support personnel of the financial institution you use.
Scam websites
Crypto scam websites are usually easy to spot. Most of them follow the same mode of operation – shabby-looking websites that promise you mouth-watering returns on your cryptocurrency investment. Let's have a look at the features of crypto scam websites:
No information on founder: Scam websites usually have zero founder information. Even those that manage to manage to put founder info often download stock images of random people and write ambiguous and ridiculous bios.
Mouth-watering ROIs: Scam websites make almost impossible promises, even in the crypto world where high returns are commonplace.
Spam calls: Spam websites often barrage you with spam calls and messages, asking you to invest more and earn more.
Requests that you receive a call from an 'Expert' during the registration process: Any crypto websites that request that you receive a call from a so-called expert is almost always a fake website. Decent crypto websites do not solicit calls.
Poor web layout: A website with a poor web layout is a scam site. A professionally built site improves user trust. Most scammers often just change images and wordings in a script and upload them as web pages. Yes, crypto scam websites often look the same.
You cannot access any of the site's features until you make a deposit: Whenever you visit a website, and you cannot access the feature (even a free feature like a demo account) until you pay, you are certainly on a scam website. The truth is, such websites have nothing to offer and will only lure you in to take your money.
Cryptoassets are highly volatile and unregulated in the US and UK. No consumer protection. Tax on profits may apply.
Top Tips for Using Dogecoin Apps Safely
#1. Never share your passphrase
The app provides a passphrase when you sign up for metaverse apps or apps that store cryptocurrencies like Bitcoin, Ethereum, and Dogecoin. Apps like MetaMask provide a passphrase to their users in the registration phase. The passphrase is usually a 12-word (can be less) mnemonic seed phrase that gives you instant access to your account if you lose your credentials or if your account is locked on suspicion of fraudulent activities. Companies like MetaMask make it clear that without your passphrase, you can permanently lose access to your wallet, irrespective of the volume of the assets you put there. 
Your passphrase is important to your wallet security, so you must always keep it safe. Never share your passphrase with anyone, and never share the phrase online. To ensure that you will always have access to your wallet, follow these passphrase security measures:
Do not share your passphrase with another party under any circumstance.
Do not store your passphrase in digital storage like Dashlane.
Write down your passphrase on a neat piece of paper and store it in a safety deposit box. If possible, memorize it and keep the safety deposit box in secure storage outside your home (perhaps a bank).
Set up 2FA to require a passphrase if they notice suspicious activities on your account.
#2. Use a reliable internet connection
Crypto apps allow you to trade on the go. While this is good, many people often access the internet in public places, from their offices to their favorite cafes, church, or school. But public internet can be used by scammers to gain access to your device and obtain sensitive information. Even if you use the public internet, do not open crucial apps like your exchange or bank app. Second, ensure that you sign out of the account immediately after you leave. If you do not sign out and cancel the automatic connection, you might be on your bank app or crypto exchange and will automatically connect to the public wifi.
#3. Read user reviews before signing up
User reviews give us firsthand information on user experiences with the crypto app. The best dogecoin app has stellar reviews across all platforms (Android, iOS, and even TrustPilot). Of course, it's impossible for an app to have a 5-star review; however, use an app that has a decent review. When checking reviews, factors you should consider are, customer service quality of the platform, security concerns, and fees. If many customers complain about the platform's poor customer support, you may have to choose an app with support.
#4. Store your DOGE in a cold wallet after purchasing
Always store your DOGE in a cold wallet like MetaMask and eToro after purchasing. Cold wallets are created to store cryptocurrencies offline. What this means is that even if your wallet suffers a cyber attack, criminals cannot access assets in cold wallets because these wallets are offline. A cold wallet is just like a safety deposit box. Assets stored on the blockchain are hot – that is, they are accessible and can be tampered with by scammers if they gain access to the blockchain.
What Is The Best Free Dogecoin App in 2022?
The best free Dogecoin app in 2022 is eToro. eToro tops our list because it offers both a reliable exchange and a secure wallet so that you can execute trades easily in one place.
eToro is completely free to download and use in the US and requires a minimum deposit of just $20 to place a trade. Furthermore, eToro's crypto trading fees are relatively low and no hidden fees will occur.
Cryptoassets are highly volatile and unregulated in the US and UK. No consumer protection. Tax on profits may apply.
What Dogecoin Apps are Available in The US?
eToro is licensed by the Financial Crimes Enforcement Network, FinCEN, a US Bureau of Treasury that collects and analyzes financial transactions in and outside the US. eToro's license makes it viable to offer its services anywhere in most US states.
BitStamp holds a New York Department of Financial Services license and can operate in the state. BitStamp might not operate in your state if New York's license does not cover its operation within the specific state.
MetaMask is an open-source program used by many other applications; hence the application's licenses will determine if you can use it in your state.
Can You Use Dogecoin Apps To Buy Other Cryptos?
Yes, you can use the best Dogecoin apps to buy other cryptocurrencies. Most cryptocurrency apps allow you to buy other cryptocurrencies like Bitcoin and Ethereum, but crypto listings may differ. For example, eToro supports 120 cryptocurrencies, while Coinbase supports over 170 cryptocurrencies in the United States. Let's explore how you can buy the D2T token with eToro and Metamask.
How To Buy D2T- The Next Big Crypto Token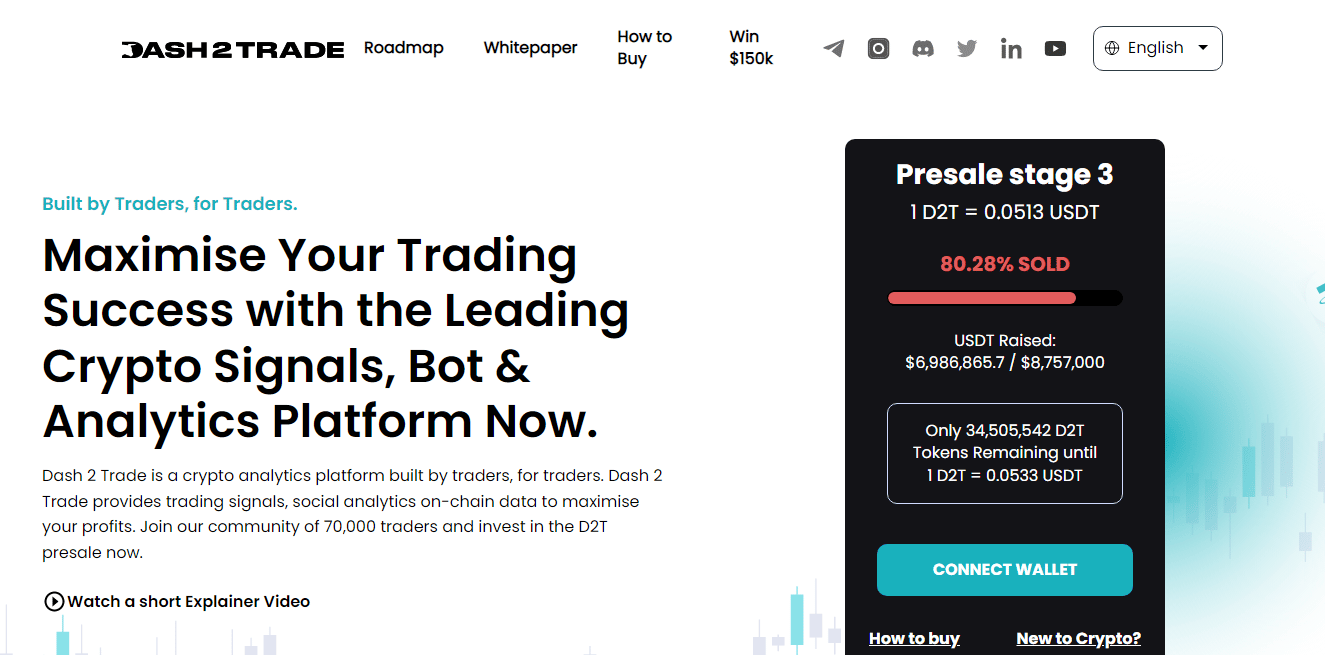 D2T  is the native token of the Dash2Trade platform – a crypto analytics platform that intensively studies crypto assets and their behavior in the market and advises customers when to buy and sell. The platform obviously is incredibly popular because of its powerful algorithm. At the moment, more than $6 million worth of the D2T token has been purchased in the Presale 3 stage. To buy the D2T token, follow these steps:
Open an eToro account
Before you can buy Ethereum with eToro, you must create an eToro account.
Visit the eToro website 
Select Join Now
Register: Input your name, email address, and password, and submit.
Complete your profile: Input your full name, address, and other profile completion data.
Verify your account: Submit your passport or driver's license to verify your account. Note that the name on your ID card must match your profile name.
Verify your proof of address: Send a proof of address document (a recent bank statement showing your address is preferable).
Note: Do not edit or alter any part of the image when submitting your ID document and proof of address. Take the picture under bright light and ensure that all four borders of your ID show.
Once your account is approved, you can deposit funds and purchase Ethereum.
To purchase Ethereum, click Buy. 
Select Ethereum in the list of cryptocurrencies available.
Select the volume of Ethereum you wish to purchase and submit your order. eToro will process your order immediately and inform you when the process is complete.
Open a MetaMask Wallet
Visit your Chrome extension page and search for MetaMask. The real MetaMask extension should have over a million downloads.
Add MetaMask to your Chrome extension.
Launch it and sign up.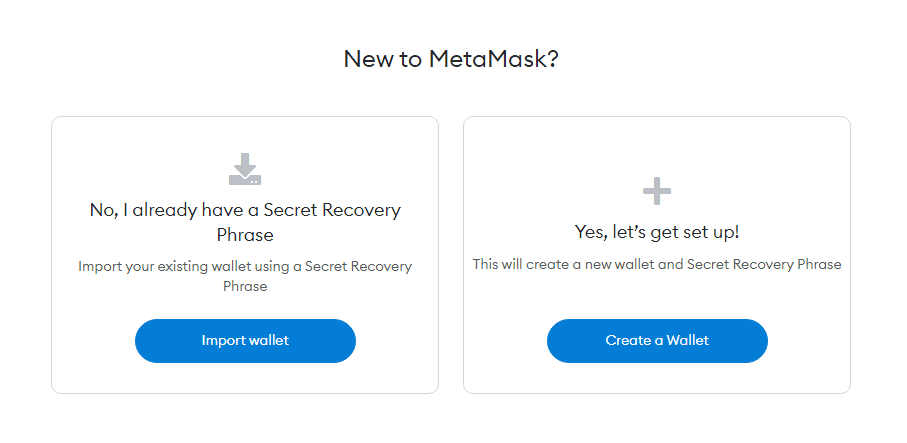 If you already have a wallet, select Import Wallet. If not, select Create Wallet. 
Fill in your email address and password.
Get your 12-word seed phrase and store it somewhere safe. Confirm the seed phrase.
Once you create your MetaMask wallet, you can copy your wallet address and go back to the eToro platform to transfer Ethereum from eToro to MetaMask. To buy Ethereum into your MetaMask from eToro, visit your eToro platform, and click Buy. Select Ethereum and the volume you want to purchase. Input your MetaMask wallet and confirm the transaction.
Note: Always input the right wallet address when moving funds from wallet to wallet. If your address is wrong, your funds will be lost forever.
Buy the D2T Token
Visit the Dash2Trade website
Click Connect Wallet. Select MetaMask wallet. Select Buy with Ethereum.
Ensure you have enough Ethereum in your MetaMask wallet for the value you want to buy and gas fees.
Once your wallet is connected, input the number of D2T tokens you wish to buy. You can only buy a minimum of 1000 D2T tokens.
Submit your transactions.
D2T KYC Process
D2T powers all its transactions through Transak, and you will need to complete a KYC process before your order completes.
Fill in your details and submit a government-issued ID card.
Once Dash2Trade processes and confirms your ID, your payment will go through. You can claim your D2T token once the presale ends.
Your money is at risk.
What Are The Advantages Of Using An App To Trade Dogecoin?
Manage orders on the go
Imagine managing your orders, monitoring your positions, opening more positions, and monitoring the market anywhere you go. With an app, you do not need to sit in front of a laptop to manage your portfolio. When you use an app to trade Dogecoin, the world is at your fingertips, and you can access the power of a web trader on your mobile device.
Easy-to-use interface
The best Dogecoin apps have an easy-to-use interface that makes it easy to navigate the market and place orders. Take the eToro wallet: with this wallet, you get the powerful features of the web trader, and you can access beginner-friendly and advanced features. The best apps have excellent layouts and can be easily navigated by users. eToro, BitStamp, and other apps like Crypto.com have created apps with interfaces so seamless and easy that any user, regardless of his trading experience, can explore them.
Low costs
Before mobile applications, trading had to be done via brokers. Brokers often charged enormous amounts of money before you could invest in stocks, crypto, and other instruments. Today, an app brings trading to everyone's fingertips. Apps like eToro and BitStamp have tens of millions of active users (people who would normally not be able to access these markets). Today, you can execute a trade in less than a minute, and you will pay a tenth of what you would normally pay if you were using a broker. The great thing about these apps is that they also offer enterprise services to institutional clients. For example, OTC trading is incredibly easy to process, and traders can execute enormous volumes of trades within minutes and at the most competitive price.
Social trading 
Social trading has become an important part of trading these days, and many users appreciate apps that let them connect with other traders. Some of the best trading app like eToro, has maintained an active social trading community backed by a sophisticated copy trading system. Let's explore how social trading and copy trading works:
You can interact with pro and beginner traders, share trading experiences, and learn trading strategies.
Get easy access to trading resources and tools, and learn how to use technical indicators for trading decisions.
Copytrade the strategies of pro traders and increase your chances of making money, even as a beginner trader.
But note that while it's great to share trading tips, never share your platform credentials with anyone.
Cryptoassets are highly volatile and unregulated in the US and UK. No consumer protection. Tax on profits may apply.
Best Dogecoin App in 2022- Conclusion
Objectively, the apps we explored all have features that make them special. eToro, for example, is an excellent social trading app and has a secure wallet. BitStamp offers deep liquidity to institutional traders, and MetaMask has for a long time held the position as the best crypto storage app. However, each app also has its limitations that you should consider.
Overall, we recommend eToro as one of the best apps to consider because it offers both a trading platform and a wallet in one.
Cryptoassets are highly volatile and unregulated in the US and UK. No consumer protection. Tax on profits may apply.
FAQs
Can you buy Dogecoin with Apple Pay?
What is the best app to buy dogecoin?
Can you trade dogecoin on your phone?
Is it safe to invest in crypto through an app?