Best NFT Games To Play 2023 – Official NFT Game App List
Disclosure
Everything you read on our site is provided by expert writers who have many years of experience in the financial markets and have written for other top financial publications. Every piece of information here is fact-checked. We sometimes use affiliate links in our content, when clicking on those we might receive a commission – at no extra cost to you. By using this website you agree to our terms and conditions and privacy policy.
NFT games are the craze you can't get enough of! With thousands of games and millions to earn, there's hardly any gamer who wants to miss out on the opportunity. Besides, even if you aren't an avid gamer, you could still be a part of this industry with great potential. It's simple, all you need to do is invest in the best NFT game apps! 
Continue reading as we help you shortlist some of the best NFT games platforms to invest in 2023. 
Best NFT Game Apps 2023 – List
Fight Out: The Best NFT Game to Play in 2023
Calvaria: Revolutionary NFT Card Game With Promising Use Cases
Tamadoge:

Budding

NFT game

with lots of market potential 

Battle Infinity:

The new age revolution for fantasy sports 

The Sandbox:

One of the

best NFT game platforms
Axie Infinity:

Game that started it all!

CryptoKitties:

Get involved with the next-gen

NFT game

approach
Best NFT Game App 2023 – Reviewed
Fight Out

The Best NFT Game app to play this year is Fight Out- a brand new move-to-earn app that allows users to earn real-value rewards from working out and staying healthy.
Fight Out is a revolutionary concept that expands from traditional move-to-earn platforms by allowing users to compete against each other within the metaverse. Each user will be given a unique avatar character that represents their real-life fitness levels. These avatars can then compete in competitions to win rewards. As a result, the fitter the user is in real life, the more chances they will have of winning competitions and gaining rewards.
Fight Out was created by a team of experts to solve problems that exist in the fitness space. The platform will harness the power of blockchain technology to create an application that is transparent and offers users and innovative way to earn valuable rewards.
Tokenomics
Users are rewards with REPS for completing workouts and winning Fight Out competitions. REPS can be used to purchase in-app merchandise such as fitness clothing and accessories. REPS can also be used to buy FGHT.
FGHT is the main token that will support the Fight Out platform. The deflationary ERC20 token has a capped supply of 10 billion and is built on the Ethereum network. FGHT holders can stake their tokens for Fight Out gym memberships, use them to unlock platform features or swap them for other tokens through crypto exchanges.
FGHT tokens are currently available to purchase via presale. New investors can receive a 50% token bonus for investing early. When the presale ends, the token will be listed on major exchanges.
Your capital is at risk.
Calvaria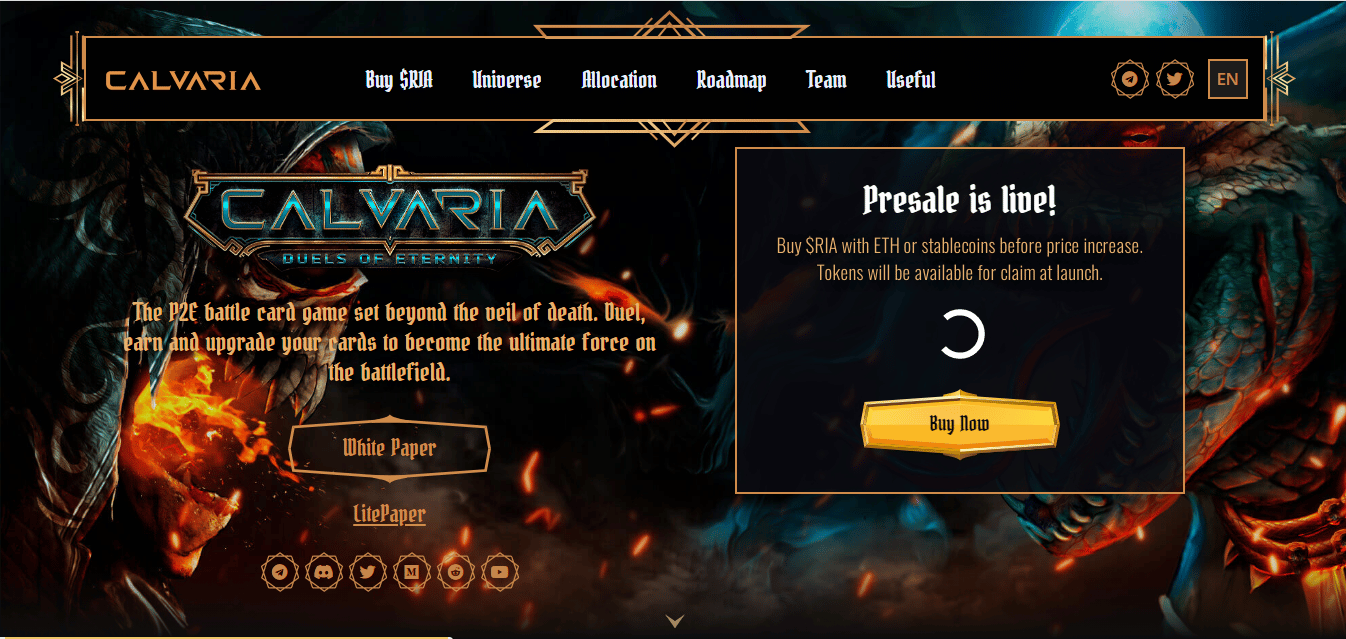 If you're looking to be an early investor in a great crypto coin, look no further than $RIA, the native token of Calvaria.
Calvaria: Duels of Eternity is a play-to-earn blockchain-based card game in which players can compete in tournaments to win valuable rewards. Amongst these rewards is the $RIA token- a utility token with a capped supply of just 1 billion.
$RIA will be used to support the entire gaming ecosystem and will be rewarded to players who win tournaments. Players can use the tokes to buy NFT cards and other in-game assets or can trade the tokens on exchanges. Another token, $eRIA (earned ria), will also be used in the game as a reward to players who spend time playing the game. $eRIA can also be exchanged for other tokens and will have real-world value.
One of the most appealing features of $RIA is that it is brand new. As a result, investors can take part in the ongoing presale event and make the most of low prices before they rise during exchange listings. The presale event is expected to end in Q4 2022.
Owners of $RIA and $eRIA will be given access to the Calvaria ecosystem, token staking and the DAO. To earn tokens in the game, players will need to purchase an NFT deck of cards. These cards have unique value depending on the characteristics that each one holds.
Investing early is the best way to take advantage of this exciting new project.
Your capital is at risk.
Tamadoge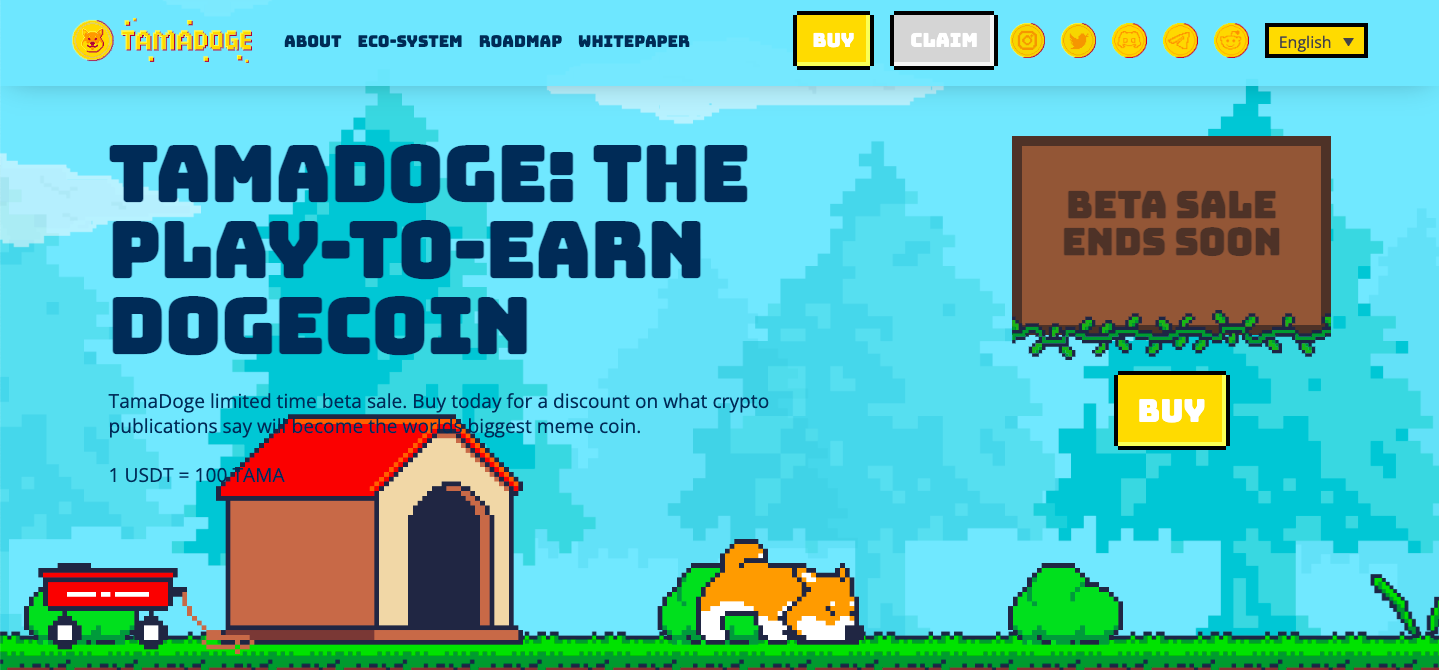 Topping our list of the best NFT games is Tamadoge, an upcoming game that has taken the P2E industry by storm. It is a unique interactive game designed on the basics of NFT pet keeping. But, the only difference is that this game integrates a powerful business model to drive engagement and revenues.
Users signing up for the game will experience a unique ecosystem where they can feed, raise, and mint their pets. Additionally, once these pets have reached a certain level, gamers would be able to engage them in battles and win doge points in the process. But if you fail to care enough, your pet may turn into a Tamaghost!
While many gamers think the Tamadoge to be just another meme-based coin in the doge ecosystem, it's more than that! The game solves one of the primary problems encountered by gamers over other Play-to-Earn games. With its deflationary nature, it tends to create an ecosystem that is affordable to enter, fun to play, and keeps the player from having to 'pay to play.'
The utility-based approach allows users to compete for rewards from a prize pool powered by the TAMA tokens. From the investor's view, the token is a hot property to put your money in! Currently, in its pre-sale, the token has already marked a successful sale record. 
Lastly, the platform is on a mission to develop to introduce different NFT apps, create an entire P2E arcade, and add to the value of its tokens. 
Your capital is at risk.
Battle Infinity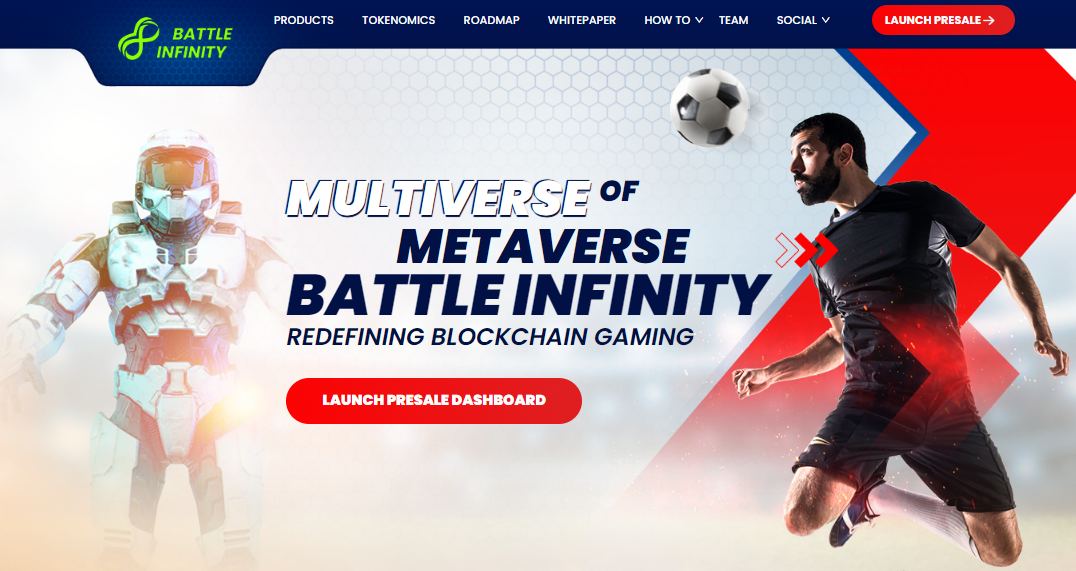 Next on our list of the best NFT game is Battle Infinity (not to be confused with Axie Infinity), a unique approach to the recently growing fantasy sports platform. The platform introduces elements of Blockchain, crypto, and NFT, creating a rich metaverse that incorporates several P2E elements in the game. 
Often tagged as one of the 'coolest' NFT projects, the heart of the game is sports betting, where players are allowed to create their own sports teams. Once done, they can also participate in different leagues happening in the real world, winning the IBAT tokens in the process. 
Interestingly, all the players on the Battle Infinity are developed as NFTs, giving way to an autonomous secondary marketplace where users can buy, sell, or trade. Users also have this functionality of minting and selling their digital artworks to trade for in-game items. The numerous purchased items also include different aesthetic kits for other players' avatars.
In addition, gamers can purchase NFT passes to participate in different league games and earn the IBAT token as a reward. From an investor's perspective, this BEP-20 token is an excellent addition to almost every portfolio. However, the token has a proven record of selling out within 24 days of its presale. The platform is not listed on PancakeSwap.
Your capital is at risk.
The Sandbox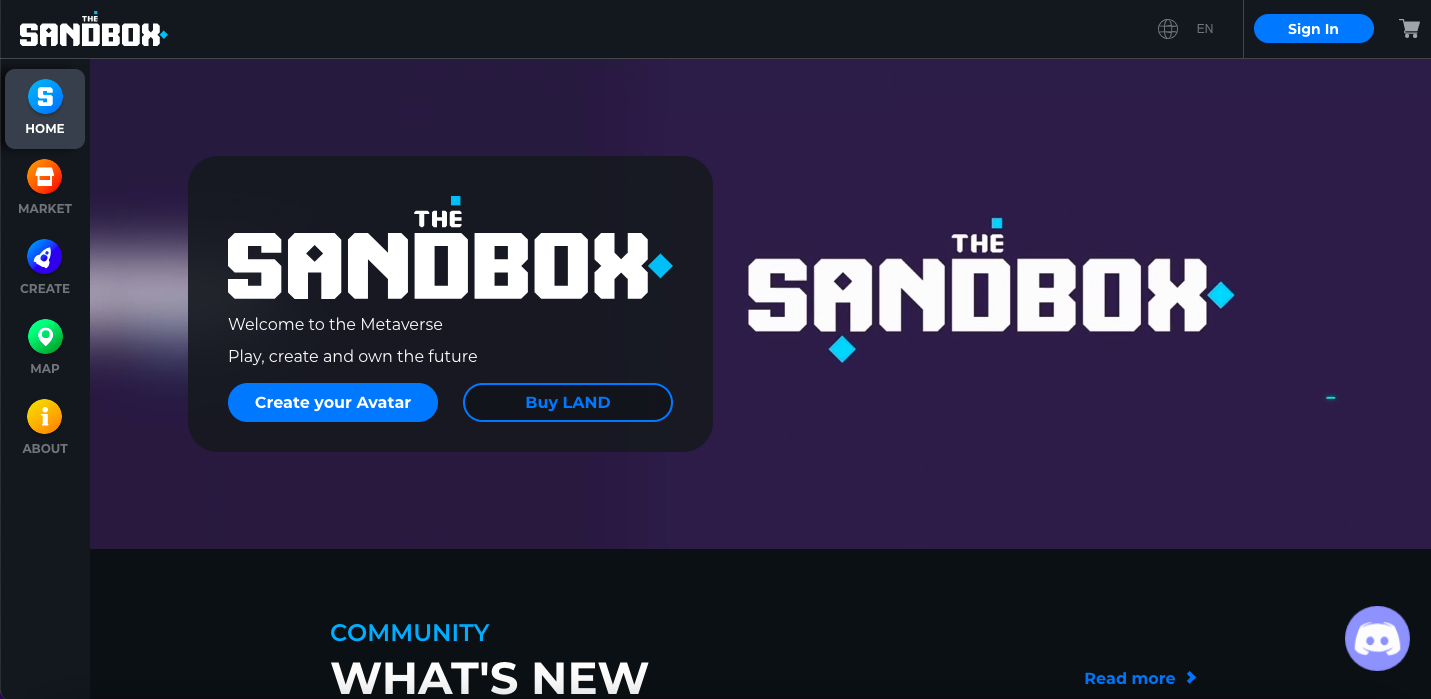 Next, we have Sandbox, one of the most successful NFT games, to mark its presence for over a decade. Interestingly, since Sandbox isn't a specific 'game' in itself, the entire concept becomes more unique in many ways. To simplify, it's more of a creator platform where any developer can access Sandbox's developer tools and build games, different gaming assets, or simply play! 
Currently, Sandbox is more of a connected ecosystem that allows gamers to link their accounts and enjoy an immersive gaming experience via tablets, PC, Xbox One, or Amazon devices. However, the virtual lands make Sandbox a happening platform for its users.
Users signing over the platform can trade LAND, a virtual digital asset in the form of an NFT. When combined, these LANDs form ESTATEs, which the buyer or investor can later sell. Besides, Sandbox because it allows its users to create, sell, or trade the digital items created on the platform. Using the platform's SAND token, they can also sell their free NFT game, avatars, and other commodities over the marketplace. 
This way, the platform creates an independent marketplace for users to earn more tokens.  In addition, Sandbox also offers two different types of investment options for avid crypto marketers. You could either invest in the digital LANDs or consider investing in the Ethereum-based SAND tokens. 
Lastly, considering the limited investment tools, it might be a valued addition to your portfolio. 
Axie Infinity
When talking of the best NFT game, you can't miss out on the one that put such gaming on the map! Yes, we're talking of Axie Infinity, one of the most notable games that had made it to the chart-toppers over the past years. To give you an idea, Axie Infinity is a monster-breeding RPG that introduced the concept of rewarding NFT games. 
Like Tamadoge, Axie Infinity also revolves around raising 'Axie' pets and breeding them to create generations of creatures where every pet inherits some traits. You can later trade these Axies over the in-game or NFT marketplace. 
Users signing up for the game can participate in several standard gaming modes like PVP (Player vs. Player), Quest, and Adventure. These gaming levels earn you an SLP (Smooth Love Potion), Axie Infinity's utility token that can also be used to settle different transactions over the platform. 
Interestingly, there are several approaches to investing in the platform. For beginners, you can invest in the AXS (Axie Infinity Shards) token, which currently revolves around the $18 mark. Besides, you can also register your NFT Axies on Blockchain and earn money based on the rarity of your breed. Or, you could also access some free NFT games over the platform and develop (limited) your Axies. 
CryptoKitties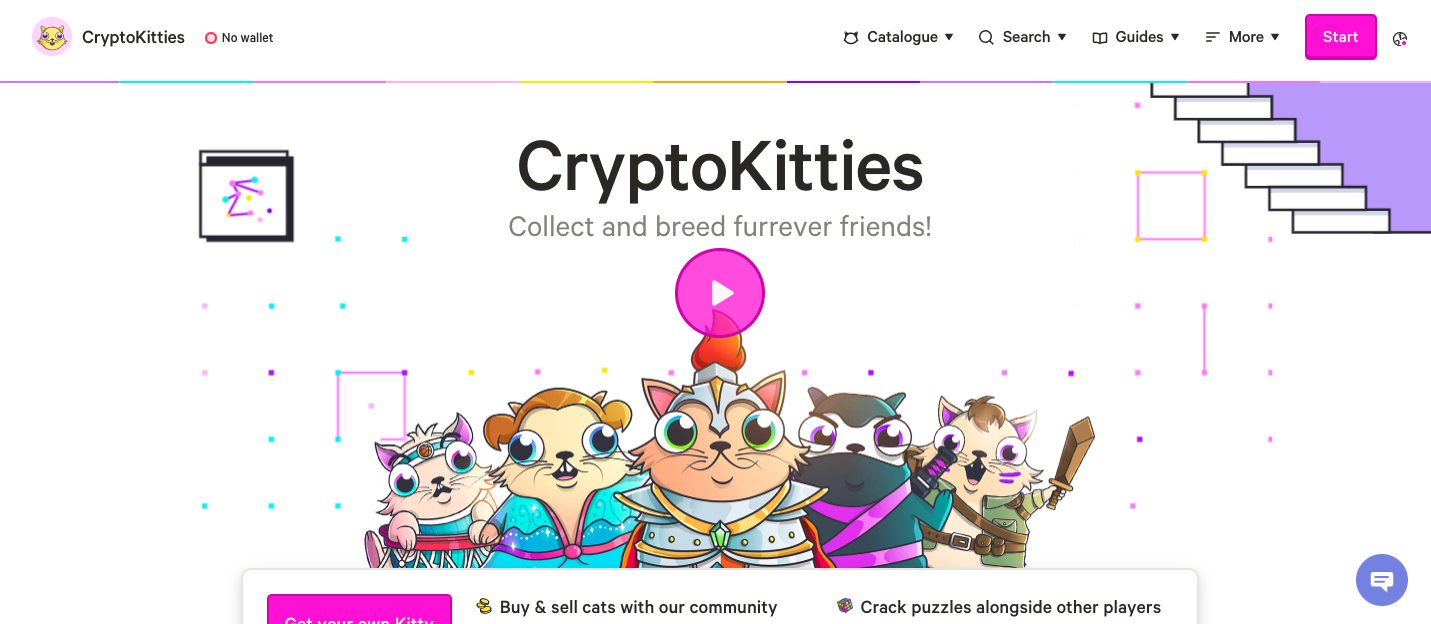 Last on our list of the best NFT games is CryptoKitties. The game lauds itself as one of the first P2E games to hit the marketplace in 2017. Like the classic Tamagotchi game, CryptoKitties allows you to pet unique NFT-based virtual kittens you can breed. 
Besides, every CryptoKitty has unique attributes tied to a smart contract. So when bred via a genetic algorithm, an offspring with its unique traits or 'cattributes' is produced. So depending on the attribute, you might end up with a rare NFT that can later be sold on the CryptoKitty marketplace. 
However, unlike other NFT apps in the list, there's no such token to initiate transactions over the CryptoKitty space. Instead, the kitties listed over the platform are a form of ERC-721 token that present their unique value. 
You'll have to purchase a pair of kittens to get started with the game. Depending on their rarity and the market demand, these kittens' prices can be between a few hundred to thousands of dollars. Therefore, from an investment point of view, you can only make the most of this P2E game if you've invested some money in it initially.
What Are NFT Games?
NFT games are the new reality to the age-old concept of gaming! It adds a unique approach to the regular gaming experience by introducing the concepts of Blockchain, NFTs, and cryptos. 
These games differ from investing in tokens and holding them in our wallets. So instead, NFT games give you a medium for an immersive gaming experience that revolves around its ecosystem. 
When you sign up for an NFT game, you're exposed to a digital ecosystem with its own rules, player interactions, and mechanisms. For instance, a game could represent its characters in the form of NFTs, making them accessible across the marketplace for trade. 
However, that's not all! With the increasing awareness of these games, you can now also invest in the tokens of these games. Wonder how? Let's find out in the following sections. 
How To Invest In NFT Game Apps 2023
With higher stakes, chances are that you might want to enter the best NFT game platforms. Besides, we won't be surprised if you'd want to make your way with these NFT games as an investor. 
In the section below, we've listed some steps to help you invest in NFT games. So let's check it out:
Step 1: Do your research
You can't simply enter a marketplace and start investing in different NFT games; you must be thorough with your research. Make sure that you take notice of the project type, sale date, requirements (if any), and the quantity of NFTs that will be offered for sale while studying forthcoming NFTs. This enables you to comprehend the NFT's restricted availability better. 
Once done, any NFT that you think will gain value in the future should be your selection. Remember, when it comes to the NFT, you should investigate who is behind it and if it is on-chain or off-chain.
Step 2: Determine your approach as an investor
The second step in investing in some of the best NFT game platforms is purchasing some cryptos to fund your transactions. When buying NFTs, you must ensure that your wallet is loaded with cryptos (ETH preferred). 
Now, once you have an idea of the type of crypto required, the next step is to register yourself with a crypto exchange and verify your account. After it's done, you must fund your account with your fiat currency and exchange it with the desired token. 
Remember, when purchasing cryptos, stay cautious of the different taxes and charges your transactions might acquire. While certain exchanges list themselves commission-free, you might want to ensure there are no hidden conditions. 
Tax treatment depends on individual circumstances and change or may differ in a jurisdiction other than the UK.
Step 3: Store your cryptos in a safe wallet
Now that you've possibly funded your account, it's time to secure the digital asset in a wallet. Therefore, whether you purchased via the same Blockchain, a different one, or decentralized storage, store your purchased NFT in that crypto wallet. 
Cybavo, MetaMask, Trust Wallet, and Alpha Wallet are some examples of crypto wallets to help you store NFTs. Remember, you could also store your tokens over hardware wallets. 
Step 4: Select the marketplace and purchase your NFT
Once you have your digital money, you must look for a reliable marketplace to purchase NFTs. The NFT is for sale on the open market and may be traded. You must register and connect your cryptocurrency wallet after deciding where to get your NFT.
Keep in mind that every market has its requirements for crypto wallets. Then, depending on the market, the item can be offered at a set price or auction, with the NFT going to the highest bidder.
Before enrolling in any marketplace, make sure you understand these terms.
Step 5: Enjoy your returns!  
Now that you have invested in your desired NFT, it's time to enjoy the returns of your purchase. Remember, NFTs are digital assets that rise and fall in value per market demand. Invest wisely! 
This gives you the different steps to invest in the best NFT game platforms. Now that you know the steps let's give you an insight into some of the top games you could be investing in. 
Where To Invest In NFT Game Apps?
Given the core benefits of investing in them, we're sure you must've decided to invest in some of these NFT games! But since not every NFT app token is listed on an exchange, you might have a hard time finding that one ideal platform to help you with these different tokens under one roof. 
Therefore, to save you from the hassle of trial & error, we've made a list of the top exchanges where you could invest in these NFT game apps.
Here's our overview of the top exchange platforms for you to get started: 
Bitstamp

Topping the best NFT game platform exchange is Bitstamp, an exchange renowned as one of the oldest exchanges to allow crypto trading. Today, users signing over the platform can access over 50+ crypto assets (including the likes of TAMA and SAND). 
Over the years, Bitstamp has established itself as one of the most beginner-friendly platforms due to its clean and user-friendly UI and UX. In addition, the platform comes with a competitive fee structure, making it the go-to option for both beginner and advanced traders and investors. 
Besides, the platform is also reputable for no hacking incidents. Moreover, it stores over 98% of its funds in cold storage, ensuring complete safety to the investor funds. Overall, it is a great exchange to start investing in NFT game apps. 
Pros
Engaging UI and UX
Reliable customer support
Competitive trading commissions
Accepts multiple card payments and wire transfers 
Cons
Limited in terms of crypto tokens
Comes with relatively high fees
Fee
Amount

Crypto Trading Fee

0.25%

Inactivity Fee

Free

Withdrawal Fee

0.90 Euros (SEPA transfer) 

0.09 % of the transaction amount (Wire Transfer)
67% of retail investor accounts lose money when trading CFDs with this provider.
What Is Play-to-Earn Gaming?
NFT games, when introduced with the concept of Blockchain, become P2E or 'play-to-earn' games. Users playing these games can earn money while they pass different missions on the game. 
The more time a person spends playing, the more tokens and possibly NFTs they receive as rewards. In addition, the more a gamer is involved, the better the rewards and NFT drops. 
Besides, these P2E games have also become a source of livelihood in many countries! 
Are NFT Games a Good Investment in 2023?
Looking at the current market trends, it won't be wrong to say that these NFT games are one of the hottest investments right now. P2E games have been a recent trend among gamers, and with the soaring popularity of these tokens, this trend will inevitably fade away anytime soon. 
Therefore, if you're a keen investor, you might want to get started with some of the best NFT games platforms. All the best! 
Best Crypto Game App To Invest In 2023 - Our Conclusion
Similar to cryptos, crypto-based games are no stranger to gamers. However, things might be different when you decide to enter the industry as an investor. Therefore, before you put any money into our suggestions, ensure enough research on the game backs you. Also, keep in mind the volatility of the crypto markets and the 'hype' culture concerning NFTs. 
Lastly, looking at the fundamentals of different games, we'd like to suggest the Tamadoge NFT game. Even in its pre-launch state, the game has outperformed its competitors and influenced the token sales process. Therefore, investing in TAMA might be an excellent option to get started if you want to enter the industry. 
FAQs
Can you earn crypto with NFT games?
How to invest in NFT game apps?
What is the best NFT game app to invest in?
Is there a free NFT game?