Dash 2 Trade Price Prediciton 2023-2030
Disclosure
Everything you read on our site is provided by expert writers who have many years of experience in the financial markets and have written for other top financial publications. Every piece of information here is fact-checked. We sometimes use affiliate links in our content, when clicking on those we might receive a commission – at no extra cost to you. By using this website you agree to our terms and conditions and privacy policy.
Dash 2 Trade is a crypto analytics and social trading platform created by the founders of the popular Learn 2 Trade academy. D2T, an analytics trading portal created for traders by traders, is set to be a success amongst traders and aims to provide users with everything that they need to successfully navigate the market.
The D2T presale is lamost over, which leaves only a few days to invest early! Let's take a look at the Dash 2 Trade Price Prediction for the next few years.
Your investment may go down as well as up in value.
Dash 2 Trade Price Prediction –  Overview
| | |
| --- | --- |
| Dash 2 Trade price (2023) | $0.064 – $0.070 |
| Dash 2 Trade price (2024) | $0.074 – $0.095 |
| Dash 2 Trade price (2025) | $0.074 – $0.095 |
| Dash 2 Trade price (2026) | $1.55 – $1.65 |
| Dash 2 Trade price (2027) | $3 – $4.745 |
| Dash 2 Trade price (2028) | $5.25 – $5.75 |
| Dash 2 Trade price (2029) | $7.75 – $8.02 |
| Dash 2 Trade price (2030) | $9 – $10 |
Dash 2 Trade (D2T) Price History Summary
At the D2T first and second presales, the D2T token was sold for $0.05. At the third presale stage, the developers increased the price of the token to 0.0513 USDT, and then $0.0533 USDT per token at the fourth presale. In all presale stages, the D2T token recorded impressive sales, sometimes, selling out in three days. The developers decided to cut the number of presales from nine to four because of the demand rush of the token.
Dash 2 Trade Price Prediction 2023
The D2T token should have a great run in 2023 for a number of reasons. Primarily, 2023 will be the year in which the token is listed on exchanges.
The platform will also launch its dashboard, including other exciting features like its website, beta testing of components, customizable watchlists, newsfeeds, new listing announcements, social metrics, technical indicators, presale insight and scoring, and real-time event streams. The D2T token will go live on at least four exchanges in 2023.
Let's take a closer look at upcoming events that may affect the price in 2023.
D2T Tokens listed on DEXs

The D2T tokens will be officially listed on UNISWAP, LBANK, CHAGELLY, and BITMART exchanges in the first quarter of 2023. Already, the tokens have an excellent presale run. The first stage of the presale sold out in just three days, and the organizers raised over $1.6 million. The organizers originally intended to sell 665 million D2T tokens over nine presale stages, however, the stages have been cut to just four and a cap has been put on the number of tokens that investors can buy because of the increased demand.
When a token has a great presale run, you can expect its price to rise once it is listed on exchanges.
Dash 2 Trade Website Launch
Dash 2 Trade will launch its official website, featuring some of the promised functionalities. This is exciting news for investors as they can operate the system in the beta stage. Again, this is good news for Dash2Trade early investors and organizers for three reasons:
The website, albeit exciting, will not say much about the founders' competence and ability to bring the project to execute the technical part of the project.
Social metrics data algorithms are pretty easy to create. First, companies like Meta and Twitter already have algorithms that can help you track social metrics. Second, there are independent companies that offer social-metric services. While the idea is excellent, it isn't new.
Beta stage: Another term for Beta is, 'We have not completed the project, but you can test the features and give us feedback.' In 2023, Dash2Trade will release some features, allowing users to try and give feedback. Unless the overall experience is disappointing, you can expect the value of the D2T token to rise.
Presale insights and scoring: The Dash2Trade whitepaper has clarified that presale insights will be manual. While it is an excellent idea, what users really get is a research team that will help you explore other crypto presales and give relevant feedback. Again, this does not pose any technical pressure on the team.
Customizable watchlists: Integrating a watchlist functionality won't be easy because each user will customize his feed based on their watchlist. However, given that Dash2Trade is the Brainchild of Learn2Trade, we should expect a successful watchlist launch.
Newsfeed: While this feature is excellent, it does not require a lot of technical execution. Many platforms offer newsfeeds. Integration of a robust system is the core of the Dash 2 Trade platform, but 2023 will see about 70% of the integration happen.
In the fourth quarter of 2023, the team should achieve serious technical milestones on the platform. For example, the backtester (just like a demo account) will launch in the year's fourth quarter. Other features like risk profiler, trader AMA, and trading competition launch may put D2T on the global map in the crypto industry.
Our verdict for 2023: D2T tokens will outperform most other tokens in the presale stage. D2T tokens should enjoy 10 – 20 times their presale value. Some investors believe that the tokens could even surpass $1!
Your investment may go down as well as up in value.
Dash 2 Trade Price Prediction 2025
The performance of the D2T platform in 2024 will significantly influence the price of D2T tokens in 2025. Dash 2 Trade intends to launch some features, including auto-trading, mobile application launch, widgets, and academia. It also plans to integrate trading strategies.
2024 is the point where technical work happens, and the team behind the project has to prove themselves. For example, building and integrating an app with other trading platforms isn't an easy feat. The app's success can make or mar the token's price.
D2T is a utility token; hence, its use and value are tied to the adoption and value of the project behind the token. The two directions for 2025 are:
The project's roadmap continues as planned, and the team impresses investors: Happy investors equal more significant investments. We foresee a situation where hundreds of thousands of people subscribe to the D2T software, using parts of their utility tokens to ensure they have access to all the platform's features. The optimistic assumption is based on another belief that the auto-trading platform will work as expected.
The project's roadmap does not continue as planned and investors are unhappy: If investors are unimpressed with the D2T dashboard, the bad media may lead to the D2T tokens crashing.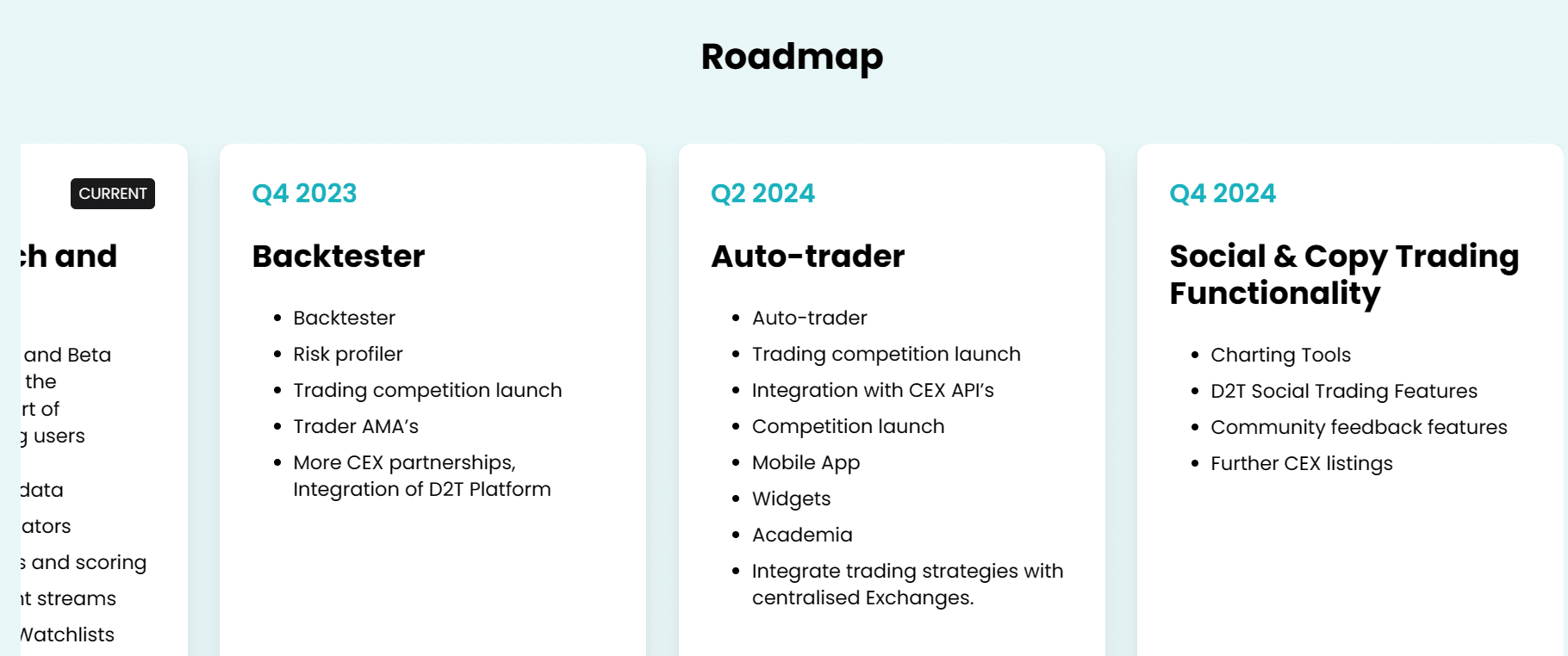 Integration has to happen in 2024
One of Dash 2 Trade's unique selling positions is integration. Investors can get most of the services it offers from individual exchanges and crypto companies. Dash 2 Trade may surpass all these apps if it can build an integrated platform that offers copy trading, social trading, auto-trading, news alerts, backtester, risk profiler, and other features.
We are not sure if the project can complete such a feat; however, in the fourth quarter of 2024, most investors who follow the project closely will know if it is time to invest more or pull out.
In the event of a negative happening, prices of the D2T token will dip, selling for less than a third of its 2023 peak. A negative forecast will come into play if the project does not deliver on its 2024 roadmap promises.
2025 is still quite far, and many other factors can come to play before the year ends. For example, the recent global economic gloom and the war in Ukraine pushed down the prices of many tokens. Bitcoin tanked, and so did Ethereum and many other utility tokens. Decentraland and SandBox, two of the most incredible virtual estate hosts, also suffered reduced participation and adoption. If the economic situation improves, especially in the housing industry in the United States, we can expect more investors to invest in Web 3.0 projects.
Your investment may go down as well as up in value.
Dash 2 Trade Price Prediction 2030
Decade-long prices of utilities depend on many factors. Let's explore some possible aspects and how they will affect the cost of D2T tokens in the next eight years.
2022 was a dramatic year in the cryptocurrency industry. The collapse of Sand Bankman-Fried's empire, the global economic downturn caused by the Ukraine war, tensions between Eastern and Western Europe, and the US-China trade fiasco were part of the defining events that affected international finance, including cryptocurrency. Yet, with the chaos, D2T tokens have continued to impress investors, as they sell out within weeks, and sometimes, days of the presale launches.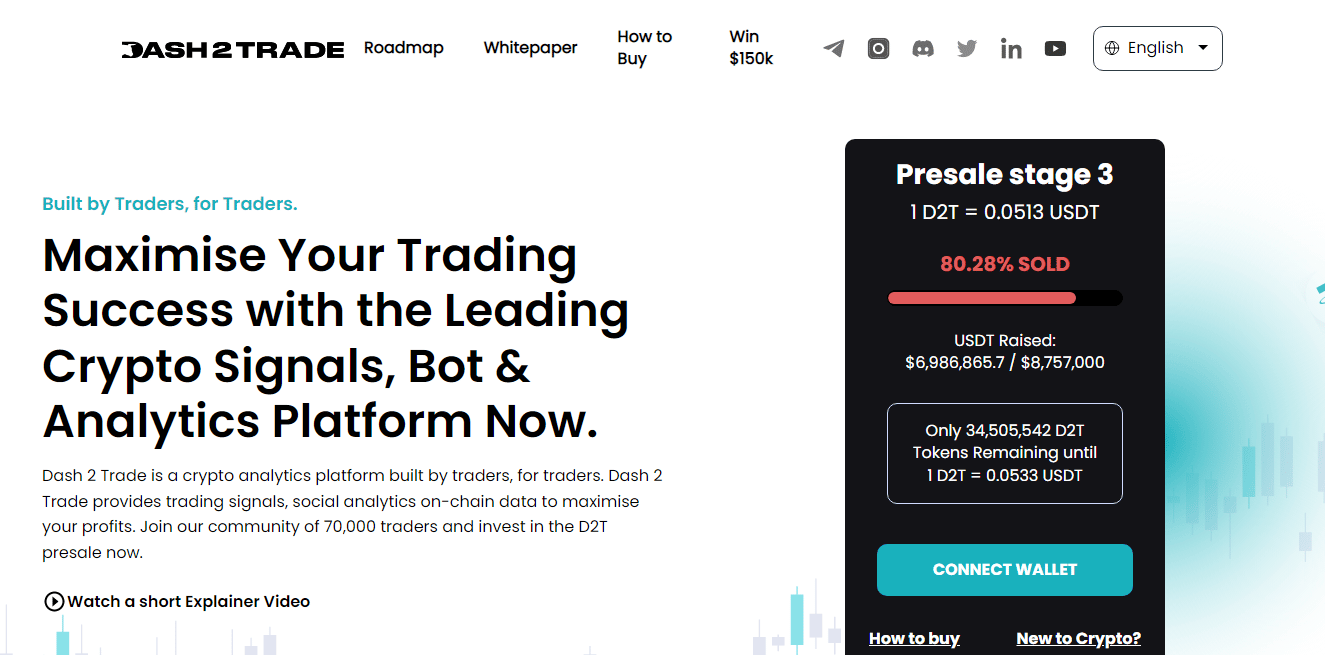 D2T will walk into 2023 with a stride. With the CEX and DEX launch, alongside the website launch and the launch of all minimum technical functionalities, D2T will most likely run a great price race in 2023. 2024 will test the project's validity, and investors will decide if it is still worth backing.
Decade-old predictions often branch out from the asset being assessed. Macroeconomic factors also come to play. How will the crypto industry fair in the next decade? How will utility tokens perform in the next eight years?
Improvement in Regulation
Regulation of cryptocurrency has been an issue. Over the years, government agencies could not institute proper regulatory standards because cryptocurrency and blockchain technology was new, and blockchain network allowed complete anonymity. With the mishaps, rug pulls, hacks, and schemes, investors clamored for more regulation. For example, the FTX saga showed that Bankman Fried overlapped funds between his companies and used single collateral to access multiple funds. There was also gross mismanagement of investors' funds, as FTX used traders' money to make expensive purchases in other companies and ridiculous donations to their favored cause.
In 2022, regulations of crypto assets, exchanges, and web 3 projects increased. For example, OFAC has enhanced penalties against people and companies that operate within blocked regions. Hydra was recently sanctioned alongside Tornado Cash and Bitblender.
Web 3.0 Will Make a Bigger Impact in the Next Decade
The world is paying attention to Web 3.0. Web 1.0 was the internet's first protocol, known as the static web. Web 1.0 was read-only and lacked interactive features. Web 2.0, however, replaced Web 1.0. Web 2.0 is the dynamic web used by people globally, as it allows users to interact with web pages and mobile applications like Twitter, Reddit, and Instagram and communicate with each other within the web portal. But Web 2.0 had a big issue: the web is controlled by a few organizations that set the rule. Web 3.0 is the next advancement in the web series. Today, more than 63% of the world population access web 2.0, and while fewer may jump to web 3.0 because virtual reality, decentralized finance, NFTs, and metaverse ecosystems are reserved for people who have the internet and gadgets to enjoy the full scope of all what web 3 has to offer, we can assume that a large percentage of people who already have access to web 2.0 will make an effort to jump on web 3.
While critics have slammed the proponents of Web 3.0, it is still too early to judge its progress. Meta, one of the companies that radically invested in Web 3.0 suffered unprecedented setbacks, especially after the release of some of its bland NFTs; however, the power of Web 3 is in the hands of the smaller companies execting projects piecemeal by piecemeal. Companies like Oculus, before it was acquired, SandBox, Decentraland, Dash 2 Trade, Ethereum, and other blockchain institutions are dominating their respective niches.
Web 3.0 will be more dynamic. It's beyond whatever anyone has seen. The technology to support Web 3.0 is unimaginable. With the achievements of the last decade, we can only expect more companies to thrive and create new technologies that can recreate the magic of the latest web in our minds.
From play-to-earn games to decentralized finance, decentralized networks, virtual ecosystems, virtual realities, and augmented realities, Web 3 applications has the most chance to overtake global innovations.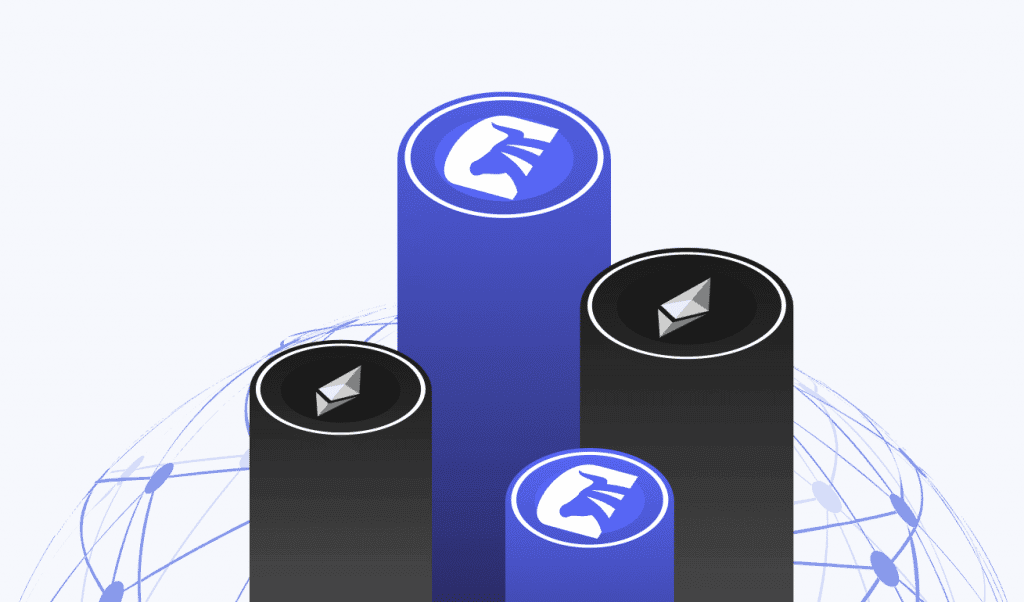 Where Does Dash 2 Trade Stand in the Scheme of Things?
Dash 2 Trade is a trading help and robust resource. In every industry, education sometimes surpasses other forms of services. Learn 2 Trade, the parent company of Dash 2 Trade, has established itself as one of the world's largest conglomerates of cryptocurrency trading education. With over a hundred thousand students, Learn2Trade has become one of the most respected institutions. Dash2Trade will tap into the Learn2Trade experience.
Beyond education, Dash2Trade promises to become the guide – an algorithm cum human guide that will help traders see beyond the usual. You can obtain social metrics from social media app insight; however, D2T will ease the search process. A trader just needs enough D2T tokens to access social metrics. And it is not just for one asset. Social metrics for all tradable assets and across all the most important social media platforms will be measured and delivered to traders' dashboards.
People often do not understand the implication of such a robust technology and resource level. Imagine if you could know how many people are tweeting about one of your assets and get notifications immediately that hashtag use on an asset increases. Imagine an app that can measure social chatter. If Dash2Trade delivers on these, it will be one of the decade's most important web 3 applications.
Your investment may go down as well as up in value.
The Best Alternative Presales To Invest in2023
FGHT
FightOut is a move-to-earn platform that allows users earn $FGHT tokens when they undertake fitness exercises. FightOut's fitness programs are intense and users can set goals, body type, health complications, and other data that will help FightOut's algorithm to create a perfect fitness plan. At the moment, 1 $FGHT is worth $0.00333, and the presale event has raised over $2,530,220 from the $5,000,000 goal.

The FIGHT OUT platform isn't the first app that will help users track their fitness journeys. However, unlike other apps that only track steps, FIGHT OUT tracks steps and other body movements that are important to fitness enthusiasts. FIGHT OUT offers an array of services including a nutrition app, remote class, and wholesome tracking. The FGHT AI also recreates your avatar according to your fitness progress, and you can fight with the avatars of other users to test your strength and growth. The project is quite exciting.
Your investment may go down as well as up in value.
CCHG
C+CHARGE or CCHG is a blockchain-based EV charging payment system through which drivers can earn carbon credits by paying for fuel with CCHG tokens. The blockchain-based nature of the project will also attempt to solve problems that exist with current ev charging systems such as high running costs, inaccurate data analysis and inefficient payment processes.
As a result, the C+ Charge projects hopes to encourage wider adoption of electric vehicles an make it easier for drivers to run their cars.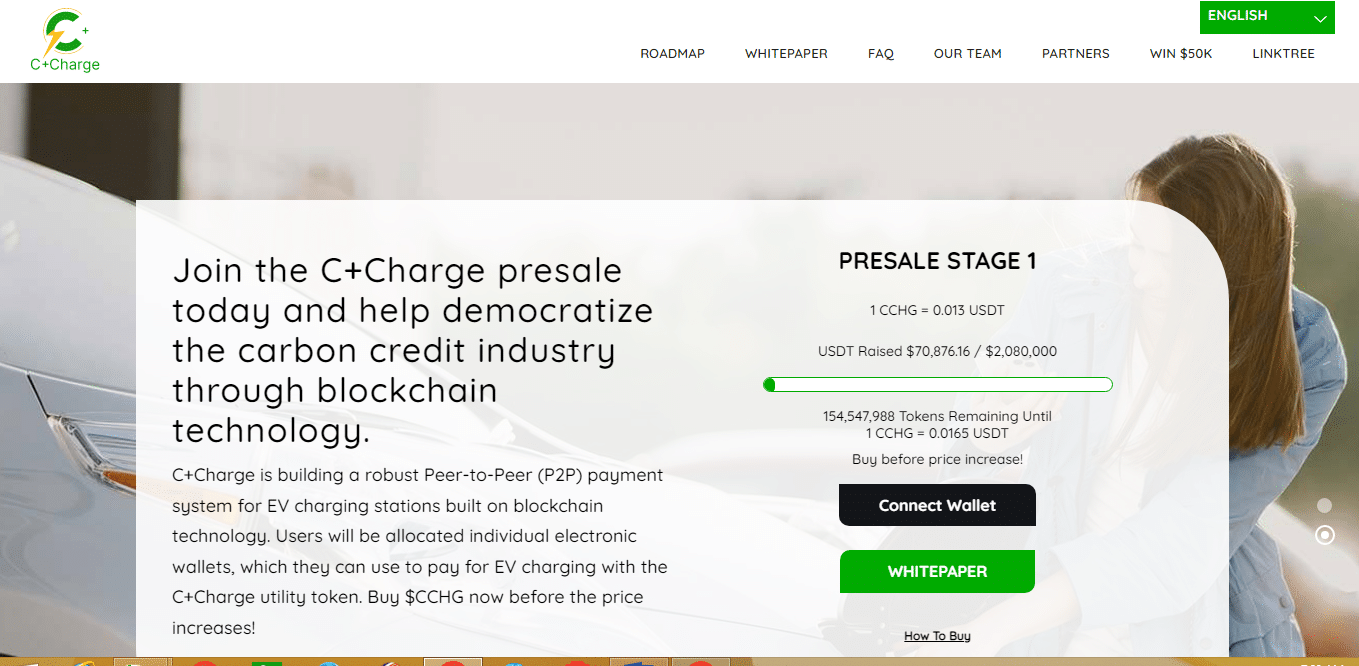 Users of the platform will be rewarded with CCHG tokens which can be used to pay for fuel, purchase rare NFTs and swap for carbon credits. Carbon credits can be sol by holders for real-life rewards. This will incentivize electric vehicles and encourage more drivers to use them.
CCHG tokens are also a great investment opportunity due to their strong utility and limited supply of just 1 billion. You can invest early via the ongoing presale event now before prices rise.
Your investment may go down as well as up in value.
$RIA
Calvaria (Duels of Eternity) is a blockchain-powered game where players compete in tournaments and use their cards and strategies to beat other players. Each card in the Duels of Eternity has its unique abilities and the cards can be combined to create unique attack or defense forms.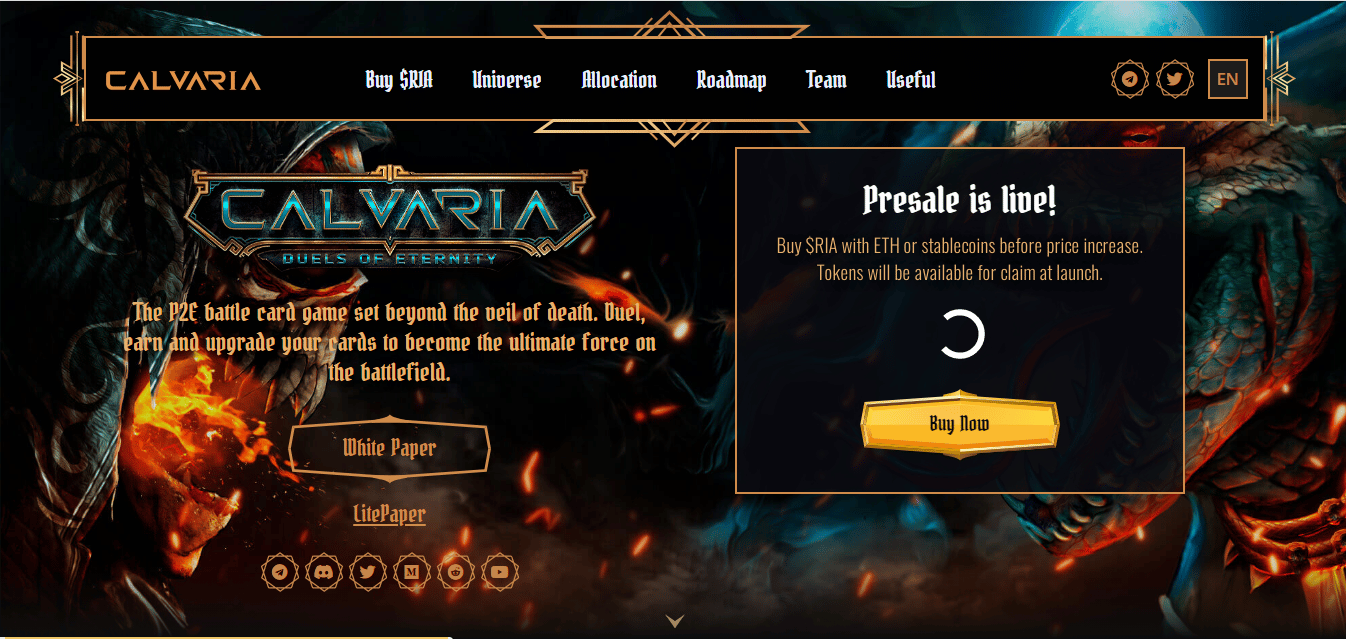 Calvaria allows players to truly own in-game resources or NFTs. With blockchain technology, users can own rights to their own NFTs, sell to other players, and buy other unique NFTs from any player. Players will also be able to accrue assets, win unique cards, and upgrade cards with a lower value. The $RIA is Calvaria's native currency and is used as an in-game asset for trading. One $RIA token is trading for $0.15 in its presale run.
Your investment may go down as well as up in value.
Dash 2 Trade (D2T)- A Closer Look
Let's take a closer look at the D2T project.
What is Dash 2 Trade (D2T)?
Dash 2 Trade is a crypto analytics website. The project is led by the team behind the successful Learn 2 Trade brand. Learn 2 Trade is a foremost crypto-education institution with over 100,000 students. Dash2Trade intends to incorporate cryptocurrency resources with an AI-powered and algorithm-led portal that helps traders identify valuable assets or tokens in the market. Dash 2Trade follows social chatters by analyzing social metrics, especially on Twitter, Reddit, and FaceBook. The platform also analyses all token and presale projects through a manual and arduous scoring process, ensuring that investors get access to vital information before investing their capital. Dash2Trade also has other features like backtesting, copy-trading, auto trading, and social trading. Each of these features is powered by algorithms and aided by human vetting processes.
Dash 2 Trade has the capacity to become one of the biggest crypto projects this decade; however, the success of the project is dependent on the commitment of the team to producing the technology required to fulfill the tenets of their whitepaper and roadmap.
Why was Dash2Trade created?
Dash2Trade was created to help cryptocurrency traders access simplified yet detailed information about tokens. D2T aims to help investors sift through the chatter and noise of the market and locate the best projects before they lift off and become mainstream.
D2T tokenomics
Check out the picture below of the D2T Tokenomics: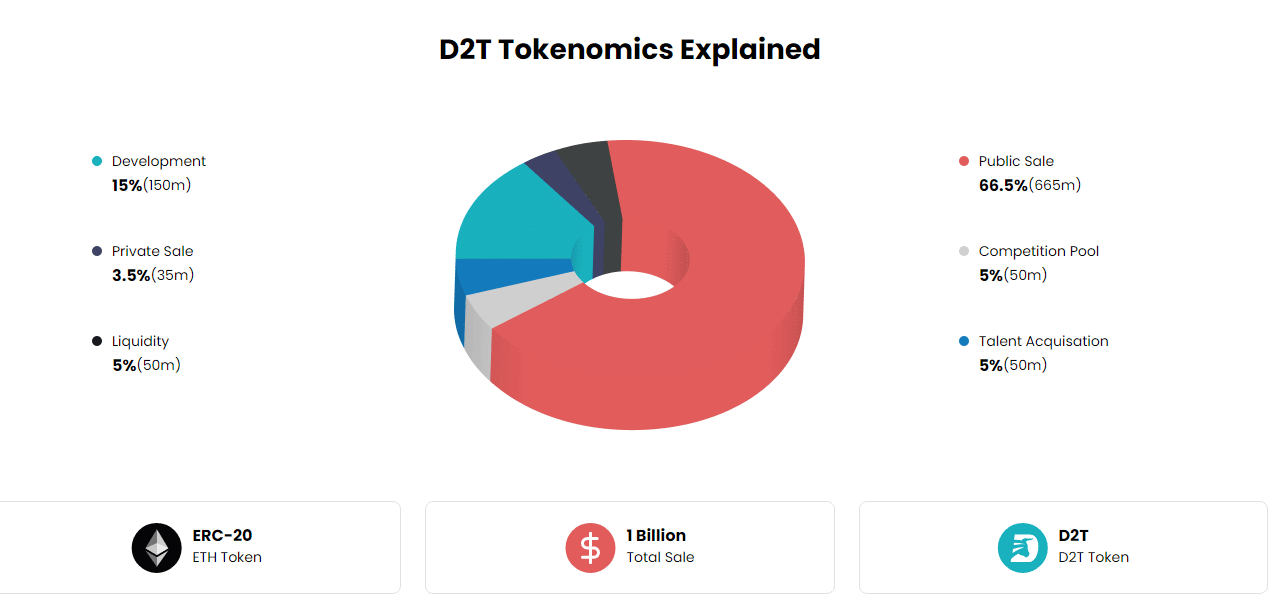 Tokenomics Explained:
Total Sale: At the moment, D2T proposes $1 billion in tokens in circulation. Investors must understand that buying a token in its presale phase is profitable because of the heavily discounted price. If such a token appreciates when launched on CEXs and DEXs, prices increase is inevitable, and so is profit.
Development: The D2T team has allocated 15% of the total D2T Token supply to development. The fund will go into the architecture and technology needed to execute the D2T roadmap.
Private Sale: Like most other token developers, the D2T team will sell 3.5% of the total token supply to private players. Such transactions are usually private and are sometimes usurped by institutional investors and founders of the platform.
Public Sale: The D2T has released 66.5% of the total token supply to the public through a series of presales.
Liquidity: 5% of the total token supply is dedicated to ensuring that the D2T token is liquid; that is, it can be easily converted to fiat currency at any time.
Competition Pool: 5% of the D2T token supply will be used to reward users that partake and win in the competition pool.
Talent Acquisition: 5% of the D2T token supply will be used to compensate talents that work on the D2T project.
Your investment may go down as well as up in value.
Who is the team behind Dash 2Trade?
The team behind the Dash2Trade project are the veterans behind the successful Learn2Trade platform. Learn2Trade is a platform dedicated to helping traders get real-time market news, trade ideas and recommendations, market analysis, and forex signals. Learn2Trade also provides signals for cryptocurrency trading and offers inexhaustible trading resources and courses to its users. With the success of Learn2Trade, and the quality of the D2T developers, it's assumable that D2T will follow the path of its parent company.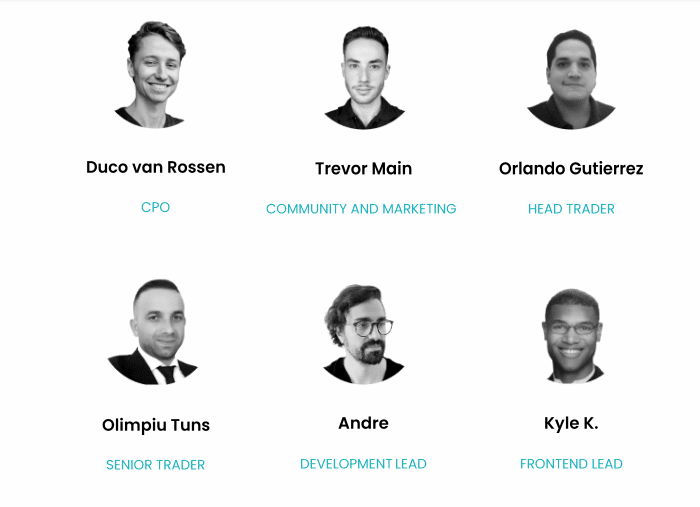 Dash 2 Trade Platform Subscriptions
Dash 2 Trade platform subscriptions will be paid for with D2T. There are 3 different subscription tiers that can be purchased.
Free Tier:
Free Tier users do not need to own D2T tokens. Free tiers can only use a few of the D2T features and are excluded from features like the backtester, crypto watchlist, strategy builder, and auto-trading tools.
Starter Tier:
The starter tier begins at 300 D2T tokens. Investors serious about using the D2T platform for trading can purchase the starter tier subscription before D2T goes public. A D2T token at the moment is 0.053 USDT, making it a little over $15 to access more features in the D2T suite. Starter-tier subscribers will have limited watchlists and market insights but will have exclusive access to the D2T discussion groups.
Premium Tier:
Premium tier users can enjoy 100% of the D2T features. To become a premium tier user, you need to buy and hold 1000 D2T tokens. A thousand D2T tokens at the moment is around $55.3, and D2T offers users a 20% discount on yearly subscriptions.
The Dash 2 Trade Presale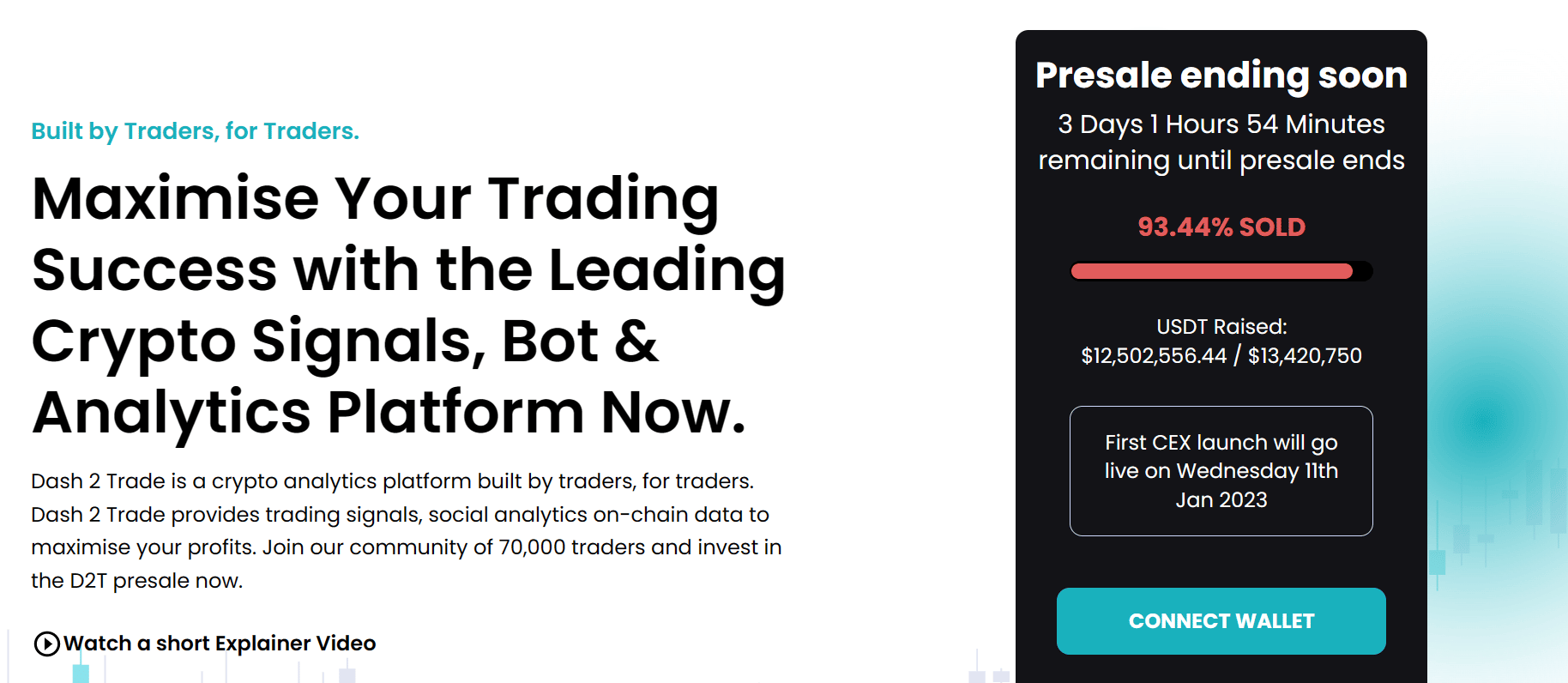 The Dash 2 Trade presale, like every other presale, was launched to raise money to push the project. The presale has been incredibly successful, with most presale stages selling out within days of launch. There are now only 3 days left before the presale ends and D2T is listed on exchanges.
To take part in the presale, visit Dash 2 Trade, connect your crypto wallet and then swap ETH for D2T.
How Successful Has The Dash 2 Trade Presale Event Been?
Let's explore how successful the D2T presales have been so far.
Dash 2 Trade Presale Stages
The Dash 2 Trade team initially decided on 9 presale stages, as evident in the roadmap, but after successful three presale runs, they decided to end the presale in stage 4. Stage 1 of the D2T token sold out in just three days, raising over $1.6 million. The second presale stage also sold out and $5.5 million was raised. A D2T token sold for $0.05 in the second presale stage. The third presale was also successful and sold out at $0.0513. The fourth presale is still ongoing and more than $11.5 million has been raised at the time of writing. A D2T token is 0.0533 USDT.
When Will The Dash 2 Trade Presale End?
The Dash 2 Trade presale will end on 6th January 2023. After this, D2T will be available to buy through exchanges.

What Percentage of the Token Supply has been Purchased During the Presale?
At the moment, more than 87.35% of the allocated D2T tokens for presale have been sold. The D2T allocated 70% of the total token supply (1 billion). Therefore, 87.35% of the 700,000,000 allocated tokens have been sold, raising $11,651,763.45 out of $13,420,750.
How Much Money Has The D2T Presale Raised?
$11,651,763.45 out of $13,420,750 has been raised as of the time of writing.
Your investment may go down as well as up in value.
Dash 2 Trade- Where To Buy After The Presale
You can buy the D2T tokens on UNISWAP, LBANK, BITMART, and CHANGELLY exchanges after the presale.
To purchase the token, you will need to hold ETH tokens as well as a crypto wallet that is compatible with the above exchanges. Swapping tokens for D2T can be done in a matter of minutes.
What Is The Current Price of Dash 2 Trade (D2T)?
A D2T token right now is $0.0533.
Dash 2 Trade Fundamental Analysis
Dash 2 Trade is a project led by the astute team behind the Lear 2 Trade project. While the D2T token has received largely positive reviews, it's important to explore the possibility of the token being a hype – or not. Dash 2 Trade is a Web 3.0 application that vets other Web 3.0 applications. From play-to-earn games to virtual land ecosystems, and utility tokens, Dash2Trade will explore each project based on predetermined factors and determine if the assets are safe investments.
The D2T platform will launch its beta stage in the second quarter of 2023: While investors that hold the D2T token in 2023 will most likely enjoy the increase in portfolio size, the D2T team must come through with their promises in 2024. The D2T token technically isn't a token at the moment, so, investors are simply buying into a dream and hoping that sooner, the price of the D2T token will skyrocket. While some investors have no issue
Dash 2 Trade Social Media Community
D2T's strongest social media presence is on Twitter. The handle, @dash2_trade has about 40k followers. The strong presence of Dash 2 Trade in this platform is a sign that the project has accumulated a number of interested investors and should continue to receive support from it's community.
Dash 2 Trade Project Roadmap
In the first quarter of 2023, Dash 2 Trade will list its much anticipated D2T token on DEX and CEX exchanges. At this point, owners of D2T tokens can claim their tokens and trade them in the open market. Also, the D2T team will launch the website, allowing users to gain firsthand access to the available features of the platform. The backtester (just like a demo account) is another milestone, and it will be launched in the fourth quarter of 2023. In the second quarter of 2024, auto-trading features and mobile application features will be launched. In the fourth quarter of 2024, the D2T team will eventually launch the social trading feature and list D2T tokens in more CEXs and DEXs.
Dash 2 Trade Latest News
Dash 2 Trade is in the news for raising more than 87% of its target in its fourth presale season. The D2T tokens have enjoyed massive support, and it's perhaps a good sign that the platform will enjoy great user adoption when all features are launched.
Upcoming Events That Could Affect The Price of D2T
Advancements in Web 3.0 technologies will push the value of some of the most popular apps in the cryptocurrency industry. In 2023, experts expect institutional investors to invest more money in Web 3.0 projects. We should expect breakthroughs, especially in patent applications in the crypto industry, virtual reality, and augmented reality. Also, if the US housing crisis allays, retail investors will be able to invest more money on Web 3 projects, and D2T remains a heavy contender among these projects.
Will Dash 2 Trade Explode?
There is a high possibility that the D2T token will rise above the penny crypto category. We've seen tokens like Dogecoin, TAMA, and SAND, grow exponentially over five years after their launch. With D2T token, with excellent user adoption, there is a possibility that it may become mainstream and explode.
Will Dash 2 Trade Ever Reach $1?
Perhaps! The chances of the D2T token reaching $1 are probable. Cryptocurrencies are volatile, and their prices may swing erratically. That said, it's important to commit to due diligence before you invest in any crypto assets.
Why Buy Dash 2 Trade- Pros and Cons
Pros:
D2T has had an impressive presale run.
The project is backed by an impressive team with a track record of success in the crypto industry.
Dash 2 Trade might become the most robust crypto analytics platform in the world.
The DT2 token is a utility token.
Cons:
Successful presale does not always translate into a successful DEX and CEX listing.
D2T isn't a token yet, and 80% of the proposed features that make Dash 2 Trade special are still in 'Development mode.'
Your investment may go down as well as up in value.
Pros and Cons of Buying D2T- Discussed
Pros Explained
Impressive Presale Run: The D2T token sold out in three out of its four presales within a week. It shows that investors are willing to take a bet on the token.
Impressive team: The team behind D2T are the same people behind the successful Learn2Trade project.
Robust crypto analytics software: If D2T follows its roadmap, it will become the most robust crypto analytics website to date.
D2T is a utility token: Utility tokens like D2T, SAND, MANA, Axie, and others tend to perform better if their parent platform performs. If the Dash 2 Trade platform meets the expectation of investors and experts, the D2T token may enjoy an increase in value.
Cons Explained
Successful presale does not always translate into a successful DEX and CEX listing: Market sentiments do not always represent the true value of an asset. The previous statement is especially true for cryptocurrencies. Before investing in a token in its presale, ensure that you research as hard as you can. Most importantly, do not invest more than you are willing to lose.
D2T isn't a token yet, and 8-0% of the proposed features that make Dash 2 Trade special are still in 'Development mode.': The D2T token is still an idea. With a presale developers can list their tokens and raise money needed to fund the creation of the token on a blockchain.
Your investment may go down as well as up in value.
How To Invest in Dash 2 Trade 
Dash 2 Trade is available to buy from various exchanges including OKX and Gate.io. For this guide, we will use Gate.io as an example.
To purchase D2T from Gate.io, you will first need to sign up to the platform. You can sign up with either an email address or a phone number.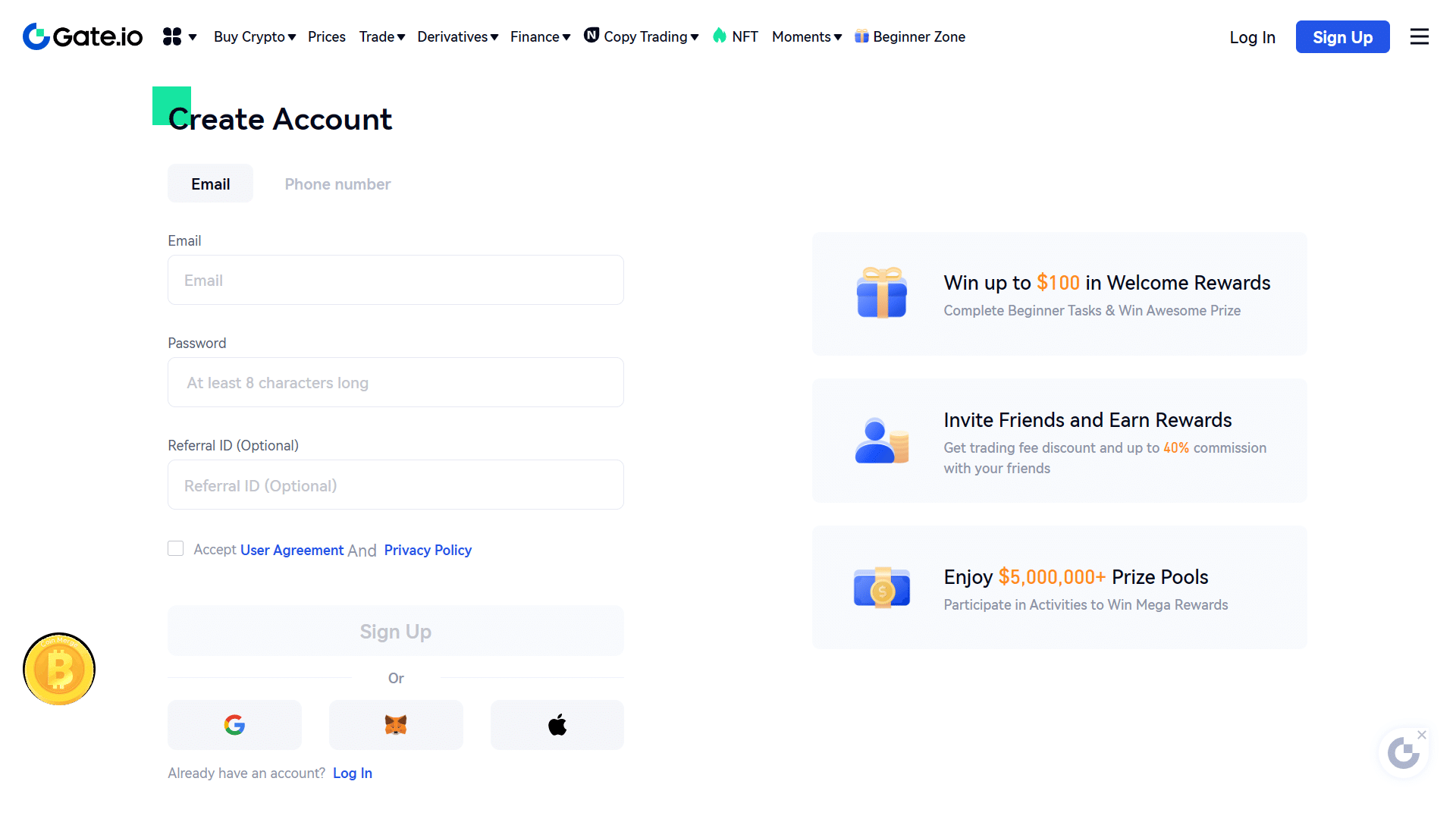 Once you have signed up to the exchange, you will need to fund your trading account.
You can fund your account with either fiat or crypto. To do this, you will need to connect a payment method to the platform. For low fees, it is good to fund your account with cryptocurrency by connecting your MetaMask wallet to the exchange.
It will take a few moments for your funds to appear in the trading account. When they do, you can swap tokens for D2T.
Your investment may go down as well as up in value.
Dash 2 Trade Price Prediction 2023– Conclusion
Dash 2 Trade looks like the real deal. The project is heralded by its parent company, Learn2Trade, and L2T is one of the largest crypto-education and resource companies in the UK. Learn2Trade has a global presence. Dash2Trade seeks to combine the features of Learn2Trade with trading algorithms, auto-trading features, manual vetting of tokens, and AI-powered trading help, amongst other things, into a robust interface. If the technology works, D2T tokens might just be one of the most important tokens in the next decade.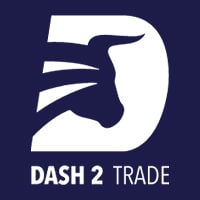 Your investment may go down as well as up in value.
FAQs
Where to buy Dash 2 Trade?
What is the Dash 2 Trade platform?
Is Dash 2 Trade a good investment right now?
What is the total supply of Dash 2 Trade?