What is Cloud Mining in Crypto? – What You Need to Know
Disclosure
Everything you read on our site is provided by expert writers who have many years of experience in the financial markets and have written for other top financial publications. Every piece of information here is fact-checked. We sometimes use affiliate links in our content, when clicking on those we might receive a commission – at no extra cost to you. By using this website you agree to our terms and conditions and privacy policy.
Crypto mining is a common concept in the cryptocurrency world. It involves using processing power to verify crypto transactions on a blockchain network. At the same time, crypto miners generate income from their mining activities. However, unlike traditional crypto mining, which requires high-end and expensive hardware, cloud mining offers a more affordable way of mining cryptocurrencies.
With cloud mining, miners can subscribe to a service provider to do all the work and get a percentage of the profit. But what is cloud mining in crypto, and is it worth investing in? We provide answers in this guide. 
Understanding Mining in Cryptocurrency
Before answering the question, "What is cloud mining in cryptocurrency?" it's crucial to first understand what crypto mining is and why it is vital to blockchain networks. Crypto mining is the process of validating and recording transactions on a blockchain network. The mining process is common with Bitcoin and the best crypto presales that operate using the proof-of-work consensus mechanism, as it requires human validation. 
Crypto miners operate using specialized computers using an Application-Specific Integrated Circuit (ASIC) chip to verify transactions, and these computers are decentralized. That way, every computer on the network completes a complex maths problem, and the first computer to solve the problem gets the network's transaction block. 
For example, if you send BTC to your friend, miners compete behind the scenes to validate or complete your transaction and store it on the Bitcoin network. The miner who eventually solves the blockchain's arithmetic problem gets the transaction and validates it before your friend can receive the BTC you sent to their wallet. 
Ultimately, after validating the transaction, the miner gets rewarded for the work done. The incentive is usually in the form of new coins, depending on the mining network. For instance, a Bitcoin miner will receive 6.25 BTC for every block they successfully validate or mine. 
Role of Mining in Blockchain Networks
The primary role of mining in blockchain networks is to validate or complete users' transactions. Multiple thousands of crypto transactions happen daily, and on proof-of-work (PoW) blockchain networks, transactions are only validated by crypto miners. In other words, blockchains like Bitcoin cannot be fully functional without miners who get transaction blocks, validate all the transactions, and store them on the blockchain. 
On the other hand, mining adds new coins to the current circulating number. As stated earlier, miners get block rewards after validating transactions, which are new coins. The new coins are added to the coins in circulation, resulting in additional coins being circulated. 
Finally, mining is a core aspect of blockchain security. Miners verify transactions to ensure there's no double-spending by traders, maintaining trust among the blockchain users. 
Mining's Importance for Transaction Validation
Crypto mining is a pertinent part of transaction validations on blockchain networks because it keeps transactions going and the network running smoothly. When miners get transaction blocks, they act as the blockchain's transaction processors and security mechanisms. They cross-check transactions to protect against fraud, double spending, and other security issues. Their speed also determines how fast trades are executed on the blockchain. 
For example, when the blockchain adds your BTC transaction to a block, miners can prioritize your transaction if you pay additional transaction fees. So, even with slow network traffic, your transaction can be executed immediately into the receiving wallet address. 
Overall, mining ensures transactions are secure, improves the network's trustworthiness, and can influence the network's transaction speed. 
 Your capital is at risk.
What is Cloud Mining?
Now that you have answers to "What is cloud mining in crypto?" let's dive into cloud mining is, and provide answers to the question, "What is BTC cloud mining?"
Definition and Overview
Cloud mining is the mechanism of generating new cryptocurrencies on blockchain networks. The mining process involves transaction validation using rented or purchased equipment from third-party cloud mining service providers. In other words, cloud mining doesn't require miners to own sophisticated mining tools. Instead, they buy some hash power (or hash rate) from a mining farm or a remote data center.
Since service providers run mining farms, miners must subscribe to a hash power or pay a fee to rent the mining equipment from third parties. At the same time, the mining company gets a cut from the mining rewards that go to each subscribed user in the mining pool.
Concept of Remote Mining Operations
The concept of cloud mining originated from cloud computing, which operates having a remote server network that different users can connect to for storing and processing data. Similarly, cloud mining allows multiple users to connect to a mining pool by renting a part of the pool – and mining happens in the cloud. 
In other words, instead of traditional mining with computers, cloud mining happens virtually through two cloud mining models – host mining and hash power leasing. 
Host Mining
This is the most popular cloud mining model. It involves renting or buying a rig on a mining farm and being responsible for the installation and maintenance. In other words, customers have absolute control over their mining operations and rewards.  
Usually, the cost of host mining operations depends on the rig's power. It's usually measured in Gigahashes per second (Gh/s) and Terahashes per second (Th/s), and users can adjust their power consumption to reduce operational costs. However, host mining requires high upfront costs because users are responsible for electricity, storage, equipment management, and overall mining operations. 
Hash Power Leasing
Hash power leashing is the other cloud mining model. This model is suitable for miners who want reduced operations costs, as miners only pay to lease a fraction of the cumulative hash power from a mining farm or pool. In other words, the model is subscription-based, and miners must pay for a plan to partake in the overall mining activities and get a percentage of the mining pool's profit. 
The significant advantage of leasing hash power is that users don't need to set up mining tools or pay maintenance fees, so they save costs. But their mining rewards depend on the amount of hash power a user leases from the mining farm. 
 Your capital is at risk.
Pros and Cons of Cloud Mining
Upon a proper understanding of  "What is cloud mining in cryptocurrency?" it's imperative that you understand the benefits and pitfalls of mining activities. We highlight the crypto mining pros and cons below. 
✅ Pros
Lower costs
Beginner friendly
Potential source of passive income
❌ Disadvantages
Scam and frauds
Centralized operational model
Reduced mining rewards
 Your capital is at risk.
Exploring Cloud Mining Services
When looking for the best cloud mining service providers, there's a long list of companies to consider. We highlight some of the popular cloud mining service providers and the top cryptocurrencies to mine in the sections below.
Different Cloud Mining Platforms
Top cloud mining platforms for mining Bitcoin and other cryptocurrencies include;
Hashing24 is a cloud mining service provider that focuses on only Bitcoin mining. The Bitcoin mining company was established in 2012 and has a verifiable track record in the cryptocurrency mining space. The company collaborates with the largest Bitcoin mining data centers to provide turnkey renting services to Bitcoin miners. With 100% uptime and monthly plans starting from $55.40 for 1 TH/s, Hashing24 is suitable for beginner Bitcoin miners.
StormGain was established in 2019 as a cryptocurrency exchange and crypto mining platform. The mining provider allows users to mine Bitcoin and popular altcoins like Ethereum and Litecoin. The mining platform offers a simple user interface, and users can get full access to mining services with a deposit starting from $50. At the same time, proprietary exchange can function as a paper trading app.
BeMine

was launched in 2018 as a Bitcoin-only mining service provider. The company partners with data centers and large mining equipment owners to offer its clients mining services.

However, despite primarily supporting only Bitcoin mining, the company allows deposits via other cryptocurrencies, like Ripple and Litecoin, for more accessibility.
NiceHash

was established in 2014 and is one of the most reputable mining companies around today. The mining provider is notable for supporting Bitcoin mining and other cryptocurrencies like Ethereum, Litecoin, Dogecoin, etc.

NiceHash partners with established miners and allows them to rent out their computers' processing powers to third parties. But it uses its own software for its clients, making it more accessible for beginners.
BitDeer

was established in 2018, and it offers crypto mining services to clients worldwide. The cloud mining platform offers clients mining power for rent, and it supports various cryptocurrencies, including Bitcoin, Litecoin, Ethereum, etc.

With its partnership with different mining firms and global data centers, Bitcoin ensures users get the best mining experience starting from $4.20.
Popular Cryptocurrencies for Cloud Mining
Bitcoin is the world's largest cryptocurrency and the most popular coin for crypto mining. Because of this, common questions among investors include "What is BTC cloud mining?" and "What is cloud mining Bitcoin?"
However, despite its popularity among crypto miners, Bitcoin isn't the only popular coin you can mine. Some other notable cryptocurrencies for cloud mining include;
Litecoin (LTC)

Ethereum (ETH)

Monero (XMR)

Bitcoin Cash (BCH)

Ethereum Classic

Bitcoin Gold

Dogecoin (DOGE)

Dash

ZCash

Ravencoin
 Your capital is at risk.
Setting Up a Cloud Mining Contract
As stated earlier, cloud mining is straightforward because it requires no technical ability or prior experience. After choosing a mining company to rent hash power from, you can activate a cloud mining contract using the steps below.
Selecting Hashrate and Contract Duration
When subscribing to a mining contract, the company provides a pricing information chart that you can use to determine your hashrate and contract period. Enter the hash power and choose a period, as shown in the image below. You can adjust the hashrate and periods to determine what suits you best.
Understanding Pricing and Payment Structures
Different mining companies have their pricing plans and payment structures. Usually, these range from monthly to annual and two years plans. The payment methods also vary across fiat currencies and cryptocurrencies, depending on the platform you choose.
Mining Algorithms and Pools
The cryptocurrency mining process in cloud mining is similar to what happens in traditional mining. However, cloud miners combine their efforts for better results. Below is the breakdown of the mining process.
Matching Algorithms to Mining Hardware
For mining to happen, mining hardware must solve a mathematical algorithm. Even in cloud mining, the hardware solves the complex algorithm. But a mining farm has a stronger hashrate or computing power to process more data and validate more transactions. Conversely, solo mining is limited because it has lesser computing power, so it gets fewer algorithms matched to its mining device.
Joining Mining Pools for Enhanced Returns
To boost potential mining returns, miners collaborate and join mining pools since the providers offer more robust mining hardware. The hardware combines individual hash rates, giving a better chance of getting more mining algorithms and block rewards. 
 Your capital is at risk.
Benefits of Cloud Mining
Accessibility and Ease of Use
Cloud mining is not only easily accessible, it is also relatively cheap to use. With cloud mining, miners can eliminate the costs of purchasing, installing, and maintaining sophisticated mining equipment or hardware. Cloud mining also helps reduce energy costs, as third-party mining service providers run mining operations.
Reduced Need for Technical Expertise
Cloud mining is a more straightforward crypto-mining design because it requires no prior technical knowledge. In other words, anyone can start mining Bitcoin and other cryptocurrencies via a mining pool. All you need to do is register on a mining platform, subscribe to a hashrate plan, and begin your Bitcoin mining journey.
Challenges and Risks
Potential Scams and Unreliable Services
With the growth in the cloud mining space, many scam mining companies have unfortunately surfaced with fraudulent operations. These companies collect money from investors and disappear with the funds, leaving customers with no rewards. Hence, it is vital that you thoroughly research a mining company before committing money to it.
Lack of Control over Mining Operations
Though the primary goal of crypto is decentralization, cloud mining companies are centralized, as they control every mining activity. At the same time, the mining company or manager determines the hash rate and the coin to mine, so investors have limited powers. They may also be unable to verify the company's transparency when estimating potential profits.
Return on Investment (ROI) Considerations
Though cloud mining offers potentially better returns than solo mining, it's essential to determine how much profit you stand to gain before investing in mining companies. We exemplify this in the sections below.
Calculating Potential Profits and Costs
You can use a mining profit calculator to determine your potential mining profit. Interestingly, mining platforms like Hashing24 offer a built-in calculator to estimate ROI based on your selected hashpower and mining period. That way, you'll have the estimated daily, weekly, and monthly incomes.
Factoring in Mining Difficulty and Rewards
Two factors that influence the potential ROI on mining activities are the mining difficulty and rewards. Mining difficulty describes how hard and time-consuming it is for mining hardware to solve a block algorithm. It is the measurement unit for crypto mining, and it changes after a certain number of blocks. For example, Bitcoin mining difficulty automatically adjusts after 2,016 blocks. 
After the last Bitcoin is mined, the rewards will change from new coins to a percentage of traders' transaction fees.
 Your capital is at risk.
Cloud Mining vs DIY Mining Rigs
While cloud mining and DIY/hardware mining are similar, many differences set them apart. We highlight some below.
Differences in Setup and Maintenance
The major difference between both mining methods is in the setup and maintenance. With DIY mining, you must purchase, install, and maintain your mining hardware yourself. However, cloud mining allows you to rent hardware from mining providers, so you can eliminate the stress of setting up and maintaining a mining rig.
Cost and Efficiency Comparisons
Since you don't have to own mining hardware when cloud mining, you save on setup, installation, and maintenance costs. At the same time, the cloud mining hardware is more efficient because it has a stronger hashpower than a solo DIY mining rig, and potentially offers more ROI.
Security and Legitimacy
As stated earlier, there are scam mining companies, so investors must do due diligence before committing funds to cloud mining companies. We highlight the security measures below.
Verifying the Authenticity of Cloud Mining Services
The first thing to do is ensure a mining company is legitimate and secure. Usually, reputable companies are directly licensed or part of a licensed crypto mining pool. At the same, safe cloud mining companies have stern anti-money laundering (AML) policies and use high-end encryption technology to secure their sites. You can also check online reviews for user testimonials.
Securing Your Investments and Personal Data
On a personal level, you can secure your investments and personal data by using a strong password and activating two-factor authentication (2FA) on your account. You can also use a virtual private network (VPN) to encrypt your personal data.
Future Trends in Cloud Mining
Cloud mining is here to stay, thanks to its ease of use, lower costs, and efficiency. But what lies ahead in the future of the cryptocurrency mining process?
Evolving Technologies and Trends
With more technological advancements, we will likely see more sophisticated mining hardware that will further simplify Bitcoin mining and execute faster transaction validations. At the same time, we may experience cloud mining with reduced environmental impact as more environmental-friendly mining tools.
Impact of Network Upgrades on Cloud Mining
With more network upgrades like the Bitcoin Halving, we will see mining rewards reduce from the current 6.25 BTC per block to 3.125 BTC. With lesser ROI, cloud mining companies may increase their contract fees or request additional percentages from the total mining rewards, resulting in lesser returns for subscribers.
 Your capital is at risk.
What is Cloud Mining in Crypto? – eToro Complete Guide
If you want to buy Bitcoin, Ethereum, and other coins to mine securely anywhere and anytime, eToro is the best digital exchange for you. Whether you're looking for a day trading app or a you're long-term investor, the platform is your go-to option. Follow the steps below to create a free eToro trading account and begin your crypto mining journey. 
Head to the eToro website on your mobile or desktop device and click "Join eToro."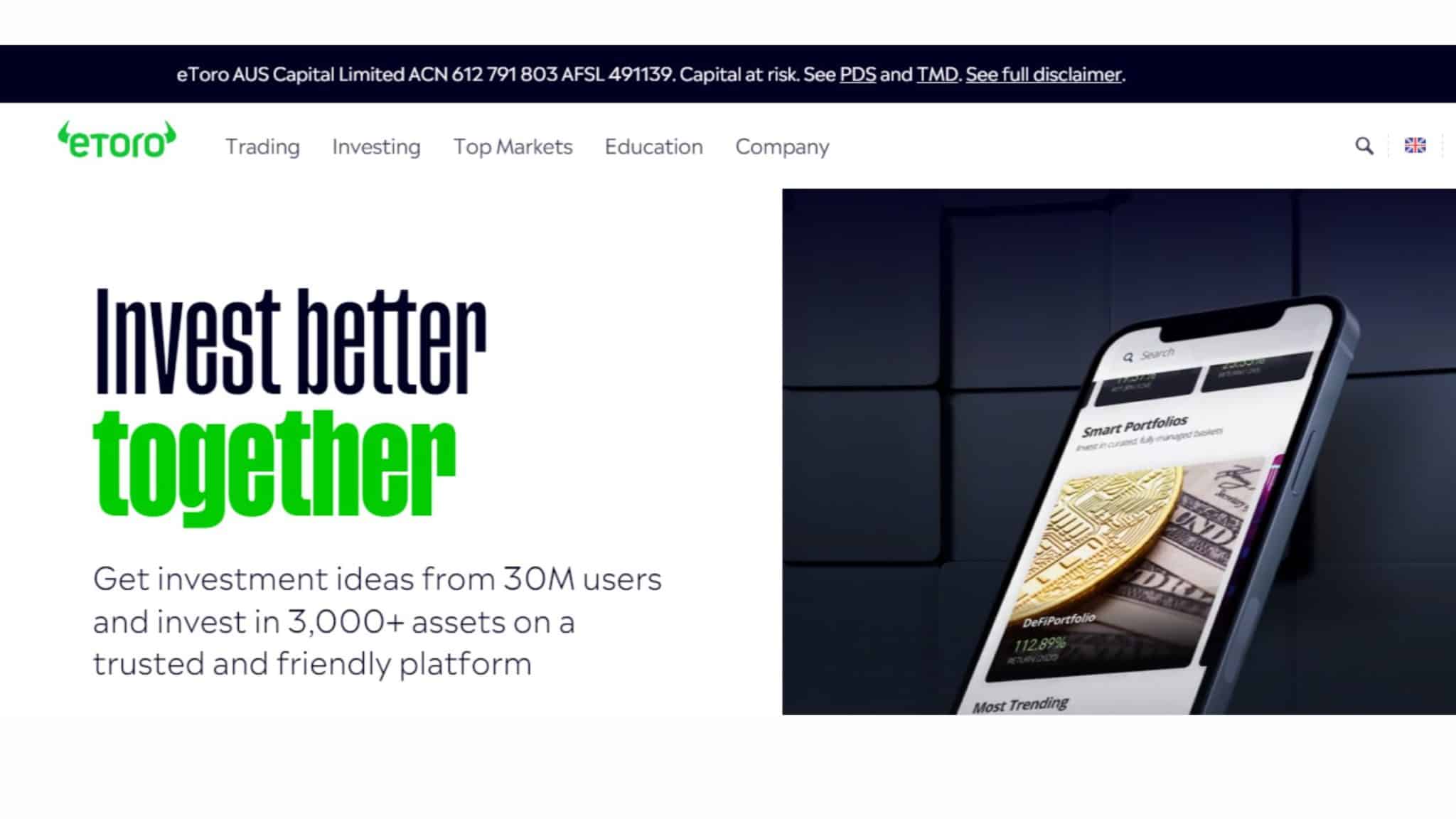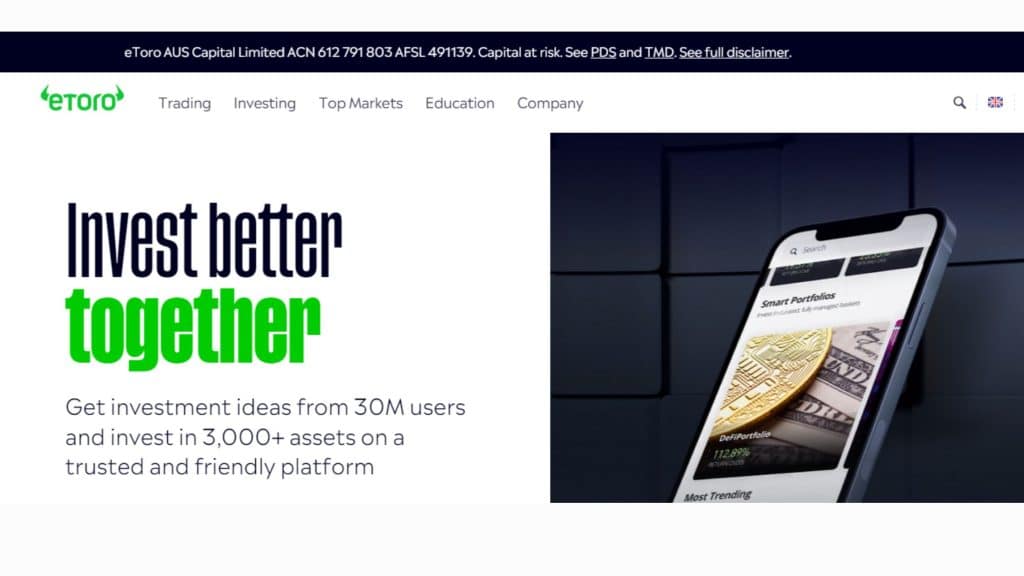 Enter your personal information, including a unique username, email address, and password 

Check the "Terms and Conditions" boxes and click "Create Account."

Complete eToro verification by submitting identity documents.

Deposit funds and buy Bitcoin or other coins to mine.
What is Cloud Mining in Cryptocurrencies? – Conclusion
In this guide, we've answered a few questions, including "What is cloud mining in crypto?" and "What is BTC cloud mining?" Cloud mining is believed to be the future of cryptocurrency mining because of its benefits over conventional mining.
Apart rom being a popular free stock app, you'll also find the coins you need to mine with the lowest fees and a dedicated customer support team. You'll also find different tools to simplify your trading and offer you a wholesome crypto trading journey when you create a free eToro account. However, it's important to know that mining profits are not guaranteed – even when you sign a contract with the most reputable cloud mining companies.
 Your capital is at risk.
FAQs
Is cloud crypto mining worth it?
Can you make money with cloud mining?
Is cloud mining safe for crypto?
What is the downside of cloud mining?