Forex Fury Review – Pros & Cons Revealed
Disclosure
Everything you read on our site is provided by expert writers who have many years of experience in the financial markets and have written for other top financial publications. Every piece of information here is fact-checked. We sometimes use affiliate links in our content, when clicking on those we might receive a commission – at no extra cost to you. By using this website you agree to our terms and conditions and privacy policy.
Forex Fury is a forex expert advisor (EA) that gives users real-time trading opportunities in a hands-free manner. The forex robot is compatible with any MT4 and MT5 broker and holds a 93% winning track history based on its Myfxbooks accounts.
Our Forex Fury review discusses how the forex EA achieves this win-rate, its top features and tools, and how to trade on the program.
Forex Fury Summary 
Here is a table summary that rounds up the auto-trading robot's  key features that we'll explore in this Forex Fury review.
| | |
| --- | --- |
| Platform type | Forex trading robot |
| Trading strategy | Range trading, scalping |
| Major forex pairs recommended | GBP/USD, USD/JPY, EUR/USD, USD/CHF, AUD/USD |
| Minimum deposit | $100 |
| Compatible platforms | Any MT4 and MT5 broker |
Your capital is at risk.
What is Forex Fury?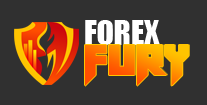 Forex Fury is an auto-trading robot developed by a team of forex traders at Forex Robot Nation in 2015 with the goal of creating a profitable trading program. Now that Forex Fury has established itself as a winning EA, the team continues to build the product with its community to become one of the best forex trading bots available. 
A mix of live and demo Forex Fury accounts are featured on Myfxbooks and the accounts mostly hold double digit and triple digit gains. Based on their website, the forex robot can trade any forex pair, index, or cryptocurrency.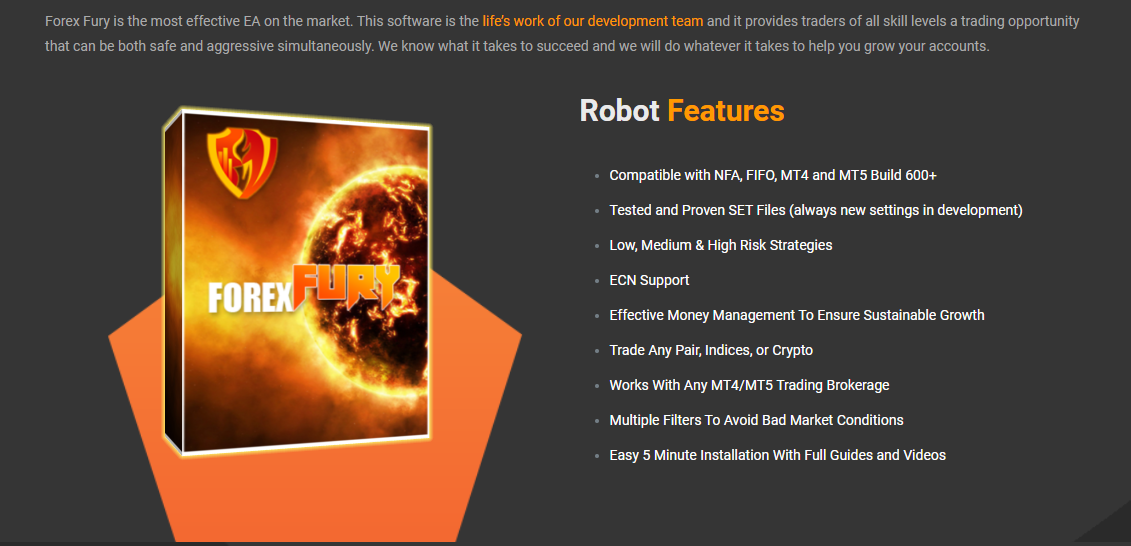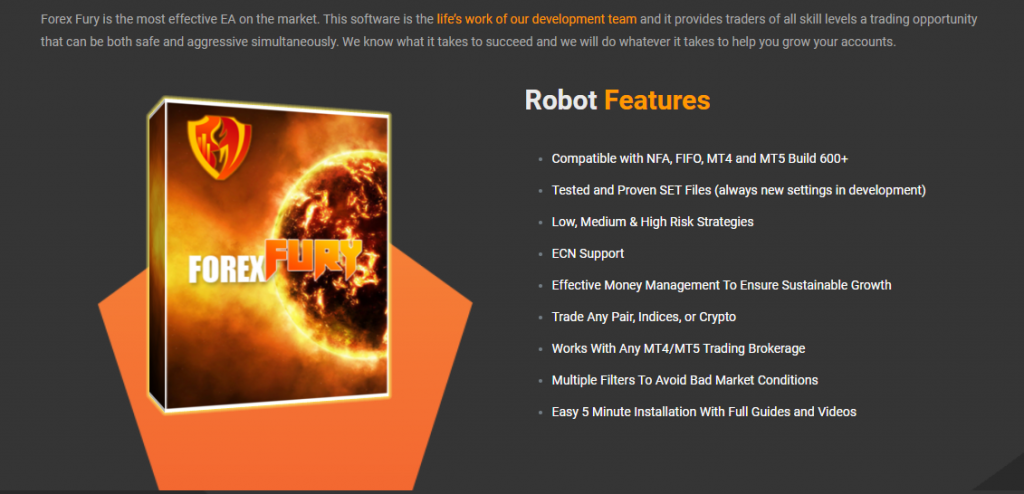 Currently, Forex Fury can be purchased in two options: the Forex Fury Gold product which operates on one live account and the Forex Fury Diamond product which can trade with two live accounts. Both products also provide complete access to the Forex Fury members area which offers exclusive educational content and guides as well as community posts.
Forex Fury puts a heavy emphasis on its customer support, offering a 24/7 service for questions and inquiries. Responses are quick, usually within a couple of hours during business days. This reliable support combined with a winning trading robot amounted to a 90% positive client feedback for Forex Fury as seen on their site.
Forex Fury Pros & Cons
Pros
93% winning history based on Myfxbook
Uses a mix of low, moderate, and high risk strategies
One time purchase, no additional fees or charges
Can trade any forex pair, index, and cryptocurrency
24/7 customer support
MT4 & MT5 compatible
Works with NFA and FIFO brokers
Comes with complete guides and product videos
Unlimited demo accounts
Cons
Not compatible on mobile
$229.99 base price 
How Forex Fury Works
The main trading strategy that Forex Fury uses involves time restricted executions and trading within a price range. Overall, it uses several filters to identify profitable market conditions and forex signals to automatically execute trades. 
Forex Fury has found success in day trading, specifically during periods of low volatility which they have identified to be from 4 to 5pm Eastern Standard Time (EST). In this time frame, the auto-trading bot opens scalping positions that are consistent and easy to execute.
So far, Forex Fury's proprietary trading strategy has proven to be effective in major pairs like GBP/USD and USD/JPY. However, the Fury robot has also been generating yield for other forex pairs like the EUR/CHF and EUR/GBP which have been observed to move within price ranges as well.
According to their website, Forex Fury can be used by traders of all skill levels as trade settings can be configured for low, medium, and high risk trading. As with any forex EA, it's important to understand first how the robot executes trades which is why the product comes with a full set of guides and walkthroughs to get users started.
Purchasing any of the two Forex Fury products will give users access to the membership community upon signing up. A registration link is provided via email. 
Forex Fury Fees
Below is a table that shows the prices of the two Forex Fury products that have no additional fees. Members are given access to unlimited demo accounts and exclusive membership content after purchase.
| | |
| --- | --- |
| Gold Membership (1 live account) | $229.99  |
| Diamond Membership (2 live accounts) | $439.99 |
| Membership fee | None |
| Inactivity fee | None |
Forex Fury Portfolio Growth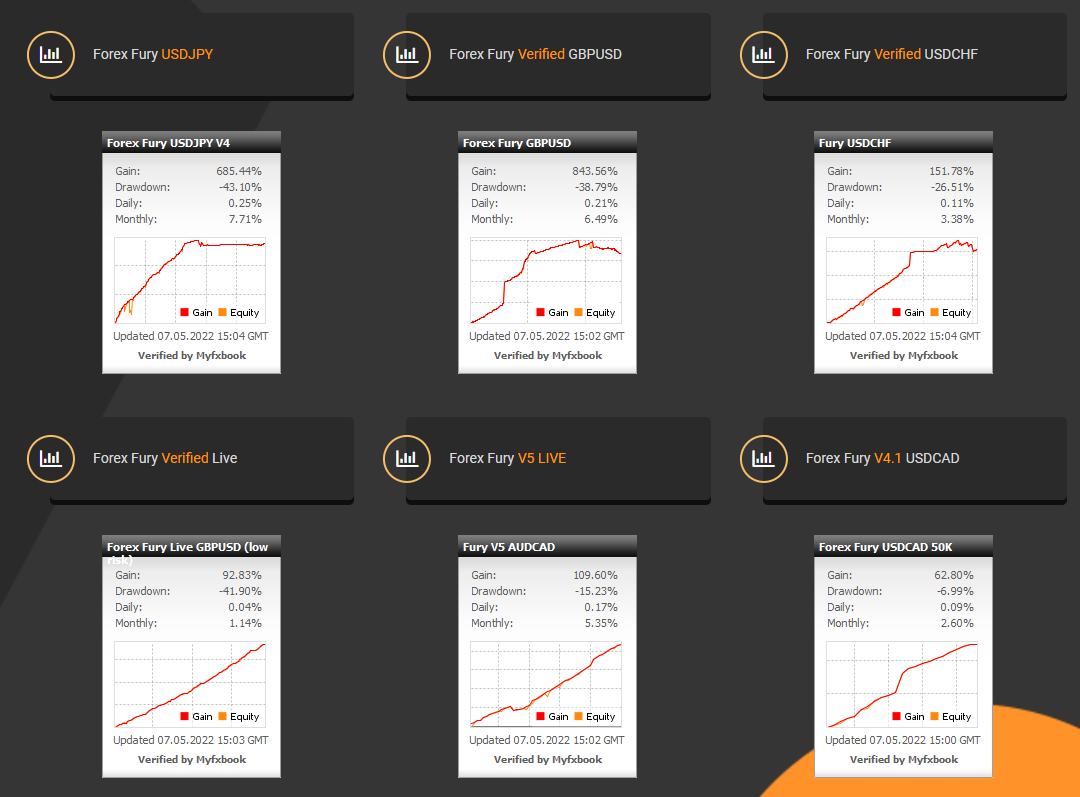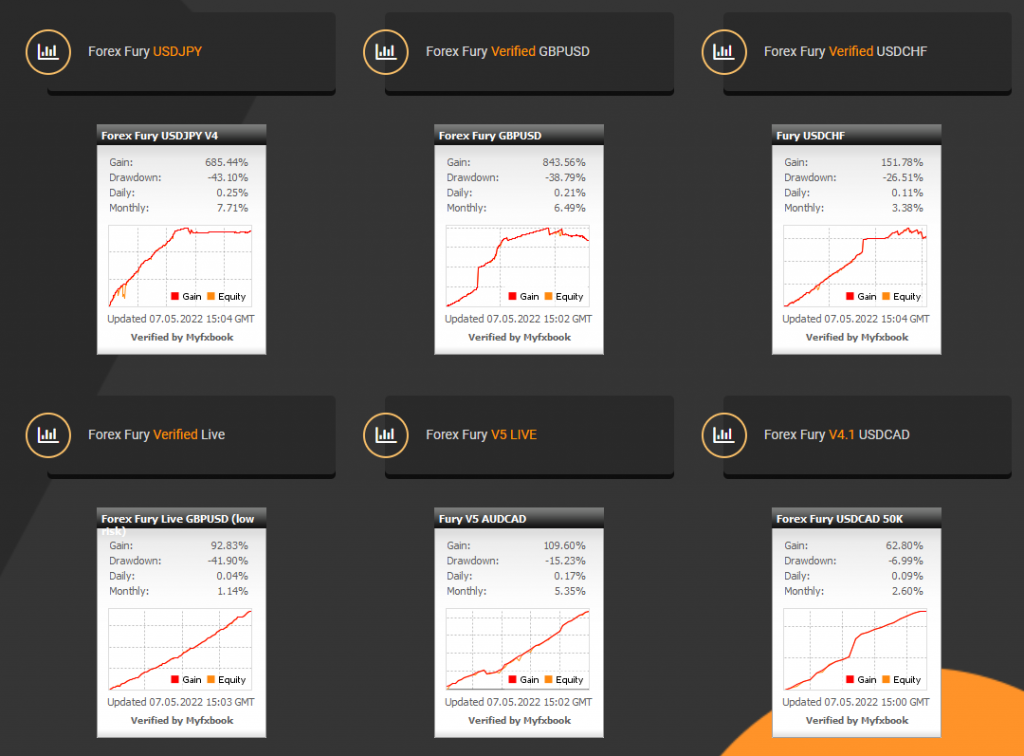 Forex Fury aims to achieve 10-20% growth for its clients' portfolios. Currently, the Forex Fury accounts shown in Myfxbook have positive performances but average out in single digit monthly gains. 
The trading bot's most successful account which trades the USD/JPY pair averages 7.70% monthly compound returns and a total gain of over 680%. Another Forex Fury account which trades the GBP/USD major pair has an average monthly gain of 6.48% and a total gain of over 840%.
Currently, even Forex Fury's top accounts have yet to achieve the targeted growth rate but what's important is that they continue to maintain a positive track record. The team mentions continuous growth for the software which they expect to improve as it makes more and more trades.
Forex Fury Key Features
Now that we've looked at an overview of the auto-trading robot, let's dive into the key features that Forex Fury has to offer.
Auto-Trading Robot
Once a trader has fully incorporated Forex Fury into their trading platform, the forex robot can execute trades without any human intervention. All the user has to do is keep their computers on and the software running which can open and close positions as long as the product is running in the background.
The biggest advantage that Forex Fury has in terms of trading strategy is limiting losses by trading within a small time window. As we mentioned earlier, Fury EA opens positions from 4-5pm EST and particularly trades 15-minute trends. This method of trading means that the forex robot is in and out of the market within hours.
Another benefit of restricted trading is being able to hone in on certain trades and gather more consistent data that Forex Fury can use to improve its algorithm. According to them, being able to focus on the one hour trading period lets them test 100 times more data than their competition.
Configurable Trade Settings
When it comes to trade parameters, Forex Fury has many different settings and filters that users can configure depending on how risky they want their positions to be. The Forex Fury team is not afraid of using their high risk strategies on live accounts, but this doesn't mean that lower-risk strategies can't be used in their algorithm.
One of the main filters that can be set on the Forex Fury EA is Only Range Trading. When this filter is enabled, the trading bot will only open trades when it identifies a ranging market condition. This means that the price of the financial instrument moves within a certain range which is great for low risk strategies but lowers the volume of trading.
Aside from being able to define the amount of risk that the user sets for the Forex Fury EA, traders can also specify which days the bot can trade the account. This, for example, lets clients have the trading bot execute trades from Mondays to Thursdays and avoid positions being open on Fridays as to not incur any weekend rollover fees.
Demo Accounts
Depending on which product a user chooses to purchase, Forex Fury can trade one to two live accounts at a time. However, the forex bot can be used in an unlimited number of demo trading accounts. This means that clients can test different strategies, configuration sets, and filters without risking any of their equity.
Forex Fury Membership
The Forex Fury Members Area is an exclusive page that features tested trade settings, community engagements, and access to experimental client updates. Purchasing any of the Forex Fury products entails a lifetime membership for the user which includes any future updates to the platform.
Customer Support
Forex Fury replies to all email inquiries which is just one of the reasons why many clients have praised their support. Their customer service operates 24/7 and users can expect especially quick response time from 8AM to 7PM EST. 
Forex Fury Broker Compatibility
MT4 brokers such as Forex Capital Markets, IG, and Pepperstone are compatible with Forex Fury since the bot works with any MT4 and MT5 broker. The EA can also be integrated with NFA and FIFO brokers as well.
Is Forex Fury Legit?
Now that we've looked at how Forex Fury works along with its key features and tools, the next important question to answer is, is Forex Fury legit? From what we touched upon earlier, the Fury EA has held a 90% positive rate in user feedback which means most traders have benefited from the trading software.
Forex Fury is a real product that was built by a team of forex traders and headed by their CEO, Patrick Ryan. Recently, Forex Fury has expanded their team – bringing analysts and developers to continue growing their product based on the feedback of the users in their community.
Those who can purchase their product will have access to the Forex Fury EA which they can integrate in their MT4 and MT5 brokers. On top of that, they'll have access to the latest updates for the program.
How to Use Forex Fury
Here's a step by step guide on how to start using Forex Fury.
Step 1: Choose A Forex Fury Product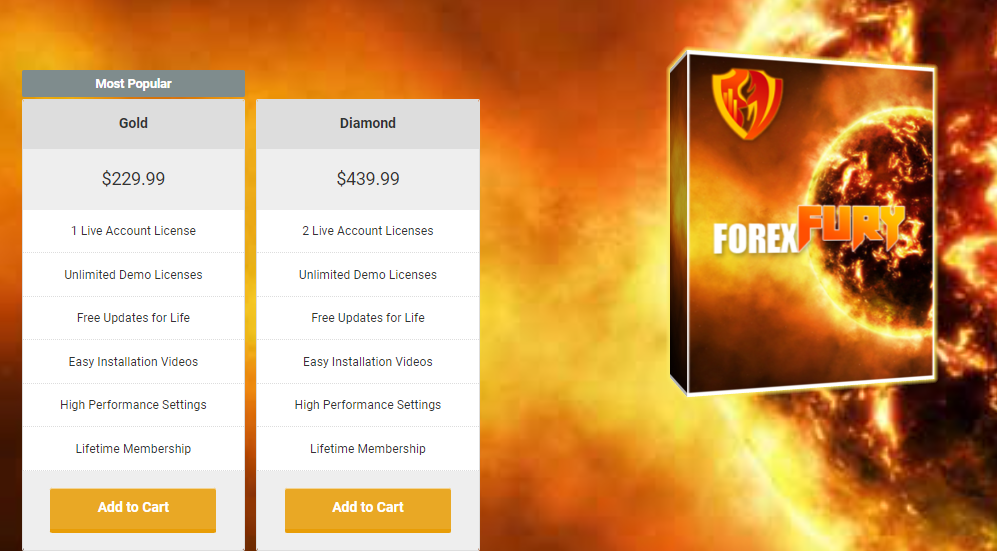 First, enter the Forex Fury website and locate the product section of the page. There, you will find the two product options: Gold Lifetime Membership (1 live account) which costs $229.99 and the Diamond Lifetime Membership (2 live accounts). Click Add to Cart on your selected product.
Step 2: Buy Forex Fury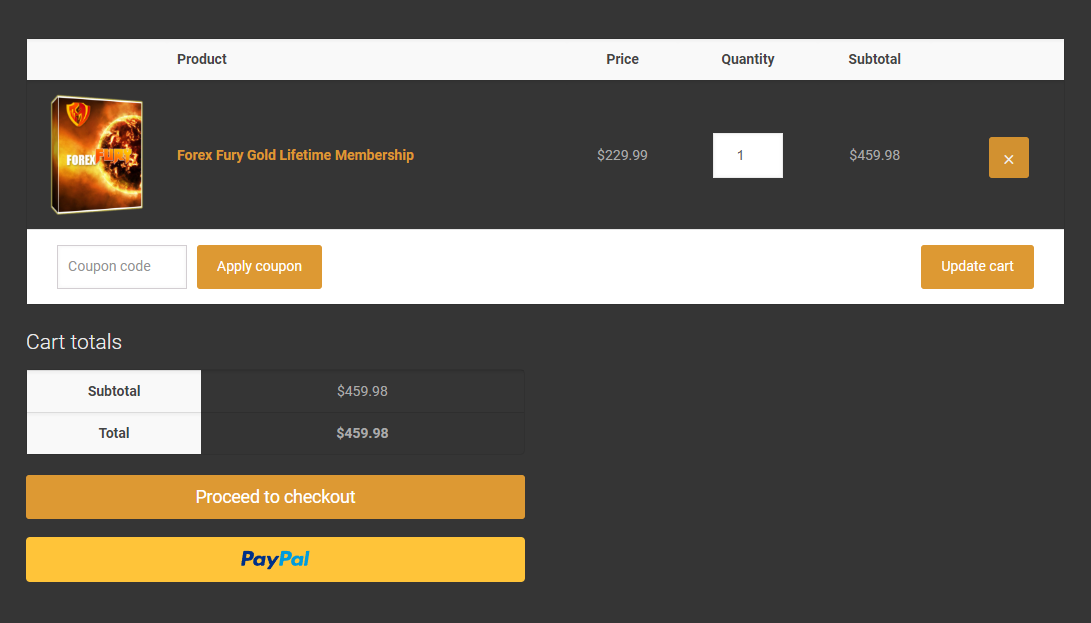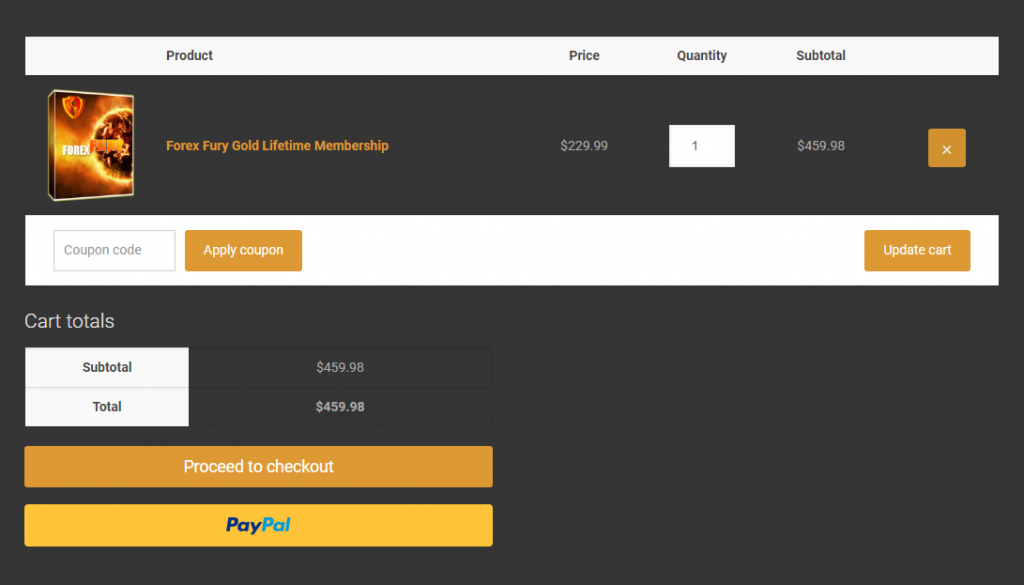 With your Forex Fury product in your cart, click on the bag icon on the right of the navigation bar to open your cart. Here, you can confirm your purchase, price, and quantity. Click Proceed to checkout where you can input your billing details and bank card information. You also have the option of buying Forex Fury with PayPal.
Step 3: Demo Trading
Right after your purchase has been successful, you will receive an email from Forex Fury with a registration link. You can register to get access to the members area as well as the download to the trading software. Follow the installation guide provided to incorporate the Forex Fury EA to your MT4 or MT5 broker.
With Forex Fury integrated on your platform, you can open a demo trading account to add different settings, change the filters, and try out different trading methods to get accustomed to the EA.
Step 4: Trade With A Live Account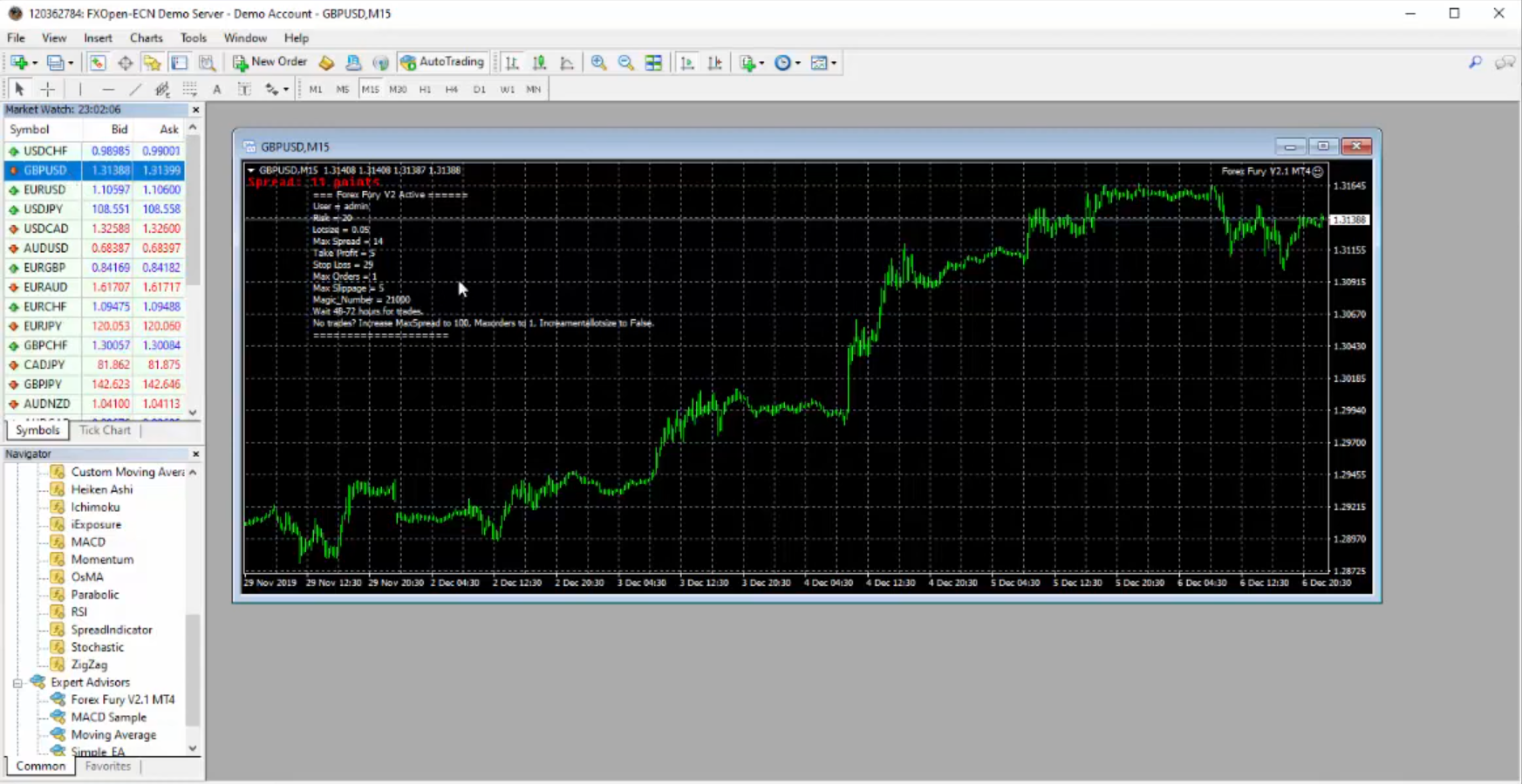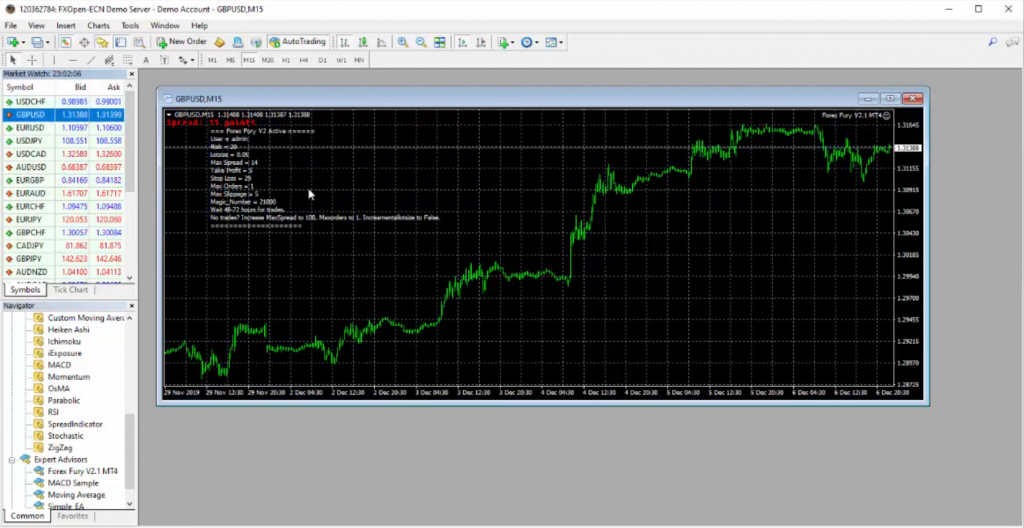 Forex Fury Gold users can open one live account to start using real equity to trade. The process is similar to opening a demo account with the exception of choosing the live account selection. Diamond users can open up to two live accounts and start trading.
Your capital is at risk.
Forex Fury User Experience
Traders who have used EAs on MT4 or MT5 platforms before will find it quick to set up Forex Fury. On the other hand, Forex Fury provides enough product guides and video material for new forex traders and bot users to install the platform within minutes.
 Activating the trading robot on live accounts might take some tweaking, but the high win rate combined with excellent customer service makes a great user experience for Forex Fury.
The Verdict
Forex Fury has garnered positive reviews both within its community and in third party review sites like Trustpilot. With a 93% advertised win-rate based on Myfxbooks and compatibility with all MT4 and MT5 brokers, the forex bot is in one of the best positions for growth in the auto-trading robot market.
Using the Forex Fury EA requires just a one time purchase which already includes a number of guides, their membership community, and access to tested trade configurations that stands to benefit both new and advanced traders. If you want to get started with the Forex Fury trading bot, click on the link below to visit their site.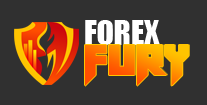 Your capital is at risk.
FAQs
Does Forex Fury have a free trial?
Does Forex Fury have a mobile app?
How much does Forex Fury cost?