TradeOr Share Dealing Review: Platform, features, pros and cons
Disclosure
Everything you read on our site is provided by expert writers who have many years of experience in the financial markets and have written for other top financial publications. Every piece of information here is fact-checked. We sometimes use affiliate links in our content, when clicking on those we might receive a commission – at no extra cost to you. By using this website you agree to our terms and conditions and privacy policy.
When searching for a broker in the digital age, you will probably want to trade a range of instruments. TradeOr is a new trading platform where you can trade CFDs on stocks, crypto, forex, and commodity markets. In particular, the platform provides a straightforward way for anyone with Bitcoin to invest in other markets.
This review will give you a comprehensive understanding of the TradeOr platform's features, the instruments you can trade on it, and the overall user experience. We will also outline the pros and cons of the platform, the fees they charge, and the regulatory framework. This will give you a good idea of whether or not this is the right platform for you.
What is TradeOr?

TradeOr is a new multi-asset trading platform. You can use the platform to trade stocks, indexes, currencies, cryptocurrencies, and commodities. Rather than trading the instruments themselves, you trade CFDs, or contracts for difference, on the underlying instruments.
TradeOr is unique in that you can fund your trading account with Bitcoin, which means deposits and withdrawals are processed in minutes. Once your account is funded, you can trade all the instruments on the site which are priced in your base currency.
The platform has embraced two attributes that are quickly becoming standard for trading platforms. Firstly, the user experience has been simplified with a focus on intuitive navigation. Secondly, the broker does not charge commissions on trades.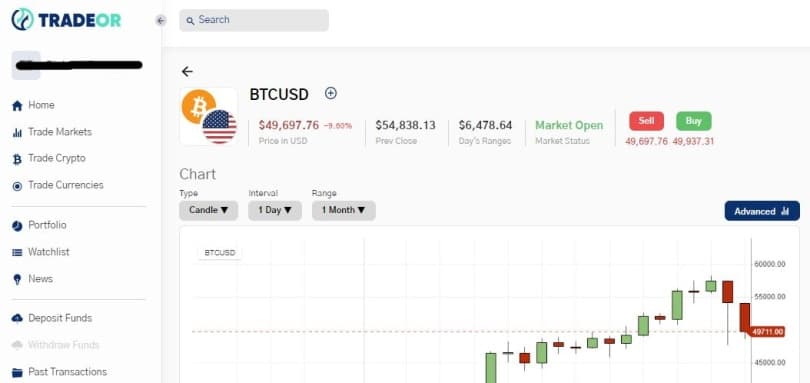 TradeOr Pros and Cons
Pros
Very intuitive platform.
Up to 500:1 leverage.
You do not need to download or install any software to trade with the platform.
If you already own Bitcoin, you can fund your account in a matter of minutes.
Wide range of markets.
The minimum amount you need to begin trading is only $10.
Cons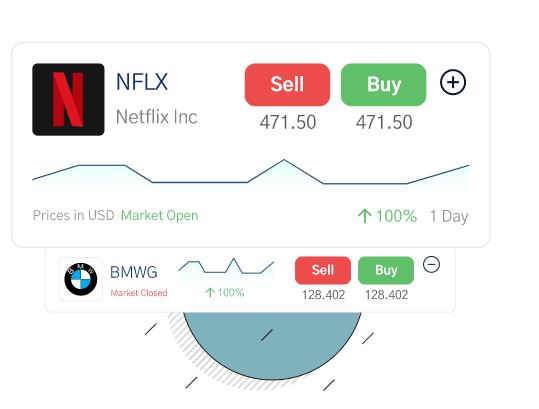 Regulation & Trust
TradeOr is still in the process of becoming regulated, so there are no regulator details listed. The Terms and Conditions do indicate that client funds are segregated from the company's own funds.
The broker takes security and privacy very seriously so KYC (know your customer) information is handled by a very small team of professionals. The platform also requires two-factor authentication (2FA) when you sign up and when you log in. During the signup process, both your email and phone number are verified. These measures are essential to prevent fraud and ensure client funds are secure. There are also limitations on withdrawal amounts to protect against fraud.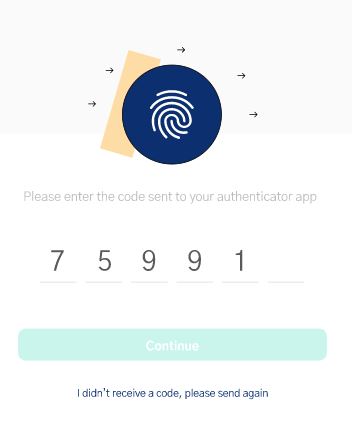 Products & Markets
TradeOr is a CFD platform, so positions are not held in the underlying market but in contracts for difference on those instruments. CFDs are a type of off-market derivative agreement between a broker and their customer. So, rather than holding the actual instrument, you have a contract to swap the difference between the value of a position when you open and close it. CFDs simplify the trading process and allow different types of instruments to be traded on one platform. TradeOr lists CFDs on most of the popular trading instruments are available for trading.
Approximately 30 US stocks are listed, including those of popular companies like Apple, Amazon, and Microsoft. In addition, 10 of the most popular European stocks, like Adidas and Volkswagen, are also listed.
Around 10 of the major global indexes are also listed. Besides US indexes like the Nasdaq 100 and S&P 500, you can also trade the UK's FTSE 100 and Japan's Nikkei 225 index. Indexes give you diversified exposure to a basket of the most valuable stocks in a given market.
The commodity trading app is currently limited to metals, specifically gold, silver, platinum, and copper. At present crude oil and gas are not available but may be added if there is enough demand.
When it comes to the forex market, all the widely traded currency pairs are available. These include the majors, the minors, and exotic pairs. You will probably find any currency pair you want to trade on the platform.
In terms of the cryptocurrency market, you can trade 10 of the more active coins. Bitcoin, Ethereum, Dash, Litecoin, and Ripple are all listed as well as a few 'alt-coins'.

Fees
The current trend amongst stock apps is toward charging no commission on trades. This has been standard for some time in the forex markets but is a more recent development in the stock market. TradeOr is a zero-commission broker, and only earns fees from the spread and from revenue-sharing arrangements. This means the prices may differ from prices offered by other brokers or exchanges.
Because TradeOr is Bitcoin-friendly and deposits and withdrawals are transacted with Bitcoin, you only pay the normal blockchain fees (which are very low) when transferring funds.
For more information on fees, we recommend that you contact the support desk.
Leverage
CFDs are margined instruments. This effectively means you are borrowing money to increase your exposure to an asset. The margin is the amount you need to open the position and your leverage is the ratio between the margin and exposure. So, if you open a position with exposure of $10,000 using $100 of margin, your leverage is 100 to 1. When you open a position, the margin is moved from your trading account to your margin account.
Brokers usually have a maximum leverage ratio for each instrument. That doesn't mean you should use the maximum leverage available and most traders don't – it's just an indication of the maximum exposure you can gain for a given amount of margin.
TradeOr doesn't have specific contract specifications for each instrument, but the maximum amount of leverage is 100:1. The site does stress that customers should avoid using the full amount of leverage available to avoid taking on too much risk.
Like all CFD brokers, TradeOr may reduce the available leverage for individual accounts or instruments at certain times. This is common practice when market volatility increases and ahead of major market-moving announcements.
Trading Tools & Features
TradeOr has its own browser-based trading platform. There are no mobile apps or desktop applications that need to be downloaded or installed. TradeOr does not integrate with other platforms like MetaTrader. In many ways, this is an advantage, though professional traders may find it limiting.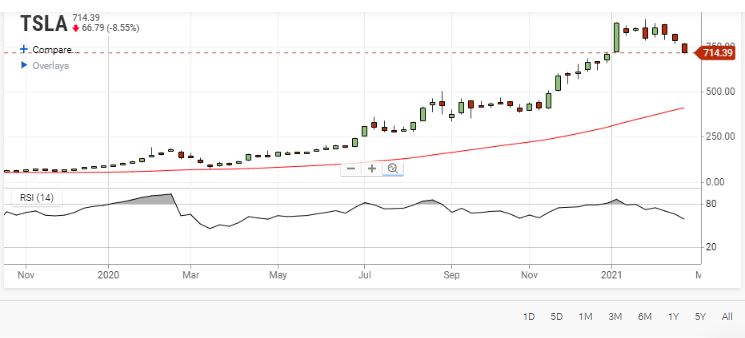 Tools
In terms of tools, the website includes charts, a watchlist, basic information about instruments, and market news. There's also a set of tools to monitor the performance of your positions.
When you click on an instrument, you will be redirected to a page with more information about the asset. Included are the current price, the bid and offer price, information about the instrument, and a basic chart. Below the chart, the latest news for the current instrument is displayed.
The basic chart will give you a good idea of the instrument's price history over any period you choose. For more advanced technical analysis, you can also click through to a Chart IQ page. This chart includes indicators, the ability to draw trendlines, change the timeframe, and all the other features you need for technical analysis. You can also save your template so the same chart features load for other instruments.
The website also mentions copy trading and a community where you can share ideas. These features don't appear to have been added yet, but the platform is new so it is still building a community.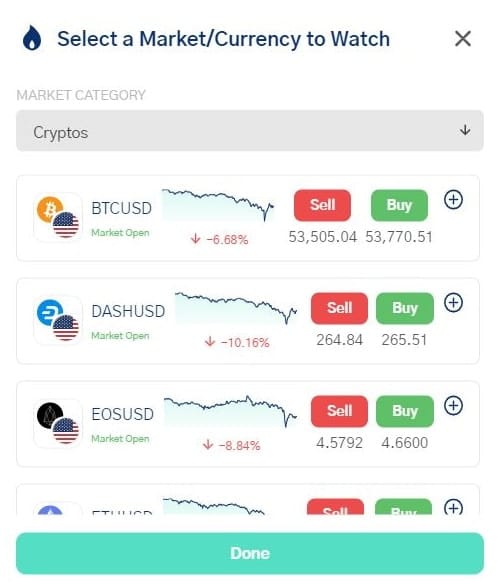 You can add and delete instruments to the watchlist to keep track of your favorite markets. The intraday chart and quote for each instrument is displayed on the watchlist for easy reference. The watchlist automatically splits markets between currencies and other types of assets. You can also set up price alerts on the watchlist, so you know when a market reaches an important level.
There is also a general news page that includes news related to all the most popular markets.
Trade entry
Entering a trade is a very straightforward process. Each instrument has a buy and sell button which will take you to an order entry page. You can either trade at the current market price or enter an order at a limit price.
A helpful feature is the ability to enter either a trade value or the number of units you want to trade. Once the price and size are entered, the trade's exposure, margin and leverage are all indicated too.
You can also set enter a stop loss and take profit order when you place the trade, rather than having to enter separate orders. Stop-loss orders are essential to limit risk and take profit orders mean you don't need to watch the market all the time.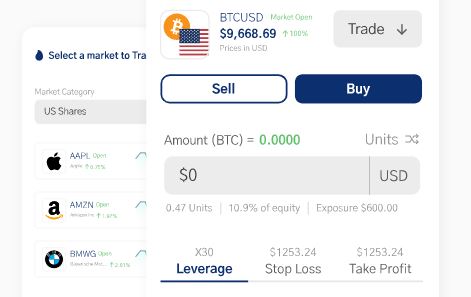 Finally, if you click on the portfolio icon on the menu, you will see all your positions along with the P&L and entry price for each position. This is where you track your performance and you can keep an eye on all your positions on one page.
Banking
TradeOr accepts deposits in Bitcoin only. This means you will first need to buy Bitcoin on a cryptocurrency exchange and then send it from your wallet to your TradeOr account. This means deposits only take a few minutes.
Another advantage of funding your account with Bitcoin is that there are no bank fees associated with deposits and withdrawls.
Once your account is funded, you can trade any type of instrument. All the instruments apart from forex crosses are priced in your base currency, which keeps things simple. The minimum amount you need to start trading is $10.
Withdrawals are also transacted in Bitcoin, from your TradeOr account to your Bitcoin wallet. To make a withdrawal, you enter the USD value you want to withdraw, and the wallet address you want to send it to. Again, this is a faster process than it would be with a regular bank account.
User Experience
The TradeOr website is very clean and easy to navigate. The site was definitely developed with beginner traders in mind. This means there are very few menus, tabs, and other features that tend to add clutter.
The different features are accessed by clicking on the icons on the left of the screen. The website also scales well to mobile devices like smartphones and tablets, so a mobile app isn't necessary. The full list of features are available on the mobile site.
The overall experience is very intuitive, and you can find your way around easily without the need to refer to explainer videos (though there are a few) or documentation. The simplicity of the site means pages load very quickly.
The signup process is very quick, and because Bitcoin transactions take a few minutes, you can start trading in minutes. The signup process really just has three steps. First, you enter your name and email address and select a password. You will then receive an email to verify your email address. Once that's done, you will need to enter a few more details including your address and the base currency you want your account to reflect.
Before you can fund your account you will also need to enable two-factor authentication (2FA).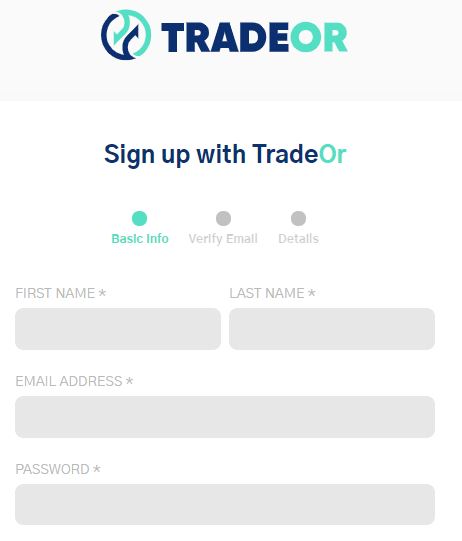 Customer Service
The trading week runs from 7:00 PM EST on Sunday until 4:00 PM EST on Friday. However, the trading times for some markets are limited to regular trading times, while other markets trade 24/5 in the case of forex and 24/7 in the case of cryptocurrencies.
Customer support can be reached on the website via an email form and a chat window. The support team is available 24/7 and responds quickly.
Unfortunately, phone support is not available and there is no phone number on the website.
TradeOr's website and customer service is only available in English at this stage.
Conclusion
This platform is ideal for anyone wanting to diversify from cryptocurrencies into other markets. In a matter of minutes, you can transfer value from Bitcoin to most of the active global markets. This opens your trading up to opportunities across all major markets.
It's also ideal for beginners wanting to learn about trading on a range of markets. The uncluttered, intuitive layout means you don't have to refer to documentation or a knowledge base to find your way around. You can instead focus on your strategy and making decisions.
TradeOr might not cover enough markets and have enough features for professional traders. It also doesn't support external platforms like MetaTrader. But that doesn't mean it can't be used for active trading.
The site works equally well on all devices, so you'll be able to access it wherever you are.
TraderOr- Excellent CFD Broker with Low Fees 

FAQs
What types of accounts are there?
Can US residents trade on the platform?
Can positions be transferred from another broker?
Is this platform suitable for investing or trading?
Can you sell short on this platform?
Which is the best market to begin trading?