How To Buy Bitcoin BSC – Token Presale Guide 2023
Disclosure
Everything you read on our site is provided by expert writers who have many years of experience in the financial markets and have written for other top financial publications. Every piece of information here is fact-checked. We sometimes use affiliate links in our content, when clicking on those we might receive a commission – at no extra cost to you. By using this website you agree to our terms and conditions and privacy policy.
The Bitcoin BSC project has launched its pre-sale token, $BTCBSC, which allows investors to purchase a low-cost alternative to Bitcoin for just $0.99. Binance Smart Chain will make transactions scalable, secure, and environmentally friendly.
Additionally, token holders can earn passive income by simply staking their tokens, providing them with passive income.
Over $55,000 has been raised so far for the project. Keep reading our how to buy Bitcoin BSC guide to learn more about the project. Due to its strong use case and carefully designed tokenomics, the pre-sale will likely see a significant boost.
How To Buy Bitcoin BSC – Simple Steps
The following briefly describes how to buy BTCBSC during the presale.
Step 1: Connect a crypto wallet to DEX
Click the 'Connect Wallet' button before signing up on bitcoinbsc.io.
Step 2: Swap BTS or ETH for BTCBSC
You should hold BNB, ETH, or USDT in your wallet to convert them to BTCBSC. BNB is needed to cover gas and can be staked.
Step 3: Transfer tokens to secure wallet
Upon the presale's conclusion, you can claim your tokens and store them in your secure wallet.
Your Money is at Risk.
What Is Bitcoin BSC?
Bitcoin Smart Chain is an innovative combination of Bitcoin's historic value and BNB's cutting-edge Smart Chain technology. Token-based rewards are redefined with its eco-friendly staking system, which encourages long-term holding and community participation.
The BNB Smart Chain (BSC) ecosystem introduces Bitcoin BSC as a BEP-20 token to reimagine Bitcoin through a strong staking emphasis. By staking their tokens, holders of $BTCBSC can generate passive income instead of mining. In accordance with Bitcoin's original block reward mechanism, the rewards are proportional to the number of tokens staked.
Stay up-to-date on Bitcoin BSC developments by joining its Telegram group.
$BTCBSC Tokenomics
A total of 21 million Bitcoins will be available in Bitcoin BSC. Aside from that, Bitcoin BSC also uses the Bitcoin scarcity model to increase its price after the presale.
During the BTCBSC presale, 6.125 million tokens will be sold, representing 29% of BTCBSC's total supply. The remaining 14,455,000 tokens, 69% of the total supply, will be released on a 120-year unblocking schedule for staking rewards.
Users can stake on Bitcoin BSC at any time, but withdrawals are frozen for 7 days after deposit.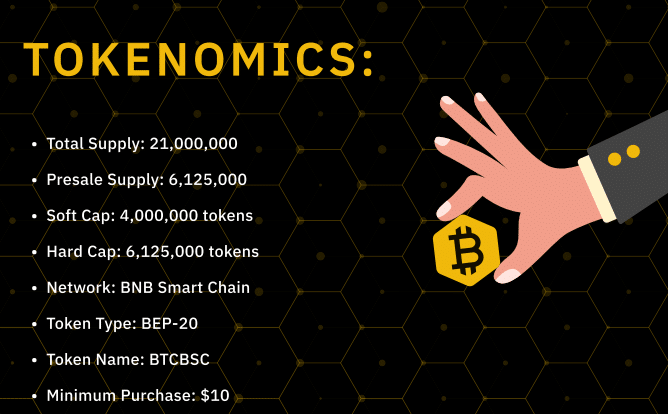 A token's staking pool will determine its Annual Percentage Yield (APY). With an increase in number, the APY decreases. Nevertheless, as more tokens are staked in the staking pool, the available supply will decrease, potentially causing prices to rise.
The Bitcoin BSC tokenomics and participation mechanisms were carefully designed to encourage long-term ownership and engagement while safeguarding the token against some negative effects of new cryptocurrency projects.
| | | | | |
| --- | --- | --- | --- | --- |
| Pre-sale stages: | Token Price | Amount of Tokens | Percentage of the presale | Total Price |
| 1 | $0.99 | 4,000,000 | 65% | $3,960.00 |
| Additional over supply | $0.99 | 2,125,000 | 35% | $2.103.750 |
What is the point of Bitcoin BSC?
The Bitcoin BSC addresses several issues concerning Bitcoin and other alternatives.
It is important to note that Bitcoin offers a relatively poor user experience since most new cryptocurrency users are not familiar with Bitcoin's native wallet. Nonetheless, Bitcoin BSC is built on the Binance Smart Chain, enabling investors to purchase and manage their holdings through wallets compatible with the Ethereum Virtual Machine, such as MetaMask and Trust Wallet.
Binance Smart Chain also encompasses more than that due to its scalability and extensive ecosystem. Compared to networks like Ethereum, it has significant potential utility with over 600 dApps.
Bitcoin BSC can also be operated within a short timeframe since Binance Smart Chain is much faster than Ethereum.
Bitcoin BSC Staking
The main asset of Bitcoin BSC is staking, which allows it to outperform other Bitcoin clones.
The recent performance of BTC2.0 (not to be confused with BTC20) hasn't been impressive, but BTC20 has shown consistent stability. As a result of staking, the cryptocurrency is more stable when listed on exchanges because it provides assurance.
Bitcoin BSC adopts a similar approach to BTC20 to ensure stable price growth.
Although they have similarities, Bitcoin BSC and BTC20 differ in many ways. On the BNB Smart Chain, BTCBSC is a BEP-20 token, while BTC20 follows the Ethereum ERC-20 standard.
In the DeFi space, stakes have become increasingly popular, but setbacks in certain ecosystems, such as Terra Luna, have dampened enthusiasm. Despite this, transparent stakes with clearly defined yields remain popular.

Using the BNB Smart Chain, the $BTCBSC token offers a 120-year yield spread aligned with Bitcoin's block schedule. Moreover, nearly 69% of all BTCBSC tokens are reserved for rewards.
The number of tokens that holders stake and the duration of their commitment determine the profits they earn. In addition to stabilizing the token's price, this feature generates returns for users.
Before Bitcoin BSC was listed on PancakeSwap, Bitcoin BSC staking was already active.
Bitcoin BSC's dedicated dashboard provides information on the number of stakers.
PoS vs PoW
The topic is complex, but in essence, it refers to the way major cryptos secure their networks and validate blocks of transactions.
The Proof-of-Work (PoW) mechanism of Bitcoin requires miners to participate by using enormous amounts of computer power to confirm new blocks.
By contrast, PoS uses much less computer power to secure the network and only requires participants to stake (lock) the native cryptocurrency, making it faster, more scalable, and more eco-friendly.
Pros and Cons of Buying Bitcoin BSC in 2023
The advantages and disadvantages of a project are quite important in every crypto project. To help you make an informed decision before investing in Bitcoin BSC this year, we have listed some pros and cons you should consider.
Pros
Pre-sale will sell 100% of current tradable supplies
Throughout the presale, the price remains at $0.99
Gas fees are extremely low compared to Ethereum
Purchase with BNB, ETH, or Card (Through Wert)
Cons
The presale only offers 6.125M tokens, with 71.19% of the total volume vesting over 120 years. But that's exactly the point
BNB may be unfamiliar to some people
Your Money is at Risk.
Bitcoin BSC Roadmap
BSC is inspired primarily by Bitcoin, a peer-to-peer cryptocurrency that revolutionized the world beyond finance. This project aims to build upon this vision by incorporating a Stake-to-Earn system that can give passive income rewards. To redefine how Bitcoin is perceived, Bitcoin BSC emphasizes what works while utilizing an environmental-friendly, low-fee model that benefits all token holders.
Stage 1:
The company is conducting a fair presale so everyone can purchase $BTCBSC at an affordable price. A total of 29% of the total token supply will be sold for $0.99. Funds raised will be used for marketing and development.
Stage 2:
Staking is at the heart of the Bitcoin BSC project. Pre-sale smart contracts will be deployed and activated during the presale phase to encourage early stake participation.
Stage 3:
BNB Smart Chain will launch $BTCBSC on a decentralized exchange (DEX). To ensure full decentralization and community ownership, 2% of the supply will be locked into a DEX liquidity pool.
Stage 4:
Staking $BTCBSC tokens allows holders to earn daily payouts on their assets. Bitcoin's block schedule corresponds to rewards accumulating every 10 minutes. Approximately 120 years will pass before the maximum supply is reached.
How To Buy Bitcoin BSC in 2023 – Complete Guide
Bitcoin is no longer available for less than $1, but BTCBSC offers investors a project that mirrors Bitcoin but has several distinct advantages.
During Bitcoin BSC's presale, you can purchase and stake Bitcoin BSC easily by following these six steps:
Step 1: Buy ETH from eToro

In case you are wondering where to purchase Ethereum or BNB, eToro is a good place to start. Fees on the crypto trading app are low, and the trading process is seamless.  If you haven't yet registered for eToro, you can do so via the website or the mobile app. It is remarkably easy to register with eToro.
The eToro mobile app or your eToro account can be used to purchase ETH. Using the search box on the website, search for Ethereum.
Choose a payment method and enter the amount of ETH you wish to purchase. Other altcoins, as well as bank transfers credit and debit cards, are also accepted.
Within a few minutes, you will see the purchased ETH in your eToro account.
Step 2: Move ETH to MetaMask or Trustwallet
It is now time to move ETH to the eToro Money Wallet. You can send coins from your eToro account to external wallets, such as MetaMask, by using the eToro money crypto wallet.
ETH can be transferred to your money wallet via the portfolio page on eToro. Within minutes of clicking "Transfer to eToro Money Wallet," eToro will approve the transaction.
How to create a MetaMask wallet
There are two ways to use MetaMask – as a web browser extension or as a mobile app. An extension for your browser can be used to set up MetaMask. The process of installing MetaMask on iOS or Android is very similar.
Installing MetaMask on your preferred browser requires you first to visit the MetaMask website.
Click the 'Create a Wallet' button in the app and enter a password. Passwords should be complex and alphanumeric.
There will be 12 words following the recovery phrase, which must be written down and stored safely. MetaMask allows remote access to your wallet if you enter these 12 words. MetaMask recovery phrases should never be shared.
You must set up an Ethereum connection; MetaMask only supports Ethereum transactions by default. Engaging with Sonik Coin does not require MetaMask to change its network.
Step 3: Connect your wallet to the Ethereum network
The next step is to transfer Ethereum from eToro Money to MetaMask. When you open the eToro Money app on your mobile device, you can select ETH from the available cryptocurrencies on the wallet balance screen.
ETH can be sent to MetaMask by providing the wallet address and ETH amount. MetaMask wallet app also allows investors to scan QR codes to enter the address automatically. Click the "Send" button after entering the address and entering the SMS verification code.
When eToro confirms the transaction, you will receive the cryptocurrency within minutes or hours.
Step 4: Add BTCBSC to your wallet
You must now import $BTCBSC into your MetaMask wallet. Join the Bitcoin BSC Telegram group to verify the $BTSBSC contract address. Click on 'Import Tokens' to submit the $BTSBSC contract address.
Step 5: Connect your wallet to a decentralized exchange
Select 'Connect Wallet' on the bitcoinbsc.io website. Once you have selected MetaMask and entered your password unlock, you can connect to the presale website.
You can now purchase BNB, ETH, or USDT on the new website. When selecting BNB, you will be asked to switch chains, which you must do.
Step 6: Swap ETH for BTCBSC
To purchase BTCBSC, enter the amount you desire. The minimum purchase amount is $10 or 10 BTCBSC.
Then, you can either select 'Buy Now' or 'Buy and stake' once you have entered the amount and allowed for gas (which should not exceed $3).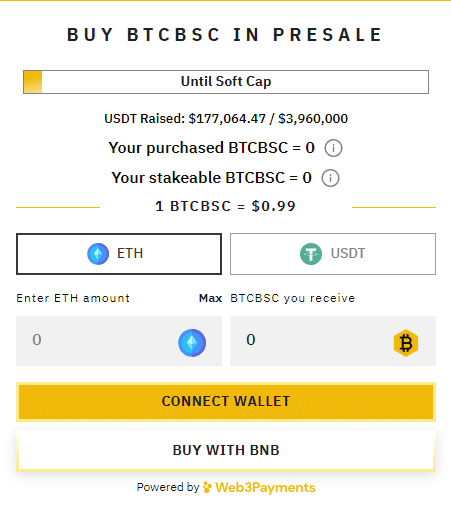 Choosing the first option will prevent the tokens from being added to the staking pool immediately, and they will be held until the presale ends, at which point they can be claimed, staked, or sold on exchanges.
Bitcoin BSC Price Prediction 2023
Bitcoin BSC has already attracted considerable attention within the crypto community despite just being launched. BEP-20 tokens are gaining popularity among investors and analysts because of their staking rewards, scalability, and efficiency.
Presale activity has been promising, indicating positive prospects for the future.
Following the lead of another Bitcoin clone, BTC20, which sold out its presale within two weeks before surging from $1 to nearly $6 after it was listed on exchanges. Many investors held onto the project for an extended period of time due to its attractive staking rewards. The price of BTC20 then stabilized around $2.
As a Bitcoin clone, Bitcoin BSC could follow a similar trajectory as a result of its substantial staking rewards and overall potential. By the end of the year, we expect the price of Uniswap to reach $4, although it may climb even higher after the initial wave of purchases.
If you want to learn more about our Bitcoin BSC price prediction read here.
How To Buy Bitcoin BSC in  2023 – Conclusion
Despite this, besides staking, BTCBSC has other advantages over Bitcoin and the bigger-cap clones, such as Bitcoin Cash or Bitcoin SV. Because it uses a proof-of-stake protocol, $BTCBSC runs on a cheaper and more efficient blockchain that is much more scalable.
In comparison with Bitcoin and Ethereum, BTCBSC's transaction fees are less than $0.10, compared to approximately $10 on Bitcoin and approximately $20 on Ethereum.
Bitcoin BSC is expected to raise $3,960,000 during its presale, which looks promising.
Certain sectors in the cryptocurrency world, such as Bitcoin clones, offer significant returns despite stagnation. As a result, both long-term investors and those seeking significant returns may benefit from investing in BTCBSC at an early stage.
Your Money is at Risk.
FAQs
Where is Bitcoin BSC listed?
Can I buy Bitcoin BSC on Coinbase?
What is the easiest way to buy Bitcoin BSC?