How To Buy AiDoge- Best Presale To Buy 2023
Disclosure
Everything you read on our site is provided by expert writers who have many years of experience in the financial markets and have written for other top financial publications. Every piece of information here is fact-checked. We sometimes use affiliate links in our content, when clicking on those we might receive a commission – at no extra cost to you. By using this website you agree to our terms and conditions and privacy policy.
AiDoge is the next big meme project that was launched in March 2023. The platform allows meme enthusiasts to create, share and sell meme creations with the help of AI technology. A total of 1 trillion $Ai tokens will be given away to people via a massive presale over 20 stages. Check out this article to learn how to invest in the next crypto token to explode in 2023. Here's how to buy AiDoge.
How To Buy AiDoge- Step-by-Step Guide
The AiDoge ($Ai) presale event is considered to be one of the best DeFi projects to invest in right now. Take part in the $Ai presale and be part of a groundbreaking new blockchain venture that promises to shake up the industry. When you purchase $Ai tokens during the presale, you'll be joining the growing ecosystem of AiDoge.
Step 1: Open the presale website
To access the presale, you will need to visit the official AiDoge website. It is common for scammers to create fake websites to steal funds from investors. Make sure that the website you are using is the official AiDoge website which can be found at: https://aidoge.com/en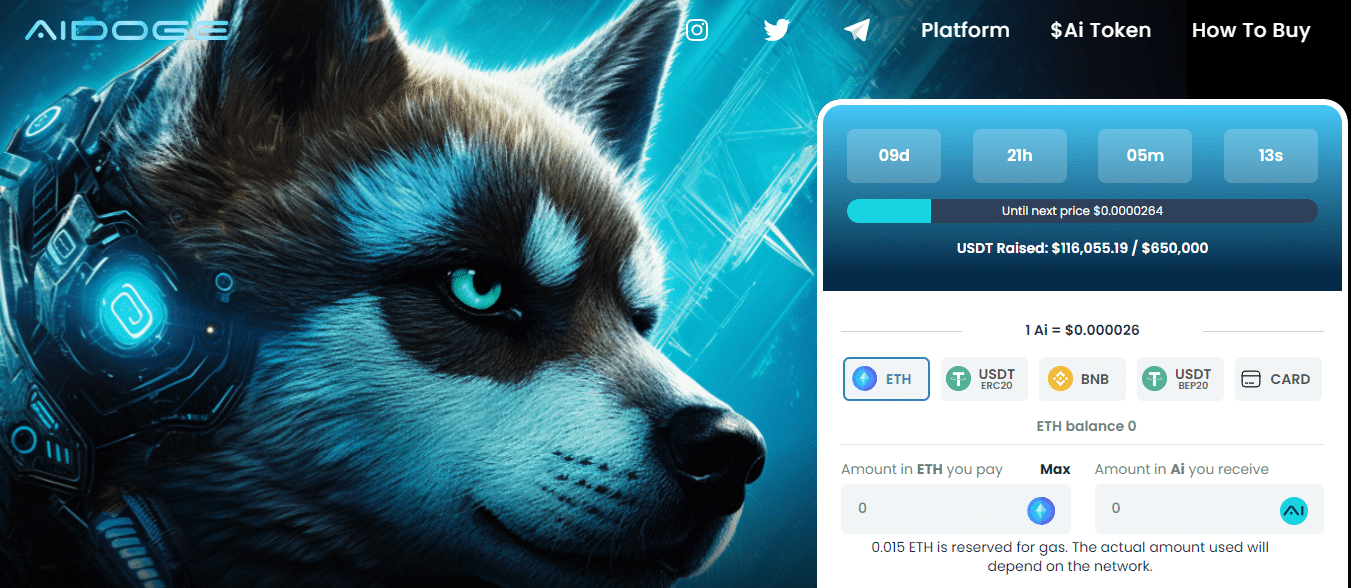 Your Money is at Risk.
Step 2: Choose payment method
AiDoge can be purchased using a variety of methods, including ETH, USDT (ERC20), BNB, USDT (BEP20), or your card if you wish.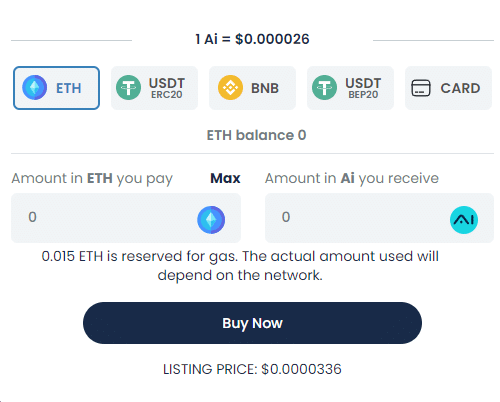 A presale is going on right now, so take advantage of it. As a reference, 1 ETH equals 70929384 $Ai (LISTING PRICE: $0.0000336). It is important to note that 0.015 ETH is reserved for gas. Depending on the network, the actual amount used will vary.
How to Buy AiDoge With Crypto
From the AiDoge presale website, select the crypto payment method you prefer to use to purchase AiDoge. BNB, ETH, and USDT are among these.
However, you must have the equivalent crypto amount of $Ai you wish to buy in your Bitcoin wallet to complete the purchase.
Currently, 1 Ai is worth $0.000026. Therefore, to buy 100000 AI tokens, you would need 2.6 USDT, BNB, or ETH.
You will also be charged 0.015 ETH when you purchase $Ai with ETH or USDT. However, if you're buying the token with BNB, you'll have to pay 0.0025 BNB in additional gas.
In other words, you must have enough money in your wallet to cover the purchase and gas fee.
Buy Crypto From eToro
Due to its user-friendly interface and low trading fees, eToro is the best exchange in 2023 for buying Bitcoin, altcoins, and meme coins.
You can easily create an eToro account on the website or mobile app if you do not already have one. Creating an account is simple and only requires a few clicks.
In case you already have an account with eToro, you can log in to your account on the website of eToro, where you can buy the selected crypto on the presale website for AiDoge. Furthermore, using the website search feature, you can find USDT, ETH, or BNB tickers.
If you want to buy crypto, enter the amount and pay with your credit/debit card, bank transfer, cryptocurrency, or e-wallet (PayPal, Skrill, Neteller).
You won't take long to receive the crypto in your eToro wallet.
67% of retail investor accounts lose money when trading CFDs with this provider.
How to Buy AiDoge With Card
$Ai can be purchased in USD, as stated earlier. However, to complete the transaction, you'll need a credit card or debit card, similar to the crypto model.
To do this, you must navigate to the presale site and select the "Card" payment option.
You must connect your card to the chosen non-custodial wallet before entering your card details on the AiDoge website.
Four major credit cards are supported by the AiDoge platform: Mastercard, Visa, American Express, and Discover.
Step 3: Connect crypto wallet to presale
Once you're ready to proceed, connect your crypto wallet. Initially, Metamask will be displayed, but other wallets will also be available.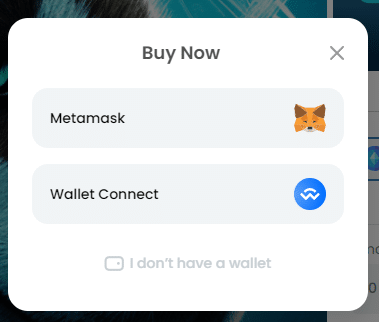 Step 4: Swap tokens for $Ai
The next step is to swap your crypto for $Ai tokens in the wallet once the external wallet has been connected to the presale.
Your transaction breakdown will include how many AI tokens you will receive and how much gas you will pay.
Follow the site's prompts to complete the transaction.
Step 5: Claim $Ai after presale
Keep an eye on the presale in order to find out when you will receive your $Ai, and just wait to see how far they go.
Your Money is at Risk.
What Is AiDoge?
Engaging, up-to-date content is essential in the world of social media, and memes play a big role. The crypto ecosystem is volatile not only in terms of price but also in terms of development. Therefore, it is essential that users receive updates as quickly as possible, and that requires rapid, high-quality content generation in the form of topical memes.
AiDoge is a world-first platform for AI-integrated memes. It works like a meme generator, but AI powers it and takes place within the blockchain ecosystem.
Through text-based prompts, users can generate quirky and relatable memes using a platform powered by artificial intelligence. The format is similar to mid-journey and ChatGPT but with more relevant information.
By entering their text prompts, the user instructs the bot about the style and type of meme they desire. As a result, AiDoge will generate relevant, engaging memes.
The $Ai tokens are unique cryptos serving this ecosystem. By purchasing tokens, you will gain access to a wide range of utilities, including purchasing credits for generating memes, staking, voting on popular memes, and creating popular content.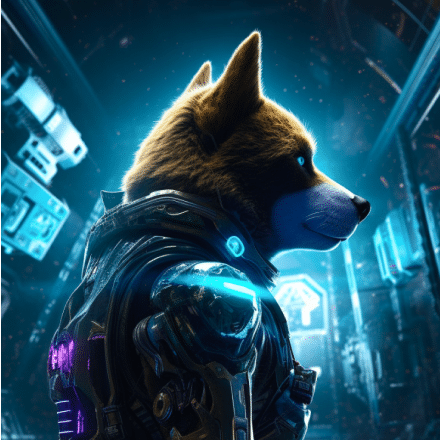 The initial exchange offering price for $Ai tokens is $0.00003360, making the total number of tokens 1 trillion. On launch, the market cap will be $29.8 million.
As part of the AiDoge presale, users will have the opportunity to purchase the entire token supply in 20 stages. A hard cap of $14.9 million has been set on this project, and a listing date will be announced around Q3 of 2023.
Currently, there are few Ai-driven cryptos available. Consequently, when one emerges that combines AI with meme generation, we must take notice. Click on the button below to learn more about this project and to invest.

Your Money is at Risk.
AiDoge Key Features
Let's take a closer look at some of the key features you will receive if you purchase $Ai in the ongoing presale:
✔️ AI-driven meme generator
AiDoge's meme-generation mechanism is its most prominent feature of the DeFi app. Through AI technology, the platform offers users the ability to generate memes. AI is the backbone of the meme-creation process, which makes it easy for users to create relevant memes.
AiDoge provides users with text-based prompts for creating memes. Using these commands, they create AI memes that suit their needs.
AiDoge's unique meme coin creation model is revolutionizing crypto, while AI images are becoming more prevalent in 2023. All types of investors can benefit from the AI meme generation ecosystem due to its combination of fun and rewards.
✔️ Text-based prompts
For meme generation, users provide text prompts, which AI processes to generate relevant memes. The creation of memes becomes accessible to everyone as a result.
✔️ Ai tokens
The platform is supported by $Ai crypto tokens. These tokens can be used by creators to purchase meme creation credits, buy memes, vote for their favorite memes and receive rewards for their talent. $Ai is amongst the most promising DeFi coins to consider adding to your portfolio in 2023.
✔️ Crypto focus
Crypto enthusiasts will benefit from the platform's ability to adapt to the ever-changing crypto world. Using cryptos to support the platform will also contribute towards wider adoption of cryptocurrencies, encouraging social media users to participate in a revolutionary crypto project.
✔️ Ai Token for Purchasing Credits
$Ai is the utility token that powers the AiDoge ecosystem. Tokens can be used to purchase credits and access all platform features on the network.
Users need credits to use the AiDoge platform and create memes, so without the token, investors can't access the platform.
In addition to serving as a means of exchange, the token will also serve as a means of trading or exchanging memes directly between investors.
Pre-sales for the AI token are underway; each token sells for $0.0.000026. The token's value is anticipated to increase as more projects are developed, and community members find new uses.
✔️ Community-Driven Approach
AiDoge's decentralized user network is another exciting feature. The meme-generating platform lets investors exchange their minted NFT-backed meme coins, like many NFT projects.
Meme coins generated by the platform can be viewed, shared, and purchased on the platform. You can filter and sort all the memes available on the Public Wall, which is the location for meme exchange. By doing this, community members will be able to easily search for memes based on criteria such as their popularity, when they were created, or what themes they were based on.
There will be a greater number of use cases for the AiDoge platform, and its Ai token as the project gains more popularity within the crypto ecosystem. Also, members can rank one another on the public wall by voting on their memes. Voting increases meme visibility, and memes with the highest scores earn $Ai tokens.
✔️ $Ai Staking
Investors can stake their Ai tokens while buying credits and making digital payments within the AiDoge ecosystem.
Using $Ai tokens, users gain access to exclusive platform features and daily credit rewards.
Additionally, staking can benefit the platform itself and the daily credit rewards for investors. The reason is that staking enhances the platform's long-term engagement and stability.
Currently, no information is available regarding the anticipated annual percentage yield (APY) or periodic rewards. However, the developers will notify the perfect community as time goes on about what to expect.
✔️ Innovation
To revolutionize meme creation and cultivate a thriving crypto community, AiDoge offers a solution combining advanced artificial intelligence, user-friendly prompts, and a token-based credit system.
With its unique combination of advanced artificial intelligence, a user-friendly interface, and a sustainable token-based credit system, the AiDoge platform offers a unique solution for meme generation. Furthermore, with up-to-date crypto news and trends, it provides contextually relevant memes for the crypto community.
Your Money is at Risk.
$Ai Tokenomics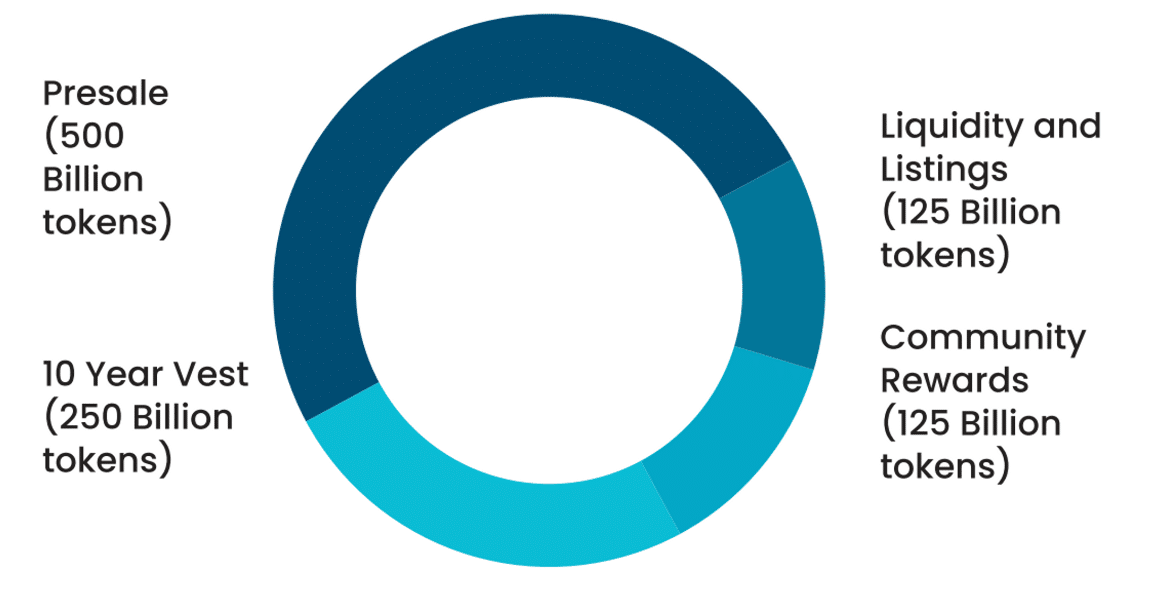 AiDoge's $Ai token is an integral part of the ecosystem, performing the following functions:
Purchasing credits: Tokens can be exchanged for credits, which can then be spent on generating memes.
Staking: In exchange for staking AI tokens, users will receive daily credits and other benefits.
Voting and rewards: AI tokens are used as incentives to create popular content and vote on memes.
Company Vesting (25%): With a vesting period of 10 years, 25% of the Ai tokens will be allocated to the company. This long-term vesting schedule demonstrates team members' commitment to the project.
Liquidity and Listings (12.5%): Liquidity provision and exchange listings will be the focus of 12.5% of the Ai tokens. By allocating the Ai token this way, the token remains liquid and easily tradable.
Community Rewards Programs (12.5%): Community rewards programs will be funded with 12.5% of the Ai tokens. As part of these programs, users are encouraged to create memes, vote on them, stake AI tokens, and contribute to the platform's growth.
A total of 1 trillion tokens will be available, with an initial exchange offering price of $0.00003360, resulting in a market cap of $29,800,000. 50% of the Ai tokens are expected to be sold during the presale event. A portion of the proceeds will go toward the project's marketing and development.
| | | | | | |
| --- | --- | --- | --- | --- | --- |
| Phase | Token Price | Percentage | Amount of Tokens | USD Value | Price Step |
| Stage 1 Price | $0.00002600 | 5.0% | 25,000,000,000 | $650,000 | |
| Stage 2 Price | $0.00002640 | 5.0% | 25,000,000,000 | $660,000 | $0.00000040 |
| Stage 3 Price | $0.00002680 | 5.0% | 25,000,000,000 | $670,000 | $0.00000040 |
| Stage 4 Price | $0.00002720 | 5.0% | 25,000,000,000 | $680,000 | $0.00000040 |
| Stage 5 Price | $0.00002760 | 5.0% | 25,000,000,000 | $690,000 | $0.00000040 |
| Stage 6 Price | $0.00002800 | 5.0% | 25,000,000,000 | $700,000 | $0.00000040 |
| Stage 7 Price | $0.00002840 | 5.0% | 25,000,000,000 | $710,000 | $0.00000040 |
| Stage 8 Price | $0.00002880 | 5.0% | 25,000,000,000 | $720,000 | $0.00000040 |
| Stage 9 Price | $0.00002920 | 5.0% | 25,000,000,000 | $730,000 | $0.00000040 |
| Stage 10 Price | $0.00002960 | 5.0% | 25,000,000,000 | $740,000 | $0.00000040 |
| Stage 11 Price | $0.00003000 | 5.0% | 25,000,000,000 | $750,000 | $0.00000040 |
| Stage 12 Price | $0.00003040 | 5.0% | 25,000,000,000 | $760,000 | $0.00000040 |
| Stage 13 Price | $0.00003080 | 5.0% | 25,000,000,000 | $770,000 | $0.00000040 |
| Stage 14 Price | $0.00003120 | 5.0% | 25,000,000,000 | $780,000 | $0.00000040 |
| Stage 15 Price | $0.00003160 | 5.0% | 25,000,000,000 | $790,000 | $0.00000040 |
| Stage 16 Price | $0.00003200 | 5.0% | 25,000,000,000 | $800,000 | $0.00000040 |
| Stage 17 Price | $0.00003240 | 5.0% | 25,000,000,000 | $810,000 | $0.00000040 |
| Stage 18 Price | $0.00003280 | 5.0% | 25,000,000,000 | $820,000 | $0.00000040 |
| Stage 19 Price | $0.00003320 | 5.0% | 25,000,000,000 | $830,000 | $0.00000040 |
| Stage 20 Price | $0.00003360 | 5.0% | 25,000,000,000 | $840,000 | $0.00000040 |
| Totals | | 100% | 500,000,000,000 | $14,900,000 | |
AiDoge Roadmap
A roadmap outlines the project's goals and objectives, its timeline to achieve them, and its strategy for getting there, which is essential for any crypto project. The plan provides investors, stakeholders, and the community with a clear and concise guide, which can create a sense of trust and confidence in the project.
To let its investors know what to expect from AiDoge ($Ai), the company has developed a roadmap:
Q1 2023
Ai Market research
Whitepaper
Branding
Tokenomics
Q2 2023
Site Build
Presale and Token Development
Certik Token Contract Audit
Presale ICO Launch
Platform Development Begins
Q3 2023
A staking platform will allow people to build up their credit balance in advance of the big launch
Launch of platform signups
Platform Development
Cex & Dex listings
Q4 2023
Platform for AI-generated memes based on credit
Based on Ai stake balances, credits are given to users
Community-created memes are displayed on the public wall
Q1 2024
The ability for users to vote on memes published by others
Paid out for the best memes voted on by the community
Pros and Cons of Investing in AiDoge
Pros
With the Advanced AI meme generator, users can create memes based on the text prompts they provide, making meme creation more accessible to all.
Staking gives users access to premium features and daily rewards, as well as voting rights.
Through a public wall and voting system, top meme artists will get more exposure and rewards.
Multiple layers of protection for staked tokens.
Buying with crypto and fiat is possible.
Cons
Prior to accessing premium features, users will need to stake tokens.
To access premium features, users must lock their tokens, which means they cannot use them for other purposes or trade them.
For some users, the platform may not be worth putting time and tokens into.
Your Money is at Risk.
AiDoge Price Prediction 2023
Meme generators powered by artificial intelligence are tools that generate memes using artificial intelligence algorithms and then store them on the blockchain. These generators are designed to create a decentralized platform for sharing memes without being censored or controlled by any central authority. Through token economics, users can also earn rewards for creating and sharing memes as part of some of these projects. Using blockchain technology and artificial intelligence together can create innovative applications.
AI-powered meme generators in the blockchain space would be profitable if they generated high-quality memes, were popular, and were in high demand. It is possible for the platform to generate revenue by advertising, sponsoring, or even selling memes generated by the platform if it generates high-quality memes users are interested in. As a result, any new entrant should provide something unique and valuable to attract users and generate revenue in the blockchain space, which is highly competitive.

As a result, AI-powered generators could be the next leap in investing, and AiDoge's success will be determined by the adoption and support it receives from the community. AiDoge, however, has everything it needs to succeed.
AI technology ensures that memes are relevant and creative, text-based prompts make it simple, and the crypto that powers this ecosystem – $Ai – offers a number of advantages.
Tokens will be used to purchase credits necessary to generate memes. According to the whitepaper, $Ai tokens will be used for staking, where users will receive daily credits and other rewards. In addition to voting for the memes that will be displayed on the public wall, $Ai tokens will be used to create a community within the project.
Users can use Public Wall to share and create popular memes within a blockchain social media ecosystem. Rewards will be offered for high-quality memes. Each month, the high scorers will be rewarded with $AI tokens.
Currently, AiDoge is running a 20-staged presale with 1 trillion tokens allocated to it. As of now, the initial exchange price is set at $0.00003360, and the market cap is set at $29.8. Given that the market cap is half what AiDoge has set for its presale, investors have the opportunity to make at least two times their investment.
Your Money is at Risk.
Where will AiDoge be listed after the presale?
The $Ai token presale has just begun since the AiDoge project is relatively new. A decentralized exchange (DEX) like Uniswap or a centralized exchange (CEX) like eToro will list the coin, as with other token presale projects.
It will, however, be after the ICO closes that the exchange listing will occur.
The announcement of presale tokens going on CEXs is one of the things that excite investors because it attracts more investors and affects the coin's value.
Post-announcement demand usually increases the token's price. Generally, the more investment in a project, the more sustainable it is for investors. This is because there will be a substantial return on investment (ROI) in the long run.
It is unknown which crypto exchanges will list $Ai's token after the presale ends, and the company does not provide any information about its partnerships.
The token presale will move through different stages, so we expect to receive more information. However, before the presale price increases, investors can still purchase $Ai at a discounted price.
Will $Ai explode after the presale?
As many factors can influence meme coins' price movements after their presales, it isn't easy to generalize about their price behavior. Due to the hype and anticipation surrounding a project, in some cases, the price of a meme coin may increase after the presale.
If investors sell off their tokens or if there is no interest in the project, the price of a meme coin may also decrease after the presale. Therefore, it is important to conduct thorough research before investing in a meme coin since its success is determined by a variety of factors, including its utility, community, and overall market conditions.
As the price of crypto tokens typically increases through presale stages and then explodes once listed on exchanges, crypto presales offer investors immense value potential.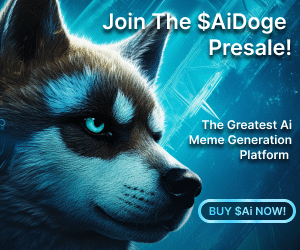 To attract early investors, tokens are usually discounted during a presale. Therefore, investors who purchase meme coins and other promising tokens such as AiDoge early provide capital for the project. Then, when the project explodes, they will enjoy massive gains.
Therefore, investing in the right crypto presale is the key to becoming a successful investor. Furthermore, previous crypto presales have been highly successful.
Some new crypto projects have raised millions of dollars through presales, such as Tamadoge, Dash 2 Trade, and IMPT.io.
Eventually, the tokens' demand increased, and their value skyrocketed when the projects were listed on popular exchanges. That could be the case with AiDoge.
How To Buy AiDoge 2023– Conclusion
In conclusion, AiDoge is an exciting new crypto project that is set to revolutionize the use of artificial intelligence and memes. Unlike many crypto projects that use artificial intelligence for trading and bots, $Ai combines blockchain technology  and AI for users.
In this guide, we have highlighted where to buy AiDoge and provided detailed instructions for buying the presale token with crypto and fiat. Additionally, we've discussed the project's core features to help you decide if it's worth investing in.
While its presale progresses, $Ai promises to attract bullish investors due to its exciting use cases and potential. The presale is currently at stage 1. Over $5,600 was raised within a few hours of the presale starting.
It may be the right time to add some $Ai tokens to your meme coin portfolio at such a low price. The token's price will increase during stage 2 of the presale and in subsequent stages. So as soon as the exchange is up and running, you'll be able to earn massive rewards.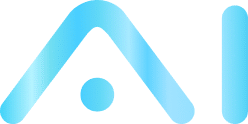 Your Money is at Risk.
FAQs
Is AiDoge better than Dogecoin?
Where to buy $Ai right now?
Are meme coins a good investment?