How to Set Up a Crypto Wallet – Easy Step-By-Step Tutorial
Disclosure
Everything you read on our site is provided by expert writers who have many years of experience in the financial markets and have written for other top financial publications. Every piece of information here is fact-checked. We sometimes use affiliate links in our content, when clicking on those we might receive a commission – at no extra cost to you. By using this website you agree to our terms and conditions and privacy policy.
Cryptocurrency wallets are crucial to the survival of investors. They allow investors to securely store their crypto assets while also allowing them to send and receive such assets. 
However, before setting up a crypto wallet, users need to know the factors to consider when choosing a wallet. There are security features users should consider before opening a crypto wallet.
In this article, we will discuss what a crypto wallet is, how to set up a crypto wallet, and the factors to consider when choosing a crypto wallet. 
What is a Crypto Wallet?
The question most investors ask is how to set up a crypto wallet. However, before you learn how to do that, you need to know what crypto wallets are and the various classes.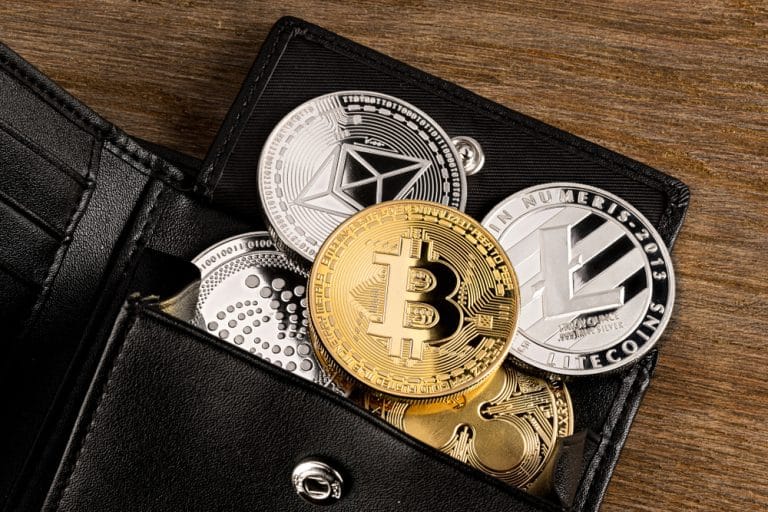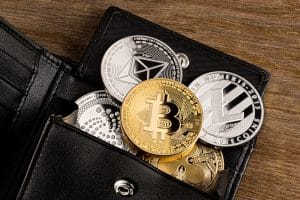 Defining the Concept of a Crypto Wallet and its Purpose.
A crypto wallet is an application or software that functions as a wallet for your cryptocurrencies. They use the internet to access the blockchain network that holds the cryptocurrency you are using. 
Cryptocurrency wallets store the passkeys you use to sign for your crypto transactions while also providing you with an interface that enables you to access your cryptocurrencies. 
Cryptocurrency wallets are important because of the security they provide. The popular phrase "Not your keys, not your coins" shows how important crypto wallets are. 
Wallets allow you to be in full control of your crypto assets and make them more secure compared to leaving them on crypto exchanges. Crypto exchanges have lost billions of dollars over the last decade via hacks, with customers losing their funds in the process. Thus, the reason why your crypto assets are safer when stored on wallets. 
Explaining the Difference Between Hot Wallets and Cold Wallets.
Learning how to set up a crypto wallet would not be possible if you don't know the types of wallets and what makes each of them unique. 
Hot wallets are also called software wallets because they are applications for desktop and mobile devices. Hot wallets are installed on a desktop, laptop or mobile device and allow users to access their cryptocurrencies, initiate transactions, display balance, and much more. 
Some hot wallets have extra functions, including integration with a cryptocurrency exchange. Some examples of software wallets include Trust Wallet, Exodus, and MetaMask. 
Cold wallets are usually called hardware wallets. They are physical devices, usually shaped like a flash drive, that allow users to store their cryptocurrencies offline. The coins stored in cold wallets remain offline until you plug the wallet into a computer and connect to the internet. 
With most cold wallets, you can sign crypto transactions automatically without inserting your private key. This feature helps circumvent a hacker's ability to log your keypresses or record your screen to steal your data. 
There are various types of cold storage wallets, including Ledger, Trezor, KeepKey, and SafePal. These devices can store thousands of cryptocurrencies and are sold between $50-$250, depending on the brand you choose. Before you learn how to set up a cold crypto wallet, keep in mind that they don't have an active connection until they are plugged in. 
 Your capital is at risk.
Types of Crypto Wallets
Now that we know what cryptocurrency wallets are, we can proceed to discuss the types of crypto wallets and their characteristics. 
Discussing Software Wallets (Online, Desktop, Mobile) and Their Characteristics.
The primary difference between software and cold wallets is whether they are connected to the internet at all times. Software wallets are connected to the internet, while cold wallets are kept offline until users decide to carry out transactions. 
Software wallets are applications that can be accessed via computer and mobile devices. Since they are connected to the internet, the funds in software wallets are more accessible and also easier for hackers to gain access to. 
There are practically three categories of software wallets;
Web-based wallets

Mobile wallets

Desktop wallets
With software wallets, the private keys are stored and encrypted within the app and are kept online. Software wallets are riskier to use since computer networks have hidden vulnerabilities that hackers can target or malware programs to exploit the system. 
Although you can learn how to set up a wallet for crypto, keeping a large amount of cryptocurrencies in a hot wallet is a poor security practice. However, you can mitigate the security risk by using a software wallet with stronger encryption. 
There are various types of software wallets available, and most of them are free to download. 
Some software wallets are designed to work in partnership with a particular mobile web application or a particular blockchain. For instance, MetaMask is mostly used to buy and store tokens on the Ethereum blockchain, while Trust Wallet mostly focuses on tokens on the Binance Smart Chain. The best DeFi apps also allow you to purchase a wide range of DeFi tokens. 
Here are some characteristics of software wallets;
Software wallets are connected to the internet.

They are vulnerable to hacking and online attacks.

They are easy and convenient to use.

Ideal for traders who make quick online payments. 
Exploring Hardware Wallets and Their Advantages in Terms of Security.
Hardware wallets are the second class of cryptocurrency wallets. Learning how to set up a crypto wallet also involves knowing the security benefits of hardware wallets. 
Hardware wallets are external accessories(usually a USB or Bluetooth device). The wallets store a user's keys. Unlike software wallets, hardware wallets are offline and only come online when the user wants to sign transactions. 
In terms of security, hardware wallets are currently the best out there. Here are some security advantages of hardware wallets.
Private keys remain unexposed: With hardware wallets, your private keys remain safe. Your password is never entered on a computer or mobile device. This implies that your private key is never exposed to the possible security risk of hackers stealing it.

No vulnerability to computer viruses: Most of the viruses developed by hackers only affect software wallets, and they don't compromise hardware wallets.

Transaction verification on the hardware wallet: To verify transactions, you only need your encrypted hardware wallet. Transactions cannot proceed without access to the hardware device. 
Keep in mind that in terms of security, hardware wallets are far superior to their software counterparts. However, as a user, you should note that the security of your assets is their responsibility. Hence, you should be very careful not to share your private keys with anyone or put them in a public forum online. 
Introducing Paper Wallets as an Option for Long-term Storage.
Paper wallets are not as discussed as the other two. A paper wallet contains private and public keys printed on it. Some also have a scannable barcode created by an app.
With paper wallets, investors can store and access their crypto assets offline. Paper wallets are also safer than keeping funds in a hot wallet, as hackers would have no way of accessing the keys. 
Paper wallets can be considered as long-term storage options, especially for crypto whales who have no intention of touching their crypto assets for years. The paper wallet can be stored in bank safes or other secure locations for safety. 
While paper wallets provide long-term storage options, they are susceptible to environmental factors. The paper can degrade with time, damaged, or be misplaced. If that happens, it is practically impossible to gain access to your crypto assets. Using the best NFT apps allows you to invest only in quality projects.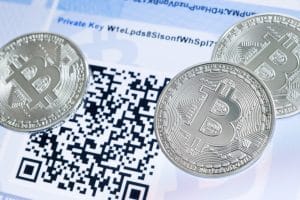 Factors to Consider
Before you download a software wallet or buy a hardware wallet and learn how to set up a private crypto wallet, you need to consider some factors. These factors will help you make better decisions when choosing a crypto wallet. 
Evaluating Security Features, Such as Private Key Control and Encryption.
Security of your assets is very important in the crypto space. Investors have lost billions of dollars over the years to scams, hacks, exploits, and rug pulls. 
If the primary focus of a wallet isn't security, that is a very important reason not to use it. The whole point of having a crypto wallet is to store your private keys securely and keep your cryptocurrency assets safe. 
There are certain security features to look out for when deciding on the crypto wallet to use. 
When using a software wallet, you are prompted to set a password for your account. However, a password alone isn't good enough when it comes to securing your crypto assets. 
For this reason, it is best to look out for extra security features such as two-factor authentication (2FA) and multi-signature. The addition of these features might make it more complicated to use, but they would ensure that no one can access your crypto wallet or make transactions using your password. 
Also, ensure that the software wallet you are choosing has a backup feature (usually a seed phrase). You can use the seed phrase to recover your funds if you forget your login details or experience certain technical errors. 
When choosing a hardware wallet, ensure you go for one that has a CC EAL5+ certified Secure Element chip. This is the type of chip used in credit cards and passwords, and they help keep your private keys safe. Furthermore, a hardware wallet with a recovery phrase is also essential as it would give you access to your private keys and crypto assets if you break or lose your hardware device.
 Your capital is at risk.
Considering User-Friendliness and Ease of Use.
The crypto market is quite complex and comprises beginners, intermediates and pros. For this reason, there are services that target the various classes within the ecosystem.
When choosing a crypto wallet, user-friendliness should be one of the first things to consider. If you are a beginner and want to use a software wallet, you can go for the likes of Exodus or Trust Wallet, as they have a simple user interface and are easy to navigate. Also, consider wallets that allow you to buy and invest in altcoins. 
Hardware wallets also have varying degrees of user-friendliness. Ensure that you properly check your options and choose the one that best suits your needs. With the popularity of Shiba Inu and Dogecoin, also consider wallets that would allow you to buy and store the best meme coins. Do a little research before you learn how to set up a crypto wallet. 
Reviewing Compatibility With Different Cryptocurrencies.
According to data obtained from Coinmarketcap, there are currently more than 1.8 million cryptocurrencies. That is a lot of coins to store. 
When choosing a crypto wallet, kindly review its compatibility with different cryptocurrencies. Hardware wallets such as Ledger and Trezor support more than 5,000 coins and tokens at the moment. This makes it easier to store various coins and tokens across numerous blockchains. 
Some wallets, like MetaMask, were developed for use with specific blockchain ecosystems (Ethereum and Cosmos). For this reason, you also need to consider a wallet's blockchain support when choosing a crypto wallet. You can also choose a wallet that allows you to buy cryptos directly from their interface. 
Security Considerations
As stated earlier, security is one of the first things to consider when choosing a crypto wallet. Before you purchase and learn how to set up a crypto wallet, look at the security features of various wallets and choose the one that suits you the best.
Here are some security features you should look out for. 
Understanding the Importance of Strong Passwords and Two-factor Authentication (2FA)
The first line of defence against hackers and other bad actors is your passwords. Blockchain transactions are almost irreversible, which means that a compromised account could see heavy losses. 
For this reason, it is important to use strong password security. Here are some tips for setting your crypto wallet password;  
Unique passwords: Use unique and different passwords for your various crypto-related accounts. This will prevent a single breach from affecting all your crypto assets. 

Password managers: You can use a reputable password manager to help you generate and store complex passwords. Hence, eliminating the need to remember your password all the time. 
Another strong security feature you should consider deploying is Two-factor authentication (2FA). 2FA adds an extra layer of security as it requires a second form of authentication aside from passwords to grant you access to your wallet. 
Some crypto investors go a step further to use multifactor authentication (MFA). MFA combines a wide range of authentication techniques, including biometrics. This adds an extra layer of security and makes it almost impossible for anyone aside from you to gain access to your wallet. 
Explaining the Role of Recovery Phrases and their Safekeeping
Recovery phrases are very important to the security of your assets. They are there to protect your wallet and crypto assets from loss or theft. Recovery phrases are safer than traditional wallets and are useful in virtually all self-custodial crypto wallets.
The chief benefit of recovery phrases – resilience to cracking and theft – could also become a major problem for users who lose them.
Keep in mind that recovery phrases are non-recoverable. This means that if you lose your recovery phrase and can't gain access to your wallet, chances are high that you have lost that wallet and all the funds within it. 
Recovery seed becomes very important if you lose access to your crypto wallet or password manager. To ensure that you don't lose your recovery phrase, follow these steps;
Write it down: Write down the recovery seed on paper and store it in a secure location. You can store it in a safe or a safety deposit box. 

Offline storage: Alternatively, you can store the encrypted digital copy of your recovery phrase on a flash drive or external hard drive. This keeps the recovery seed safe and off the internet. 
Always ensure that your recovery seed is safe. Back up the recovery seed in multiple locations to ensure you can quickly regain access whenever the desire comes up. 
Highlighting the Risks of Phishing and Malware Attacks
Phishing has been a major concern for cryptocurrency investors over the past decade. Investors have lost millions of dollars to this type of attack. Phishing is a type of crypto scam that involves tricking users into giving up their private keys and other personal data.
The attacker achieves this by masquerading as a legitimate company or person to gain the victim's trust. After obtaining the necessary information, the attacker proceeds to steal the victim's crypto funds. 
Many of the phishing attacks target wallets and cryptocurrency exchanges. Here are some phishing attacks you need to be aware of; Spear phishing attack, Whaling attack, Clone phishing attack, Pharming attack, SMS phishing attack, DNS hijacking, Fake browser extensions, and Ice phishing: Involves sending a victim a fake transaction that looks to be from a legitimate entity. The attacker will require the victim to sign the transaction with their private key. 
Another popular threat to crypto wallets is crypto malware. It is malware that encrypts data on a victim's computer or mobile device and demands a ransom to restore it. 
This type of attack targets both individuals and institutions. Unlike other exploits, crypto-malware is not hidden or subtle. Rather, it displays messages on the device screen, calling the victim's attention. The attackers leverage shock and fear to pressure victims into paying the ransom. 
Phishing and crypto malware are genuine threats you can face as a crypto investor using a wallet. Even if you learn how to set up a private crypto wallet, you need to ensure that you follow strict security protocols to avoid falling victim to such attacks. 
 Your capital is at risk.
Online Wallet
Now that we have learned what a crypto wallet is, the various types, and how to select the ones to use, we will move to the next stage. We will discuss how to set up a crypto wallet, starting with online wallets. 
Registering for an Online Wallet Service
The first step to setting up your online wallet service is choosing the wallet you wish to use. There are various online crypto wallet services currently available to investors. Some of these wallets include Exodus, Electrum, Coinbase Wallet, Mycelium, and Guarda. 
Choosing an online wallet should not be something you take lightly, as they don't provide as much security as hardware wallets. Hence, ensure you choose a wallet that has excellent security features.
Some self-custodial online wallets like Exodus don't require users to register or provide any personal details before they can start to use them. The 12-word secret recovery phrase is enough to get you started.
However, for some wallets like Coinbase Wallet, you will need to provide personal information such as your name, email address, and state of residence. Gaining access to the best crypto presales also allows you to invest in quality projects. 
Creating a New Wallet and Generating a Password
After registering with an online web service, you will proceed to create a new wallet. Once you create a new wallet, you will receive a 12 or 24-word recovery seed phrase.
After creating a new wallet, you will need a security method to gain access to your wallet. The security method can be a password or facial recognition. When using a password, ensure that it is strong and unique. Furthermore, avoid using the same password on two wallets for security reasons. 
Storing Recovery Information Securely
You should prioritize securing your recovery phrase. The 12 or 24-word phrase would allow you to gain access to your wallet if you ever forget your password or lose your device. 
Write down the recovery information on a piece of paper and store it in a safety deposit box or a safe. Failure to store your recovery information securely means you risk losing your wallet permanently if you forget your password or lose your device. 
After all these processes, you can transfer tokens from another wallet or from cryptocurrency exchanges to your new wallet. 
Mobile Wallet
Mobile wallets have become very popular in the cryptocurrency space. They make it easier for users to purchase, sell, transfer, and receive cryptocurrencies. However, with the large number of cryptocurrencies currently available, finding a mobile wallet that supports all coins and tokens is almost impossible. Let us learn how to set up a crypto wallet. 
Downloading a Reputable Mobile Wallet App.
The first step to using a mobile wallet is choosing the wallet to use. As stated several times, security is crucial when dealing with cryptocurrencies. Cryptocurrency exchanges have collapsed over the years, resulting in billions of dollars in loss for users. 
For this reason, it is best to download a mobile wallet app from a reputable company. We have numerous mobile wallet apps currently available to crypto investors. Some of these apps include Trust Wallet, MetaMask, Coinomi, Arbra, MyEtherWallet, Edge, Rainbow, Crypterium, and many more. 
Do your own research (DYOR) on various mobile wallets before making your final decision. Look at the security features offered by each of the wallets and check whether they are custodial or non-custodial wallets. Non-custodial wallets are preferable because users have complete control over their private keys. 
Creating a New Wallet on the App and Setting a PIN.
After downloading the mobile wallet app, proceed to create a new wallet. The process is fairly simple and straightforward. You don't need to provide any personal information for most mobile wallet apps. 
If a wallet supports multiple blockchains, you must select the ones you wish to use. You can always go back and expand your options. The app generates a random 12 or 24-word seed phrase. Afterward, you will need to set your transaction pin. This is the PIN you will use to approve transactions on your wallet. 
Backing Up and Securing the Wallet Using Recovery Phrases.
The wallet needs to be secure at all times, and this is possible if you back up your recovery phrases. Similar to online wallets, your recovery phrases are essential in case you forget your password or lose your device. 
Write down the recovery information on a piece of paper and store it in a safety deposit box or a safe. This ensures the safety of your wallet. 
Purchasing and Setting Up a Hardware Wallet
Hardware wallets are perhaps the most important wallet type in the crypto space. They provide a higher level of security compared to the other wallet types. Let us look at how to set up a cold crypto wallet.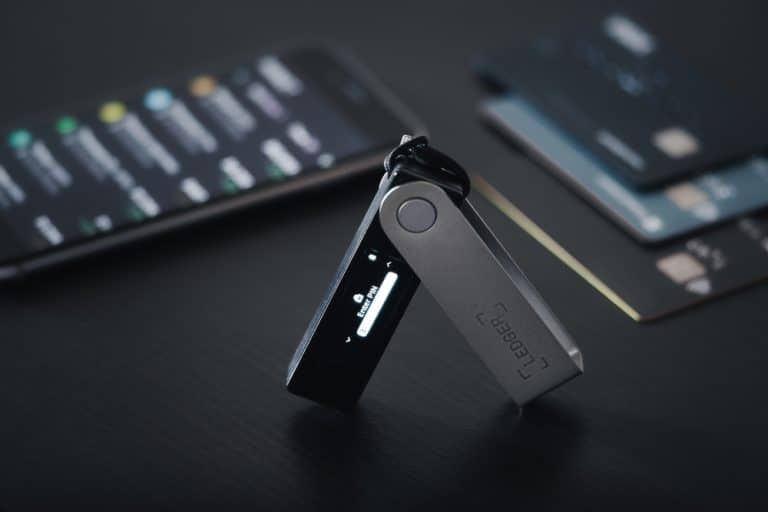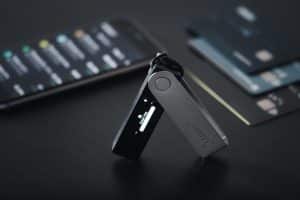 Choosing a Reliable Hardware Wallet Brand.
The first step to using a hardware wallet is to purchase one from a reputable brand. Trezor and Ledger are the two leading hardware wallet manufacturers in the crypto space. 
However, we also have other reputable brands such as KeepKey, NGRAVE, SafePal, and CoolWallet. You can research the various companies that manufacture hardware wallets before making your final decision. 
The prices of hardware wallets differ, depending on the manufacturer and their properties. You can get a hardware wallet between $50 and $250. 
Unboxing the Hardware wallet and Connecting it to a Computer.
After purchasing the hardware wallet, ensure that it is sealed and tamper-free when you receive it. Visit the official website of the hardware wallet manufacturer to download and install the wallet software on your computer or mobile device. 
You will see the hardware wallet, cable, keychain, and recovery cards when you are unboxing your package. The items in the box differ depending on the hardware wallet you choose to use.
Connect the hardware wallet to your computer or mobile device using the USB cable provided or using the appropriate wireless connection (Bluetooth or NFC). 
Initiating the Setup Process and Generating Seed Phrases.
After connecting the wallet to your computer or mobile device, proceed with the on-screen instructions to complete the hardware wallet set-up. 
The process involves selecting a pin or passphrase, adding a backup recovery seed phrase and writing down the recovery phrases in the cards provided. The recovery phrase is important for restoring access to crypto assets if your wallet is damaged or lost. 
Transferring and Managing Cryptocurrencies
Transferring and managing cryptocurrencies is the next step after learning how to set up a cold crypto wallet. Here, we will look at how to send and receive cryptocurrencies and how to manage multiple tokens and coins from the wallet interface. The best day trading apps allow you to only gain access to quality crypto projects. 
Sending and Receiving Cryptocurrencies Using a Hardware Wallet.
Go to the wallet software on your mobile phone or computer to conduct transactions. Locate the option to receive or deposit cryptocurrencies. Choose the cryptocurrency you wish to send or receive, copy the public address, or scan the QR code. 
If you are sending the funds from your other wallet, use the public address or the QR code to receive the funds in your hardware wallet within minutes. 
To send cryptocurrencies from your hardware wallet, select the option to send transfer funds. Insert the recipient's address and the amount you wish to send. Confirm the transaction details before approving the transaction. 
To approve the transaction, you will enter your PIN or passphrase. The hardware wallet signs the transaction using its private keys, and the funds are transferred to the recipient. 
You can easily track the progress of your transactions via blockchain explorers or within the wallet software. 
Managing Multiple Coins and Tokens on the Wallet Interface.
Hardware wallets have made it easier for users to manage multiple coins and tokens via their wallet interface. Ledger and Trezor have the Ledger Live and Suite App, respectively, that allow users to manage numerous cryptocurrencies, including the best DeFi coins. 
For each crypto asset you wish to manage, you need to install its app on your hardware wallet. The app allows your hardware wallet to use its private keys for the blockchain network of the coin or token. Thus, allowing you to receive and send the coin or token. 
You can install multiple apps for various coins and tokens on your hardware wallet. They can operate fully isolated from each other due to the operating system on your hardware wallet. This feature ensures that each app manages the crypto assets it is made for. 
Updating Firmware and Wallet Software for Security Enhancements.
Hardware wallet manufacturers release regular firmware and software updates to ensure top-notch security. The updates are done to keep the firmware and wallet software updated and ensure that you can use the latest features and newly added cryptocurrencies.
Furthermore, firmware updates also boost the security of your crypto assets as they address previously encountered bugs. The best paper trading apps ensure that you only trade excellent cryptocurrencies. 
How to Set Up a Crypto Wallet – eToro Complete Guide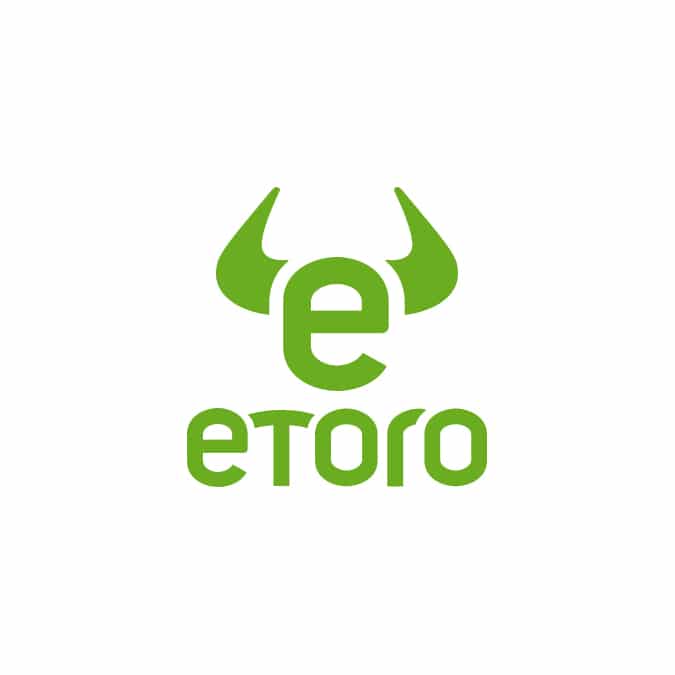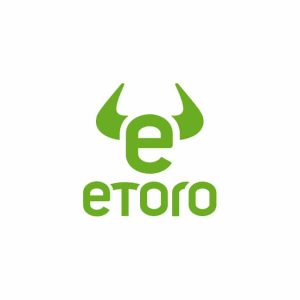 After reading so far, you understand why security is vital for crypto investors.  It is recommended only to store your coins in regulated crypto wallets. eToro is one of the most reputable trading platforms in the world and is also regulated. Here are the simple steps to signing up on eToro:
Step 1: Visit eToro "Join Now" page.
Step 2: Choose a username, enter your email address, and set a password. 
Step 3: Read the Terms and Conditions, Privacy Policy, and Cookie Policy, and tick the boxes.
Step 4: Click on the 'Create Account' button.
Step 5: Check your email inbox and verify your email address.
How to Set Up a Crypto Wallet – Conclusion
This article has discussed how to set up a crypto wallet. However, while you now know how to use software and hardware wallets, don't forget the importance of security when choosing a wallet. Ensure that you only use wallets provided by reputable entities to ensure the safety of your funds. 
 Your capital is at risk.
FAQs
How do I create a crypto wallet?
How much does it cost to open a crypto wallet?
What is the easiest crypto wallet to set up?
Where should I create a crypto wallet?