Best App For Options Trading in 2023
Disclosure
Everything you read on our site is provided by expert writers who have many years of experience in the financial markets and have written for other top financial publications. Every piece of information here is fact-checked. We sometimes use affiliate links in our content, when clicking on those we might receive a commission – at no extra cost to you. By using this website you agree to our terms and conditions and privacy policy.
Options are derivatives. In other words, their value is based on the underlying asset's value. In addition to generating income, they are very popular financial instruments since traders utilize them to hedge their risk or add and increase the amount of assets to their portfolio to gain more exposure to certain assets due to their versatility.
Is it your intention to get started in the options trading market? This article summarizes the best apps for trading options to decide which platform is right for you.
Best App For Options Trading 2023 (list)
Best App For Options Trading 2023 – Reviewed
1. Webull – Overall Best Option Trading App For 2023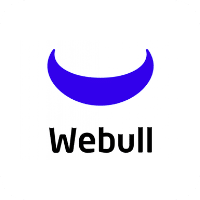 The Webull platform has quickly gained a reputation as one of the leading platforms for trading stocks, options, and futures to the benefit of over 11 million users worldwide.
Aside from offering an easy-to-use trading platform, Webull also offers a wide range of services and support options that ensure that most investors will be satisfied with the services. It should be noted that neither a commission per trade nor a fee per contract are being charged to customers. There are also no additional assignment fees to note, which is very significant.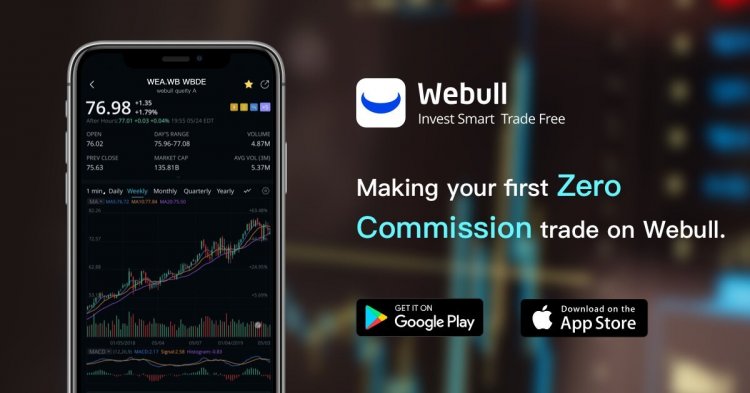 The Webull trading platform also offers several technical indicators and drawing tools for experienced traders looking for more advanced features. More than 50 different indicators, such as moving averages, momentum studies, and other indicators commonly used in trading, can be selected. It is also possible to customize every indicator to allow you to select the time window at which you would like them to be calculated to take advantage of this feature.
In addition to placing options trades, tracking your portfolio over time, and practicing with a paper trading account, Webull's mobile app is full-featured. The best thing about Webull is that there is no minimum account requirement, so you can easily create a Webull account without spending a single cent.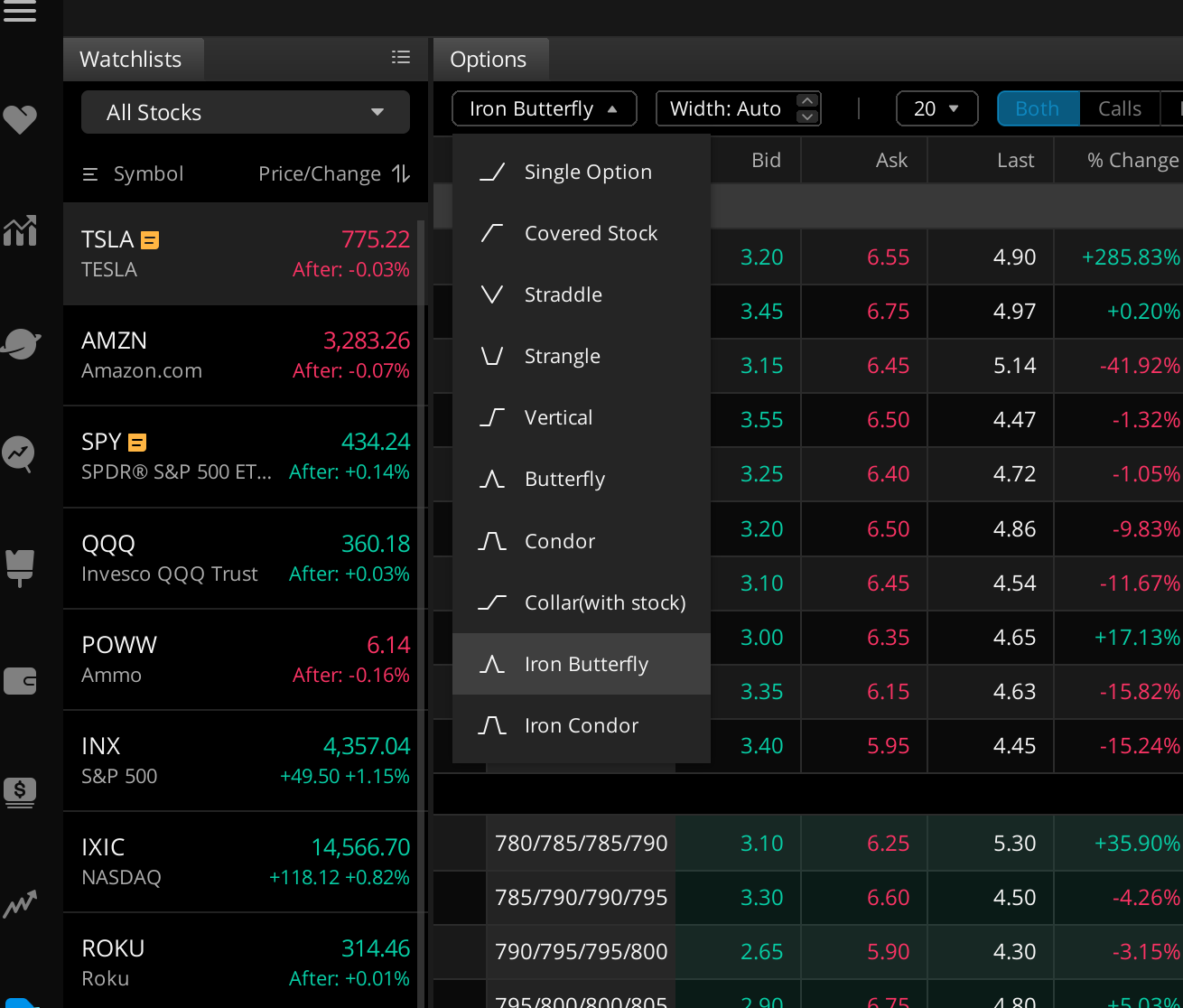 Pros:
Trading without commissions

High-detail technical charts

Customizable indicators

All types of alerts and watchlists can be set up

Social media and analyst recommendations included
Cons:
Payment can only be made by bank transfer or wire transfer

Education resources are limited
Your capital is at risk.
2. Interactive Brokers – Suitable App For Trading Options Designed For Professional Traders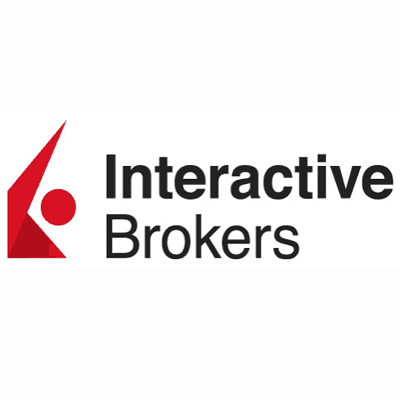 As the most advanced and professional platform available in the industry today, the Interactive Brokers platform has been specifically designed to suit the needs of advanced and professional options traders. 
 Trading options on stocks from around the world, indices, currencies, and commodities is possible through Interactive Brokers. In addition to offering access to global markets rather than just the US, Interactive Brokers stands out from the competition by providing access to global markets.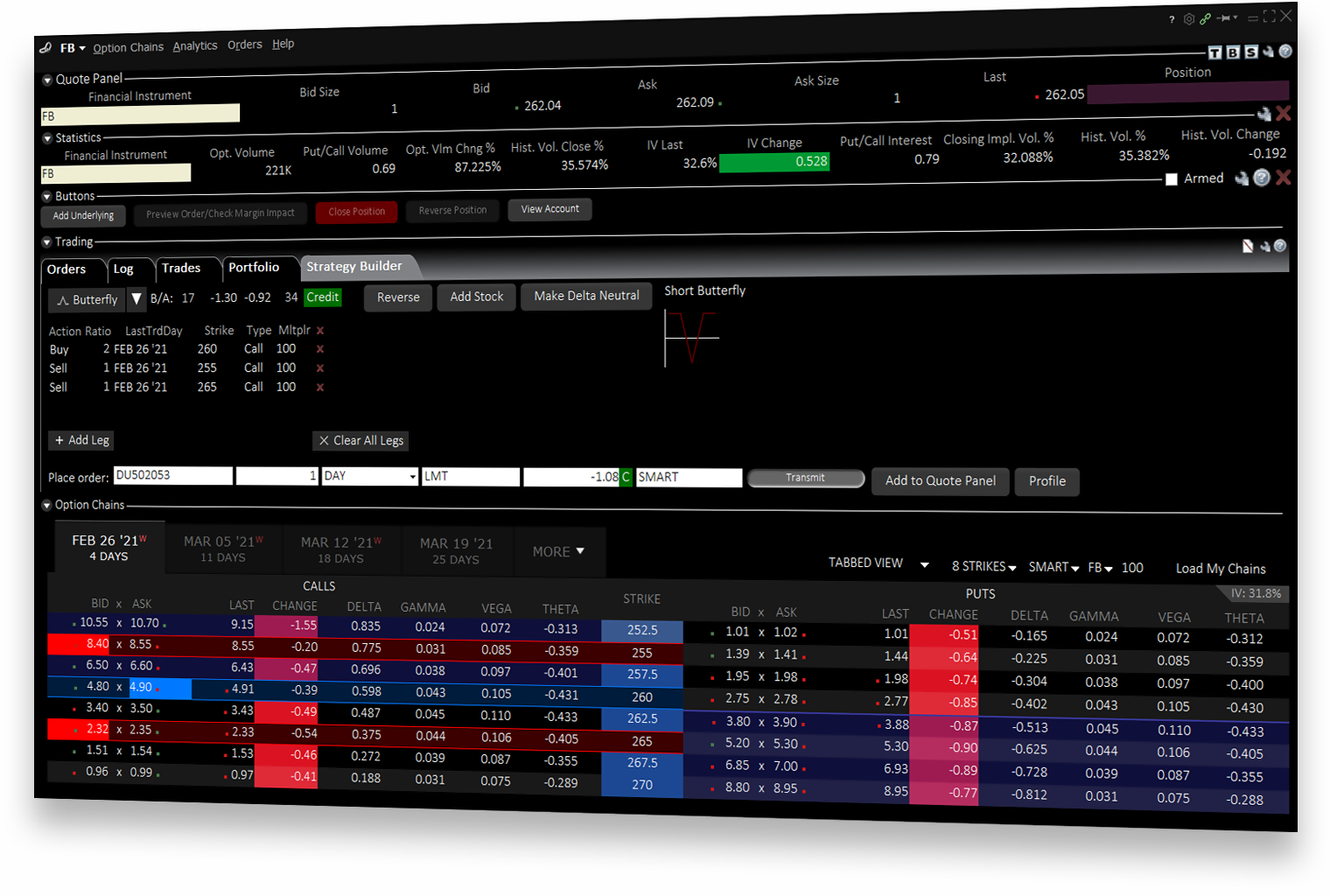 Professional traders can use a Trader Workstation, which includes various professional trading tools, including algorithmic options trades, a Strategy Lab, a Volatility Lab, a Strategy Builder, a Portfolio Builder, and backtesting support. In contrast, the Interactive Brokers platform does not allow you to trade on leverage without making a very large margin deposit. 
Pros:
Gaining access to international markets 

The widest range of tools available to help you trade options 

There are many options available for trading 

Mobile app with robust functionality 
Cons:
Margin requirements of $110,000 are required for leveraged trading

Suitable only for experienced users 
Your capital is at risk.
3. Robinhood – Best Option Trading Platform For Stocks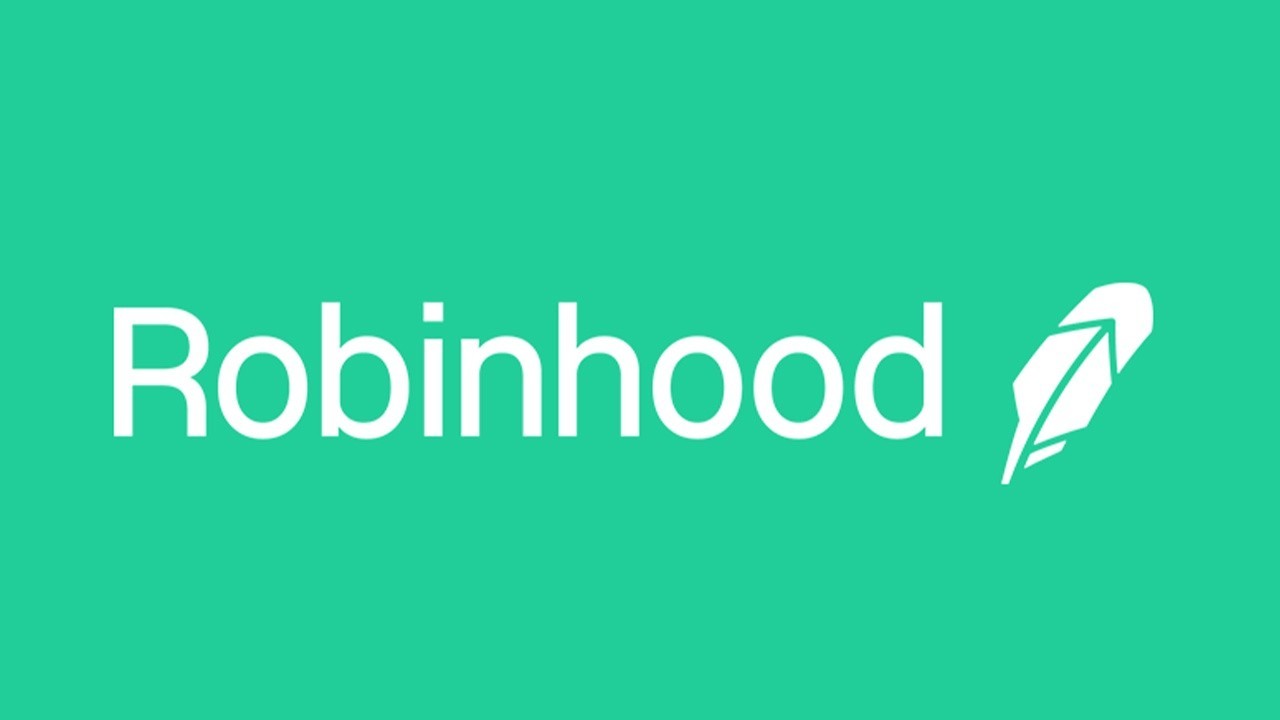 Robinhood takes third place on the list, an option-trading platform known for being the place to go when trading stock options in the US.
It lets you speculate on a US-listed stock's future value. With Robinhood, stock options can also be traded for much lower capital outlays, and the most you could lose on a trade would be the premium itself. As part of the Robinhood platform, you will also have the option of going short via a put contract if you choose to go the stock options route.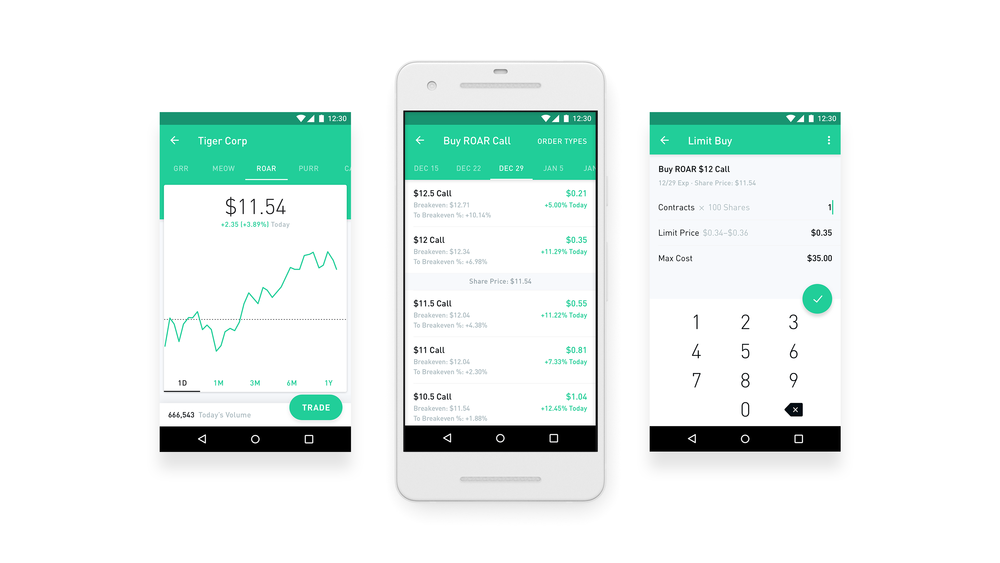 Besides stocks, there are many different options that you can trade with Robinhood, including indices, commodities, and forex trading pairs. It is important to note that these are actual options contracts, not CFDs.
The Robinhood platform does not charge commissions on options purchases or sales, commissions per contract, or assignment fees as part of its service. If you are interested in accessing more in-depth market research, you will have a Robinhood Gold account, but you do not have to be a Robinhood Gold member to access the options market.
Mobile apps for Apple and Android devices are available for free from Robinhood.
Pros:
Traders have access to a wide variety of assets
Commission-free
There is no minimum balance requirement
Only a few dollars are needed to trade
Regulated heavily
Cons:
Deposits cannot be made with debit cards or e-wallets
Traders with experience could find it too basic
Your capital is at risk.
4. IG – Superb Option Trading App With A Comprehensive Asset Offering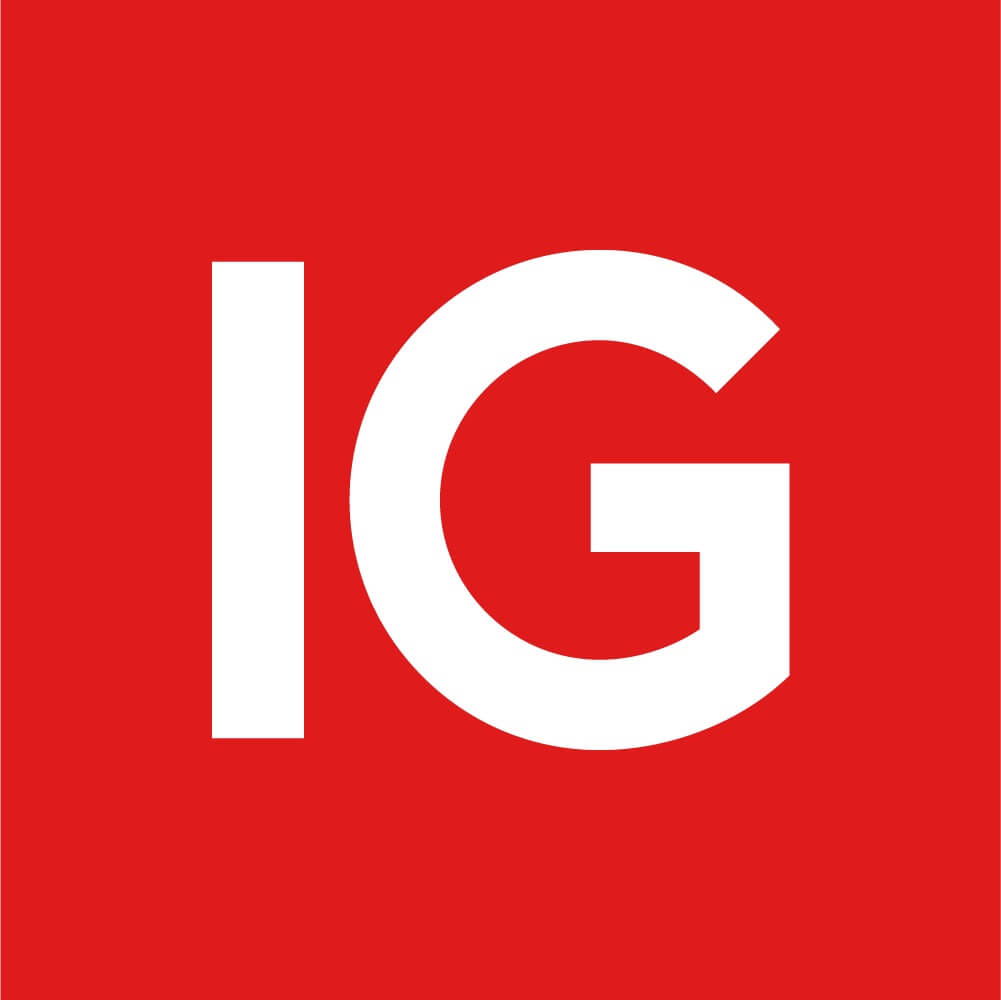 The IG platform may be just the right thing for you if you are looking for an outstanding platform to trade options on. Clients will never have trouble finding something they would like to trade due to the fact that there are options available on many instruments.
It is possible to trade options with IG in two ways: you can trade CFDs or spread bets, depending on your preference. Using one of these methods, instead of directly buying and selling options, you can predict the trend in premiums by using such a method. As a result of this, you are able to lower your overall investment risk as a whole.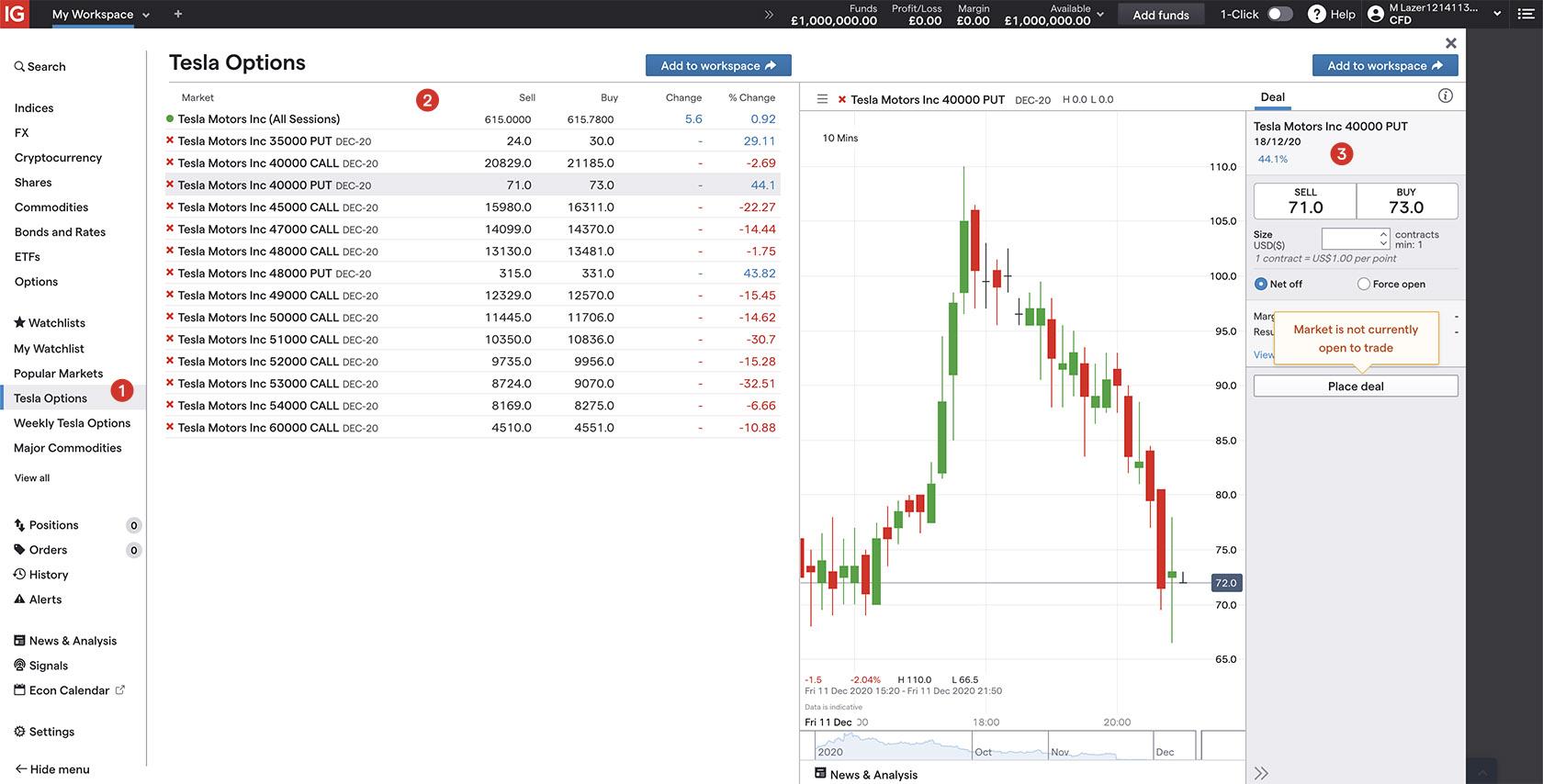 In terms of platforms, IG users have an extensive variety to choose from, including desktop platforms, trading apps, web-based platforms, and third-party programs, such as MT4, ProRealTime, and APIs, to make their trading experience as easy as possible. Similarly, it has also developed a proprietary trading platform where users can perform research, place, monitor, and edit trades.
Pros:
Exceptional proprietary trading platform
Excellent educational resources
The clients' funds are held in separate bank accounts.
Withdrawals are free of charge.
Cons:
Credit card deposits incur a 1% charge for Visa and a 0.5% charge for Mastercard.
The mobile app is not suitable for newbies
Your capital is at risk.
5. PocketOption – Exceptional Options Trading Platform With Social Trading Features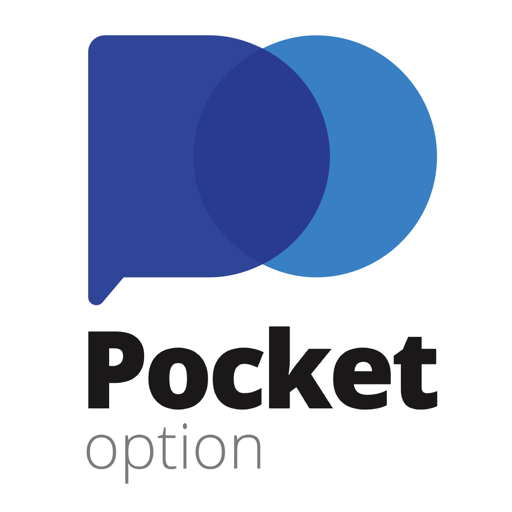 PocketOption for options trading and forex trading is a convenient way to start online trading. Through the MetaTrader 5 software, the web platform, mobile app, and smartphone app, you can access over 100 different assets.
There are also other useful features and tools provided by the broker, such as social trading, demo accounts, and a variety of bonuses, that are designed to help traders take advantage of the market.
The platform is available in more than 20 languages, making it a very attractive choice for international traders. In addition, with the Pocket Option app, you can review your account, place trades, and manage your positions on the move using your mobile device if you prefer trading on the go.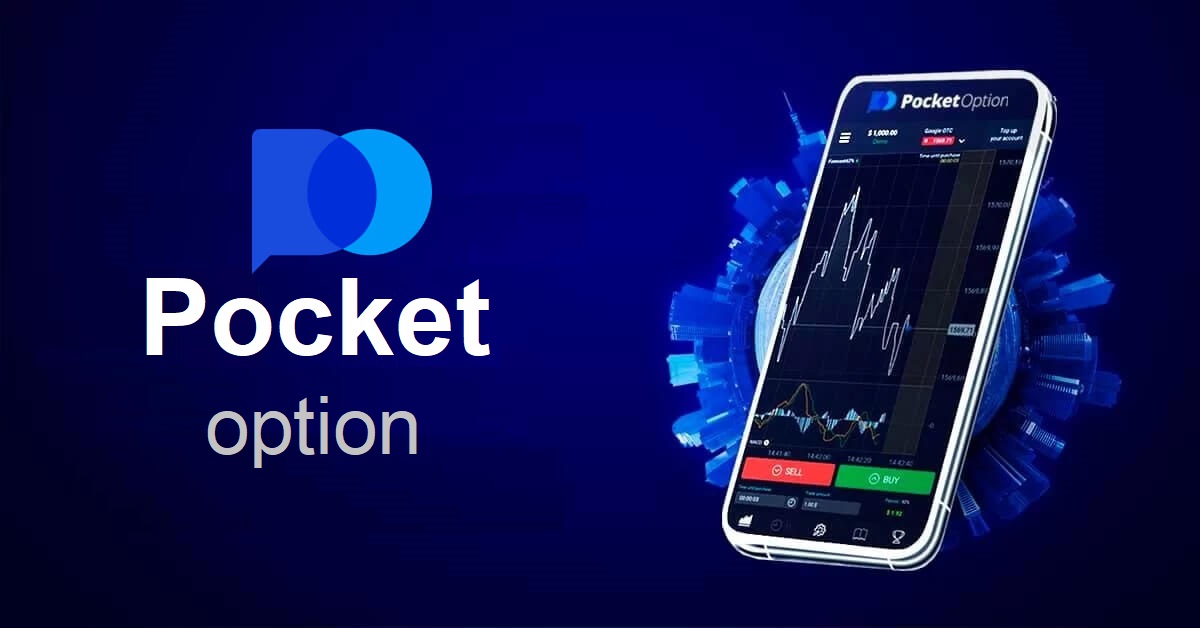 You can start trading immediately with as little as $1, and the company offers over 50 different payment methods. You can use most major credit cards, debit cards, bank wires, and digital wallets. While deposits are free, the minimum amount required to fund your account is only $50.
Internationally, Pocket Option is a legal brokerage service regulated by the IFMRCC (International Financial Market Relations Regulation Center), an independent regulatory agency for online brokers, in compliance with anti-money laundering regulations and know-your-customer policies.
Pros:
There are over 100 assets available, including cryptocurrencies, stocks, and commodities.
Demo account available
There is a $50 minimum deposit
Trading platform with 24/7 security and safety
Cash-back program and multilingual support
Cons:
Not regulated in the US by SEC
Your capital is at risk.
How to Choose the Best Options Trading App
Taking your time and researching all the features provided by active options trading brokers in the United States could be a great way for you to find the right broker.
As we go further into this article, we're going to explore some of the most relevant factors that should be considered when selecting an options trading platform since finding a trustworthy provider that can meet all your requirements can be a much more difficult task than you might think.
Regulation
If you are considering where to trade options in the United States, one factor to consider is the regulation. Therefore, it is suggested that you work with a broker registered with FINRA and regulated by the SEC.
For regulators, one of the most challenging aspects is preventing the practice of illegal activity from taking place. Due to their complexity, options add yet another layer to the regulatory requirements due to the multiple brokerage fees, complicated structures, and the possibility of high leverage levels that incur high risk.
Consequently, you should ensure that these mentioned bodies have approved the trading options platform you intend to use before you use it. You guarantee that the market conditions are fair whenever you trade options in this manner.
Asset Availability and Supported Markets
Choosing the right trading options broker must support a wide range of assets. The higher the number of asset classes that traders can trade in, the better for them since they prefer to trade options on various assets.
It is possible to perform options trading in various ways, such as stocks, forex, commodities, ETFs, bonds, etc. Due to their volatility and strong trends, options trading for stocks and forex is particularly popular.
Trade Fees
Investing in options with the possibility of trading them commission-free was something investors dreamt about for a long time. However, that's not necessarily the case anymore, as some leading options trading platforms are reducing costs to draw and retain investors.
For instance, there is no longer any flat-rate commission for online stock and options trading with the most reputable options brokers. As an alternative, they charge a small fee for certain traded options. In other words, they do not charge a commission on options trading, but they charge a fee based on the number of contracts you trade.
It should be noted, nevertheless, that there can still be a range of additional fees that exchanges can charge. Consequently, to help you make an informed decision, we have compiled a short list of some of the main fees you may want to consider before choosing a platform to use.
Commissions

Exercise fees

Spreads

Overnight financing

Payment options
Research Tools
Choosing a broker and trading platform to trade options is a task that must be considered from a cost standpoint and other factors. A broker offering a substantial amount of educational material, such as articles, videos, and webinars, would be helpful to you if you are a new trader.
When you succeed as an options trader, you will need access to a robust trading platform and a complete set of tools and resources related to your field.
Minimum Deposit
When looking for a trading options platform that meets your needs, you must check the minimum deposit required before registering.
Depending on the platform's complexity, most platforms have between three and five tiers for trading options. The lowest level of the options trading ladder requires the least experience. In contrast, the highest level of the ladder is generally reserved for options traders with a considerable amount of experience.
Most of the time, if you are interested in investing in level 1 options, the minimum required deposit from you will be less than $1,000. However, you can also deposit as much as $10,000 if you are interested in investing in level 2 or 3 options.
Withdrawal Fees
For most investors, fees are one of the most critical factors to consider when choosing the best investment app online. As a result, most prefer brokers who charge low fees or do not charge commissions on trades and withdrawals.
It should be noted that most of the trading platforms we have reviewed don't charge any fees for withdrawing funds from their accounts. However, it is always worthwhile to familiarize yourself with the deposit and withdrawal fees associated with the trading account you are planning to fund.
Trading Tools And Features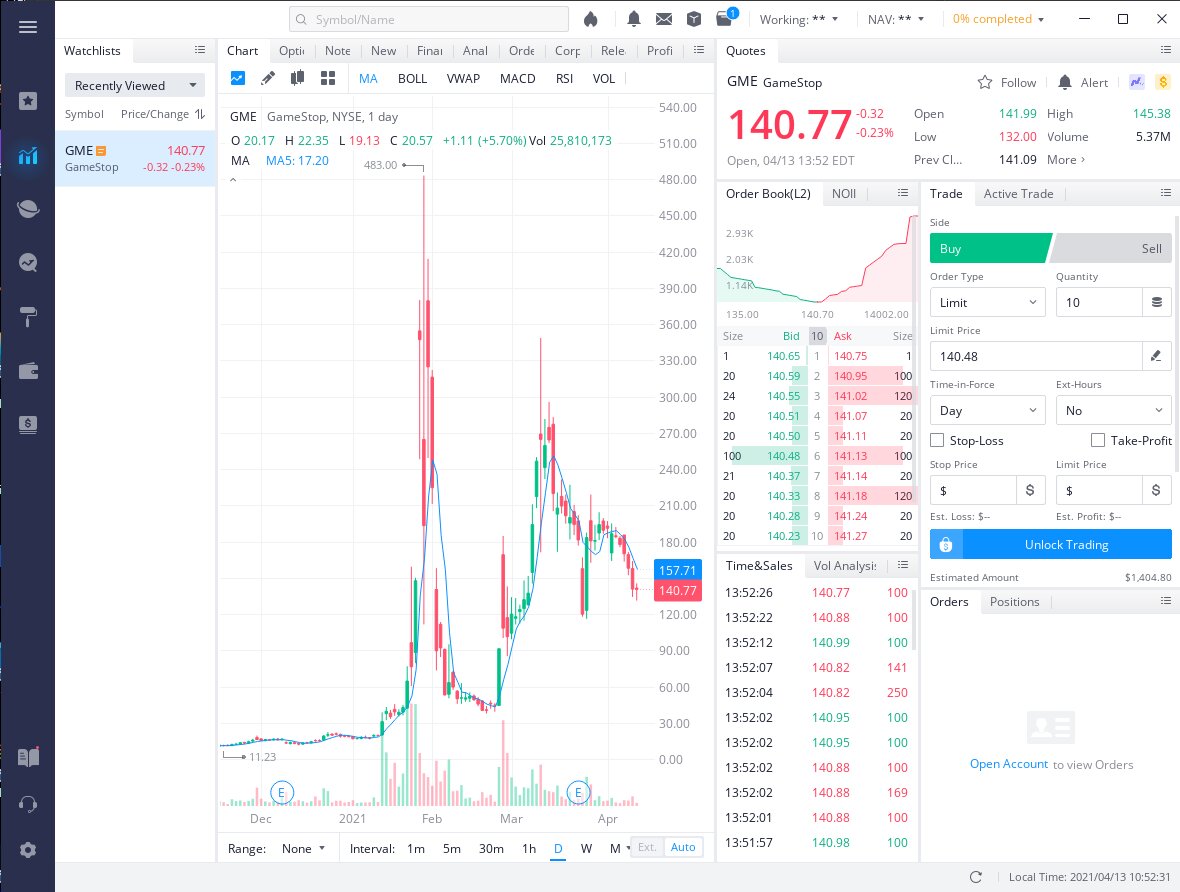 There are several tools and features you will likely need to access to make better decisions regarding trading options, whether you are a complete novice or a seasoned trader.
For instance, for trading tools to work on smartphones, they must be simple. On the other hand, if you are peeking for the most reliable options trading apps in the United States with powerful tools, we suggest you choose desktop versions. Features that balance ease of use and usefulness make the best apps.
Demo Account
If you would like to practice options trading before you decide whether to open a live account, it would be a worthwhile idea to open a demo account. As a result, you will not be required to risk any of your own money when you trade.
Despite trading under simulated market conditions in the demo account, you will only be able to invest with virtual funds and not with real funds. Nevertheless, if you are a beginner just starting with trading options, you may find this useful. This is because you earn the ropes on the go as you trade, which will help you improve your trading skills as you progress.
Moreover, trading options with demo accounts is also an effective way of getting an idea of how a trading platform will work. Among other things, you can check to ensure that your chosen platform has the necessary tools.
User Experience
A feature-rich and intuitive user interface ensure that users can place trades easily and rapidly without the need to seek any outside assistance to do so.
Therefore, using a difficult trading platform to work with can make it more difficult for users to open new positions, resulting in a much more complex investment process for new investors, making good investment decisions more difficult.
Because of this, you must choose an option trading platform that is comfortable to use and makes the investment process seamless since you will be investing your hard-earned money.
Support
When you ensure you receive the expert and dedicated support you are looking for with your trading account, you should be able to get in touch with professional and experienced customer service representatives. In terms of options trading platforms, several of them offer 24-hour support regularly.
You can use live chat support when you need help in real-time or contact the company's customer service department by telephone. Depending on your location, if you cannot reach the support team by phone, you might have to wait a few hours before you receive a reply in your inbox if you contact them by email.
How To Start Options Trading
Would you like to start trading options as soon as possible? Webull is an outstanding trading platform for people at all levels. Follow the walkthrough below, and you will be able to start trading on their user-friendly interface in less than a few minutes.
Step 1: Download An App
It is possible to download the Webull app from the Apple App Store or Google Play Store to use it on smartphones and tablets operating on iOS and Android. Depending on your internet connection, the download may take a few seconds.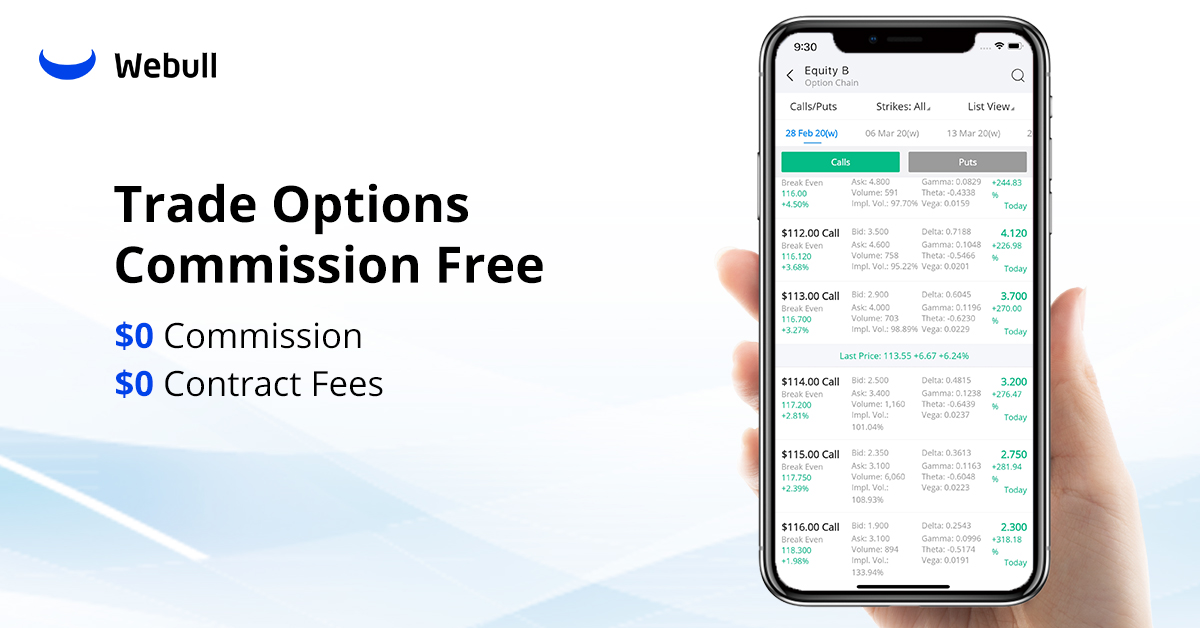 Step 2: Create An Account
Get started by selecting the option to create an account. During the registration process, you will require to provide some personal information, such as your name, address, residency status, and phone number.
You must also confirm your email address and enter your social security number in the field provided. Verifying your identity in this way, Webull can ensure the user's authenticity.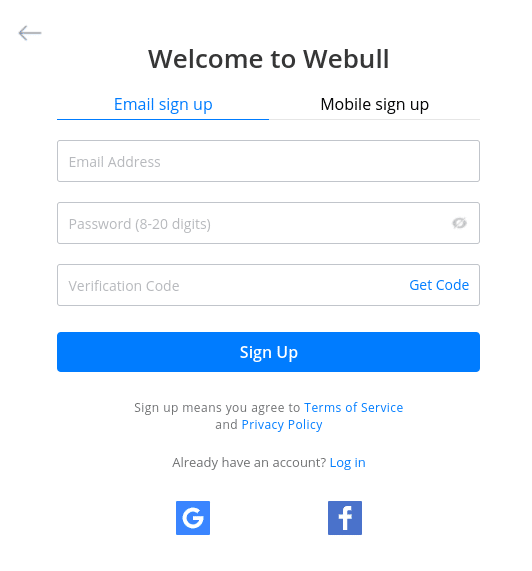 Step 3: Deposit Funds
When depositing funds and supported payment methods, both bank wires and ACHs are supported by Webull.
For instance, if you wish to deposit via ACH, you must link your bank account to Webull before making the deposit. This will be accomplished through two micro-deposits being sent to your bank account by Webull as part of this process.
Depending on your chosen bank, it may take up to 48 hours before the funds appear in your account. Upon receiving both payments, you will need to navigate to your Webull account and enter the specific amounts of each deposit into the appropriate fields.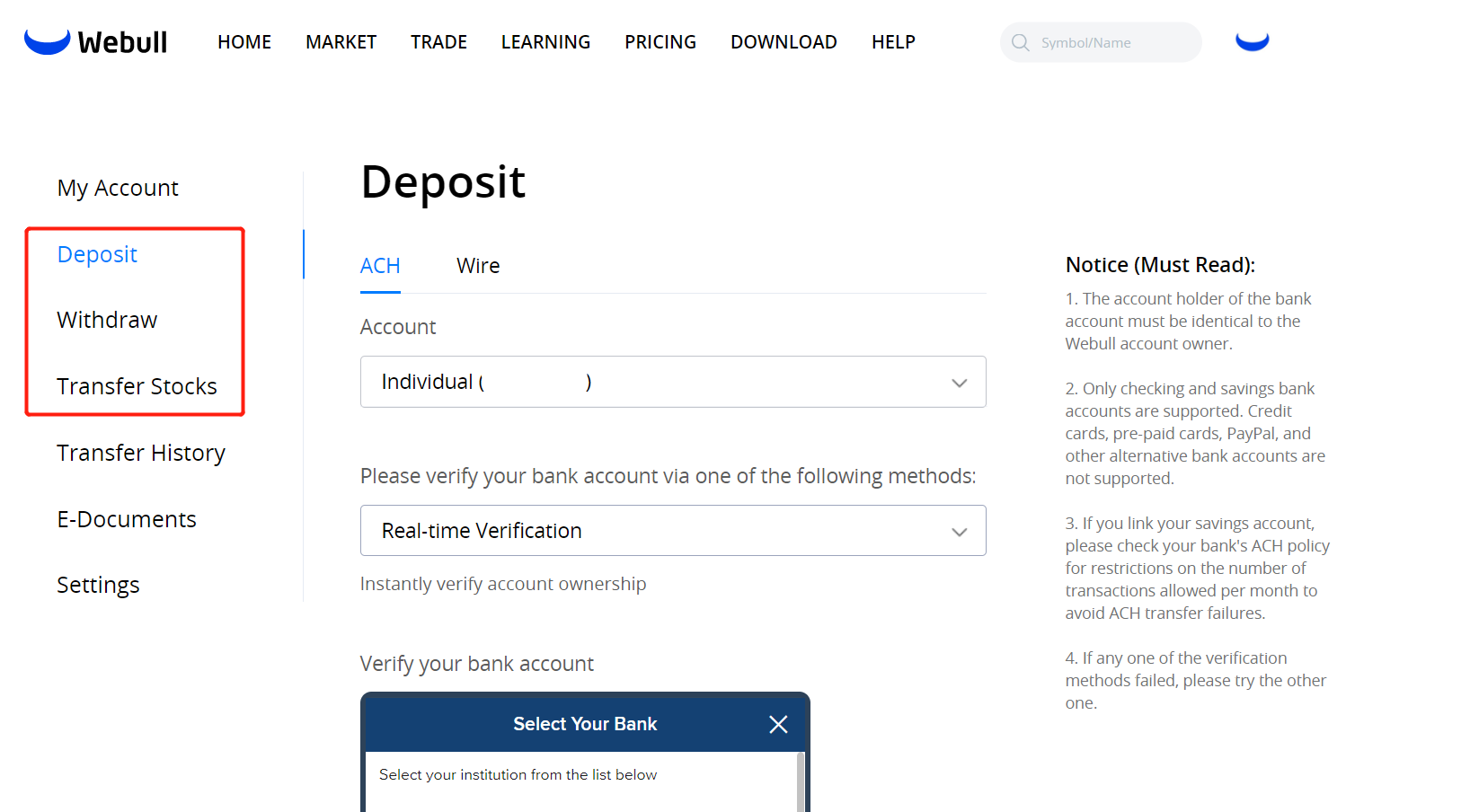 After your bank account is linked to Webull, you are ready to fund your Webull account. It is expected that the funds will reach you within a period of 1 to 5 working days.
Step 4: Choose Options To Trade
Upon funding your Webull account, you are ready to start trading options. Then, you can create an order by searching for the option you're interested in buying.
Step 5: Predict The Strike Price
Once there, you can choose the strike price and expiration date most appropriate for your trading strategy from a table.
Every investor must make an individual decision about the strike price of a covered call. Strike prices do not need to be accurate. Instead, investors should generally match attributes such as their willingness to sell the option and the likelihood that the call will be assigned.
Step 6: Choose A Time Frame
Choosing a chart time frame that suits your trading system and style will give you a greater sense of trading insight. For example, if you are trading options, a lot of it comes down to what expiry date you choose for the options series you are trading.
Expiration dates can range from a couple of days to several months or even years. The risks associated with daily or weekly options are the greatest, so only experienced traders should use them. Investors looking for long-term returns should consider monthly or yearly expiration dates.
Best Option App For Trading Options – Conclusion
In summary, with a variety of powerful options trading platforms to choose from, you are sure to be able to find one that suits your precise needs and offers several features and tools that will boost your trading.
Webull is a convenient and worthwhile way to trade options, especially for investors who want to get into the financial markets with no minimum account sizes and no commissions on trading. As well as providing access to real-time market data, and advanced tools inside a low-cost model environment, it has the advantage that active traders will find it suitable too.
Your capital is at risk.
FAQs
What is the best app for trading options?
Where to do options trading?
Is options trading regulated in the US?
Is options trading the same as day trading?