Vanguard Trading App Review- Pros and Cons Revealed
Disclosure
Everything you read on our site is provided by expert writers who have many years of experience in the financial markets and have written for other top financial publications. Every piece of information here is fact-checked. We sometimes use affiliate links in our content, when clicking on those we might receive a commission – at no extra cost to you. By using this website you agree to our terms and conditions and privacy policy.
Vanguard is a pioneer in the industry when it comes to low-cost index funds. Retirees and long-term investors can build a cost-effective, diversified portfolio using Vanguard exchange-traded funds (ETFs). These offerings have helped the company earn a spot among Money's best online stock trading platforms.
Unlike other firms, Vanguard is owned by its funds, which are owned by shareholders – making it a firm truly built for investors. Due to the absence of outside owners and outside interests, there are no competing loyalties. It is the purpose of this review to examine how Vanguard trading app stands out among the online brokers and help you decide if the features and philosophy are what you are looking for.
Overview
What is Vanguard?
Vanguard's role as a broker best suits investors looking to save money for retirement, invest in low-cost investment vehicles, and invest primarily in the index and exchange-traded funds (ETFs).
A new all-digital advice service, Digital Advisor, has recently been launched by Vanguard for younger investors dealing with the complexities of saving and investing. Investors with more complex financial situations can also access a Vanguard financial advisor through Personal Advisor Services. If you intend to create a diversified, ETF-based portfolio that you will periodically rebalance -and not much else – then Vanguard is a good choice. However, Vanguard's limited tools and asset selection may not be suitable for active investors or traders.
What Assets Can You Trade on the Vanguard Trading App
Investors can trade stocks, bonds, mutual funds, ETFs, and options through Vanguard. Although it's a good option for retirement investors, active traders may want more options like forex and futures.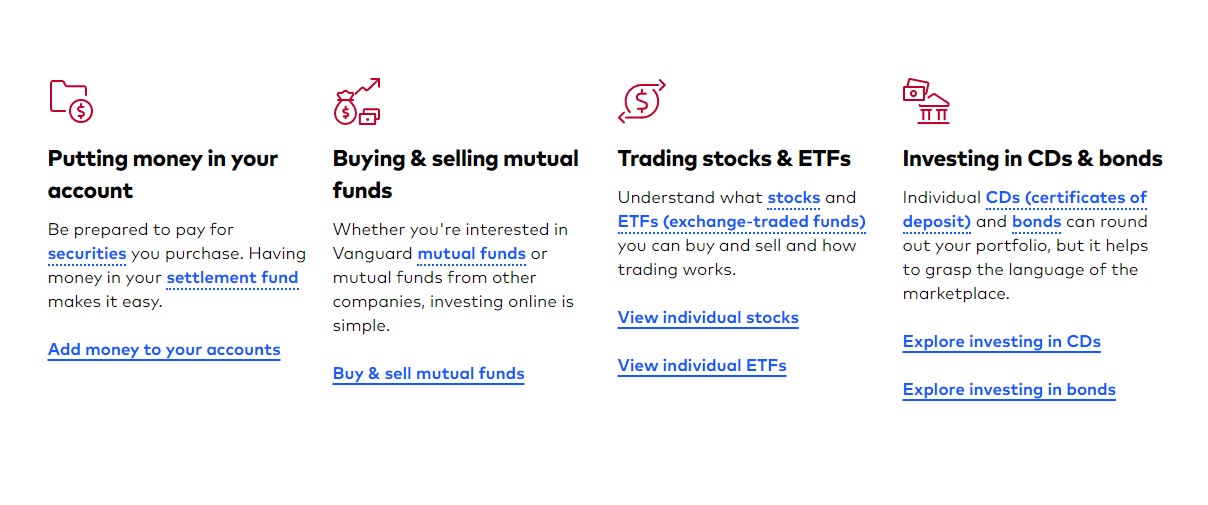 Vanguard App Key Features
Vanguard has been helping investors achieve their long-term goals since 1975. As of today, it continues to offer investors access to a variety of funds and investment services. Some of its strengths are listed below.
Fees and Commissions
Vanguard was one of the last major online brokerage platforms to cut equity trading commissions to $0. Unfortunately, it was late to the commission-free stock trading revolution. Meanwhile, Vanguard offers commission-free trading of its mutual funds and exchange-traded funds (ETFs).
It is possible to trade more than 3,000 third-party mutual funds and nearly every third-party ETF online through the Vanguard platform without paying any fees or commissions at all.
Additionally, the platform offers third-party mutual funds that have trading fees associated with them. The following fees apply:
| | | |
| --- | --- | --- |
| Your AUM with Vanguard | Online Trade Fee | Phone Trade Fee |
| Less than $1 million | $20 per trade | Online rate + $25 broker-assisted fee |
| $1 million to $5 million | $0 for the first 25 trades, $8 per trade after that | $0 for the first 25 trades, $8 per trade after that |
| $5 million+ | $0 for the first 100 trades, $8 per trade after that | $0 for the first 100 trades, $8 per trade after that |
A broker-assisted Vanguard fund trade is always free, but a third-party trade requires a $25 fee. Broker-assisted fees are waived if you have more than $1 million in AUM with Vanguard.
Options trades cost $1 per contract, which is relatively high.
When you register for secure website access and opt for electronic delivery of your account statements, you can easily waive Vanguard's $20 annual account service fee.
Regulation
As of late, Vanguard has not faced any major regulatory filings. However, the company has a dedicated webpage devoted to explaining its pricing structure and fees. The website contains various information regarding the costs and fees associated with mutual funds, ETFs, stocks, options contracts, fixed income, and margin trading. You can also easily find information on costs relating to client services such as wire transfers.
Countries Supported
As a US stockbroker, Vanguard targets US clients primarily. Therefore, as part of our review, we tested Vanguard's services in the United States.
Vanguard has a global presence through the group's other subsidiaries and partners. However, the available product range and the form of business vary widely country by country. For example, in Germany, only institutional clients are served, while in the UK, retail clients can also open an account.
Account Types
As of right now, Vanguard offers the following types of accounts. Additionally, we have included a summary of each type of account.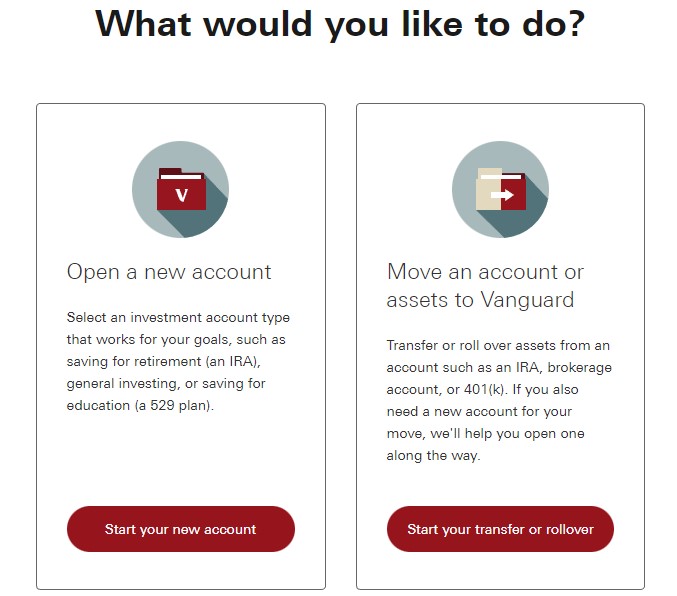 401(k) rollovers to a Vanguard IRA -With this type of account, you can convert your previous employer's 401(k) retirement account into a traditional IRA with Vanguard. As far as the execution of the process is concerned, there are no failures or delays. Even better, Vanguard did not charge additional penalties/fees for the process.
Annuities – Vanguard offers both fixed income annuities and variable annuities. In the industry for annuities, Vanguard has some of the lowest rates in the business. Their discount is mainly because they don't have full-time salespeople selling their product.
Roth IRAs and Traditional IRAs – In addition to Traditional IRAs (pre-tax contributions), Vanguard also offers Roth IRAs (post-tax contributions). Their low-cost mutual funds make Vanguard Roth IRAs an effective investment vehicle.
Individual (taxable) Accounts – Finally, Vanguard lets you save money in taxable accounts in stock, bond, CD, or mutual fund accounts.
Education and Research Tools
Vanguard has a long history of providing educational materials to investors. Their content focuses on helping you set financial goals and create a plan of action for reaching them. The site provides educational resources such as blogs, news articles, social media, commentary, research papers, videos, webcasts on investments, retirement, industry news, financial planning, and the economy. For beginners and do-it-yourselfers alike, Vanguard offers life-stage planning tools as well as an investing glossary. Unlike other brokerage firms, Vanguard does not offer paper trading.
Some user-friendly research tools are available on Vanguard's website, including mutual fund and ETF screeners. These can be used to find funds based on your preferences. You can also use Vanguard's calculators and tools to determine how much you need to save for retirement and your retirement income. A tool will ask you some simple questions about your financial goals and risk tolerance before recommending an asset allocation for your portfolio. A portfolio's asset allocation refers to how it is divided between different asset classes, such as stocks and bonds.
Through its Vanguard Portfolio-Watch feature, you can easily visualize your asset allocation through a sleek user interface. The chart shows how it breaks down by asset class and is diversified within a specific asset class, such as stocks. You can see, for instance, how many stocks are held domestically and abroad. You will also see how your investment costs differ from the industry averages. In addition, you can use its Portfolio-Tester feature to predict how your portfolio balance may change if you change your asset allocation. You can visualize, for example, what might happen if you were to shift your stock mix from 50% to 65%.
In contrast, the brokerage lacks advanced research tools for analyzing individual stocks and developing trading ideas. As a result, an investor who wants to access long-term investing strategies should consider Vanguard.
User Experience
Vanguard's website offers an outdated trading experience. The trading pages, as well as the security profile and research pages, use real-time quotes. However, the website displays delayed quotes for market and security information. It is for this reason that, for example, the portfolio balances and holdings as well as the security lookup pages display delayed quotes to the user.
Considering that real-time quotes cater to passive investors, it makes sense not to auto-refresh them. As you move through the trade flow, the quotes are updated. Since placing a trade can take several clicks, quotes may not necessarily be updated before submitting an order. An advantage of online ordering is that tax lots can be selected before placing an order.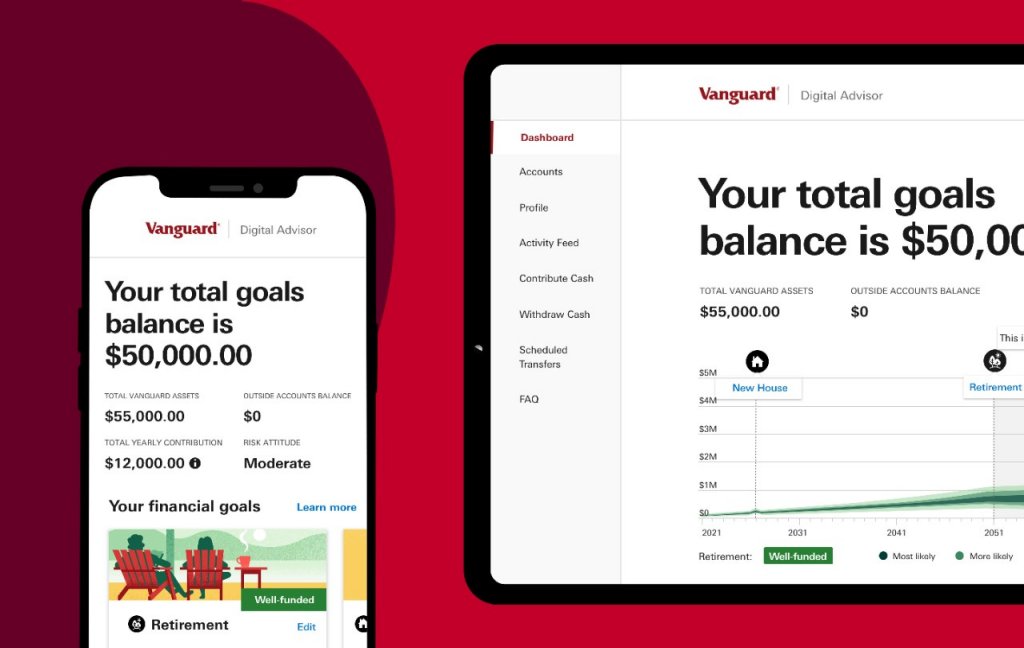 The Vanguard platform does not support conditional orders or trailing stops, nor will it allow you to enter multiple orders simultaneously. If you are an active investor or frequent trader, this process is likely highly inefficient, adding to the belief that Vanguard is unsuitable for traders.
Generally speaking, the trading experience works best for the buy-and-hold investor who slowly builds up a portfolio over time. However, the trading experience falls short for other types of investors who expect a responsive and customized platform.
Customer Support
Vanguard's website and customer service take an old-school approach. It is only possible to get in touch with customer service via phone, Monday through Friday, 8 a.m. to 8 p.m. Live chat and email customer support are not available.
Vanguard's customer service representatives are available to speak with both current and prospective customers. For example, suppose you have an account and are experiencing account management issues. In that case, you will receive an automated phone response that asks you to answer security questions before routing you to a customer service representative. The added layer of security provides customers with peace of mind that no one on the phone can impersonate them.
Minimum Deposit
Vanguard retirement funds and the Vanguard STAR Fund require investments of $1,000, while other Vanguard funds require investments of $3,000. However, beginner investors find $1,000 to $3,000 too high as an initial purchase amount.
Trading Tools
With Vanguard, you can add plenty of do-it-yourself resources to your financial toolbox. Most of the tools this broker provides are geared toward helping you plan for retirement. For example, Vanguard offers a retirement planning worksheet, a retirement income calculator, an estimated required minimum distribution calculator, and a tool to find out when to retire. As part of the product, it also comes with an investor questionnaire that guides you through the process of creating a diversified portfolio, aligning your risk tolerance with your goals for retirement.
Vanguard provides a college savings calculator, cost estimator, 529 plan tax deduction calculator, and 529 plan comparison tool to help with college planning.
 News
There is no real-time streaming news available, but MT Newswires and Associated Press news are available.
Third-party Research
It is important to note that Vanguard offers daily market reports and third-party research provided by companies such as Argus and Market Grader. Registered clients can access them for free.
Cash Management
Money market funds with low expense ratios automatically sweep idle cash at Vanguard.
Dividend Reinvestment Plan (DRIP)
In the event that you are a Vanguard user, you will be unable to specify a dividend reinvestment at the time when you purchase a dividend-paying stock. However, once the security is purchased and settled, you can decide whether to reinvest or receive cash. As an additional option, Vanguard does offer you the option to decide whether or not you want to make the selection at the account level, which will apply to all purchases that are made, or whether you want to make the selection for each security individually.
Vanguard Trading App Pros and Cons- List
The stock broker is a good choice for: Investors who are looking for a low-cost stock broker to invest in ETFs, stocks, and mutual funds, among other common investments. However, traders may look elsewhere since this isn't Vanguard's primary focus.
Pros
Trading with no commissions at all
Investing in ETFs and mutual funds at low costs
Minimum account balances are not required
A variety of account types are available
Cons
Options commissions
Investments in fractional shares are not offered
The platform for active trading is not as robust as those offered by competitors
eToro- Best Vanguard Alternative
We have examined every metric of the Vanguard trading app in this review. Among the factors to consider are tradable markets, fees, payment methods, user-friendliness, customer support, safety, and more. Unfortunately, despite Vanguard's excellent reputation and suitability for newbies, there are far better options on the market.
As a matter of fact, eToro is by far the best brokerage site for purchasing and selling cryptocurrencies, stocks, commodities, CFDs, and Forex. Moreover, if you deposit funds using a debit card or an e-wallet, you'll only have to pay 0.5 percent in fees, which is a better deal than the percentage charged by Vanguard. As an additional benefit, you will also be able to benefit from a spread-only trading fee that starts at 0.75%.
The process of trading cryptocurrency at eToro, a broker regulated by the Financial Conduct Authority, will take you few minutes from start to finish.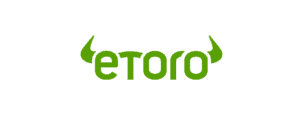 67% of retail investor accounts lose money when trading CFDs with this provider.
How To Use The Vanguard Trading App
It is generally required that you provide proof of your identity and proof of your residence to open an account with an online broker. Of course, it would be ideal if the entire process were completely digital, but the reality is that some brokers eventually require physical copies of your documents.
In order to verify your identity, Vanguard accepts the following documents:
Identity proof:SSN / passport / national ID card / driver's license
Vanguard's account opening process is fully digital so you can complete everything online.
After your registration is complete and your account is opened, you must transfer the minimum deposit from your bank account to your brokerage account.
There is no complicated process involved in opening a Vanguard account.
Step 1: Open an account
Vanguard is a full-service brokerage and investment firm, so you must specify which type of account you want to open on this form. For example, it could be an IRA or a general investment account. The information you will be asked to provide may include your name, social security number, tax identification number, date of birth, address, and information about your employer.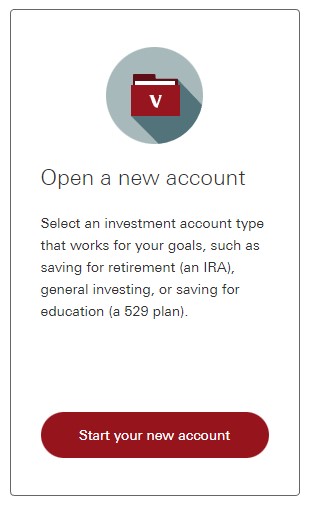 Step 2: Verify ID
This is the part of the process where you will be asked to upload a scan of your proof of identity to the broker's website. A passport, an ID card, or a bank statement can all be used; exact requirements vary from broker to broker. You may need to mail physical copies of your documents to some online brokers if they require them. Due to this, opening an account can be significantly slowed down.
Step 3: Choose Investment Type
When you open a Vanguard account, you will be asked to choose the investments you would like to make. A Vanguard professional can help you determine the type of fund that is right for you, or you can choose a general index fund if you aren't sure. A wide variety of Vanguard funds and ETFs are available for you to choose from. It may be possible for you to qualify for Admiral Shares, which have a lower expense ratio than regular shares, if you have enough assets.
Step 4: Deposit Funds
You will need to show how you intend to fund your account when you fill out your application. This can be done by transferring assets from a current brokerage account, bank account, or any other location where you have access to wire in funds. Please keep in mind that verifying and transferring funds may take several days.
Step 5: Start Investing
After completing the application, you can sign electronically or print, sign, and mail it. It is extremely important that you make sure that any selections you have made to this point correspond to what you had expected to choose both in terms of risk and future sectors.
 Vanguard Trading App- Our Conclusion
There is a good reason why Vanguard dominates the passive investing market. For the average investor, the entire ethos of the company revolves around low-cost, buy-and-hold investing as the best investment solution. If you are a Vanguard customer, you will likely use the broker to purchase Vanguard funds – and you will probably hold Vanguard funds even if you are not a Vanguard customer. You are essentially committing to passive investing when you decide to invest with Vanguard as your online broker. That will ensure that you reap the most benefits from Vanguard's basic-yet very affordable offering.
Vanguard has a competitive advantage over its rivals in that it maintains a wide range of low-cost ETFs and mutual funds. Despite some limitations, Vanguard's services, platform, and mobile app may still appeal to you if you are a buy-and-hold investor. Although Vanguard's platforms are neither as user-friendly nor as up-to-date as Vanguard's competitors, they can still make it possible for you to create a low-cost and diversified portfolio for the long run. There is no way around it; if you are looking for robust trading tools for active investing, Vanguard is telling you to look elsewhere.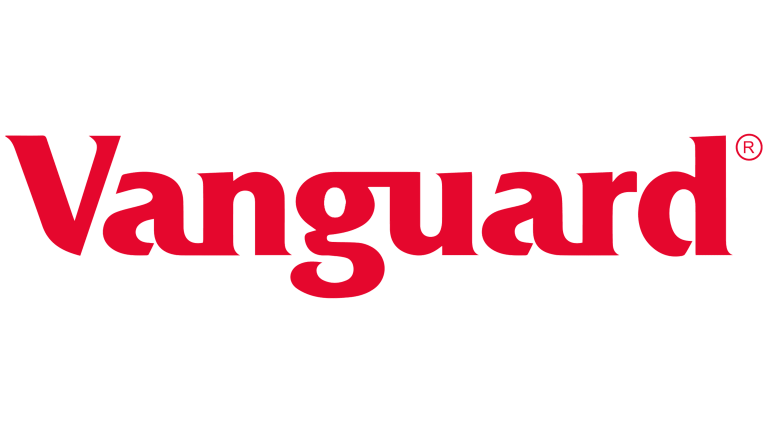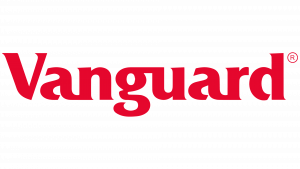 Your Money Is AT Risk.
FAQs
Does Vanguard have a trading app?
Is Vanguard, a good broker?
Can I use Vanguard to buy stocks?
Is the Vanguard trading app safe?
Can you day trade with Vanguard trading app?