How To Buy Launchpad XYZ (LPX)
Disclosure
Everything you read on our site is provided by expert writers who have many years of experience in the financial markets and have written for other top financial publications. Every piece of information here is fact-checked. We sometimes use affiliate links in our content, when clicking on those we might receive a commission – at no extra cost to you. By using this website you agree to our terms and conditions and privacy policy.
While Web3 is becoming more known to the public, few people are transitioning to it due to the confusing nature of the technology. The Launchpad XYZ cryptocurrency project aims to resolve this "fracture in the Web3 market" by developing a curated protocol allowing people to access the best Web3 projects in one place. This newly launched blockchain project includes an all-in-one web 3.0 dashboard and real-time market insights. Discover Launchpad's native token LPX and how to buy Launchpad XYZ at presale prices by reading on.
How To Buy Launchpad XYZ (LPX) 2023
Several analysts have predicted success for Launchpad's presale, which just recently began. During the presale, there will be ten stages, beginning with the presale launch price of $0.035, followed by the launch price of $0.070. Therefore, investors have a chance to make 2x gains even before the token is listed. LPX tokens can be purchased during the presale by following these steps:
Step 1: Navigate to Launchpad XYZ website
Since the token hasn't been listed on exchanges, you will need to navigate to the official Launchpad XYZ website to purchase the token. LPX presale details and how to purchase can be found on Launchpad's presale website.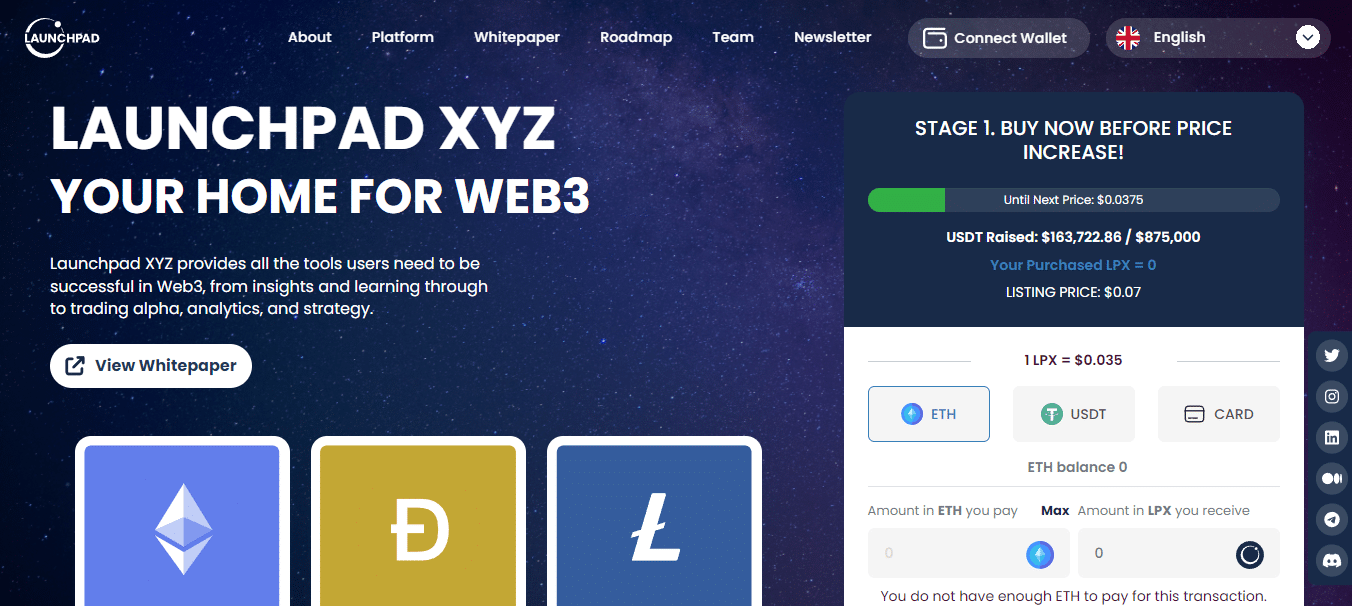 Your Money is at Risk.
Step 2: Connect your wallet to crypto presale
The Launchpad XYZ presale website is now available to those with ETH or USDT in their wallets.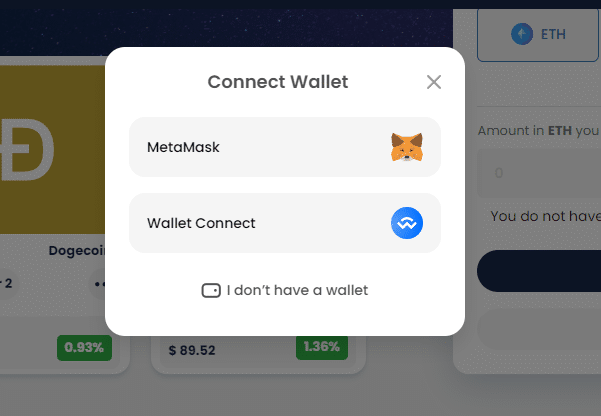 Click on the 'Connect Wallet' button and select Metamask. Launchpad XYZ displays a QR code that can be scanned by those using another wallet. But first, keep in mind the next:
Buy Crypto From eToro
Once you are logged into the website, you will find the option to purchase the LPX tokens. Various payment methods include ETH, USDT, and credit/debit cards.
Upon selecting your crypto, proceed to eToro to purchase your coins. eToro's user-friendly interface and low trading fees make it one of the best places to buy crypto.
You can buy USDT or ETH on the eToro website by creating an account or by logging in.
Choose the amount of cryptocurrency you wish to buy, and complete the purchase using your credit card, debit card, bank transfer, crypto, or an e-wallet such as PayPal, Skrill, or Neteller.
The cryptocurrency will be credited to your eToro wallet shortly.
Your Money is at Risk.
Move Crypto to MetaMask or Wallet Connect
Wallet Connect and Metamask are good non-custodial wallets for transferring crypto from eToro.
You can check your wallet balance by signing into eToro and navigating to the wallet tab. Next, select the crypto you wish to withdraw (USDT or ETH) and click "Send."
Click "Send" after you have entered the amount of crypto you wish to send and the external wallet address.
Investors must first download and install a crypto wallet to participate in the Launchpad XYZ presale. The Wallet Connect integration supports other wallets as well, including MetaMask.
The MetaMask wallet will be used in this walkthrough. MetaMask can be downloaded via a Firefox, Chrome, and Edge browser extension. MetaMask is also available as an iOS and Android app.
Install MetaMask and set up the wallet. Ensure that the wallet is secured with a strong password. It is also important to write down the backup passphrase in the correct order.
Add Crypto to Wallet
The next step for presale investors is to add crypto tokens to their wallets. This will allow investors to exchange tokens for Launchpad. There are two ERC-20 tokens supported by the presale: Ethereum (ETH) and Tether (USDT).

MetaMask will provide you with a wallet address where you can transfer the tokens. Under the 'Account 1' tab, this is a unique feature of the wallet.
Step 3: Swap crypto tokens for LPX
Once you've connected your crypto wallet to the presale site, you can exchange your ETH or USDT from the wallet for LPX coins.
In addition to receiving the tokens, you will also see the gas fees associated with the transaction.
Your connected wallet will be debited with the equivalent amount following the completion of the transaction.
Step 4: Claim tokens at the end of the presale
You can claim your tokens after the LPX coin presale ends by visiting the Launchpad XYZ website. This should be possible within seven days of the presale.
Investors will also receive information on how to claim their tokens from the Launchpad XYZ team.
Your Money is at Risk.
What is Launchpad XYZ (LPX)?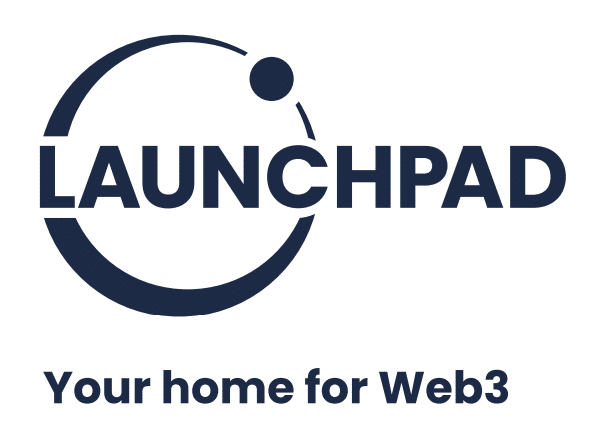 Web3 collaboration and innovation are encouraged through the Launchpad XYZ platform. In addition to providing insights and sentiment, Launchpad XYZ provides exclusive access to upcoming presales and the best DeFi projects.
Before exploring Launchpad's prospects, however, it's important to understand what Web3 is. Web3 refers to the third generation of the Internet. The web is decentralized, secured, and trustless as it is developed.
Even though some crypto enthusiasts may find Web3 to be a simple concept, many people still find it confusing. The idea that Web3 requires technical knowledge is also misunderstood Additionally, dozens of Web3 crypto platforms promise huge returns to new investors. Launchpad's whitepaper describes the outcome as a 'battleground of protocols and platforms.'
Launchpad XYZ will transform this perspective. The platform will serve as a solution by providing a one-stop shop for all Web3 products and services. Investors can access Web3's core features more easily this way.
Also, Launchpad XYZ will act as an online portal for Web3 developers and brands. By launching their tokens and NFTs on the platform, new projects will reach out to new investors. By onboarding 10 million Web3 users, Launchpad.xyz intends to capitalize on this emerging market.
The native utility token of Launchpad XYZ is LPX. Rewards and payments will be made with the token within the ecosystem. Additionally, those who stake LPX will gain access to premium features that free-plan users cannot access.
What is web3 crypto?
Decentralized applications (dApps) and other related technologies are integrated with blockchain technology through Web3 crypto projects.
Web3 is decentralized in nature and built on blockchain technology. Here, users own their data and control their online interactions without the need for intermediaries. Furthermore, with blockchain technology, data storage, and transactions can be made secure, transparent, and tamper-proof.
Cryptocurrencies are digital currencies based on cryptography that use encryption to secure transactions, verify ownership, and control distribution. Using these digital currencies as a form of exchange, a store of value, or an investment is possible.
Among the technologies and applications associated with Web3 crypto are blockchain-based networks such as Ethereum, decentralized finance (DeFi) applications, non-fungible tokens (NFTs), and others. With Web3 crypto, individuals have greater control over their data and digital identities while creating a more open, transparent, and secure internet.
$LPX Tokenomics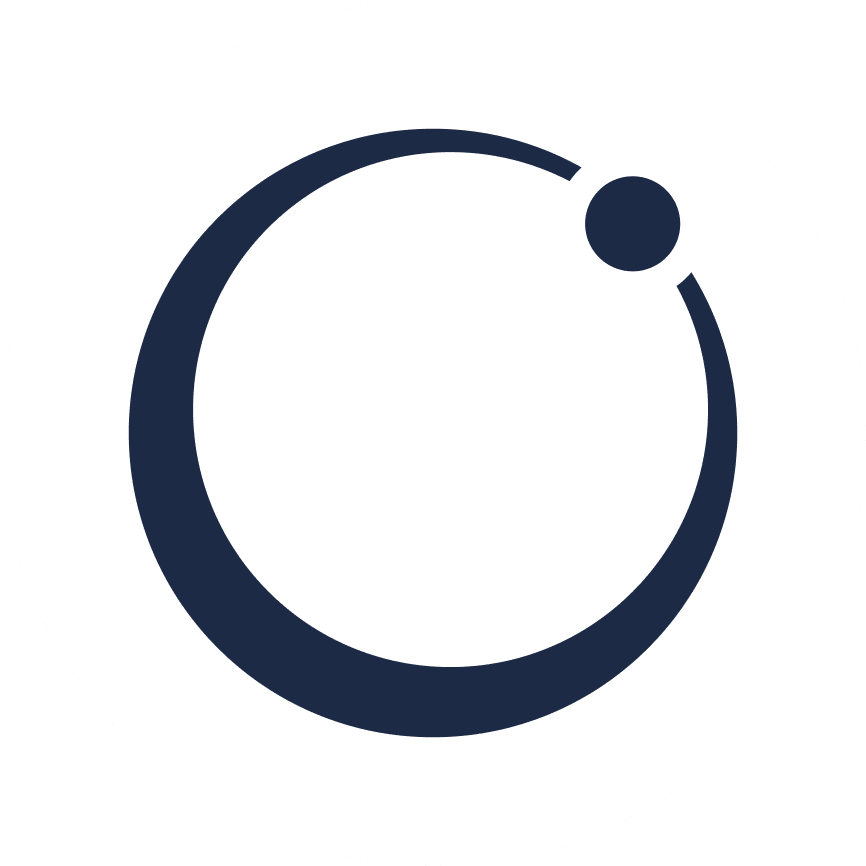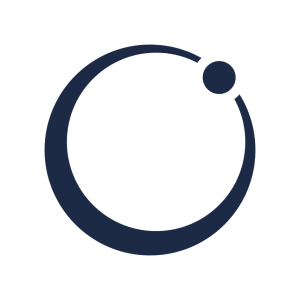 Launchpad XYZ is a deflationary token, as previously mentioned. There is a fixed supply of 1 billion tokens for the LPX coin. There will be a 25% distribution (250 million) of the total supply during the Launchpad XYZ presale. The remaining 750 million tokens will be used for the development of the platform, user incentives, DEX market share, and distributions among the members of the core team.
The token is set to be one of the best DeFi coins in 2023. LPX coins are predicted to experience high demand thanks to Launchpad's stake-to-access mechanism. However, deflationary mechanisms will also affect the token's future price. Pre-sales of tokens are currently being conducted through the Launchpad XYZ presale site. USDT or ETH can be used to purchase LPX tokens.
Investors can stick to their investment plan without using a third-party brokerage because the project does not require a minimum investment. However, to get the premium account, you must purchase at least 10,000 LPX if you are interested. The price of an LPX coin at the time of writing is $0.035. Therefore, to join Launchpad XYZ Premium, you will need to invest only $35 at this time.
In terms of the presale, there are ten different stages, each with 25 million LPX tokens. As a result, early investors can take advantage of the token's low price before it increases as the token price increases from one stage to another.
| | | | |
| --- | --- | --- | --- |
| Presale Stage | Token Price | Number of Presale Tokens | Total Presale Value (USD) |
| Stage 1 | $0.0350 | 25,000,000 | $875,000 |
| Stage 2 | $0.0375 | 25,000,000 | $937,500 |
| Stage 3 | $0.0400 | 25,000,000 | $1,000,000 |
| Stage 4 | $0.0425 | 25,000,000 | $1,062,500 |
| Stage 5 | $0.0450 | 25,000,000 | $1,125,000 |
| Stage 6 | $0.0500 | 25,000,000 | $1,250,000 |
| Stage 7 | $0.0550 | 25,000,000 | $1,375,000 |
| Stage 8 | $0.0600 | 25,000,000 | $1,500,000 |
| Stage 9 | $0.0650 | 25,000,000 | $1,625,000 |
| Stage 10 | $0.0700 | 25,000,000 | $1,750,000 |
The Launchpad XYZ presale is currently at stage 1, having quickly raised over $145,000 of the initial $875,000. The presale will continue to stage 2 if investors demonstrate bullish behavior, where the price will increase to $0.0375. Token values will increase over time for early investors. During presale stage 1, you can purchase the LPX coin for $0.035 and sell it for $0.070, which is the listing price. Profits of 100% have been generated from your initial investment.
Your Money is at Risk.
How does Launchpad XYZ work?
Consumers interested in making consistent gains from Web 3.0 can use the Launchpad dashboard. Undoubtedly, the crypto market is volatile and unpredictable, so it isn't easy to know which coins to buy and at what time. Casual investors with small bankrolls cannot take advantage of many Web 3.0 opportunities.
Launchpad XYZ can help with this, allowing users to invest fractionally in high-value assets. For example, investors can own a tiny fraction of a $200 million hotel in London or a $20 million Bugatti La Voiture Noire.
Furthermore, Launchpad xyz offers investors cutting-edge insights and strategies for navigating the crypto market. It provides a risk-reward score for crypto analysis through its proprietary Launchpad Quotient tool. More than 400 data points contribute to the score derived using artificial intelligence (AI).
Staking LPX tokens is the only way to get access to some of Launchpad's best features. There is a minimum stake of 10,000 LPX required for 90 days. There are, however, some features that require a higher amount.
Despite this, staking allows Launchpad XYZ to obtain discounted tokens in private ICOs. Among the platform's premium features, you will also be able to access newly minted NFTs and discounted DEX fees.
Launchpad XYZ Roadmap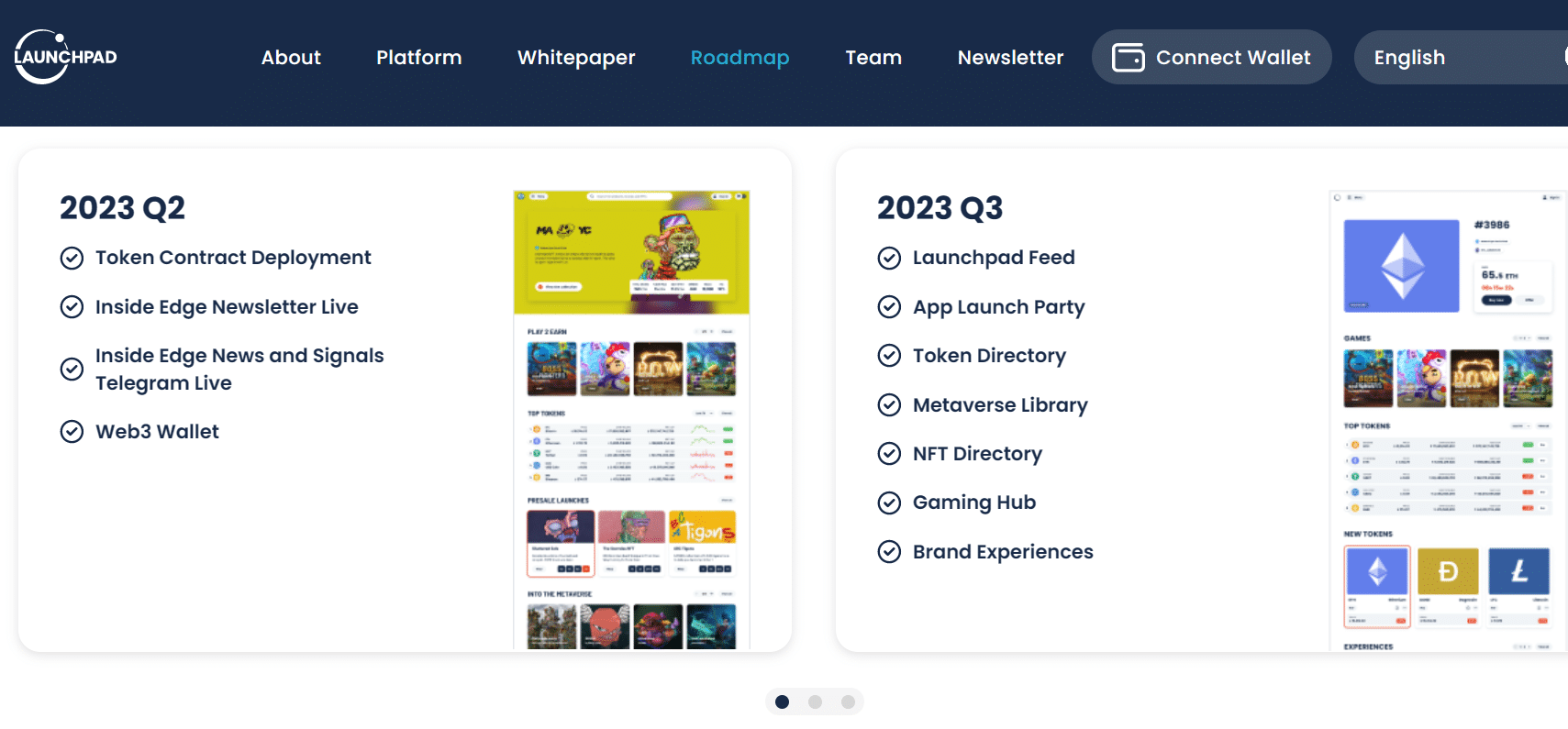 The project roadmap is one of the things to look for before buying Web3 crypto projects. Furthermore, roadmaps offer insight into how successful a project can be when it launches and how it can achieve its goals and milestones. For example, according to its website, Launchpad XYZ has a clearly defined roadmap. With this project, the Web3 space is set to be changed for the better, and the next 10 million crypto users will be onboarded.
As part of its goal-setting process, it has outlined each milestone it aims to reach. By the third quarter of 2023, some core features will be released following the presale and campaign. In addition, token directories, Launchpad Feeds, Web3/metaverse libraries, NFT screeners, gaming hubs, and a token directory will be available during this period.  Additionally, the platform will be updated with new features in the year's final quarter. Pre-sale directories, a learning hub for users, and Launchpad DEX are among these.
Launchpad XYZ will be close to completion for users by the beginning of 2024. In addition, a crypto trading terminal, crypto loans, and competitions will be launched during this timeframe. After launching its fractional asset exchange and NFT decentralized exchange in the second quarter of 2024, the platform will be fully operational.
Launchpad XYZ Platform Key Features – Reviewed
We will examine Launchpad's main USPs and key features in the following section to decide whether or not the project is worth investing in 2023.
✔️AI-driven crypto research tools
By using Launchpad XYZ, users will be able to find the next big investment by using a user-friendly AI-driven search tool. For example, suppose the user asks the AI, "What are the five best cryptocurrencies to buy today?".
Afterward, Launchpad XYZ displays the five suggested cryptocurrencies and their reasons for being considered potential portfolio assets. The AI responses can also be shared on social media by users to help other crypto enthusiasts.
✔️Decentralized Exchange for Crypto and NFT Trading
A decentralized hybrid exchange will also be available to Launchpad XYZ users. Additionally, traders will be able to purchase and sell NFTs in addition to crypto pairs.
The DEX will support several order types, including a maker-taker commission structure. In addition, trading commissions will be reduced for those staking LPX tokens.
✔️Play-to-Earn Hub
In addition to the play-to-earn gaming hub, Launchpad XYZ is developing other unique features. Through this platform, users can view all play-to-earn games on the market. It is even possible to bet on the outcome of play-to-earn games in real-time.
In addition, LPX token holders can participate in early play-to-earn game releases. Investing in play-to-earn games before they are released will allow investors to assess their potential returns.
✔️Private ICO Allocation
Cryptocurrencies with private and public rounds are some of the best ICOs. Investors benefit from private rounds because they can access the lowest price possible. A private round, however, is rare for casual investors to be able to participate. As a result, many of them come with high investment requirements as a condition of participation.
Launchpad XYZ offers access to private ICOs as one of its premium features. Launchpad XYZ will offer them to premium users upon securing an allocation of tokens. A stake of at least 10,000 LPX tokens is the only requirement for accessing private ICOs.
Pros and Cons of Investing in LPX
Pros
Real-world use cases are part of the project
LPX tokens are deflationary
Industry experts are responsible for project development
Passive income from crypto staking is available
Pre-sale price for Launchpad is low
Cons
There is a risk associated with cryptocurrency investments
Web3 is a highly competitive market
Your Money is at Risk.
Will Launchpad XYZ explode after the presale?
Before discussing whether LPX is a worthwhile investment, it's important to note that the cryptocurrency market is volatile, so there are inherent risks to any crypto presale investment. However, some presales in the past have produced huge returns for investors, so investing in Launchpad XYZ during the presale may be a good idea.
Investors may consider Launchpad XYZ for a variety of reasons. First and foremost, Launchpad XYZ is an innovative project that simplifies the entry into Web3 for everyone. Its main target is a rapidly growing market for Web3, and it has plenty of room for growth.
Launchpad XYZ is well-positioned to benefit from this trend as the interest in cryptocurrencies and blockchain technology continues to grow over the coming years. The platform has many features that will appeal to a wide range of crypto enthusiasts.
In addition, the Launchpad XYZ ecosystem has plenty of uses for the native token LPX. The market usually responds to increased utility by increasing demand. By increasing the number of buyers, the cryptocurrency's price can rise.
How long will the Launchpad XYZ presale last?
It is challenging to predict the price of a cryptocurrency such as Launchpad XYZ, which is a new cryptocurrency. The market sentiment is often influenced by the price movement of thousands of tokens in this space. Despite this, those who invested in Launchpad's presale may wonder what the future holds for LPX.
Pre-stage 10 Launchpad XYZ investors will see an immediate return on their investment. As noted above, stage-one investors will have the greatest upside at 100%. There is also an upside for those who enter at later stages, but the amount will be lower.
Launchpad XYZ DEX will list LPX tokens after the presale, enabling those who missed the presale to buy tokens on the open market. As a result, there is a possibility that prices will rise if there is strong buying pressure.
It is also important to consider Launchpad's market capitalization when evaluating its potential. A soft cap of $5 million and a hard cap of $12.5 million have been set for the presale, respectively. Launchpad's market capitalization will range between $20 million and $50 million if 25% of the LPX supply is sold during the presale. When it hits exchanges, LPX tokens will likely have plenty of upside potential.
Before making any presale investment decisions, investors should conduct research.
Your Money is at Risk.
Is the Launchpad XYZ presale safe?
There are many reasons to buy Launchpad XYZ, as this article has demonstrated. Web3 investing and trading will be revolutionized and simplified with the platform's help. In addition, it will provide access to the best Web3 crypto projects that may explode in the future. Finally, traders and developers will also benefit from the upcoming DEX; the presale token is currently discounted. This makes Launchpad XYZ an attractive investment because it offers all of these features.
It is, however, not certain that investors will make profits from any token presale, even though the crypto project has a promising outlook. New crypto projects, like Launchpad  XYZ, with solid roadmaps and real-life utility, will likely reach their full potential.  The fact is that some altcoins, such as Dash 2 Trade, Tamadoge, and Calvaria, had a successful presale and generated a massive return on investment (ROI) for investors. LPX should therefore be considered when constructing a diversified crypto portfolio.
How To Buy Launchpad XYZ (LPX) 2023– Conclusion
Launchpad XYZ aims to offer investors a single entry point to the Web 3.0 investment space through its innovative features.
There are several things you will be able to gain access to, including private ICOs and NFT launches, fractional assets, premium market insights, sentiment, and much more. Users are required to stake LPX in order to take advantage of many of the features, ensuring the token has real-world utility.
Launchpad XYZ recently launched a presale in which LPX tokens can be purchased for a small amount. As a result, there is a potential upside of 30 percent for first-movers so that investors can take advantage of the opportunity.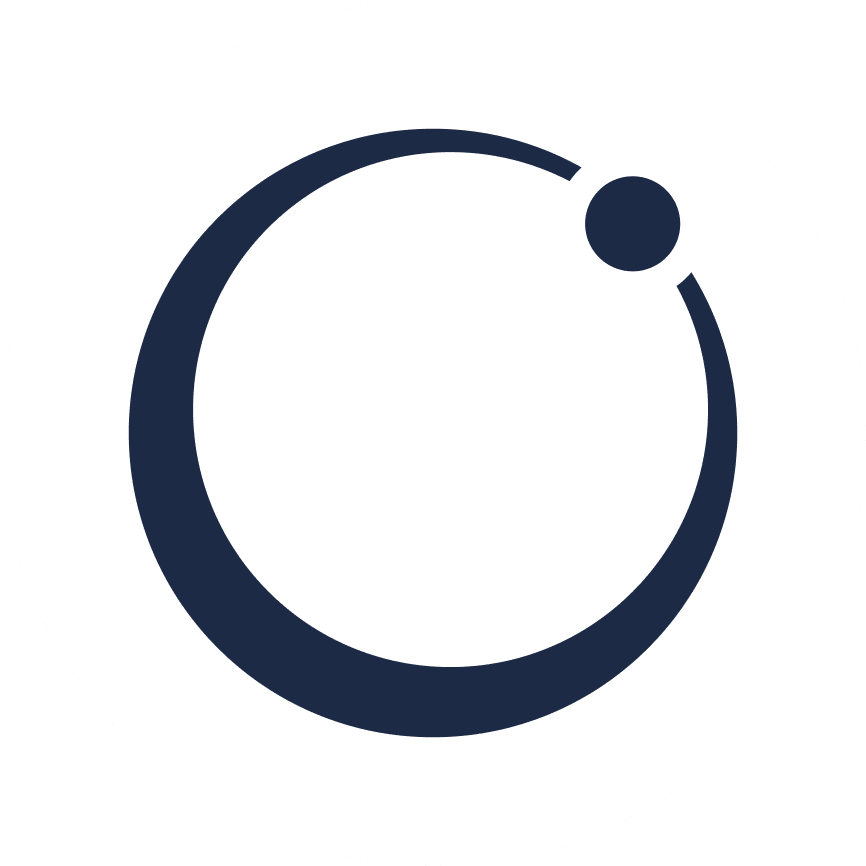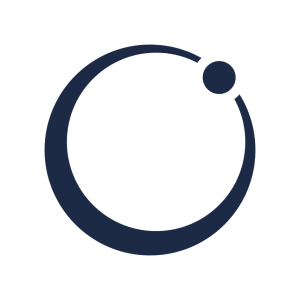 Your Money is at Risk.
FAQs
What is the best token presale to invest in right now?
Is LPX a good crypto to buy?
What is the best web3 crypto to buy?
How to make money from Launchpad XYZ presale?