Following a turbulent year that saw a significant drop in production, the coal industry expected to initiate a recovery in 2021.
According to the research data analyzed and published by Stock Apps, worldwide coal output fell by 2% in 2020 as a result of pandemic-related restrictions. In 2021, it is projected to increase by 3.5% reaching 8 billion tons (bnt).
The industry is forecast to maintain a healthy rate of output growth, surging at a 2.3% compound annual growth rate (CAGR) in the period between 2021 and 2025. By the end of the forecast period, global production is estimated to reach 8.8 bnt.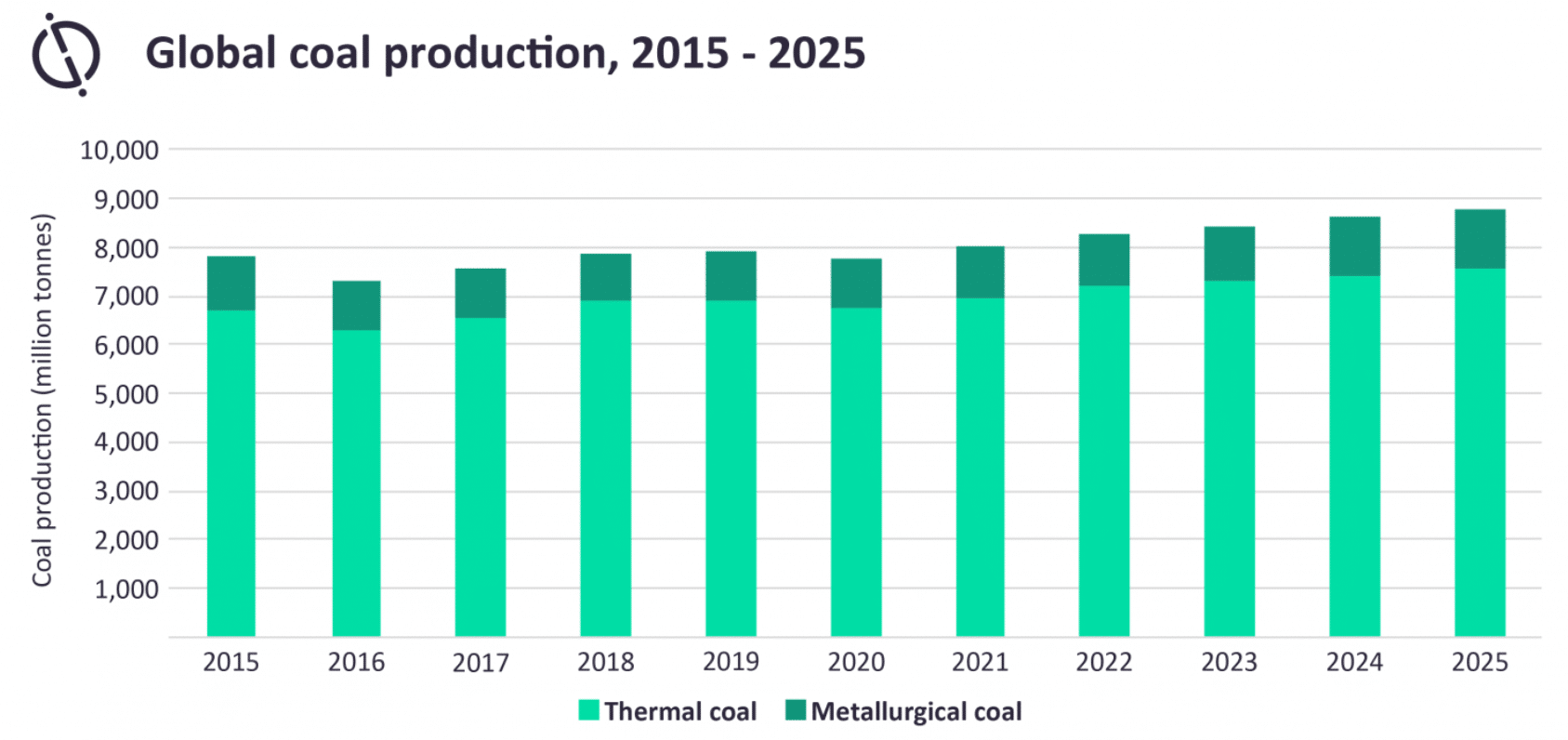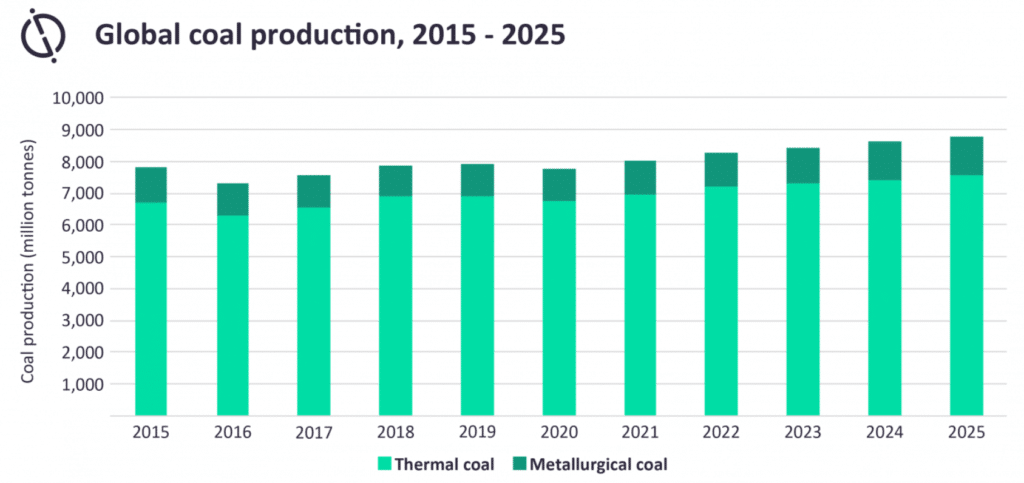 Metallurgical coal production will grow at a higher rate during the period, rising at 4.2% annually to 1.2 bnt by 2025. On the other hand, thermal coal output will increase at a 2% CAGR to 7.5 bnt.
During the forecast period, India, the second-largest producer in the world, is expected to lead global growth. Its production is projected to surge from 777.7 million tons (Mt) in 2020 to reach 1.2 bnt by 2025. In 2021, the country's output is set to rise by 9% to 827.8 Mt.
Among the factors boosting growth in the country is the commercial auction of coal mines. In the past, coal production was restricted to state-run companies. But in 2020, it opened up mining to private companies.
China, Indonesia, Australia and South Africa will also post considerable growth in the forecast period. Their combined production will rise from a projected 5 bnt in 2021 to 5.43 bnt in 2025.
2021 output growth in China is estimated at 2.5% courtesy of the commencement of Xinjiang Zhundongs and Dahaize projects. The US and Russia are also set to bounce back, with 9.3% and 8.4% growth in 2021.
Australia is, however, expected to post a 4% decline in 2021 as a result of tensions in China-Australia trade.
US Coal Production Sank by 24% in 2020, China and India up 4% and 0.7% Respectively
In tandem with the drop in supply seen during the past year, there was a considerable decline in demand. Global demand for metallurgical coal sank by 5.9% while for thermal coal, there was a 3.5% fall.
The US was one of the worst affected countries, with a 23.6% drop in output. Indonesia followed with a 13.1 drop and Russia, a decline of 8.1%. Though there was an increase of 4% in China and 0.7% in India, these only partially offset the huge deficits.
During the year, the top ten mining companies saw production fall by 4.2% from 1.7 bnt in 2019 to 1.63 bnt according to GlobalData.
Arch Resources had the largest decline, 28.6%, with PT Bumi fast on its heels, with a 24.9% drop. Glencore fell by 23.9% while Peabody sank 21.8%.
Only four of the top ten posted growth in production. Three among these are China-based, and their growth was attributed to the country's quick recovery.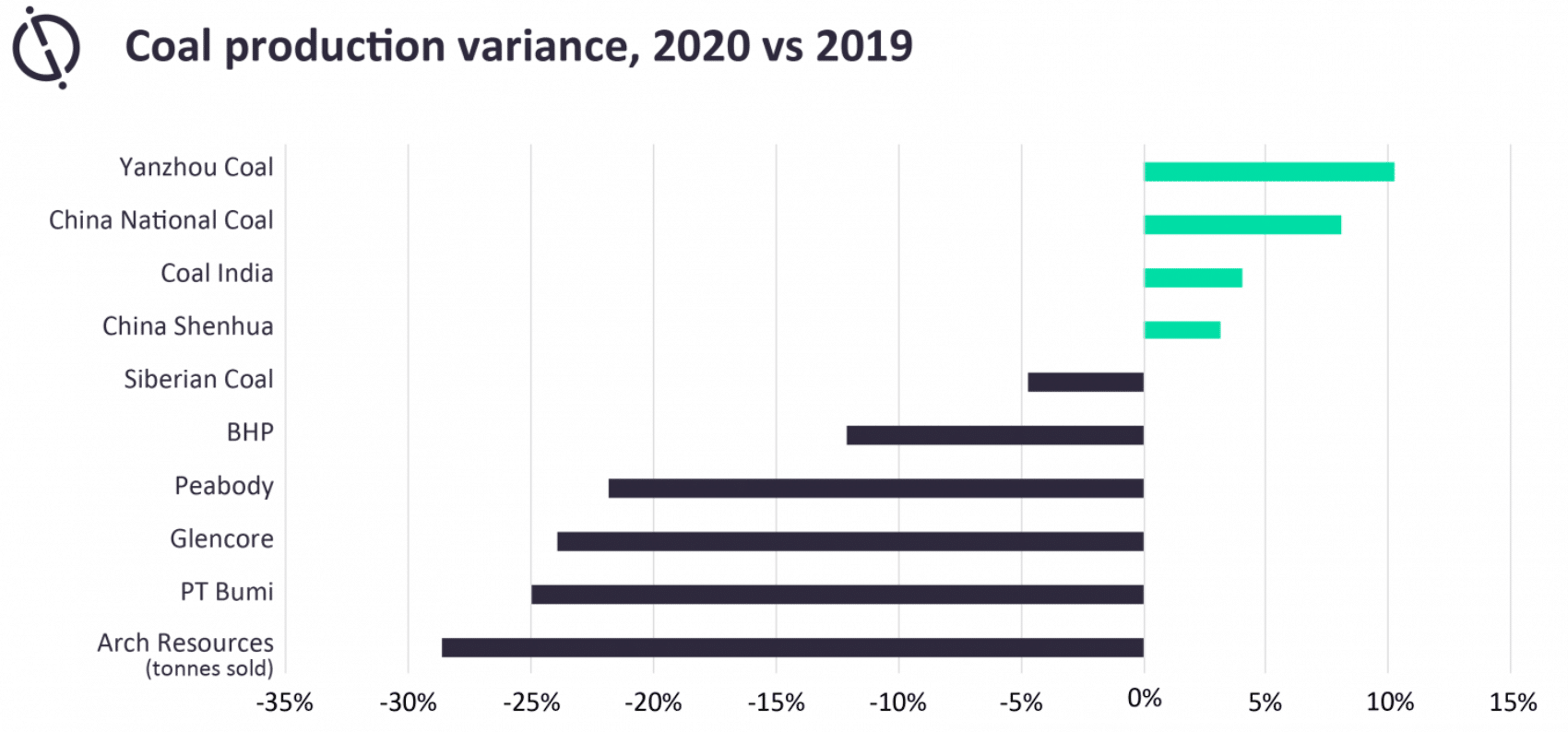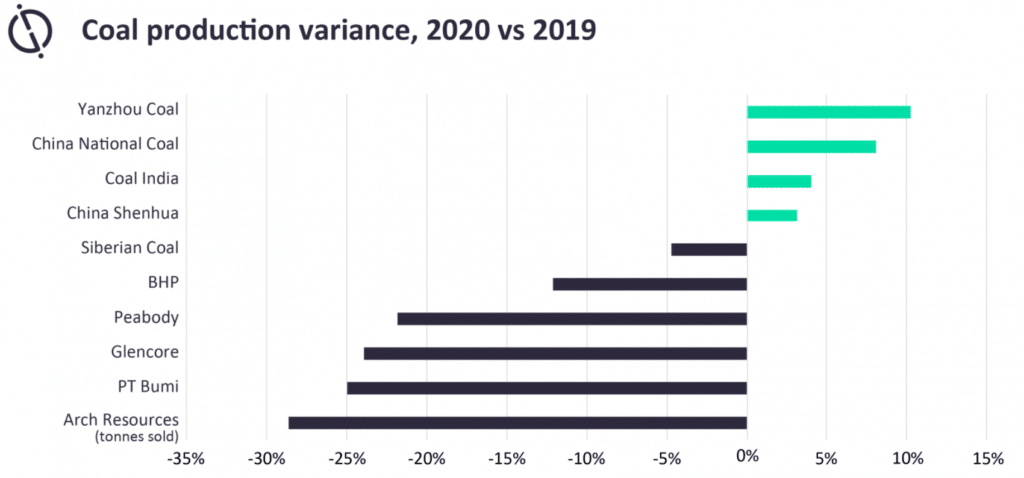 Yanzhou Coal had the biggest production increase, rising by 10.2%, while China National Group posted an 8.1% rise. Coal India was third with a 4% increase and China Shenhua fourth with a 3.1% gain.
In 2021, production from the top ten players is projected to reach between 1.68 bnt and 1.74 bnt. That would be an increase of up to 6.6% YoY.
Global Funding into Fossil Fuels Fell by 9% to $751 Billion in 2020
According to a report published by the Rainforest Action Network (RAN), overall funding into oil, gas and coal companies fell by 9% in 2020. The figure fell from $824 billion in 2019 to $751 billion.
In spite of the decline though, the 2020 figure was higher than the funds injected in 2016 as well as in 2017. Notably too, for the top 100 companies in the sector, there was a 10% increase in financing for the sector's companies.
In the period between 2016 and 2020, the world's largest 60 banks have poured $3.8 trillion into the sector. Thirteen out of these 60 banks are in the US and Canada, and account for close to half of the total financing into the sector over the said five-year period.
Five out of the top ten financiers globally were in fact US-based banks. JP Morgan Chase ranked first on the list with funds totaling $317 billion into the sector in that duration. It holds a 33% lead over the #2.
Citi came in second with $237 billion, Wells Fargo third with $223 billion and Bank of America was fourth with $198 billion. TD sat in the ninth spot with $121 billion.