The coronavirus vaccine is set to be a money spinner for big pharma, or at least some of the industry's players.
According to the research data analyzed and published by StockApps, Pfizer and Moderna expect to rake in a cumulative $33.4 billion in sales from the vaccine in 2021. The figure includes $15 billion for Pfizer and $18.4 billion for Moderna.
In the case of Pfizer, the figure is subject to change in the event that the company signs additional contracts. Issued as part of its 2021 guidance, the total is based on the number of doses it expects to deliver during the year. The drugmaker estimates profits in the high 20% range of revenue.
During Q4 2020, the Pfizer-BioNTech COVID-19 vaccine fetched $154 million. It was the first one to score authorizations in a number of developed countries. As of January 30, 2021, Pfizer reported having shipped a total of 65 million doses.
By the end of May 2021, it expects to deliver 200 million vaccines to the US alone. The two companies estimate their production capacity for 2021 at 2 billion doses.
As of March 2021, governments had ordered 780 million doses. These include the 200 million doses for the US at $3.9 billion and 300 million doses for the EU. It also includes 40 million doses for low-income countries under the COVAX initiative.
According to a Barclays projection by analyst Carter Gould, Pfizer's sales for 2021 could go as high as $21.5 billion. In 2023, estimated sales could reach $8.6 billion and in 2024, $1.95 billion. The projection is based on an assumption that recipients get the vaccine as a one-off shot.
Pfizer also sells the pneumococcal shot Prevnar 13. In 2020, Prevnar 13 generated $5.85 billion in revenue while the company's overall vaccine franchise generated $6.56 billion.
Moderna Share Price up by 376%, BioNTech by 156%, Pfizer by 1.8%
Moderna announced that it would produce a minimum of 700 million vaccine doses in 2021 and up to 1.4 billion in 2022. In Q4 2020, the company had a deal with the US government to supply 300 million doses.
It had already shipped 55 million doses and expected to complete 100 million deliveries by the end of Q1 2021. For the second 100 million doses, delivery would be done by the end of May 2021 and the third lot by August 2021.
The UK ordered 17 million doses while the EU purchased 310 million and could order a further 150 million in 2022. Japan bought 50 million.
The company also said it was in talks with the World Health Organization (WHO) to supply doses under the COVAX initiative in 2021 and 2022.
According to Barclays analyst Gena Wang, Moderna's sales could hit $19.6 billion in 2021, $12.2 billion in 2022 and $11.4 billion in 2023.
Over the 12-month period ending March 2021, Moderna share price had surged by 372%. During the same period, BioNTech's stock had gained 156% while Pfizer was up by 1.8%.
Based on Bernstein's analysis, Pfizer and Moderna will lead the $40 billion COVID-19 vaccine market in 2021. Other players including AstraZeneca, Johnson & Johnson, Novavax and others will trail behind the two.
Bernstein estimated that the top two players would make a collective $28 billion from vaccine sales in 2021. Morgan Stanley's projection was slightly higher at $32 billion. They would thus account for a 70% market share on the lower side and up to 82.5% based on their own estimates
Big Pharma Received Over £8 Billion in Government and NPO Funding in 2020
According to data from analytics firm Airfinity, governments poured in £6.5 billion into vaccine production and testing projects as of December 2020. Not-for-profit organizations, on the other hand, pumped in a cumulative £1.5 billion.
UK's AstraZeneca had received a cumulative £8.19 billion in funding as well as private donors. Pfizer/BioNTech had received £2.25 billion and Moderna, £1.9 billion.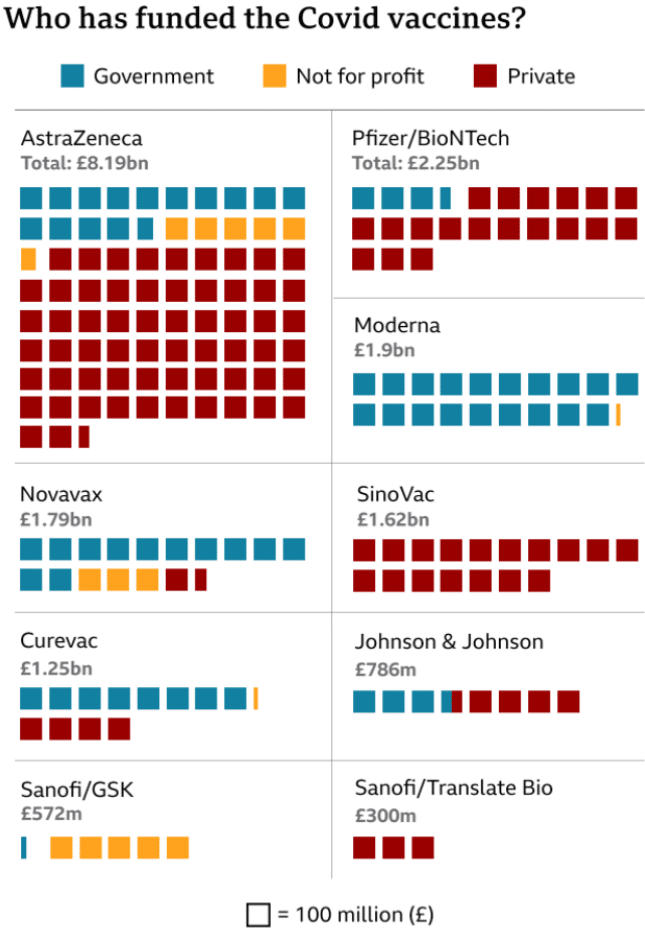 Other funding recipients included Novavax at £1.79 billion, Sinovac at £1.62 billion, Curevac at £1.25 billion and Johnson & Johnson at £786 million. Sanofi/GSK received £572 million while Sanofi/Translate Bio got £300 million.
Some of the drugmakers declared that they would not seek to profit from the crisis. AstraZeneca and Johnson & Johnson pledged to sell their vaccine on a not-for-profit basis for the duration of the pandemic.
Looking to be the cheapest, AstraZeneca has priced it at $4 per shot, compared to Moderna's, which at its highest, will sell at $37 per dose.