The VR technology has come leaps and bounds during the last decade. As VR gaming becomes more and more accessible to consumers and the metaverse comes into existence, VR is expected to continue its growth in the coming years. According to the numbers presented by StockApps.com, the active VR base is expected to increase by 169% during the next five years.
VR active base to reach 70m in 2026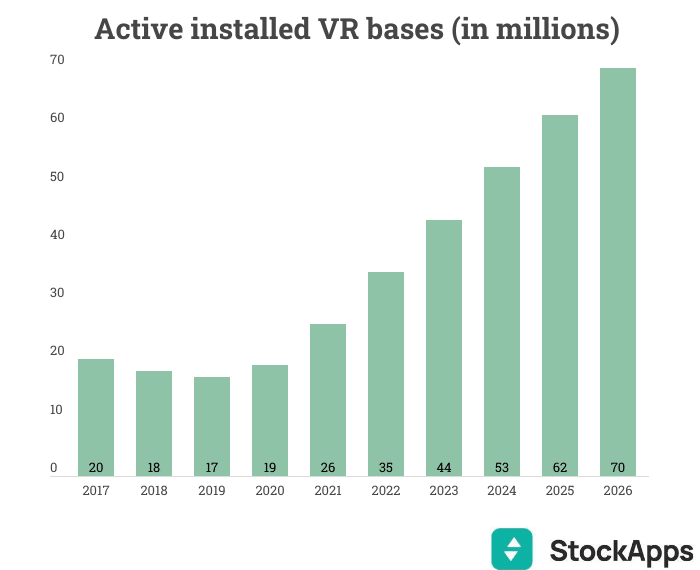 According to numbers released by Omdia, the active installed VR base stood at 26 million in 2021. The report covered a total of 30 countries in the analysis. The overall base is expected to witness a sustained increase in the upcoming five years. The base size is expected to increase to 35 million following year-on-year growth of 35% in 2022. A total of 12.5 million headsets are estimated to be sold in 2021.
The installed VR base size is expected to sustain a similar growth rate up until 2026. The numbers predict that there will be 70m active VR headsets in 2026. This projection predicts an increase of 169% in the five years from 2021 to 2026.
The report also looked at the past numbers. Interestingly, the number of installed VR devices witnessed a slight decrease from 2017 to 2019. The report explains that in 2017 standalone VR devices made up only a mere fraction of the entire active VR base. Smartphone VRs and Tethered VRs made up most of the installed base. However, starting from 2017, the VR industry saw a substantial shift towards standalone VRs as smartphone VRs slowly began to phase out. In 2021, standalone VRs made 83% of the entire active VR base.
The report predicts that standalone VRs will continue to grow in popularity and their share of the overall base will also increase. The popularity of Smartphone VRs has dwindled in the last few years, and it is expected to reduce to negligible by 2026. 
Vyom Chaudhary, an editor at StockApps.com, commented, "There is still a long way to go before mass adoption of the VR technology, but signs look positive. One of the major hindrance is that VR video games still constitute the majority of the content on VR platforms. However, as the Metaverse dream turns into reality, VR technology could become more popular than ever."