In the heart of Carson City, lies a fascinating piece of history that has long been forgotten: the Nevada State Prison Casino. While casinos in Nevada are a common sight today, it may come as a surprise to learn that there was once such a entertaining establishment inside the prison walls. This unique casino, which the prison inmates operated, had a rich history and a lasting legacy that has continued to capture people's imagination to this day. The casino was the result of a law passed by the Nevada Legislature in 1931, which allowed for wide-open gambling.
This legislation, known as Assembly Bill 98, was signed into law by Governor Fred Balzar and opened the door for the gaming industry and the regulated modern casino we know and enjoy today. It was a way for the prisoners to make some money and spend their time while serving out their sentences. The casino was located in the prison bullpen, which was a large open space where the inmates would gather to play games and socialize. The bullpen was also used for exercise and other activities, but the casino quickly became the most popular attraction.
Gambling Behind Bars
The spread of gambling in Nevada before 1959 significantly influenced the decision to open the casino. The state had seen a significant influx of visitors who wanted to try their luck at the tables, and the prison casino was seen as an opportunity to capitalize on that.
Despite the fact that the casino was located within a prison, it attracted a number of visitors from outside who were curious to see what it was like. The benefits of inmate gambling were also seen as a major plus. It gave inmates a way to make money, as well as a distraction from the monotony of prison life. It also helped reduce the tension between inmates, as gambling was seen as a form of entertainment that could bring people together.
Collecting Nevada Prison Tokens
The prison tokens used in the casino were made of brass and were worth different values, such as 5 cents, 10 cents, 25 cents, 50 cents, 1 dollar, and 5 dollars. Inmates could use them to purchase items from the prison store, such as cigarettes, candy, and other snacks.
The tokens also had the NSP logo, making them a popular collector's item. The tokens were not only used in the casino but could also be exchanged for money outside the prison walls. This allowed inmates to make money while in prison and was a major factor in the casino's success.
So, how did inmates go about obtaining these tokens? The answer is simple: they earned them through their gambling winnings. And while it might seem strange to think of prisoners gambling away their meager earnings, the reality is that the Bullpen casino provided inmates with a sense of purpose and a chance to improve their lot in life.
The Closure of the Bullpen
Unfortunately, the Nevada State Prison Casino could not last forever. In April 1967, it was forced to close down due to pressure from the state government.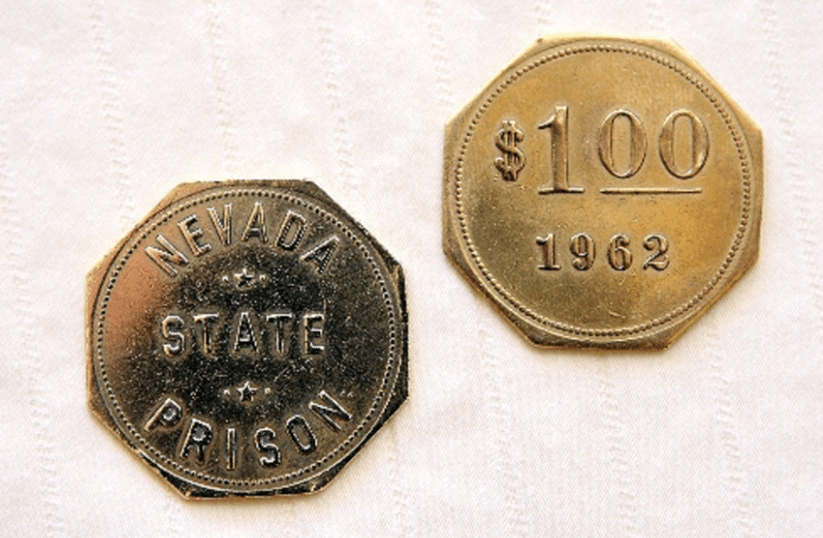 Warden Hocker had allowed inmates to gamble with their own money, which was illegal then. He was also criticized for allowing inmates to make money while in prison, as it was seen as exploiting the inmates.
The inmates were disappointed when the casino was forced to close down. Many of them had come to rely on it as a source of income, and the closure of the casino left them with other means to make money.
What Happened to It?
It's interesting to note how the prison tokens used in the Nevada State Prison casino compare to those used in today's crypto casinos, their slots, and bitcoin live casino online games like blackjack. While the prison tokens were physical objects used in a closed system, crypto tokens are digital assets that can be traded on various platforms. Additionally, the transparency of blockchain technology allows for greater accountability and fairness in online gambling, something not always guaranteed.
While this institution may seem like a relic of the past, its legacy lives on in online gambling, particularly in using tokens to exchange. Both types of tokens serve a similar purpose, allowing users to participate in a specific economy and engage in transactions without using traditional currency. However, crypto tokens are more flexible and can be used for a wide range of applications, from online gaming to crowdfunding.
This was most definitely a unique experiment in the history of gambling, and its legacy remains relevant today.  It showed that gambling could be used to rehabilitate prisoners, and it offered them a chance to learn new skills and reduce their sentences. The prison tokens used in the casino were an essential part of its operation, and they remain a valuable collector's item today. While it may no longer exist, its legacy lives on, inspiring a new generation of casinos that seek to use gambling for social good.