With so many crypto and NFT projects being released, it takes more than just having a unique token to stand out. To get your project noticed, you need a professional marketing agency.
Since launching earlier this year, CryptoPR has proven itself to be one of the most capable crypto and NFT marketing agencies in the field. The company has already run a number of hugely successful campaigns and it could help propel your token to the next level of popularity.
What Does CryptoPR Do?
The key to CryptoPR's success lies in the unique strategy the firm uses to earn attention for your coin. CryptoPR focuses its efforts on 3 main areas:
Press releases to attract journalists from mainstream crypto outlets.
Bespoke content that can be published on platforms like CoinTelegraph, InsideBitcoins, CoinDesk, and more.
Arranging interviews with founders to create content that can be shared with mainstream outlets and on social media.
CryptoPR campaigns can last anywhere from 2 weeks to 6 months, depending on whether your goal is to drive virality as quickly as possible or to increase awareness of your crypto project for the long term.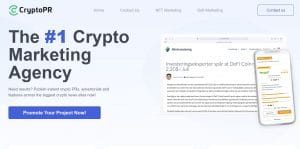 NFT and DeFi Marketing
While CryptoPR will handle any crypto advertising needs, the company specializes in promoting new NFT and DeFi tokens. The company can promote your brand across business-to-consumer outlets, helping drive engagement and converting leads into customers.
Plus, CryptoPR operates an international network of crypto marketers and journalists. That means that your project can get traction far beyond the US. So, if your goal is to spread the word about your project to Europe, Asia, and beyond, CryptoPR is the best cryptocurrency marketing agency for the job.
Get Started with CryptoPR Today
Ready to drive interest in your cryptocurrency or NFT? You can use the following CryptoPR links to get started: