According to the research data analyzed and published by Stock Apps, as a result of the economic recession in 2020, the enterprise application software industry is expected to shrink. A Gartner report published in October states that the global industry will suffer a 2.2% decline in 2020 revenue to reach $237 billion.
Based on a projection published by Statista, the outlook is a bit less optimistic. The report estimates that the space will generate $195.1 billion by the end of 2020, marking a 4.2% decline.
Both reports however point to a rebound in 2021, with Statista projecting an increase of 18% in revenue year-over-year (YoY).
The Gartner report attributed the decline in 2020 to workforce reductions as well as to the fact that some companies have gone out of business. The impact was especially noteworthy in the manufacturing, transportation and natural resource industries.
In 2021, revenue growth is expected to come from increased spending on eCommerce platforms. Coupled with a rise in demand for cashless payments, the trend is set to boost the revenue in the CRM software segment.
Global Enterprise Application Industry to Grow by 3.4% to $266 Billion by 2024
According to IDC, global enterprise application revenue shot up by 7.5% YoY in 2019 to $224.6 billion. The report projected that the market will grow at a five-year compound annual growth rate (CAGR) of 3.4% to reach $265.7 billion in 2024.
In 2019, SAP was the top player globally with a 7.7% share of market revenue, followed by Oracle, with a 5.1% share.
Salesforce took the third spot with a 5.0% market share while Intuit was fourth with 3%. During the most recent quarter, three of these companies managed to stage a rebound from COVID-related losses.
For the quarter which ended in September 2020, SAP reported €6.54 billion in revenue, down 4% YoY. Operating profit for the period was €1.47 billion, a drop of 12% YoY.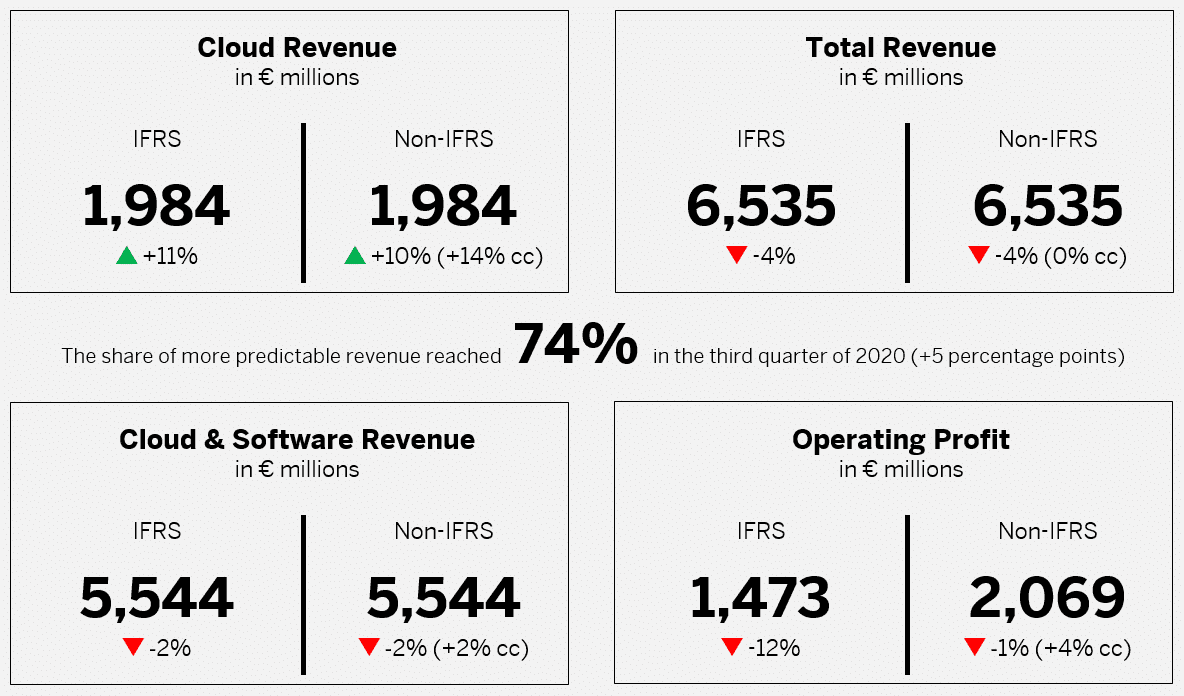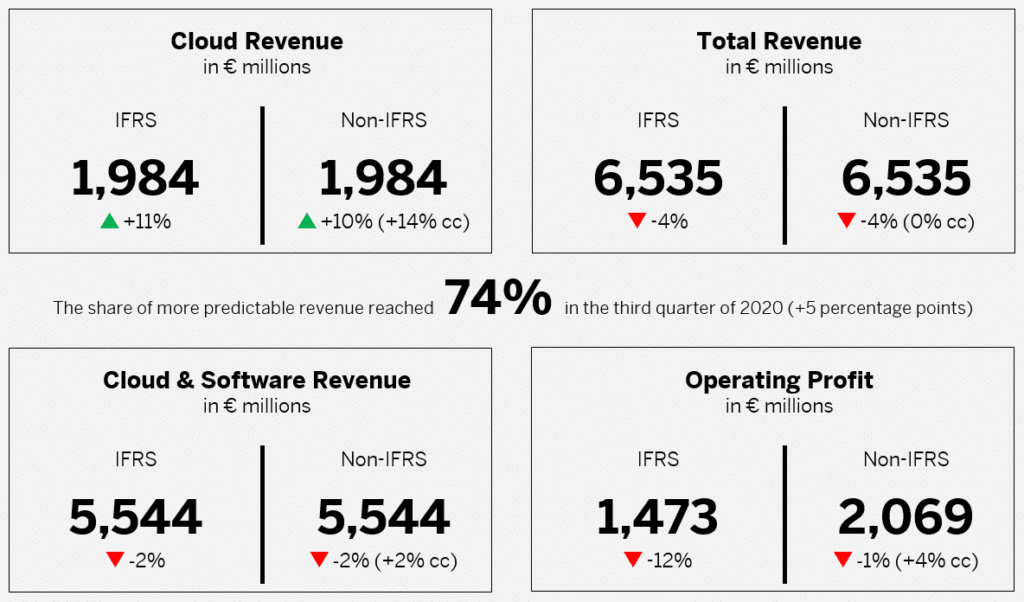 While cloud revenue grew by 11% YoY to reach €1.98 billion, there was a cloud backlog of €6.6 billion. Software licenses sank by a massive 23% YoY to €0.71 billion. All in all, cloud and software revenue fell by 2% YoY to €5.54 billion.
Despite the drop in cloud revenue, SAP mentioned its intention to accelerate the transition to the cloud. By 2025, it targets over €22 billion in cloud revenue, expanding its share of predictable revenue to 85%.
For SAP S/4HANA, there were an additional 500 customers during the quarter, marking a 20% increase YoY. By the end of the period, the segment accounted for more than 15,100 customers, of whom 8,100 were live.
Oracle Revenue Grows by 2%, Salesforce by 29% and by Intuit 83% vs. IBM's 2.5% Decline
Oracle returned to growth after a sales decline in the previous quarter. Revenue grew by 2% YoY to reach $9.37 billion. Comparatively, it had posted a 6.3% revenue decline in the prior quarter.
Its cloud services and license support segment, which accounts for most of its revenue, similarly grew by 2% reaching $6.95 billion. Among the new cloud clients it touted for the period were Xactly and McDonald's.
In its FY21 Q2 which ended in July 2020, Salesforce posted revenue growth of 29% to $5.15 billion. Sales Cloud revenue grew by 13% to $1.28 billion while Service Cloud soared by 20% to $1.30 billion.
Its Platform & Other category shot up nearly 66% to $1.51 billion. Notably, this segment includes Tableau data visualization software, which Salesforce acquired in 2019 for $14.8 billion.
On the other hand, Intuit had similarly impressive results during its FY20 Q4 which ended in July 2020, as it reported the fastest category growth experienced in 15 years. The company, which is the TurboTax, Mint and Quickbooks parent, posted an increase of 83% in revenue to $1.8 billion.
Its consumer group segment shot up by 13% to $710 million from $74 million during a similar period in 2019. There was double-digit growth in its online ecosystem and slam business segments at 29% and 16%, respectively.
IBM, which is not in the top five but is a significant player in the space, posted a third consecutive quarter of revenue drops. During the period which ended in September 2020, its revenue fell by 2.5% to $17.56 billion.
Its Global Technology Services segment, which is set to become a standalone public company, generated $6.46 billion, a 4% drop YoY. Cloud and Cognitive Software (including Red Hat) rose by 7% to deliver $5.55 billion.
The Global Business Services unit, on the other hand, sank by 5% to total $3.97 billion while Systems raked in $1.26 billion, marking a 15% decline. Free cash flow amounted to $1.10 billion, the lowest the company has posted since Q1 2001.