Ethereum had a busy Q3 2020 courtesy of decentralized finance (DeFi) apps, sending transaction fees to stratospheric highs. According to the research data analyzed and published by Stock Apps, the network's transaction volume shot up to $119.5 billion during the quarter.
Compared to Q2 2020 when transaction volume amounted to $10.2 billion, that was an increase of nearly 1,200%. DeFi apps accounted for 99% of the total volume, pushing the gaming sector out of the limelight. It is noteworthy too that the total DApp transaction volumes for all platforms in Q3 2020 reached $125 billion. In comparison to Q2 2020, there was a $113 billion increase quarter-over-quarter (QoQ).
Moreover, most of the transactions took place on three networks – Ethereum, TRON and EOS. From the total value created during the three-month period, Ethereum accounted for 96%.
Ethereum was the top blockchain in the DApp market during the quarter, with 1,956 DApps. EOS was second with 547 DApps and $3.5 billion in volume while TRON came in third with 545 DApps and $1.8 billion in volume.
Interestingly though, Bitcoin too recorded some growth in transaction fees during Q3 2020. According to The Block Research, Bitcoin miners earned 88% more compared to Q2 2020. Users paid $987,000 on average in daily transaction fees.
During the three-month period, network users transacted over $225 billion on the Bitcoin blockchain, a $2.4 billion daily average. In comparison to Q2 2020 when the total value transacted was $180 billion, this was a 25% increase.
Ethereum Miners Made $113 Million from Fees in August, 38x Increase from April
The surge in Ethereum-based DeFi apps came with a major drawback, which is a massive surge in transaction fees. According to a report published by Coinmetrics, Ethereum fees started on a steep uptrend around June 2020.
The fees went from $21.98 million on June 1 to $77.77 million on July 31, equalizing with Bitcoin's on August 12. On August 13, Ethereum miner's fees for the first time eclipsed Bitcoin's at $118.43 million against Bitcoin's $112.76 million. As of September 28, ETH fees had nearly doubled Bitcoin's at $276 million against $146 million.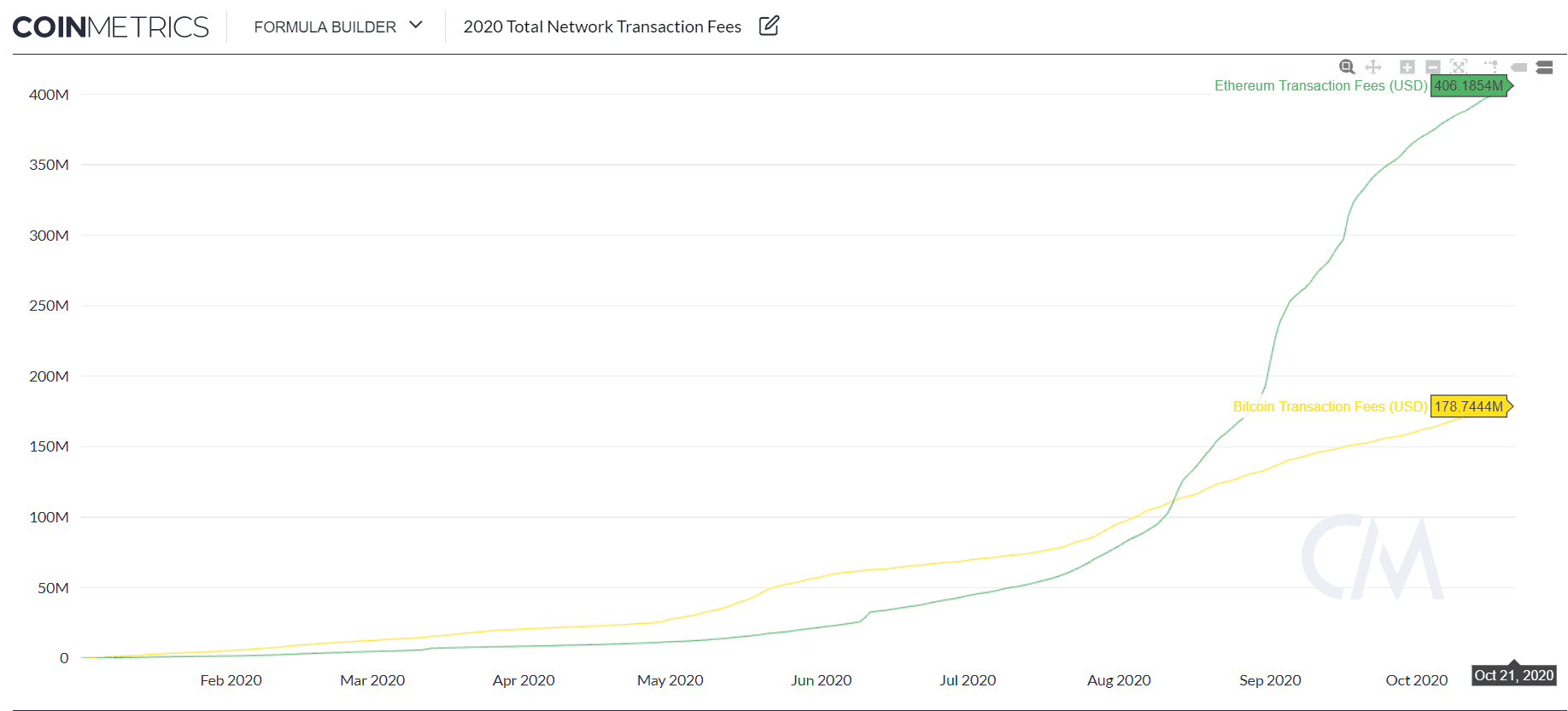 In the month of August alone, Ethereum miners made $113 million from fees according to Glassnode. Considering that monthly earnings were $3 million in April, that was a 38x increase. Compared to the previous ATH set in January 2018, it was a 1.8x increase.
For the first time in Ethereum's history, ETH miners earned more from transaction fees in September than they did from block rewards.
During that month, they also made $172 million from transaction fees according to The Block Research. But according to Glassnode, the figure was slightly less, at $166 million. Regardless, they made over $15 million less from block rewards, a total of $150 million.
In contrast, Bitcoin miners earned $39 million from transaction fees during the month of August. That was nearly 3x less than Ethereum's figure for the same month. The figure slipped by over $10 million in September to $26 million according to Coin Metrics data.
ETH Hourly Profits Near $1 Million in mid-September 
Since June 2020, miners on the Ethereum network have set multiple records in terms of hourly profits. According to Glassnode, miners made a record on September 1, 2020 when they earned $500,000 in a single hour.
On that day, the daily earnings on the network from transaction fees nearly doubled from $8.1 million on August 31 to $16.5 million. To put these figures in perspective, daily transaction fees were $140,000 in January. And on August 8, they were $2 million.
The $16.5 million high was 3.7 times higher than the all-time high (ATH) recorded at the height of the 2017 crypto mania. Comparatively, Bitcoin miners generated $1.5 million on September 1, equivalent to 9% of the Ethereum total. In December 2017, Bitcoin's ATH in transaction fees was $21.4 million.
On September 2, the average hourly revenue surged to $800,000. Yet another record was set on September 17 according to Glassnode, reaching nearly $1 million. Combined revenue for the network's miners reached $938,000 in an hour.
Overblown fees are great for miners and do not seem to bother yield farmers as they are out to make money on their funds. However, it led to a remarkable drop in certain categories of DApps.
For instance, gaming apps on Ethereum posted a decline in Q2 2020, which carried on into Q3 2020. The number of active wallets under the category went from 10,000 in Q1, to 2,000 in Q2, and further down to 1,400 by Q3. That translated to a 28% drop from Q2 to Q3 and an 80% decline year-over-year (YoY).