Indonesia's BCA Bank is the world's strongest banking brand. StockApps.com has presented data showing that the bank scored 94% in its Brand Strength Index (BSI) measure. It grew its 2021's  BSI by two and a half points to get there. In doing so, it beat another 500 global banks that the study considered.
BSI ranks banks according to their relative strengths. The metric considers several parameters, including their investments in marketing, stakeholder equity, and overall performance.
Best value for money
"BCA is has been stepping up its offering in alignment with its expanding role as one of ASEAN's biggget bank," says StockApps.com's Edith Reads. "Indonesia's largest lender has recorded robust performances across crucial metrics especially those relating to customer satisfaction. It outdid the competition on matters reputation, quality of service and  value for money."
Over the past year, BCA's investments in digital banking have bolstered its standing. That's because customers consider the standards of such platforms an essential factor in their impressions of banking brands. 
Despite the achievement, the bank isn't resting on its laurels. It has recently been outlining ambitious plans for the future. Part of those plans entails listing its digital arm BCA Digital on the country's stock exchange.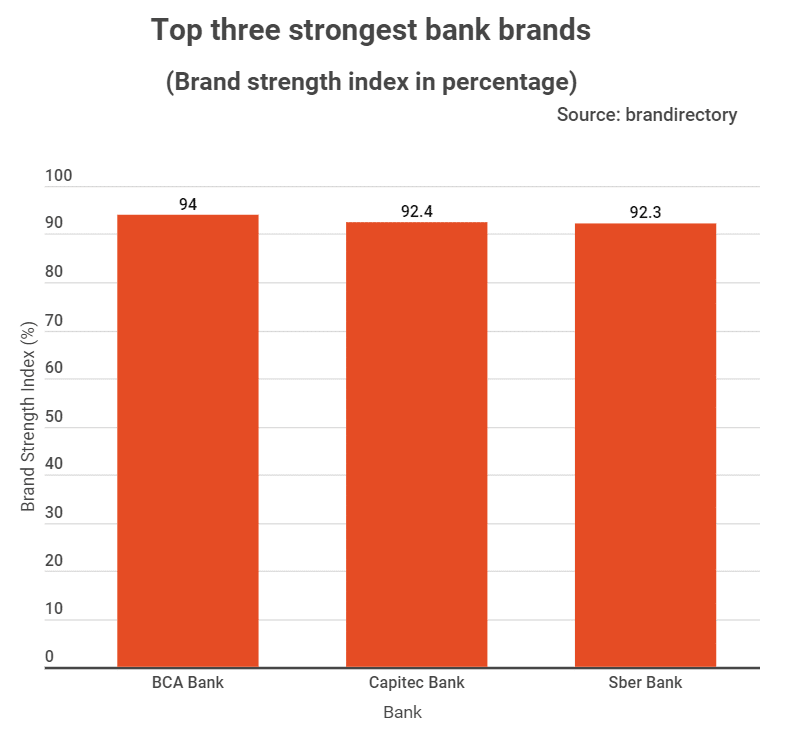 Banking on low-cost credit
Taking the second spot was South Africa's Capitec Bank.  They scored a BSI of 92.4% and an AAA+ rating for brand strength. The fact that the bank is a relatively young one in the space makes the feat the more impressive.
Capitec has been operating for about two decades only now. In that period, it has leapfrogged many of S.A's traditional banks to the second spot in market cap terms.  It has cut itself a reputation for delivering affordable credit for South Africans. Thus it has cultivated a solid customer base.
Moreover, Capitec is performing impressively in other measures too. Besides ranking third globally for quality of service, it took the fifth and sixth spots for ease of transacting with and familiarity, respectively. The bank has set its sights on further success underpinned by the provision of low-cost credit and high interest on deposits.
Europe's finest 
Russia's Sber Bank took the third position with a BSI of 92.3%. The bank has also dethroned Ferrari as Europe's strongest brand across all industries.
The banking and IT powerhouse has just rolled out new digital investments services. For instance, its customers can manage their portfolios and consult on investments from the bank's mobile app. 
Similarly, Sber is developing a digital ecosystem that transcends banking. The market leader is looking to build on its 100M plus customer base. It is doing so by seeking to attract the Gen Z demographic with innovative digital services.