Lenovo was the top-selling brand in the PC market in Q3 2020. According to the research data analyzed and published by Stock Apps, the brand's quarterly shipments reached 18.3 million.
Comparatively, in Q3 2019, it had shipped a total of 16.9 million units. It marked an increase of 8.3% year-over-year (YoY). Its market share also grew from 24.5% in Q3 2019 to 25.7% in Q3 2020.
Second-placed HP had a total of 15.4 million shipments in Q3 2020, up from 15.3 million during a similar period in 2020. HP's YoY increase was therefore much smaller, as it only grew 0.7%.
Unlike Lenovo, HP suffered a slight decline in market share, from 22.3% in Q3 2019 to 21.6% in Q3 2020. Part of the reason for its performance drop was a decline in desktop shipments, which plummeted by 30% YoY. The drop in demand for desktops was felt across the board due to the general shift to working from home.
HP also suffered from a notebooks' backlog as announced in August 2020 due to supply chain constraints resulting from the pandemic.
According to a US News report, the shortage was particularly prominent in the US during the back-to-school-at-home season. Just before schools reopened in September, Lenovo, HP and Dell told school districts that they had a shortage of almost 5 million laptops.
Together, HP and Lenovo accounted for nearly half of the PC market share, at 47.3%. In Q2 2020, the two almost tied for first place both in terms of unit sales and market share. At the time, Lenovo had a total of 16.2 million unit shipments and a 25.0% market share. For HP, unit sales totaled 16.17 million and it had a 24.9% market share.
US Market Grows by 11.4%, First Double-Digit Growth in a Decade
The US market reported great performance in Q3 2020, growing by 11.4%. According to Gartner, that was the first time in a decade that the region has posted double-digit growth.
Mobile PC had a robust quarter, soaring by 29% YoY. However, the gains were once again offset by a huge drop in desktop sales.
In the US PC market, HP took the lead with 5.11 million shipments and a 30.8% market share. Compared to Q3 2019, there was a 15.4% increase in shipments. Dell came in second with 4.14 million unit shipments and Lenovo was third with 2.53 million.
Lenovo's market share in the region was less than half that of HP, at 15.3%. Its YoY growth in shipments was 10.5%.
Acer Shipments Jump by 29.5% vs. Dell's -4.6% Slump
In Q3 2020, Acer had the highest YoY growth according to Gartner, soaring a remarkable 29.5% in the same period. Its shipments grew from 3.9 million in Q3 2019 to 5.09 million in Q3 2020 and market share rose from 5.7% to 7.1%. Its growth in the US was particularly noteworthy as shipments increased by 52% YoY.
Dell, on the other hand, was the worst performer among the top PC brands, losing 4.6% YoY. Its total shipments went from 11.34 million to 10.83 million, and the market share sank from 16.5% to 15.2%. In the US though, its unit shipments grew by 6.1%.
The poor performance posted by Dell came as a surprise given the buying frenzy that characterized the three-month period. Notably, it had also suffered a 0.3% decline in Q2 2020.
In contrast, Acer had grown by 23.6% during the same period, as HP rose by 17% and Dell at 4.2%. Overall, the PC market had recorded a 2.8% increase in shipments in Q2 2020.
Chromebook Shipments Soared by 90% as Overall PC Market Shot up by 14.6%
According to Gartner's Q3 2020 report, global PC shipments rose by 3.6% YoY with total unit sales amounting to 71.4 million. IDC reported much higher growth for the same period, 14.6% YoY, with a total of 81.3 million unit sales.
It is noteworthy, however, that Gartner's report does not include Chromebooks, whose shipments surged a massive 90% YoY. The remarkable surge was driven primarily by demand from students as they went back to school remotely. According to Gartner, Chromebooks accounted for 11% of the PC market in Q3 2020.
Both IDC and Gartner agree on the fact that Q3 would have been even bigger for PC shipments had there not been component shortages.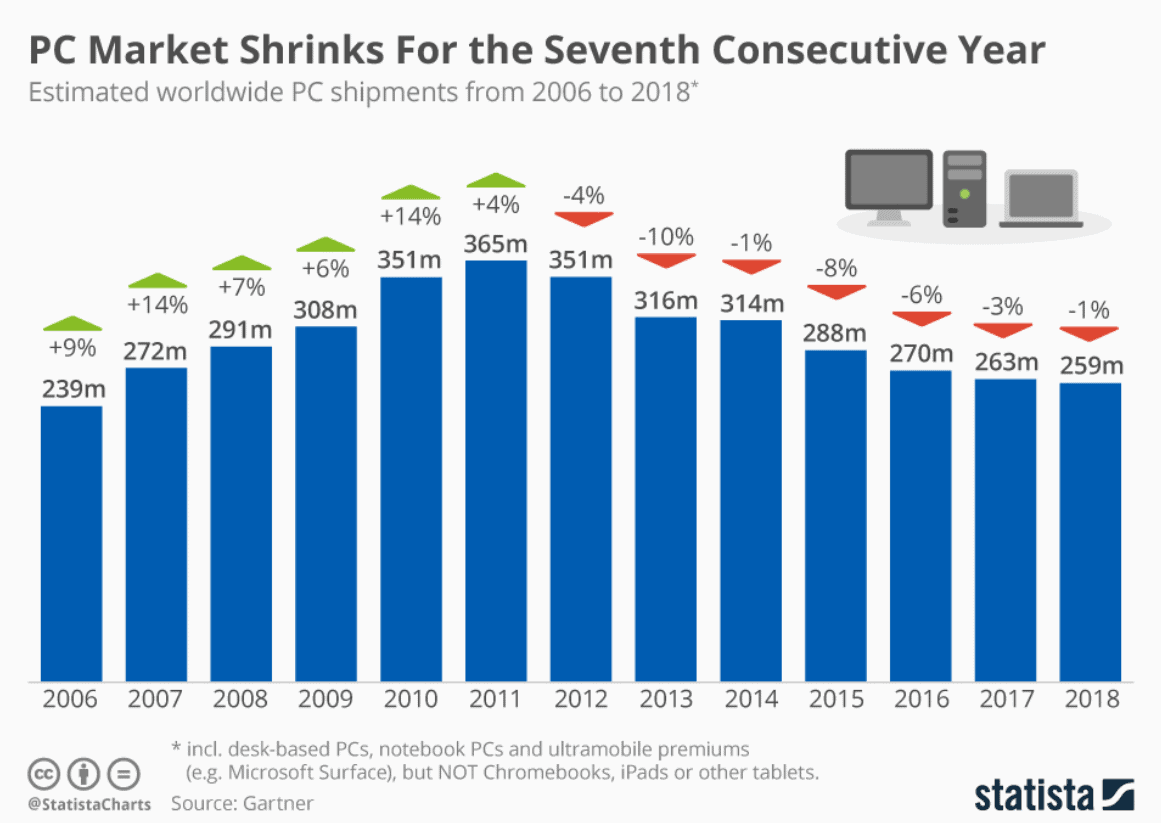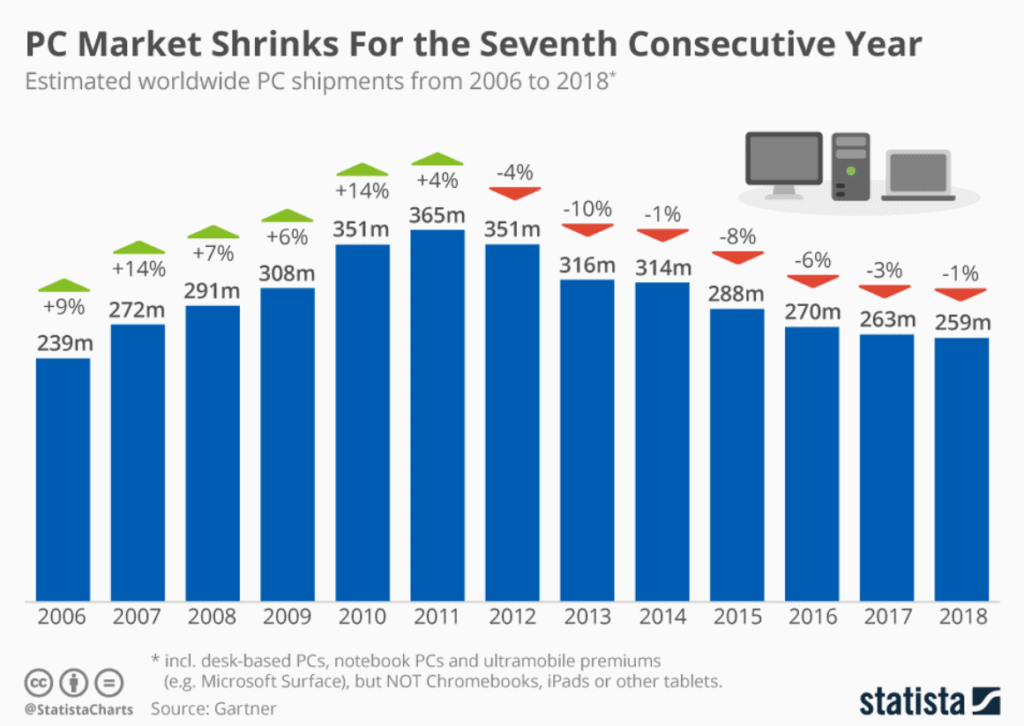 Regardless, 2020 has turned the tides for a struggling PC industry. According to data published by Statista, the global PC industry shrunk for seven consecutive years starting 2012. From 365 million unit shipments in 2011, the market went all the way to 259 million in 2018.
The seven-year slump came to an end in 2019 when worldwide shipments grew by 0.6% according to Gartner and 2.7% according to IDC.