MakerDAO (MKR), the premier decentralized finance (DeFi) platform, dominates the DeFi space. However, its dominance is slipping. At press time, tradingplatforms.com presented data showing that maker's dominance has dropped to 20%.
According to the data, MKR bosses the DEfi scene with a total value locked (TVL) of $16.866B. Compared to a 30-day high of $18.23B it attained on February 10th, 2022. Additionally, its total Ethereum locked has also dropped. It now stands at 2.53M ETH from a high of 2.63M ETH then.
Tradingplatforms.com's Edith Reads attributes Markers declining dominance to heightened competition within the space. To her, "The decline is indicative of an expansion and diversification of the DeFi market. As more startups and platforms enter the space, they're eating into Maker's share. However Maker retains the first mover advantage and It'll take a lot to dislodge it from its perch."
Maker's dominance extends into the DeFi lending space. Its $16.87B TVL here gives it a 43.65% stranglehold over the $38.64B sector.
10 platforms hold 92% of Defi TVL
The data further reveals that 10 DeFi projects have the lion's share of the sector's TVL. The ten have a total TVL of $77.29B compared to the market total of $83.78B. That value gives the ten a 92% dominance over the rest.
As indicated earlier, Maker led the way through the entire DeFi market. Its TVL of $16.87B made it pip Curve finance to the second spot by $5.36B.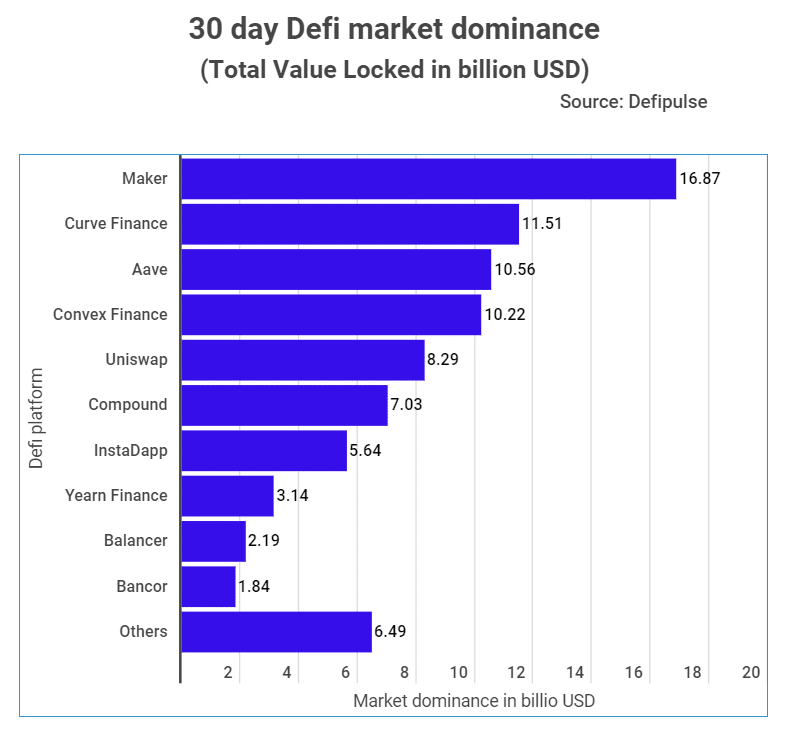 Other projects that had a double-digit TVL were Aave and Convex Finance. Whereas the former's TVL stood at $10.56B, the latter's was $10.22B.
Meanwhile, the remaining six of the top ten had TVLs of under $8.5B each. Here Uniswap rules the roost with a market share of $8.29B. Interestingly, it's the only project that registered a positive 24-hour increase in its TVL. 
While the rest plummeted, it recorded a 6.5% rise. 122 other projects have a market share of $6.49B.
About Marker
Maker is a Decentralized Autonomous Organization( DAO)that invented the DAI stablecoin. DAI is a collateralized asset that you can use to get credit. 
The DAO supports the creation of Collateralized Debt Positions (CDPs). Interested parties can then use these CDPs to generate DAI. You create CDPs by locking collateral in a smart contract that generates DAI based on your collateral.
The project works on a simple premise. It facilitates stability in the volatile crypto market by generating a fiat-backed cryptocurrency (DAI). This crypto stabilizes price fluctuations within the market through its collateralization.
The platform has been wildly successful since its launch. But it's also seen some competition from other DeFi startups and platforms over the past few months. Some of these companies are eating into its market share. That said, they still have a long way to go before overtaking it.