Since Latin American company MercadoLibre went public, its shares have been on a steady uptrend. According to the research data analyzed and published by Stock Apps, the stock is up by over 10,000% from its 2007 IPO price. From a mere $18 at the time, it has shot up to $1,913.00 as of February 9, 2021.
In 2020, the uptick was particularly remarkable due to the pandemic boost on digital commerce. According to data from S&P Global, the company's share price soared by 174.5% during the year.
MercadoLibre offers services in 18 countries. However, it makes most of its revenue from three markets, Brazil, Argentina and Mexico. In Q3 2020, Brazil accounted for 65% of revenue, Argentina 19% and Mexico 12%.
To illustrate how fast it has grown, the platform had 144.6 million registered users at the end of 2015. By the end of 2019, the number had risen to 320.6 million. In the first nine months of 2020, it added a further 46.8 million. Its massive growth in 2020 was attributed to the robust growth in eCommerce as well as digital payments in Latin America.
During the first nine months of the year, the site reported having 76.1 million unique visitors. Comparatively, the number was nearly half of that during a similar period in 2019, at 39.6 million. Unique active users in that period grew by 84% year-over-year (YoY) to reach 112.5 million.
Based on the number of unique active visitors, MercadoLibre is ranked as the largest eCommerce and payments ecosystem in Latin America. It is the 10th largest worldwide according to Fitch Ratings.
Mercado Pago Payment Volume Shot Up by 197% in 2020
The site's increase in traffic went hand in hand with improved financials as MercadoLibre's revenue surged 63% YoY to $2.6 billion in Q1 to Q3 2020. From a net loss of $118 million in the first three quarters of 2019, it posted a net income of $50 million from Q1 to Q3 2020.
In the third quarter alone, the number of unique active users shot up by 92% and gross merchandise value (GMV) by 117%.
The company's digital payments front, Mercado Pago, presents an especially exciting opportunity for the company. At the onset, it only supported transactions on the eCommerce site. However, with time it expanded to provide an off-platform payment solution as well as asset management services.
The payments segment also outperformed expectations during the year. In the first nine months of 2020, total payment volume nearly doubled. It reached $14.5 billion, up from $7.6 billion in a similar period in 2019.
During Q3, the number of unique payers stood at 60 million, with over 50% using it for off-platform payments. Total payment volume in the three-month period surged 161% YoY. Off-platform payment volume had particularly remarkable growth, soaring by 197%.
Zacks Analysts Estimate 135% EPS Growth for Q4 2020
For the full year 2020, sales on the online marketplace soared by 46.5% to reach $20.51 billion, from $14 billion in 2019 according to eMarketer. Its market share of Latin America eCommerce sales during the year also increased, going from 22.5% in 2019 to 24.1% in 2020.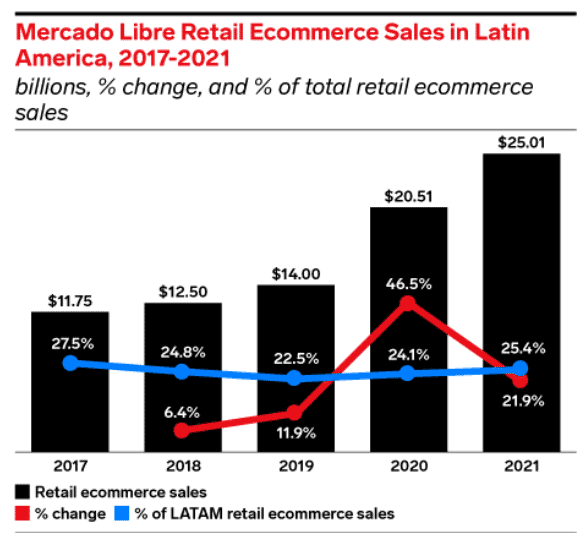 In its top market, Brazil, eCommerce sales grew by 39.0% to $10.97 billion, the first time its sales surpassed $10 billion. The market accounted for 53.5% of the company's regional business during the year. Mobile commerce sales in Brazil grew by 45% during the year and held a 51.1% share of the regional total.
In its second largest market, Argentina, online sales amounted to $4.41 billion. The figure is expected to shoot up by 20% to $5.29 billion in 2021. 65.1% of total sales came from mobile devices as mobile commerce sales grew by 80% to $2.87 billion.
Online sales in Mexico totaled $4.06 billion and the market accounted for a 19.8% share of its regional revenue. Sales are expected to jump by 24% in 2021 to reach $5.04 billion. Mobile commerce sales totaled $3.31 billion, an 81% YoY uptick. The segment is expected to grow by 42% in 2021.
According to the Zacks Consensus Estimate, the eCommerce and payments company is expected to report earnings per share (EPS) of $0.39 for the period which ended on December 31, 2020. Compared to the previous year, that would mark a 135.1% increase. Revenue is estimated to increase by 82.5% YoY to reach $1.23 billion.
During the month of January 2021 alone, the company's consensus EPS estimate got an upward revision of 4.98% to the aforementioned level.
Lastly, based on a study by Fitch Ratings, MercadoLibre will have a 60% average topline growth in the period between 2020 and 2022. The growth will have strong gross GMV and its payments volume will work as the major driving factor.