During its fiscal year's third quarter, NVIDIA posted a commendable performance driven in part by its gaming segment. According to the research data analyzed and published by Stock Apps, it raked in a record $4.73 billion in total revenue, its highest ever.
It translated to $2.91 in earnings per share (EPS), over 1.5 times the $1.78 EPS posted in the year-ago period. It also surpassed Wall Street's expectation of $2.58 EPS and $4.41 billion in revenue.
The gaming segment accounted for nearly half the total revenue, generating $2.27 billion, a new record. In comparison to Q3 2019, it marked a 37% increase year-over-year (YoY).
Besides gaming, the data center segment also made a considerable contribution to the overall performance. It generated $1.9 billion, translating to a remarkable 162% boost YoY.
Comparatively, its automotive and professional visualization segments dropped significantly YoY while registering quarter-over-quarter (QoQ) growth. Automotive was down by 23% YoY and up by 13% from Q2 2020. Professional visualization declined by 27% YoY but grew by 16% compared to the previous quarter.
The content of NVIDIA's earnings report was not unexpected as the global economic situation bodes better for gaming and data centers than for automobiles.
NVIDIA Gaming Market to Grow to $95 Billion by 2023
In September 2020, NVIDIA announced its intention to acquire chip designer Arm for $40 billion. It is worth noting that ARM processors are used in 90% of IoT and mobile devices. Similarly, its processors are used by more than 70% of the global population.
Another advantage is that these processors are more cost- and power-efficient than the x86 chips build by AMD and Intel.
With this acquisition, NVIDIA would get access to a vast network of users as well as developers. ARM's blend of efficiency and market-leading scale will give NVIDIA an edge in multiple markets.
NVIDIA expects to have a Total Addressable Market (TAM) of $250 billion by 2023. This figure translates to more than 16 times the company's revenue over the past year. The PC and mobile segments will account for the bulk of the total amount, at $95 billion. Notably, the segments include computer graphics for gaming PCs and game consoles.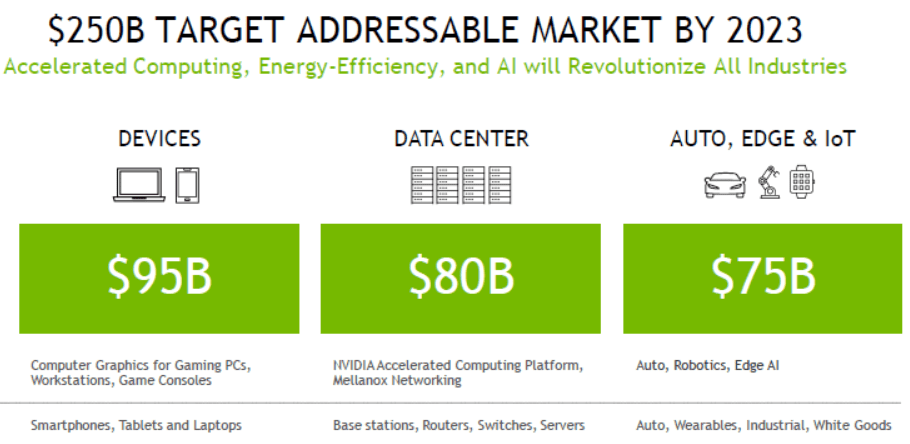 Moreover, NVIDIA has made huge strides in the gaming industry with the recent release of the RTX-30 series GPU. According to Barrons, the company sold $175 million worth of these graphics cards to cryptocurrency miners during Q3 FY21. That would mean it earned around $2.1 billion directly from gaming. However, it reports mining-related sales under the gaming segment.
There has been an immense shortage of the graphics cards since they launched in October 2020. As a result of the huge demand from the crypto industry, NVIDIA said it would take months for its supply to catch up with the demand.
NVIDIA GeForce Now User Base Grows from 1 Million to 5 Million in 9 Months
NVIDIA is also a key player in the rapidly evolving cloud gaming market. NVIDIA GeForce Now, its cloud gaming platform, was launched out of beta on February 4, 2020.
Within weeks of launch, on February 20, the service had more than 1 million registered users according to a company blog post. As of August 2020, the number had grown to 4 million and it was streaming over 15 million hours of content monthly.
On November 19, 2020, it launched an iOS mobile web app version of the service in beta form. At the time, it had more than 5 million registered users.
With the service running on Safari browser instead of an app, Apple users will now have access to console-quality games. Moreover, they will be able to play games like Fortnite which have been banned from the Apple App Store.
Epic Games and NVIDIA are already working on making the game compatible with the new platform.
Microsoft is also planning to launch an iOS version of its xCloud platform sometime in 2021. On the other hand, Google announced that it will test an iOS version of Stadia, its cloud gaming platform, in the near future.
According to a Newzoo report, the cloud gaming space is projected to generate $585 million in 2020. For perspective, it was worth less than a third of that amount, at $170 million, in 2019. The report estimates that by 2023, it will be worth a whopping $4.8 billion.
Grand View Research projected a growth rate of 47.9% between 2020 and 2027. By the end of that period, it estimates that the market will be worth $7.24 billion.
The availability of cross-platform gaming services is among the factors expected to contribute to its growth. Furthermore, the development of network infrastructure such as 5G provides higher bandwidth and lower latency, supporting seamless streaming and gaming.