The recent FTX exchange collapse has left many crypto investors scrambling to find a new home for their trading activity. However, Binance has quickly become the go-to exchange for many of these investors, as it remains the top exchange for Bitcoin trading. According to StockApps.com, Over 80% of Bitcoin's volume has occurred on Binance after FTX's collapse.
Commenting on the data, StockApps' Edith Reads said. "Binance has seen a surge in new clients since the FTX collapse, as many investors seek a more reliable and trustworthy exchange. Binance's long history of providing a safe and secure platform for its users makes it the top choice for many Bitcoin traders." She went on.
"With its position as the top exchange for Bitcoin trading, Binance is well-positioned to continue its growth. More investors are turning to Binance for their trading needs. Therefore, the exchange is likely to see even more growth."
The news comes as the cryptocurrency market continues to grow and evolve. More investors are looking to diversify their portfolios with digital currencies, and Binance is well-placed to capitalize on this trend.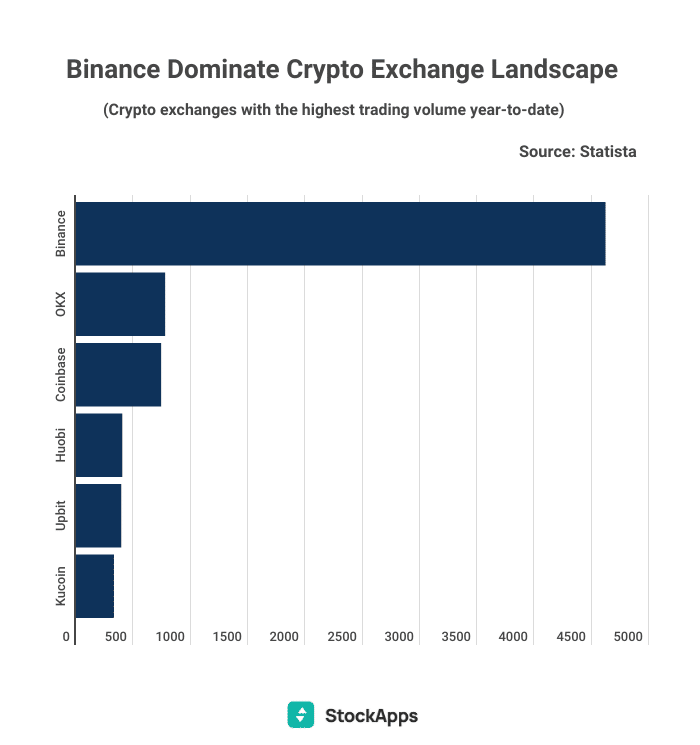 FTX's Exit Leaves Binance in the Lead
In the wake of FTX's departure from the Bitcoin market, Binance has quickly filled the void left behind.
The exchange allows trading in various digital assets, including cryptocurrencies, tokens, and ICOs. The exchange has been rapidly growing and adding new features and services, including margin trading, futures, and options. As a result, Binance has continued to gain more users and increase its share of the Bitcoin market.
Binance is also one of the most secure exchanges on the market. The exchange uses a sophisticated security system to protect user funds from potential hackers or malicious actors. It also offers an insurance fund to help protect users from losses if something goes wrong. With these features, Binance is well-positioned to remain a leader in the cryptocurrency market.
As one of the largest and most popular crypto exchanges, Binance has been able to capitalize on FTX's exit by offering Bitcoin products and services that are secure, reliable, and convenient. Binance has been well-received by the market. Traders cite the exchange's low fees and user-friendly platform as key reasons for their switch to Binance. With its position as the top exchange for Bitcoin trading, Binance will likely continue to lead the way in this market.