Tesla is the 2nd fastest American company to hit the $1T market cap. StockApps.com has presented data showing that the firm took 11 years to reach the $1T valuation. Only Facebook has achieved the milestone in a shorter time. The social media giant took only 9 years to get there.
"Tesla's rise to the top had been nothing short of incredible," holds StockApps' Edith Reads. The finance expert adds, "It has risen from a fledgling startup in 2003 to now becoming the most valuable carmaker globally. It's also among a small group of companies that have attained and maintained a trillion-dollar valuation."
The feat is more admirable when you consider how long other American trillion-dollar capped firms took to reach it. Alphabet, Google's parent company, took 21 years to get that valuation. Amazon took 24 years to get it. Similarly, Apple and Microsoft took 42 and 44 years, respectively, to attain that.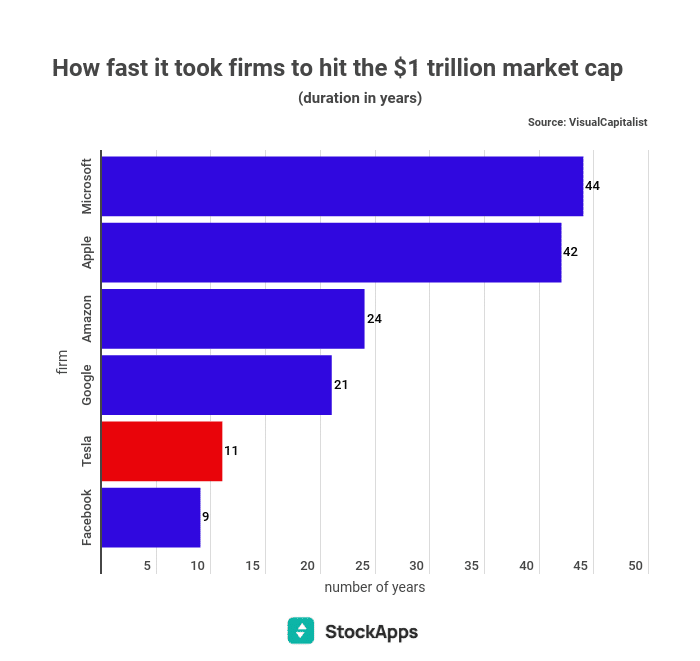 What's behind Tesla's meteoric rise?
Tesla's rise to the top has been genuinely stunning, but how did it get here? By creating a product that people wanted and needed. It owes its success to its ability to innovate and provide its customers with a better user experience.
The company's stock has been growing due to an increasing focus on renewable energy powered vehicles globally. Many nations are adopting zero emission measures for their economies. These include incentivizing electric vehicle (EV)production and purchases. 
Tesla has positioned itself to take full advantage of the opportunities arising from this shift. It has fashioned itself as the go-to manufacturer for EVs. Thus it appeals to both the environmental and cost-conscious global populations.
Again, it has been able to maintain a positive cash flow since it started production. The only other American automaker to do so is Ford. This is impressive given its huge investments in R&D, facilities expansion and many other areas.
Finally, the company's CEO, Elon Musk, has been a critical factor in its growth. His charisma has won him hordes of adoring fans on Twitter. Musk has turned the platform into a marketing avenue making Tesla the only major carmaker without a marketing budget.
It hasn't always been rosy at Tesla
Tesla's path to success hasn't been an easy one. It has had to weather many years of struggle and hard work. It has managed to stay afloat through it all, becoming a leading auto manufacturer worldwide.
The most notable test that it has faced is the exit of co-founder Martin Eberhard in 2007. He left following a falling out with Musk and Tesla's board. Musk has accused him of almost running the company aground. He accuses Martin of fraud and driving out talent, among other unsavory deeds.
Then came the financial crisis of 2008. The credit crunch that ensued almost tanked their business completely. The firm got a government loan that would help it come back on track. Musk has revealed that Tesla has been on the brink of bankruptcy at least twice.
Beating expectations
Tesla began as an electric car company but quickly expanded in scope to include energy storage and solar panel technology. Today it's a prominent player in the green energy industry. Its products offer an eco-friendly alternative to traditional fuel sources.
While it initially struggled, burned through cash, and faced criticism for manufacturing delays, it also succeeded beyond expectations. For instance, it held one of the most successful IPOs ever in 2010.
Moreover, it has consistently beaten Wall Street expectations. It has also managed to revolutionize the EV industry while building an innovative and beloved brand.