How To Buy IMPT in September 2023
Disclosure
Everything you read on our site is provided by expert writers who have many years of experience in the financial markets and have written for other top financial publications. Every piece of information here is fact-checked. We sometimes use affiliate links in our content, when clicking on those we might receive a commission – at no extra cost to you. By using this website you agree to our terms and conditions and privacy policy.
Several cryptocurrencies are being launched on the market every day. Nonetheless, tokens that have a lasting impact on society due to their concrete applications will survive and grow in this huge and competitive industry. The IMPT Coin might be a good example of this.
With its innovative features designed to address 21st-century issues such as sustainable development, environmental protection, and climate change, IMPT.io is poised to dominate the emission reduction sector.
Our How To Buy IMPT guide will cover how to purchase the token when it is listed on Uniswap on the 14th of December.
How To Buy IMPT 2023 – Step by Step
✅ Step 1: Purchase ETH from eToro
The first step to buying IMPT is to purchase ETH, which can be swapped for the token through UniSwap. We recommended purchasing ETH from eToro and then transferring the tokens to a MetaMask wallet.
? Step 2: Connect wallet to Uniswap
After opening the website, connect your crypto wallet to the Uniswap exchange to start swapping tokens..
? Step 3: Swap ETH tokens for IMPT
Due to IMPT's Ethereum-based technology, you must have supported tokens to make the swap. IMPT can be purchased with USDT or ETH. After funding your wallet with any of those supported assets, choose a payment method (ETH or USDT). Decide how many tokens you would like to buy (10 IMPT is the minimum), and then use UniSwap's token swapping feature to make the exchange.
Your money is at risk.
How To Buy IMPT in More Detail
IMPT's value could significantly increase in the coming months after it is listed on exchanges. Due to its potential and great utility, it could soon become one of the most widespread cryptocurrencies.
Thus, investing into IMPT during the first exchange listing could be a great investment decision. This section will provide a step-by-step tutorial for anyone interested in how to invest in IMPT from UniSwap. All types of users can access the IMPT token because the process is very simple.
Step 1: Purchase ETH from eToro
Sign up to eToro
Buying ETH on eToro and creating a new trading account are the first steps to buying IMPT. First, go to eToro's website and click the 'Join Now' button.
Enter your email address, then select a username and password that you would like to use. Some fields must be filled out on a subsequent page, such as your name, birthdate, and phone number.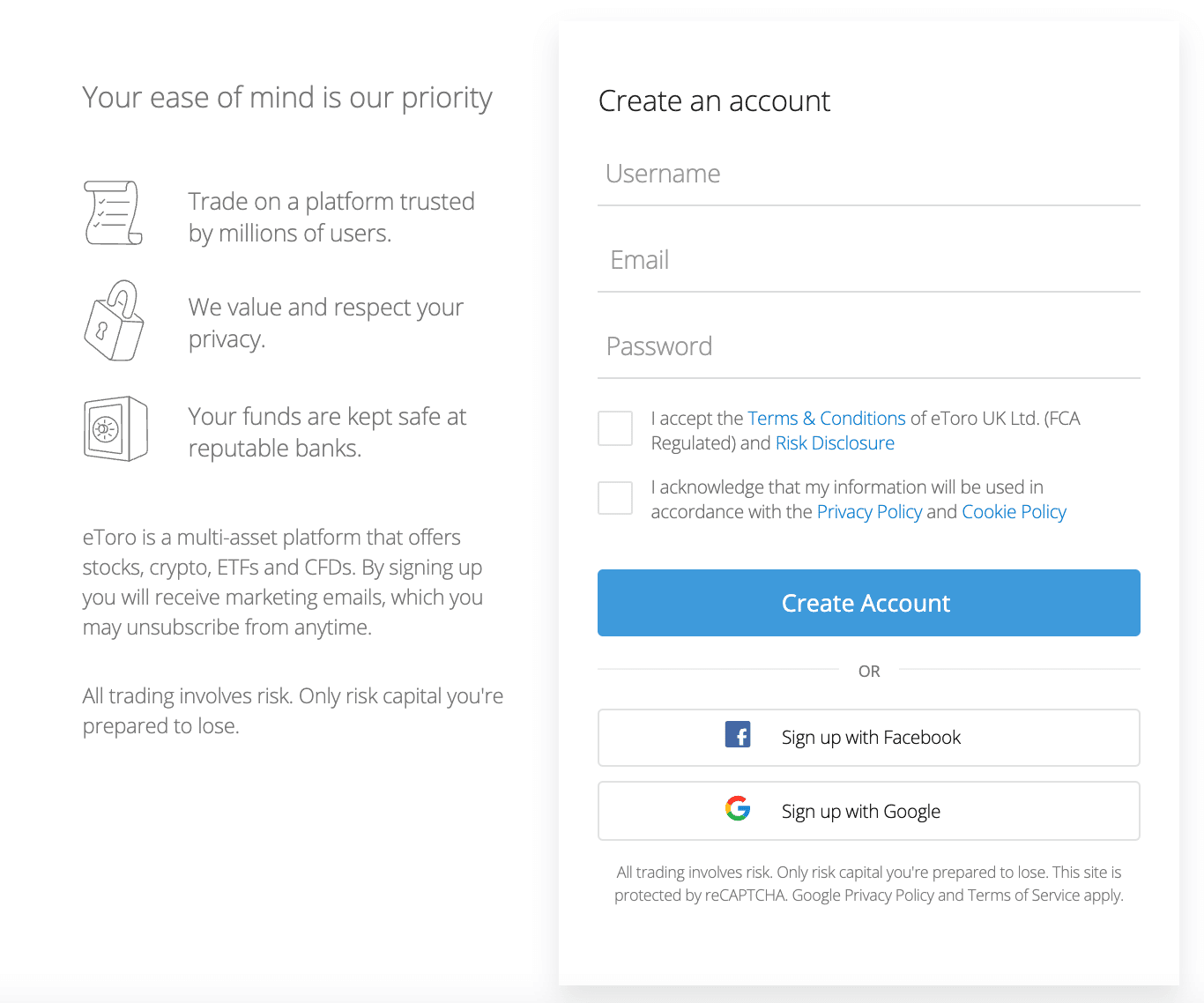 Regarding maintaining compliance with Know Your Customer regulations, the eToro app requires you to verify your identity as part of the registration process. Therefore, the platform will require you to upload a picture of your driver's license or passport that shows your identification and proof of address (a recent utility bill or bank statement).
Upon receiving your submitted documents, the team at eToro will review them. It usually happens within a few hours after your submission.
Cryptoassets are highly volatile and unregulated in the US and UK. No consumer protection. Tax on profits may apply.
Deposit funds
Once your identity has been verified and you have checked it out, the next step is to deposit funds into your account.
First, enter the amount of money you wish to deposit – starting at $10. Then, click on the currency tab and select 'USD.'
Choose the payment method you wish to use from the drop-down menu. The options include debit/credit cards issued by Visa, MasterCard, or Maestro. Payments can also be made using e-wallets like PayPal and Neteller. Bank wires, ACH transfers, and online banking are also supported options.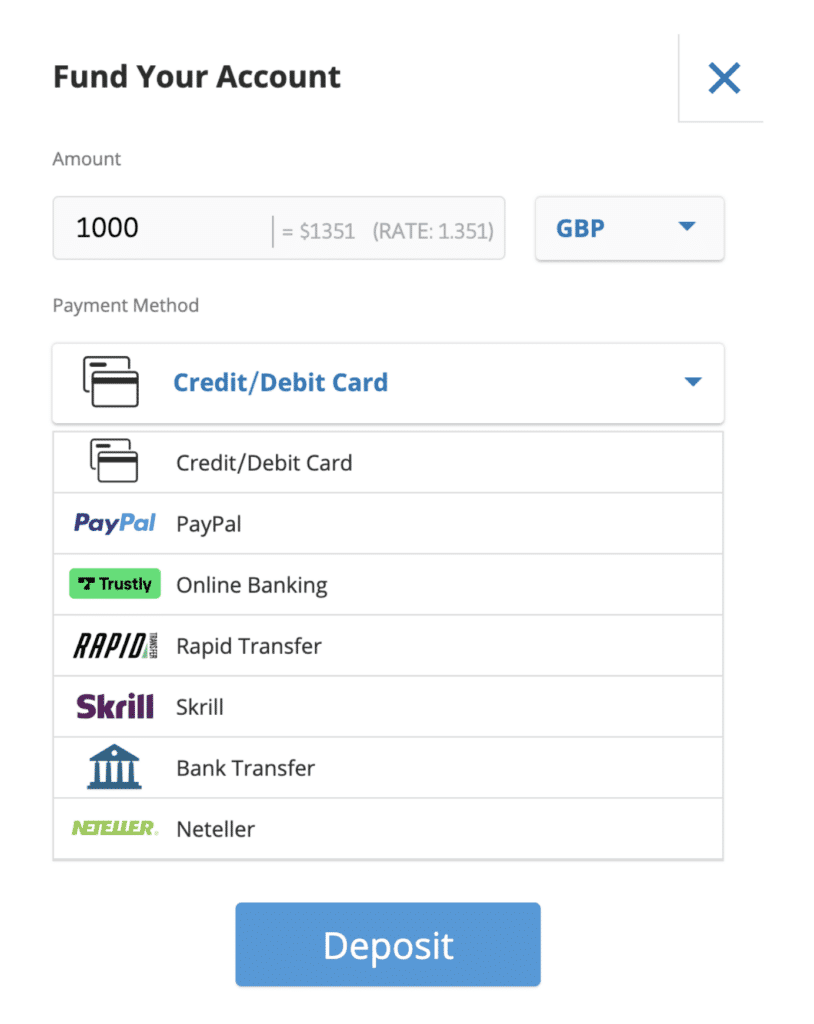 No fee for US clients is associated with making a deposit or withdrawal with eToro. There are a wide variety of payment methods offered by eToro, so this is true of all the payment methods it supports.
Search for ETH
The funds in your newly created eToro account should be available at this point. So let's look for Ethereum now.
On your eToro dashboard, you will find a search bar right at the top of the screen. Enter Ethereum or ETH. Immediately after the crypto appears on the search results, click on 'Trade.'

Execute order
When you fill in the new order form shown on the screen, you will be required to enter the amount of ETH you wish to purchase in US dollars. As soon as you are ready to purchase Ethereum, click on 'Open Trade.'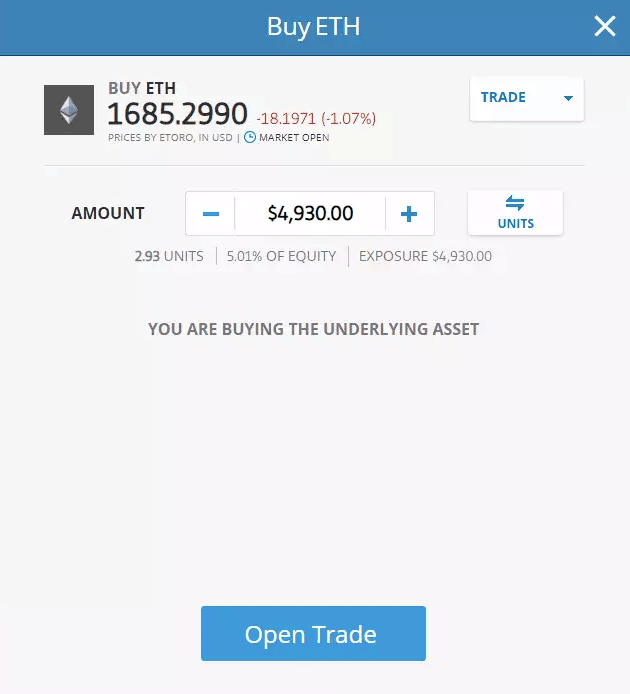 Step 2: Move ETH from eToro wallet to MetaMask wallet
ETH holdings can now be sent to your MetaMask wallet in a few simple steps described below.
Firstly, on your smart device app store, you need to download the eToro Money app – the eToro's crypto wallet. Then, use your eToro credentials to log into the app once it has been downloaded.
Afterward, return to the eToro trading platform and click on the 'Portfolio' button. Once you have selected your Ethereum position, click 'Edit Trade.' Select 'Transfer to Wallet' to send your Ethereum to eToro Money once the box appears on your screen.
Last but not least, launch your eToro Money app, select the 'Crypto' tab, and select Ethereum. Once you click 'Send,' you'll be asked for your crypto wallet's address. The eToro crypto app will send you an SMS message with a unique code once you have entered your MetaMask address and clicked 'Send' again.
The MetaMask wallet will automatically receive your Ethereum holdings when you have successfully entered the code in your eToro Money app.
Step 3: Connect MetaMask to Uniswap
The next step in this guide on how to invest in IMPT is to connect your MetaMask wallet to the UniSwap exchange. This process is fairly simple and can be done by visiting the Uniswap website and then simply clicking 'connect wallet' in the top right hand corner.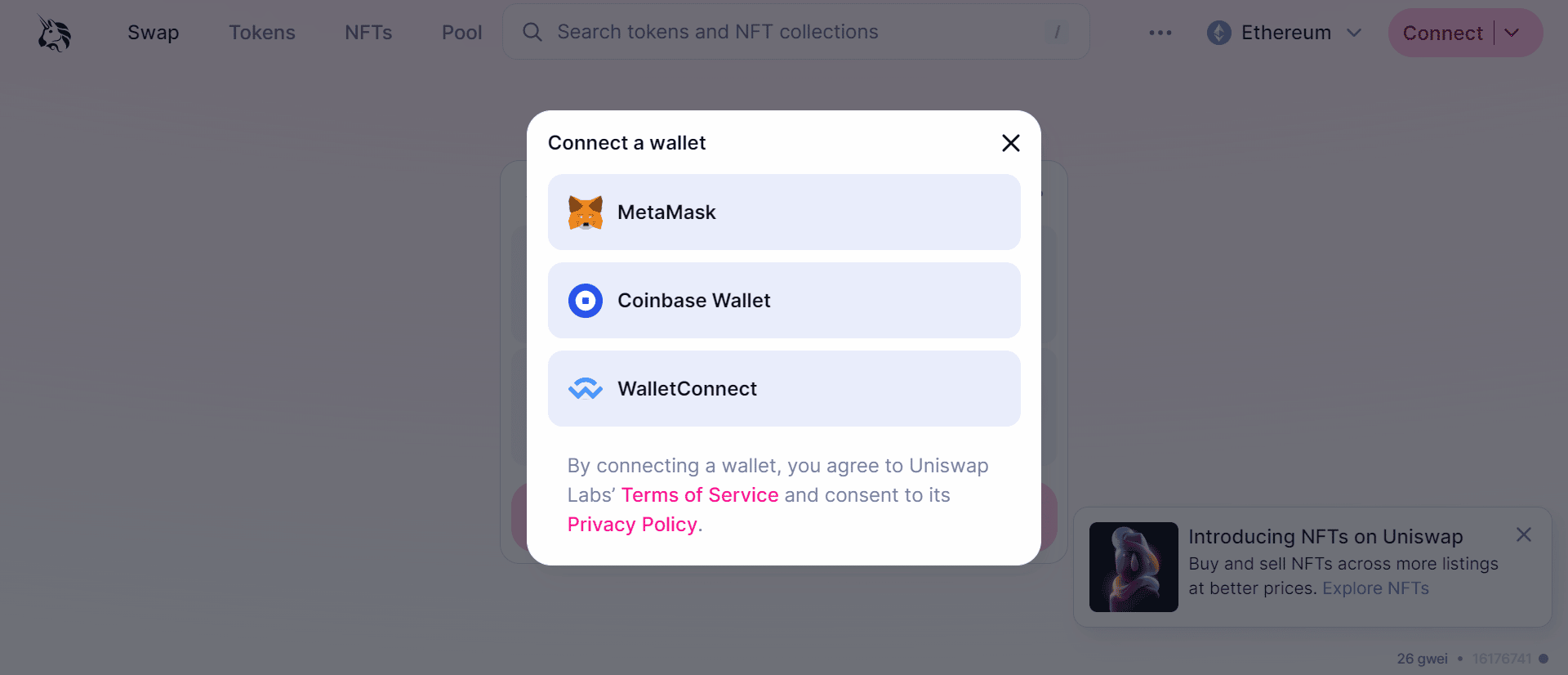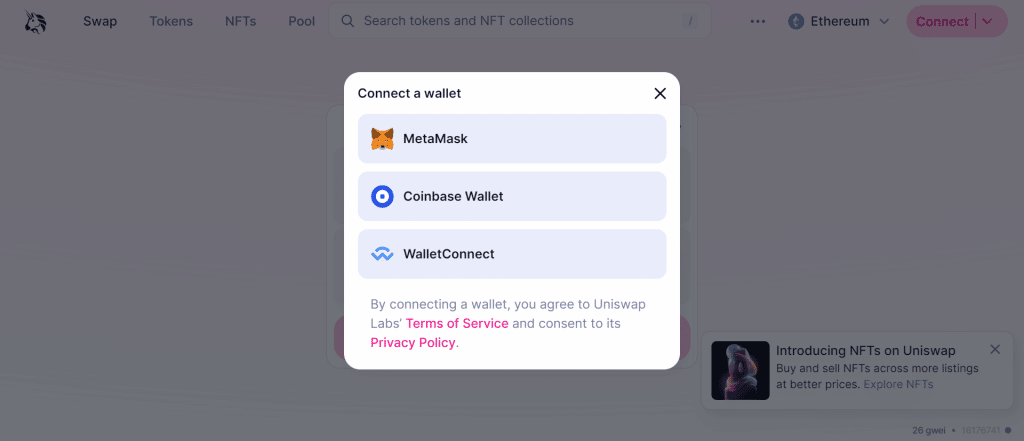 How to check that a website is legit
Since some URLs might be fake and lead to a scam, it's always recommended to check the URL of the trading platform you want to use before investing. Be careful: UniSwap.org is different to UniSwap.com, for example.
Among the most effective ways to ensure you remain secure is to go to the platform's official website and follow the instructions on how to get started using it.
Step 4: Swap ETH for IMPT
Once you have connected your wallet to the UniSwap exchange, you can use the exchange token swapping feature to swap ETH for IMPT.
This process is very simple however, you may have to pay a small transaction fee. Make sure you have enough ETH to cover this.
Your money is at risk.
What is IMPT?
IMPT is native token of the Impt.io cryptocurrency project that will launch to users in 2023. The project aims to encourage sustainability and solve issues that currently exist in the carbon credit industry. IMPT is set to be the best sustainable alternative to Bitcoin and is a popular investment opportunity amongst those looking to build a green portfolio.
The Impt.io platform will be the first of it's kind and is expected to generate huge interest as the importance of making sustainable decisions becomes more prominent. Platform users will be able to track their carbon footprint, receive rewards for making sustainable choices, partake in the carbon credit exchanges and interact with the NFT and crypto marketplaces.
Impt.io Carbon Credit Exchange
Companies and individuals can purchase carbon credits to offset 1 ton of carbon emissions. Unfortunately, people are discouraged from making a positive change due to scams and false promises in the carbon reduction industry. There is still a huge opportunity for a company to streamline the carbon offset sector, considering that the global market is worth over $270 billion.
By simplifying how carbon credits are managed on-chain, IMPT hopes to encourage its users to reduce their carbon emissions. As a result of too much red tape and overblown bureaucracy, carbon credits are currently managed inefficiently. As part of its mission, IMPT hopes to change this by making it easy for anyone, regardless of size, to track and manage their carbon footprints.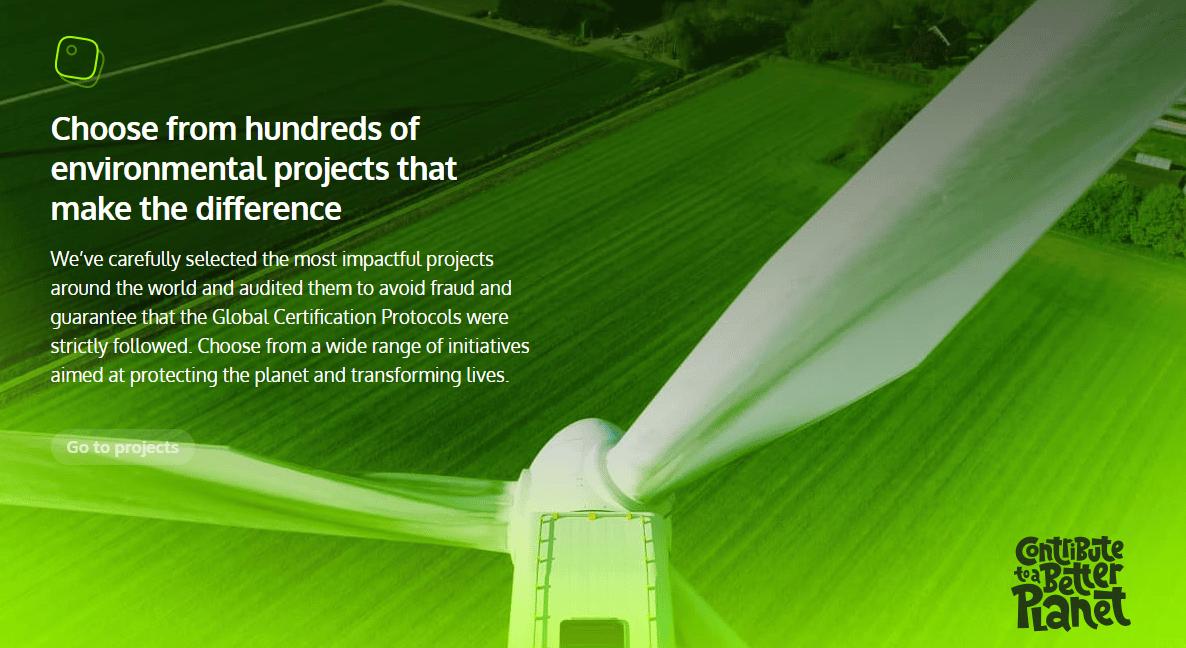 IMPT makes managing and tracking energy consumption more effortless by putting carbon credits on the chain. One carbon credit represents one ton of carbon dioxide removed from the atmosphere. Carbon credits are usually permits that represent carbon emissions removed from the atmosphere.
Here are the components of IMPT's ecosystem:
A carbon marketplace
An online shopping platform.
A Social media platform.
NFT Carbon Credits
Upon its launch in 2023, the Carbon Marketplace will allow users to purchase carbon credits directly, and it will be as easy as making regular online purchases, so users can purchase them whenever they want.
Additionally, IMPT has created a social media platform for people to compare their carbon offsets in order to encourage them further to cut their carbon emissions. At the same time, users will receive a unique NFT after burning carbon credits. Even though the NFTs are already collectible, IMPT will allow users to eventually sell them for crypto, rewarding people who help the environment by doing so.
IMPT tokenomics
As IMPT offers a deflationary tokenomics approach, it has a maximum supply of 3 billion tokens.
The deflationary nature of IMPT makes it a valuable asset over the long term as demand for the token will increase it's value. The token is an ERC-20 utility token that is built on the Ethereum blockchain network. IMPT will be used by platform users to participate in the marketplace, unlock platform features, purchase rare NFTs and take part in the DAO. IMPT tokens will also be used as rewards for users who make sustainable decisions.
Over the next few months, there should be significant things to come for IMPT, as the asset boasts substantial tokenomics, huge inherent value, and an active community.
The IMPT token presale ended on the 11th of December and tokens will be listed on the first exchange on the 14th of December.
Your money is at risk. 
IMPT NFTs
NFTs are immutable assets that are built on blockchain technology. The Impt.io platform utilizes this technology to create a carbon credit system that is transparent and fair. Each carbon credit offered by Impt will be a fully mintable NFT that cannot be changed or double spent. This will minimize carbon credit fraud. Each carbon credit NFT can be exchanged through the platform for a rare art NFT that will be fully tradable and hold real-world value. Those who choose to offset their carbon credits will be rewarded with an art NFT.
Impt NFTs will also be available to purchase through the native marketplace. NFTs can be bought with the IMPT token.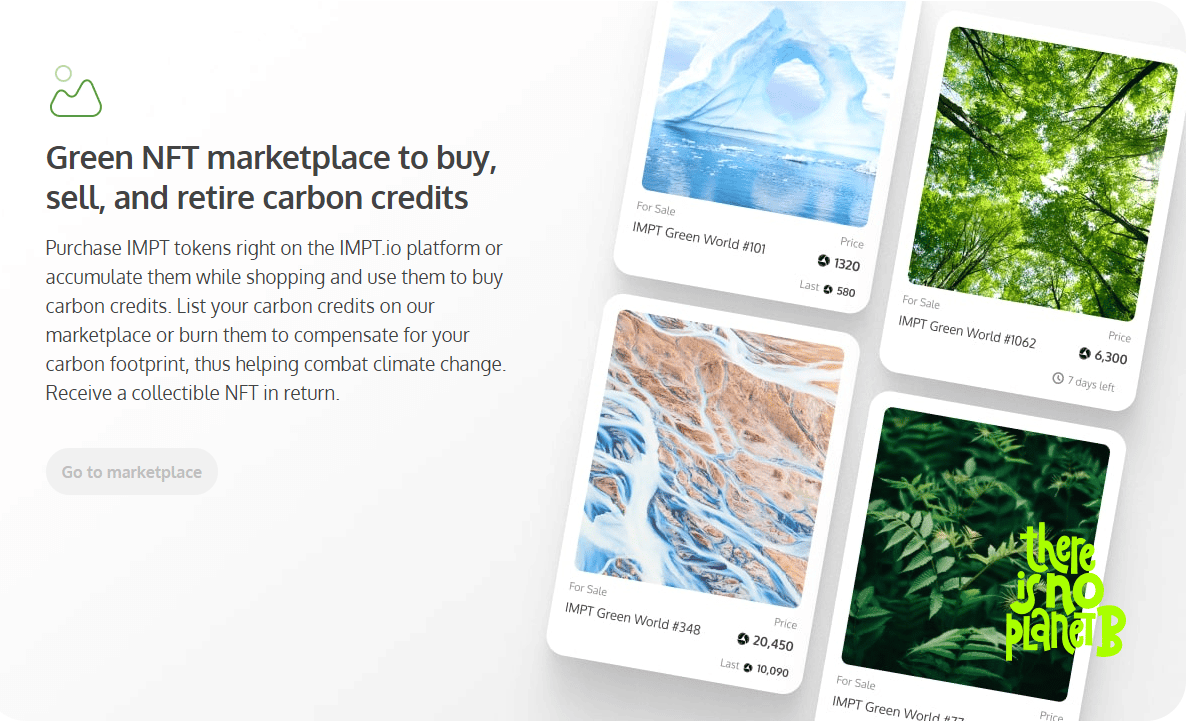 Users can acquire IMPT tokens by choosing sustainable options when shopping or by swapping them for other crypto tokens through an exchange. Impt has already partnered with a number of large brands who will partake in the platform and reward users for their shopping.
Project roadmap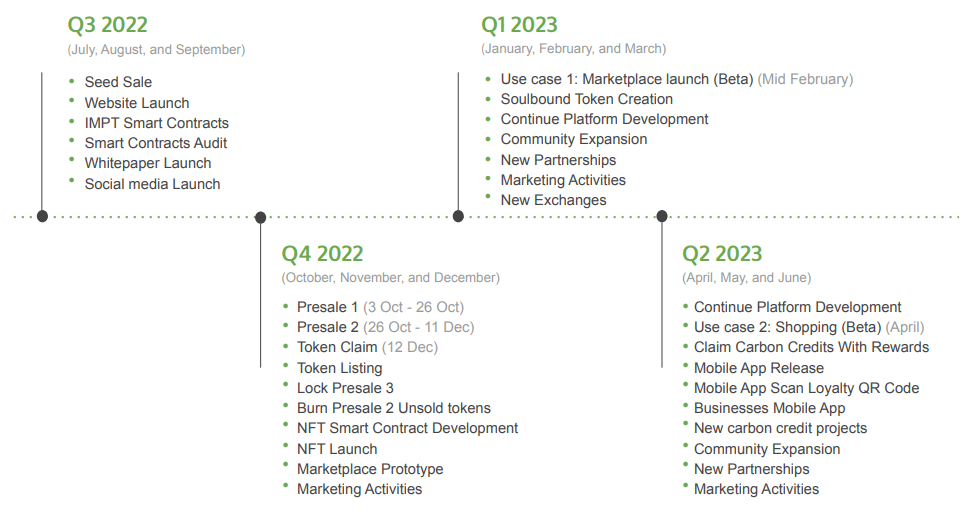 As of the third quarter of 2022, the roadmap of IMPT.io has begun to be developed. The website has been launched, and the smart contract audits have been completed. Furthermore, a white paper and social media channels are available now. During Q4 2022, presale 1 began on October 3rd, and it was followed by presale 2 in December.
 As part of the roadmap, the following goals are set for the last weeks of 2022:
Token Claim (12 Dec)
Token

Listing

Lock

Presale 3
Burn Presale 2 Unsold tokens
NFT Smart Contract Development
NFT Launch Marketplace
Prototype Marketing Activities
IMPT has one of the most active Telegram groups in the world if you're interested in learning more about the project's white paper.
Who are the team behind IMPT?
It is extremely important to check out the team of any cryptocurrency, especially if it is a new one.
Team members at IMPT are fully qualified and have years of experience in the commerce and cryptocurrency sectors. Moreover, the project is being run by a team of very experienced business executives led by Denis Creighton, the company's CEO. As a leader with extensive experience in turnarounds, he is currently the chairman of three businesses. Similarly, Creighton has worked in the technology and financial industries for over 25 years.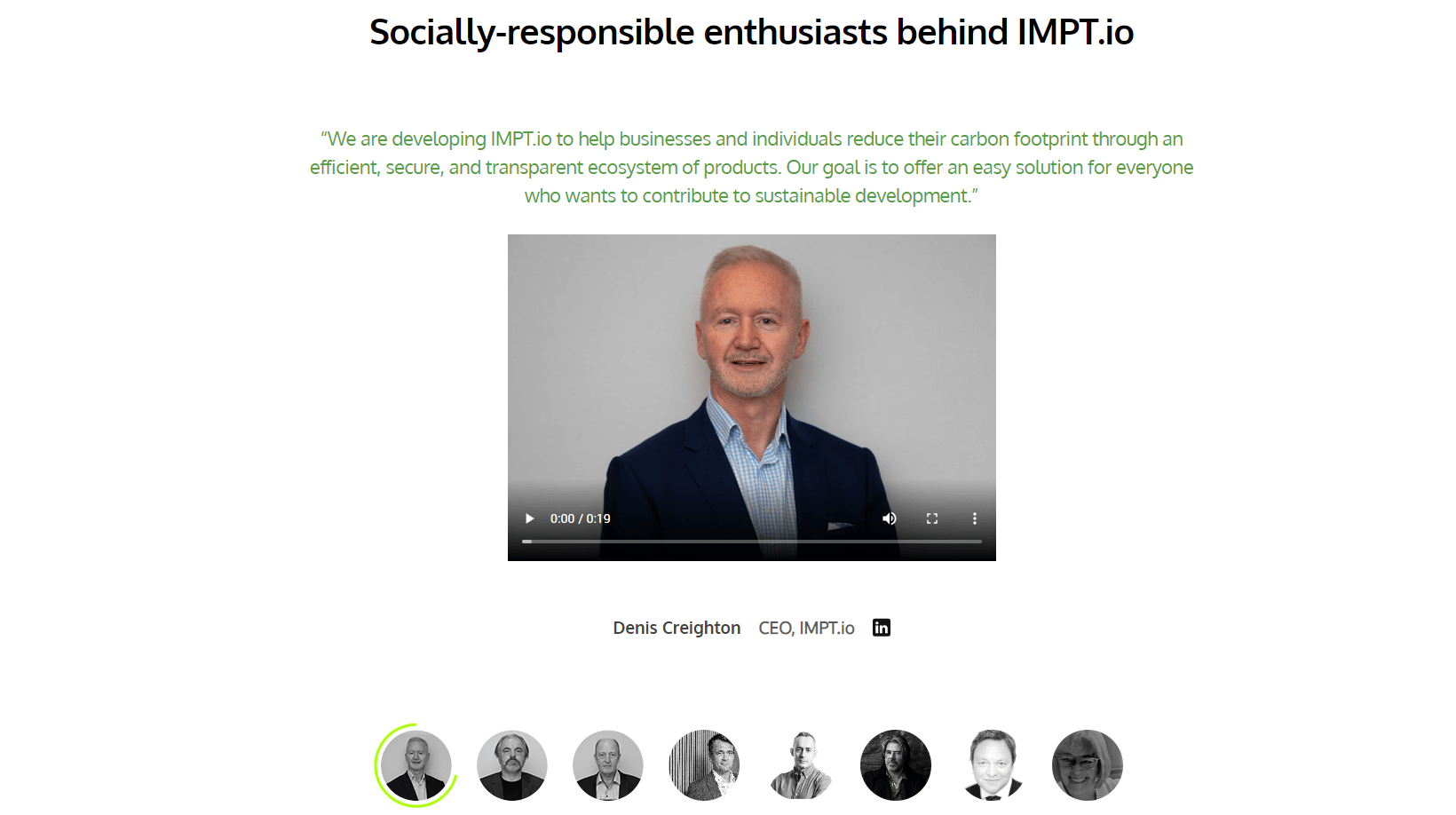 This working group is complemented by other distinguished members, such as Mike English (CTO) and Hugh Phelan (CLO).
Having had a considerable amount of experience in central systems for over 25 years, Mike English is now concentrating on decentralized applications in the Web3. Through his experience working with Google, Tesco, and Oracle, Mike English has gained a great deal of experience implementing multichannel web applications successfully.
Hugh Phelan, the lawyer responsible for managing the legal aspects of the company, completes the IMPT.io team. Expertise in blockchain, smart contracts, and disruptive technologies should ensure that the company's compliance and ethical behavior are intact.
Why Might IMPT Be a Good Investment in 2023?
Cryptocurrencies are currently experiencing a decline in their value. As a result, many investors have decided to sell their crypto assets to recover at least some of the capital they have invested in major cryptocurrencies. This includes Bitcoin and Ethereum.
Therefore, investors are always on the lookout for new projects that they can invest in that are interesting and promising. IMPT makes a good investment as it is a token with both characteristics.  As a result, the IMPT pre-sale has been able to launch when users are very likely to invest in the token.
Despite being in the face of a very unrelaxed market context, with falls coming one after the other and a global crypto-winter seemingly non-stop, there is much to be extremely scornful of in how this project has been able to touch the crypto community with its vision and values closely.
In addition to its interesting sustainable project, it has received significant support and success since its first pre-sale phase was launched. Therefore, it is not a surprise that, in the last quarter of 2022, it was one of the most successful pre-sale ICOs of the year.
Furthermore, with the cryptocurrency still being so new, its value is very low. Therefore users with a large amount of capital can buy IMPT crypto in large amounts.
What Exchanges will List IMPT After The Presale?
In the days leading up to the presale's end, the token was scheduled to be listed on exchanges on December 14th. In a message posted on the project's Discord server, its CEO made this announcement official.
First, there will be the Uniswap decentralized exchange (DEX). Then, as soon as it turns over the token, it will be the turn of LBank and Changelly Pro, platforms that will also host and trade IMPT tokens in earlier 2023.
It is anticipated that the initial offer price will be significantly higher than the one during the pre-sale. As a result, those who purchased this cryptocurrency before it was officially launched will benefit from a lower price.
As soon as the next few weeks end, there is no doubt that more listings will begin appearing on some of the world's largest exchanges and brokers.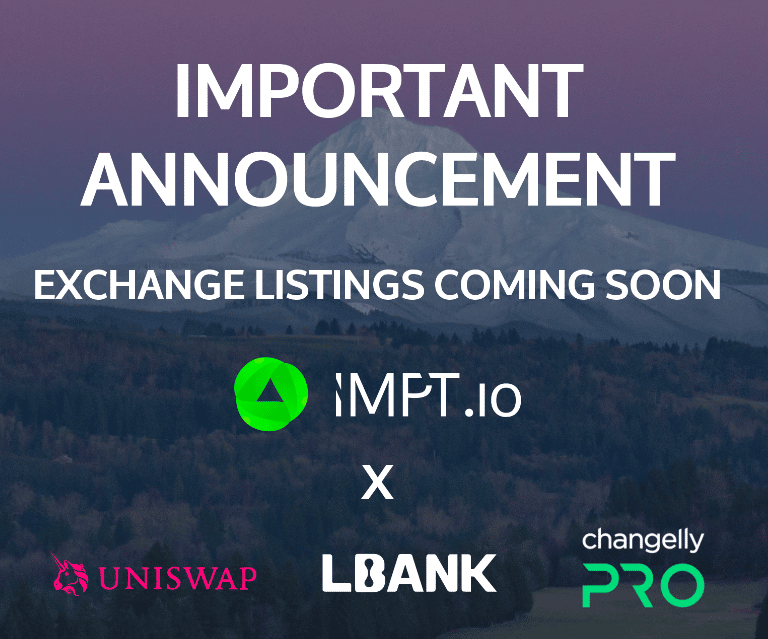 What Is The Current Price of IMPT?
It is common for upcoming cryptocurrency projects to launch as a presale initially, generate advertising, reward early backers, and attract potential investors. There is a growing market for cryptocurrency projects that are building their cash reserves to finance token issuance and the development of features. This is a common approach in the cryptocurrency industry that IMPT has likewise decided to adopt.
Although newly emerging tokens usually have a fairly low value, knowing this element is crucial for calculating potential profit if you decide to invest in them. At the time of writing, the price of $1 IMPT has increased to $0.028 as the presale has ended stage 3 of its journey – approximately $0.005 more expensive than in phase one.

The company has announced that the price of the IMPT token at the time of listing will be $0.0253, 10% above the final presale price.
When the project is launched and its official commercialization begins, the IMPT.io community expects a big boost because something completely new and unique will be brought to the market. This new and unique product will be both nice and useful from the standpoint of ecosystem technology and preserving the earth's environment.
What Tokens Can Be Used to Buy IMPT?
This token was built according to the ERC-20 architecture. Therefore, it is possible to purchase it using Ethereum (ETH) or Tether (USDT) as the payment method.
You can buy both tokens from any authorized broker and transfer them to your crypto wallet once you have made the purchase. Buying ETH directly from the IMPT.io website is also possible using a credit/debit card.
Other Crypto Projects To Watch in 2023
In this section, we will emphasize the cryptocurrency pre-sales with the best current projections, which have yet to go on the market and must be purchased directly on their platforms. While each of these has very low values, everything indicates that their prices will multiply when they are listed on exchanges.
Dash2Trade – The Best Crypto Signals Platform In 2023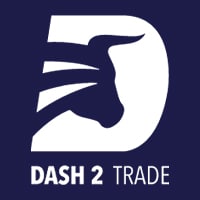 As a result of the growing demand for crypto investing with outstanding precision, some platforms have emerged. For example, using such a platform as Dash 2 Trade, it is possible to access high-precision signals that can assist traders in making decisions regarding purchasing or selling digital assets with remarkable ease.
The tool has proven to be an invaluable resource for many investors, especially beginners. As it has access to accurate information about the behavior of assets on the market, it contributes to making transactions much more profitable and with low chances of losing money because of this information.
Dash 2 Trade is an app powered by its utility token known as D2T. When registration is made on this crypto-signals website, there are many advantages that users can benefit from, including the opportunity to obtain a free membership, which allows us to get to know the tools available on the website without risking any money.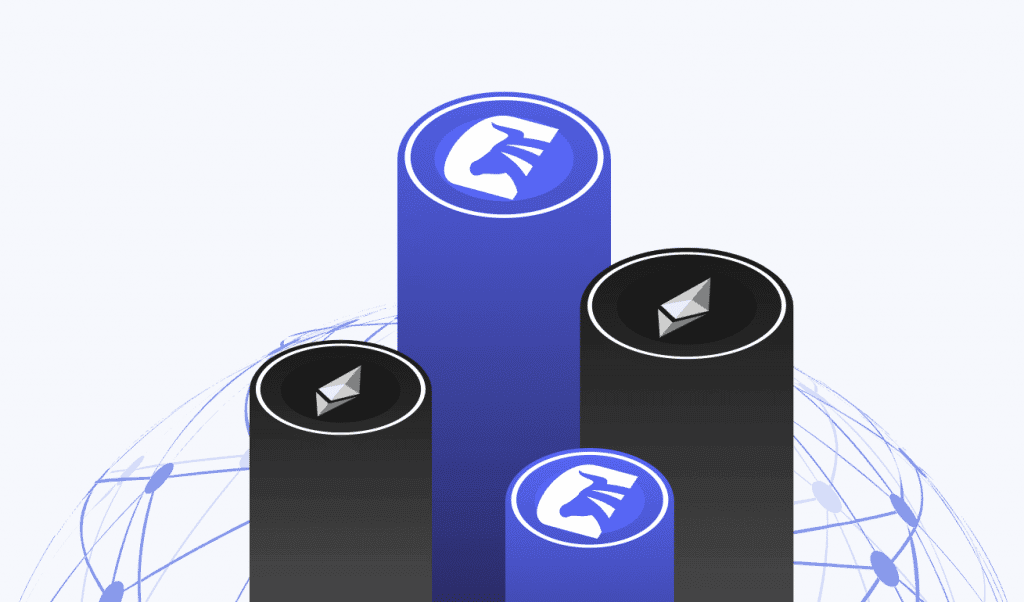 With Dash 2 Trade, you will find all the tools, metrics, signals, and indicators you need to maximize your trading. Several trading professionals have worked together to build the Dash 2 Trade dashboard, which has resulted in the dashboard being used by more than 70,000 traders and offering performance above the market average.
On Dash 2 Trade, investors can focus on the areas of the cryptocurrency space that are most likely to offer high returns to investors, such as pre-sales of upcoming projects. Using the platform, you will also be able to watch the progress of the projects as progress. You can also analyze the fundamentals, tokenomics, and the evolution of the developer and user communities, along with all the important factors for crypto traders and portfolios.
Dash 2 Trade is powered by its utility token known as D2T. It has a total supply of 1 billion tokens. In the pre-sale, 700 million D2T tokens are available for purchase. During its first phase, 35 million D2T tokens were available for $0.0476 each, reaching the target of raising $1,666,000. At the current stage, the price is $0.05 per token.
Your money is at risk.
Calvaria – Creative P2E Project Featuring A Funny Battle Card Dynamic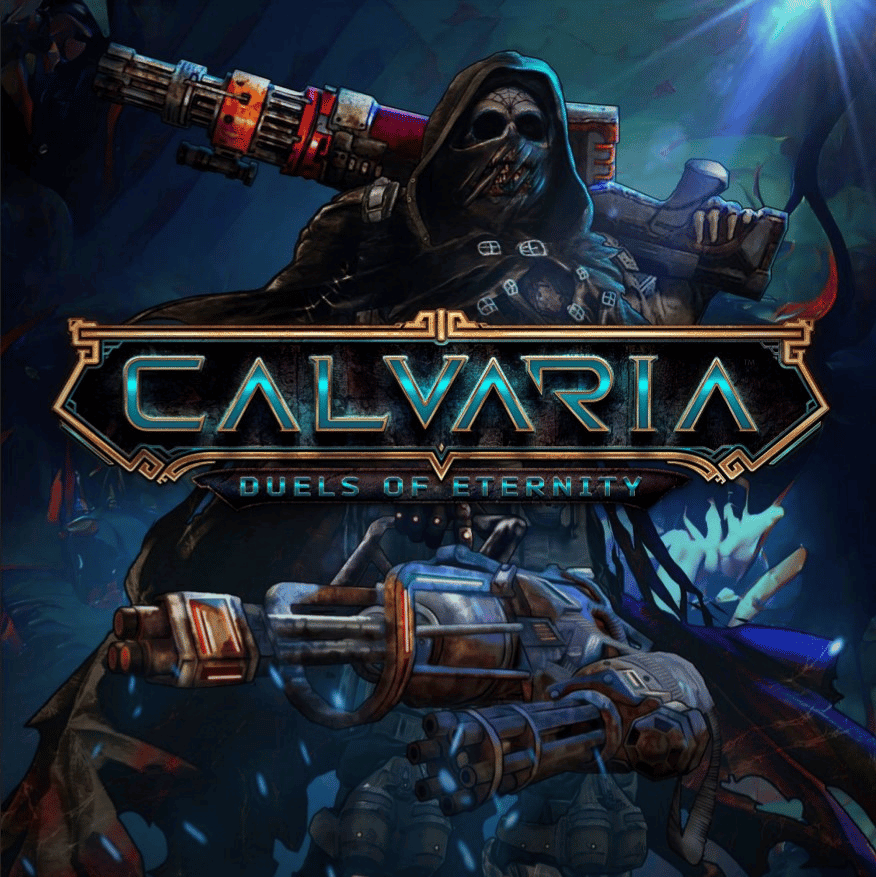 This brand-new P2E crypto game, Calvaria: Duels of Eternity, allows players to collect and play NFT battle cards. Each card depicts a character from the underworld in a 3D shape, each with a rich narrative that relates to the story. In addition, the game has three cities, each with unique attributes and characters, making it highly engaging.
Calvaria is a game that places a great deal of emphasis on strategy. For a player to compete and win, it only sometimes matters that they have the strongest deck. In addition, its free nature sets it apart from other games. You don't have to buy RIA tokens or NFTs to join Calvaria and receive a free starter deck. For traditional card players who have never played crypto games before, Calvaria will make this game easier to access by not requiring a crypto wallet.
Because Calvaria is an NFT game, their players own all battle cards. With the game, players can buy and sell their cards through a peer-to-peer marketplace integrated into the game.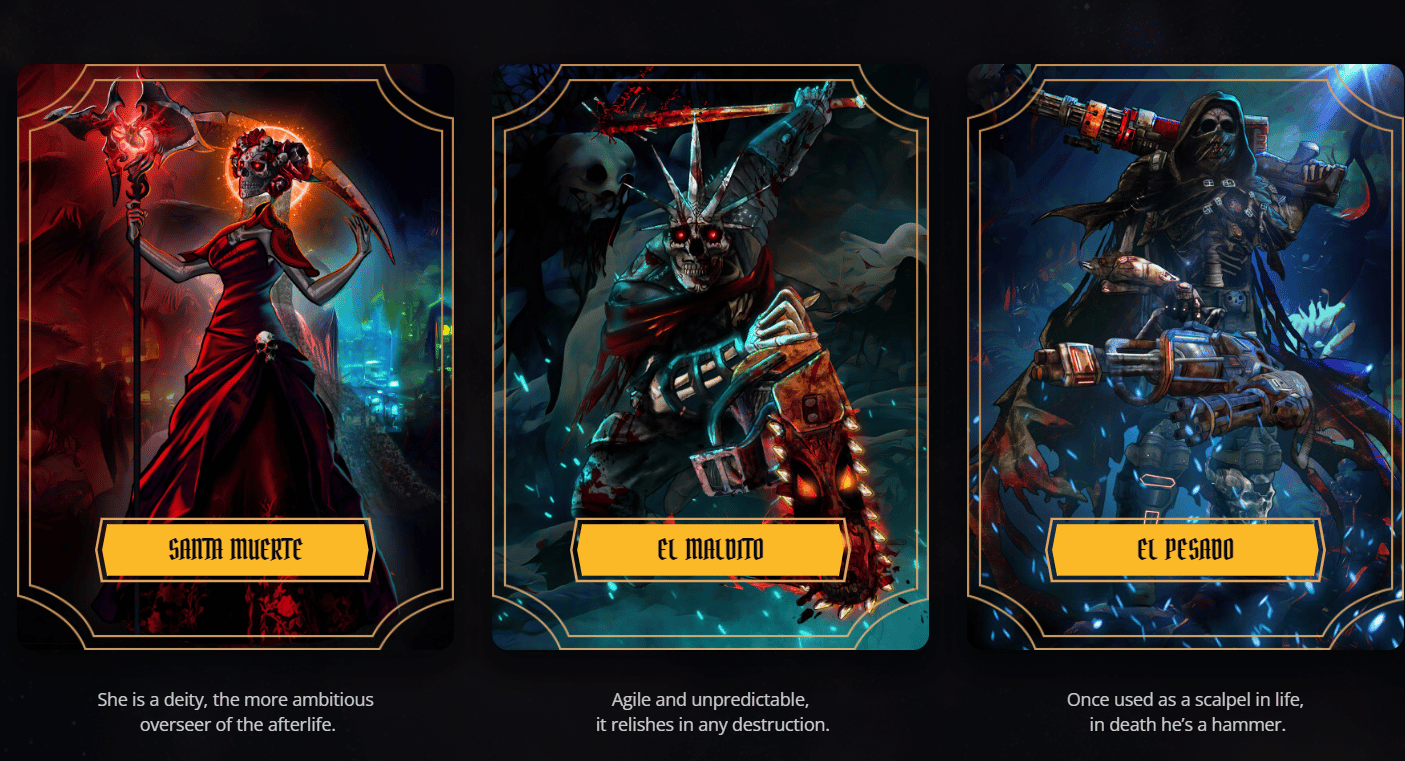 Calvaria's economy depends on RIA, the game's native crypto token. Players will receive RIA tokens as a reward for winning battles or exploring Calvaria in story mode. Through Calvaria's peer-to-peer marketplace, players can purchase NFT battle cards with their RIA tokens, enabling them to build larger and more diverse decks.
Staking with RIA tokens will also be possible within Calvaria, and passive rewards will be earned by users who stake their RIA on the platform. Calvaria's marketplace sells NFTs, and the RIA comes from those sales.
Through a presale, Calvaria is offering its native token to investors. RIA's presale is currently in its final phase. Less than 30% of the tokens are left to be sold, and 1 USDT can be exchanged for 30.77 RIA.
Your money is at risk.
How To Buy IMPT in 2023 – Conclusion
The purpose of this article has been to provide insight into how to buy IMPT. The token willbe listed on exchanges on the 14th of December, the first being UniSwap. Several other exchange listings are scheduled for the near future.
In such a short time, it has already gained many followers interested in investing in it. However, the project goes further than that, as it includes partnerships with leading businesses that will support it, enabling IMPT to become the most sustainable cryptocurrency on the market in the long term.
As for those users interested in purchasing IMPT, we have provided a detailed tutorial on how to buy IMPT crypto easily so they can do so promptly. As a final point, we have explained why this project is worth investing in.
Your money is at risk.
FAQs
Is the Impt presale still going?
Is IMPT a good investment?
Will impt explode after the presale?
How much IMPT can you buy for $100?