According to a Stockapps.com's analysis, America accounts for the largest share of the global BTC hash rate.
Stockapps.com concludes that the U.S  contributed 37.84% of the world's  BTC hashrate as of early 2022. That figure was a 358.67% increase in the metric from its January 2021's figure of 10.55%. That surge in mining power results from the country attracting more mining operations in the wake of China's crypto crackdown.
"Besides the hardware, the affordability of power is the other critical factor that Bitcoin miners consider when setting up their operations," says Stockapps.com's Edith Reads. She continues, "For long, China was the ideal place for BTC mining because of its abundant supply of coal-powered electricity. But its government banned all cryptocurrency-related activities in September 2021, leading to a mass exodus of miners. Most of these found refuge in the U.S where electricity is affordable."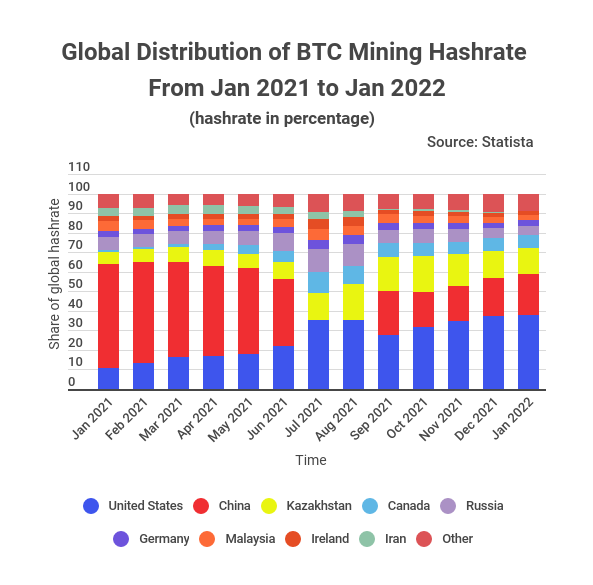 Other Reasons That Make America the BTC Mining Hub
As stated earlier, the affordability of power in the U.S was a significant pull factor. In addition, the migrating miners had the extra advantage of tapping into vast reserves of environmentally friendly energy sources, such as wind and solar power. This is a boon for many Bitcoin miners who are increasingly turning to sustainable mining.
Additionally, moving significant BTC mining investments from China requires that you have political, jurisdictional, and geographical stability. Additionally, you want to confirm that private property rights protect the assets you are moving. All these factors are available in America.
Texas is one of the most popular places for crypto miners to move to the United States. The state has plenty of open space and boasts a deregulated electrical grid. It allows Bitcoin miners to negotiate with different power providers and sign long-term contracts for their energy demands.
Increased Hashrate Could be Beneficial to the U.S
Bitcoin mining has attracted criticism for its supposed environmental impact. So should America worry about the increasing concentration of BTC mining power within its boundaries? Not necessarily, according to some analysts. On the contrary, they hold that the hashrate migration could be beneficial environmentally.
According to experts, most new miners in North America use renewable energy sources with renewable energy credits. Square is one institution that holds this assertion. The financial services firm considers bitcoin mining to be supporting technology for generating and storing clean energy.
Castle Island Ventures founder Nic Carter is also positive about the U.S growing significance in global BTC mining. Carter acknowledges that US mining is not entirely green but says American miners are increasingly adopting renewables and carbon offsets. To him, this migration will result in net environmental good as it'll reduce the carbon intensity of mining.