The Binance Smart Chain (BSC) ecosystem makes up 44% of the $1.9T cap crypto market. That's according to a recent data presentation by stockapps.com. The data shows that the BSC ecosystem held a market cap of about $844 billion. 
Stockapps.com's Edith Reads has spoken about the data. She said, "It's exciting times for the Binance Smart Chain as it positions itself as the go to platform for the Defi and Blockchain gaming communities. That's because its infrastructure and pricing resonate with many in the blockchain scene. It isn't difficult to see that it'll grow further propelled by increasing adoptions of these sectors."
Leading BSC ecosystem tokens
A look at the data places Ethereum (ETH) at the peak of the ecosystem's tokens. The crypto asset recorded a market capitalization of $361.9犀利士
B. That figure represented an 8.71% increase. It came off a 24-hour volume of $19.70B (6.5M ETH).
Additionally, the asset had a circulating supply of about 119.5 million ETH. The coin traded at $3,029 at the time of writing from its 24-hour lows of $ 2,768.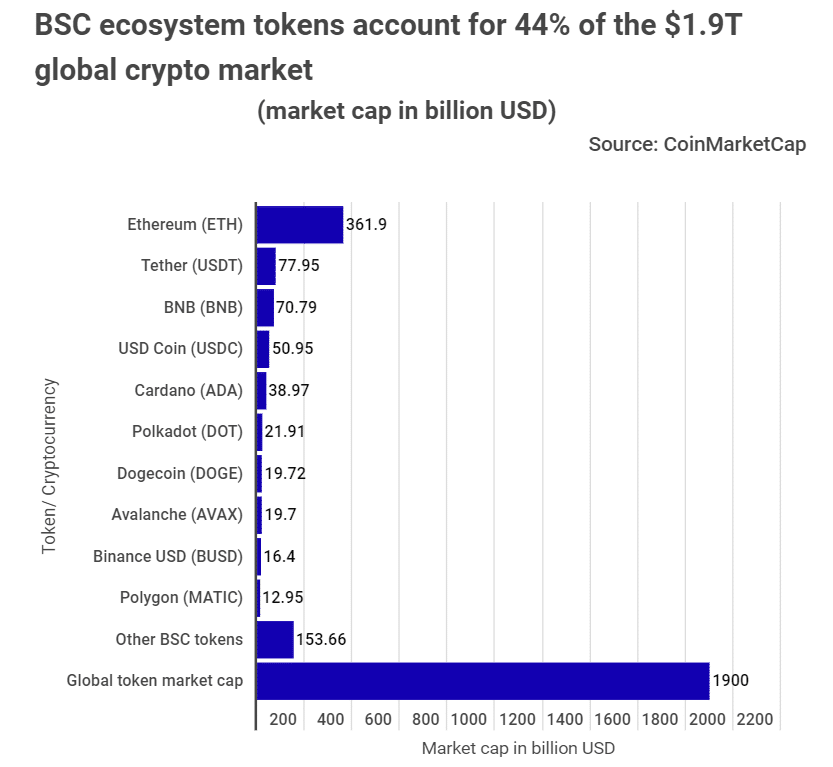 Stockapps.com's reporting placed Tether (USDT) in the second spot. The coin had a market cap of $ 77.95 billion from an equal circulation of USDT coins. The stablecoin ceded little ground with a 0.03% drop in its market share.
The study's most impressive tokens were Binance Coin (BNB), Polkadot (DOT), and Avalanche (AVAX). The three surged by between 14 and 15.5 percent, the largest movements experienced in the ecosystem.
These three took the third, sixth, and eighth positions on the log. BNB's 14% growth saw it attain a cap of $70. 79B. On its part, DOT's 15.5% increase saw it attain a $21.9B cap. Meanwhile, AVAX locked the eighth spot off  a 14.8% rise that saw it account for a market share of $19.7B.
BSC knocking ETH off its perch?
The BSC platform has seen a surging interest from crypto enthusiasts. For instance, it attained a milestone that no other blockchain has ever had on 17th November 2021. The platform recorded 14.7 million transactions, a record for a single BC project.
Several factors explain BSC's growing popularity. First, it offers the same functionality that Ethereum, the first mover in smart contracts. However, BSC beats the former when it comes to transaction costs. 
Users on its platform pay significantly less gas fees compared to ETH. The BC's affordability attracts DeFi and gaming lovers put off by ETH's unattractive fees. Its affordability stems from adopting a Proof of Authority consensus, while ETH uses the expensive Proof of Work mechanism.
Additionally, BSC is a modern BC with greater scalability than ETH. As such, users experience faster transaction times at a fraction of what they'd incur on the latter. Again, it supports users to issue custom cryptos.
That said, the platform has come in for some criticism. For example, it has only 21 validators. The few validators make it a more centralized entity. This aspect goes against the core tenet of Blockchain and cryptocurrencies, decentralization.